A Nutrient-Packed Simmered Lentils Recipe
This is the healthy side dish your meals have been missing.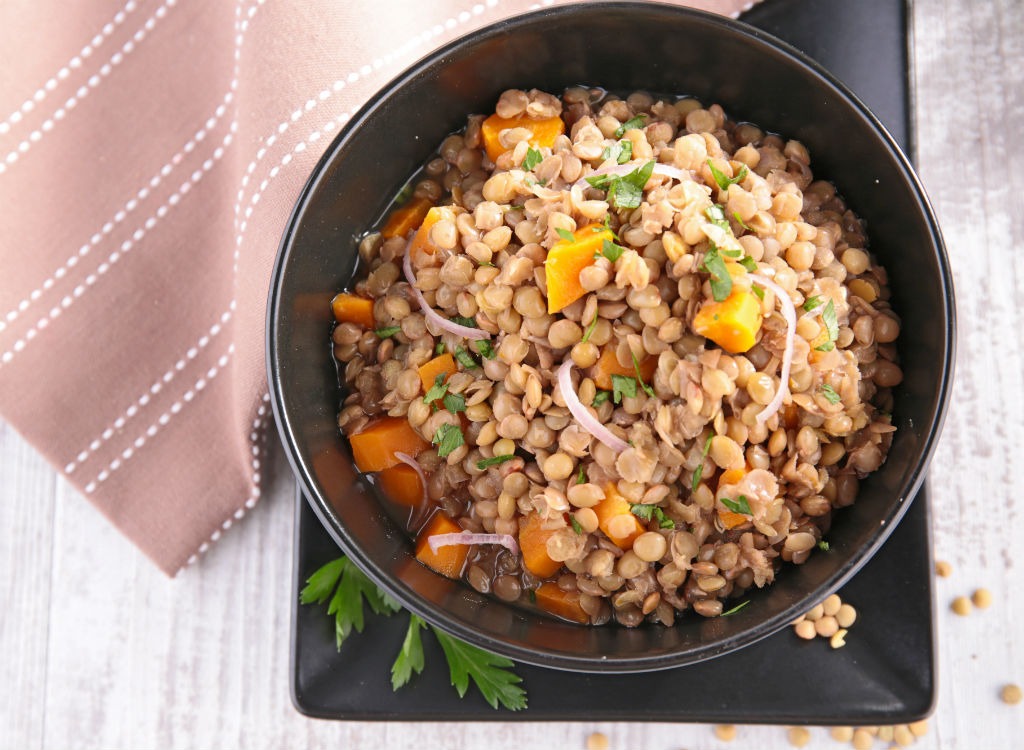 Outside of the classic soup, lentils are so infrequently used to their full potential. They are an ancient grain legume that was cooked frequently by our ancestors hundreds of years ago. And clearly they knew what they were doing, as lentils are loaded with protein, teeming with fiber, and shot through with a massive dose of antioxidants, these grains are a full-blown superfood. Sadly, lentils don't get the best PR these days. They're relegated to a food that few people cook, and even fewer restaurants serve. We think this is completely crazy, given how cheap, tasty, and easy to prepare they are. Plus, their health benefits are irreplaceable: lentils help to reduce cholesterol, they're a great source of protein (and also vegetarian-friendly), they increase energy, and are good for your heart and digestive system. This is why we've decided to give lentils the good public relations they need! And now you see why our earliest ancestors ate them, right? Use this lentils recipe as a base for a side with grilled or roasted meats and fish (especially salmon). Want more flavor? Start with a hunk of bacon or a ham hock. Want to keep things vegetarian? Add in some roasted vegetables to make a heartier, nutrient-rich, lentil stew of sorts.
Nutrition: 160 calories, 4.5 g fat (0.5 g saturated), 540 mg sodium
Serves 6
You'll Need
1 1⁄2 cups lentils
1 Tbsp olive oil
1⁄2 onion, chopped
2 carrots, diced
2 cloves garlic, minced
1 1⁄2 cups low-sodium vegetable broth or water
2 bay leaves
1⁄2 Tbsp red wine vinegar
Salt and black pepper to taste6254a4d1642c605c54bf1cab17d50f1e
How to Make It
Rinse the lentils and pick through, discarding any stones.
Heat the olive oil in a pot over medium heat.
Cook the onion, carrots, and garlic until softened, 5 to 7 minutes.
Add the lentils, broth, and bay leaves. Simmer until the lentils are just tender, about 20 minutes. Season with the vinegar, salt, and pepper. Discard the bay leaves.
Eat This Tip
Just like all of our recipes, we've tried to make this one versatile as possible so that you can add and subtract your own additions. Want to add some spice? Add some red pepper flakes or better yet, some curry.
Love this recipe? Subscribe to our Eat This, Not That! magazine for even more at-home cooking and healthy eating ideas.