Easiest Roasted Parmesan Asparagus Recipe
When you're short on time and need dinner to just appear, this will be your go-to dish.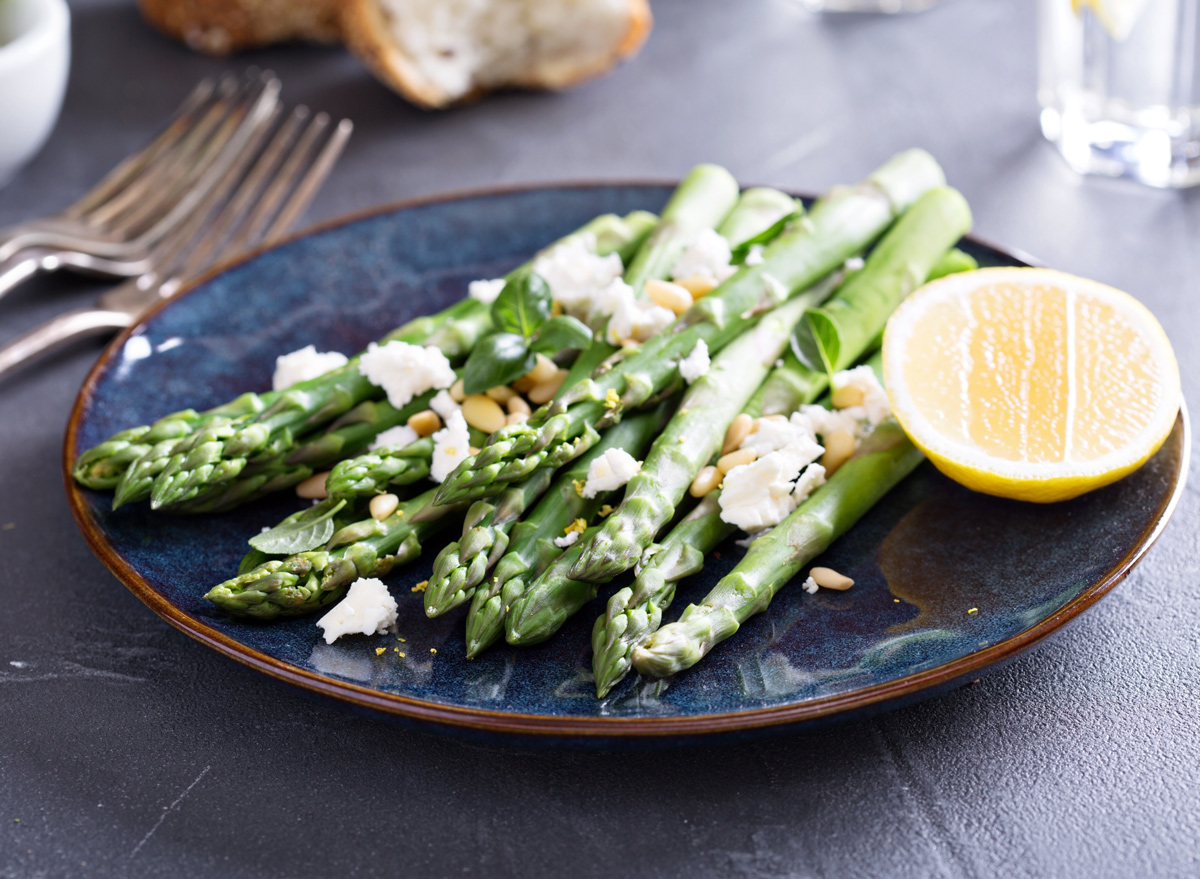 Asparagus is one of our favorite vegetables, mostly because its sweet, nutty flavor takes well to all sorts of cooking approaches: wrapped in prosciutto and grilled; blanched briefly in boiling water, then topped with a fried egg; shaved raw into a salad. But for a busy night when dinner just needs to appear, you can't beat this roasted asparagus approach. Plus, asparagus is one of those delightful vegetables that actually manages to contain more nutrients than they do calories, and you can't do much better than that, can you?
Nutrition: 45 calories, 4 g fat (1 g saturated), 330 mg sodium
Serves 4
You'll Need
1 bunch asparagus, about 11⁄2 pounds
1 Tbsp olive oil
2 Tbsp grated Parmesan
Salt and black pepper to taste
Juice of 1 lemon
How to Make It
Preheat the oven to 400°F.
Hold an asparagus spear at both ends and bend the bottom until the tough, woody section snaps (it will naturally snap off where the tough part of the vegetable ends and the tender part begins).
Using that spear as a guide, use a knife to remove the bottoms of the rest of the bunch.
Place the asparagus in a baking dish.
Drizzle with the olive oil, sprinkle with the Parmesan, and season with salt and pepper; toss to coat. Roast until just tender, 10 to 12 minutes.
Sprinkle the lemon juice over the asparagus.
Eat This Tip
The Meat Eater's Option:
So as we mentioned above, asparagus is great wrapped in prosciutto, and a great recipe to pull out on a night you have a bit more time to spare for food prep. As you may already have noticed, as it's not a not particularly well-kept secret of ours, when we want to employ a fattier ingredient or two, we like to pair them with extra healthy ones to even out the nutrition (and the guilt!.) For instance, when we want to indulge in the fattier of meat choices like bacon or prosciutto, wrapping them around an incredibly healthy ingredient like asparagus is the way to go, and makes a great appetizer as well. So, if any meat eaters out there want to add a few slices of prosciutto, wrapping them around asparagus is a great idea.
Love this recipe? Subscribe to our Eat This, Not That! magazine for even more at-home cooking and healthy eating ideas.6254a4d1642c605c54bf1cab17d50f1e