A Beef and Beer Recipe Made For Your Slow Cooker
This Belgian-inspired dish takes just 10 minutes of prep in the morning and by dinnertime, it's all done.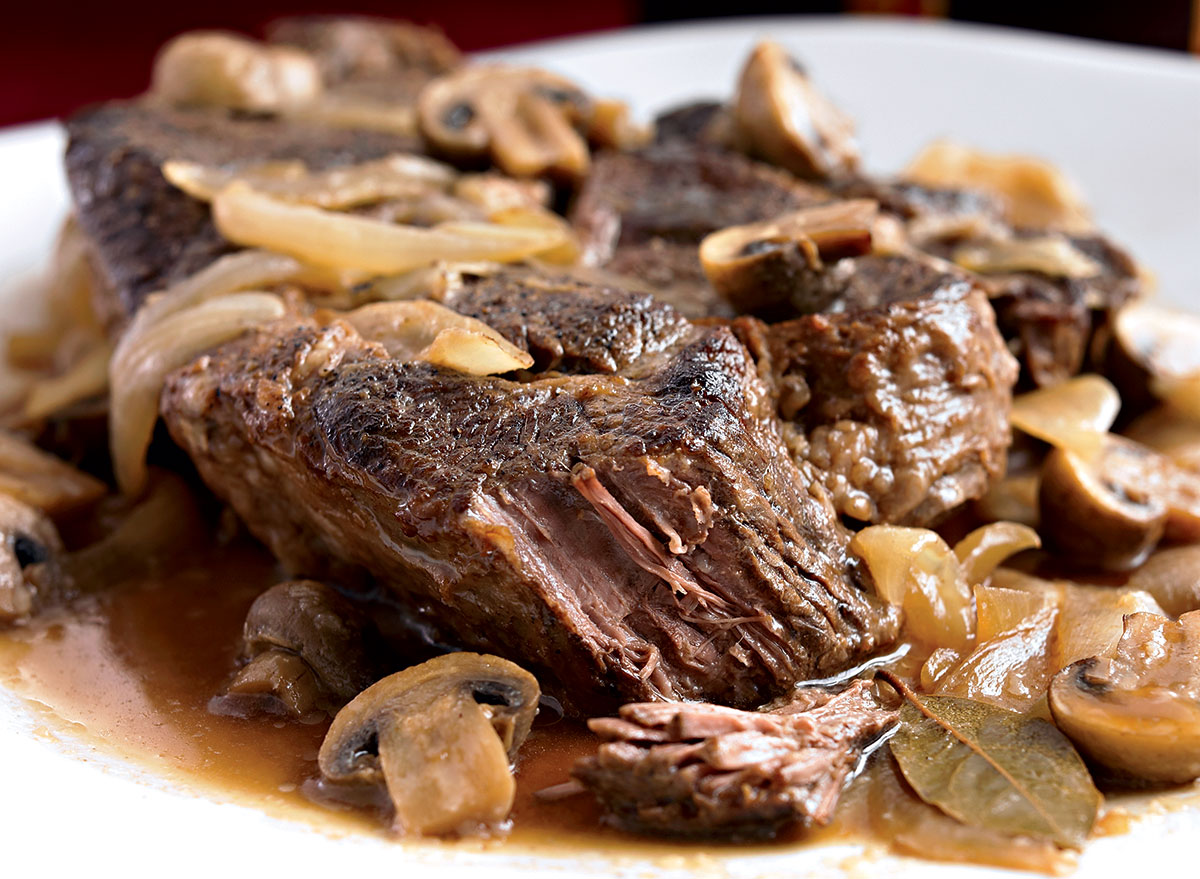 Not only do the Belgians drink the best beer in the world, they also cook with it. This recipe is inspired by a Belgian dish called carbonnade, a hearty stew of beef and onions braised in beer. It's the type of dish you want to come home to on a blustery winter night. Take 10 minutes to prep in the morning, then set a slow cooker on low and go about your day. By the time you come home, this bone-sticking beef stew will be ready.
Nutrition: 345 calories, 13 g fat (3.5 g saturated), 437 mg sodium
Serves 8
You'll Need
1 Tbsp canola or olive oil
3 lb chuck roast
Salt and black pepper to taste
2 Tbsp red wine vinegar
5 yellow onions, sliced
1  can dark beer (we like Guinness, but the Belgians don't), plus more if needed
2  cups low-sodium beef stock
1 Tbsp Worcestershire sauce
4 bay leaves
8 ounces button mushrooms, each cut in half (optional)6254a4d1642c605c54bf1cab17d50f1e
How to Make It
Heat the oil in a large skillet over high heat.
Season the chuck all over with salt and pepper.
Add the beef to the pan and sear until all sides are nicely browned, about 10 minutes.
Remove the beef, then add the vinegar, onions, and beer to the pan, scraping up any bits that may cling to the bottom.
Place the beef in the base of a slow cooker and pour the onions and beer over.
Add the stock, Worcestershire, and bay leaves; if the liquid doesn't cover all or most of the beef, add a bit more beer.
Cook on low for 6 hours (or on high for 4).
If using the mushrooms, add them in the last hour of cooking.
Discard the bay leaves. Serve the beef with the vegetables and a good ladle of the braising juices, or a sauce made from the liquid.
Eat This Tip
Restaurant-Quality Sauces
Fancy restaurants can charge $25 an entrée because they use a few simple strategies to concentrate flavor. Regardless of what you've braised—pot roast, osso buco, lamb shanks—the cooking liquid is pure gold that should never be wasted. Transfer a few ladles' worth to a small saucepan set over high heat. Boil vigorously until the liquid has reduced to a syrup-like consistency. Finish with a pat of cold butter swirled into the sauce, then pour it over the meat after you've plated it.
Love this recipe? Subscribe to our Eat This, Not That! magazine for even more at-home cooking and healthy eating ideas.