20 Delicious Summer Dishes You Can Make in a Slow Cooker
These are perfect for the warmer months!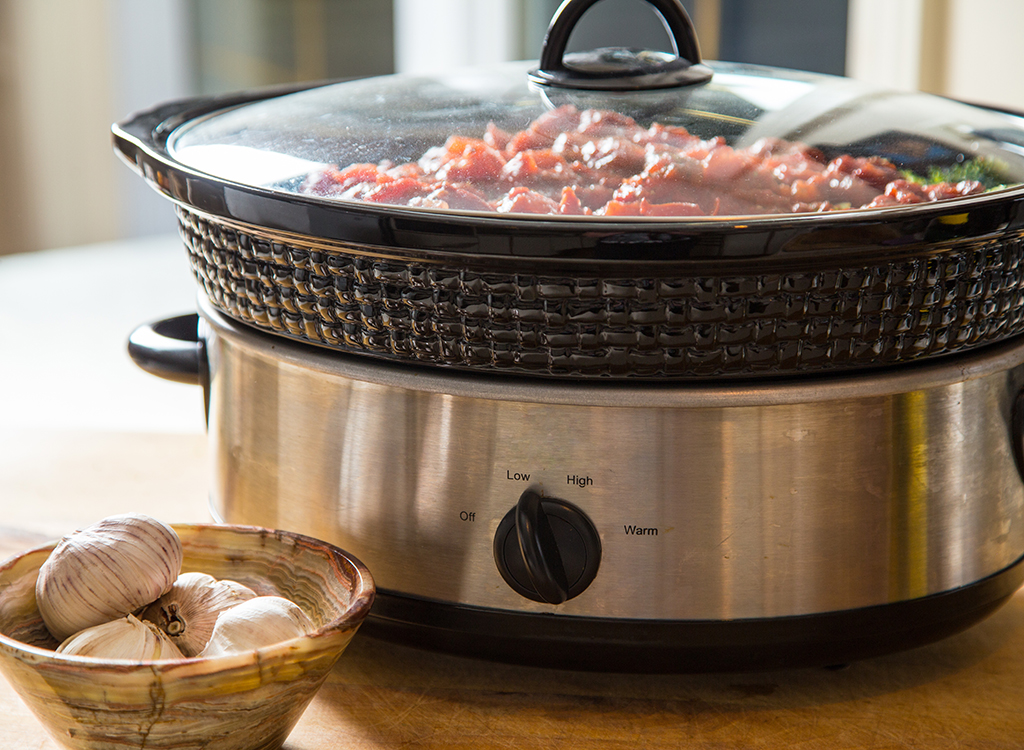 Do you only think of your slow cooker during those colder months? Well, dust off those Crock-Pots and give them another look because we've rounded up the best warm-weather slow cooker recipes to keep you feeling light this season. These summer Crock-Pot recipes are no-hassle solutions for cooking up some of your best dishes in a breeze so that you can worry about more important things. From oatmeal to stuffed peppers, your slow cooker can do it all. And if you love cooking, sign up for our newsletter to get daily recipes and food news in your inbox!
Crock-Pot Barley and Bean Tacos
This vegetarian taco is a delicious and healthy way to spend a warm night in the backyard. Filled with black beans, tomatoes, and barley, this dish is filled with both flavor and health benefits. Barley is one of the best carbs to help suppress your appetite, as this stuff is booming with soluble fiber (the kind that's sure to keep you fuller longer). Aside from that, it's also a great source of manganese, copper, vitamin B1, and magnesium. A study published in the American Journal of Clinical Nutrition suggests that barley has tons of positive effects on cholesterol and can help maintain friendly bacteria in the digestive system. What an impressive grain!
Get the recipe from Cook Nourish Bliss.
Banana Coconut Milk Oatmeal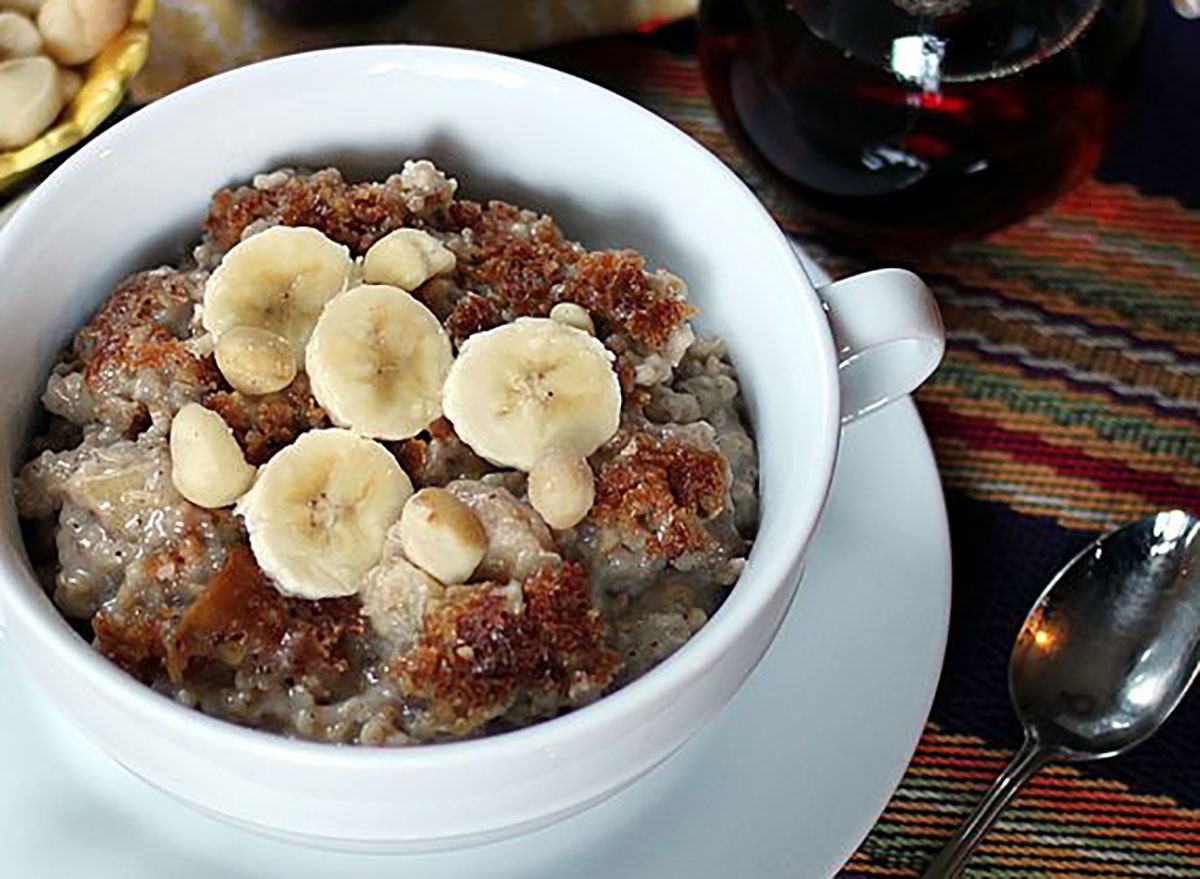 Although this slow cooker steel-cut oatmeal can make you feel like you're in paradise any time of the year, it's a perfect, light treat to indulge in during those warmer months. Instead of the brown sugar, opt for a low-glycemic sweetener like date paste or maple syrup, and omit the artery-clogging butter. For more oatmeal recipes, check out these 50 Overnight Oats Recipes for Weight Loss!
Get the recipe from The Yummy Life.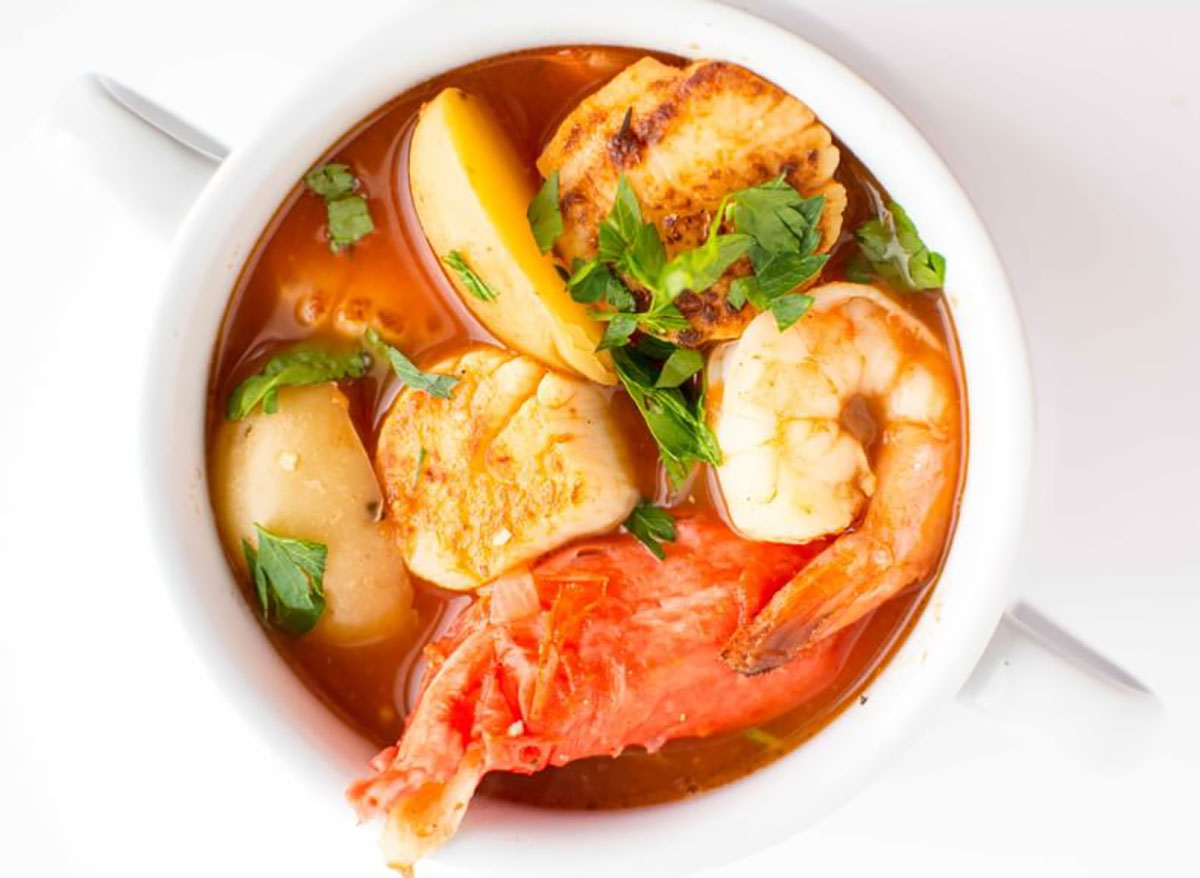 There's nothing like a day at the ocean when the weather is warm and the sun is shining. Why not continue that feel-good moment at the dinner table with a fresh seafood stew made with your favorite seafood?6254a4d1642c605c54bf1cab17d50f1e
Get the recipe from Slow Cooker Gourmet.
Two-Ingredient Slow Cooker Salsa Chicken
If you're looking to make a meal infused with flavor that everyone will love, look no further! Forget sweating over the stove and get a perfectly flavored chicken with this two-ingredient, no-fuss recipe! The prep is simple—toss your favorite salsa (we suggest one without any added sugars or artificial ingredients) and chicken breasts into the slow cooker and allow it to cook for about four hours. Voila! You've got yourself a meal packed with protein and juiciness.
Get the recipe from Gimme Some Oven.
No way, homemade applesauce made without any fuse? Yes, way! This is a hands-free recipe—just throw apples into a Crock-Pot and leave them to cook until the apples have completely softened. Blend to desired consistency, and that's it!
Get the recipe from The Gracious Wife.
Slow Cooker Pineapple Pulled Pork with Pineapple BBQ Sauce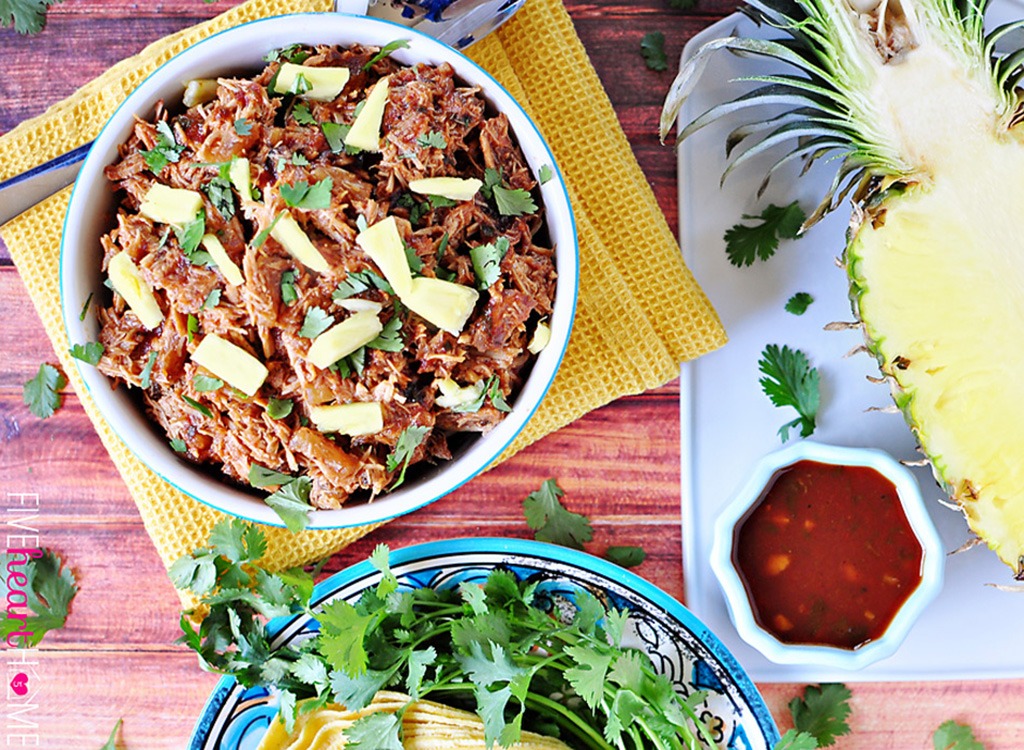 Put a tropical spin on your average BBQ sauce with the help of some nutrient-rich pineapple. Combined with juicy pulled pork, this is a definite warm-weather staple. A single cup of pineapple provides 76% of your daily recommended intake of manganese, a mineral that's been found to help strengthen bones, produce collagen, and control blood sugar. Plus, making a homemade barbecue sauce is far better than reaching for one of those big brand names, which are filled with refined sugar and artificial additives.
Get the recipe from Five Heart Home.
Crock-Pot Stuffed Peppers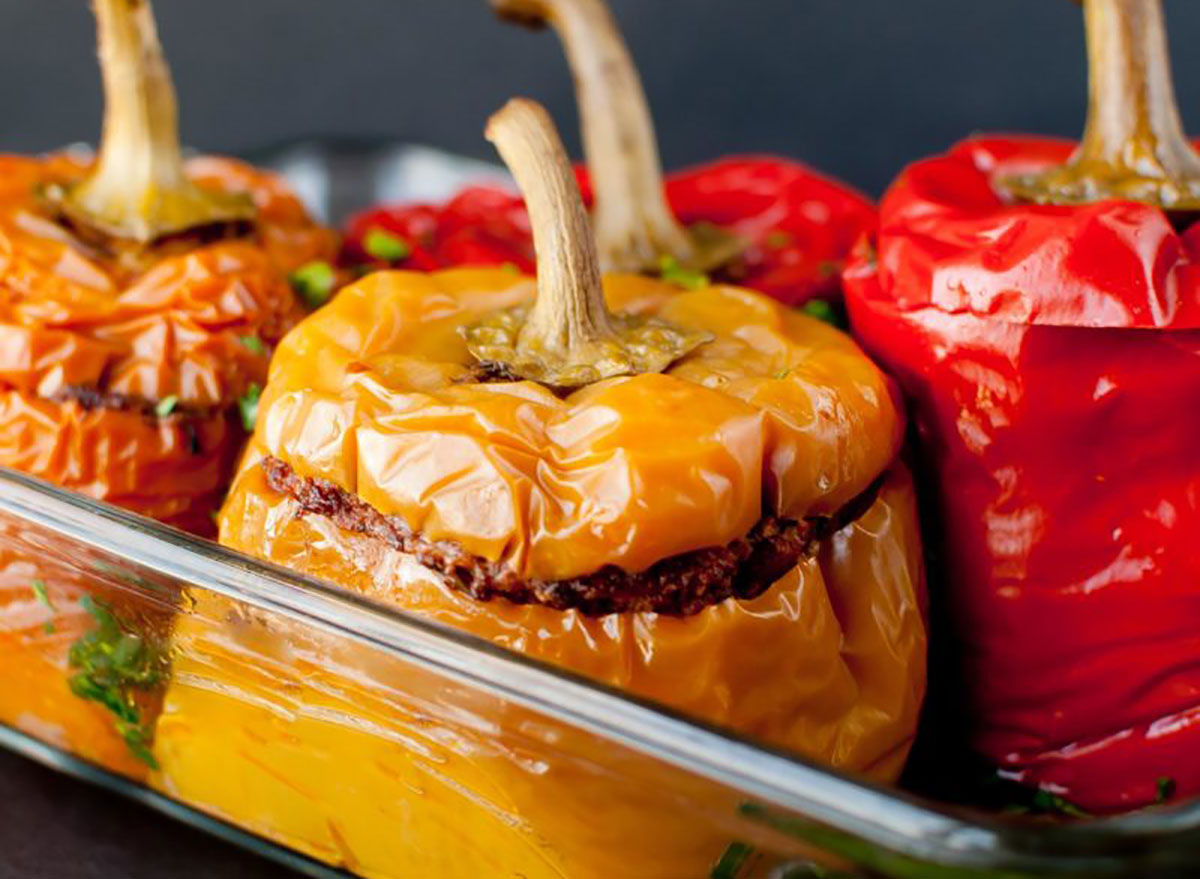 This recipe is filled with good-for-you ingredients and loaded with tons of vitamins. Completely Paleo-friendly and grain-free, these stuffed peppers use cauliflower in place of rice. Cauliflower is a powerhouse veggie that can be used in a variety of ways and the perfect way to lighten up a dish. You can also use any color pepper, but go for red if you're a lover of that sweet flavor!
Get the recipe from Civilized Caveman Cooking.
Slow Cooker Veggie Omelet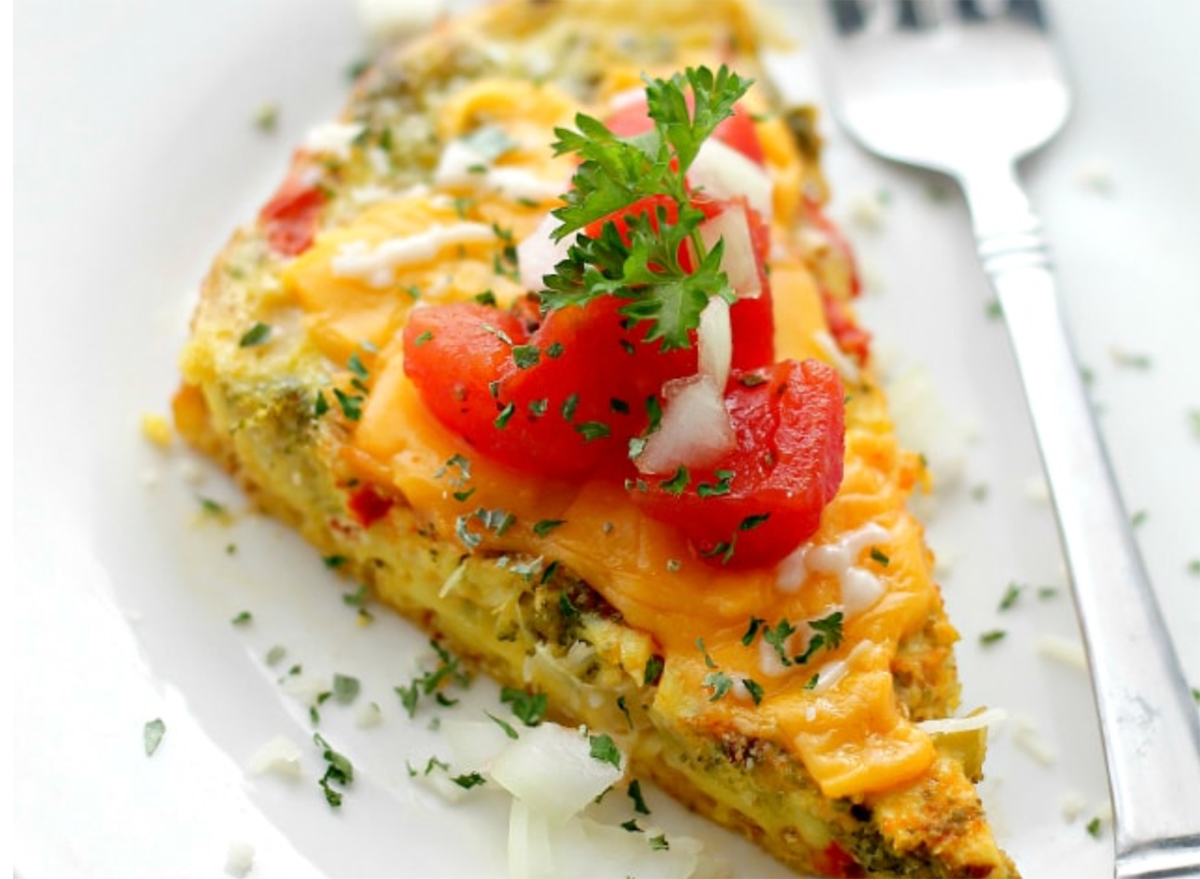 Low in calories, light in texture, and loaded with protein, this slow cooker omelet will be your new go-to breakfast. You can add any fresh veggies of your liking and combine them with eggs and spices and throw it right into the Crock-Pot, no hassle. It's painless to make and will leave you without any of that dreaded guilt from a carb-heavy breakfast.
Get the recipe from Diethood.
Crock-Pot Chicken Taco Bowls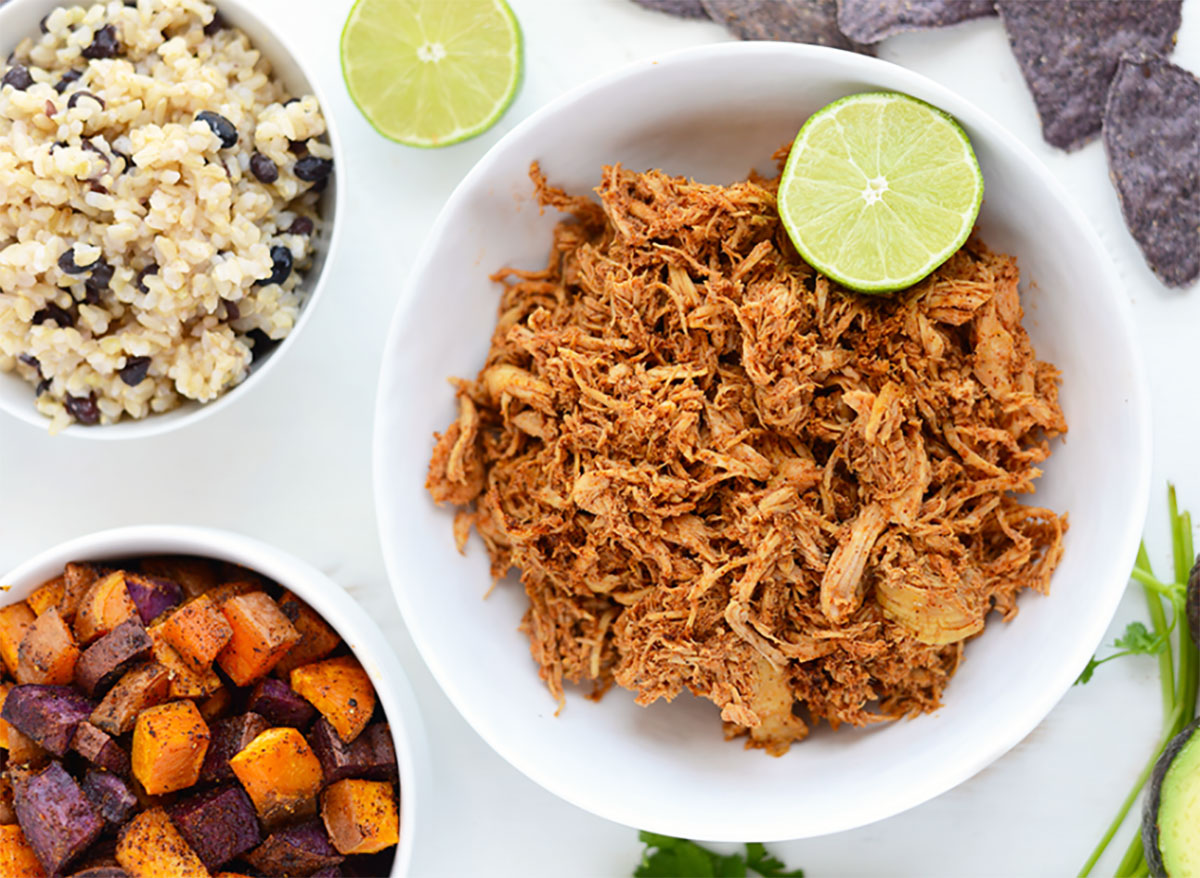 Skip those extra carbs and have yourself a taco minus the shell! These taco bowls are filled with wholesome ingredients and some pretty amazing textures. And the roasted purple sweet potatoes are more than just an eye-pleaser, they're an excellent source of vitamin C and low on the glycemic index. Don't stress if you can't find the purple kind, though, orange will do just fine and has major health benefits, too! Meal prep by making a big batch of this on Sunday and you'll have enough to enjoy for the whole week.
Get the recipe from Fit Foodie Finds.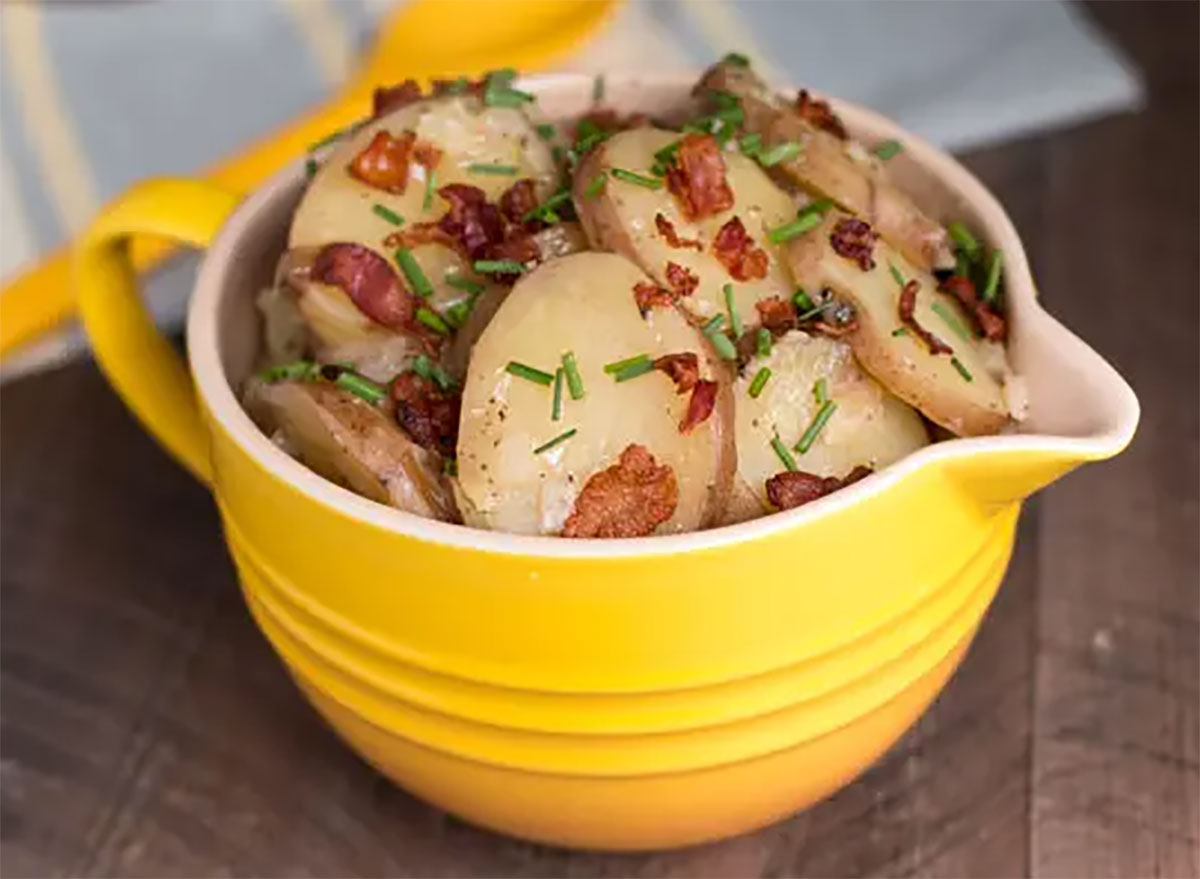 There's no such thing as a backyard cookout without side dishes like potato salad! This recipe is a hot dish, but feel free to stick it in the fridge for a few minutes. Did you know that cooling potatoes after they've been roasted turns their starches from digestible to resistant? This means they'll leave you feeling fuller longer and fuel your healthy gut bacteria. Potatoes are naturally fat-, sodium-, and cholesterol-free making them a great addition to your meal. A single medium-sized potato is considered one of the most potassium-rich foods out there, so get yourself a dose with this easy slow cooker recipe.
Get the recipe from The Magical Slow Cooker.
Slow Cooker Granola Berry Crisp
There's nothing like coming home to a refreshing bowl of fresh fruit on a warm day. Fruits like raspberries and blueberries are antioxidant-rich and sure to give you that kick of energy. Use granola like Purely Elizabeth, which uses no GMOs, has natural sweeteners and is gluten-free. Top with homemade coconut whipped cream or a scoop of vanilla yogurt to get that touch of creaminess.
Get the recipe from The Magical Slow Cooker.
Spinach, Artichoke, and Kale Dip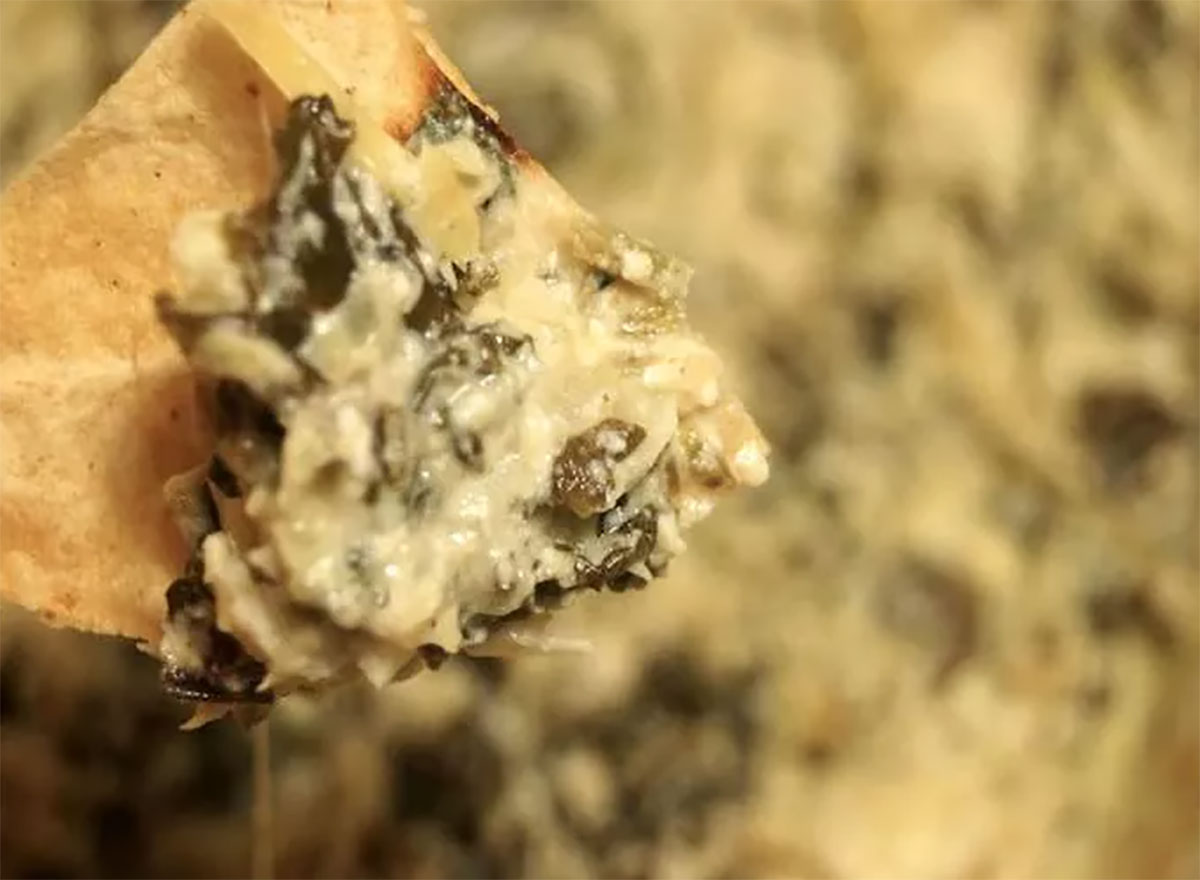 Here's your classic spinach artichoke dip, with a bit of a healthy twist. With the addition of kale and Greek yogurt, you can get some extra nutrients in without risking any of that delicious flavor. Use it as a dip for celery and carrots or smear it on your favorite sammie—there's no wrong way to enjoy this. Love kale? Discover 20 Fresh Tips for How to Cook Kale to make the most of this superfood!
Get the recipe from Slender Kitchen.
Slow Cooker Vegan White Bean Stew
"Beans, beans, the magical fruit"… and that's not just an old saying, it's true! Beans are a superfood loaded with protein, antioxidants, vitamins, and minerals that can benefit your brain and your muscles. This recipe is a super-simple way to stay healthy without all the extra thinking. To get even more goodness in your bowl, eat it cooled over a bed of quinoa or a pulse pasta for dinner.
Get the recipe from Café Johnsonia.
Summer Slow Cooker Lasagna with Zucchini and Eggplant
Lasagna is a comfort food sure to fill you up. This veggie lasagna is made with hearty summer vegetables like zucchini, eggplant, tomato, corn, and onions that'll have you forgetting you're not eating meat. If you're looking to lower the carb intake, just swap out the lasagna noodles for more vegetables by thinly slicing them longways!
Get the recipe from Oh My Veggies.
Slow Cooker Asian Chicken Lettuce Wraps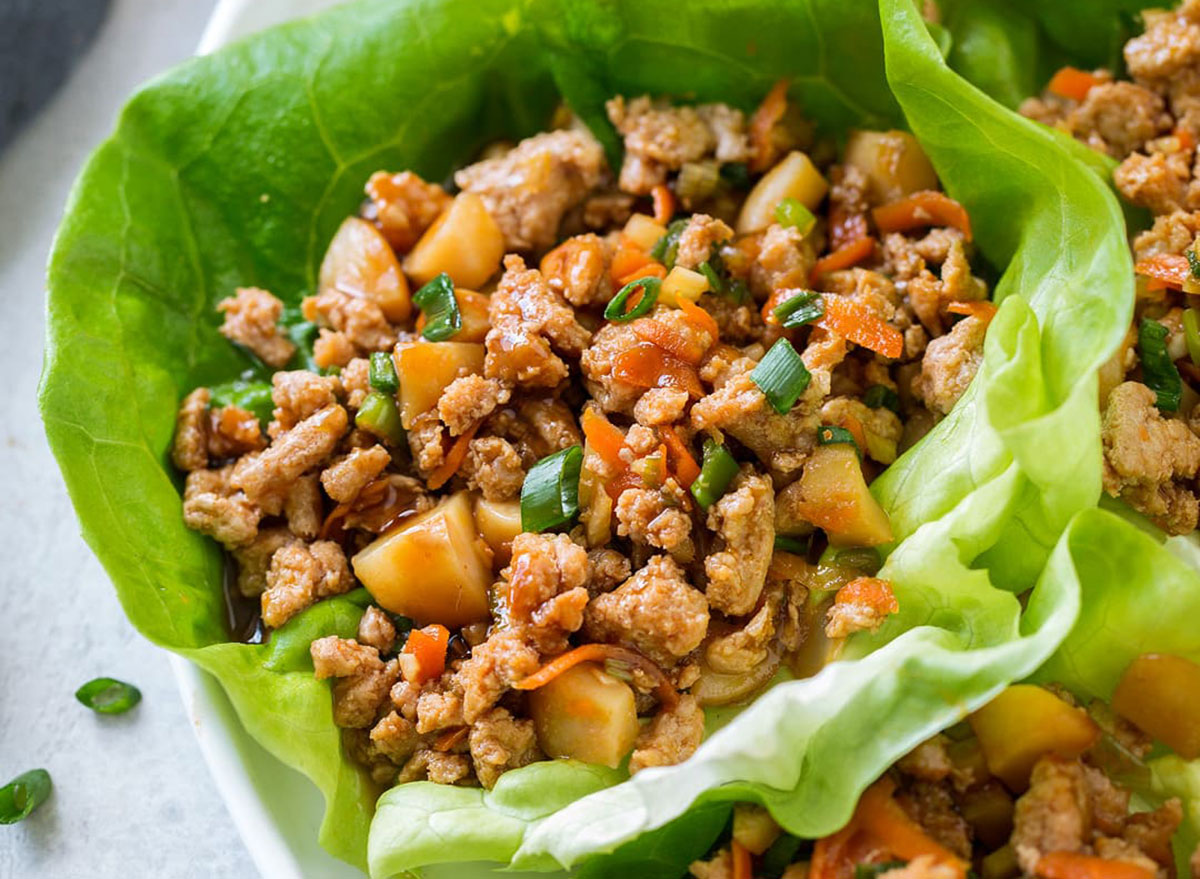 Using greens like romaine lettuce is a great way to lower the carbs in this dinner. Plus, it adds a crunchy bite to the dish. These Asian-style chicken lettuce wraps are refreshing and so easy to throw together with a ton of bold flavors. Because they're easy to assemble, they're perfect to pack up and bring to a picnic or to go watch the sunset.
Get the recipe from Cooking Classy.
Slow Cooker Peach Cobbler Oatmeal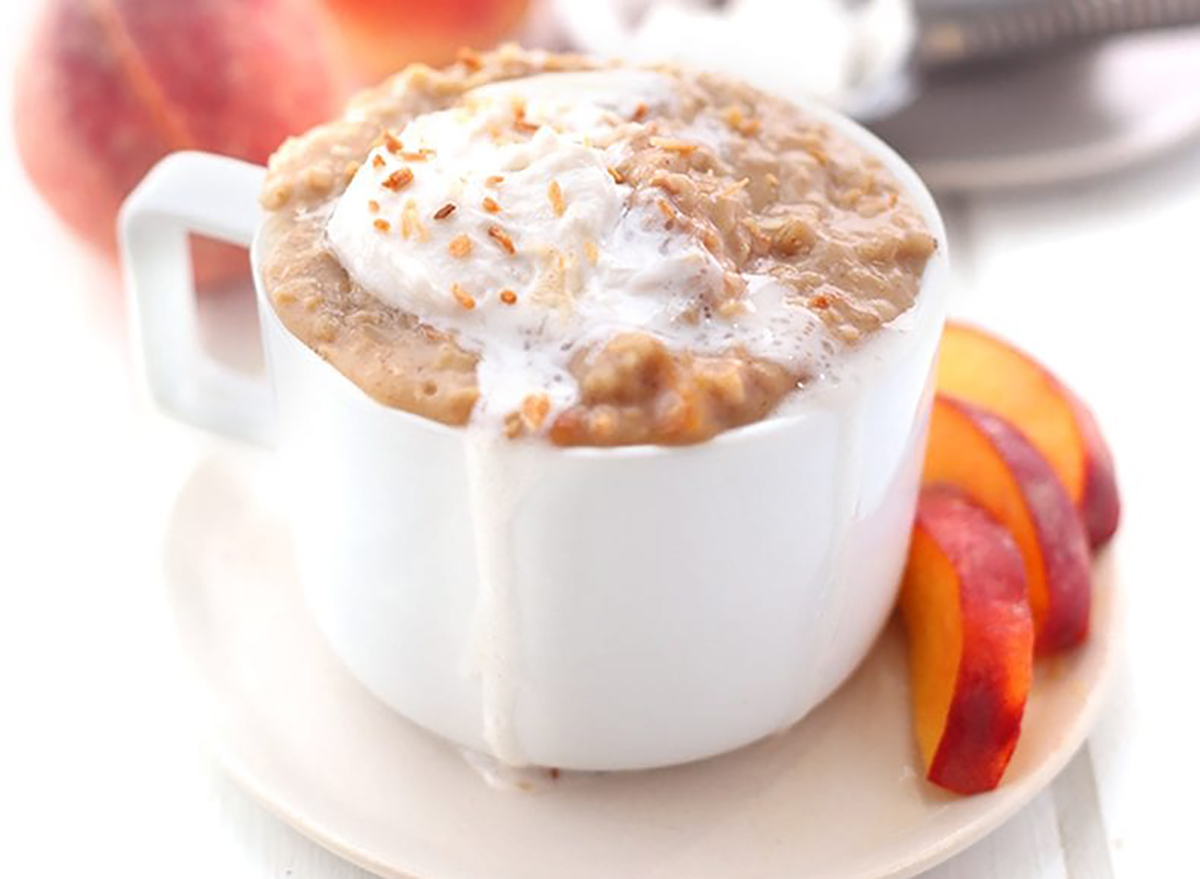 As the warm weather approaches, some of our most-loved fruits come out of hiding and take center stage in our dearest dishes. Peaches are the perfect sweet treat to indulge in, especially combined with steel-cut oatmeal. Combine both with rich, creamy coconut milk, and you've got yourself a breakfast or special treat that won't break your diet. If you're more of a freezer babe, then don't miss these 18 Tips for How to Make Frozen Oatmeal Cups.
Get the recipe from The Healthy Maven.
Healthy Buffalo Chicken Bowls
Skip the fast-food joint bowls and make your own at home with this buffalo chicken bowl recipe. It's a fiesta of black beans, avocado, corn, tomatoes, and chicken covered in a spicy and creamy dressing. Can you say yum?
Get the recipe from Pretty Providence.
Slow Roasted Pear Crumble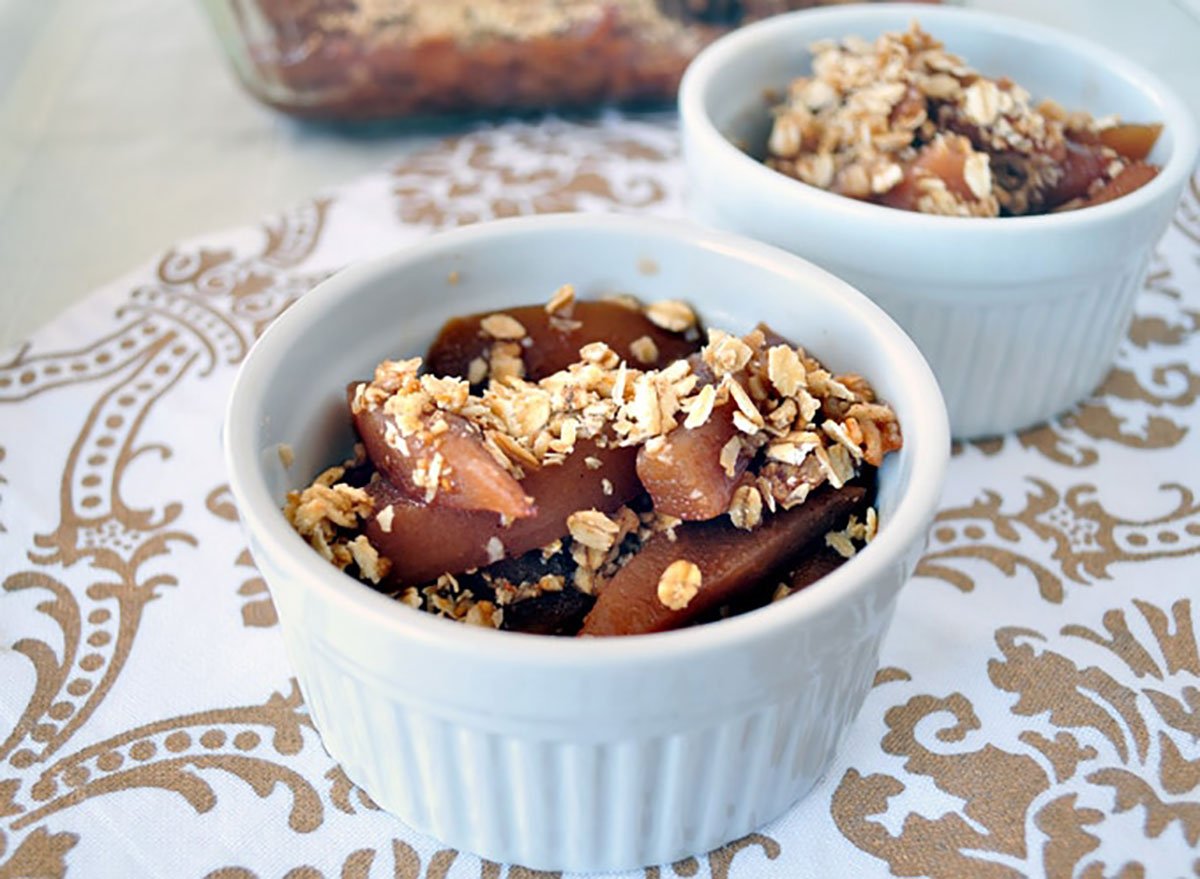 This naturally sweetened dessert is one you don't have to feel guilty about. Cooking pears in heat brings out an extra dose of sweetness that is perfect to satisfy those cravings and won't kill those summer body goals.
Get the recipe from My Whole Food Life.
Salmon is the golden child of seafood. Wild-caught salmon is exploding with omega-3s, a healthy fat that helps boost metabolism and burn calories. Make sure to avoid the farm-raised kind that tends to have dyes added to them and too many omega-6s. To see what else is hiding in farm-raised salmon, check out 8 Reasons You Should Never Order the Salmon.
Get the recipe from Get Crocked.
BBQ Chicken Quinoa Casserole
What says warm weather more than BBQ? This recipe brings all that delicious BBQ flavor, without you having to fire up the grill. As a bonus, quinoa and chicken are both great sources of protein that will keep you full and satisfied.
Get the recipe from Food Faith Fitness.
And for more delicious tricks, don't miss these 52 Life-Changing Kitchen Hacks That'll Make You Enjoy Cooking Again.