20 Best Slow Cooker Soup Recipes
An effortless dinner packed with nutritional benefits? Sounds good to us!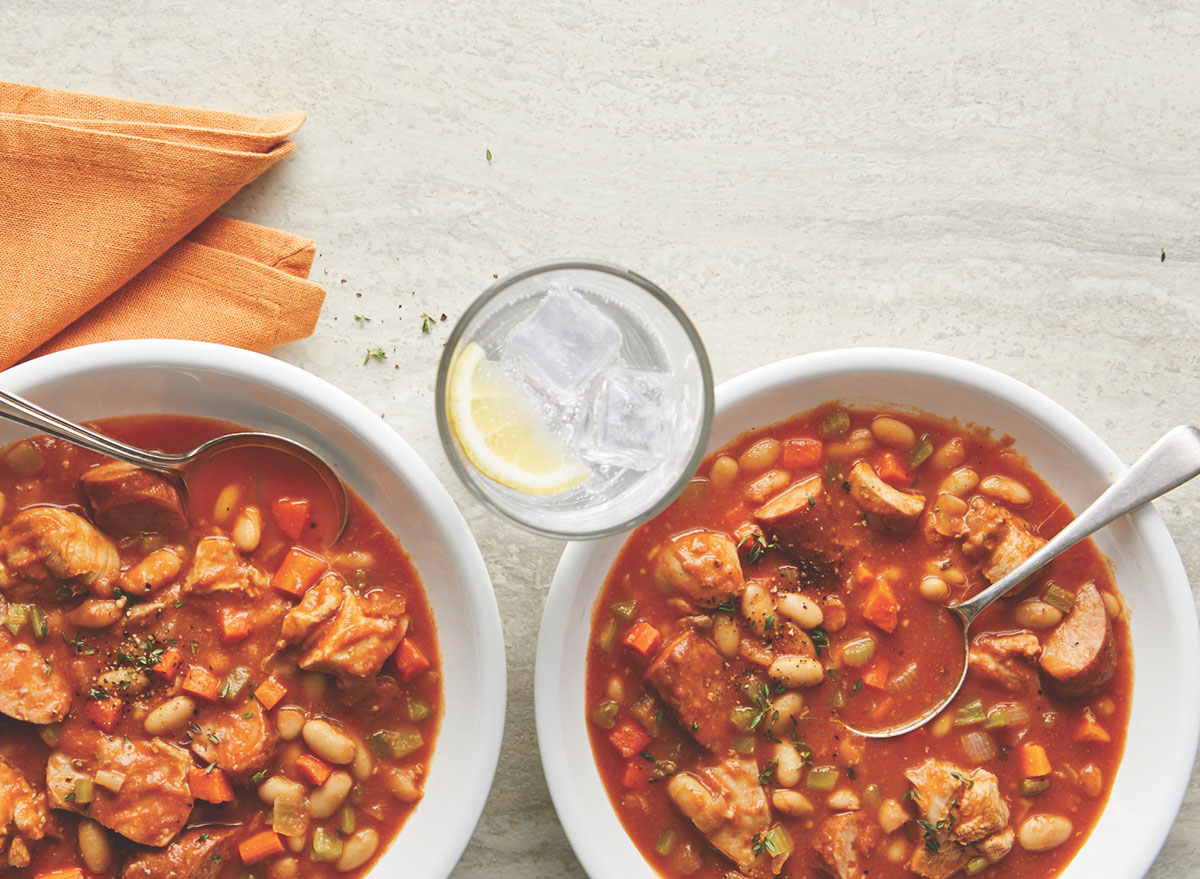 There's just something about spooning a steaming bowl of soup into your mouth on a cold winter day. Maybe it's the way the flavors come to life on your tongue or how the liquid somehow manages to warm your entire body as it trickles down the back of your throat. Maybe it's the comforting memories it brings back or just the minimal effort it requires to consume it.
Whatever it is, you never turn down a hearty bowl of soup and we can't blame you. When made with the right ingredients, soup can aid weight loss, promote digestion, boost immunity, keep you fuller for longer, and much more! And because life is hella hectic this time of year, we went on a hunt for healthy Crock-Pot recipes that were also soups. It doesn't get any simpler than this.
This diverse list contains recipes that are both delish and got our nutritional stamp of approval. And whatever you do, make sure you're steering clear of these 15 Worst Ingredients to Put in Your Slow Cooker.
Slow Cooker Green Chile Pork Soup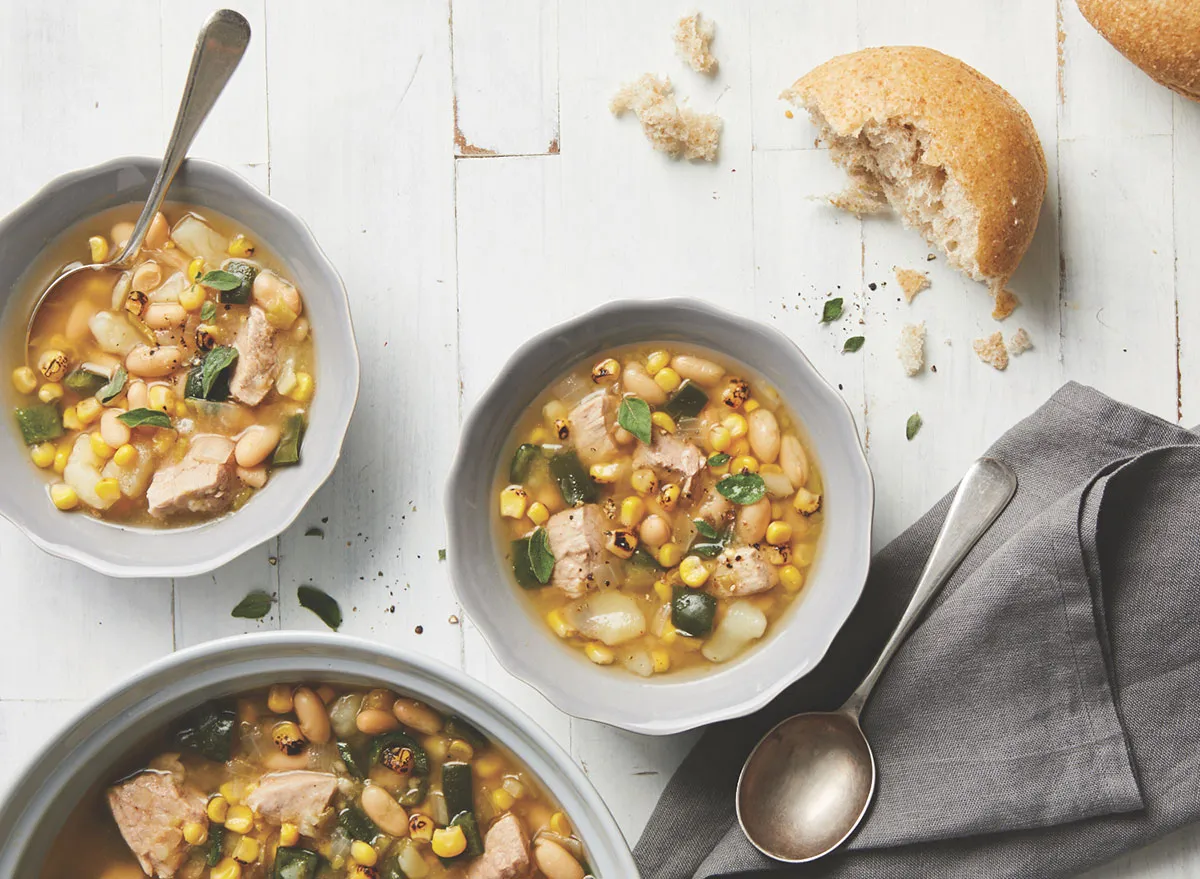 You'll never want canned soup again after trying this flavorful recipe!
Get our recipe for Slow Cooker Green Chile Pork Soup.
Crock-Pot Chicken Noodle Soup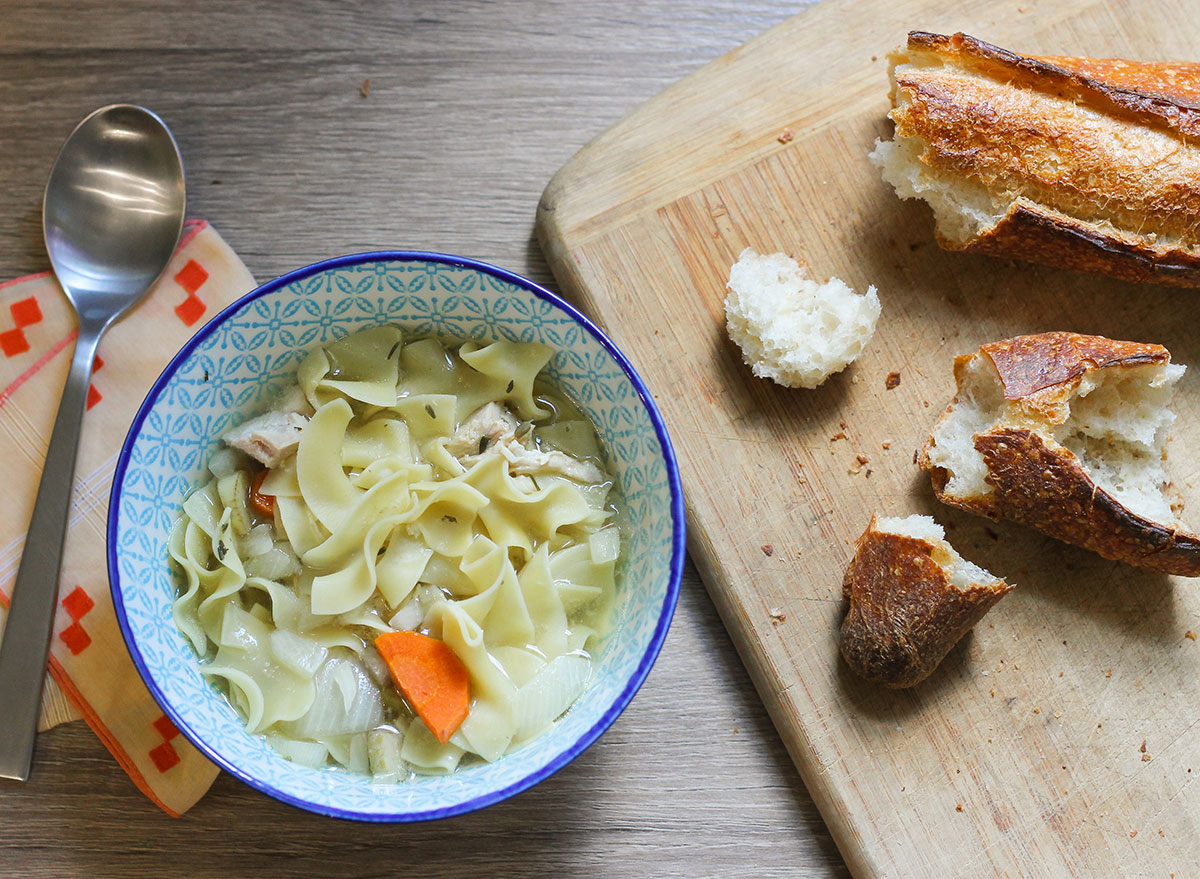 You can't mess with a classic! Whether you're sick or just looking for classic comfort food, try this easy recipe.
Get our recipe for Crock-Pot Chicken Noodle Soup.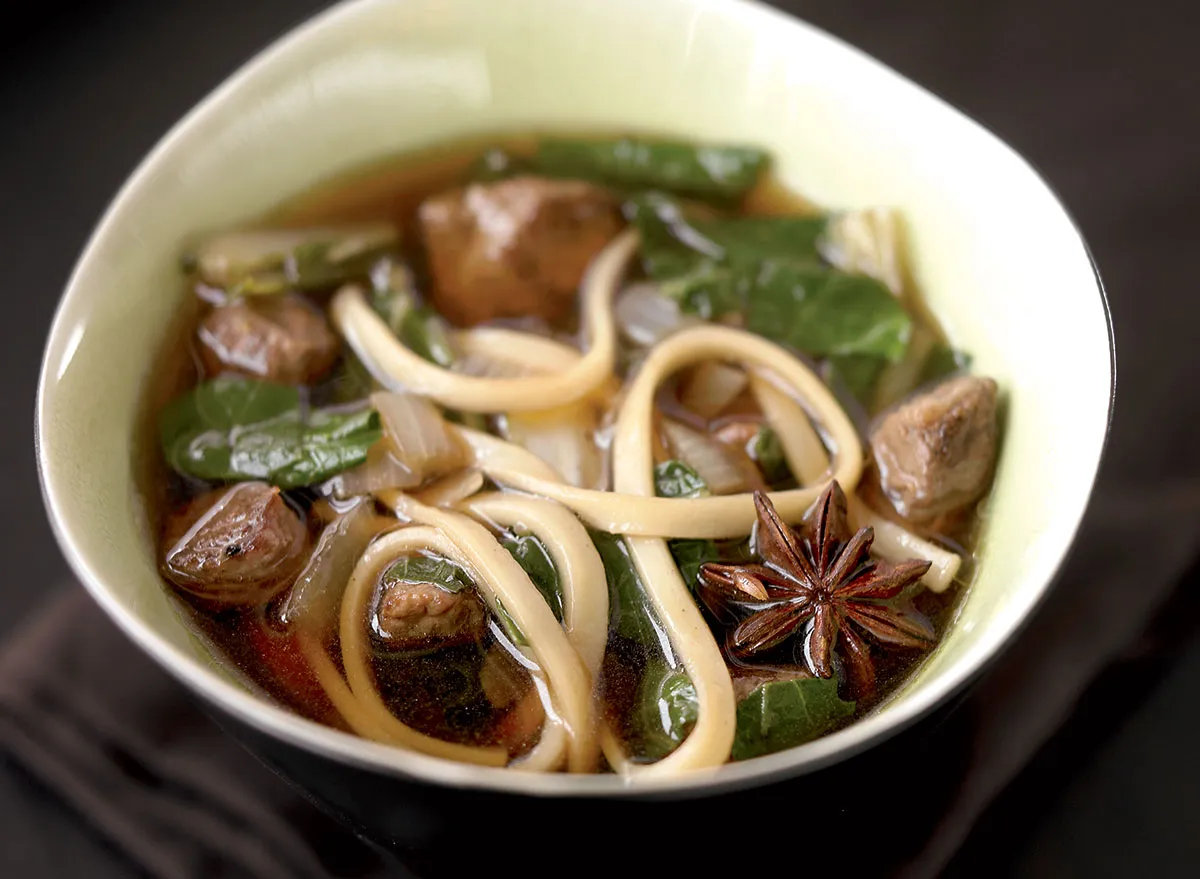 Skip the takeout and make this easy, hearty Asian recipe instead.
Get our recipe for Asian Beef Noodle Soup.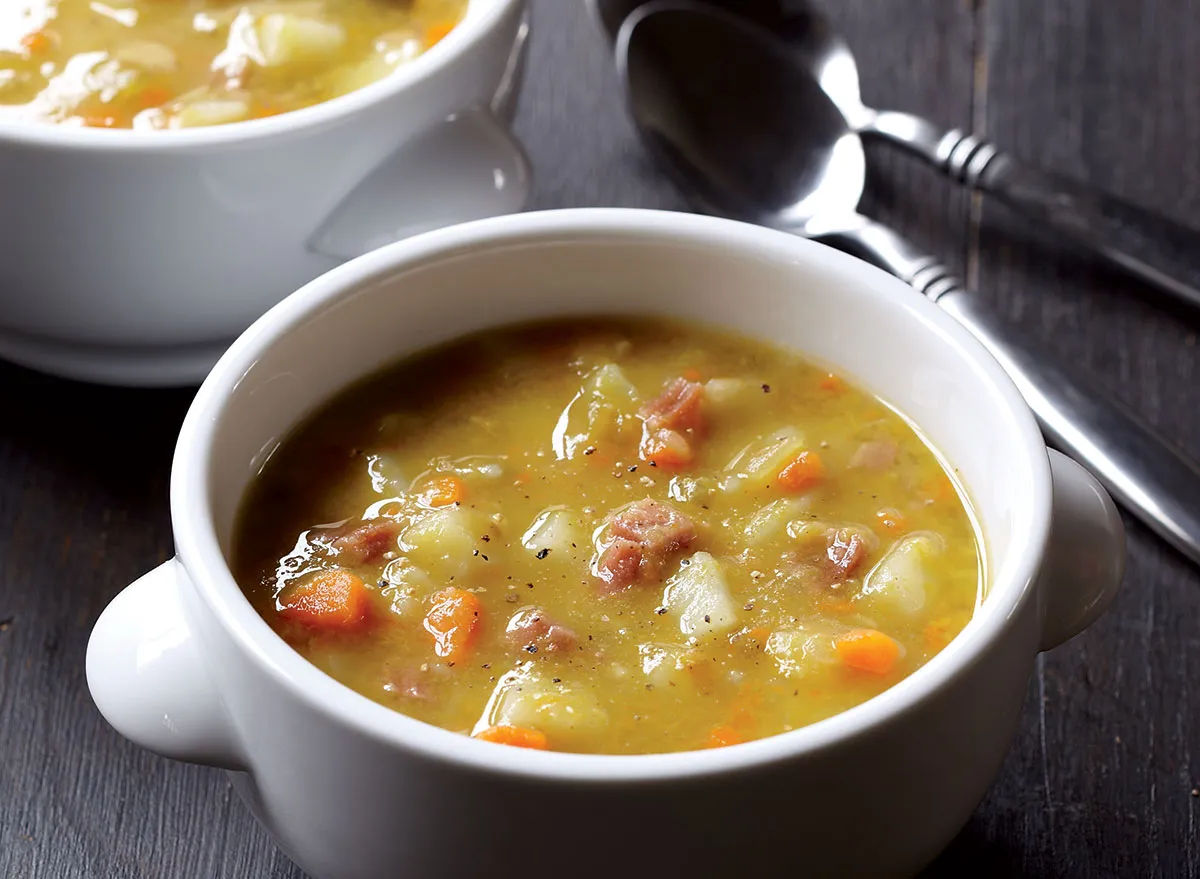 Split peas and ham are a perfect pair in this easy Crock-Pot recipe.
Get our recipe for Creamy Split Pea Soup.
Cuban Tomato and Black Bean Soup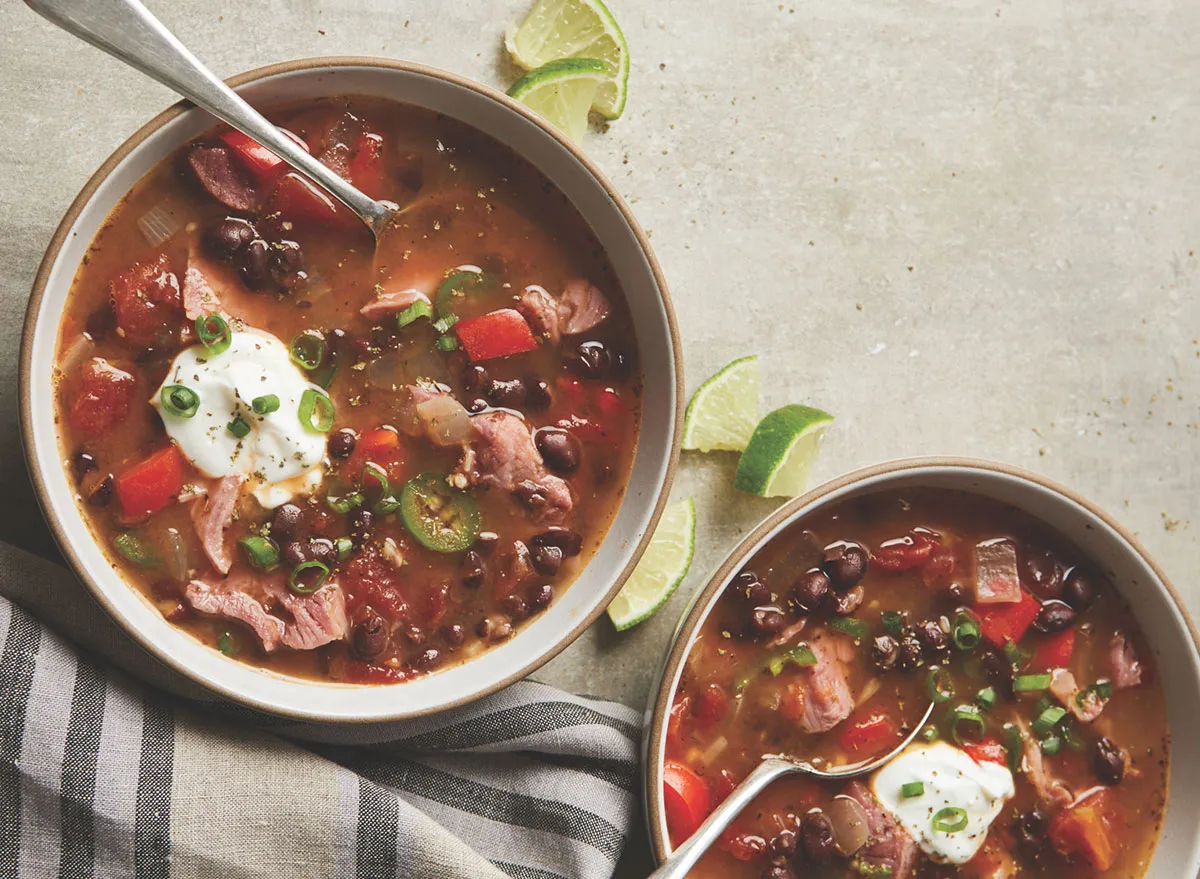 Tomatoes and black beans are a match made in heaven. Garnish your bowl with lime wedges and serve with sour cream for a meal everyone will enjoy.
Get our recipe for Cuban Tomato and Black Bean Soup.
Slow Cooker Turkey Cassoulet
If you've never had cassoulet before, let this recipe transport you straight to France. Made with turkey thighs, sausage, beans, and tomato sauce, this recipe is as flavorful as it is nutritious.
Get our recipe for Slow Cooker Turkey Cassoulet.
If you're looking for a heartier meal, may we suggest this beef stew? With potatoes, carrots, peas, and pearl onions, this meal is bursting with nutritious veggies.
Get our recipe for Beef Stew in Red Wine.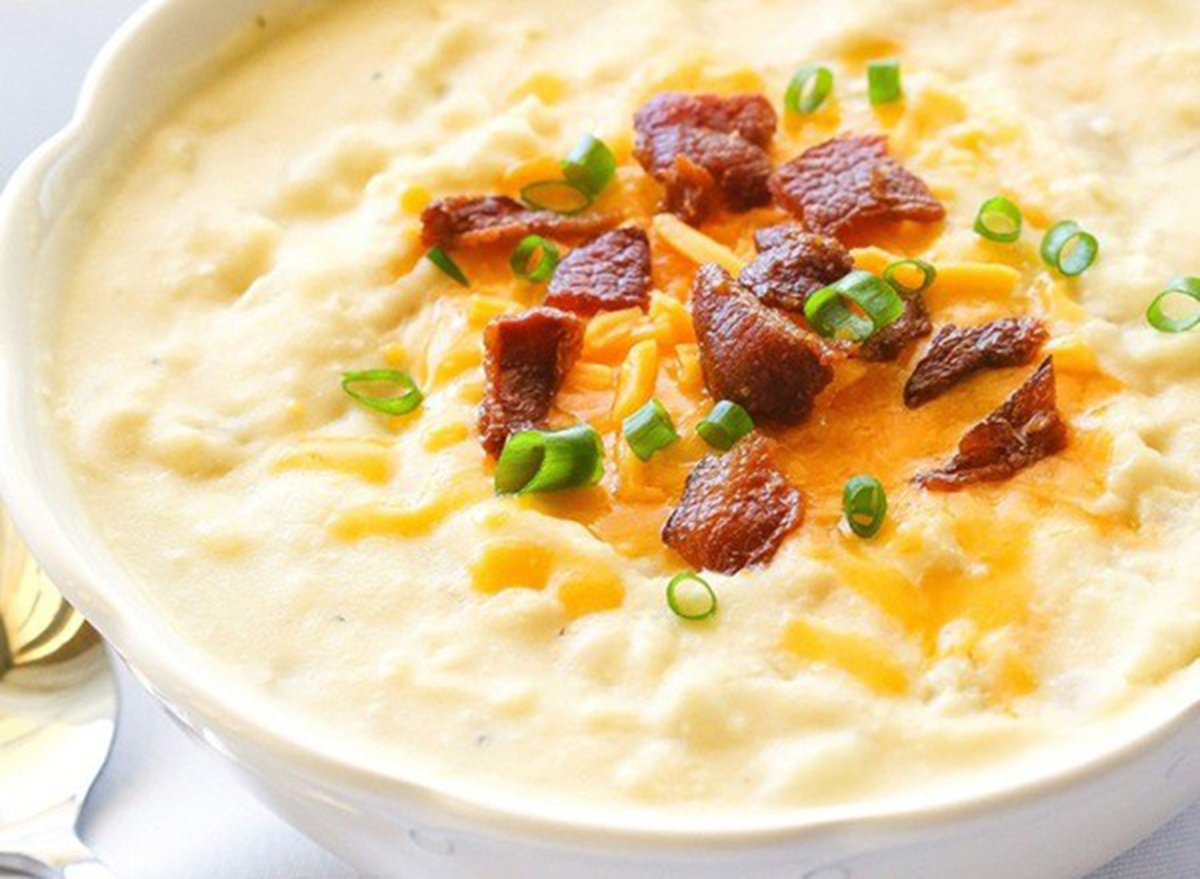 This soup will remind you of restaurants like Bob Evans, but the homemade version is a lot better for you. Made with fresh ingredients, this potato soup is simple and delicious.
Get the recipe from The Girl Who Ate Everything.
One-Pot Chicken Bacon Orzo Soup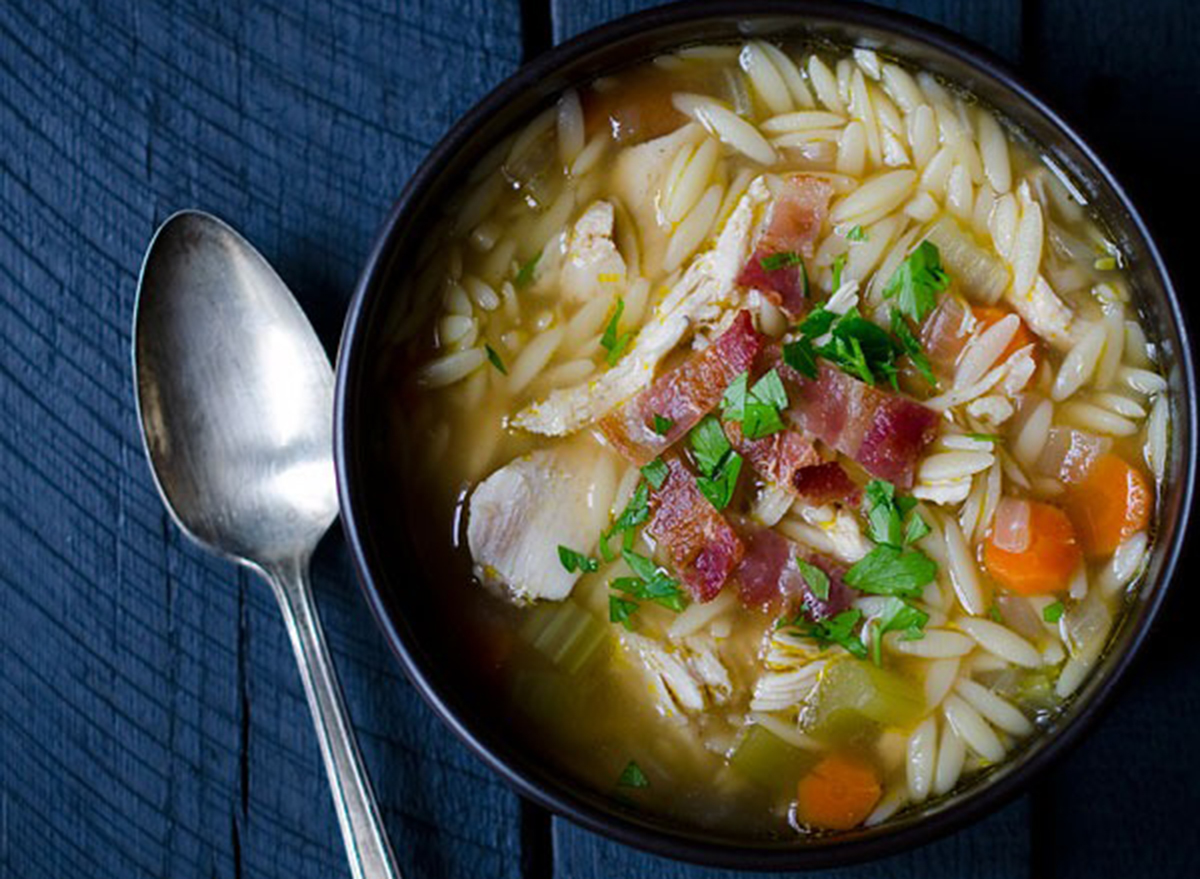 Orzo isn't just for pasta salads and cold dishes. It's also great in slow cooker recipes, like this soup made with chicken and bacon. The meat lovers in your house will be thrilled to try this recipe.
Get the recipe from Savory Simple.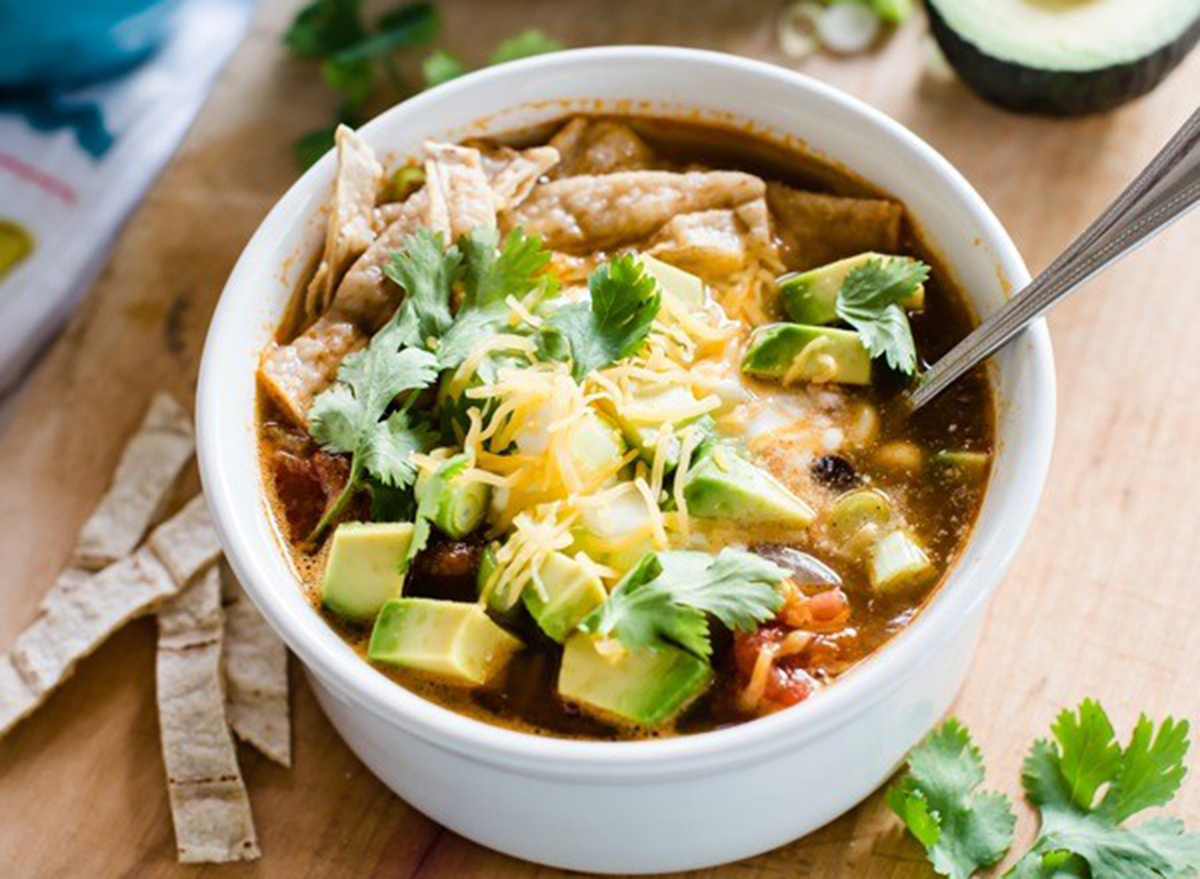 Forget chicken tortilla soup—this plant-based version is just as flavorful.6254a4d1642c605c54bf1cab17d50f1e
Get the recipe from Oh My Veggies.
Crock-Pot Broccoli Cheese Soup
You don't have to head to Panera for broccoli-cheese soup. You can make a delicious pot of it right in your slow cooker. Yum!
Get the recipe from Pinch of Yum.
Slow Cooker Ham and Bean Soup
This soup recipe is a great way to use up leftover spiral ham.
Get the recipe from Five Heart Home.
Slow Cooker Vegetable Beef Soup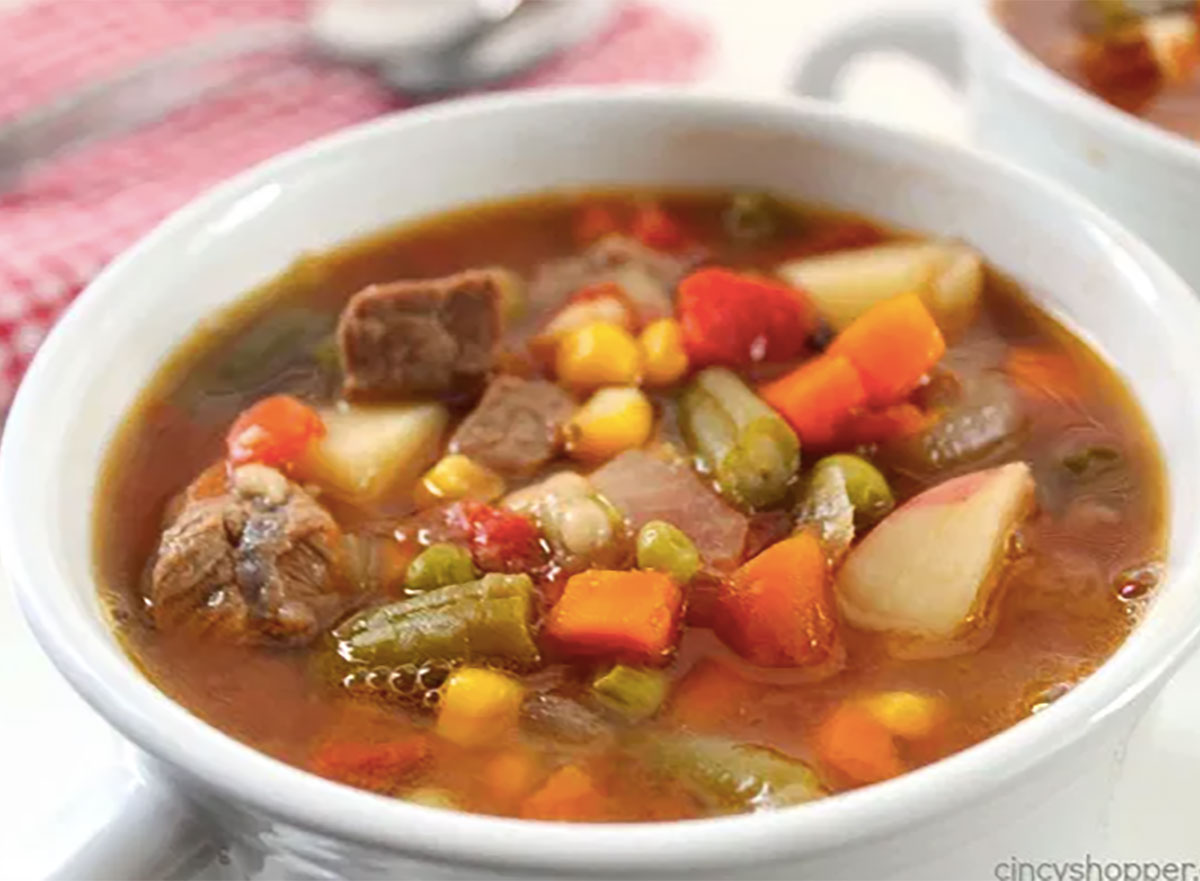 You've heard it a million times: "I don't eat red meat for reasons X, Y, and Z." And while we do understand that there are dietary reasons for ditching the protein, your weight loss goals should not be one of them. In fact, grass-fed beef is higher in stearic acid than conventionally raised beef. Stearic acid is a type of long-chain saturated fat that slows digestion and plays a key role in regulating the energy-producing powerhouses of our cells AKA the mitochondria. Not to mention, studies link stearic acid with lowered LDL cholesterol and reduced inflammation.
Get the recipe from Cincy Shopper.
Slow Cooker Chicken Parmesan Soup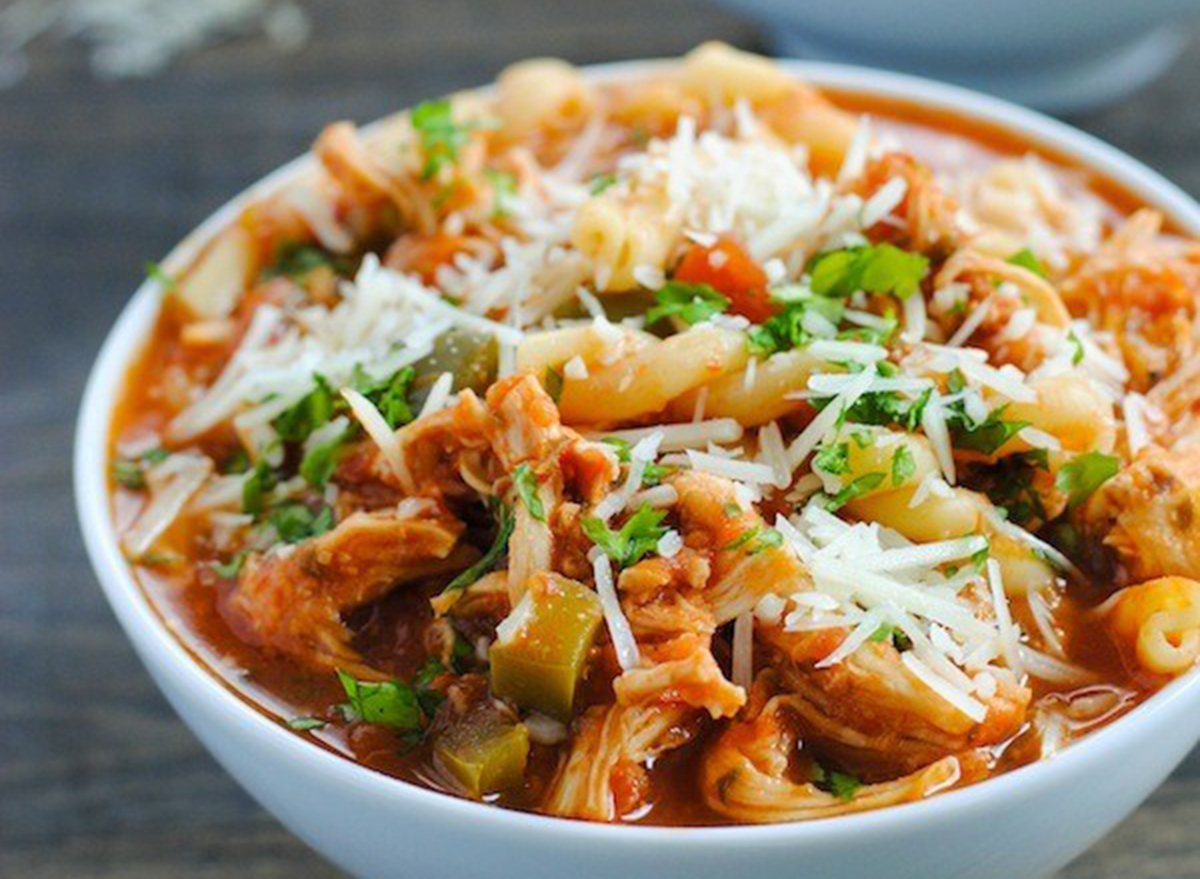 Turn your favorite pasta dish into a soup with this easy Crock-Pot soup recipe.
Get the recipe from Foxes Love Lemons.
Crock-Pot Chicken and Wild Rice Soup
Protein-boasting shredded chicken breast, wholesome wild rice, fibrous vegetables, and mineral-rich broth—this low fat, gluten-free soup is great for any health plan.
Get the recipe from Iowa Girl Eats.
Crock-Pot Tomato Basil Soup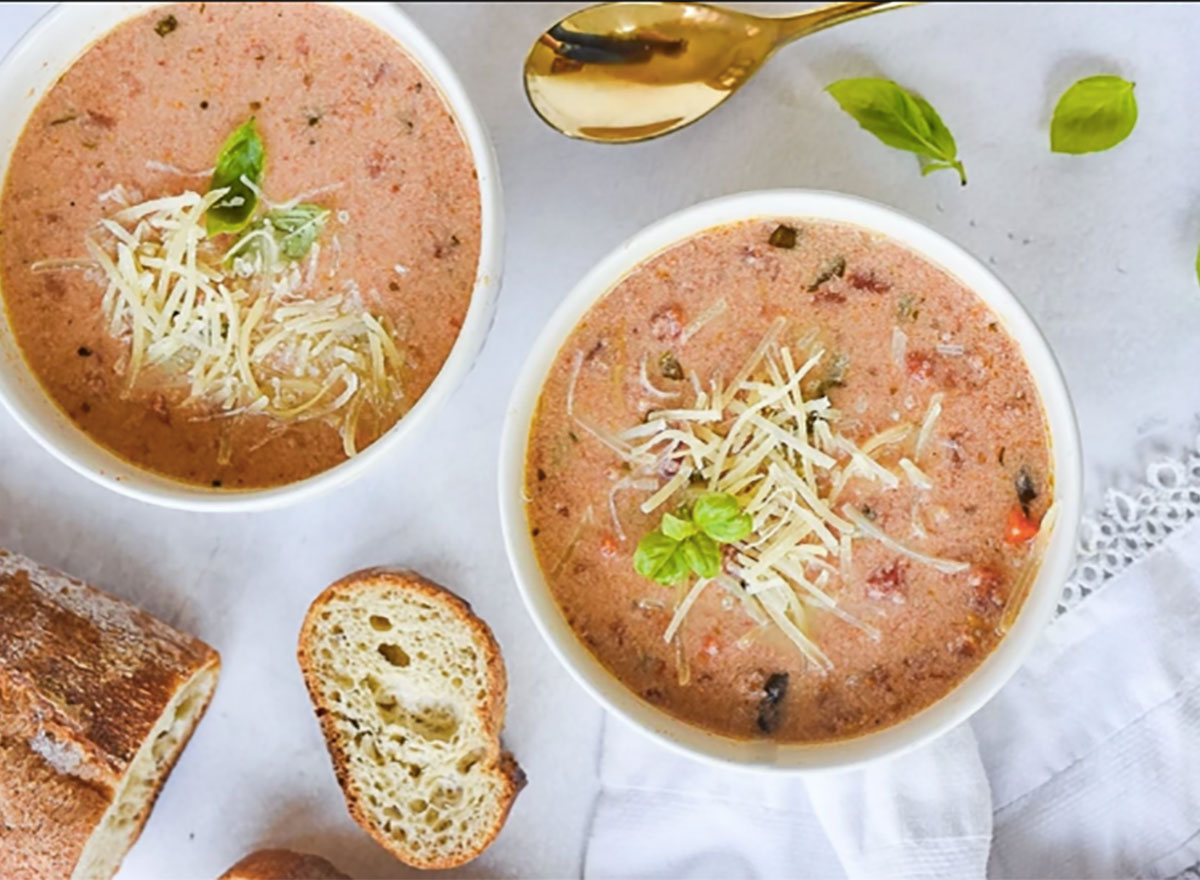 Diced tomatoes, celery, carrots, and onions are combined with fresh basil, oregano, light cream, parmesan, and chicken broth to make this tomato soup. When you're soup is this savory, who needs grilled cheese?
Get the recipe from Your Home Based Mom.
Slow Cooker Chicken Pot Pie Stew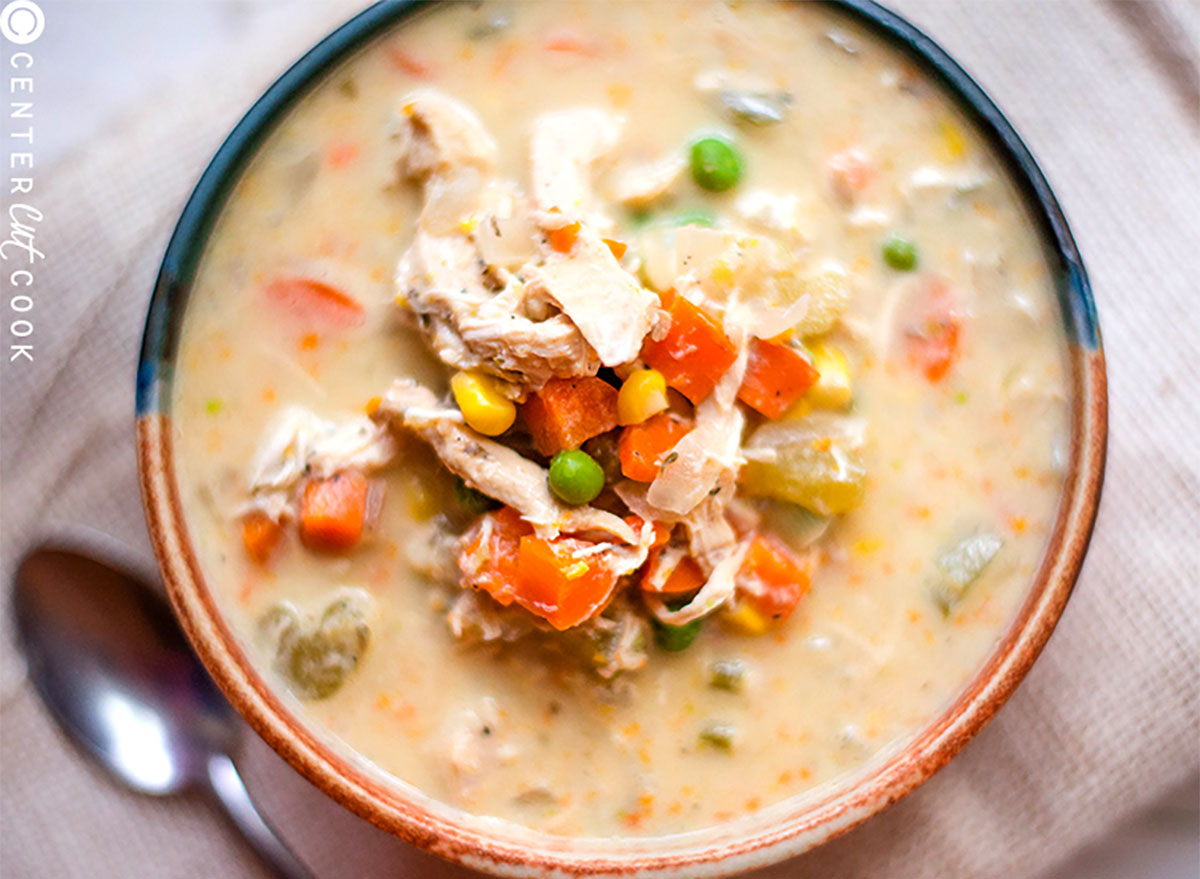 Chicken and veggies smothered in a creamy broth and baked inside a thick, nutrient-void crust? We'll admit that it's tempting, but it's no secret that chicken pot pie is a belly-bulging nightmare. Fortunately, you can ditch the white carbs, heavy cream, and butter. Just toss the remaining ingredients into a Crock-Pot, and you'll have yourself a low cal, nourishing dinner with all the flavor and none of the fattening ingredients.
Get the recipe from Center-Cut Cook.
Slow Cooker Kale and Turkey Meatball Soup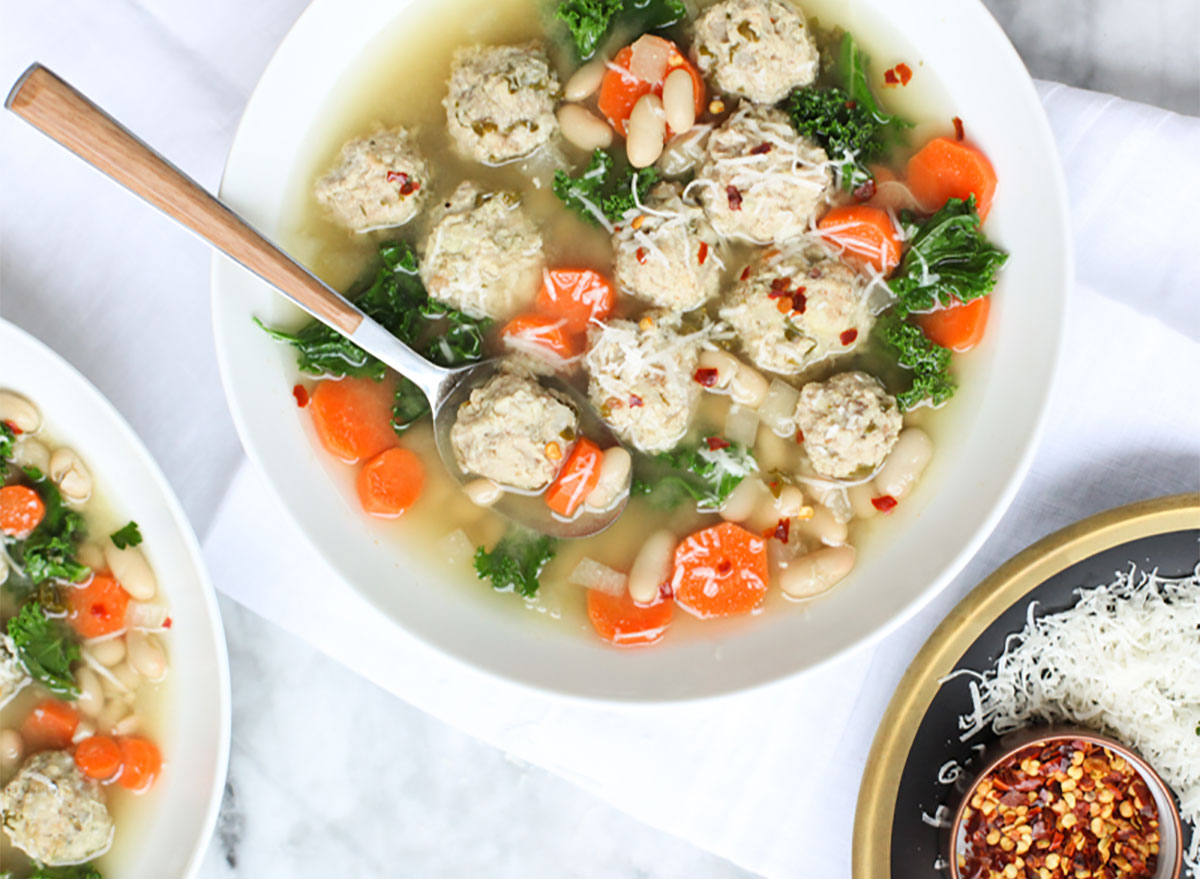 Kale is one of the most nutrient-dense foods out there because it's packed with more than 10 vitamins and minerals and is loaded with fiber. Promote digestion, boost immunity, aid weight loss, and fend off cancer with one serving of his wholesome meatball soup.
Get the recipe from Foodie Crush.
Slow Cooker Sausage, Spinach, & White Bean Soup
This may be the most nutritionally dense soup on this list, so it's well worth the extra calories. Packed with slow-digesting white beans, protein, and fiber, this soup fends off cravings and mood swings.
Get the recipe from Damn Delicious.
Crock-Pot Sweet Potato Chipotle Chili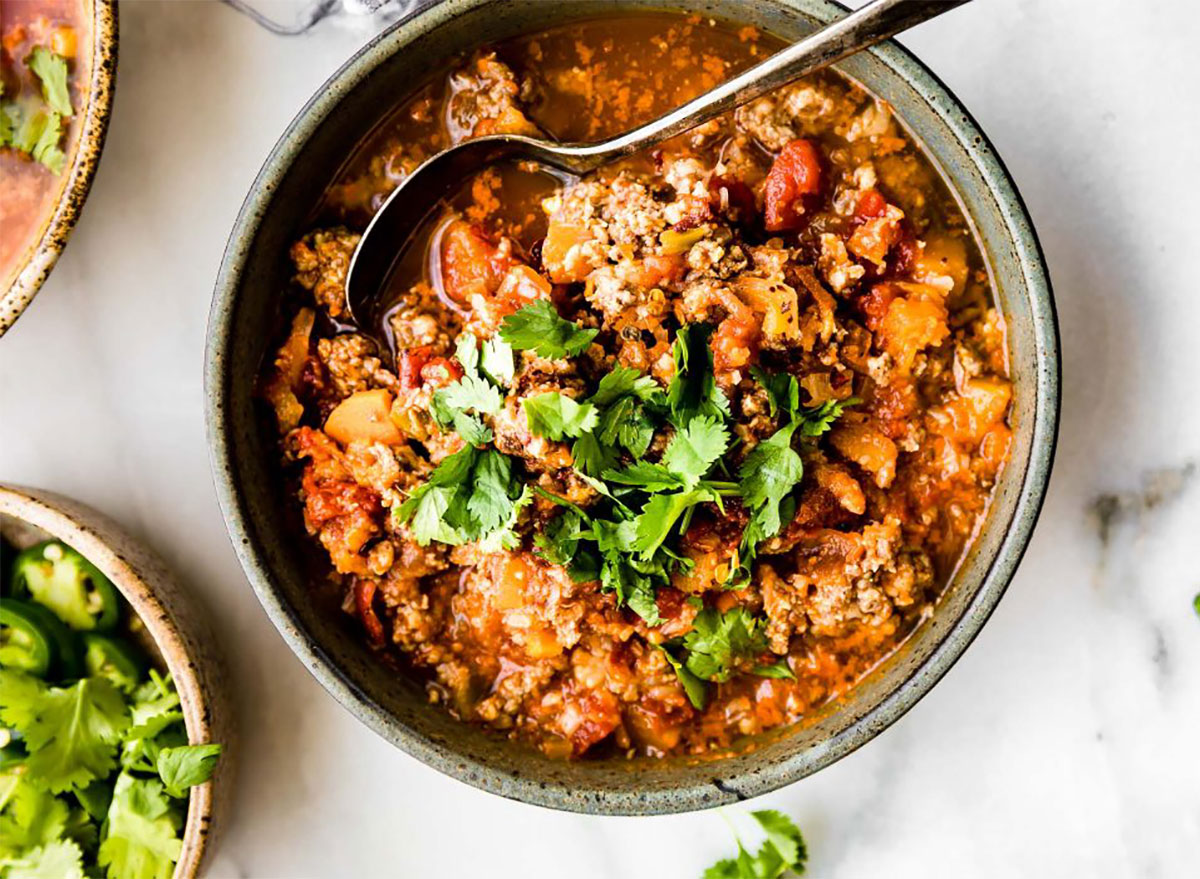 Feeling a little ghostly? You're not alone. As the temperatures dip and the days get shorter, your exposure to sunlight is probably at a record low. Skip the cancer-causing tanning beds and messy self-tanners and consume more carotenoid-rich foods (like sweet potatoes) instead.
Get the recipe from Cotter Crunch.