20 Best Holiday Ham Recipes
From the main dish to the leftovers, we have you covered.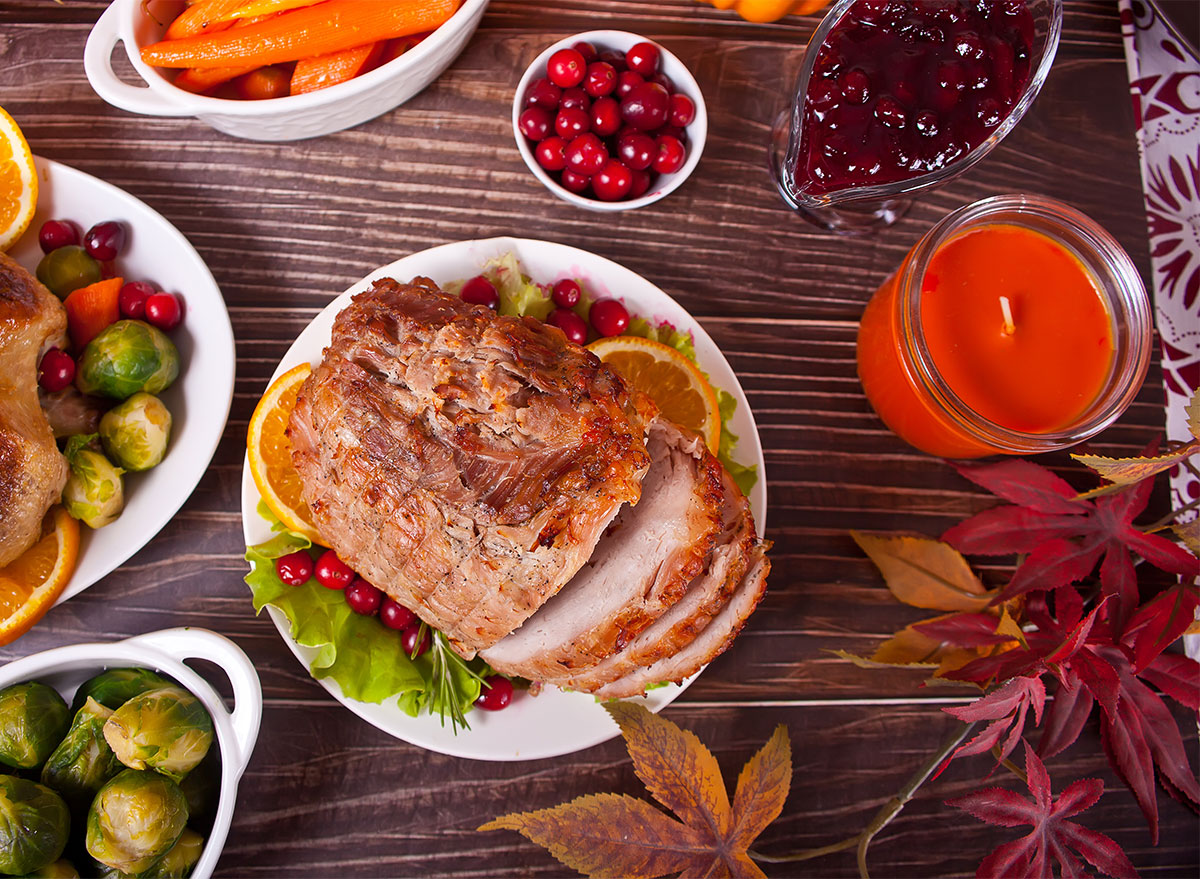 Succulent and golden-brown, a bone-in ham has a standing invitation to be the centerpiece dish on the Christmas tabletop year after year. Ready-to-cook holiday hams from the supermarket are super simple to make, especially for a main dish. Plus, a ham is big enough to serve a crowd, and you'll still have plenty of leftovers for breakfast omelets, lunch-time sandwiches, and even strombolis in the days to come.
From glazes for your holiday ham to delicious ideas for leftovers and ways to use up your ham bone, here are 20 holiday ham recipes you and your guests will go ham over.
And for more, check out these 15 Classic American Desserts That Deserve a Comeback.
Low-Calorie Bourbon-Glazed Ham
Because most hams already come cooked, you can give all your attention to perfecting a gourmet glaze. This bourbon glaze yields the perfect bite: Sweet, spicy and salty—all in one. Take your pick from a peach or apricot marmalade when making this glaze.
Get our recipe for Low-Calorie Bourbon-Glazed Ham.
Crispy Ham Omelet with Cheese and Mushrooms
Proving leftover ham shouldn't be reserved for just sandwiches, this omelet recipe calls for prosciutto to be sprinkled on top, but crisped-up holiday ham is definitely a worthy substitute this time of year. The better-than-a-diner omelet is stuffed with cremini mushrooms and creamy, melty gruyère cheese.
Get our recipe for a Crispy Ham Omelet with Cheese and Mushrooms.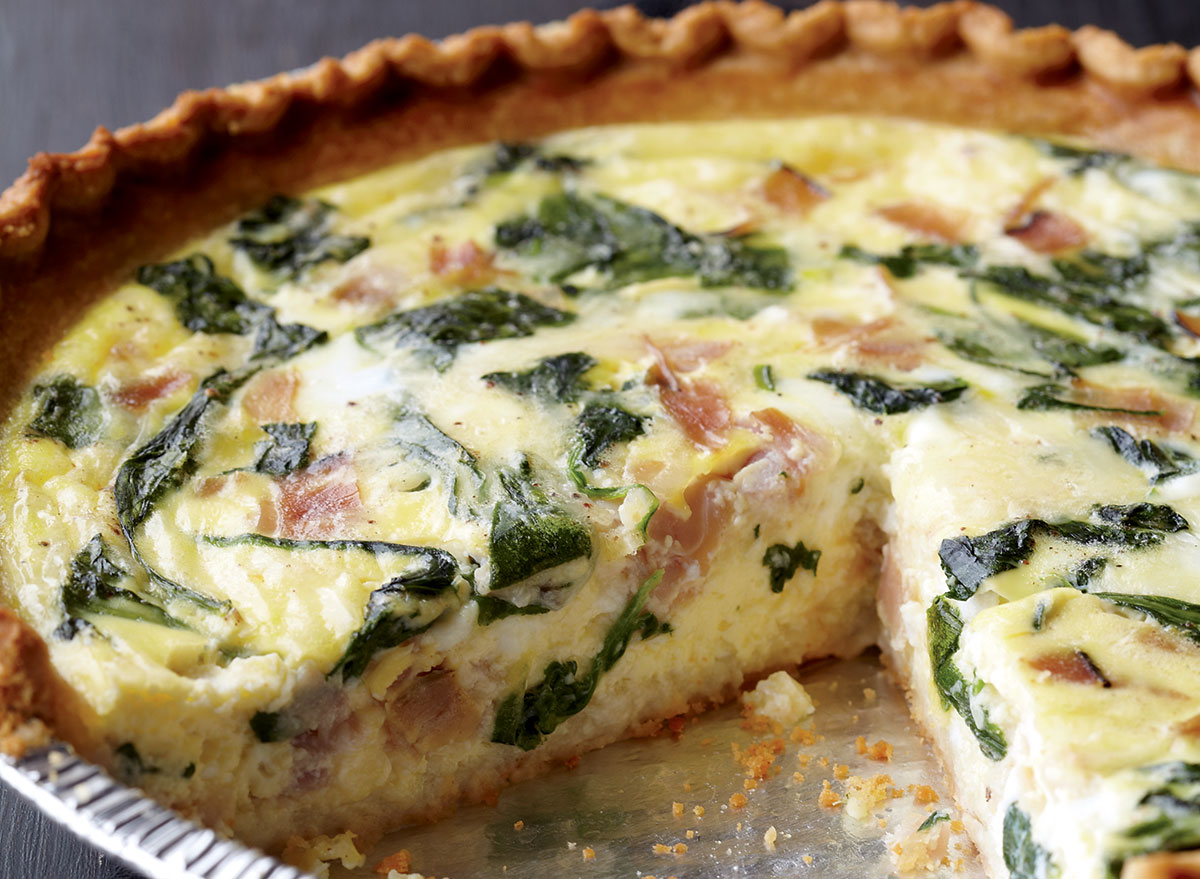 Quiche is one of those rare dishes that's acceptable to eat at any time of day. Enjoy it at breakfast, lunch, dinner, brinner, brunch. Or just cut a wedge and enjoy it as a savory snack. Ham gives a nice salty punch to this quiche recipe that's made with spinach and your choice of Swiss or gruyère cheese—or both because really quiche isn't one to subscribe to rules.
Get our recipe for a Spinach and Ham Quiche.
Spinach and Ham Mac and Cheese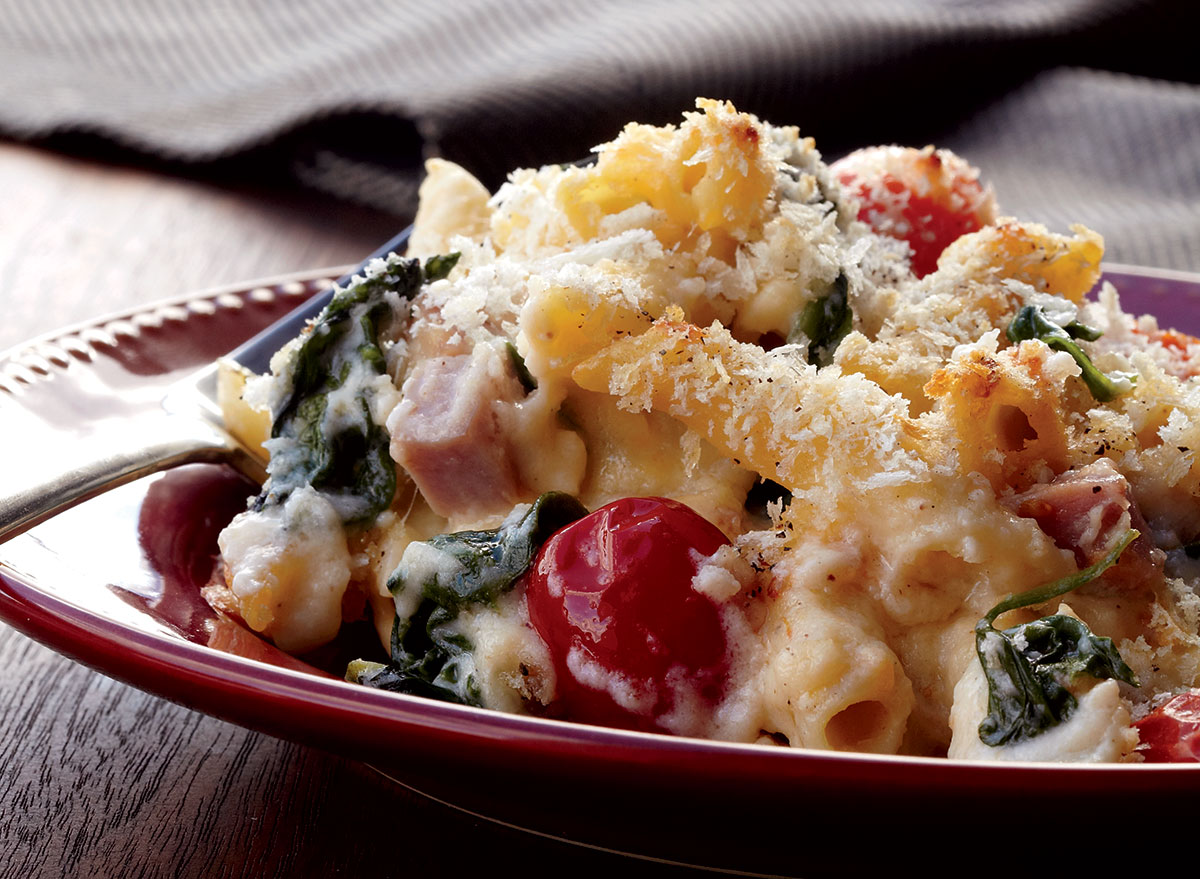 Set some holiday ham aside to use in a dinner dish. Spinach, cherry tomatoes, and ham take this mac and cheese recipe from side dish status to main dish worthy.
Get our recipe for Spinach and Ham Mac and Cheese.
Muffin Tin Quiches with Smoked Gouda and Ham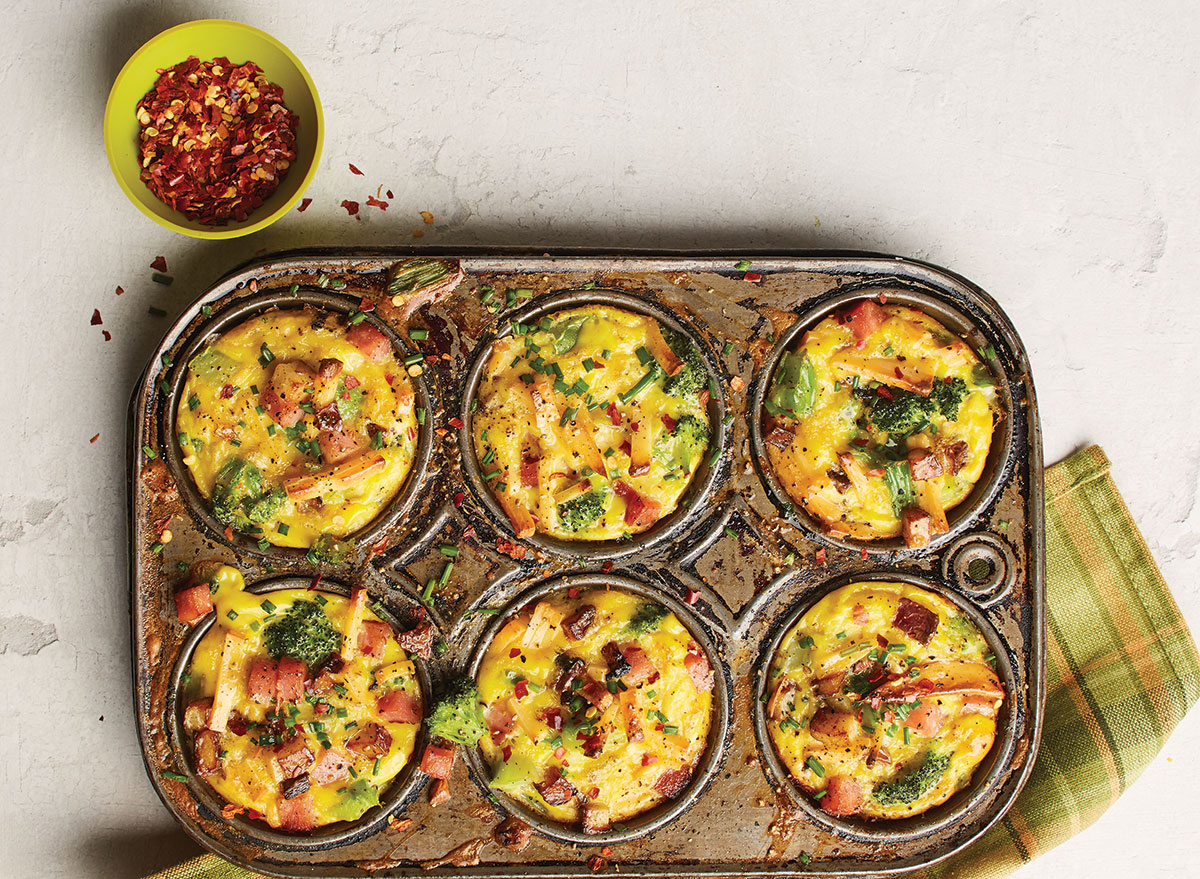 Move over, blueberry muffins. These savory quiches, made in a muffin tin, are a tasty way to use up ham for a brunch on those days between Christmas and New Year's that all feel like Saturdays.
Get our recipe for Muffin Tin Quiches With Smoked Gouda and Ham. 
Open-Face Hot Ham and Cheese with Chipotle Mayo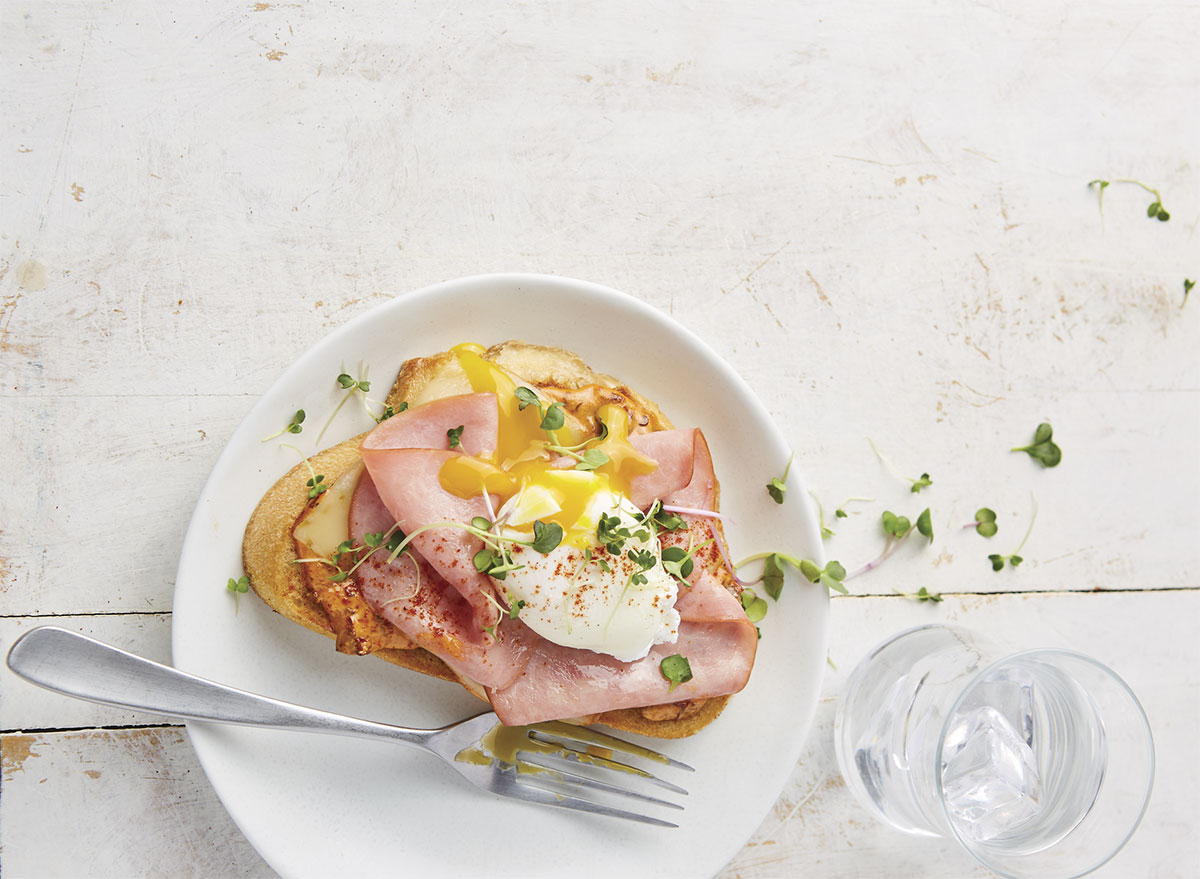 You'll want to reserve some leftover ham slices from your Christmas dinner for this gourmet sourdough grilled cheese sandwich. It's open-faced, smeared with chipotle mayo, and layered with ham.
Get our recipe for an Open-Face Hot Ham and Cheese with Chipotle Mayo.
Creamy Ham and Broccoli Soup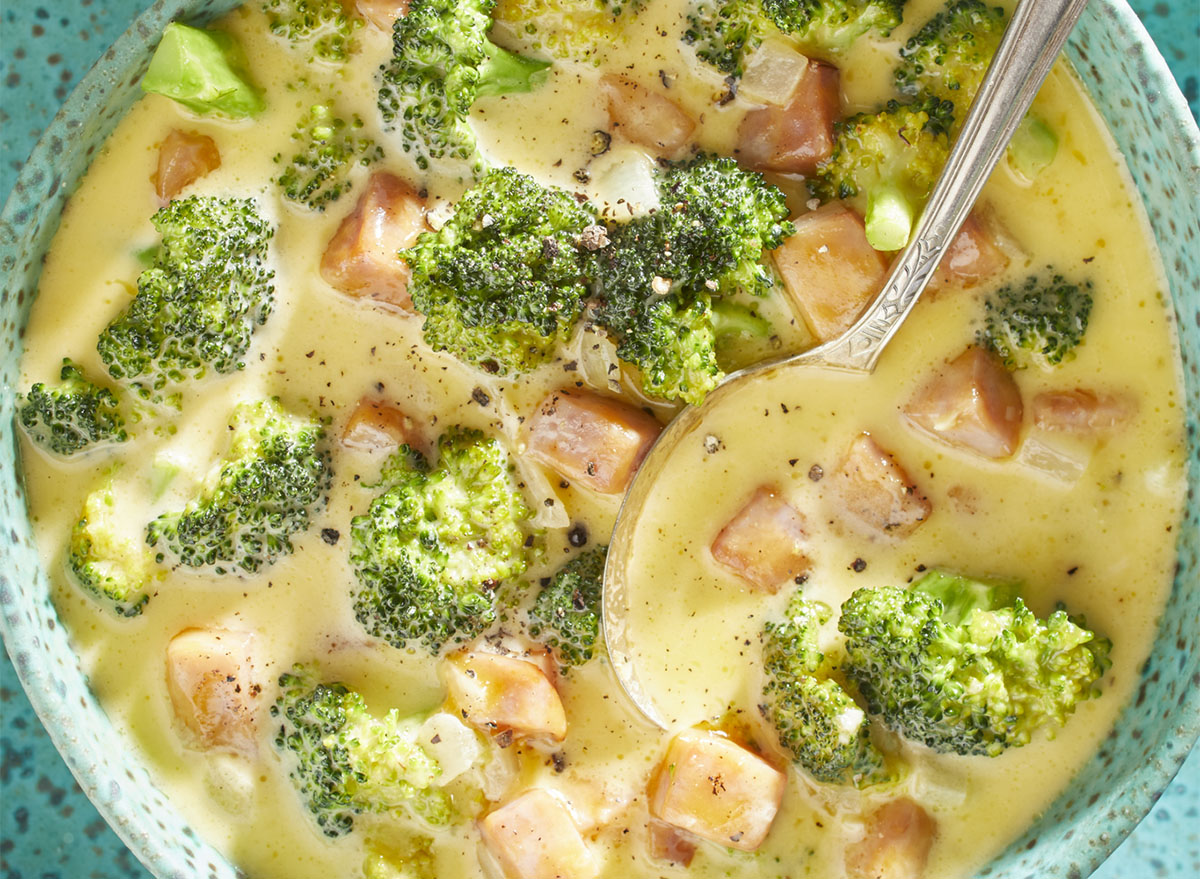 An easy way to use up leftover ham is with this creamy ham and broccoli soup recipe. Because you have ham on hand, you can make this comfort food classic in 15 minutes.
Get our recipe for Ham and Broccoli Soup.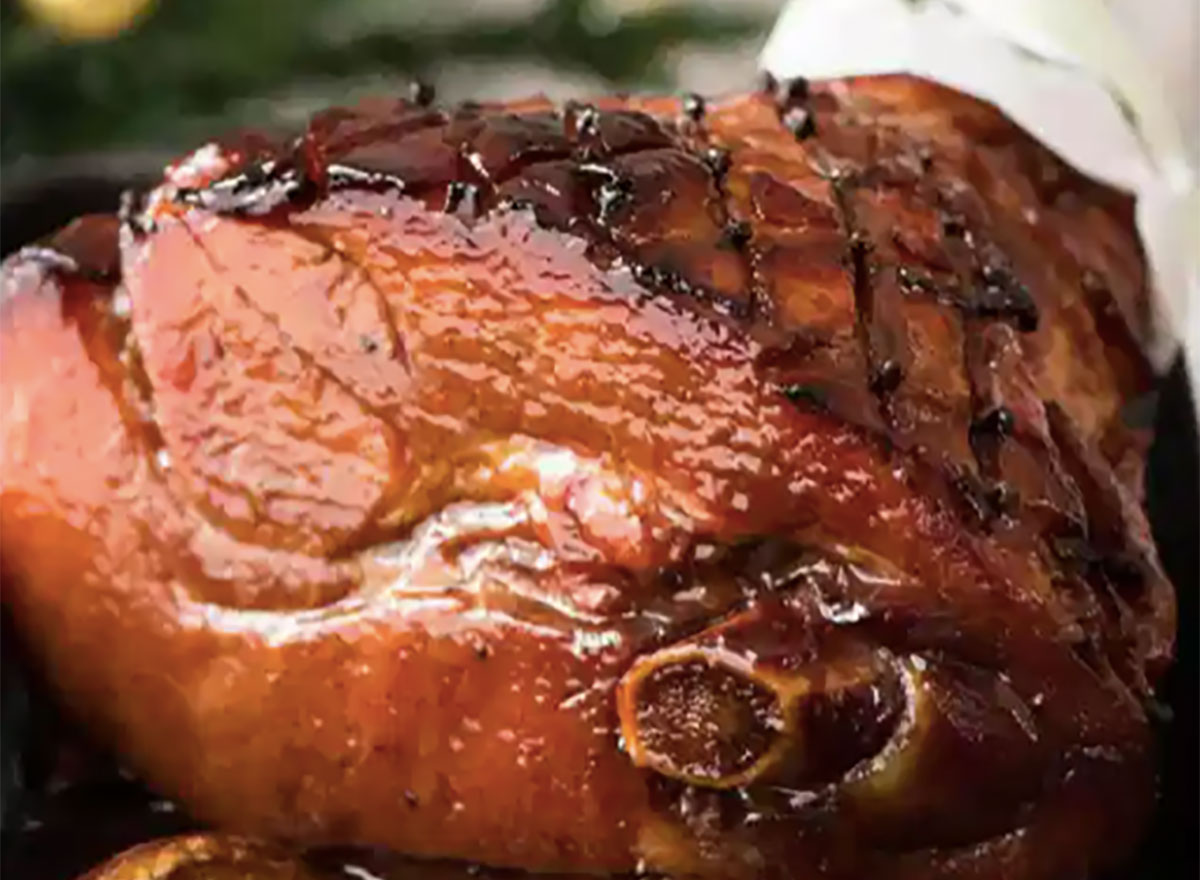 Most hams you buy at the store come with a packet of glaze. But you can make a homemade one with more complex flavors. This recipe calls in dijon mustard to thicken up the glaze and balance out the sweetness with a little tang, some orange juice to give a burst of citrus to the pan drippings, and festive spices.
Get the recipe from Recipe Tin Eats.
Chipotle Pineapple Jerk Glazed Ham
This holiday ham is finished with a tasty glaze made with pineapple, maple syrup, brown sugar, and bourbon or rum. But first, it's rubbed with a jerk seasoning, giving it an extra layer of flavor.
Get the recipe from Half Baked Harvest.
Rosemary and Mustard Crusted Baked Ham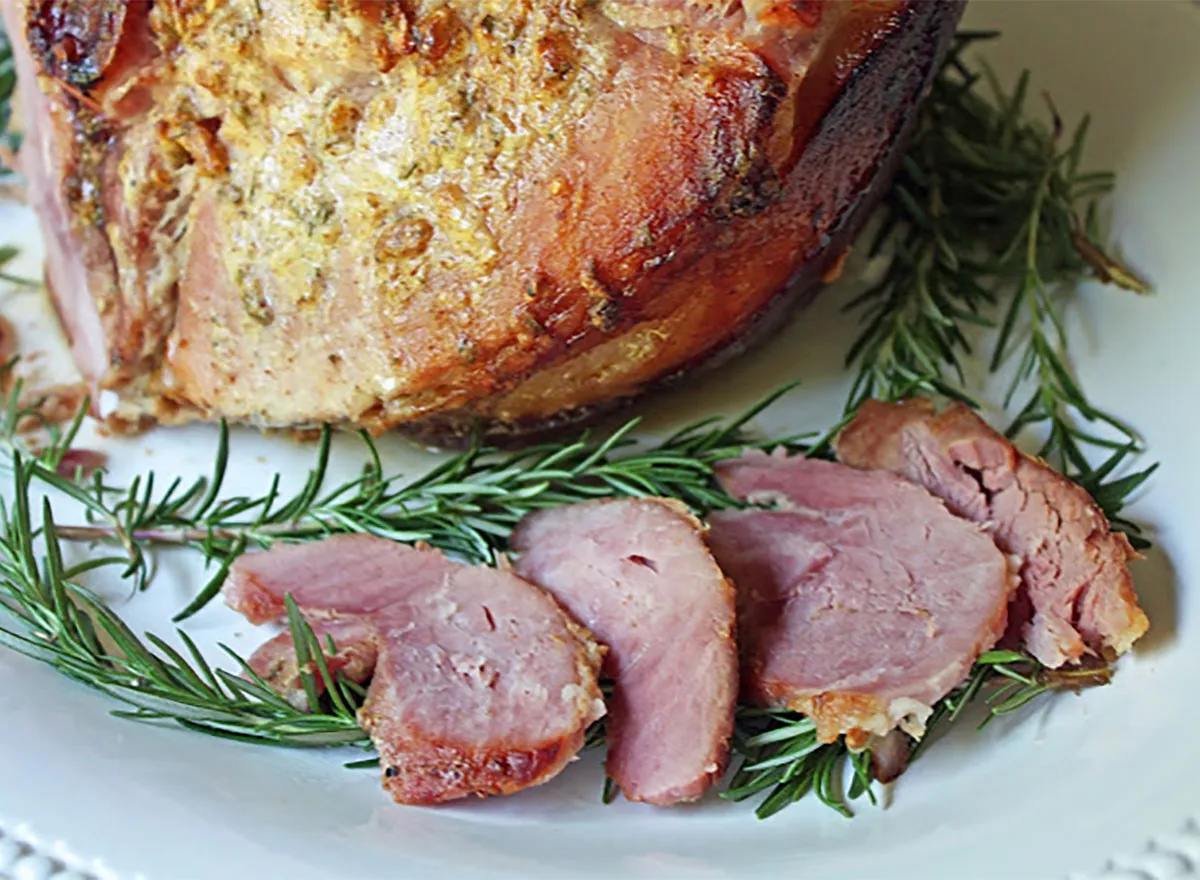 Want to take a detour from a glazed ham this year? This simple herbaceous ham is crusted with rosemary, mustard, and mayo.6254a4d1642c605c54bf1cab17d50f1e
Get the recipe from I Breathe I'm Hungry.
Crock-Pot Ham With Cola Glaze
With this classic Southern recipe, you can use a can of Coke to make a glaze for a holiday ham. To get ahead of the holiday rush, make the Coca Cola glaze with brown sugar and mustard in your Crock-Pot ahead of time.
Get the recipe from The Seasoned Mom.
Slow Cooker Brown Sugar Ham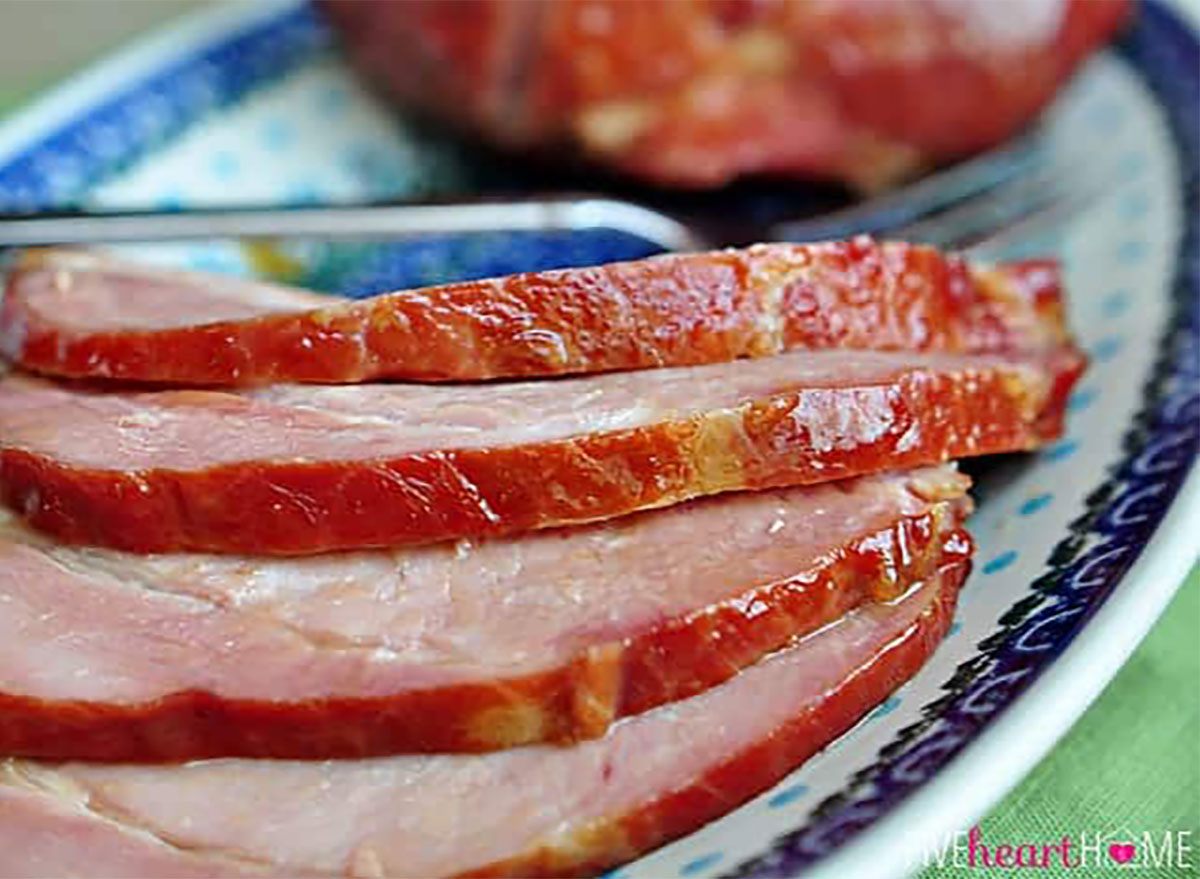 Around the holidays, your oven starts to get a little crowded, making side dishes and baking Parker rolls. Free up some space in your oven by making your ham in the slow cooker. This glaze in this recipe is made with pineapple juice and brown sugar, as well as Dijon mustard, balsamic vinegar, and honey.
Get the recipe from Five Heart Home. 
These ham and cheese pinwheels look like the work of a professional pastry chef. But really, the four-ingredient appetizer is easy to make and calls for a couple of sheets of frozen puff pastry.
Get the recipe from Well Plated.
Homemade Ham and Cheese Pockets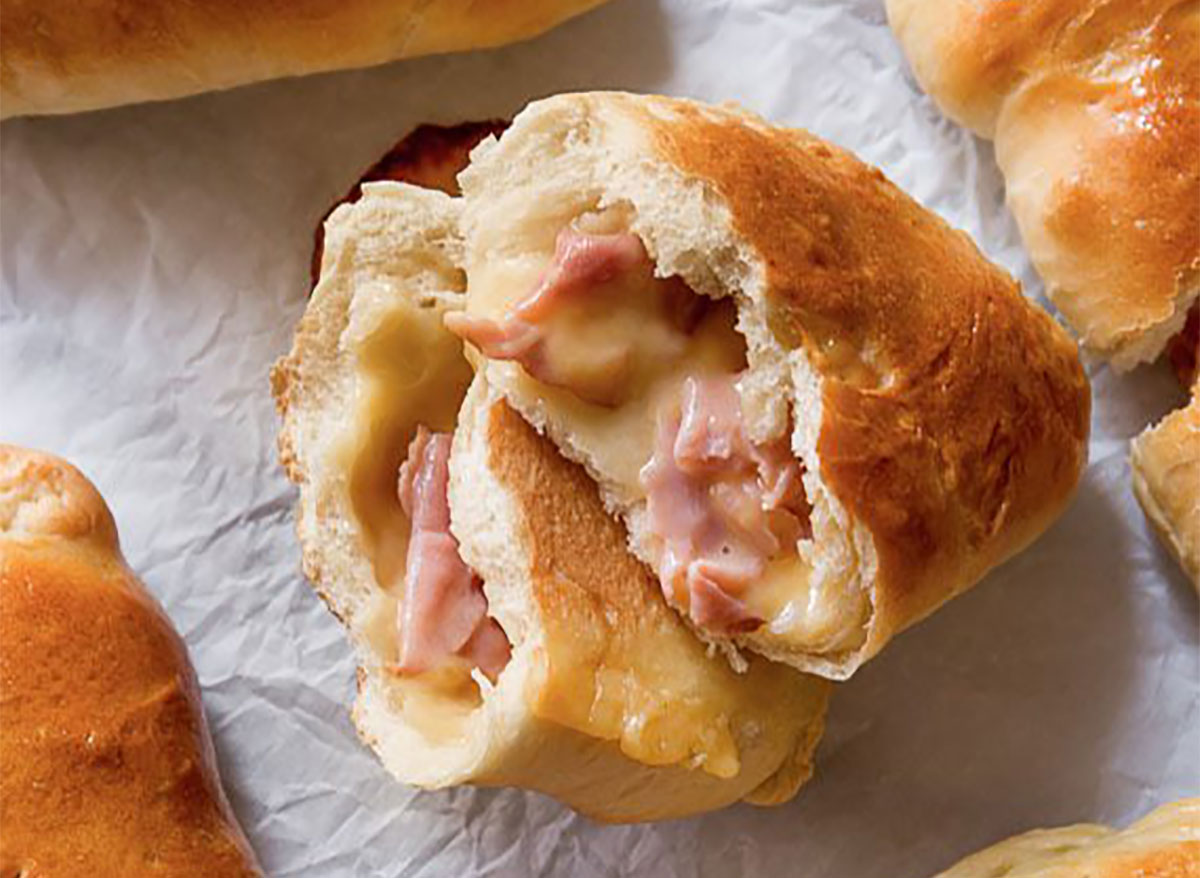 Wondering what to do with all that leftover ham now that this year's gatherings were scaled back? Use it up in these homemade ham and cheese pockets, which you can freeze. You'll never go back to the microwaveable pockets from the frozen food aisle after trying this recipe that's made with homemade pizza dough.
Get the recipe from Sally's Baking Addiction.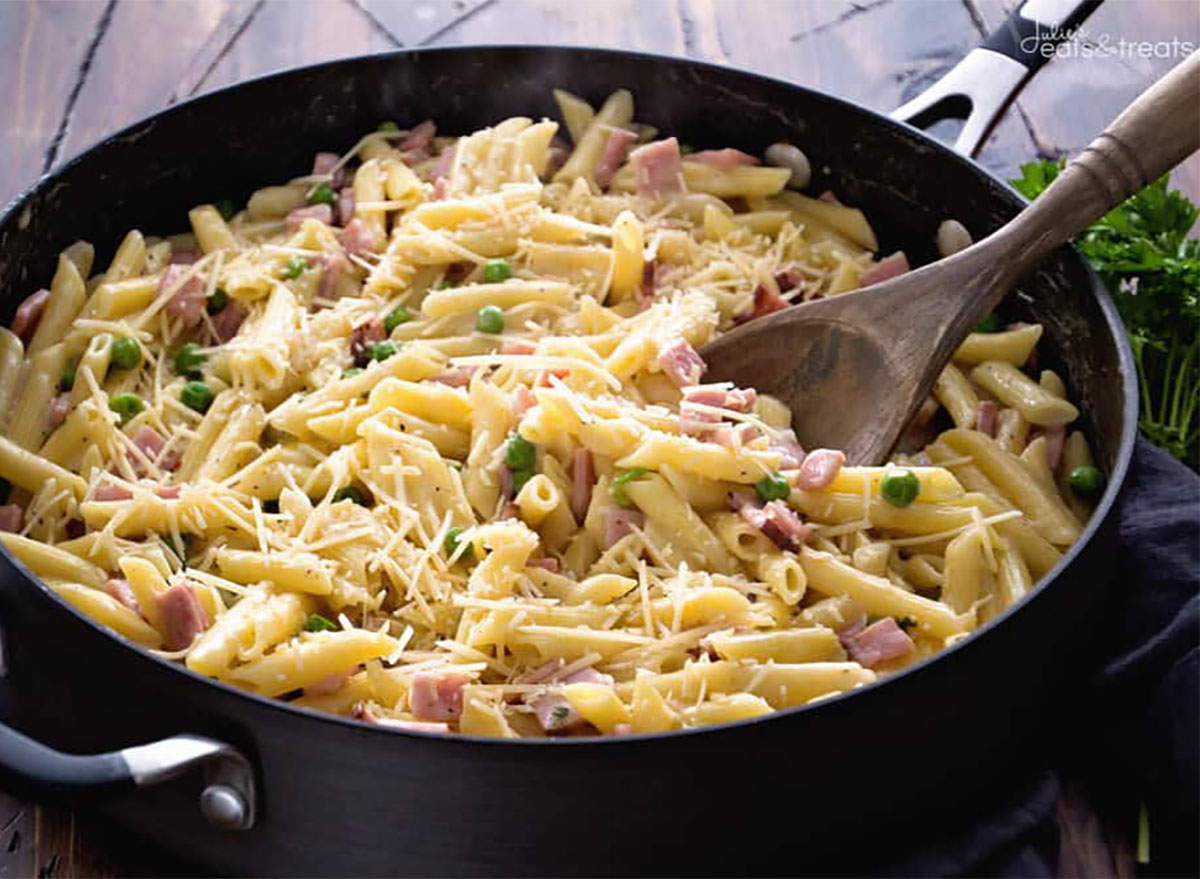 Sandwiches and omelets may be the obvious choices for using up leftover ham. But this penne pasta dish, made with diced ham, Parmesan and peas, is another great meal idea.
Get the recipe from Julie's Eats and Treats.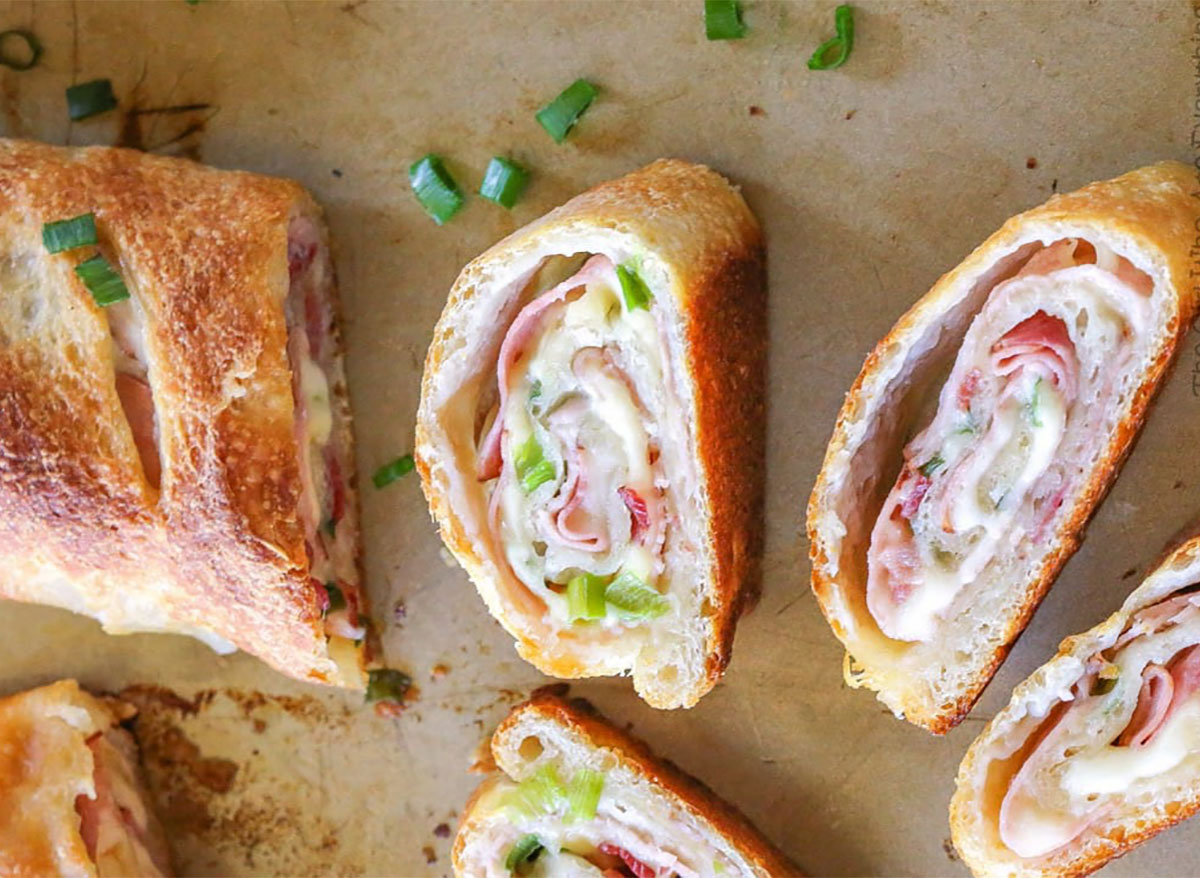 You could make a leftover ham and swiss sandwich. But this five-ingredient stromboli recipe with refrigerated dough, strips of bacon, and green onions is almost as easy.
Get the recipe from The Girl Who Ate Everything.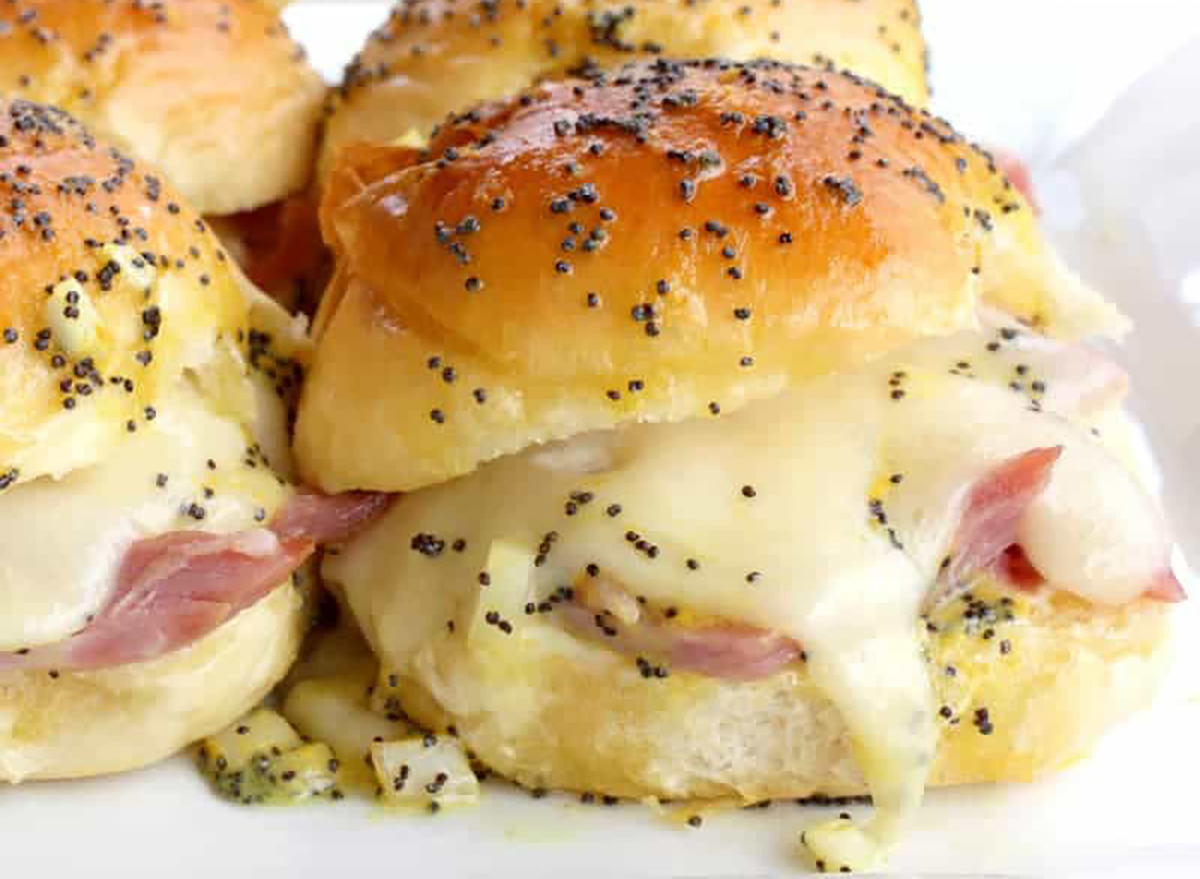 The secret to a swoon-worthy leftover ham and cheese sandwich is a buttery Dijon poppy seed topping. Oh, and soft Hawaiian rolls.
Get the recipe from Averie Cooks.
Simple and classic, this recipe that calls for brown sugar, honey, and Dijon mustard will give your holiday ham a nice sticky, caramelized glaze. Add a sprig of rosemary to make it a photo-worthy centerpiece.
Get the recipe from Recipe Tin Eats.
Slow Cooker Ham and Bean Soup
Wait! Don't toss that holiday ham bone. Use it in this ham and bean soup that's loaded with veggies. It will warm you up on the chilly January days ahead.
Get the recipe from Five Heart Home.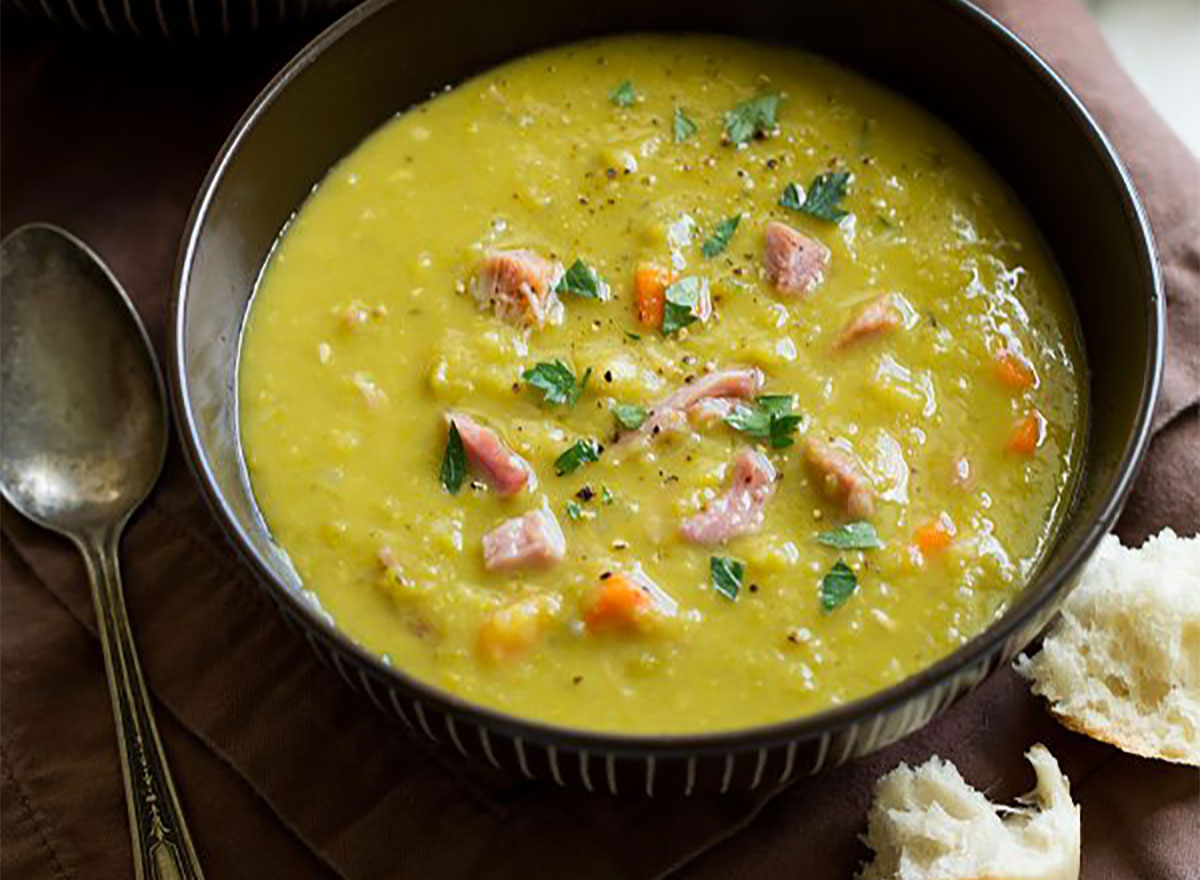 Toss a ham bone into this soup. Made with dried split peas, vegetables, and herbs, this split pea soup falls into the comfort food category and will warm you up on a cold winter day.
Get the recipe from Cooking Classy.
These recipes prove that ham not only makes a great main dish during the holiday season but can also make cameos as a leftover in the days following your Christmas feast.
For more, don't miss these 108 most popular sodas ranked by how toxic they are.