Sofia Vergara's Healthy Eating Habits For Feeling Great At 49
Her recent swimsuit post on Instagram has the internet buzzing.
Sofia Vergara may be best known for her acting in the hit TV series Modern Family, but it's the latest circulation of swimsuit photos that has everyone abuzz right now.
The 49-year-old actress looks summertime sleek in an Instagram post featuring her toned physique donning a leopard-print Dolce & Gabbana swimsuit and oversized Foster Grant sunglasses. So how does the Colombian-American actress remain in tip-top shape?
Read on to find out, and then check out 16 Celebs Share How They Make Oatmeal.
She does everything "in moderation."
Several years ago, in an interview with Fox News, Vergara gave some advice that she lives by today, by the looks of it. She said, "Everything in moderation. Not too much food, not too much exercise, not too much anything. Everything in moderation."
Vergara continued, "And of course, wearing sunblock, doing the things that your dermatologist tells you to do—that helps with the aging process."
She makes her calories matter.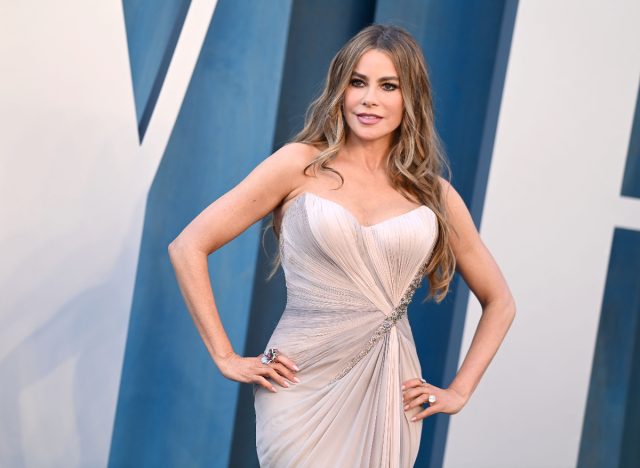 Vergara stays away from most carbs and tries to make her calories really count. Eating in moderation means that you don't consume more calories than your body needs to function properly. Excessive calorie consumption leads to weight gain, diabetes, and heart disease, among other conditions. According to the U.S. Food & Drug Administration, a moderately active person between the ages of 41-45 requires an estimated 2,000 calories per day.
The USDA Dietary Guidelines encourage Americans to eat a healthy diet to reduce the risk of chronic disease. They say to enjoy nutrient-dense foods, stay within calorie limits, and limit food and drink with added sugars, sodium, and saturated fats. Also on the list: limiting alcoholic beverages by, you guessed it, drinking in moderation.6254a4d1642c605c54bf1cab17d50f1e
She makes smart eating choices.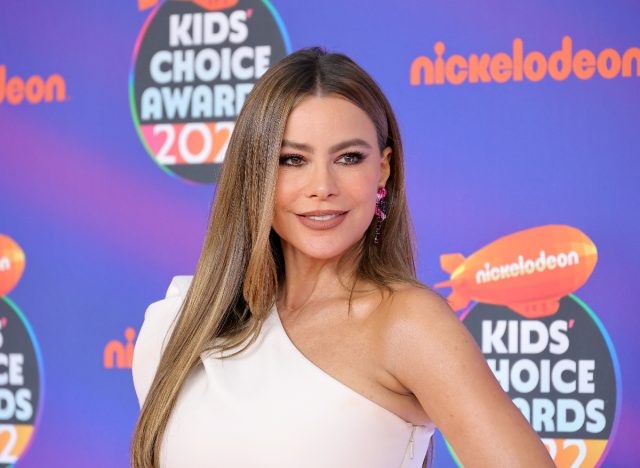 Vergara consumes a healthy diet rich in nutritious foods. According to Hollywoodzam, Vergara's breakfast consists of yogurt with muesli, chia seeds, oats, and blueberries. Lunch may include a lean protein such as fish and a fresh salad. Dinner may consist of sushi, brown rice, steamed veggies, or other lean proteins and vegetables.
For dessert? Vergara told InStyle, "My biggest temptation, the thing I can't live without, for sure, is cake. I always have to have cake in my house." We assume she eats it in moderation, of course!
For more celeb news, check out 8 Eating Habits Jennifer Lopez Swears by to Look Amazing at 52.
Shaye Glisson
Shaye was born and raised in Houston, TX. She is a freelance Lifestyle/Beauty/Wellness writer and a licensed Cosmetologist with several years of writing experience.
Read more about Shaye