8 Eating Habits Jennifer Lopez Swears by to Look Amazing at 52
It's no secret that Jennifer Lopez is in amazing shape, here's how she does it!
It's no secret that Jennifer Lopez is in amazing shape. The 52-year-old singer and actress has a super strict workout regimen that helps her stay fit. But she is also dedicated to eating a healthy, well-balanced diet.
"I don't deprive myself," she previously told People. "But I've learned the importance of maintaining a healthy lifestyle."
Here are 8 specific eating habits that she follows. Then, for more healthy celebrity tips, check out 5 Eating Habits Jane Fonda Swears By to Feel Amazing at 84.
She starts her day with a healthy smoothie.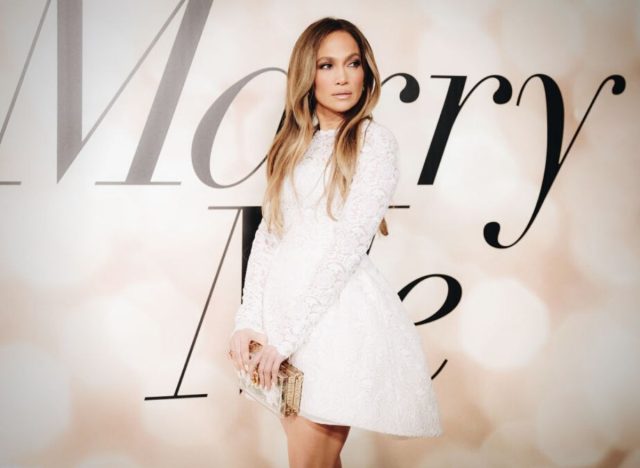 J.Lo shared the exact smoothie recipe she makes for breakfast, and it sounds super yummy! According to People, she whips up a BodyLab TastyShake Berry Berry Good smoothie, which includes:
1 scoop of BodyLab TastyShake
3/4 cup strawberries
1/4 cup blueberries
1/4 cup raspberries
1/4 cup Greek yogurt
1/4 tsp. Cinnamon
1/4 tbsp. honey
1/4 tsp. fresh lemon juice
1/4 cup ice cubes
She drinks tons of water.
One of Jennifer's personal trainers, Dodd Romero, shared with Us Weekly that she drinks a lot of water to help her stay hydrated. "She drinks a minimum of seven glasses a day," Romero shared. He also added that she started every morning with a glass of fresh lemon water.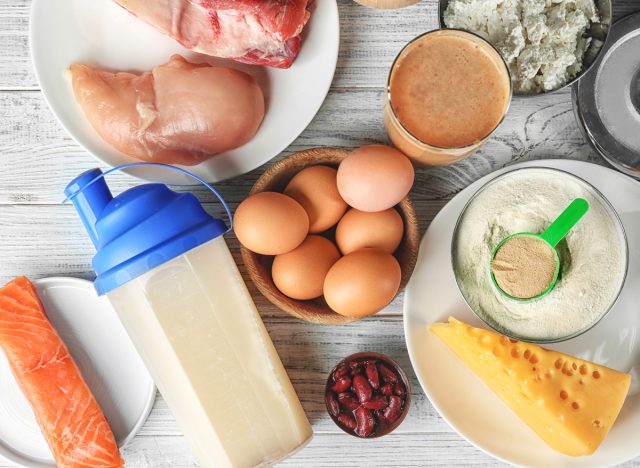 According to Romero, J. Lo eats a lot of protein, which includes egg whites, white meat turkey, chicken breast, grass-fed beef, and fish. However, she only eats meat 3 to 4 times a week.6254a4d1642c605c54bf1cab17d50f1e
She gets protein from plant-based sources too, including nuts, which she eats "a handful" a day.
Her plate is always full of veggies.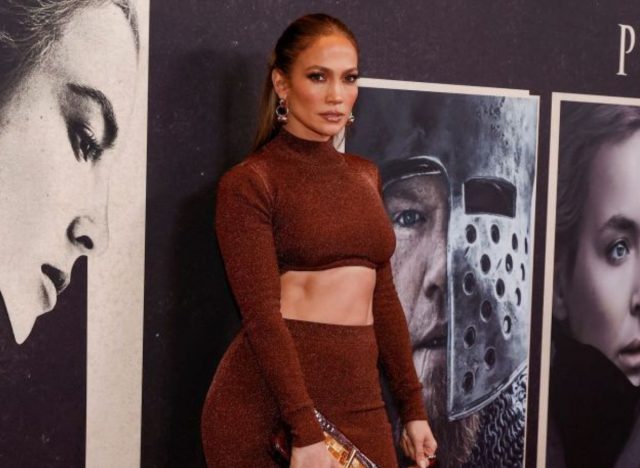 Romero also shared that some of J. Lo's favorite veggies are kale, broccoli, and spinach. But she avoids veggies like carrots and corn, which he adds are higher in naturally occurring sugar.
She told People, "I always have healthy snacks like fruit and vegetables with me."
She gets strict when she needs to.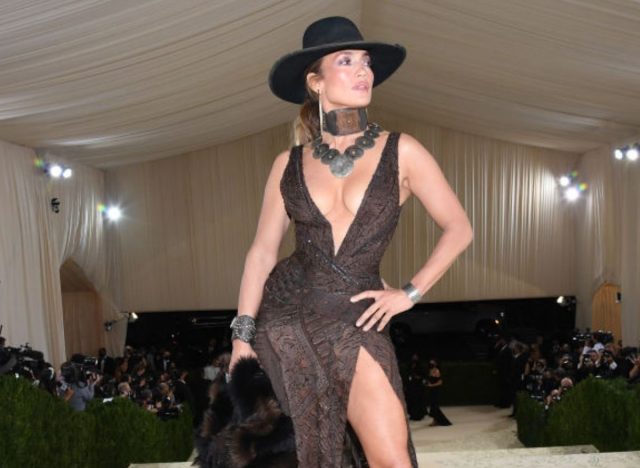 Prior to her 2021 Super Bowl Halftime Show performance, J. Lo's personal chef Kelvin Fernandez shared with Us Weekly that she eliminated carbohydrates and sugar from her diet.
"The next day she's like, 'Kelvin, you served me rice.' And I'm like, 'No, no, no, no, no, there was chicken, there was salad. You grabbed the rice!'" he told Us Weekly.
Her fridge is always stocked–with healthy foods.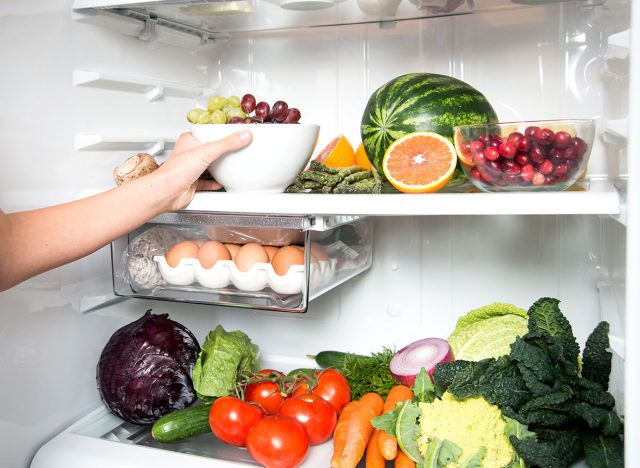 One way she stays consistent with her healthy diet is by making sure her fridge is always stocked with healthy foods.
"I think the most important thing is that the pantry is always stocked, the fridge is always stocked," Fernandez told Us.
And he shared more about what is in her fridge. "Sparkling water, always fruits and vegetables, like strawberries, even though Jennifer is not a big fruit person. The kids love their fresh berries. There's always greens like spinach, cucumber, and celery to make green juice. They love starting their day with a green juice. Eggs is always the biggest one. Turkey bacon is always the biggest one."
She likes fish–but hates salmon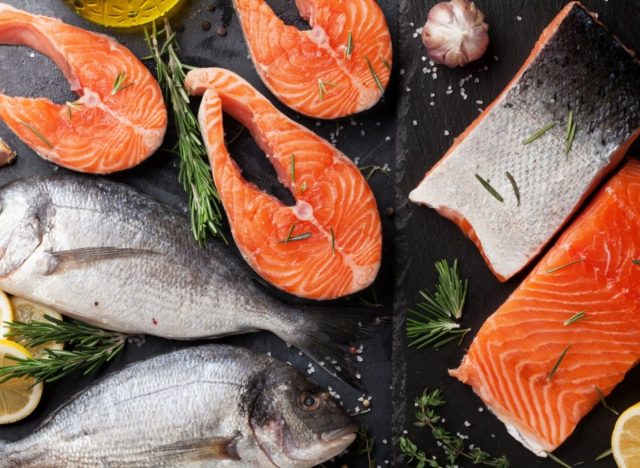 J. Lo likes to eat fish, but there is one that she is not a big fan of: salmon.
"I know Jennifer doesn't love salmon, so if I'm cooking salmon for the [table], I always got to do a sea bass or a halibut or cod for Jennifer because she's just not a fan of the texture and the taste of salmon," Fernandez told Us.
She doesn't deprive herself…and cookies are her weakness
While she does eat a healthy diet on the daily, she also doesn't completely deprive herself.
"I eat everything, but I do—because I was doing a movie called "The Mother" … I was training. So I got a little leaned out. I was doing the lifting, and I was doing no carbs with every meal, but then I'd have a cookie at night. Or two," she said during an appearance on The View (per People). "I have one or two [cookies], but the truth is, I feel like it's about consistency. I think everything in life is consistency."
And when host Sara Haines asked Lopez if cookies are her "weakness," Lopez immediately responded, "yes."
She also shared that she has an amazing chocolate chip cookie recipe.
"I have a famous chocolate chip cookie that I eat, this cookie dough that I love," she said during an appearance on The View (per People). "I call it 'J-dough.'"