A Spicy Grilled Mahi-Mahi With Red Pepper Sauce Recipe
This simple sauce is all that's needed to make the fish even more delicious.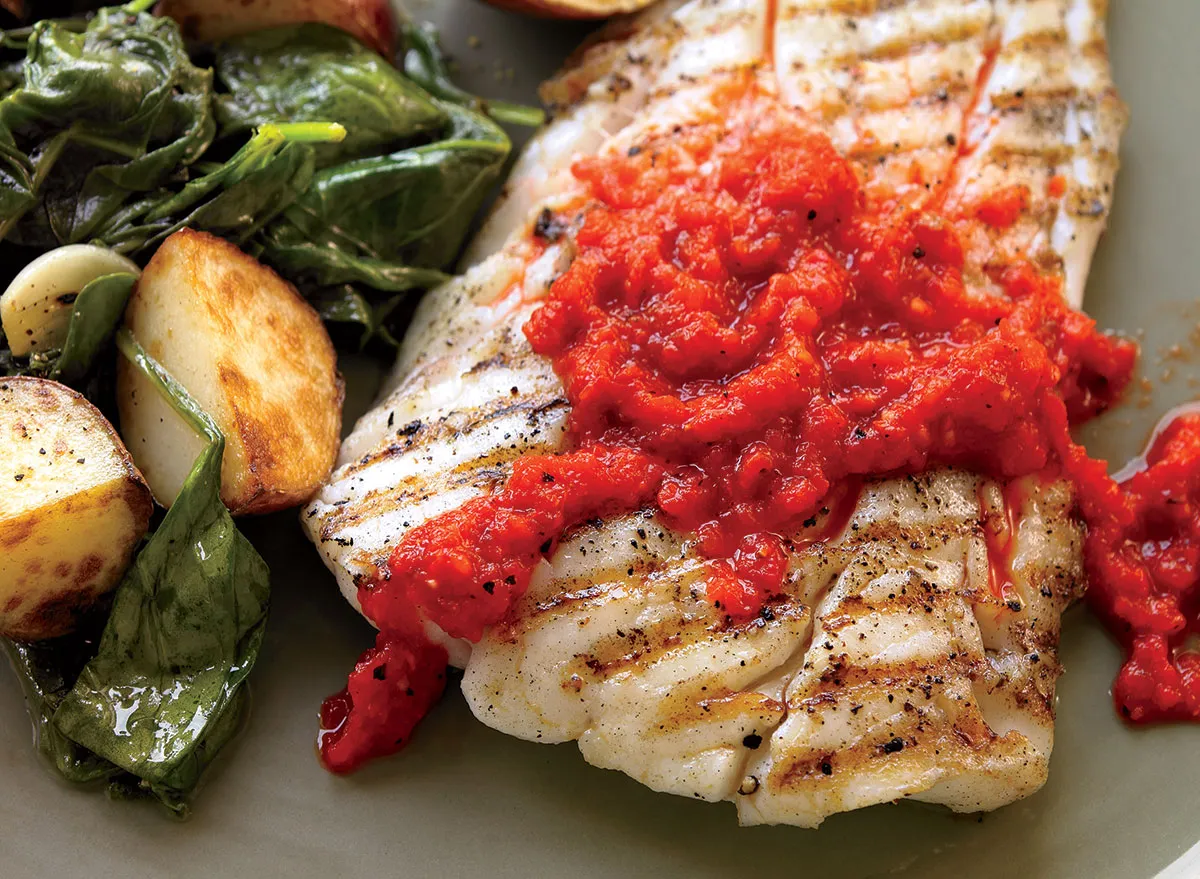 Menu descriptions can be so deceiving. "Red-chile seasoned fresh fillet of mahi-mahi grilled to perfection," as it reads on the On the Border menu, sounds like the healthiest dish ever devised by a chain restaurant. So how does it end up chewing through nearly half a day's calories? It's another unsolved restaurant mystery. As long as it's fresh, fish doesn't need much to make it delicious, and our simple, spicy African pepper sauce (called harissa) fits the bill for this grilled mahi-mahi dish. With just a few ingredients, it brings big flavor, plus heart-healthy fats and a monster dose of vitamin C, to any grilled protein it touches. If you don't feel like making it, try Mustapha's Moroccan Harissa.
Nutrition: 310 calories, 15 g fat (2 g saturated), 480 mg sodium
Serves 4
You'll Need
1 jar (12 oz) roasted red peppers, drained
1⁄2 tsp cayenne pepper
1 clove garlic
2 Tbsp olive oil
1 tbsp sherry or red wine vinegar
1⁄2 tsp ground cumin
Salt and black pepper to taste
4 mahi-mahi, sea bass, halibut, or snapper fillets (6 oz each)
How to Make It
To make the harissa, combine the red peppers, cayenne, garlic, olive oil, vinegar, and cumin in a blender and puree until smooth. Season with salt and pepper. (Don't limit this sauce to fish alone. It's amazing on grilled steak, pork chops, roasted chicken, or tossed with grilled vegetables.)
Lightly oil a grill or stovetop grill pan and heat until medium-hot. Lightly season the flesh side of the fillets with salt and pepper and place them, skin side down, on the hot grill.
Cook for 4 to 5 minutes, until the skins are lightly charred and crispy.
Turn them over and cook another 2 to 3 minutes.
When they're done, the fish should flake with gentle pressure from your fingertip.
Serve immediately with a big scoop of harissa.
Eat This Tip
Crispy Skin
Most people prefer their fish without skin, and we can't blame them: Who wants to eat chewy, flaccid fish skin? But skin does offer a number of excellent benefits. Not only does it contain a large percentage of fish's most virtuous nutrients (including omega-3s), but it also can protect the delicate fillet from drying out. Plus, if cooked properly, it provides a lovely crispy contrast to the soft flesh. Use paper towels to dry the skin thoroughly (wet skin won't crisp) and lightly oil it. Cook the fish skin side down for 75 percent of the time, until it's lightly charred and almost brittle, before turning to finish cooking briefly on the flesh side.6254a4d1642c605c54bf1cab17d50f1e
This recipe (and hundreds more!) came from one of our Cook This, Not That! books. For more easy cooking ideas, you can also buy the book!