Grilled Mahi-Mahi With Salsa Verde
We're going with the Italian version of the ridiculously good condiment, and you'll want to try it, too.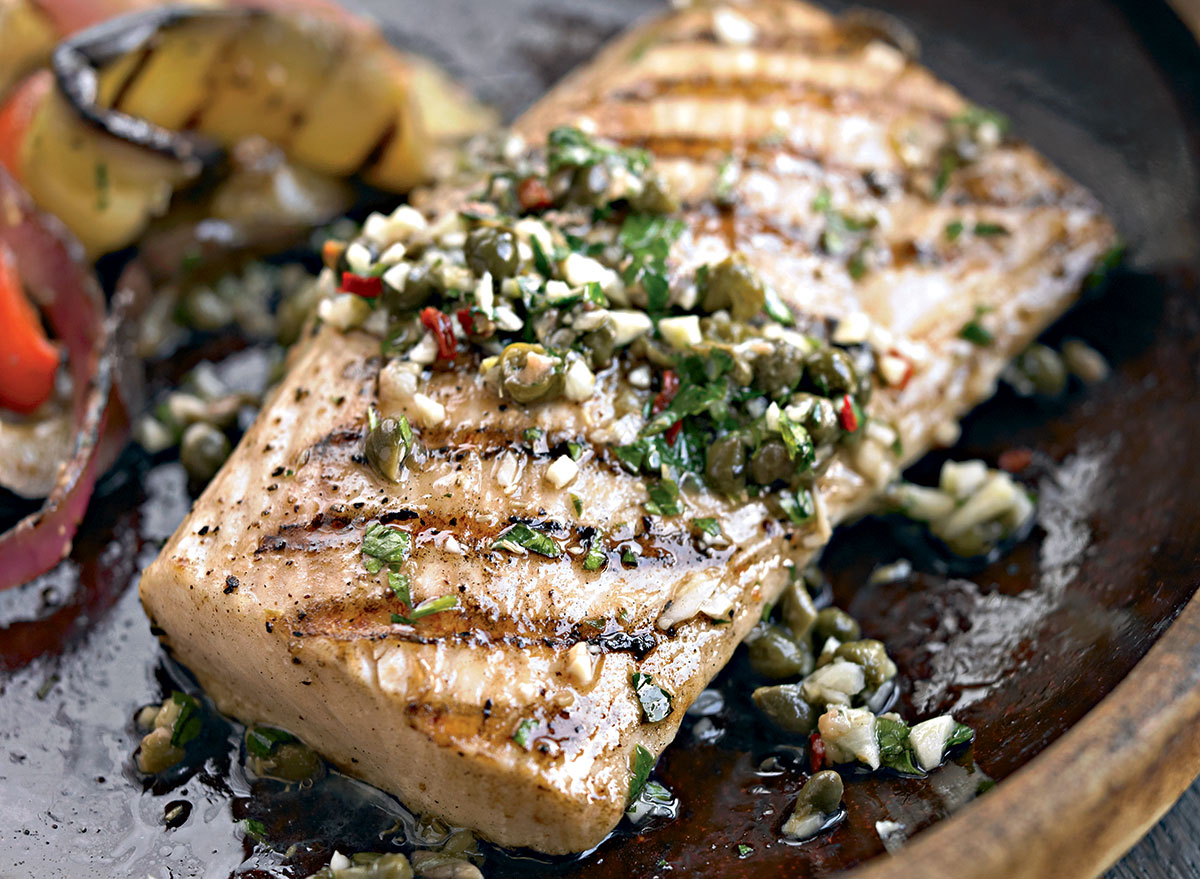 Confusingly enough, both Mexicans and Italians have their own salsa verde, and both are ridiculously good condiments that can be used in a staggering number of dishes. This, the Italian version, is based on parsley, anchovies, capers, and lemon juice, a bright herbal punch that pairs especially well with the smoke and char of a grill.
Like Mexico's version, this is equally good on meat as it is on fish. It's no slouch on vegetables either, so make a big batch and keep it in the fridge for instant flavor upgrades.
Nutrition: 280 calories, 15 g fat (2.5 g saturated), 390 mg sodium
Serves 4
You'll Need
3⁄4 cup chopped fresh parsley
1⁄4 cup chopped fresh mint (optional)
Juice of 1 lemon
1⁄4 cup olive oil, plus more for grilling
2–3 anchovy fillets, minced
2 Tbsp capers, rinsed and chopped
2 cloves garlic, finely minced
Pinch of red pepper flakes
Salt and black pepper to taste
4 mahi-mahi fillets, or other firm white fish like halibut, sea bass, or swordfish (about 6 oz each)6254a4d1642c605c54bf1cab17d50f1e
How to Make It
Preheat a grill. Make sure the grate is cleaned and oiled.
Combine the parsley, mint if using, lemon juice, olive oil, anchovies, capers, garlic, and pepper flakes in a mixing bowl.
Season with black pepper.
Set the salsa verde aside.
Rub the fish with a thin layer of oil, then season all over with salt and pepper.
Place the fillets on the grill skin side down and grill for 5 minutes, until the skin is lightly charred and crisp and pulls away freely (if you mess with the fish before it's ready to flip, it's likely to stick).
Flip and cook on the other side for 2 to 3 minutes longer, until the fish flakes with gentle pressure from your fingertip.
Serve the fillets with the salsa verde spooned over the top.
Eat This Tip
How to Get Crispy Fish Skin
Too often we peel off the skin from fish fillets and toss it, discarding one of the healthiest and tastiest parts of the fish. When properly cooked, skin provides a crisp textural counterpoint to the fish's soft flesh.
Whether cooking skin-on fillets on a grill or in a hot pan, start skin side down and cook for nearly 75 percent of the time on that side, then flip and finish on the flesh side.
Not all fish have skin made to be crisped. While the skin of salmon, sea bass, and mahi-mahi are great eats, halibut, tilapia, and swordfish skin should be discarded, either before or after cooking.