28 Starbucks Items Diet Experts Love
These delicious sips and bites from Starbucks can all fit into just about any diet plan.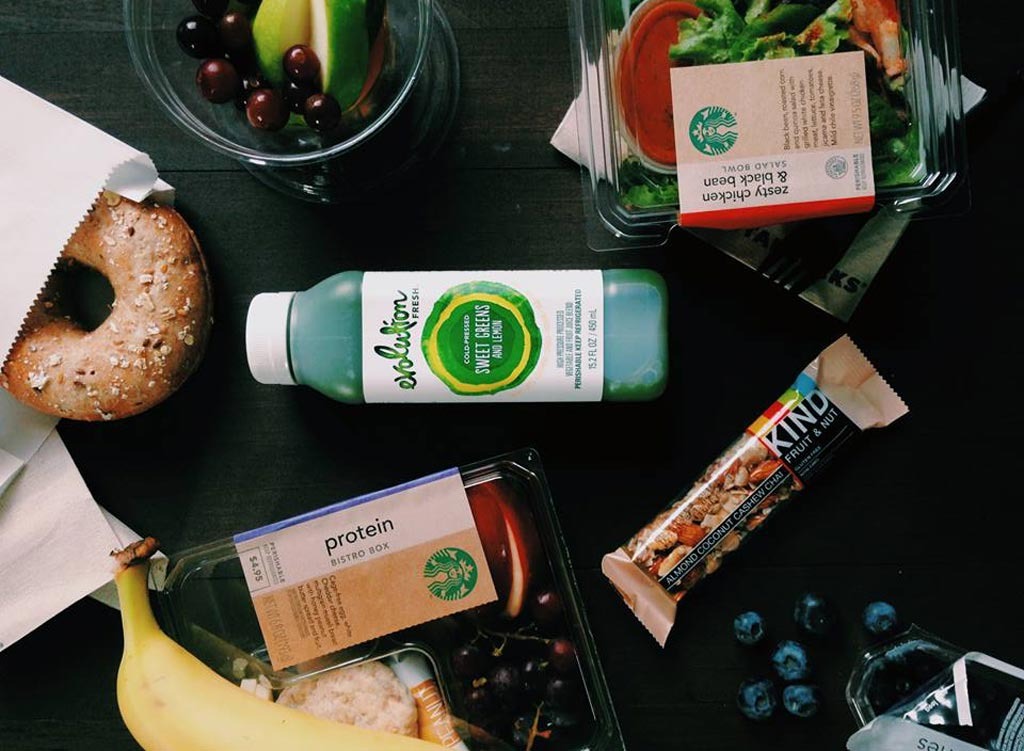 With an extensive list that includes everything from java and juice to brownies and Bistro Boxes, as well as a shop on just about every block, Starbucks has got the on-the-go crowd on lock. But the danger that comes with frequenting any chain restaurant is alive and well at the coffee joint; it's way too easy to fall into a calorie trap. Perfect example: a Grande Frappuccino can have as many calories as some of the decadent desserts. That said, there are still plenty of options on the menu that won't kill your stay-slim aspirations nor slash satisfaction. Need proof? Just look at these healthy Starbucks drinks and food items nutritionists pick when they stop by the coffee giant.
FIRST, HEALTHY STARBUCKS DRINKS…
Any Drink— In the Short Size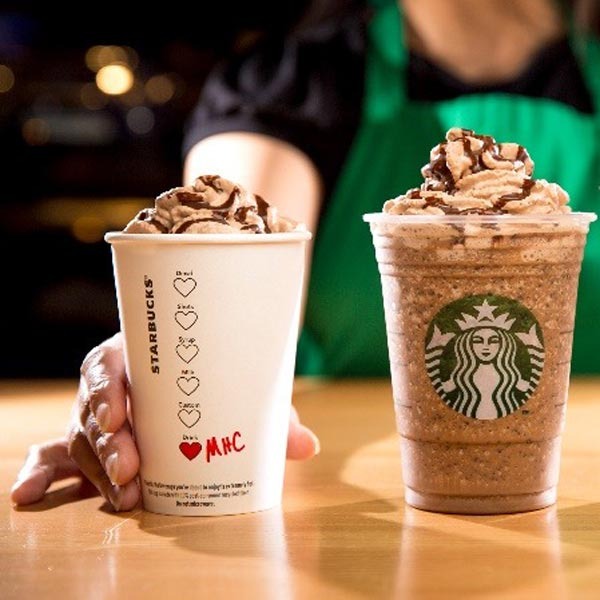 "I'll order any drink in a short cup. It's not advertised on the menu, but the smaller size allows me to indulge without breaking the calorie bank." — Maria Bella, MS, RD, CDN, founder of Top Balance Nutrition
Sweet Greens & Lemon Evolution Fresh Drink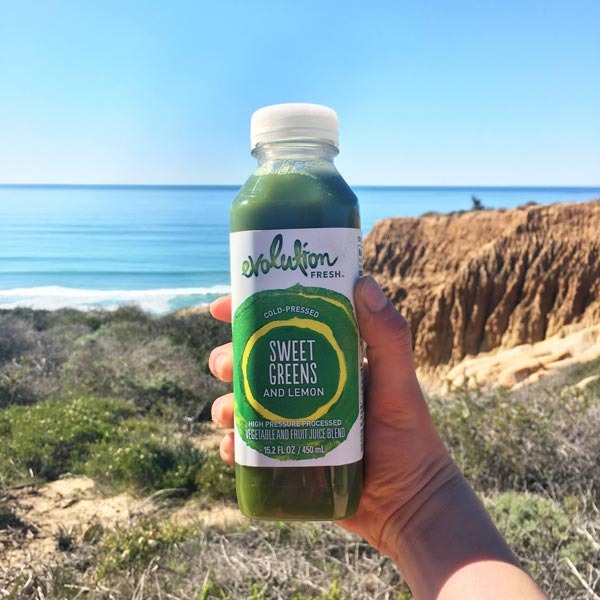 "When I travel, I may pick up a Sweet Greens and Lemon Evolution Fresh Drink. It's refreshing, and I like that it's cold-pressed and that it packs in greens that are more difficult to consume when I'm on the road." — Lyssie Lakatos, RDN, CDN, co-owner of The Nutrition Twins and author of The Nutrition Twins' Veggie Cure
Teavana Oprah Chai Brewed Tea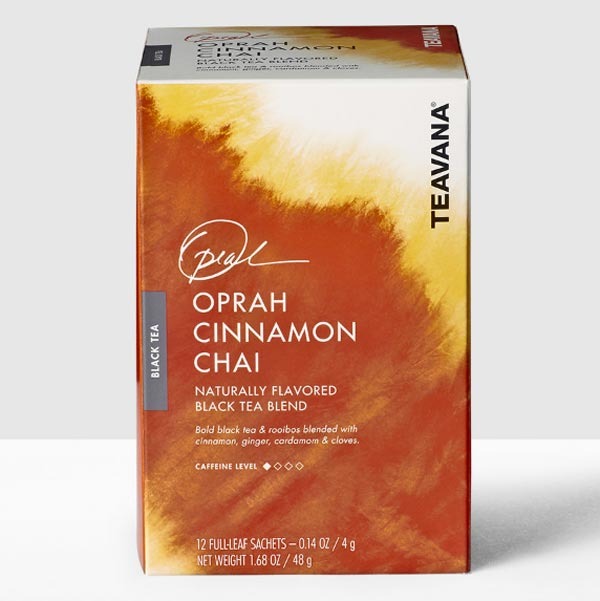 "I love tea, and this one is delicious! The cinnamon flavor helps satisfy me and keeps me from reaching for those tempting danishes, and the small amount of caffeine gives me a bit of a pick-me-up without overdoing it." —Erin Palinski-Wade, RD, CDE, author of Belly Fat Diet for Dummies
Decaf Iced Coffee with Soy Milk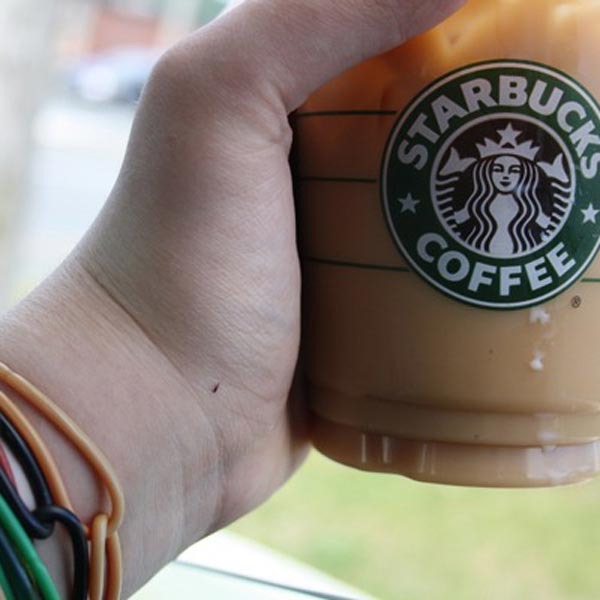 "My go-to drink is a grande decaf iced coffee with soy milk. Typically, I grab one when I am thirsty and wanting something a little sweet. It is the ideal thirst quencher for me, especially after a yoga class." —Keri Gans, MS, RDN, CDN, author of The Small Change Diet
Espresso
"When I go to Starbucks, I don't mess around; I order straight shots of espresso. I feel that espresso has such a better taste and is richer than coffee. Plus, with an espresso, I'm not tempted to put any sugar or cream in my drink, making it a zero-calorie indulgence. If I'm really dragging, I will do a triple shot!" — Jim White RDN, ACSM EX-P, Owner of Jim White Fitness & Nutrition Studios
Matcha Latte with Almond Milk, No Syrup
"I love the slow, steady, non-jittery energy that matcha provides. Since the matcha powder they use is sweetened, I get this drink without any added vanilla syrup, which is typically automatically included. I also love Starbucks' almond milk, which has a hint of sweetness. It pairs really well with the green tea." — Willow Jarosh, MS, RD, co-owner of C&J Nutrition.
Teavana Passion Tango Tea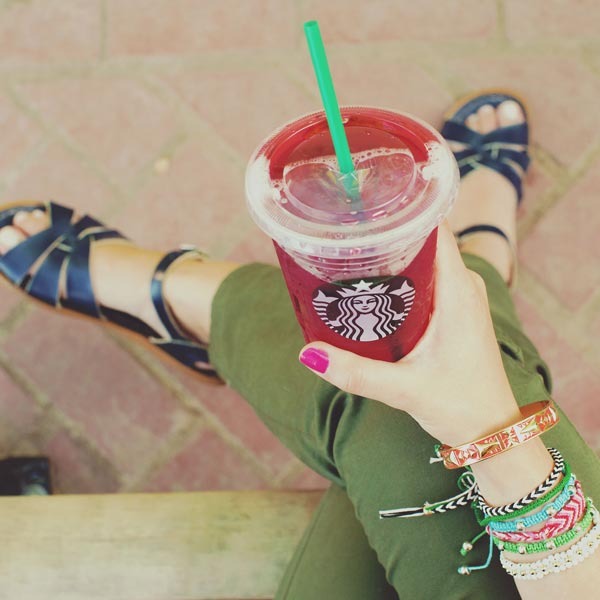 "The passion tea is very refreshing and has a great sweet flavor when you have a sugar craving. And I go for the unsweetened green tea when I want to relax because the theanine in it creates a feeling of calm, while still keeping me alert. It's a great calorie-free drink!" — Tammy Lakatos Shames, RDN, CDN, co-owner of The Nutrition Twins and author of The Nutrition Twins' Veggie Cure
Iced Latte
"There are times when Starbucks is a convenient option because you're able to find healthy choices if you know where and how to look for them. If I—or my nutrition clients—are looking for a lightly-sweet pick-me-up in the afternoon when it's warm outside, I'll suggest a small iced coffee or latte with milk or almond milk and just one or two pumps of mocha chocolate syrup. No other additional sugar or sweetener necessary, and you get a bit of satisfying protein from the milk." — Marissa Lippert, MS, RD, owner of Nourish Kitchen + Table
Half-Caf Coffee with Whole Milk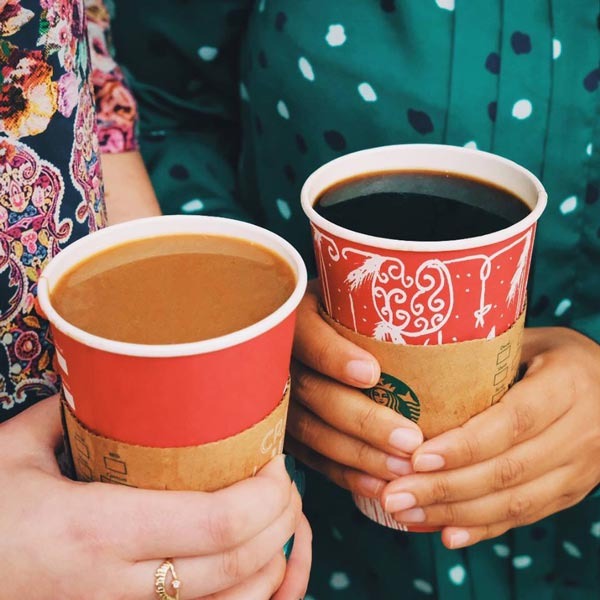 "I love the coffee and use their beans to make coffee at home every morning, but when I go to the store, I will always get a grande half-caf. I get too speedy from a fully caffeinated drink, so I always get half decaf, half caffeinated. I add whole milk and cinnamon—no sweetener. The cinnamon adds flavor and cuts the need for a sweetener. I'll get it iced in the summer and hot in the winter." — Martha Mckittrick, RD, CDE, a nutritionist in NYC and blogger at City Girl Bites
Plain Coffee with Heavy Cream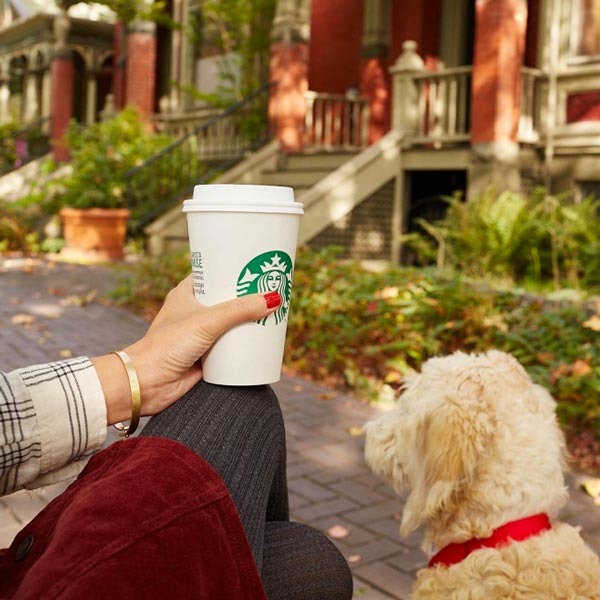 "I keep it simple with a plain cup of coffee, and I ask for it with heavy cream–the good stuff that's kept behind the counter and not out with the milk. Heavy cream is a healthy fat that helps keep your blood sugar stable between meals and snacks, which means consistent energy and brain power. Not to mention, it makes your coffee taste decadent! Heavy cream also helps negate any potentially negative side effects of caffeine, like the jitters. The other creamer options, like whole, skim, and even their new coconut milk (which is basically sugar water) can stimulate the production of your hormone insulin, which promotes weight gain and a host of inflammatory reactions. I have greater focus and brainpower and no cravings when I add heavy cream to my coffee." — Cassie Bjork, Registered Licensed Dietitian from Healthy Simple Life
Tall Flat White with 2% Milk
"For just 140 calories, it has a nice little caffeine boost with the added bonus of nine grams of protein and no added sugar. I also prefer the taste and richness of 2% milk (as opposed to non-fat milk), plus the fat helps keep me fuller longer." —Molly Kimball, Sports Dietitian with Ochsner's Elmwood Fitness Center in New Orleans
Caffé Misto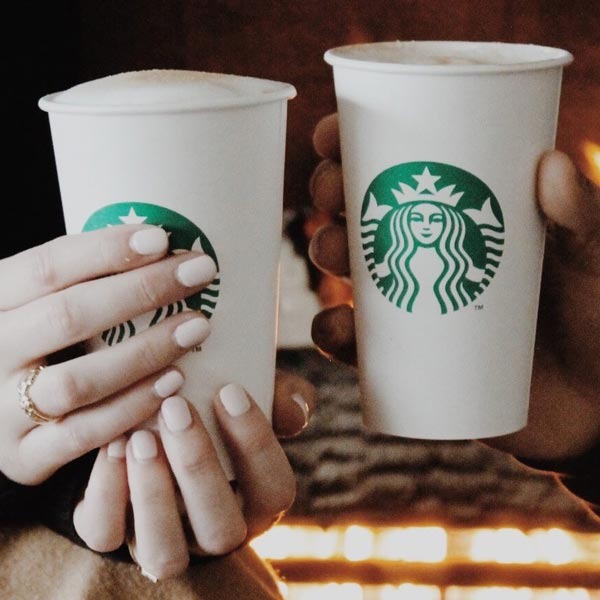 Danielle Frank, MS, RD, CDN, a registered dietitian at Top Balance Nutrition is a fan of the frothy beverage made from steamed (soy, in her case) milk and coffee—she says it's simple, low-cal, and delicious.
Cold Brew Coffee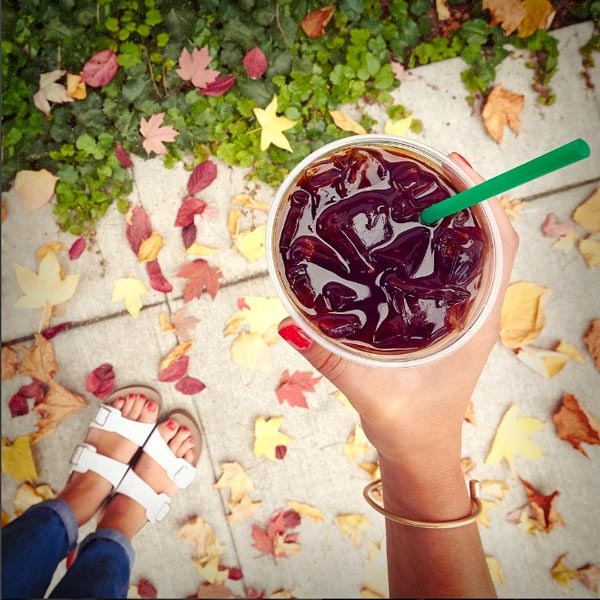 "Cold brew is smoother and less bitter-tasting than most hot brewed or iced coffees. There's less need to add sugar or flavorings when you can taste more of the coffee's natural flavor." — Ryan Turner, MS, RD, CDN, registered dietitian at Top Balance Nutrition
Steamed Almond Milk with Cocoa Powder and Cinnamon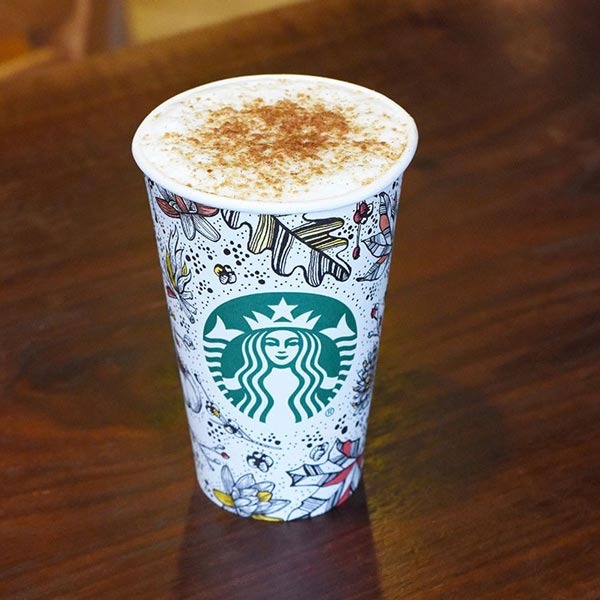 "This is my go-to when I'm traveling and want something soothing but not caffeinated to sip on my flight or a layover. I ask for steamed almond milk and then go to the additions station and sprinkle on a heap of cocoa powder and cinnamon, stir it in, and sip away. It's not sweet but it's really flavorful. Plus, the almond milk is really rich and has such a smooth texture." — Jarosh
Royal English Breakfast Tea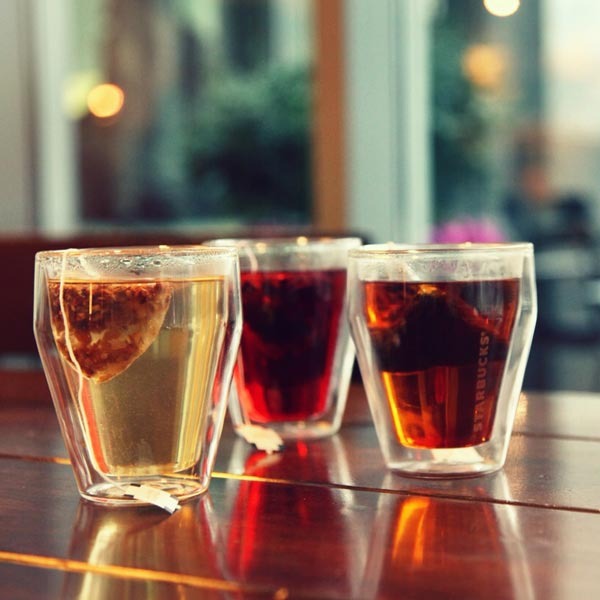 6254a4d1642c605c54bf1cab17d50f1e
"I've never liked the taste of coffee, but I love tea! I order the Royal English Breakfast Tea. It's filled with antioxidants and flavonoids, which are great for heart health and possibly prevent cancer. There's something very soothing about a nice cup of tea and it still has the caffeine I need to get me going in the morning!" — Ilyse Schapiro, MS, RDN, Co-Author of Should I Scoop out My Bagel?
Jade Citrus Mint Green Tea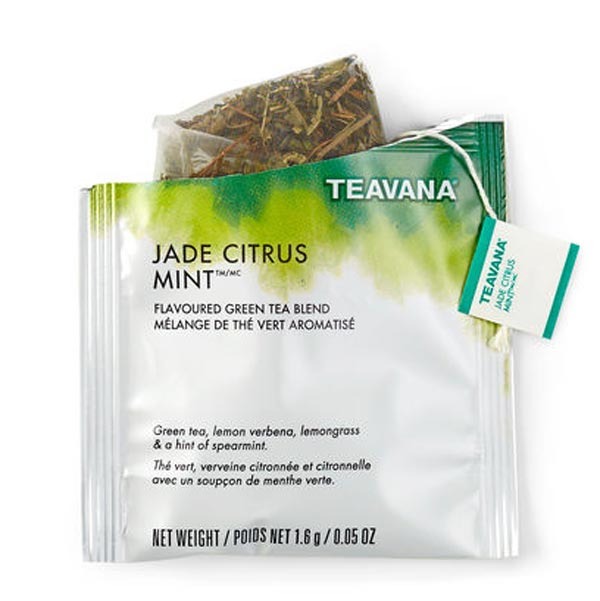 "I'll have a grande Jade Citrus Mint Green Tea. Chock full of polyphenols, green tea is known for its anti-aging and disease-fighting properties and may help lower the risk of certain cancers and heart disease when sipped regularly. With plenty of flavor from both mint and lemon, there's no need to add sugar!" —Marisa Moore, RDN, of Marisa Moore Nutrition
NOW, THE HEALTHY STARBUCKS FOOD ITEMS
KIND Salted Caramel & Dark Chocolate Nut Bar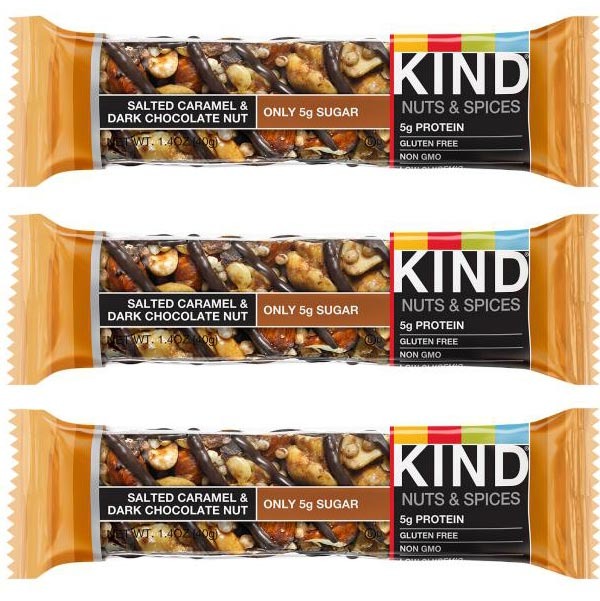 "I love that you can see the whole nuts and that the KIND bar tastes like an indulgent dessert, thanks to salted caramel and dark chocolate. Best of all, it only has five grams of sugar. It really satisfies a sweet craving, but without the guilt!" — Lakatos Shames
Petite Vanilla Bean Scone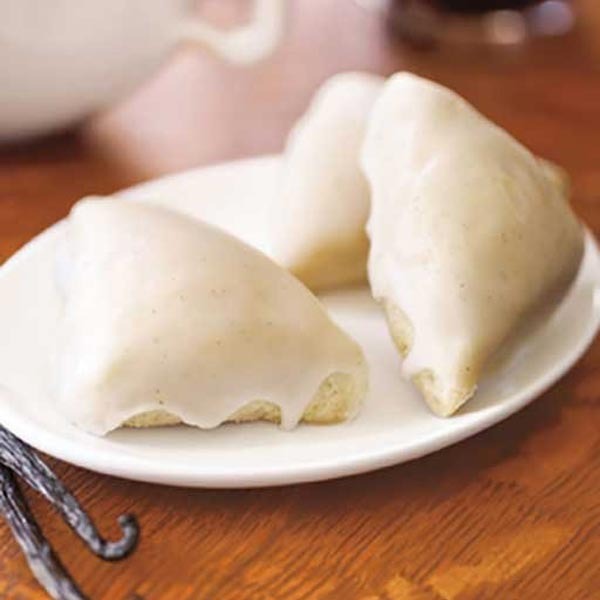 While she mainly sticks to the half-caf, half-decaf blend at Starbucks, Mckittrick occasionally gets one of the mini-sized scones if she's craving a sweet little something. "It satisfies a sweet craving for only 120 calories," she tells us.
Sous Vide Egg Bites
"I typically go for a coffee with almond, soy, or coconut milk. The alternative milks add a bit of flavor to keep me from adding the additional sugar for sweetness. Besides the egg white wrap and oatmeal, which are my go-to choices, the egg white and red pepper Sous Vide Egg Bites are a good option. They are the newest egg additions and with only 170 calories and 13 grams protein, this is a great option." — Leah Kaufman, MS, RD, CDN, of Leah Kaufman Nutrition
Hearty Veggie & Brown Rice Salad Bowl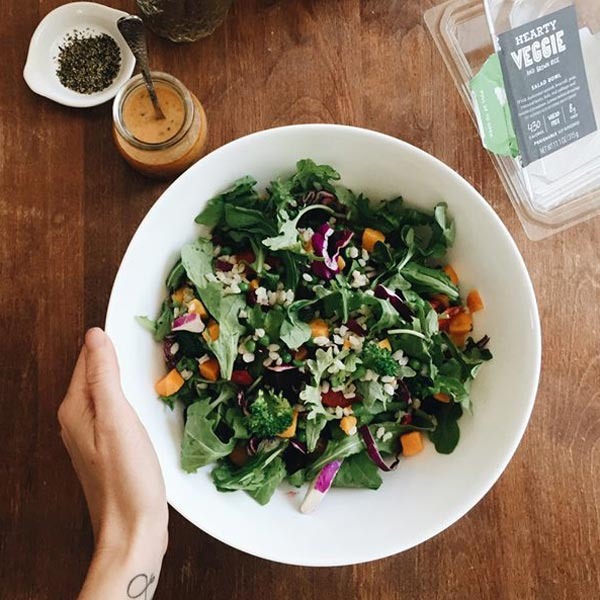 "This bowl is a great way to fit in veggies, whole grains, and fiber when you're traveling or when you forget your lunch for work at home. I feel so much better when I keep my veggie intake consistent and this salad bowl helps me do that. The tahini dressing is super refreshing and fresh tasting." — Jarosh
Protein Bistro Box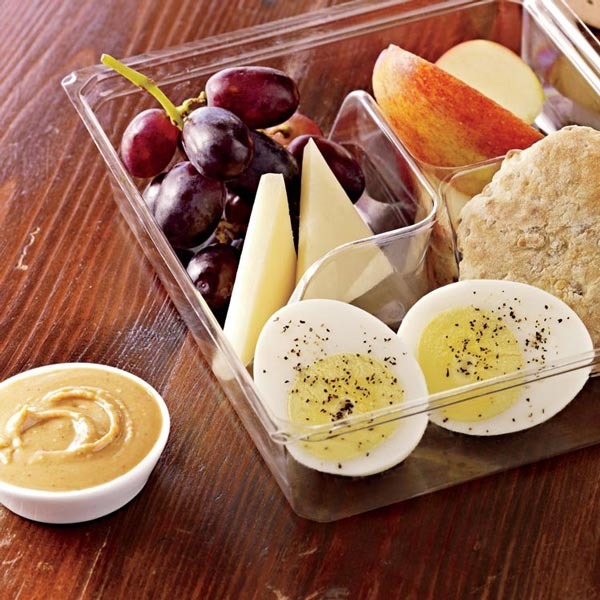 "The Protein Bistro Box offers a nice balance of protein from the hard-boiled egg, healthy fat from the cheese and peanut butter, and the apples and grapes are real food carbohydrates. You can ditch the bread; it's a processed carb that spikes blood sugars and causes sugar cravings. The rest of the Protein Bistro Box is enough to keep me full and focused until my next balanced meal or snack." — Bjork
Reduced-Fat Turkey Bacon & Cage-Free Egg White Breakfast Sandwich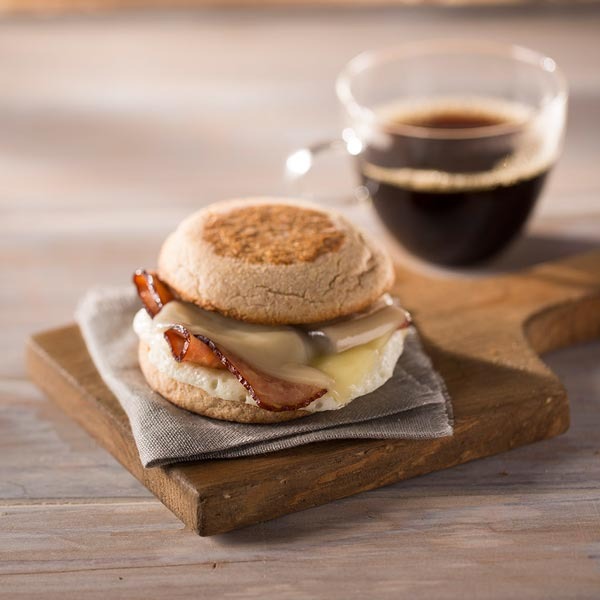 "For a quick go-to breakfast, I enjoy a Reduced-Fat Turkey Bacon & Cage-Free Egg White Breakfast Sandwich. I love savory foods that are full of protein. Best of all, it only has 230 calories and fat 6 grams of fat." — Sarah Koszyk, MA, RDN, author of 365 Snacks for Every Day of the Year
Oatmeal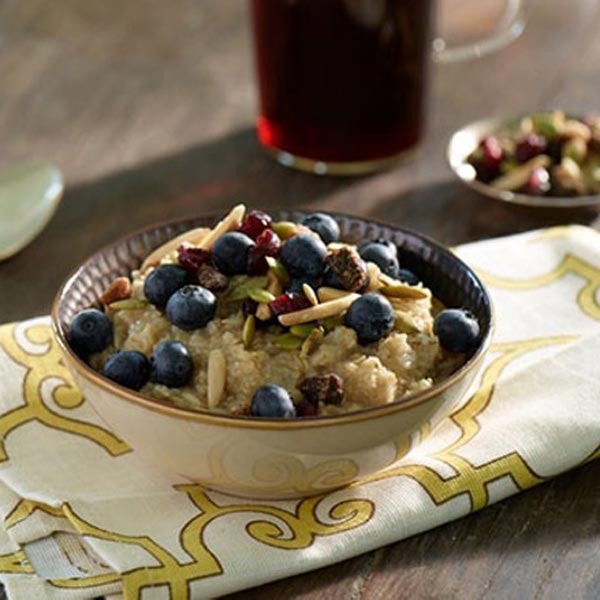 "The oatmeal is a sure pick and something that's easy to grab on the go. I love oatmeal because it's filling and has heart-healthy fiber that's also good for promoting healthy digestion. Beware of the sugary toppings, though. It's never a bad idea to either throw some almonds in your bag to add as a topping or purchase nuts they have there at the checkout. I also recommend adding a little real sugar instead of artificial sweetener, or a sliced banana instead." — Isabel Smith, MS RD CDN, founder Isabel Smith Nutrition
Nourish Snacks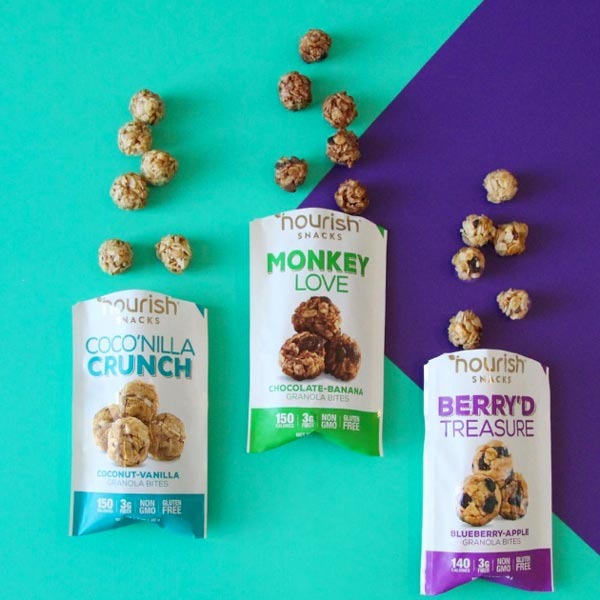 "If you look carefully, Starbucks does offer some healthy choices. Some locations sell Nourish snacks which are delicious little 200 calorie snack bags. I like Monkey Love (chocolate banana granola bites) and Just Chillin' (mild chili roasted corn). A latte (tall skim or almond milk, no sweetener, with a sprinkle of cinnamon) and a Nourish snack bag are the perfect combo that hits the spot when I need a pick-me-up. When I'm with my kids, I get them a That's It Bar which is just made from dried fruit like a banana or mango." — Laura Burak MS, RD, CDN of Laura Burak Nutrition
Smoked Turkey & Swiss Sandwich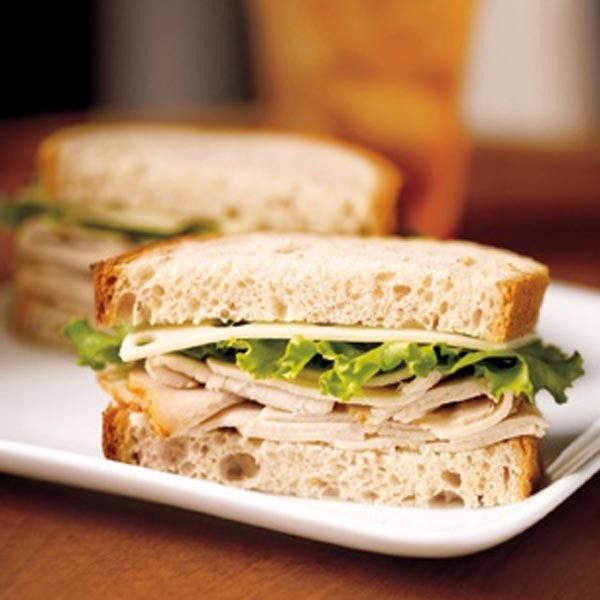 "For lunch, I like the Smoked Turkey and Swiss Sandwich. It has five grams of fiber to help fill me up and 25 grams of protein to keep me satisfied and satiated." — Koszyk
Hippeas
"Hippeas are a good snack option. These puffed chickpea snack bags are low-cal and delicious," says Kaufman. The Vegan White Cheddar puffs are organic and gluten-free as well as baked rather than fried! Pair 'em with an iced green tea for a tasty midday treat.
Spinach & Feta Breakfast Wrap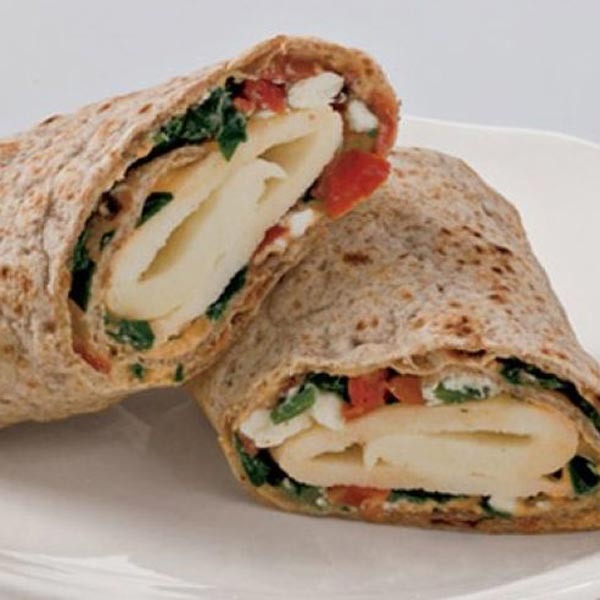 "I love starting my day with veggies and lean protein, and this wrap is just what I need! It contains the perfect balance of filling protein along with whole grains to give me a natural energy boost. And the fiber in the wrap keeps me full for hours, helping to prevent those mid-morning sweet cravings." — Palinski-Wade
Egg & Cheddar Breakfast Sandwich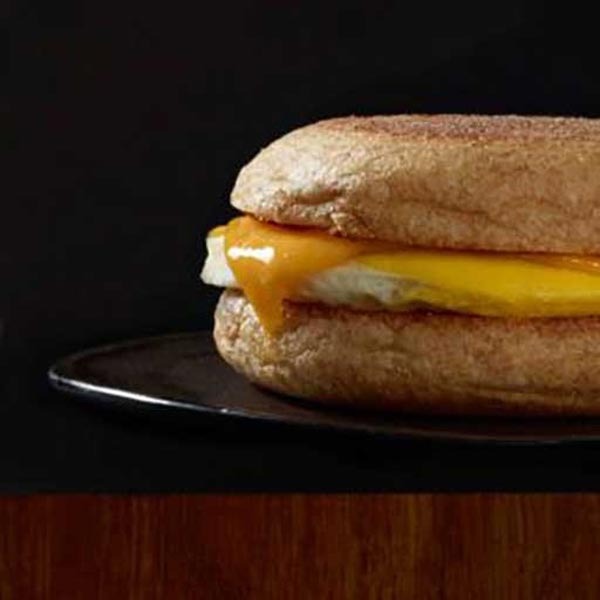 "When I'm short on time in the morning, I'll often pick up an egg and cheese breakfast sandwich. For less than 300 calories (280 to be exact!), it provides 14 grams of protein for staying power. Plus, it's a source of calcium, iron, and vitamin A. While the sandwich is higher in sodium than if I made it at home, it's much lower in sodium than most grab-and-go breakfast offerings." — Patricia Bannan, MS, RDN, author of Eat Right When Time is Tight