A Classic Steak Frites Recipe
You don't have to go to Paris for the classic French dish!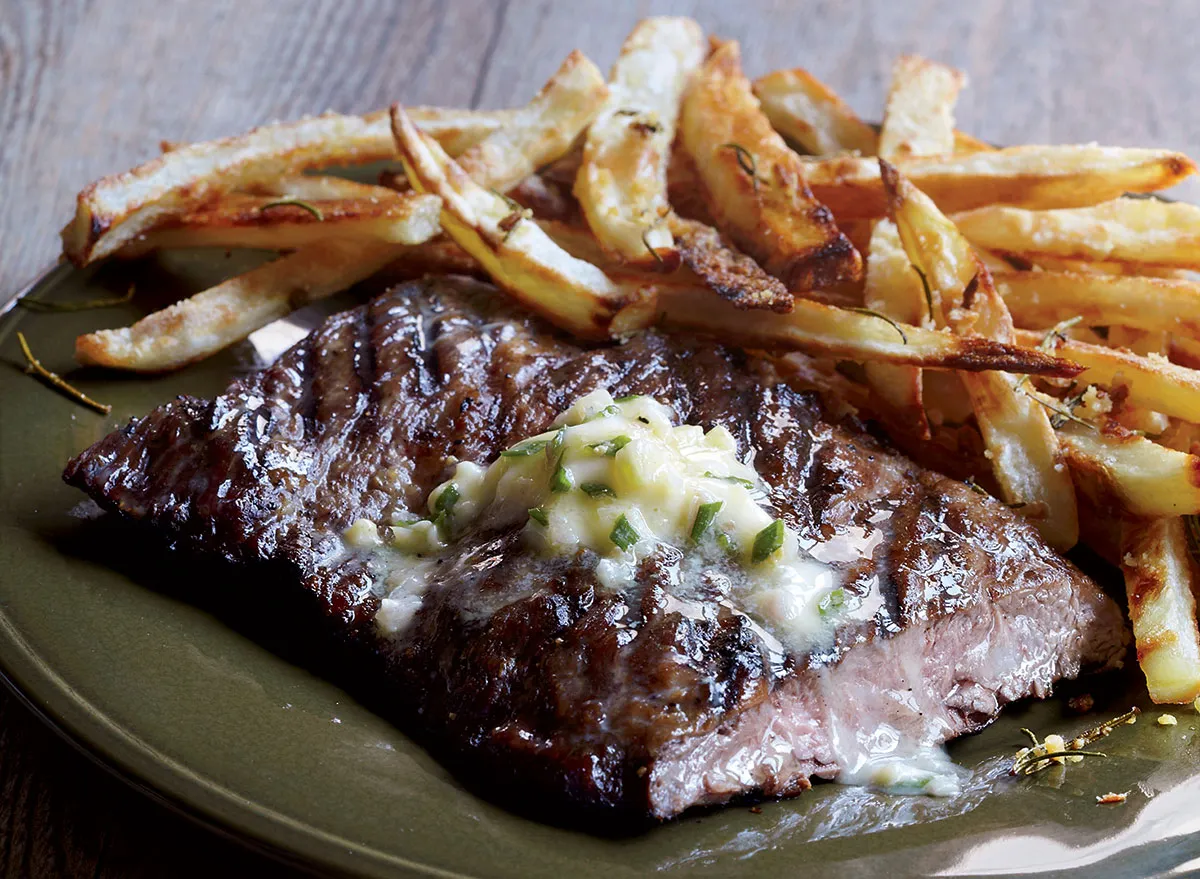 It's true what they say about the food in Paris: It's rich, decadent, and deliciously French. One of the most famously French meals is steak frites. At the restaurant Le Relais de Venise in Paris, people will line up around the block for a taste of some of the city's best steak frites. Inside, it's all business: A crew of stone-faced female servers in French maid outfits serve up nothing but beef (entrecôte, cooked to the rosy side of red) and potatoes (thin and crispy), all covered in an herb-spiked butter sauce that will haunt you for months to come. This is our nod to meat and potatoes done the French way, and you don't even need a plane ticket to indulge.
Nutrition: 460 calories, 24 g fat (11 g saturated), 660 mg sodium
Serves 4
You'll Need
4 Tbsp butter, softened (Punch up the butter an extra notch by adding 2 tablespoons of crumbled blue cheese. Form it into a log using plastic wrap and store in the refrigerator for up to 2 weeks.)
Juice of 1⁄2 lemon
1 small shallot, minced
1 clove garlic, peeled and grated
1 Tbsp minced fresh chives
1 tsp Dijon mustard
1 tsp Worcestershire
1 lb skirt or hanger steak (You can use any cut of steak you like here, but the texture and beefiness of skirt or hanger steak most closely captures the cuts of steak commonly used in the classic French brasseries of Paris.)
Salt and black pepper to taste6254a4d1642c605c54bf1cab17d50f1e
How to Make It
Combine the butter, lemon juice, shallot, garlic, chives, mustard, and Worcestershire in a mixing bowl. Stir to thoroughly combine. Reserve on the countertop.
Preheat a grill, grill pan, or cast-iron skillet over high heat.
Season the steak all over with salt and plenty of black pepper.
Cook the steaks, turning frequently, for about 8 minutes total (depending on the thickness), until well browned on both sides and firm but still easily yielding to the touch.
Rest for at least 5 minutes before slicing.
Top each steak with one-fourth of the butter, and serve with the hot fries from our Crispy Oven-Baked Fries recipe.
Love this recipe? Subscribe to our Eat This, Not That! magazine for even more at-home cooking and healthy eating ideas.