A Healthy Vegan Smashed Potatoes Recipe
Why yes, potatoes are good for you—and they make for the perfect side dish.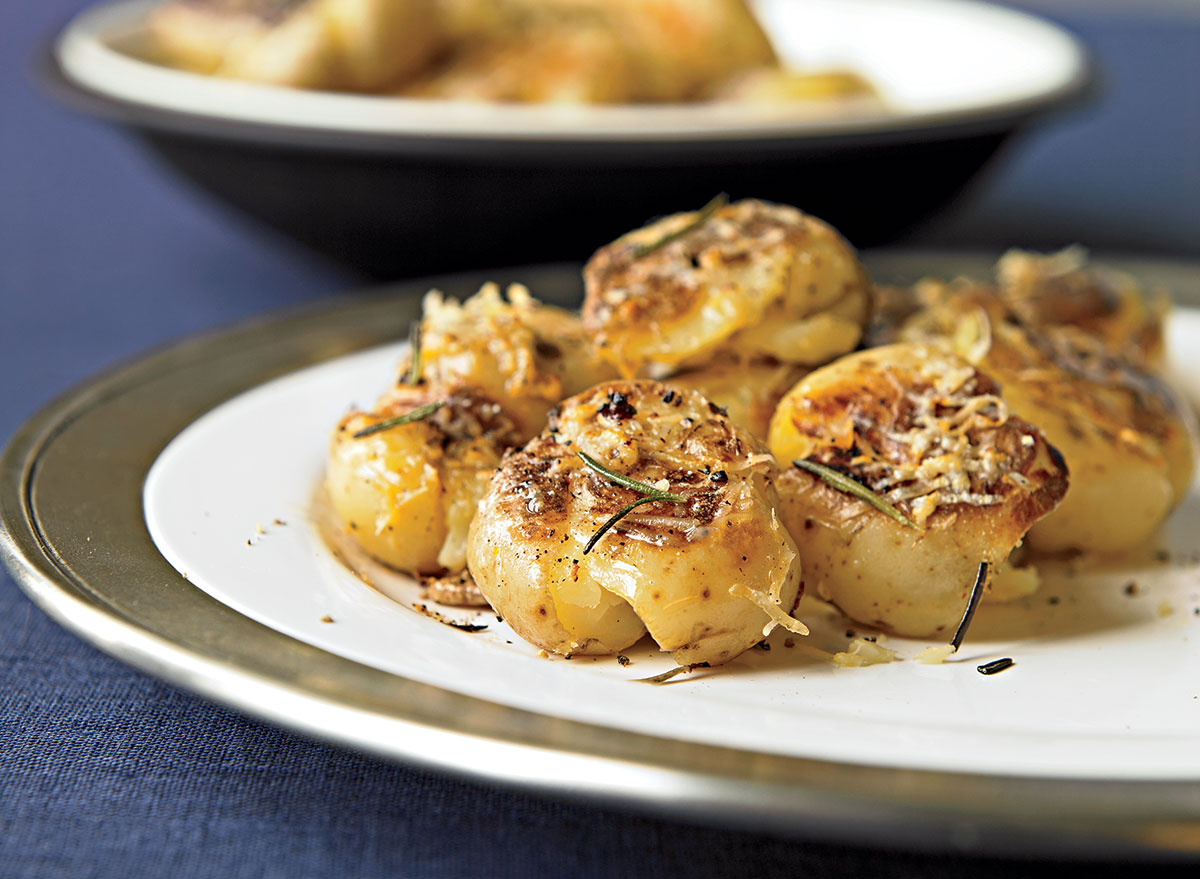 The potato gets a bad rep sometimes, doesn't it? In and of themselves, potatoes are not unhealthy, and they're even a great option for those who have a gluten-free diet. However, more often than not, the most well-known potato dishes are often not only not gluten-free, but they're not at all healthy, either, thanks to rich and creamy sauces and over-the-top mix-ins. As usual, most dishes you order in a restaurant or fast-food joint—particularly ones where the potato is featured—has been fried in mounds of butter and oil or, worse yet, deep fried in all of the above before it even reaches your plate, let alone your body. In this recipe, we break out of that mold. In this vegan-friendly smashed potatoes recipe, we avoid the many calorie traps that your local diner fall into. And no, that's not a typo: these potatoes are smashed, not mashed, making for a more substantial portion of your meal. These potatoes are as good subbing in for greasy French fries at dinner as they are usurping calorie-laden hash browns at breakfast.
Nutrition: 210 calories, 8 g fat (1.5 g saturated), 380 mg sodium
Serves 4
You'll Need
2 lb small potatoes, like Yukon Golds
Salt and black pepper to taste
1 Tbsp olive oil
2 cloves garlic, peeled
1 Tbsp minced fresh rosemary or 1 tsp dried
2 Tbsp grated Romano or Parmesan6254a4d1642c605c54bf1cab17d50f1e
How to Make It
Place the potatoes in a pot and fill with enough cold water to cover.
Add 1 teaspoon salt and bring to a boil.
Cook the potatoes until just tender all the way through, about 20 minutes. Drain.
When cool enough to handle, use your palm to carefully smash the spuds just enough to break the skin and flatten the potatoes.
Heat the oil in a large cast-iron skillet over medium heat.
Add the potatoes in a single layer, along with the garlic and rosemary.
Cook until the potatoes are deeply browned and crispy on one side, 7 to 10 minutes, then flip and repeat.
Add the cheese in the final moments of cooking, so that it melts atop the potatoes.
Season with salt and pepper.
This recipe (and hundreds more!) came from one of our Cook This, Not That! books. For more easy cooking ideas, you can also buy the book!