The Easiest Steak Taco Recipe
Bored of always making tacos with ground beef? Switch it up with this steak taco recipe instead!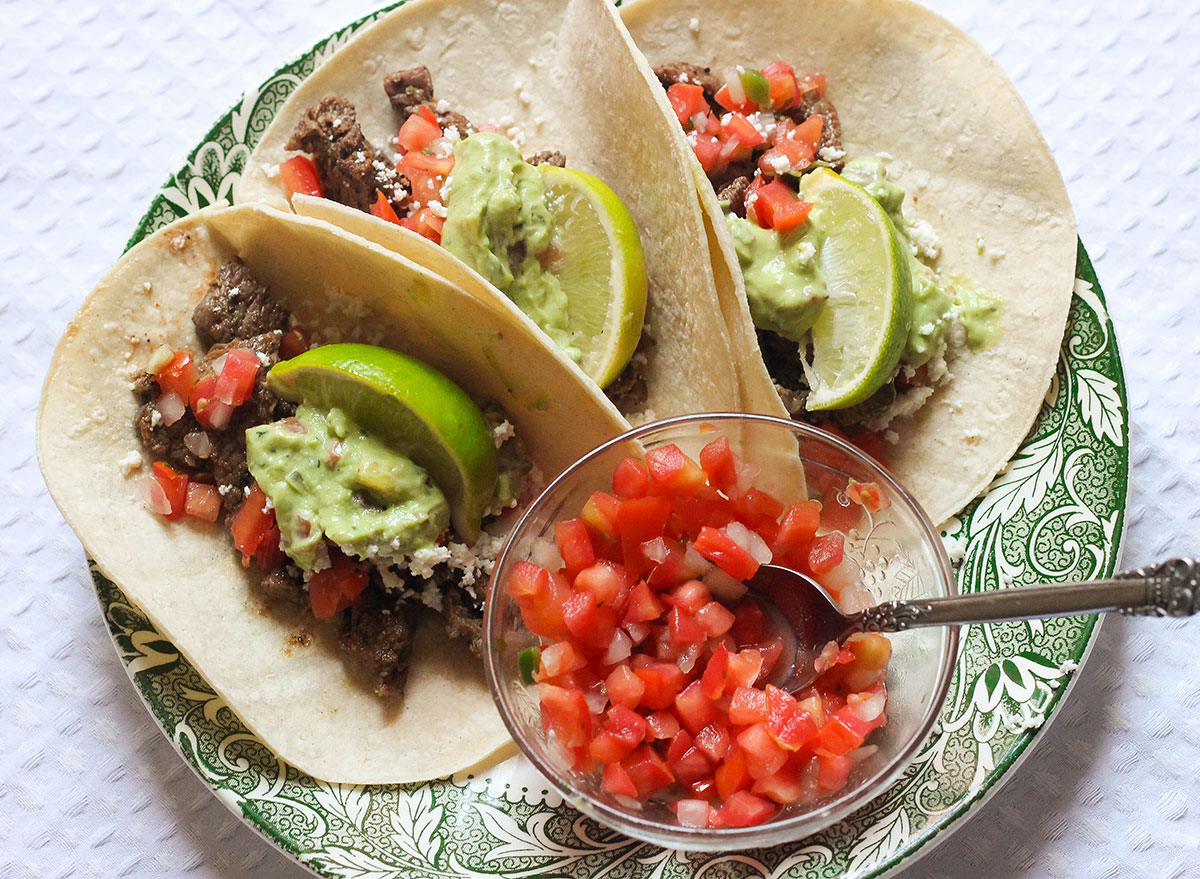 When I'm in the mood for making tacos, I tend to always reach for ground beef. Why? Because cooking ground beef is easy and predictable (unlike steak, which can easily be overdone if you cook it just a tad too long). It's less predictable. And yet, making this steak taco recipe has changed my opinion on making steak tacos—forever.
Every time I've set to cook steak, I have found a particular trick that has helped me to cook the perfect steak: Take it off right before you think it's "done." Whatever steak doneness looks like for you, I find that taking the steak off right before you think it's ready will make for the perfect steak. When a steak is "resting," or no longer cooking, it will still cook slightly. We overlook that resting period, and don't realize our mistake until biting into a more-than-done cut of steak.
In terms of making steak tacos, cooking the meat shouldn't take you long to do. I find chopping up the steak into smaller bite-sized pieces before cooking helps to evenly distribute the taco seasoning among the steak. However, if you would rather grill or sear your steak for tacos (giving you that nice, juicy red center), you can always do that as well. The choice is yours!
If you do plan on grilling or searing your steak, make sure to rub on the taco seasoning first. You don't want to lose all that flavor!
Here's how I personally make steak tacos, and the toppings I choose to go with them.
6254a4d1642c605c54bf1cab17d50f1e
Steak Taco Recipe
Makes 4 servings
Ingredients
1 flank steak
1 tablespoon taco seasoning
tortillas
guacamole
pico de gallo
queso fresco
limes
How to Make It
Slice up the flank steak into small, thin slices.
Heat up a skillet and add a small amount of cooking oil to the pan. Cook the steak with the taco seasoning for a few minutes, about 3-5 minutes. Watch it closely—you don't want tough steak!
Serve the steak on warmed tortillas with guacamole, pico de gallo, queso fresco, and slices of lime!