A Healthy Poor Man's Steak with Garlic Gravy Recipe
This dish won't cost you much when it comes to money or calories.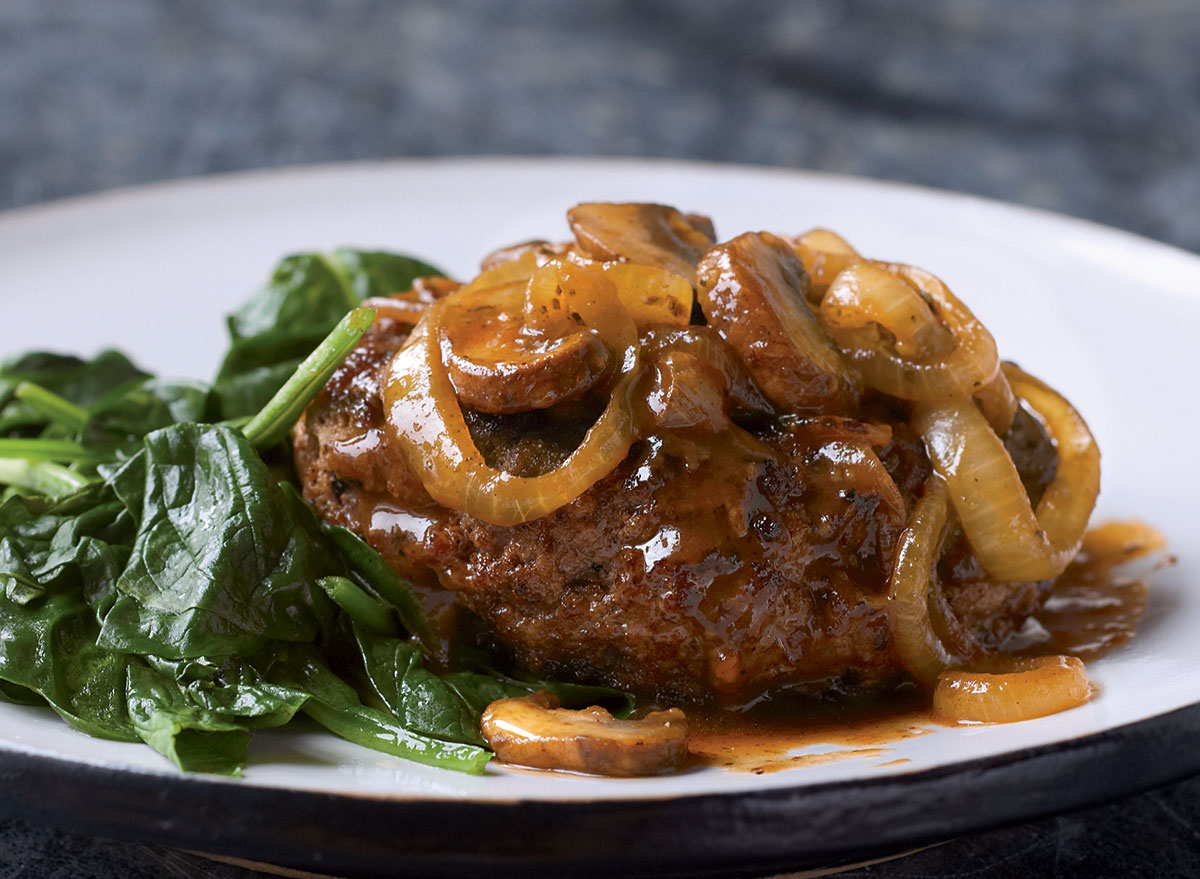 This country has fallen on lean times in recent years, but unfortunately, the figurative belt-tightening doesn't seem to be accompanied by a literal one. That's because the most potent sources of calories and seasoning (oil, sugar, salt) are still cheap and more common in restaurant cooking than ever. Here in our steak recipe, we fuse health, flavor, and affordability in a way only good home cooking can do. What more could you ask for? Inexpensive lean ground sirloin is formed into steaks, then covered with sauteed mushrooms, onions, and a soy-spiked sauce good enough to make your doormat taste delicious. Serve this decadent mess over a bed of mashed potatoes, or for a healthier, easier sidekick, garlic-lemon spinach or sautéed kale.
Nutrition: 220 calories, 9 g fat (3 g saturated), 470 mg sodium
Serves 4
You'll Need
1 lb ground sirloin or chuck, shaped into 4 equal patties
11⁄2 Tbsp canola oil, divided
Salt and ground black pepper to taste
2 cloves garlic, minced
1 yellow onion, sliced
4 oz white or cremini mushrooms, stems removed, sliced
1⁄2 Tbsp flour
1⁄2 cup beef or chicken stock
1 Tbsp ketchup
1 Tbsp low-sodium soy sauce
1 tsp Worcestershire sauce6254a4d1642c605c54bf1cab17d50f1e
How to Make It
Preheat the oven to 200°F.
Heat a large cast-iron skillet or sauté pan over medium-high heat.
Season the patties all over with salt and pepper.
Add 1 Tbsp oil to the pan and cook until a nicely browned crust forms on the patties, about 3 to 4 minutes, then flip and continue cooking for another 3 to 4 minutes for medium-rare.
Move the patties to a baking sheet and place in the oven to keep warm.
Add the remaining oil and the garlic, onions, and mushrooms to the same pan, and cook until the vegetables begin to brown nicely, about 5 to 7 minutes.
Sprinkle the flour over the vegetables, stir so that it coats them evenly, then add the stock, using a whisk to keep lumps from forming.
Stir in the ketchup, soy sauce, and Worcestershire sauce and continue cooking until the gravy thickens, another 2 to 3 minutes.
Serve the patties on a bed of mashed potatoes or sautéed spinach (or both) with the gravy drizzled over the top.