7 Steakhouses That Never Freeze Their Steaks
Plus, many of these chains hand-cut each steak to order.
When you dine at a high-end, "white tablecloth" steakhouse chain like Morton's, The Palm, or Ruth's Chris Steakhouse, you expect the steaks all to be USDA Prime or Certified Angus Beef—if not some rarer meat, like wagyu. Plus, you also take it for granted that the beef served at those pricier steakhouses is fresh and never frozen.
What's a refreshing surprise is just how often the steak at more casual and affordable steakhouse chains is also fresh and never frozen. We found that more than half a dozen larger, more affordable, steakhouse chains offer diners steaks that are never frozen. They are also aged and seasoned with care, and, in many cases, even hand-cut right there at the restaurant every day.
So, while paying $85 for a ribeye is a surefire way to get a fresh, high-quality steak, you can also find a perfectly good never-frozen steak for less than $30. Here are the steakhouse chains that serve the freshest steaks (and some amazing bread, sides, and desserts too!)
Texas Roadhouse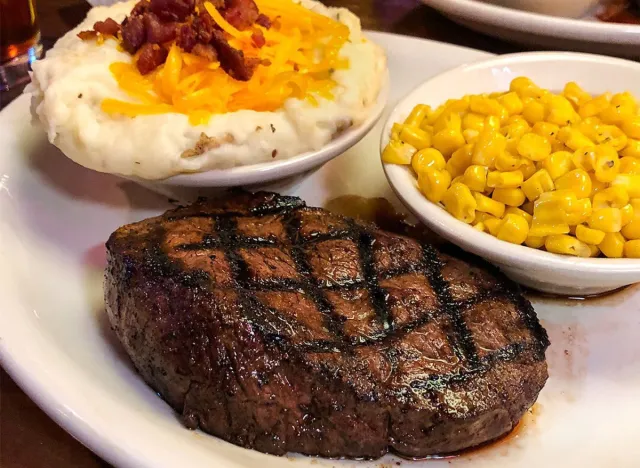 The steaks sold at Texas Roadhouse are fresh and never frozen, and they are even hand-cut on-site. Each Texas Roadhouse restaurant employs a professional butcher who cuts the steaks right there where the meat will be cooked and served. The restaurants even have the name of the day's steak cutter posted for all to see. Steaks are kept chilled in large coolers at this chain, but they are never frozen. And the steaks are all USDA Choice beef, which is just a step down from USDA Prime.
LongHorn Steakhouse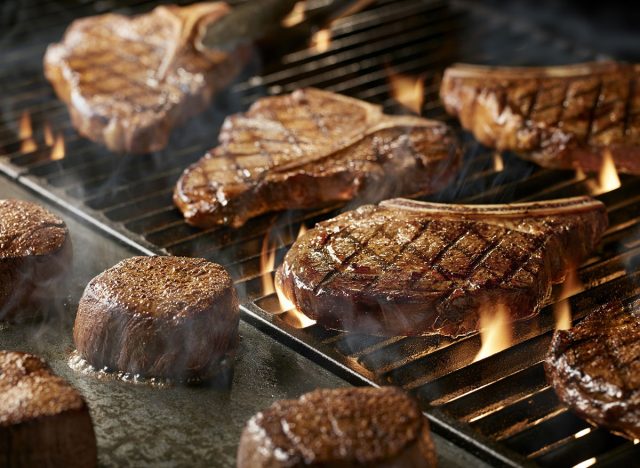 LongHorn Steakhouse is all about serving "fresh, never frozen" steaks. The chain often touts its motto on social media, and it has been extolling its fresh, never-frozen steaks for years. It has been serving fresh steak since the early 1980s, which was a long time before social media became a thing.
Outback Steakhouse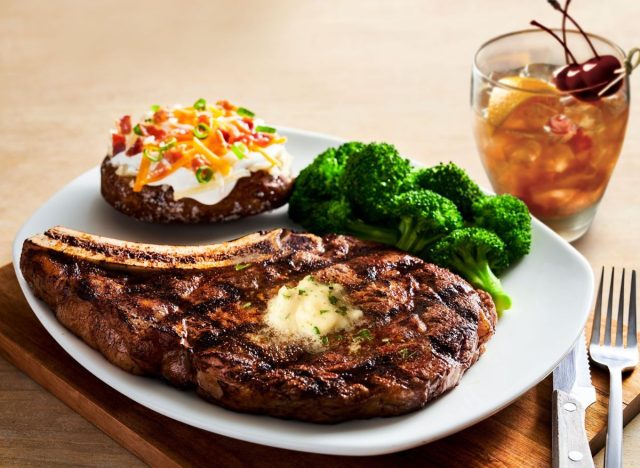 The steak you enjoy at this beloved Australian-themed (and by no means actually Australian) steakhouse will never have been frozen. But for the record, a lot of the other foods you get from an Outback probably will have been, like the fish and the fries.
Black Angus Steakhouse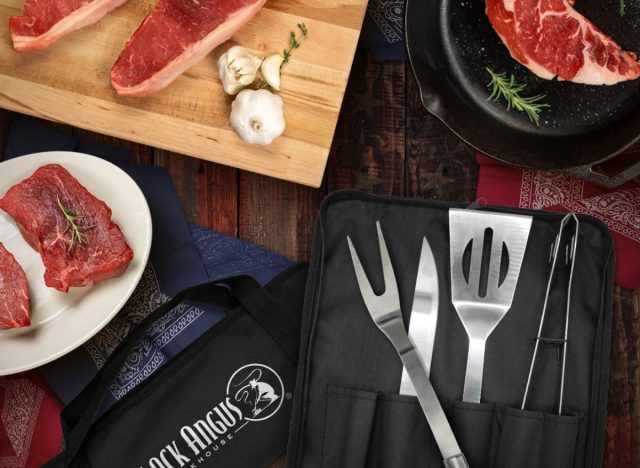 The steaks are never frozen at Black Angus, which naturally uses Certified Angus Beef. Plus each cut is aged at least 21 days and hand-cut in-house daily.6254a4d1642c605c54bf1cab17d50f1e
You can get all the typical steak cuts at this chain or you try the fun NY Strip flight. For this experience, you'll get three tasting-size portions of steak with different toppings. The famous Sweet Molasses Bread, is the perfect side, especially with one of the chain's specialty butters, like roasted jalapeño, roasted garlic, or fresh herb.
Logan's Roadhouse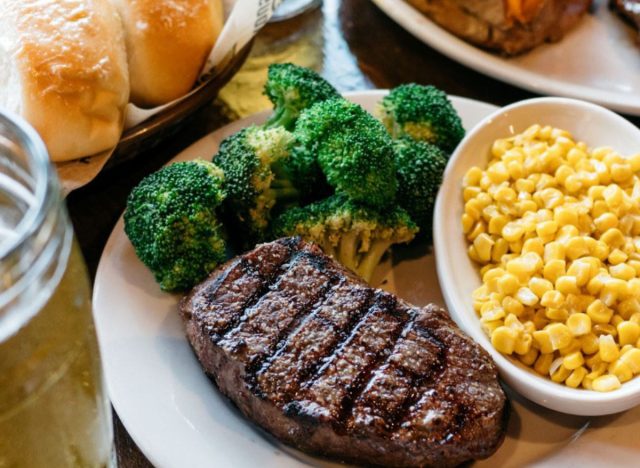 The steak at Logan's Roadhouse is never frozen, and in fact, this is yet another chain where you can get steaks that were cut right there on location. Per Logan's Roadhouse's webpage, diners can expect: "USDA CHOICE Steaks aged and cut in-house by a trained meat cutter and cooked to perfection over mesquite wood." The chicken is also fresh, and never frozen, the soups are all house-made, and the rolls are baked at the restaurant daily.
The Keg Steakhouse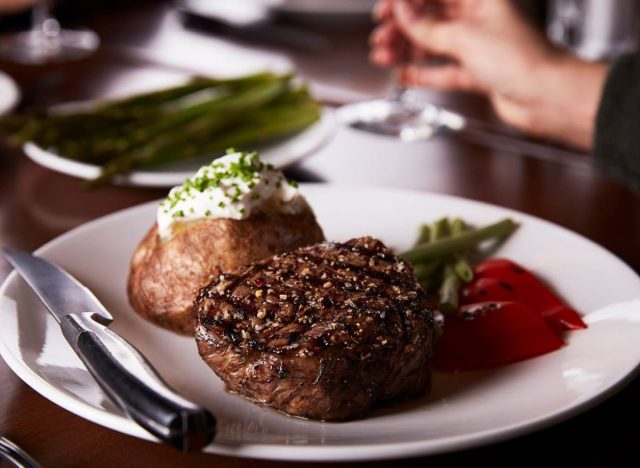 The Keg is a Canadian steakhouse with a decent and growing presence in the U.S. It's now found in nearly a half-dozen states. This is a steakhouse where the filets, sirloins, rib steaks, and other cuts are always fresh, never frozen. And the steaks are cooked on a grill, instead of being rapidly broiled as you get at many steakhouses these days, so you get that signature backyard-grill flavor. The Keg also carries a rare cut of meat called the Baseball Sirloin, which is taken from the center of the sirloin and is at the same time both lean and full of flavor.
Saltgrass Steakhouse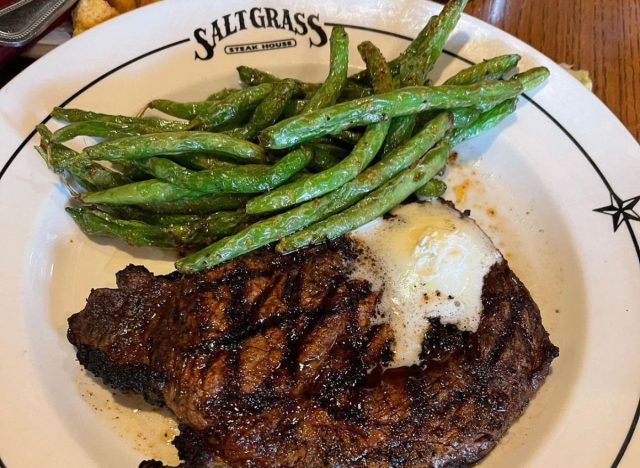 Unless you live in the three far western states or the Northeast, chances are good that you have a Saltgrass Steakhouse nearby. This Texas-based chain cooks up some fine, fresh steak. And all of the steak you will get from Saltgrass Steakhouse is Certified Angus Beef, which is a protected term (like "organic") that denotes quality. Each steak is rubbed with the chain's original Saltgrass-7 steak spice and served with a pat of melty garlic butter. All of the chain's breads—including the famous beer bread—dressings, soups, and desserts are also made in-house.  
Steven John
Steven John is a freelancer writer for
Eat This, Not That!
based just outside New York City.
Read more about Steven