The Most Overrated Steaks at Steakhouses, According to Chefs
Just because it's the most popular cut doesn't mean it's the best.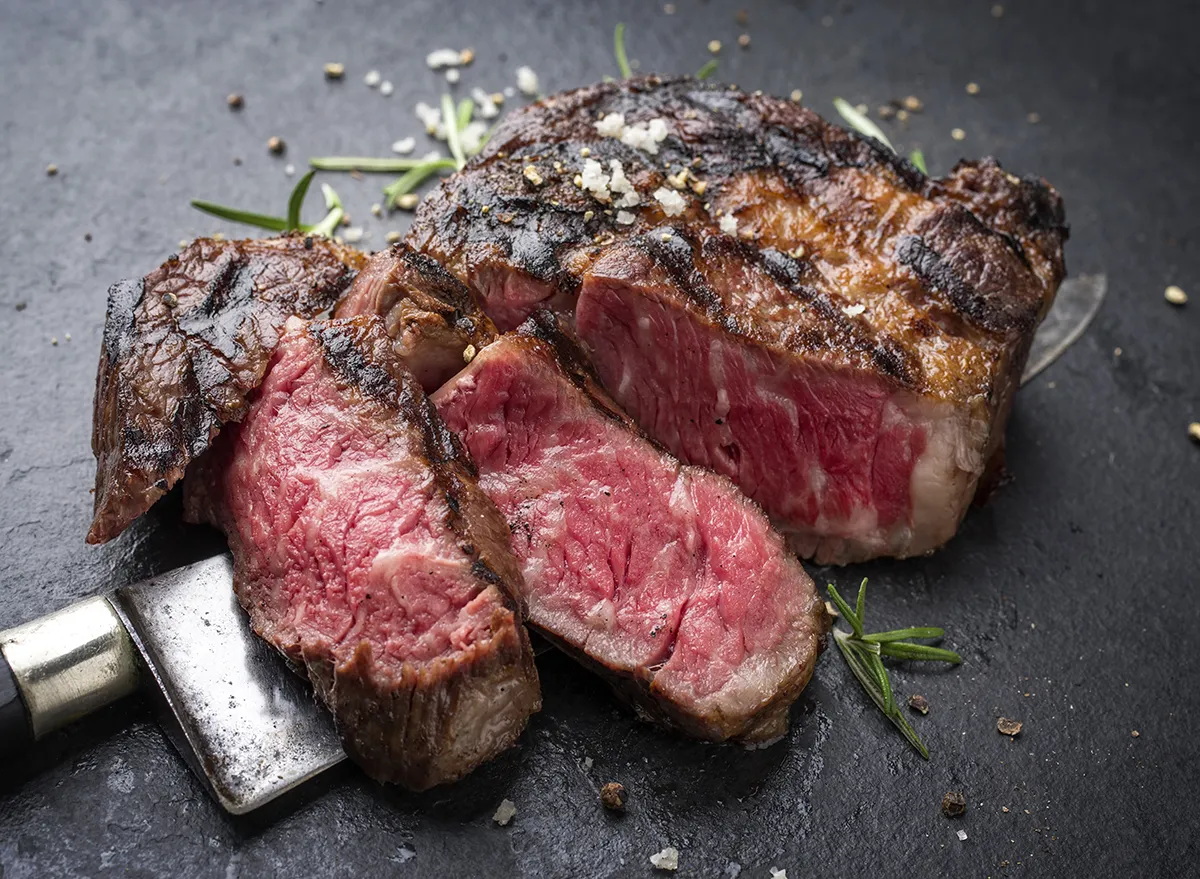 Steakhouses conjure up images of decadent meals and top-notch service. Whether you head to a popular chain like Texas Roadhouse, a Brazilian-style churrascaria, like Fogo De Chao, or a long-standing local steakhouse with white tablecloths, you know you'll get a big, juicy cut of meat with sides to spare. But could you be ordering the steak or dish for your palate? Many popular steaks that diners flock to are highly overrated when it comes to price and flavor.
When you're paying top dollar for dinner you need to seek out a good cut of steak, with the texture and flavors you love. But, if you're getting the same thing every time, you could be missing out on a world of flavor. But what should you try?
Not surprisingly, chefs have a lot to say about the different types of steaks and whether or not they are worth the money. The less common flat iron steak "surprisingly has a rich and full flavor," says Sonny's BBQ Pitmaster Shannon Snell. And while many prefer the filet mignon, which is "prized for its tenderness," admits Chef Antimo DiMeo, of Bardea Food & Drink and Bardea Steak, it is also considered one of the most overrated cuts.
Read on to find out which steak dish chefs think you should skip and which you should take the plunge and try on your next night out.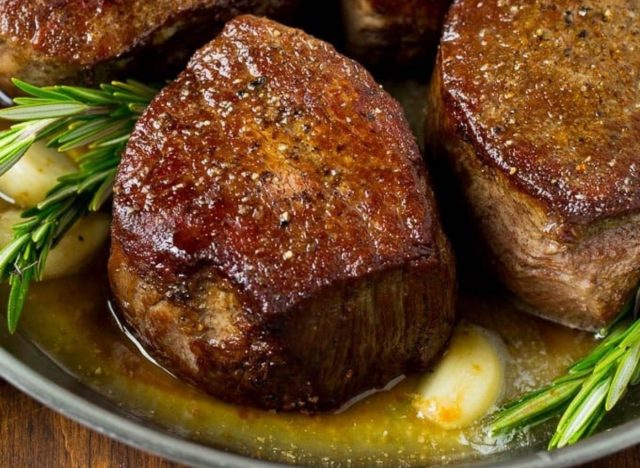 This lean cut, often the most high-priced on the menu, came up over and over when we spoke to chefs. While many love this often smaller-sized steak, many chefs aren't the biggest fans, preferring more flavorful cuts. You can get far more flavor for the price. 
"Filet! It's far too expensive for how boring and limiting it is," says Rachel Miller, James Beard Semifinalist 2023 and chef/owner of Nightshade Noodle Bar in Massachusetts. She suggests trying another cut, explaining, "Bavette. It's a crowd-pleaser that isn't super expensive. It's very versatile and flavorful, especially for how lean it is and it has a really unique texture that people love."
"Filets are typically known for being so 'expected' or standard on menus. Beef is incredibly versatile, so I'd encourage people to explore all of its great cuts that are just as juicy and tender," said Alex Reitz, chef and recipe developer from Beef. It's What's for Dinner.
"The downside to this cut is its lack of fat content, resulting in a less robust taste profile that often requires additional sauces or toppings to enhance its flavor, regardless of the quality of the meat," explains Greg Engelhardt, chef and director of food operations at Slim's Quality Burger. "As a result, I encourage people to explore other cuts of meat to discover a wider range of flavors and textures that are not limited to the widely known filet mignon." 
"The filet mignon is often viewed as an overrated cut due to its limited flavor profile and high cost resulting from its scarcity," says Min Sung Kang owner of Atti in NYC. "Despite being a tender cut, its lack of fat may make it less appealing to those who desire richer and more complex flavors in their meat."
"My most overrated steak would be Filet Mignon. While it is usually very tender, it lacks flavor because it is so lean," says BOA Steakhouse executive chef, Dana Dare. 
"This is a steak for beginners, yet the price tag it carries you would think it's meant for a meat connoisseur," says Chef DiMeo.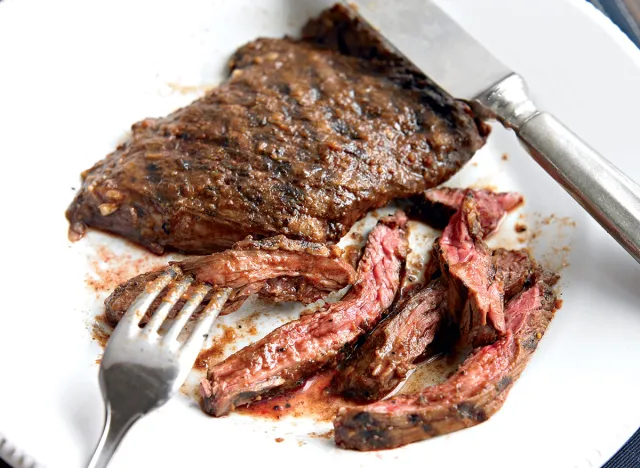 Reid Martin, COO, Lone Mountain Wagyu, thinks this formerly overlooked steak has gotten too popular!  "The skirt steak is the most overrated cut. Don't get me wrong, it's delicious. It is sort of a darling of the industry and was previously undervalued by the marketplace, but now that it has been discovered prices have gone up," says Martin. "Plus it is not quite as user-friendly as other cuts, benefiting much from marinating and needing to be sliced across the grain or the chew is intolerable. Overrated but still a fantastic cut."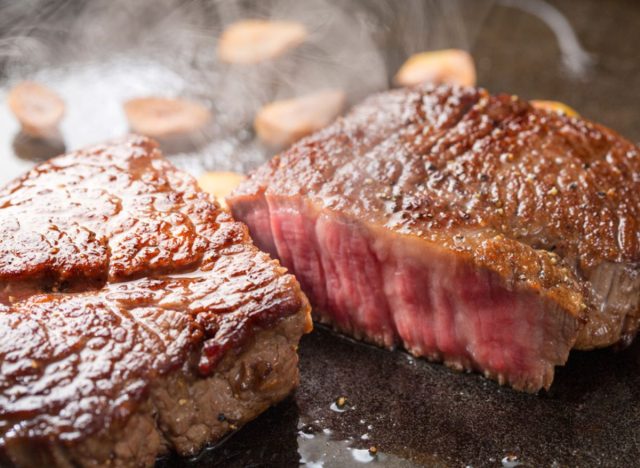 Chef Brian Doyle, head of culinary for Smith and Wollensky, had a bold take with his pick. He suggests that American Wagyu is worth ordering and may be better than traditional A5.  "Although I don't think A5 Wagyu is overrated, I would say that it unnecessarily overshadows American Wagyu," says Doyle.
"Snake River Farms Wagyu rivals any A5 wagyu in marbling and I would argue that American Wagyu eats better as a center of the plate steak as the fat melts more consistently while still maintaining the beef flavor we all know and love." FYI, A5 is considered the highest grade of Japanese Wagyu resulting from cows that are fed the best food and received the best care, resulting in an uber tender and marbled piece of meat.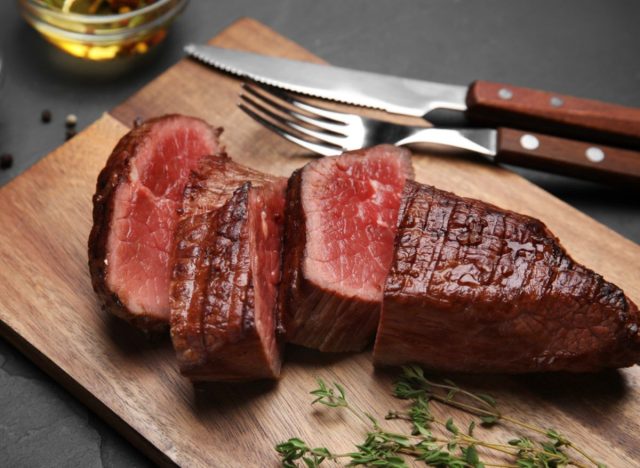 Sonny's BBQ Pitmaster Shannon Snell tells us that this cut, in his opinion, is pretty flavorless without some work from the chef. "100% in my opinion, the tenderloin is one of the most overrated cuts of meat," says Snell. "While the tenderloin is a super tender cut of meat, it can often be flavorless if not injected or marinated. Also, it lacks a lot of intramuscular fat which can cause it to be very tough if it's overcooked."6254a4d1642c605c54bf1cab17d50f1e
Underrated Cuts Chefs Suggest: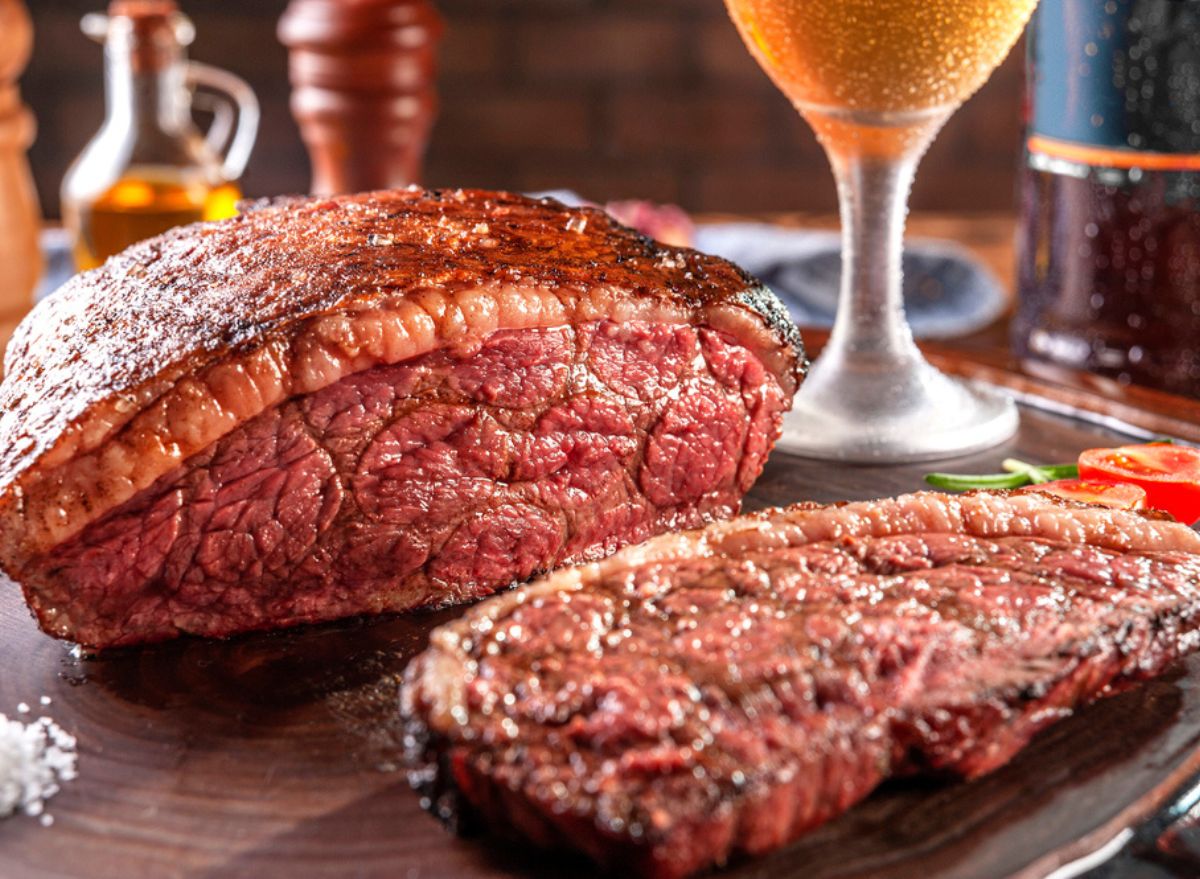 This steak hasn't gained popularity in the U.S. yet, but DiMeo swears by it, saying, "Also known as the top sirloin cap, this cut is very popular in Brazil yet not well known in the states. Most butchers sacrifice its prized fat cap and divide it into smaller cuts. It's one of the most flavorful cuts of beef on the cow with beautiful marbling and excellent tenderness. It is also relatively cheap and can feed your entire family. It's one of our favorite cuts of steak in our kitchen and for good reason, you're guaranteed to impress." 
Martin is also a fan, saying, "It can be cut into steaks or roasted whole like a tri-tip and is delicious—a perfect balance of marbling, lean, tenderness, and that beefy flavor you are looking for in a premium beef cut."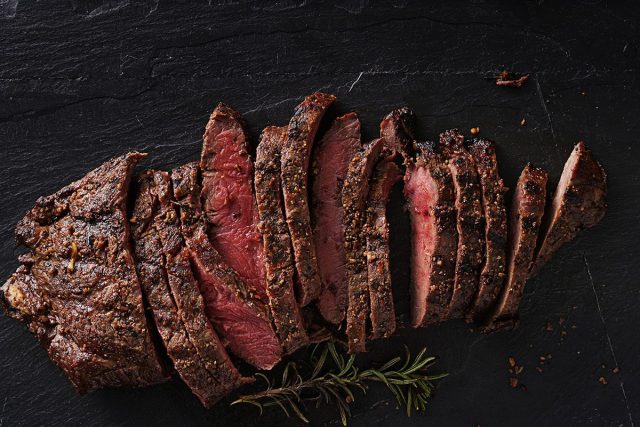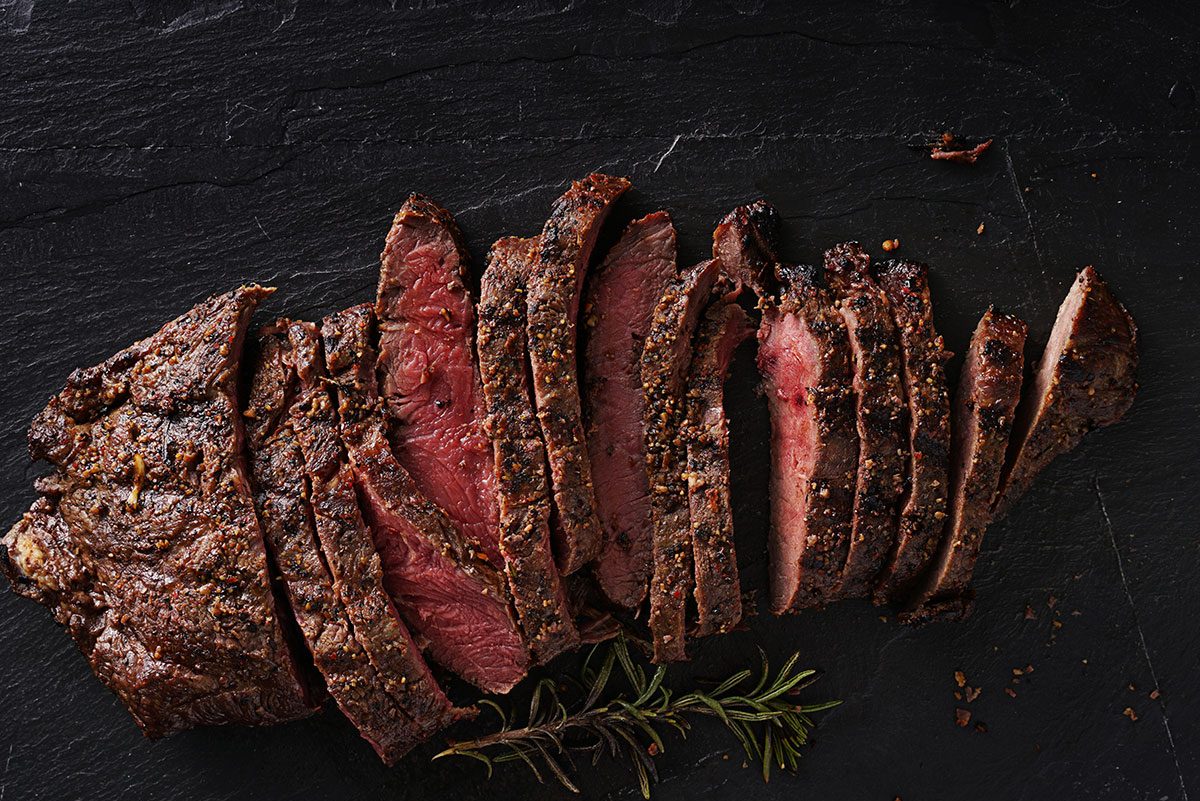 Also known as shoulder blade steak, Snell says, "This comes from a cow's shoulder blade and surprisingly has a rich and full flavor. Muscles like the shoulder tend not to have great flavor profiles due to the muscle constantly working. However, this thin strip of meat generally comes with plenty of marbling and a really bold taste."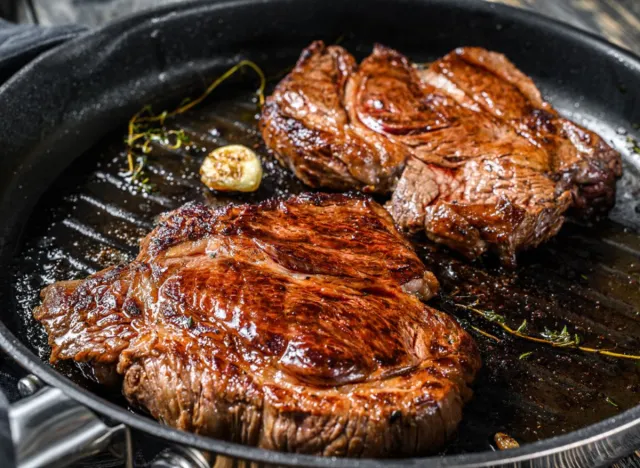 Martin also called out this old-school cut, saying, "I would give the nod to the chuck eye steak as being extremely underrated. This steak comes from the economical chuck complex of muscles and is located adjacent to the ribeye (the king of steaks). It is not easy to track down, but if you can find one you will be rewarded with a richly decadent steak at a fraction of the cost of the more well-known ribeye."
Tanya Edwards
Tanya Edwards is a seasoned food and health journalist, who has held roles at Yahoo Health as Managing Editor and at Food Network as Programming Director.
Read more about Tanya