7 Steakhouses That Offer the Best Value for Your Money
The Palm and Morton's are not on the list.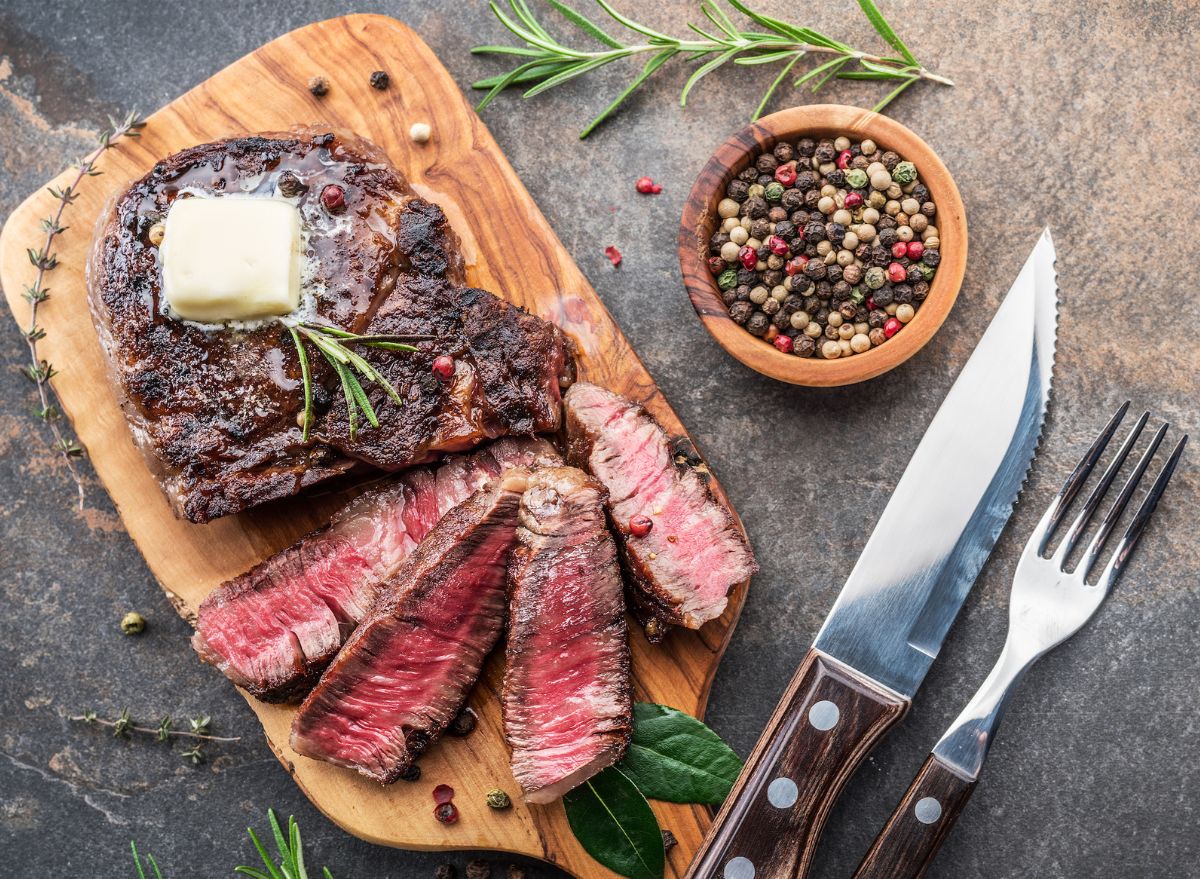 When you walk into higher-end steakhouses, you have to adopt the same mindset as when you enter a casino: you have to consider your money already gone and just enjoy the experience. Because when you spend dozens of dollars on a few ounces of meat it's not a good value, it's all about the atmosphere, with the food being only one component. However, there actually are some affordable steakhouses that offer great value for your money.
When we polled the Eat This, Not That! Facebook readers, one of the marks of an expensive steakhouse was a location that simply called itself a steakhouse. You can find great steaks at affordable prices at chains that don't call themselves steakhouses. This includes casual chains like Texas Roadhouse and a few expanding Brazillian steakhouses like Fogo de Chao and Texas de Brazil. Plus, Korean barbecue restaurant chains are popping up in cities everywhere and serve amazing cuts of steak.
Here are the "bargain" steakhouses that may not be on your radar just yet but could be go-to dining spots in the future.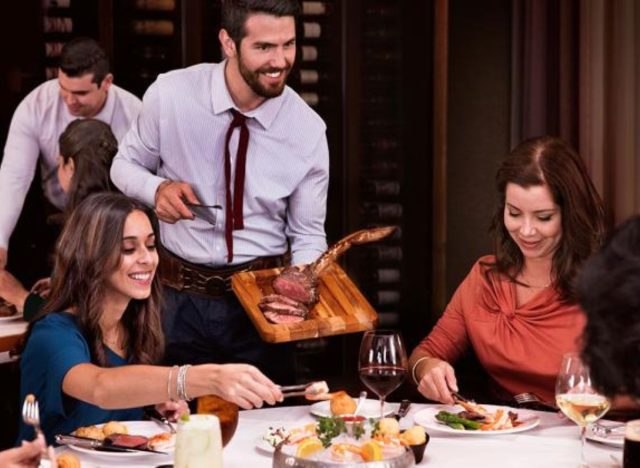 To be clear Fogo de Chão (pronounced "fo-go dèe shoun," because we know you were wondering) is not a low-cost restaurant. You will pay at least $40 for main course meats, and maybe even more. But this beloved Brazilian steakhouse—which is actually a chain with dozens of locations—is all-you-can-eat, so you can easily make it a great value experience. Just arrive hungry.
"At Fogo de Chão we've elevated how a consumer dines by offering an experience that focuses on discovery," said Barry McGowan, CEO of Fogo de Chao told Eat This Not That!, adding that: "Guests are able to curate a culinary experience for themselves at one price, [including] enhancements like Fogo's indulgent Wagyu service which can be easily shared, and our hand-crafted cocktails that reflect the best in bar innovation, all at a price point that delivers on value."
If you live in or visit NYC and you have a hankering for lots of succulent, savory meat then Let's Meat, a popular Midtown Korean barbecue restaurant, is a must. This is an all-you-can-eat establishment so for between $40 and $50, depending on which AYCE option you choose, you will be absolutely stuffed with excellence. Indeed, Korean restaurants are widely known to offer great value on meats, as per people sharing in a Reddit thread, where on poster called "the all you can eat [Korean] places" a good deal. Seek out the one closest to you.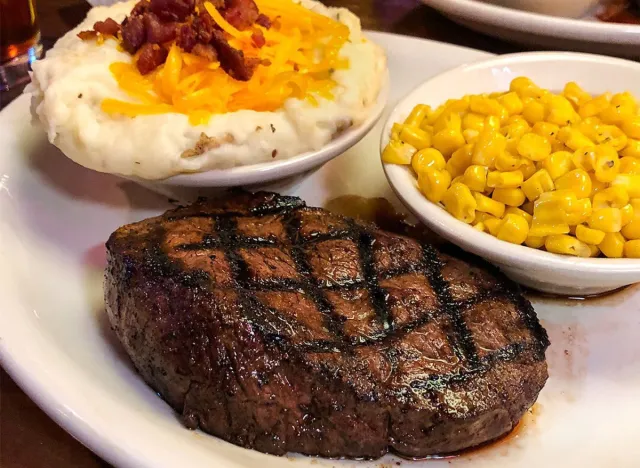 When you run the numbers, you'll find that Texas Roadhouse consistently has the best prices on its steaks compared to its close competitors like Outback or Black Angus. The reasons for this are many, but the simple facts are that the quality is on par with other comparable steakhouses and the prices are better. To get the best deal, one former Texas Roadhouse employee said to go with the Filet Medallions, per The U.S. Sun, as the three discs of steak works out to be nine ounces of meat.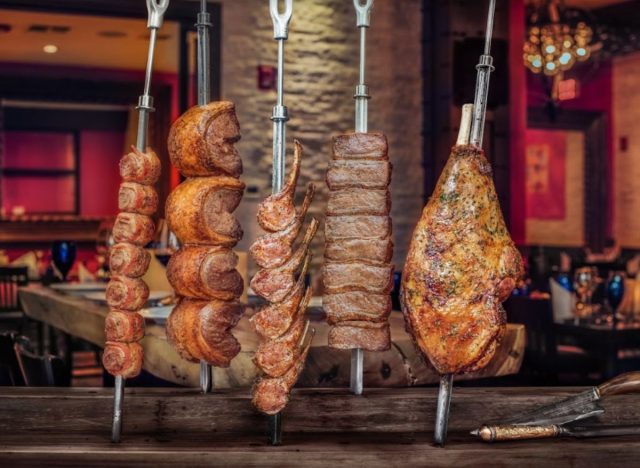 Like Fogo de Chão, Texas de Brazil is another all-you-can-eat Brazilian steakhouse where it's easy to get more than your money's worth in meat. However, per Mashed, if you're not entirely famished, you can also order a la carte, which can be a decent value, as well, as the meat is usually priced by weight, thus giving you lots of control over your order.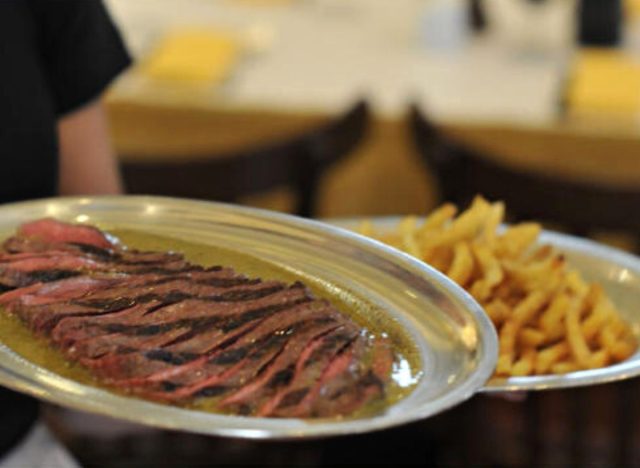 Le Relais is a unique restaurant. Or rather a unique international micro chain, as there is one in New York, one in Paris, two in London, and one in Mexico City. At each of these locations, the menu is the same and is simply this: a salad, steak with sauce, fries, desserts, and drinks. That's it. They serve one entrée—which is steak— one side, a salad to start, and desserts and wine or water or a limited menu of soft drinks. A bit unusual, sure, but also a reasonably priced meal.
Benihana may not be primarily a steakhouse, but you can get a perfectly decent steak there for less than you'd pay at many high-end chophouses. That includes a filet mignon along with a few other less expensive cuts. And as the menu is so large and varied, it's a good place for parties where some members are not steak fans.6254a4d1642c605c54bf1cab17d50f1e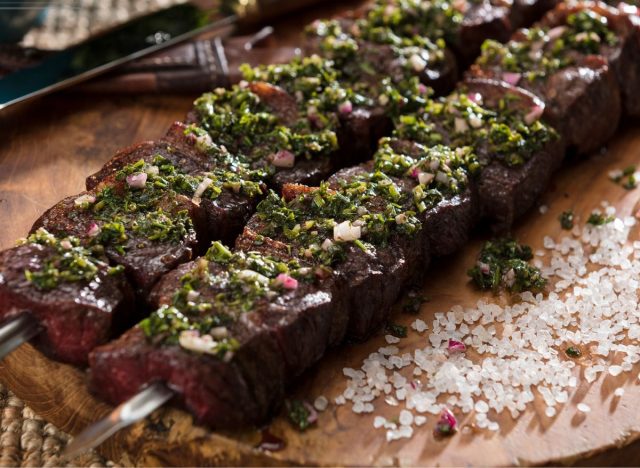 Here's yet another Brazilian steakhouse where one flat fee can get you as much meat as you can eat. Now with locations in more than a dozen states, this is one of the older Brazilian steakhouse chains in America, the first having opened in 1995, and offers a good introduction to this type of dining experience.
As with Korean BBQ places, many people agree that, in general, Brazilian steakhouses are a solid deal for those with a solid appetite. One Redditor humorously explained Brazilian steakhouses like this: "You'll pay a lot but the service is usually impeccable and the level of conspicuous consumption will leave you needing to go to confession."
Steven John
Steven John is a freelancer writer for
Eat This, Not That!
based just outside New York City.
Read more about Steven