6 of the Strangest Things That Have Happened at a Denny's
With 24-hours for something strange to happen, the odds are in the chain's favor.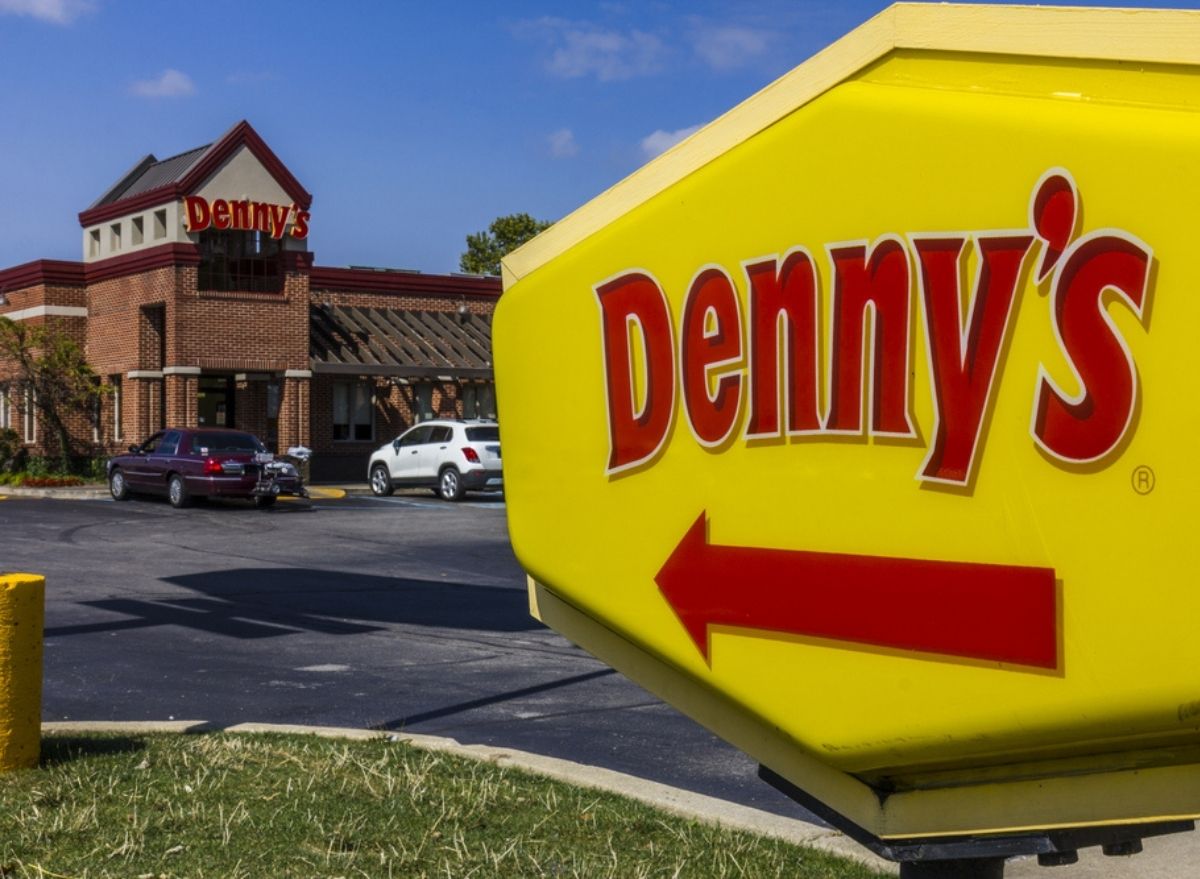 Restaurants can be odd places, but a quick Google search reveals that Denny's restaurants can be doubly so. In the pre-pandemic era when the chain's restaurants used to be open around the clock, people often dined in all manner of inebriation, so it's no surprise that a few odd things happened.
The casual diner chain has been serving Grand Slam-like breakfasts for over 65 years and many locations are even easing back into being open 24 hours again. Like any long-open spot, people have reported some odd customer behavior. While many of these occurrences have been the result of a customer having too much to drink before trying to sober up with a stack of pancakes, others are unlike anything you'll see anywhere else. Here are some of the strangest, but least violent, things to have happened at a Denny's.
Man cooks his own burger.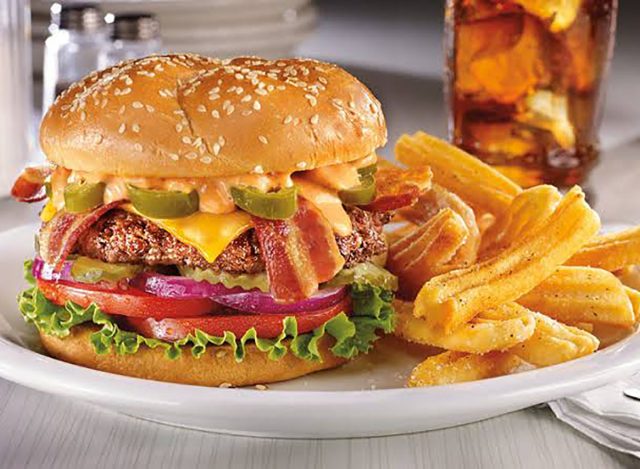 In 2012, at a Denny's in Madison, Wisconsin, a middle-aged man walked in and claimed to be the new manager. He proceeded to cook his own burger and fries in the kitchen. While the stunned current manager tried to get in touch with corporate, the man calmly enjoyed his lunch. Eventually, the police were called when it was determined that the 52-year-old man wasn't who he claimed to be. As the man was led away, he called out "This is why you don't dine and dash kiddies," according to the light-hearted police report.
Two hungry diners break into a Denny's to cook eggs… twice.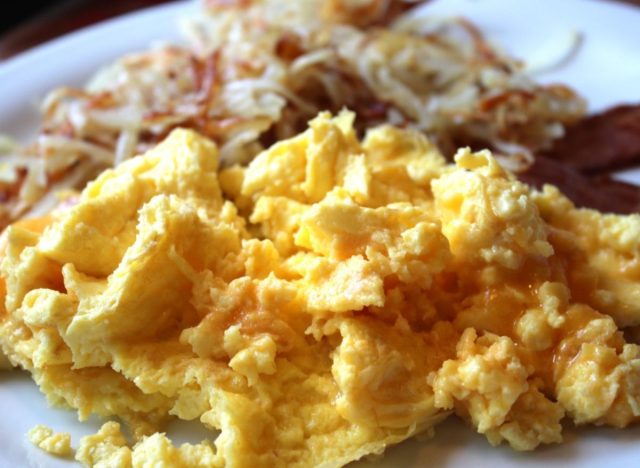 Apparently, Denny's is one of those places where people think they could do the job just as well as the cooks because it happened at a location in Indiana. In 2021, two intruders were caught on surveillance video entering a Denny's, cooking some eggs, and leaving. The story gets even stranger though because the same men returned about an hour later for seconds. It was determined that the intruders didn't take anything but the eggs and that the restaurant's door had been left open, so they didn't break in. They could not be chargest with grand larceny since they technically stole about $1 worth of eggs, according to Newsweek. The restaurant declined to press charges.6254a4d1642c605c54bf1cab17d50f1e
A customer makes an odd request.
When a man walked into a Denny's with an odd request—to have a single mother wait on him—workers acquiesced, even though it was odd. What happened next stunned everyone. Apparently, the man paid for seven meals and then left the server a $1,500 tip. While this sounds like an urban legend, Snopes.com has categorized it as "Unproven" since they are unable to verify it or discount it.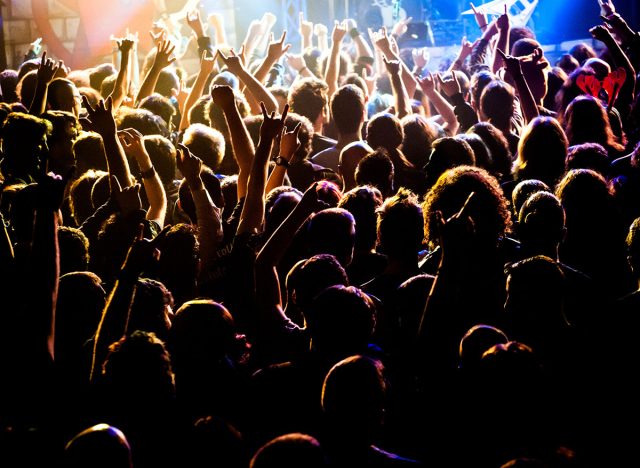 A musician from Los Angeles used a Denny's located in Hollywood for his music video, packing the breakfast joint in the late afternoon. Video of the event shows Pete Wentz of Fall Out Boy, who happens to own the artist's label, crowd surfing, and workers lamenting that they were not in the restaurant that day.
Denny's becomes a mosh pit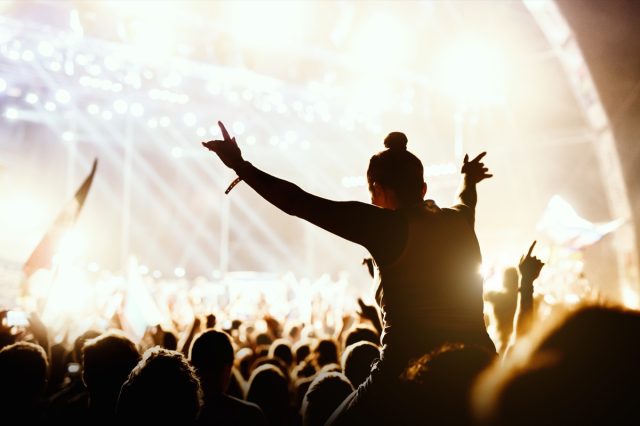 Apparently, Denny's is a great untapped music spot. A Denny's in Santa Ana, California became a scene of some wild headbanging party when a 17-year-old rented the banquet room out for his birthday without revealing his intentions. The wild crowd trashed the place and was charged for damages. This concert could have been inspired by another punk concert that was put on at a closing Denny's, lovingly referred to as Denny's Grand Slam II.
Many restaurants have celeb sightings, but rarely do they have fistfights. In 2015, the controversial rocker had a concert in Canada and went to the chain for some grub at around 2 a.m. According to reports, there were nasty words exchanged about the diner's girlfriend and the man punched Manson in her honor, which Manson denied.