30 Summer Salads You Need to Try
Beat the heat this summer with these quick and easy summer salad recipes.
Summer is almost here, and with it come the delights of summer fruits and vegetables. From juicy strawberries to fresh corn on the cob, summer's bounty is perfect for enjoying outside in the sunlight. And what better way to make use of summer produce than in a salad? We've rounded up some of the best summer salad recipes to keep you cool all season long.
With all the wonderful seasonal produce that graces our supermarkets—hello, lines of rainbow produce and fragrant herbs—now is the optimal time to bust out the bowls and get creative in the kitchen. And if you love cooking, sign up for our newsletter to get daily recipes and food news in your inbox!
Spicy Grilled Calamari Salad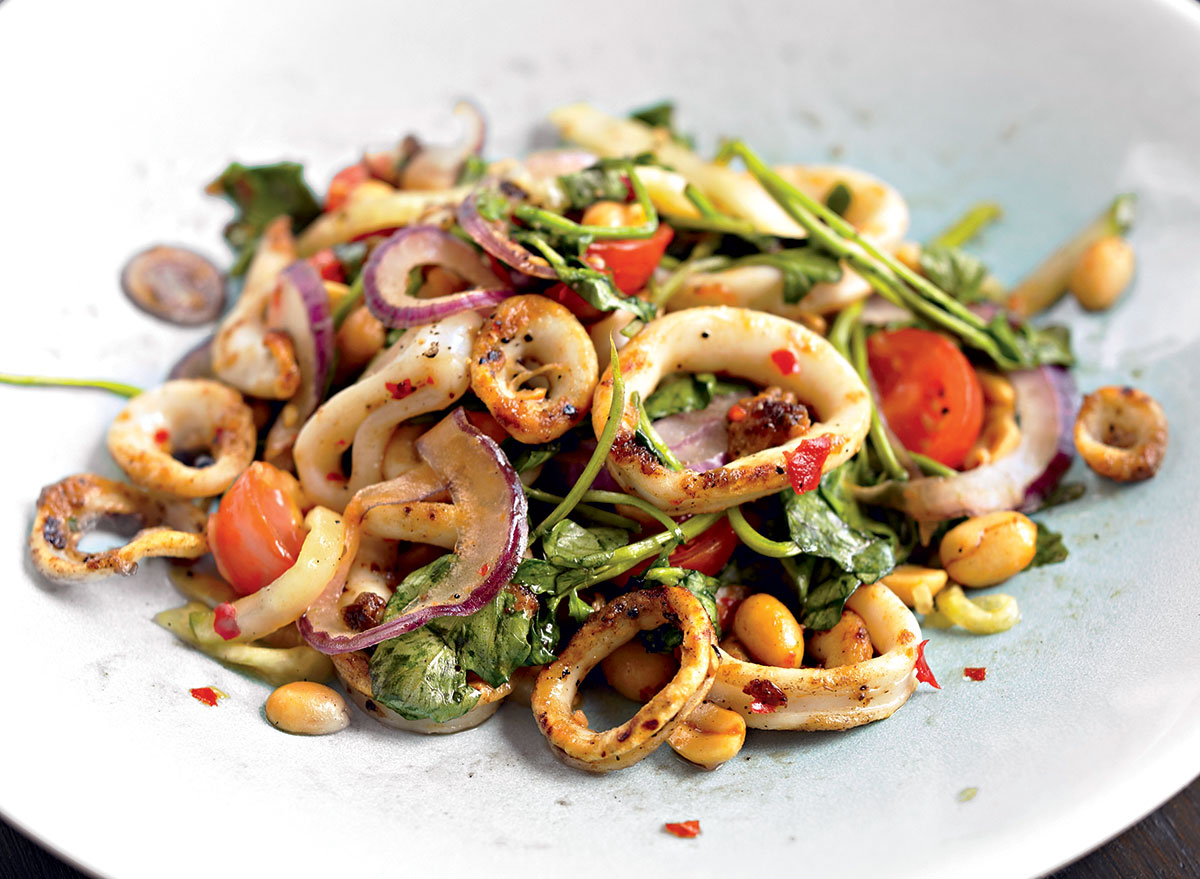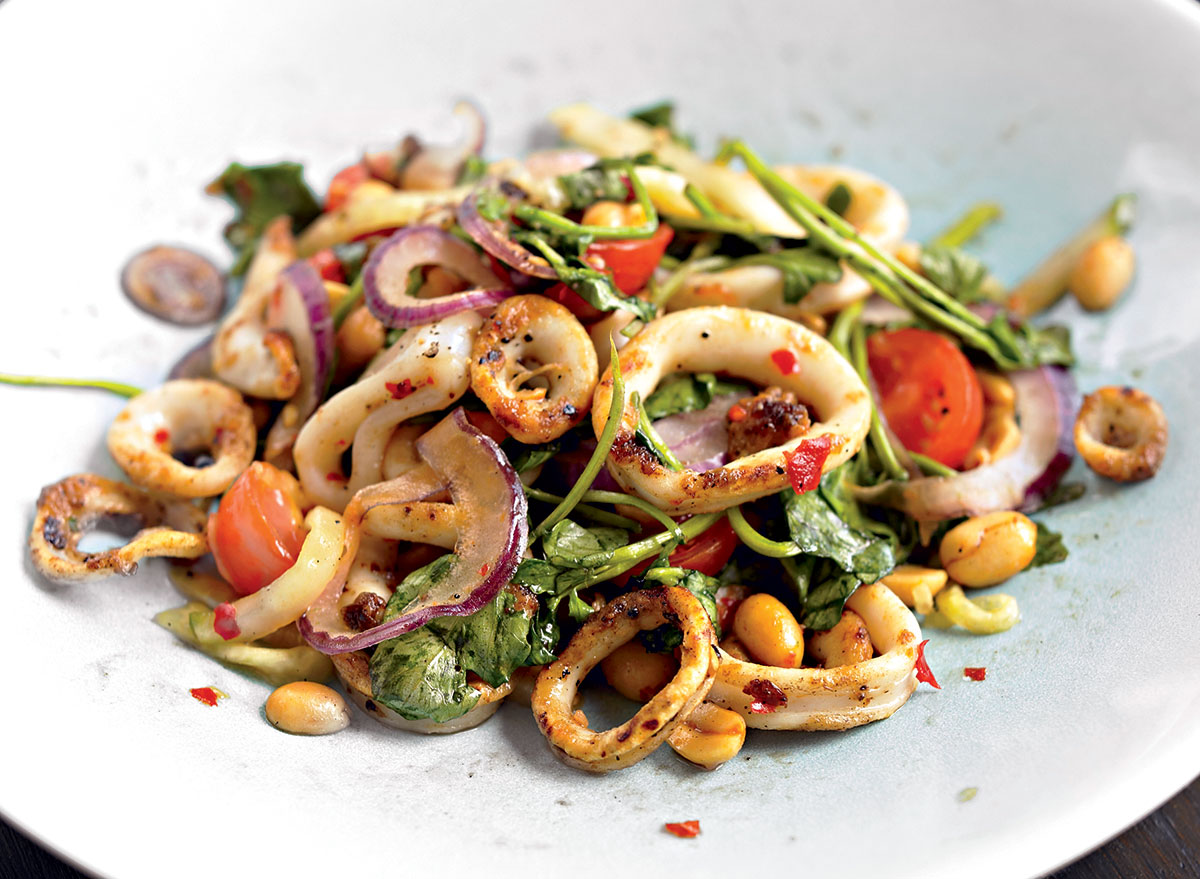 Is there anything better than sitting outside and enjoying some fresh calamari? What about a salad topped with that delicious seafood? This is the ultimate summer meal.
Get our recipe for Spicy Grilled Calamari Salad.
Asparagus Salad with a Fried Egg and Prosciutto
Salads aren't just for lettuce! This "salad" features asparagus and prosciutto, combined in the most delicious way.
Get our recipe for Asparagus Salad with a Fried Egg and Prosciutto.
Mexican Quinoa and Chicken Salad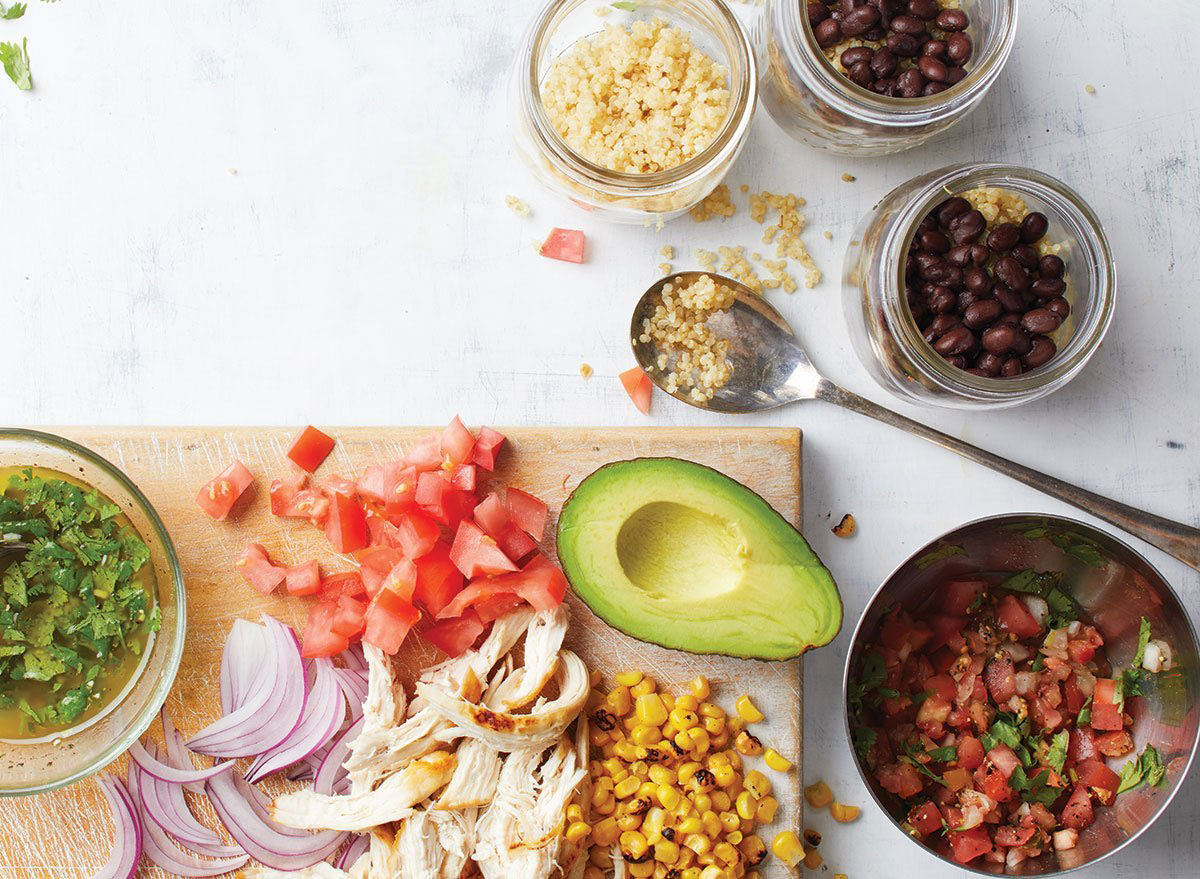 Put that summer corn to good use in this flavorful Mexican recipe! It will be easier (and more delicious!) than ever to incorporate quinoa into your meals with this easy summer salad.
Get our recipe for Mexican Quinoa and Chicken Salad.
Grilled Chicken and Avocado Salad
Is it just us, or do avocados taste better in summer? The fruit adds an extra dose of fat to this summer salad to keep you full long after you enjoy it.
Get our recipe for a Grilled Chicken and Avocado Salad.
Chinese Chicken Salad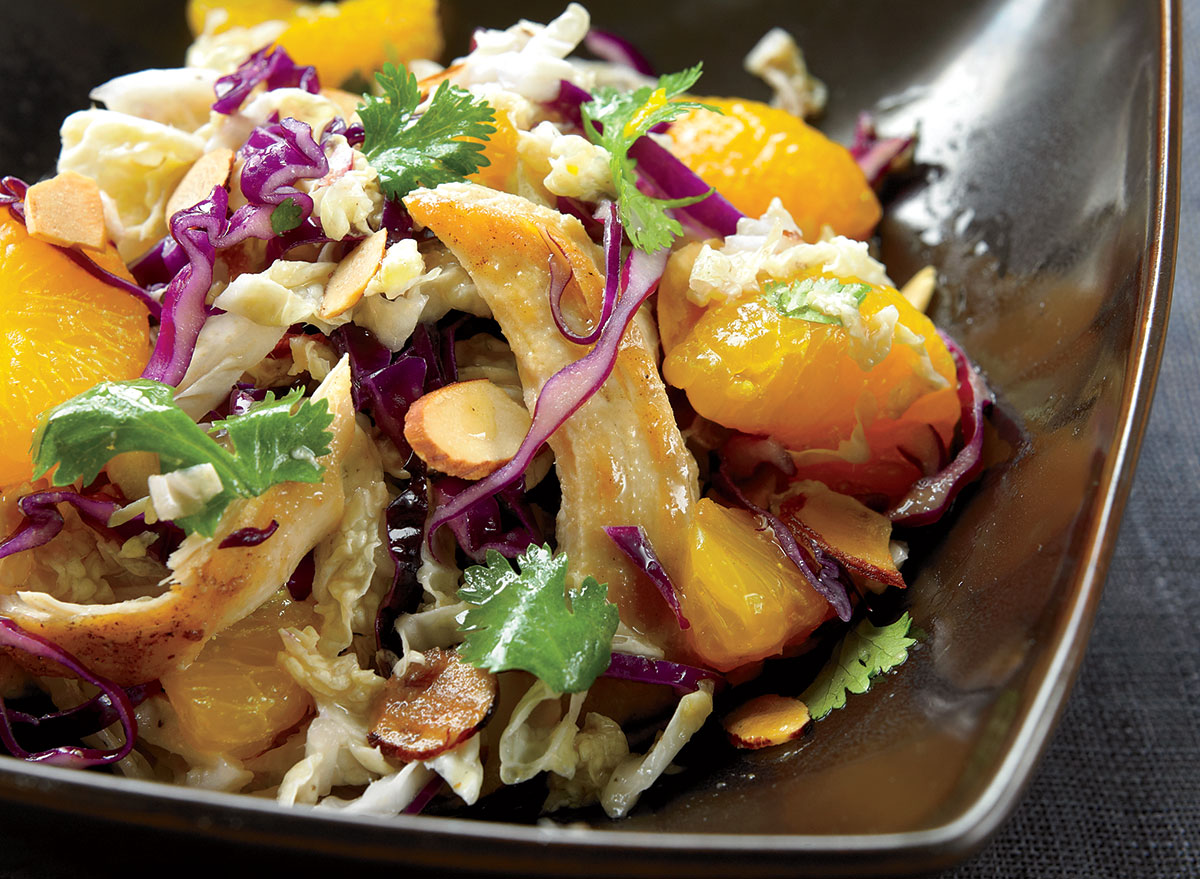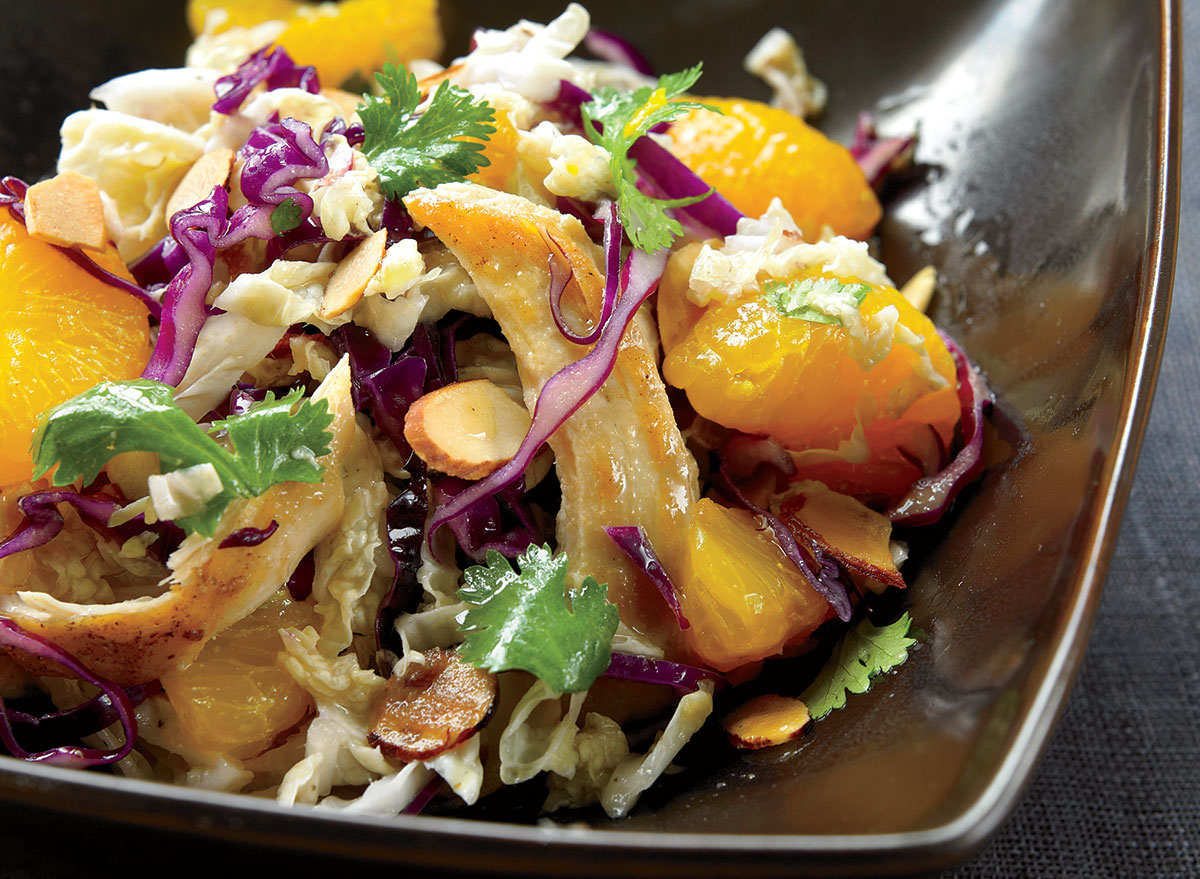 Still think salads are boring? You'll change your tune after trying this one!
Get our recipe for Chinese Chicken Salad.
Fig, Prosciutto, & Goat Cheese Salad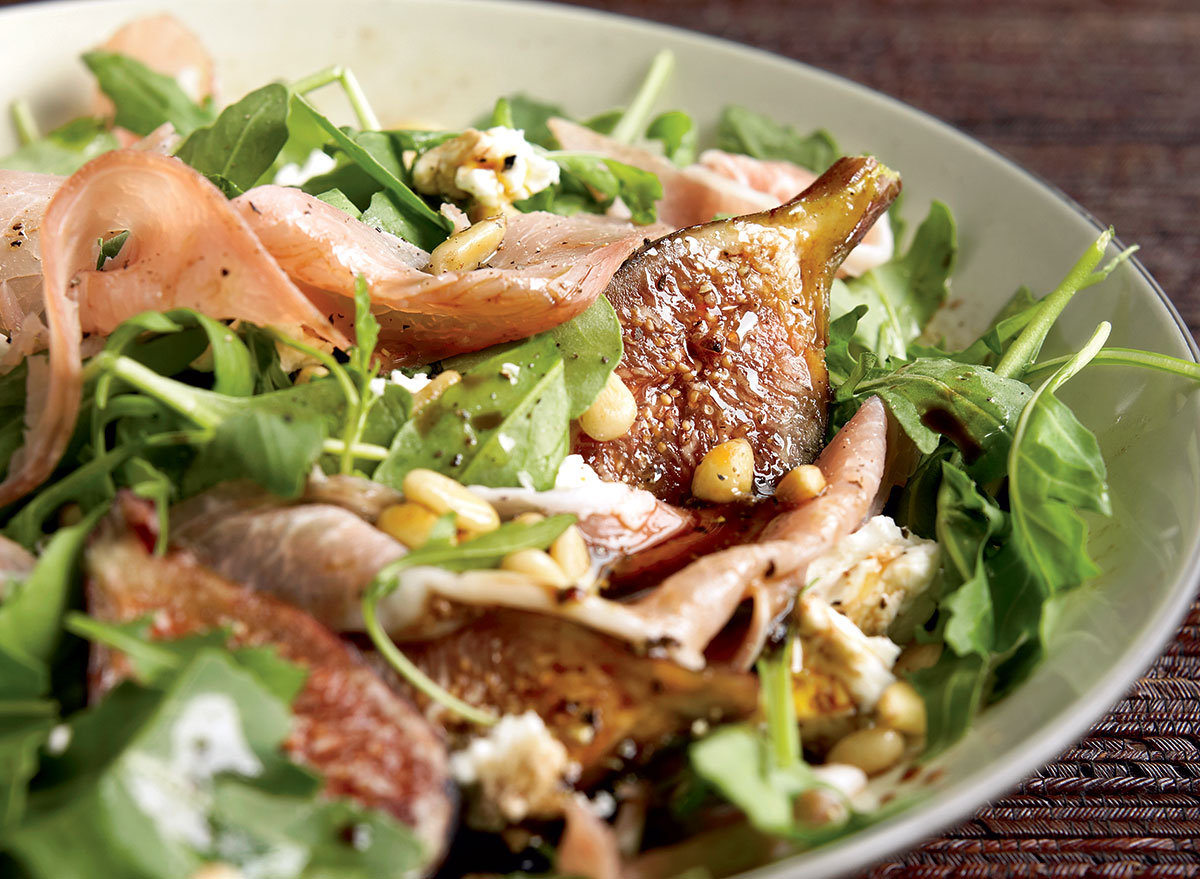 Don't let fig season slip away from you this year! This recipe uses the fruit to a most delicious end—it complements the salty meat and cheese perfectly.
Get our recipe for a Fig, Prosciutto, & Goat Cheese Salad.
Quick Pickled Cucumber Salad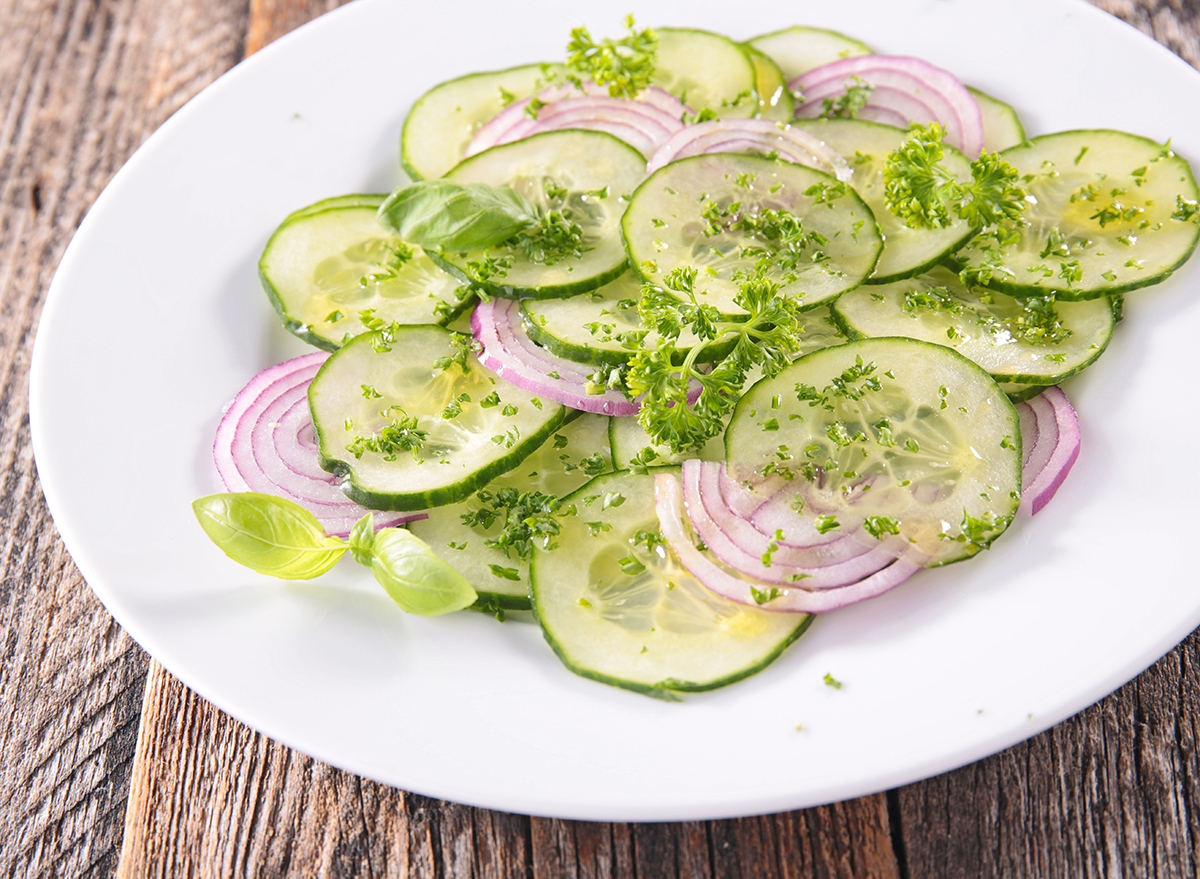 Looking for an easy side dish to serve with grilled meat? This pickled cucumber salad will do just the trick.
Get our recipe for a Quick Pickled Cucumber Salad.
Summer Corn Salad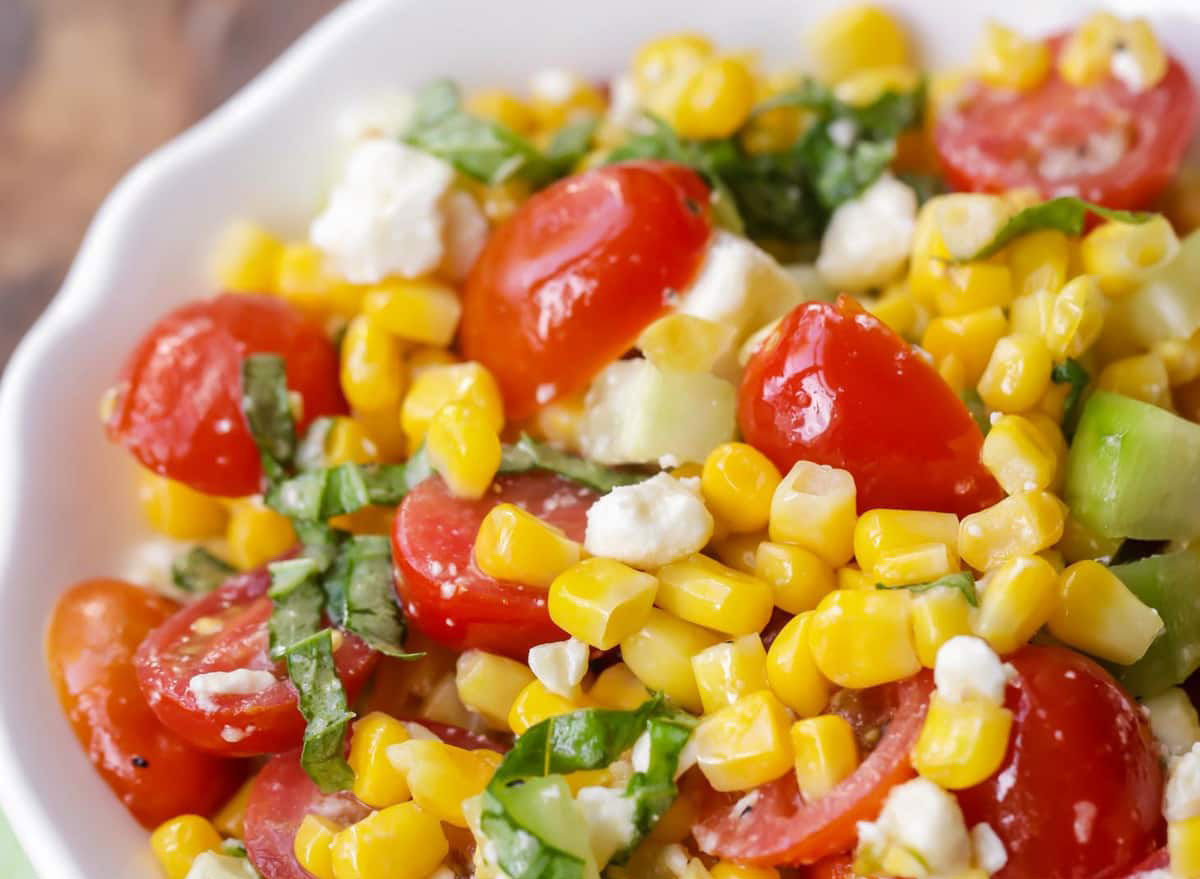 Planning a delicious picnic on the beach? Don't forget to pack your cooler with this light and flavorful summer salad. It's packed with invigorating ingredients such as fresh lime zest, basil, cucumber, and feta, and it's rich in plenty of satiating fiber from the corn.
Get the recipe from Lil' Luna.
Summer Barbecue Salad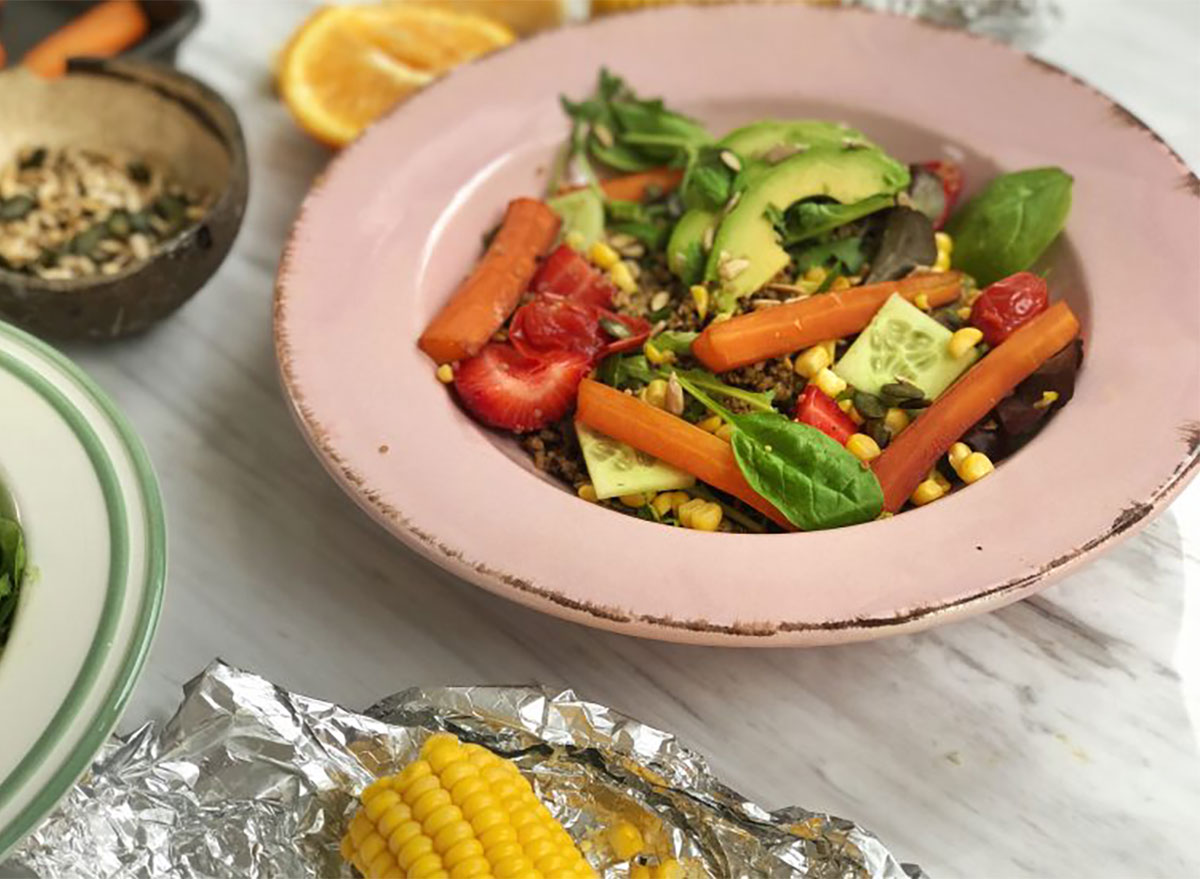 Barbecuing is the cornerstone of long summer days, so why not pair your meats with a sizzling salad? This recipe combines caramelized carrots, succulent strawberries, tamari-roasted seeds, and corn on the cob for a truly finger-licking side dish.
Get the recipe from Naturally Sassy.
Broccoli & Avocado Salad with an Almond Butter-Lime Dressing
Rather than slathering almond butter on toast, try whipping your nut butter with savory garlic and lime for a unique dressing that'll make you look forward to lunch again. This superfood-packed bowl is brimming with healthy fats to keep you slim and satiated, as well as vitamin C-packed broccoli to help you ward off those pesky post-season colds.
Get the recipe from Naturally Sassy.
Summer Pasta Salad with Garlic, Chili, and Lemon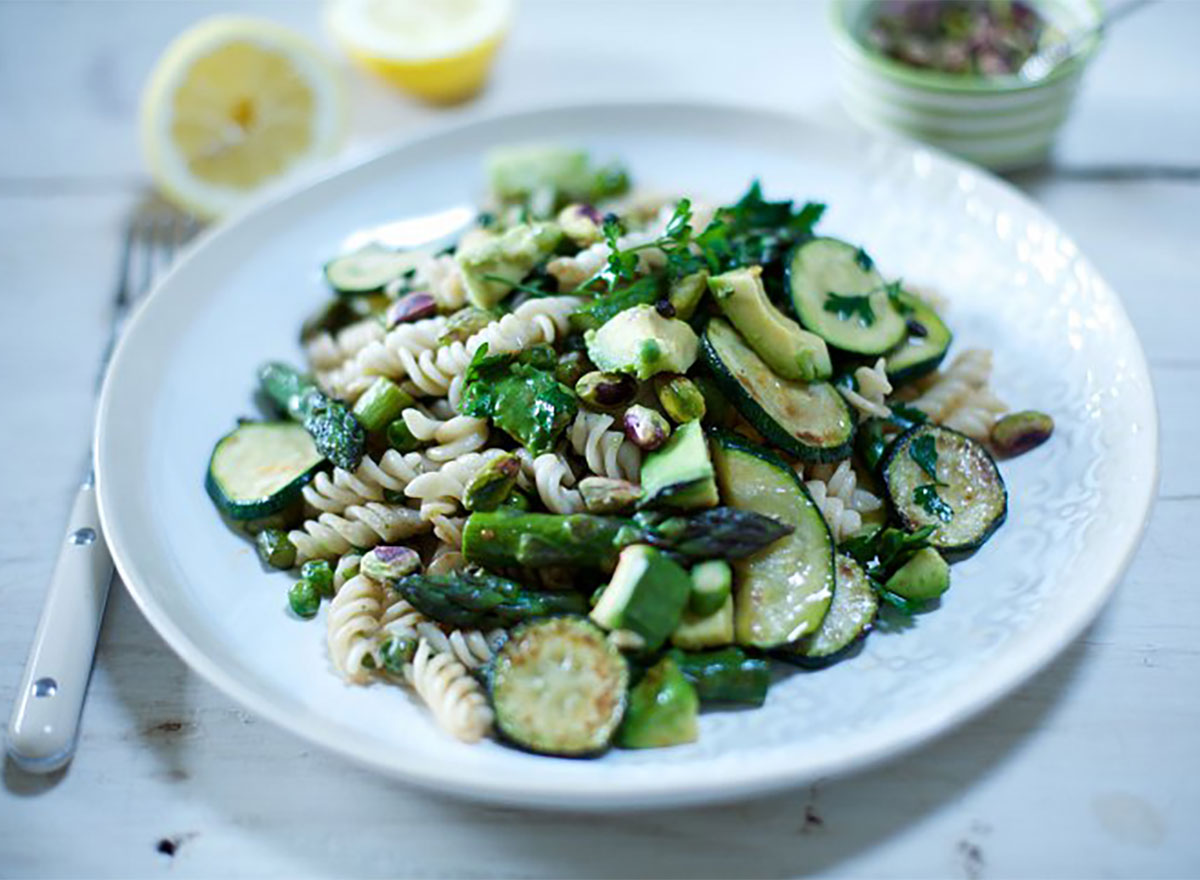 Fork into something other than your go-to bowl of mixed greens by prepping this easy, plant-based meal. Fiber-rich asparagus, peas, and zucchini lighten up the pasta base while the capsaicin-packed chili powder and immunity-boosting garlic add some coveted zest.
Get the recipe from Naturally Sassy.
Southwest Chicken Salad With Roasted Poblano Dressing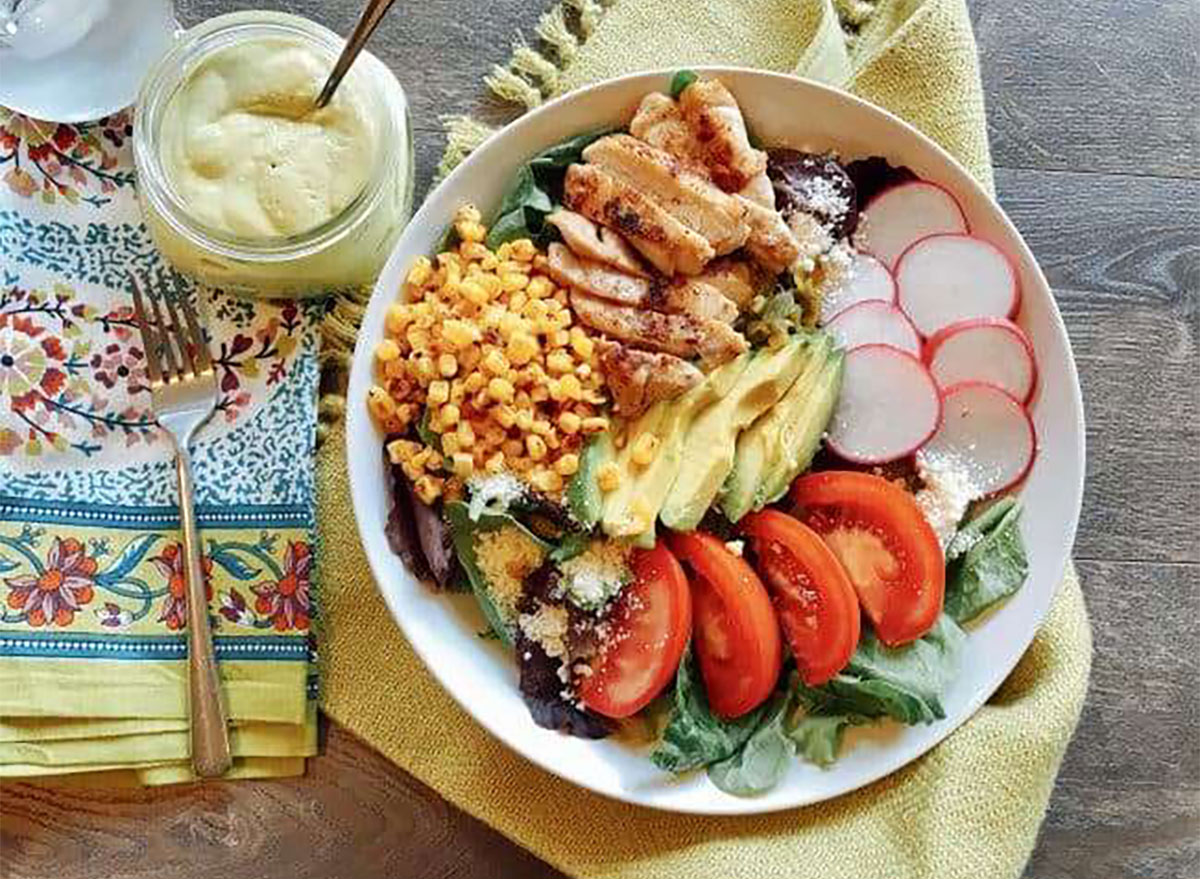 When the days are long and sweltering, the last thing we want to do is crank on the oven to get a meal on the table. This southwest-inspired salad is the perfect hot day remedy. Start by grilling the chicken, corn, and poblanos in the backyard BBQ; toss with radishes, cotija cheese, and mixed greens; and finish it off with a probiotic-packed yogurt dressing that bumps up the creaminess and protein content.
Get the recipe from Little Family Adventure.
Nacho Average Kale Salad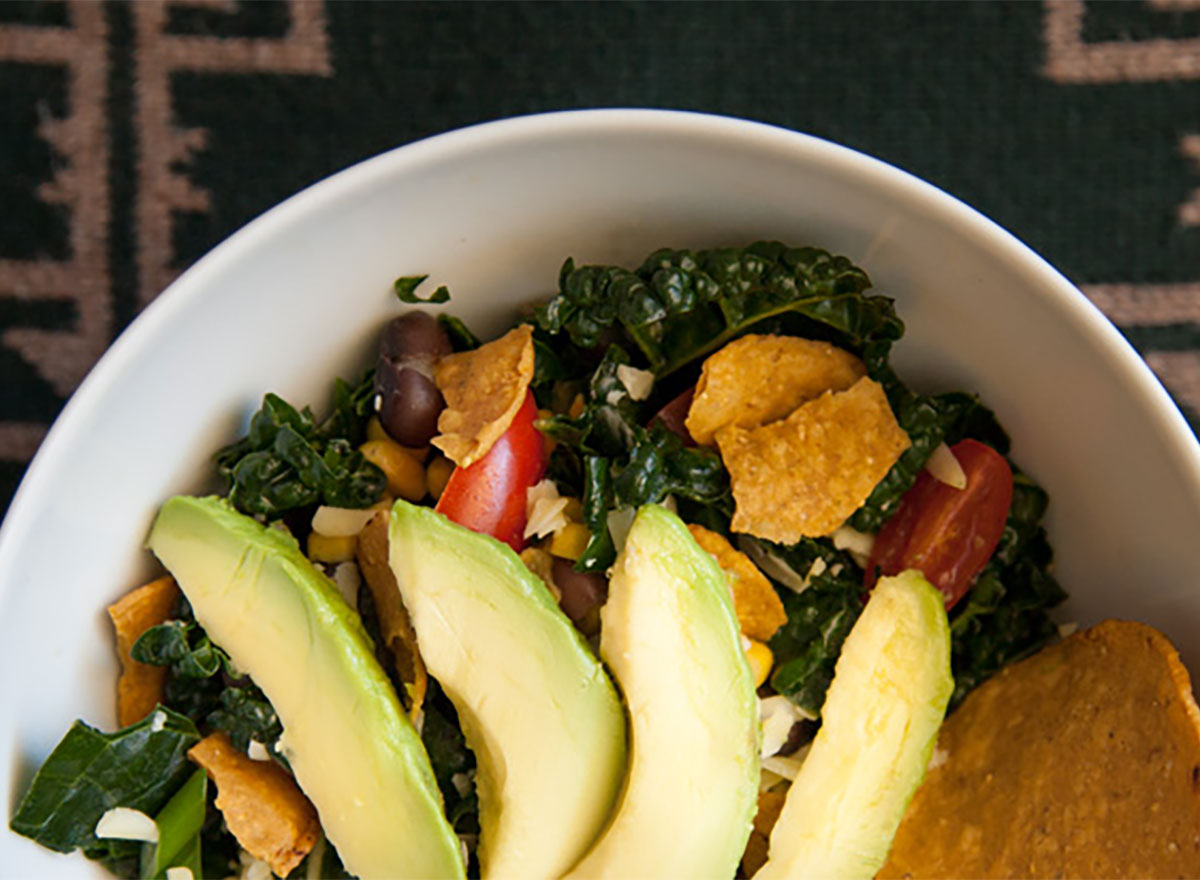 Fancy crunchy tortilla chips but not t0o keen on kale? This salad will convince you that the divisive green is actually quite the delicious salad staple. This bowl is made indulgent with sweet corn and a crumbled cheese topping that'll help you forget you're forking into healthy greens.
Get the recipe from Flavorrd.
Mason Jar Taco Salad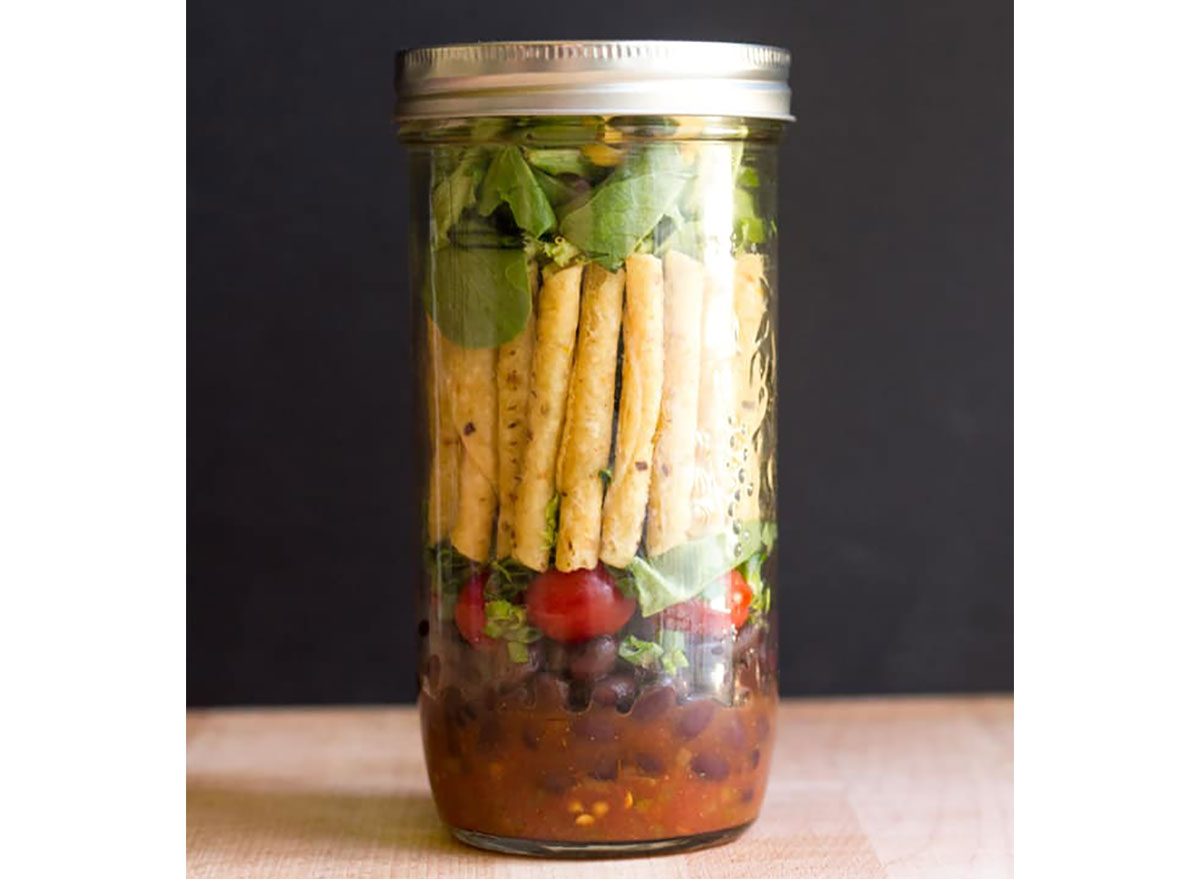 For a trendy take on your favorite street food, layer taco fixings such as beans and salsa into a deep Mason jar. Just remember to add the sauce first to prevent unwanted sogginess and wilted greens.
Get the recipe from Tried and True.
Papaya and Watercress Salad with Tequila Vinaigrette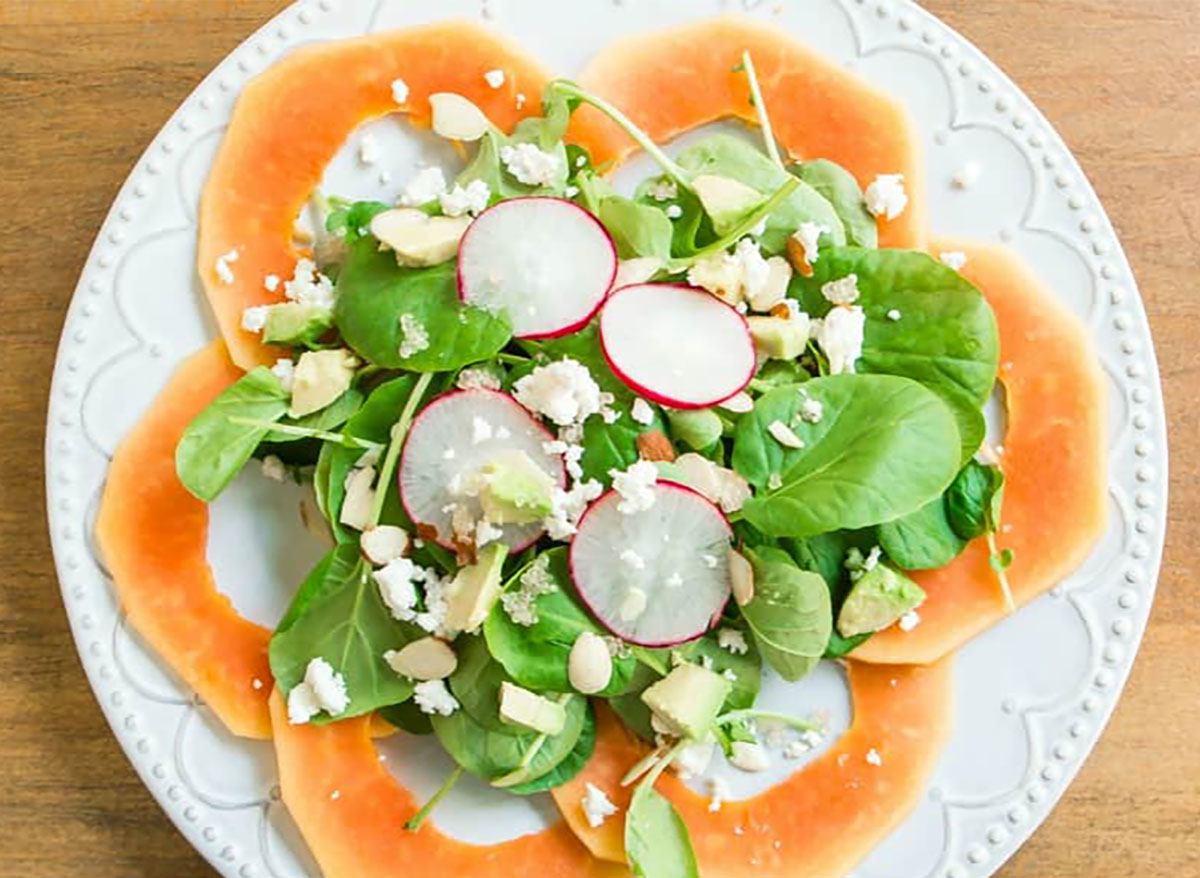 A seriously underrated green, watercress boasts more bone-building calcium and skin-repairing vitamin C than spinach. The peppery plant's bite is neutralized thanks to the papaya and the vinaigrette's sweetness. Serve alongside your favorite dinner proteins like grilled salmon or baked poultry.6254a4d1642c605c54bf1cab17d50f1e
Get the recipe from Mommy's Home Cooking.
Lemon, Mint & Pineapple Kale Salad
Spruce up your pals' potluck dinner by bringing a batch of this refreshing slaw that's sure to stand out among rows of carby concoctions. This pick is brimming with unsaturated-fat-filled pumpkin seeds, vitamin A-rich kale, and pineapple—which is high in bromelain, an enzyme that helps break down protein and banish bloat, getting you beach-ready in no time.
Get the recipe from Flavorrd.
Sesame Spinach & Citrus Salad
Looking to freshen up your brunch without spending hours experimenting in the kitchen? Simply combine baby spinach, cucumbers, oranges, scallions, walnuts, and sesame seeds with Zenbelly's velvety tahini-based dressing for a truly impressive dish.
Get the recipe from Zenbelly.
Chimichurri Chicken Salad With Peaches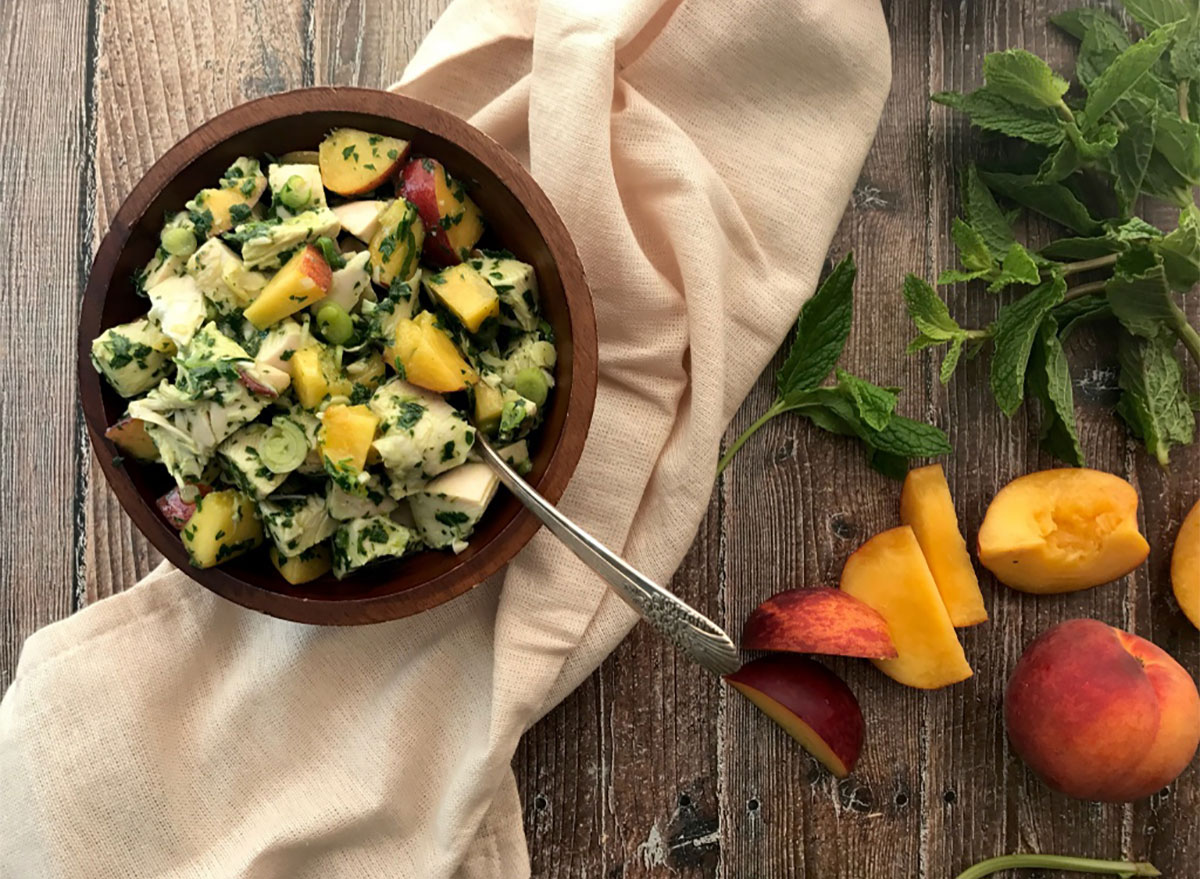 Consider this hearty salad your antidote to all-too-regular romaine. The parsley-based sauce adds a freshness profile while the peaches contribute natural sweetness to round out the dish. Feel free to play around with your add-ins and to experiment by tossing in grapes or plums and sprinkle some pecans for crunch.
Get the recipe from Zenbelly.
Midwestern Steak Salad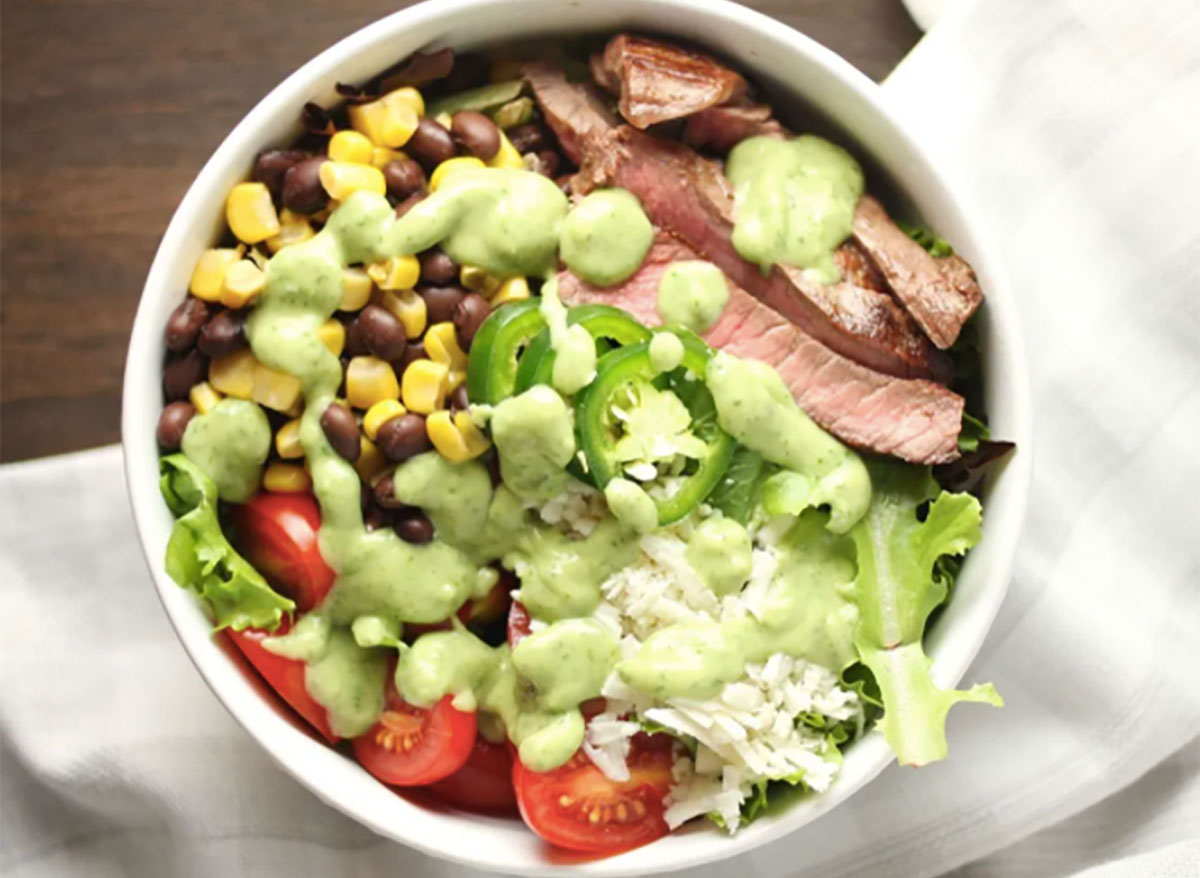 To ensure your steak is extra tender and flavorful, this blogger recommends marinating the meat with a mix of heart-healthy olive oil, lemon, cumin, and paprika. While the tasty flatiron seems like the star of this salad, the avocado cilantro topper is far from your humdrum bottled dressing. It boasts some serious texture thanks to thick Greek yogurt and filling avocado.
Get the recipe from 24 Carrot Life.
Instant Pot Beet Salad With Arugula, Goat Cheese & Walnuts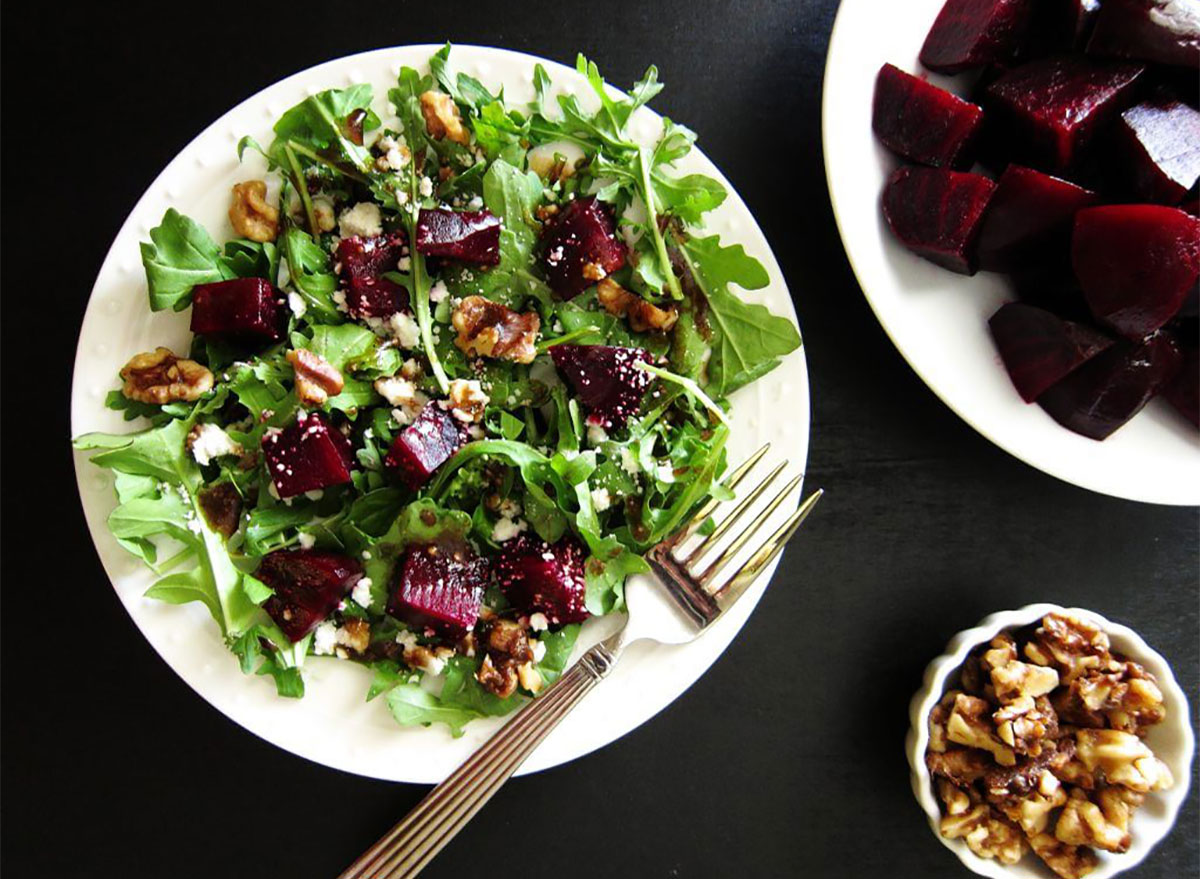 Your Instant Pot may have served its purpose throughout frigid winters, producing warming chilis and toasty soups, but that doesn't mean you should stow it away come summer. The restaurant-inspired combo of arugula, goat cheese, beets, walnuts, and balsamic salad dressing is made simple with just a push of a button. The beets are cooked in a quick 20 minutes and add a pop of color to the zingy greens.
Get the recipe from Paint the Kitchen Red.
Fresh and Easy Nicoise Salad
One of the easiest—and cheapest—ways to bulk up your salad's satiety factor is to toss some tuna on top. The omega-3-rich fish makes a stellar accompaniment to hard-boiled eggs, roasted potatoes, and salty olives in this classic, family-friendly combo.
Get the recipe from The Seasoned Mom.
Loaded Sweet Potato Nacho Salad Bowls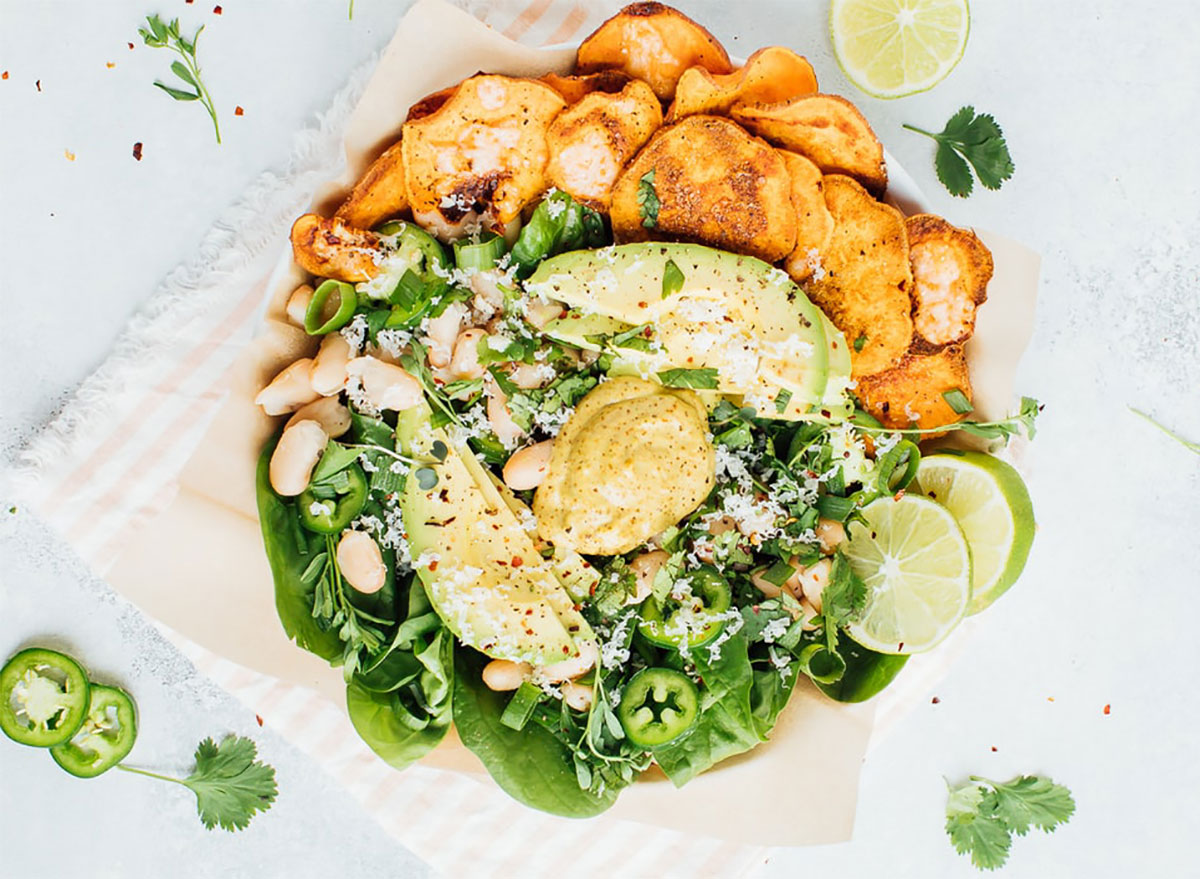 Whether you're prepping for a pool party or looking for a light dinner after noshing on fried carnival fare, this salad will become your go-to. Instead of using store-bought sweet potato chips, this blogger concocts her own with just a few simple ingredients: olive oil, sea salt, pepper, garlic powder, and aged cheddar. As a final touch, the superfood bowl is garnished with luscious avocado cream.
Get the recipe from Eating Bird Food.
Blackened Chicken Cobb Salad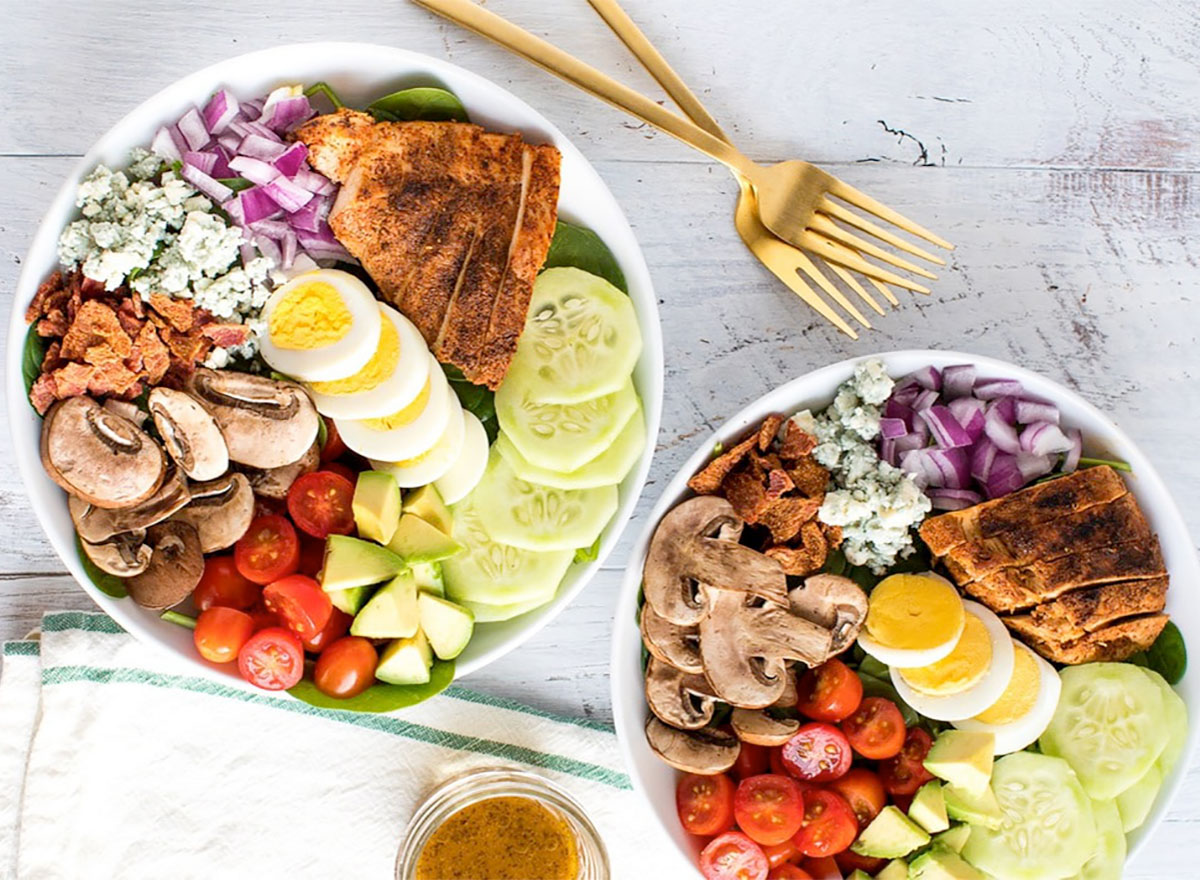 Trade your usual plate for a bowl by throwing together slices of blackened chicken with meaty mushrooms, turkey bacon, avocado, and crumbled blue cheese. The poultry's sapid seasoning blend is far from bland and jam-packs your bowl with boatloads of protein and flavor.
Get the recipe from Eating Bird Food.
Antipasto Chicken Salad Recipe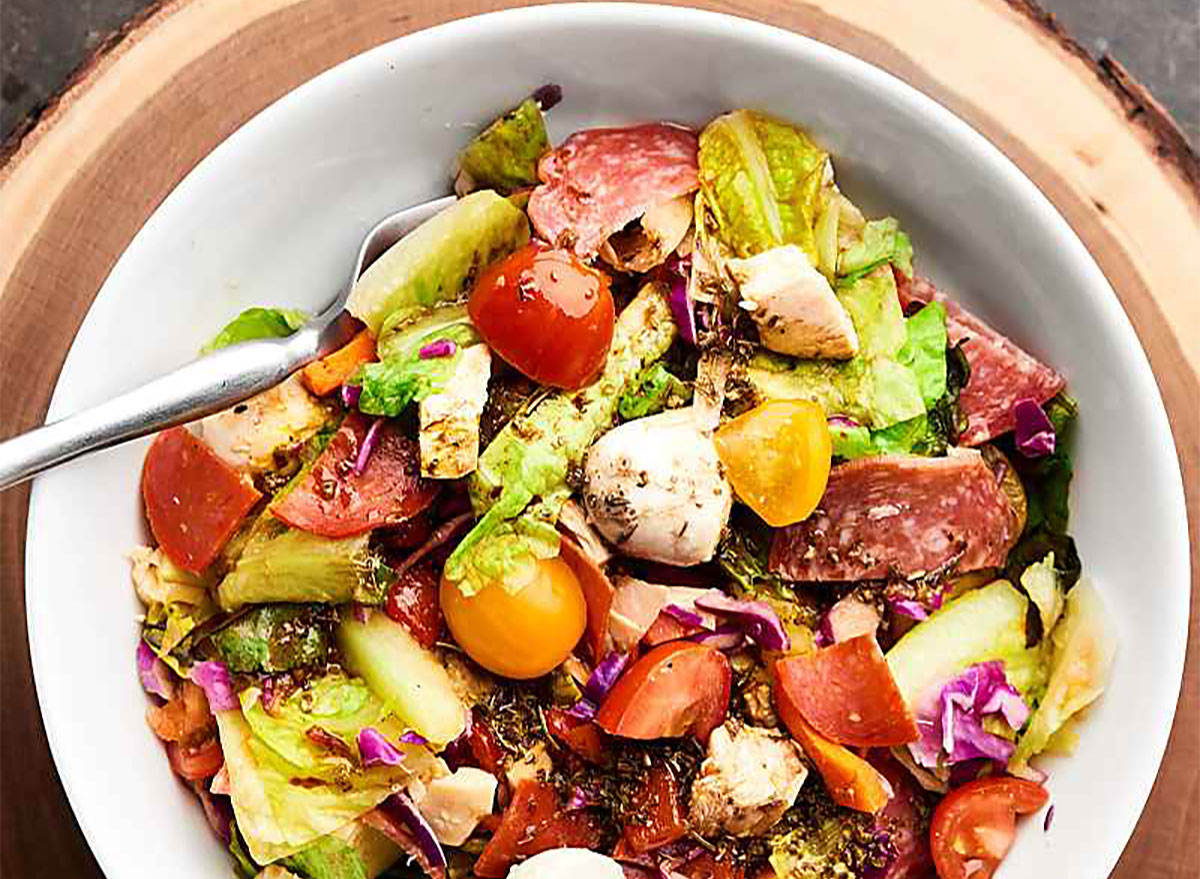 Versatile and easy to prep, this salad can be portioned out into an appetizer or served as a standalone entree. It features deli favorites such as pepperoni, salami, and mozzarella and elevates it with the addition of roasted red peppers, tomatoes, red onions, and fresh basil. Sounds too delicious to pass up? This pick is prepped in a mere 10 minutes!
Get the recipe from Show Me the Yummy.
Stone Fruit and Burrata Salad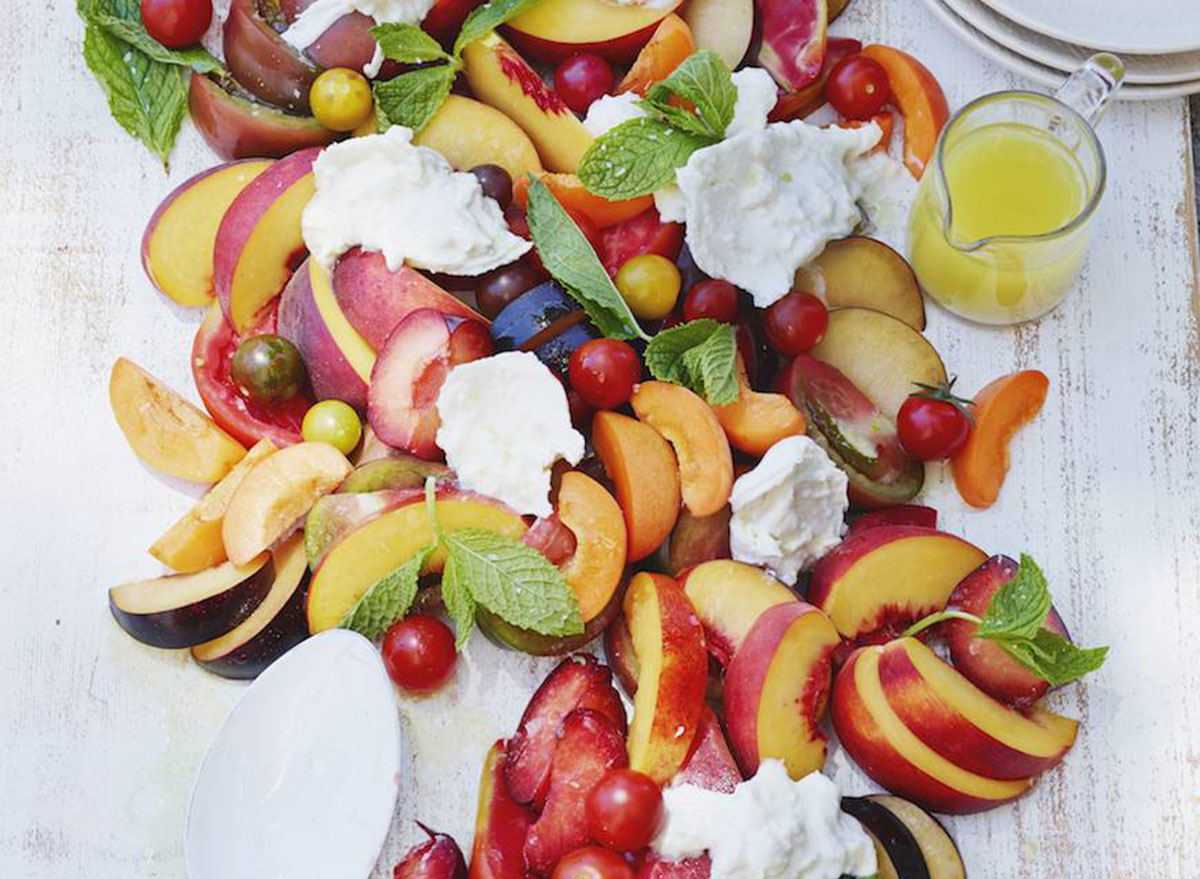 Nothing screams "summer" more than seasonal fruit and fresh herbs, which is why this salad made it onto our list. It features sliced plums, peaches, and nectarines, as well as creamy burrata cheese.
Get the recipe from What's Gaby Cooking.
Freekeh Salad with Sweet Potatoes and Pears
What the heck is freekeh, you ask? This nutritious whole grain is low in fat and high in both filling fiber and protein. The super grain is a staple in Middle Eastern cuisine and boasts a pleasant, nutty flavor and a nutritional profile that rivals quinoa. This easy recipe combines freekeh with sweet potatoes, succulent pears, and sage.
Get the recipe from Savory Simple.
Fregula Sarda Salad With Tart Cherries and Smoked Trout
Fregula is a toasted pasta hailing from Sardinia and is quite similar in taste and texture to couscous. It fares well in cold salads, and this pick is no exception. Smoked trout adds a depth of flavor, while dried cherries contribute a leathery yet balancing tartness. Make this dish your go-to summer, dinner as tart cherries have been proven to induce sleep thanks to their natural source of melatonin.
Get the recipe from Love & Olive Oil.
Deconstructed Pesto Couscous Salad
If you're one to bust out the blender and make a batch of homemade pesto to spruce up any meal, you'll love  this deconstructed version that highlights each ingredient. Pearl couscous is meshed with quality olive oil, pine nuts, basil, and shaved Pecorino cheese rather than pulverized into a spread. Trade the butter knife for a spoon and dig into this delightful dish.
Get the recipe from Love & Olive Oil.
Spicy Peanut Soba Noodle Salad
Distract yourself from the blistering heat outdoors by spiking your lunch with some spice. This recipe is made with gluten-free soba noodles and green veggies and made indulgent with a sauce whipped with creamy peanut butter, honey, and tamari sauce. For added crunch, this blogger sneaks in bright purple cabbage, red pepper, and crushed peanuts.
Get the recipe from Pinch of Yum.
Kitchen Sink Sunflower Salad
Much like how the beloved kitchen sink cookie combines an array of yummy ingredients, this salad features almost every ingredient under the sun—and we're talking sunflowers, especially. With sunflower seed butter and sunflower seeds, this pick is bursting with cholesterol-lowering fats as well as Brussels sprouts and aromatic curry and cumin. It's a true must-try to squelch all your summer cravings.
Get the recipe from Pinch of Yum.
April Benshosan
April is a born-and-raised Brooklynite who has a passion for all things health, wellness, and tastebud-related.
Read more about April