11 Best & Worst Beef Jerky Brands, According to Dietitians
Experts say these are the beef jerky brands to try for your next snack—and the ones to avoid.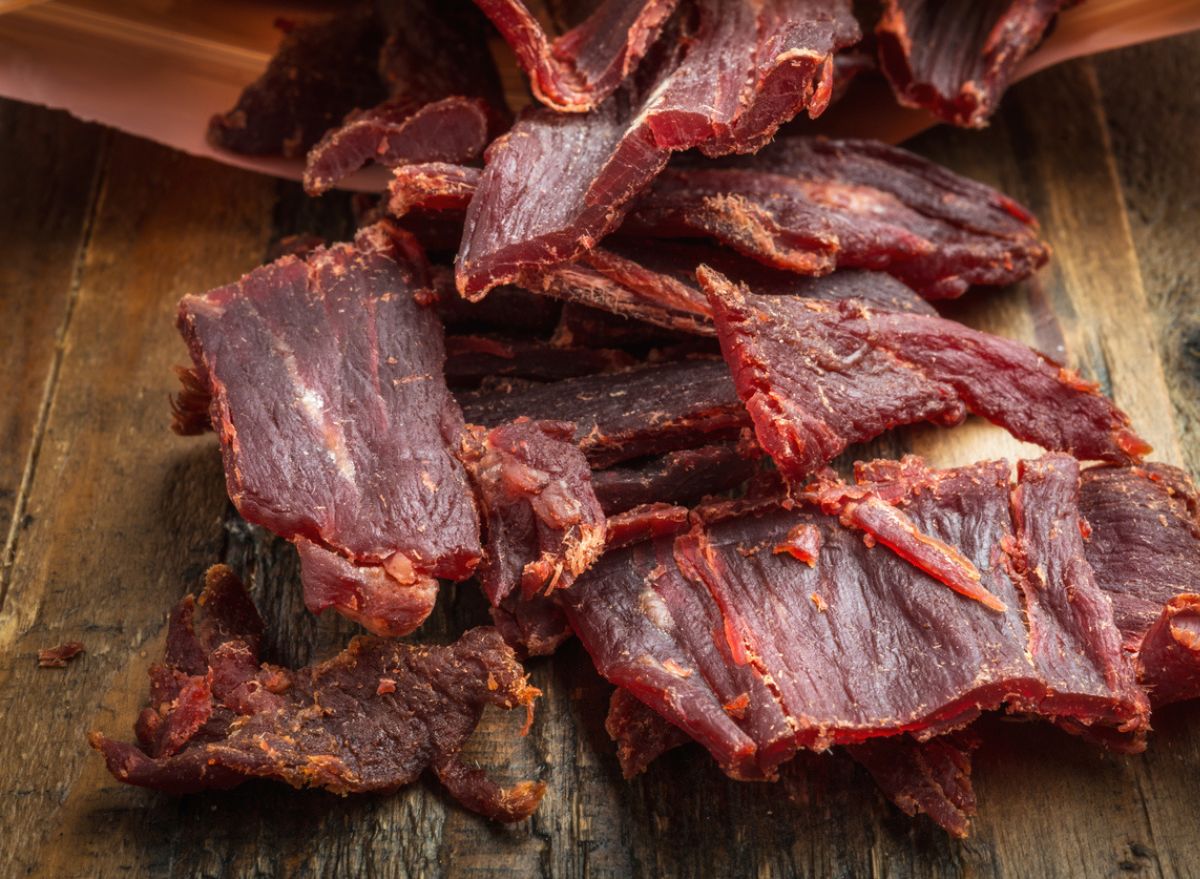 This post contains affiliate links. If you use these links to buy something, we may earn a commission.
It is no secret that protein is a macro that you simply can't do without, especially if you are trying to manage your weight, muscle mass, or blood pressure. And for protein seekers, jerky is a go-to snack that packs a punch in the protein department—some jerkies even provide a whopping 16 grams of protein per serving). What makes jerky appealing to many is that, unlike other go-to protein-packed snack options like hard-boiled eggs and cheese, jerky is shelf-stable, completely eliminating the need to keep your nosh at a cool temperature for safety reasons. The smoky and satisfying taste that jerky offers doesn't hurt either. And if you're wanting to take the plunge and buy some jerky for your next snack, it may be helpful to know about some of the best beef jerky options on the market.
Not all jerkies are created equal. While it is true that jerky can provide a portable low-carb source of protein, iron, and other nutrients, some varieties are packed with some unsavory ingredients, including excessive amounts of sodium, chemical nitrates, and fillers.
To help you navigate the slew of choices out there, we asked some dietitians to help us choose their top-picks, as well as the ones that you're better off leaving on the grocery shelf.
How did we pick the best jerky brands?
Being classified as one of the best jerky brands requires the snack to check a few key boxes. While not every single one of the "best" jerkies met all of criteria, they all come pretty close.
Here are the factors we considered when picking the best beef jerky:
Sodium: Sodium is a common ingredient in jerky, as it is used as a preservative to allow it to be shelf-stable. It is very uncommon to find a jerky that is sodium-free, but there are some that are lower in sodium than others. We tried to keep the sodium content of the jerkies on our list below 450 milligrams per serving to help support the consumer's heart health.
Sugar: Sugar can be a surprising addition to jerky, but like salt, sugar can be used as a preservative. We like jerkies that are free from any added sugars, but there are some on the list that have up to 5 grams per serving.
Protein: People tend to lean on this snack as a portable and high-quality protein source. Because of this, we wanted to choose a jerky that has at least 5 grams of protein per serving.
Meat source: Quality matters when it comes to choosing the meat source used in this high-protein snack food. For beef jerkies, using grass-fed, organic, and hormone-free beef may provide additional health benefits. We also liked the idea of using alternatives to traditional beef (like fish) if it offers a unique health benefit as well.
Ingredients: Brands with synthetic nitrites, or other synthetic or artificial ingredients did not land a place on our list.
After scouring the jerky choices out there and interviewing nutrition experts across the country, here are what we consider to be the best and the worst options available to jerky lovers everywhere.
The Best Beef Jerky
CHOMPS Jerky (Original Beef Stick)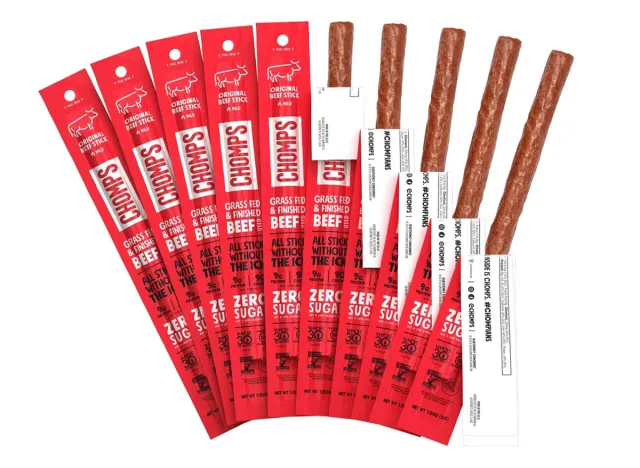 PER SERVING (1 Stick): 90 calories, 6 g fat (2.5 g saturated fat), 290 mg sodium, 0 g carbs (0 g fiber, 0 g sugar), 9 g protein
"CHOMPS Jerky is my favorite brand," says Melissa Mitri, MS, RDN, registered dietitian and owner of Melissa Mitri Nutrition. "It is made from 100% grass-fed beef, it contains minimal ingredients, and it contains 9-10 grams of protein per serving".
Mitri also highlights that the beef used is humanely raised, which is an important factor for her. Finally, she highlights that "they are one of the best tasting jerkies out there"—which is perhaps one of the most important factors when it comes to choosing a snack.
Country Archer Zero Sugar Classic Beef Jerky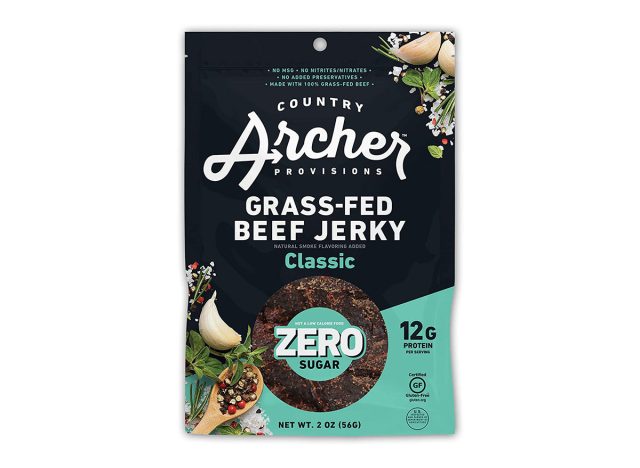 PER SERVING (1oz.): 70 calories, 1.5 g fat (0 g saturated fat), 260 mg sodium, 2 g carbs (0 g fiber, 0 g sugar), 12 g protein
Any jerky with the words "no sugar" in the title is sure to be a dietitian-favorite. Wan Nu Chun, MPH, RD, CPT, registered dietitian at One Pot Wellness shared that this jerky is "made with 100% grass-fed beef, which delivers a substantial protein content that satisfies hunger and supports muscle recovery and growth." Plus, she likes that, "without any overpowering sweetness, this jerky is carefully seasoned with a blend of spices that are smoky and perfectly balanced."
Lorissa's Kitchen (Original Sticks)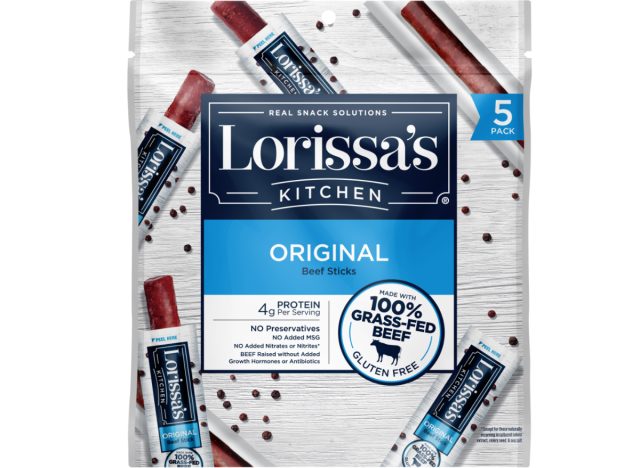 PER SERVING (1 stick): 130 calories, 11 g fat (5 g saturated fat), 310 mg sodium, 1 g carbs (0 g fiber, <1 g sugar), 6 g protein
Lorissa's Kitchen is a dietitian-approved brand for many. Melissa Azzaro, RDN, LD, a registered dietitian and podcast host at Hormonally Yours shared that she leans on this brand since she looks for "minimal ingredients, no preservatives, and no nitrates or nitrites, which can turn into harmful nitrosamines in the body and increase risks for cancer."
"I like Lorissa's Kitchen Original Beef Sticks, because in addition to meeting my requirements, they're also low in sugar and made with grass-fed beef," says Azzaro.
Madeleine Putzi, MS, RDN, registered dietitian, agrees that Lorissa's Kitchen jerky is a great choice, partially because "their beef is USDA Organic (a rare find for jerky) and is labeled as using 100% grass-fed beef".
PER SERVING (½ cup): 90 calories, 2 g fat (0.5 g saturated fat), 500 mg sodium, 8 g carbs (1 g fiber, 5 g sugar), 10 g protein
Yes, this jerky is higher than our recommended limit of 450 milligrams per serving, and it does contain a surprising amount of sugar (5 grams per serving). But, with so many people jumping on the plant-based protein bandwagon, this is a jerky choice that can easily fit the bill.
"Made from all plant-based ingredients, this jerky makes a delicious and sustainable alternative to traditional meat jerky," says Mackenzie Burgess, RDN, registered dietitian nutritionist and recipe developer at Cheerful Choices. She explains that when evaluating the ingredients used to make this jerky, "you'll find only nourishing ingredients you can pronounce, like mung bean protein, pomegranate concentrate, and a touch of brown sugar. Each Beyond jerky pack provides 10 grams of protein with under 1 gram of saturated fat".
She adds that recent research has also shown replacing red meat with high-quality plant protein sources may help lower LDL ("bad") cholesterol levels.
Country Archer Rosemary Turkey Jerky Sticks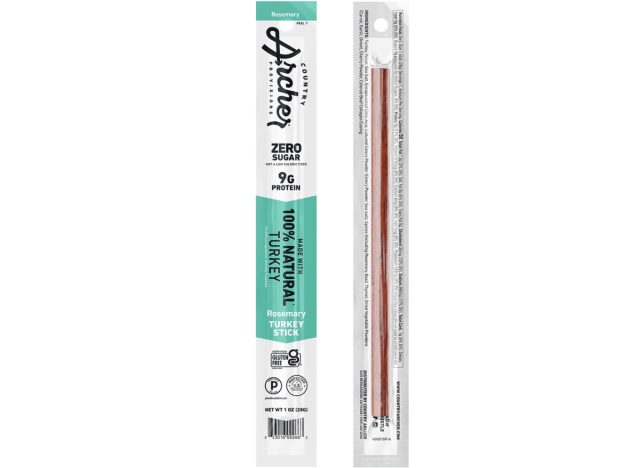 PER SERVING (1 stick): 60 calories, 2g fat (0.5g saturated fat), 450mg sodium, 0g carbs (0g fiber, 0g sugar), 9g protein
For people who prefer poultry over beef, Country Archer Rosemary Turkey Jerky Sticks are perfect. These tiny-yet-mighty minis offer a flavorful punch with premium ingredients, including all-natural turkey breast, fresh rosemary, basil, thyme, and aromatic garlic and onion for a mouthwatering, savory bite.
Since these are on the tinier side, they only contain 4 grams of protein. But ounce-for-ounce, they are on-par with other meat-based jerkies in the protein department. This jerky is also free from added sugars, and it contains only 35 calories per stick.
Epic Provisions Salmon Jerky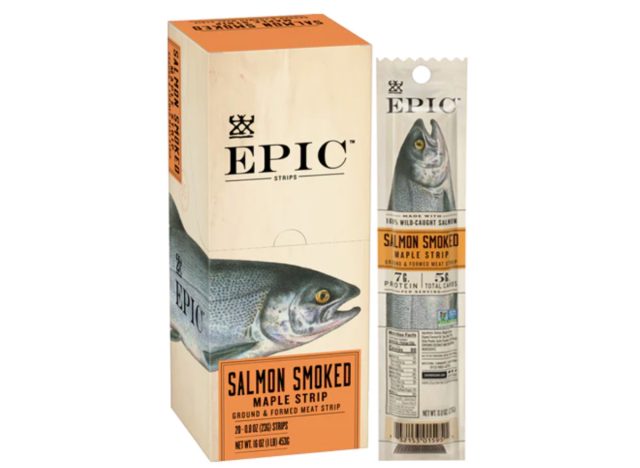 PER SERVING (1 package): 80 calories, 4 g fat (3 g saturated fat), 410 mg sodium, 5 g carbs (0 g fiber, 5 g sugar), 7 g protein

6254a4d1642c605c54bf1cab17d50f1e

Most of us are not coming close to the recommended servings of seafood every week. If you aren't open to grilling up a piece of salmon or sauteeing shrimp on the regular, this jerky can be a nice addition. Made with 100% wild Alaskan salmon, this gluten-free jerky is a source of DHA and EPA omega-3 fatty acids, or "healthy" fats that may support brain and eye health.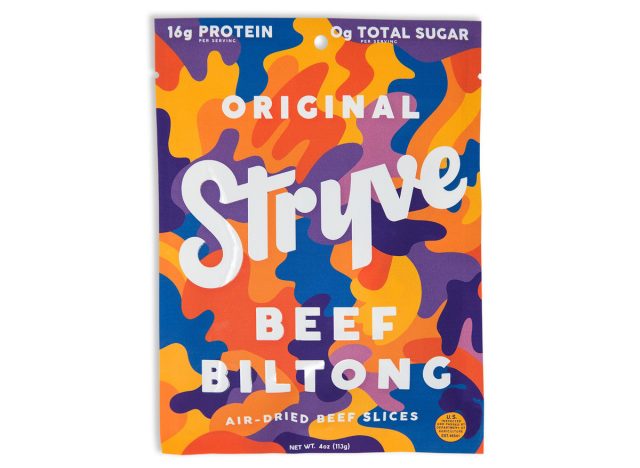 PER SERVING (1oz. ): 90 calories, 2 g fat (0 g saturated fat), 430 mg sodium, 0 g carbs (0 g fiber, 0 g sugar), 16 g protein
Biltong is air-cured meat that is consumed in areas of the world like South Africa. To cure biltong, it is rubbed with salt to prevent the growth of potentially harmful bacteria. Because of this process, this snack is free from any nitrates or nitrites–even naturally occurring ones.
PER SERVING (1 Strip): 80 calories, 0g fat (0g saturated fat), 15mg sodium, 19g carbs (1g fiber, 12g sugar), 1g protein
Soley Fruit Jerky is not a traditional jerky by any means. For example, it is free from meat and it is quite sweet, and is perfect for those who love the consistency of jerky but want to find creative ways to include more fruit in their diet (who doesn't?). Made with just one ingredient (fruit) and super low in sodium, this jerky can be a fun option for people who want a break from traditional options.
The Worst Beef Jerky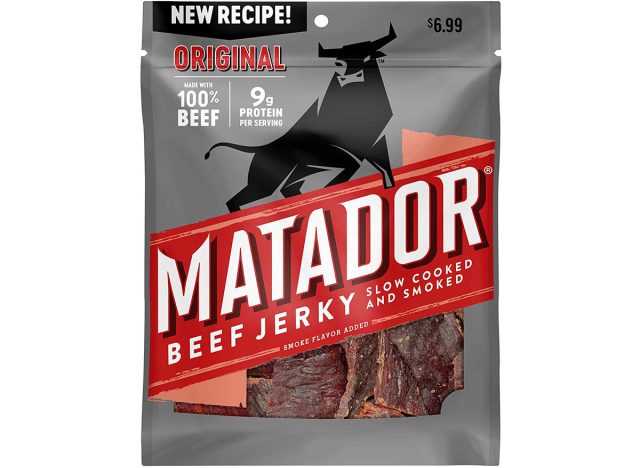 PER SERVING (1 oz.): 80 calories, 1 g fat (0 g saturated fat), 710 mg sodium, 7 g carbs (0 g fiber, 6 g sugar), 9 g protein
This jerky has an incredibly high sodium count at 710 milligrams, thoroughly exceeding any on this list. Also, the ingredients list, which contains "flavors" that are sourced from various ingredients (but the company is unable to pin down from where, exactly, the flavors are derived), is not ideal for those with allergies or sensitivities.
Jack Link's Doritos Spicy Sweet Chili Flavored Beef Jerky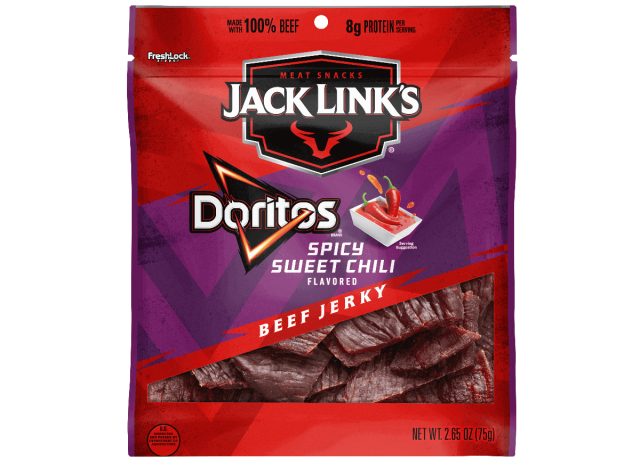 PER SERVING (1 oz.): 80 calories, 1.5 g fat (0 g saturated fat), 510 mg sodium, 8 g carbs (0 g fiber, 7 g sugar), 8 g protein
The third ingredient is listed as "sugar," and with the addition of soy sauce – twice – in the ingredient list, you know you're getting some serious sodium. Additionally, this jerky includes sodium nitrate as an ingredient, which has been linked to many health concerns, including a possible link to certain cancers. At this rate, it may just be better to eat a Dorito.
PER SERVING (1 oz.): 80 calories, 1g fat (0.5g saturated fat), 300mg sodium, 9g carbs (0g fiber, 9g sugar), 8g protein
At first glance, this option doesn't seem so bad, but the 9 grams of sugar really catches the eye. As compared to other all-beef jerky, this one takes the cake (no pun intended) in terms of sugar. The only other jerky that offers this level of sugar are plant-based options which, although containing naturally-occurring sugars, provide a whole host of other nutrients and health benefits. Krave Sea Salt jerky, however, is simply packed with cane sugar as the second ingredient, without offering any noteworthy features aside from the 8 grams of protein.
Lauren Manaker MS, RDN, LD, CLEC
Lauren Manaker is an award-winning registered dietitian, book author, and recipe developer who has been in practice for almost 20 years.
Read more about Lauren
Sources referenced in this article