Susan Lucci's Heart-Healthy Salad Sparks Weight Loss
Susan Lucci shares a salad recipe that's not only heart-healthy but great for weight loss. 
Susan Lucci learned the importance of wellness early on and always took her health and fitness seriously, so when she revealed she almost had a fatal heart attack, fans were shocked. In January of this year, the All My Children star had a heart procedure done where doctors fitted a stent in her artery. She told PEOPLE that, "It is so far so good."  For the last few years, Lucci has had heart problems that turned out to be genetic. She told the outlet, "It's important for everyone to know their family history," Lucci urged. "I don't think that I ever mentioned my dad's family history to a doctor."
The Emmy award-winning actress is now an ambassador to the American Heart Association and raises awareness about heart disease. She also shares ways she stays fit and eats the right foods like the heart-healthy salad recipe she just posted on Instagram that's also great for weight loss. "About to mix this fabulous all-organic salad of romaine, cucumber, tomato and mango with citrus vinaigrette dressing!" she wrote. "Adding sprinkle of chopped walnuts and sliced avocado, when plated…YumYumYum!!!" Here are five reasons why her salad can help shed pounds, according to nutritional experts. 
Salads are usually in calories if you don't overuse dressing, cheese, dried fruits, bacon bits, and croutons.  6254a4d1642c605c54bf1cab17d50f1e
What the Expert Says: "For weight loss, it boils down to needing to burn more calories than you eat," Cheryl Mussatto, MS, RD, LD, Outpatient Clinical Dietitian at Cotton O'Neil Endocrinology and Diabetes Clinic explains. "Salads like Susan Lucci's are perfect for weight loss and staying healthy. Her salad is a nice blend of veggies and fruit, full of fiber, along with small amounts of walnuts and avocado slices, both good for heart health, checking off all the boxes for making you feel full without loading up on calories." 
The salad is hydrating, which is important for weight loss because the body needs water to burn fat. 
What the Expert Says: "Drinking water is not the only way to stay well-hydrated," Mussatto states. "Certain foods are 'watery' with a high-water content. Almost every single food Susan used for making her salad had a high-water content – especially the cucumbers, which had the highest water content of any food at 96% water! Tomatoes are a very close second with a water content of 95%, Romaine lettuce comes in third with a water content of 94% and mangos are composed of about 80% water. Even avocados have a hefty amount of water of about 75%." She adds, "The higher the water content, the fewer calories the food tends to have, and along with their abundance of water, they are also satiating foods that silence hunger pangs. In addition, the foods she carefully chose are good sources of fiber, vitamins, minerals, and even heart-healthy omega-3 fatty acids found in walnuts and mangoes."
3
It's Loaded With Antioxidants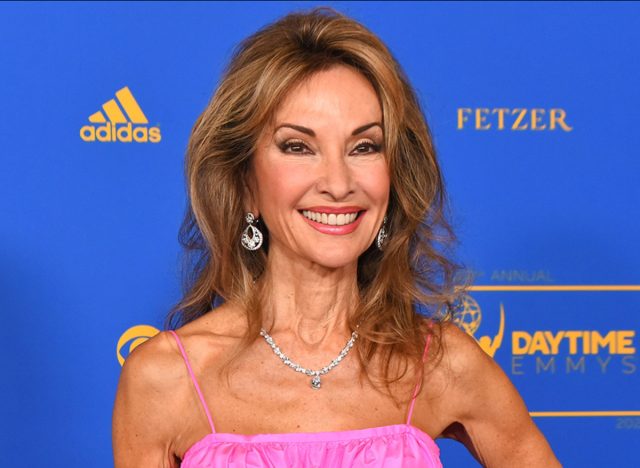 Eating a diet rich in antioxidants is beneficial because the risk of heart disease and certain cancers may be reduced. In addition, antioxidants can reduce inflammation, which often leads to weight gain. "Many may know that chronic inflammation is linked to outcomes like an increased risk of certain cancers and hypertension," Lauren Manaker, MS, RDN, LDN, CLEC, CPT, and Nutrition Advisor for Eat This, Not That!, told us back in 2020. "But they may not realize that it can also be associated with weight gain. In fact, data suggests that as inflammatory markers in the blood increase, weight increases as well."
What the Expert Says: Registered dietitian and certified personal trainer Jesse Feder with My Crohns and Colitis Team states, "The various vegetables as well as the mango and healthy fats, are loaded with antioxidants. This is great for reducing inflammation throughout the body and promoting overall health and wellness."
4
It's High in Essential Vitamins, Minerals and Fiber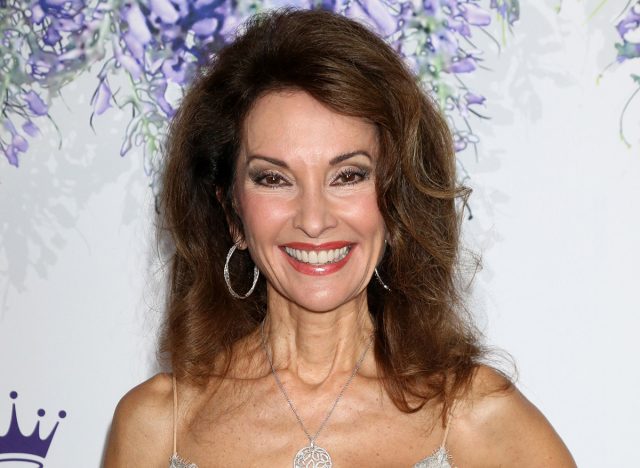 Lucci's salad is packed with vitamins, minerals, and fiber, which is good for weight loss, according to a 2019 study.  "Dietary fiber intake, independently of macronutrient and caloric intake, promotes weight loss and dietary adherence in adults with overweight or obesity consuming a calorie-restricted diet."
What the Expert Says: "The variety of ingredients in this salad provides a healthy variety of vitamins, minerals, and fiber," Feder explains. "This is great for promoting healthy bodily functions and ensuring you do not have any nutrient deficiencies. Additionally, the high amount of fiber is great for optimizing gut function."
The type of fat you eat matters and healthy fats like avocado, which Lucci adds to her salad is encouraged to consume because they lower the risk of heart disease and reduce inflammation, but also healthy fats are good for weight loss. "Your body needs a regular intake of fat," said Vasanti Malik, a research scientist with the Department of Nutrition at Harvard's T.H. Chan School of Public Health. "Fat helps give your body energy, protects your organs, supports cell growth, keeps cholesterol and blood pressure under control, and helps your body absorb vital nutrients. When you focus too much on cutting out all fat, you can actually deprive your body of what it needs most."
What the Expert Says: According to Feder, "The avocado and walnuts in this salad provide a great amount of omega 3s as well as monounsaturated fatty acids. This is great for reducing bad cholesterol levels and improving heart health."
Heather Newgen
Heather Newgen has two decades of experience reporting and writing about health, fitness, entertainment and travel. Heather currently freelances for several publications.
Read more about Heather