Secret Side Effects of Eating Mango, Says Dietitian
An RD exposes little-known consequences you can experience from this beloved tropical fruit.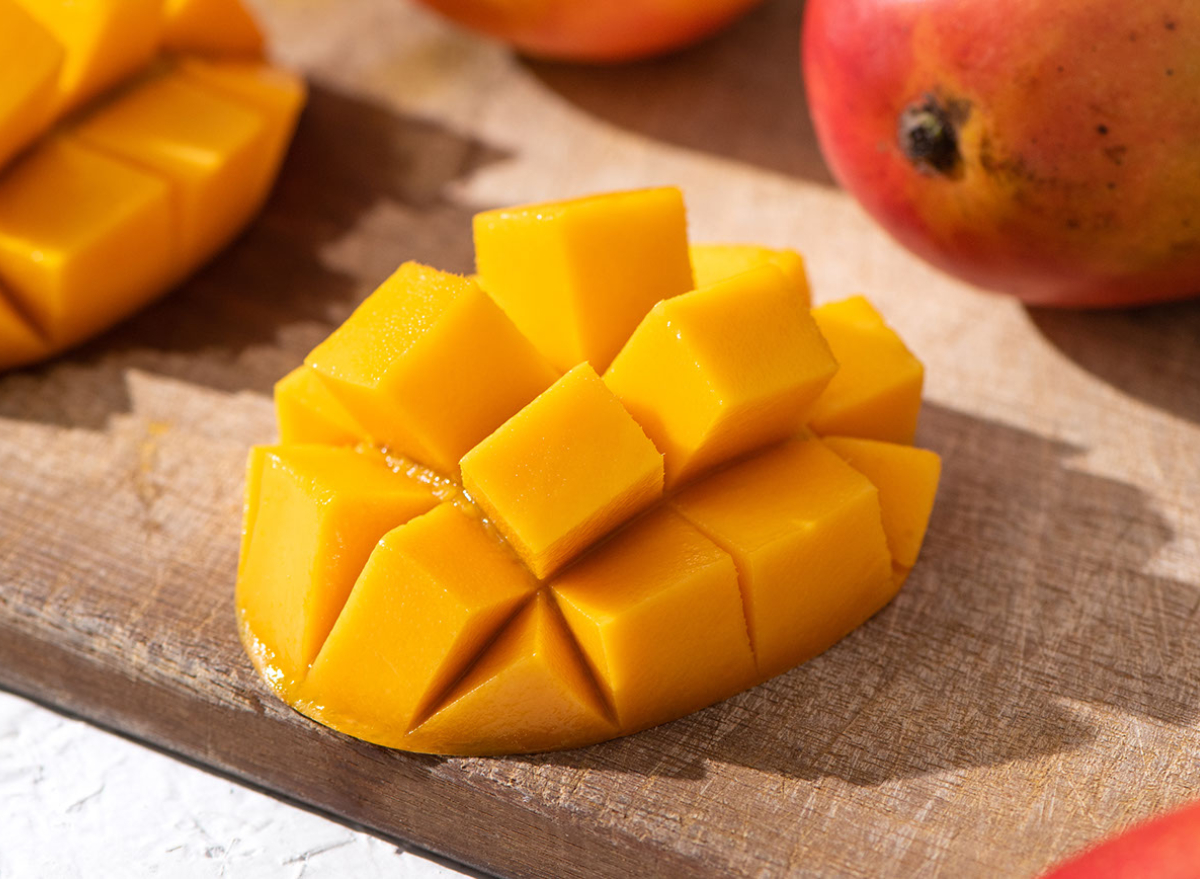 Whether you grew up eating mango or discovered this delicious fruit a little later in life, chances are good that every time you eat it, it's a treat. What you probably didn't know is that mangoes are filled with nutritional value that's not found in many other fruits—but, as a registered dietitian explains here, there are a few downsides to eating mango that you probably want to know about… especially if you suffer from one particular non-food allergy.
Dina R. D'Alessandro, MS, RDN, CDN is a registered dietitian nutritionist and lecturer at the City University of New York's Herbert H. Lehman College. D'Alessandro has rounded up the pros and cons of eating mangoes (to which you might say, "There are cons to eating mangoes?!" Well, let's just say we definitely list a few heads-ups here.)
Keep reading to learn the secret side effects of eating mango, and don't miss The #1 Best Juice to Drink Every Day, Says Science.
There's a lot to love about mangoes.
Let's kick off with an important point: The mango typically is good for you. When you pick one up, D'Alessandro says you're stocking up on an "overall nutrient-dense food" that contains various forms of phytonutrients, which she describes as "health-supportive chemical compounds" that are found in many plants. You can learn more about phytonutrients here.
Mangoes may be good for your heart.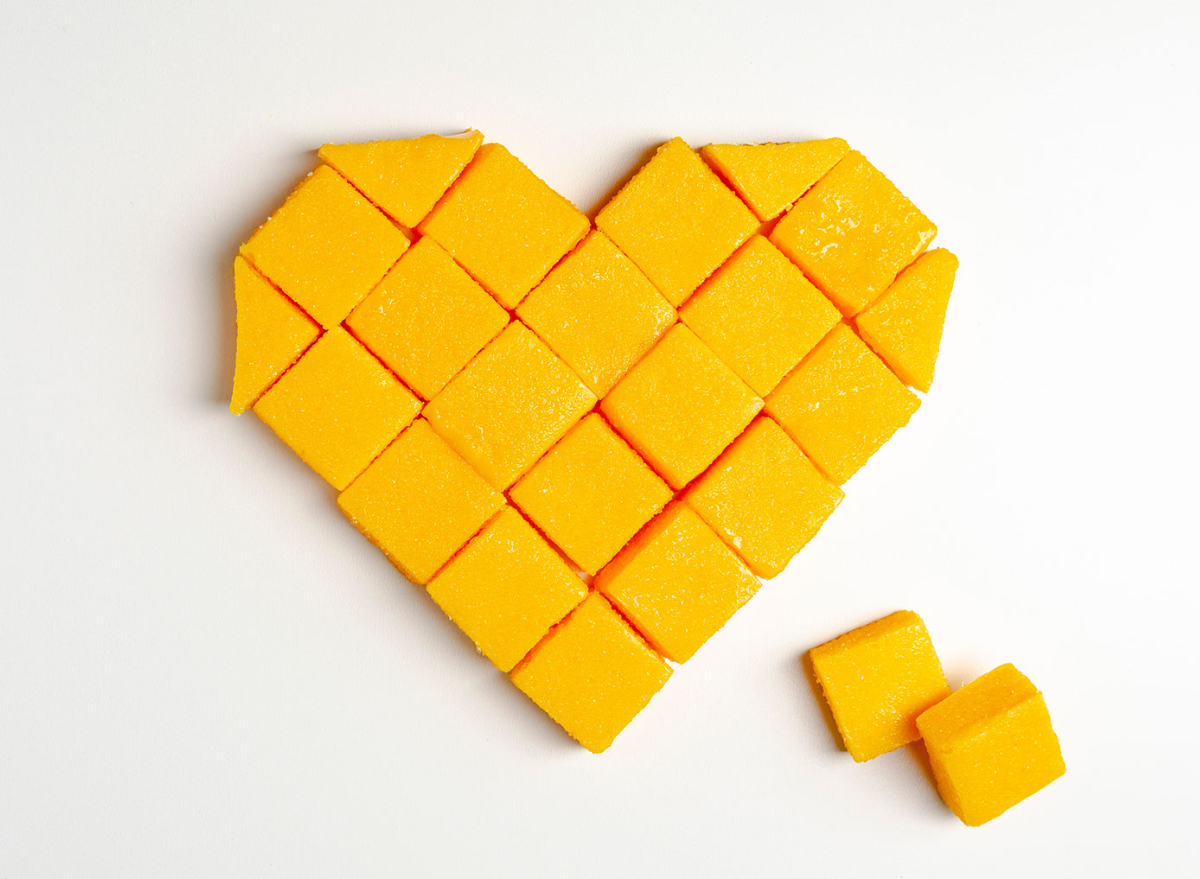 When you slice into this yummy stone fruit, you're accessing a powerful source of potassium. D'Alessandro explains that the mango is a "potassium-rich food" that can "help offset high-sodium intake and manage high blood pressure, but not so rich in potassium that it would be off-limits for people with kidney disease or other potassium-reduced diets."
Of course, she says, "Check with your doctor for recommended amounts."
RELATED: 7 Ways You Can Give Yourself Diabetes, Doctors Say
But, mangoes come with some interesting side effects.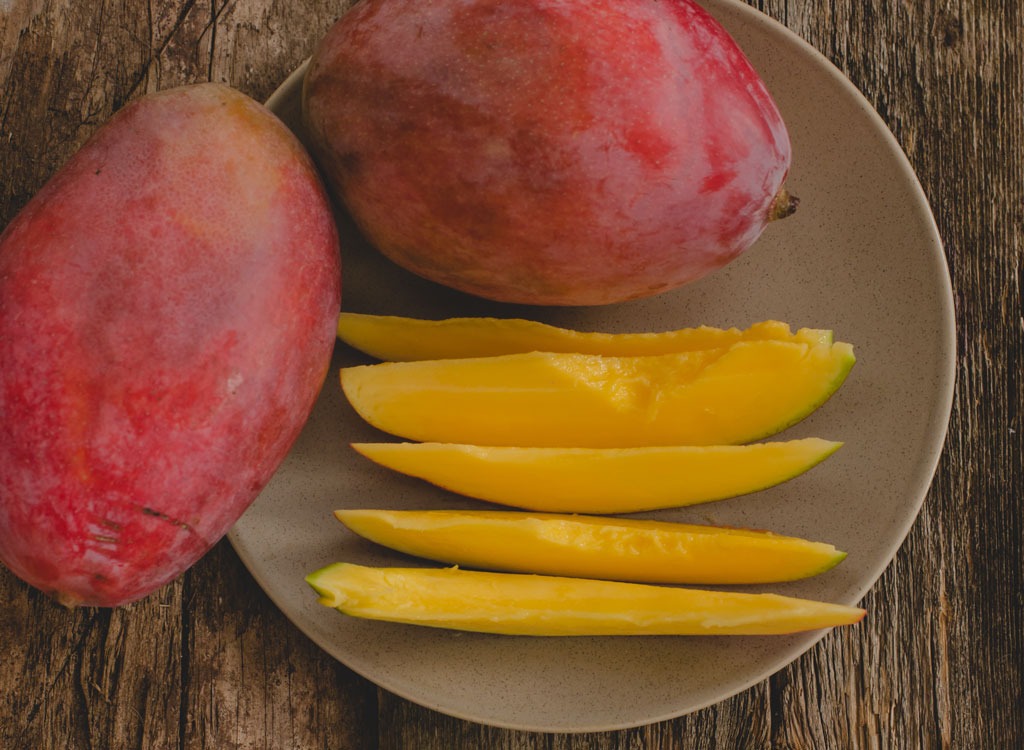 The mango is not a free-for-all fruit for everyone. Believe it or not, if you have a sensitivity to a particular synthetic material, you may also experience some issues with mango. D'Alessandro explains: "Be cautious if you're allergic to latex. Mango proteins are similar to those in latex, so you might have a reaction."
RELATED: This Food Is Becoming a Bigger Allergy Threat Than Nuts, Data Says
Mango may cause a spike in blood sugar.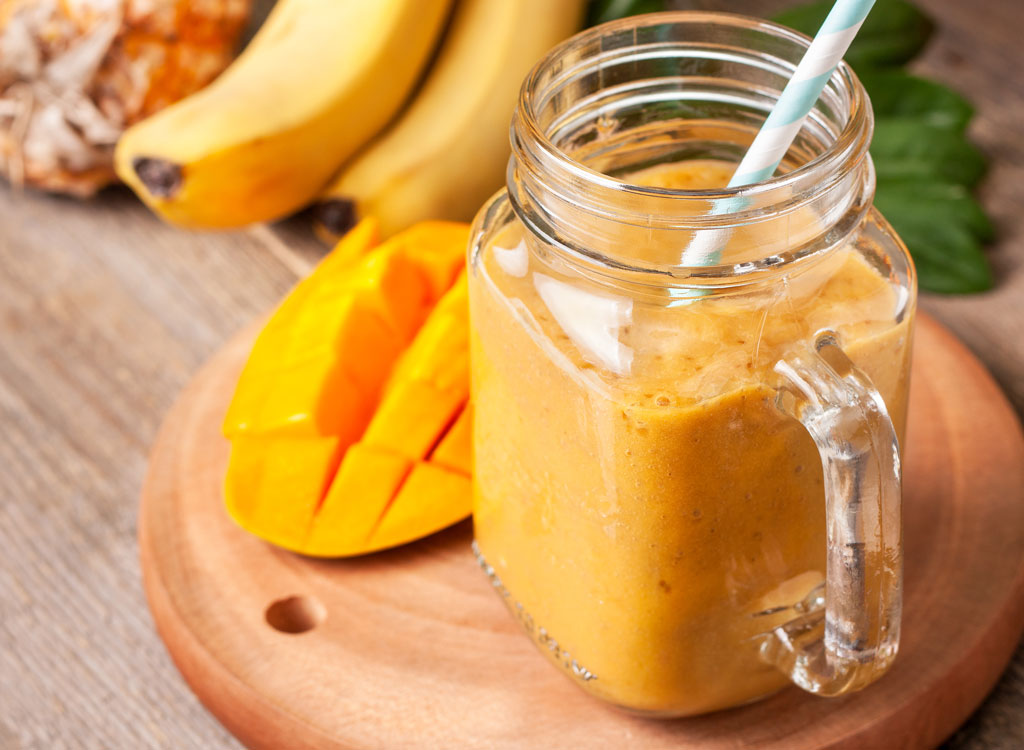 D'Alessandro says mango can spike blood sugar, as the fruit is mostly carbohydrates. "Even natural fruit sugars may act like refined sugar in large amounts," she explains.
Further, she says, "There's not much fiber to slow digestion once you remove the peel, so be sure to pair up with a more complex food if you've been diagnosed with pre-diabetes or diabetes."
This means if mango is a regular ingredient in your smoothie, you may want to add more fiber-rich foods so you're not just consuming a sugary fruit purée.
Mango could cause some tummy upset.
"Excess consumption of mango might cause some GI distress since it's high in fermentable carbohydrates," D'Alessandro says. So if you're dealing with a gastrointestinal condition such as irritable bowel syndrome (IBS), you may opt to limit or avoid mango.
On the other hand…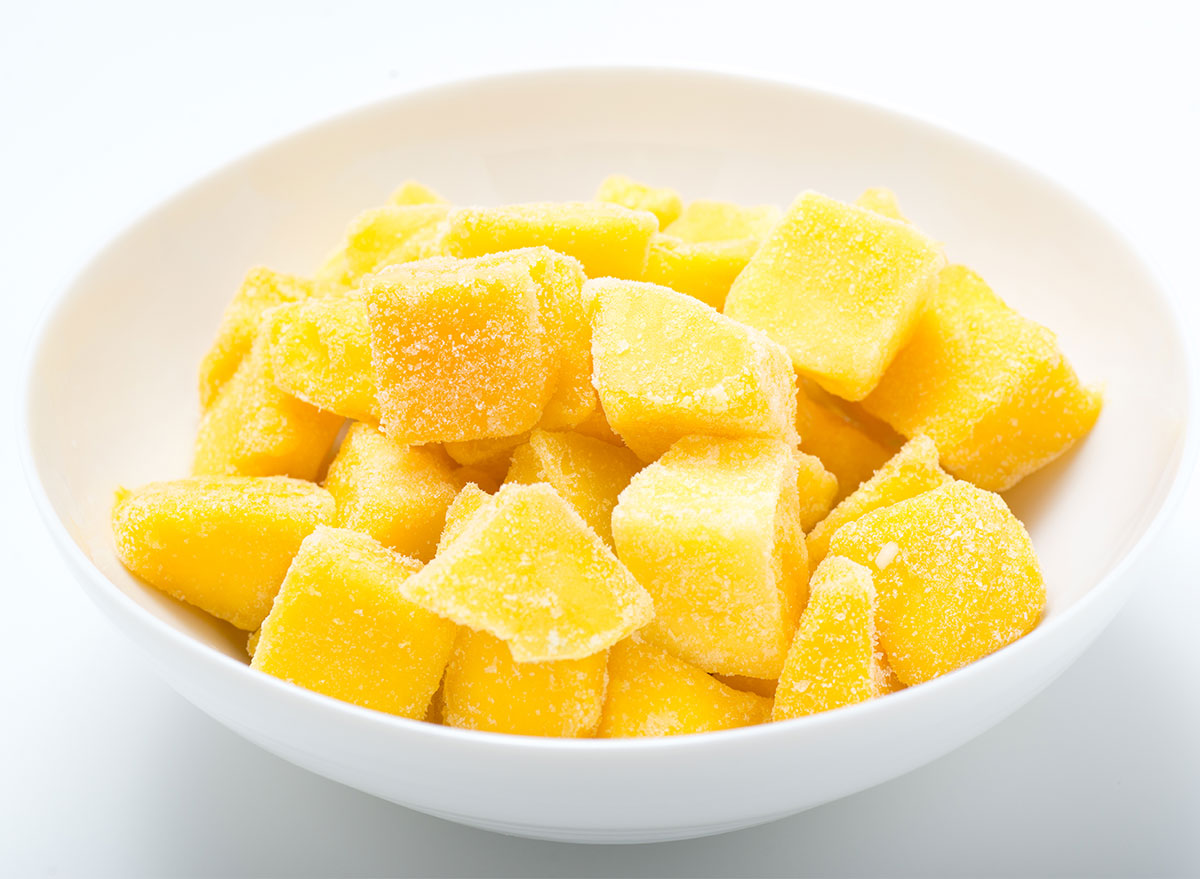 D'Alessandro points out that GI problems aren't always a result of eating mango; in fact, in some cases, it may actually help. "There have been some studies showing mango helps alleviate diarrhea," D'Alessandro says.6254a4d1642c605c54bf1cab17d50f1e
RELATED: This Pantry Staple Caused an E. Coli Outbreak, CDC Says
The mango is full of essential vitamins and minerals, including for plant-based eaters.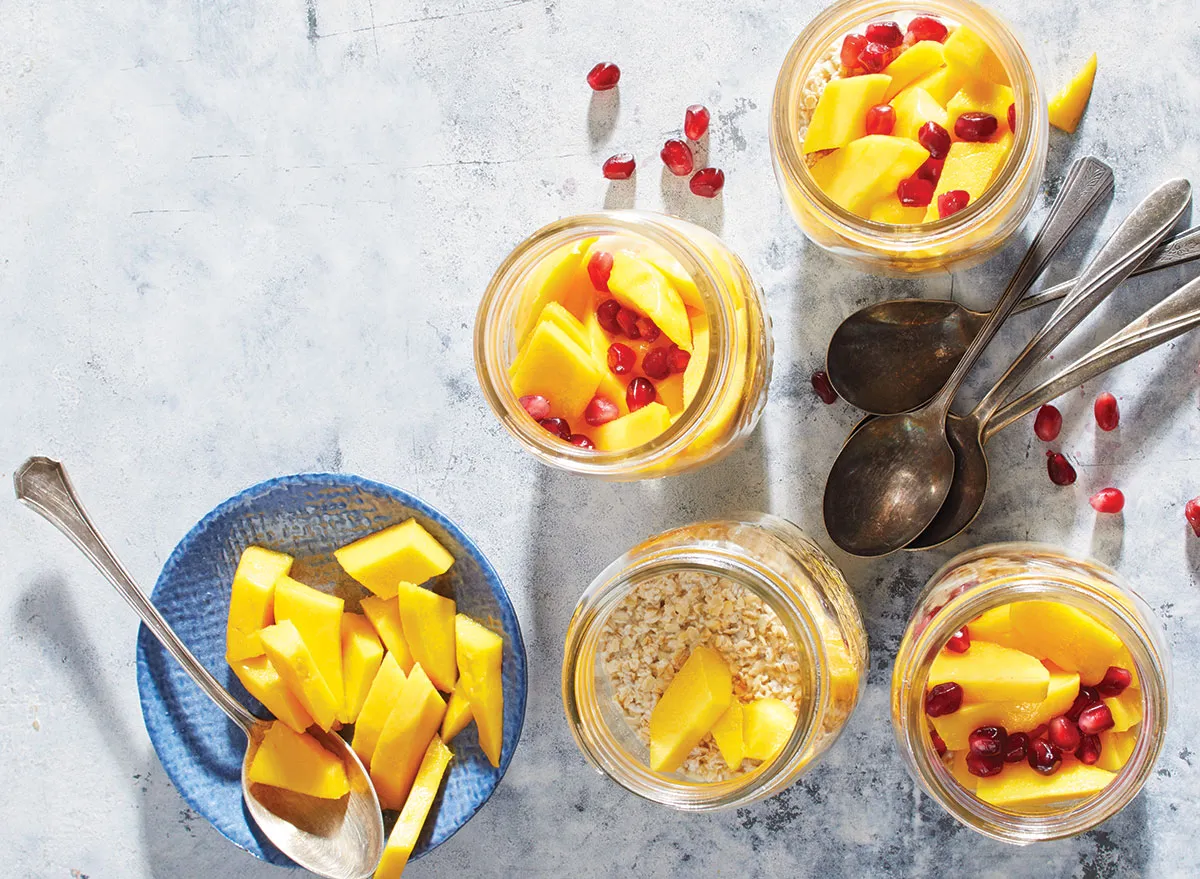 D'Alessandro says mango is rich in vitamin A, which makes it great for skin and eye health, as well as a great source of vitamin C "for cell protection and to help increase iron absorbability, especially for vegans and anyone diagnosed with iron-deficient anemia." (Like this idea? Then check out Popular Foods With More Vitamin C Than an Orange.)
If you're watching your weight:
Yes, it's important to keep an eye on the sugar content that's in your mango—but, D'Alessandro says, if you pay attention to your portion size, this can be a good fruit for folks who are working to shed weight. She says this is because one cup of mango has about 70 calories, which makes it "great to add to any meal or include as a refreshing snack."
If all this has you craving more mango, check out The Absolute Easiest Way to Cut a Mango, According to a Chef. Also, keep reading:
Krissy Gasbarre
Krissy is a senior news editor at Eat This, Not That!, managing morning and weekend news related to nutrition, wellness, restaurants and groceries (with a focus on beverages), and more.
Read more about Krissy