Here's How Much Protein Is In Every Type of Cheese
Your favorite cheesy snacks might be packing in more protein than you think.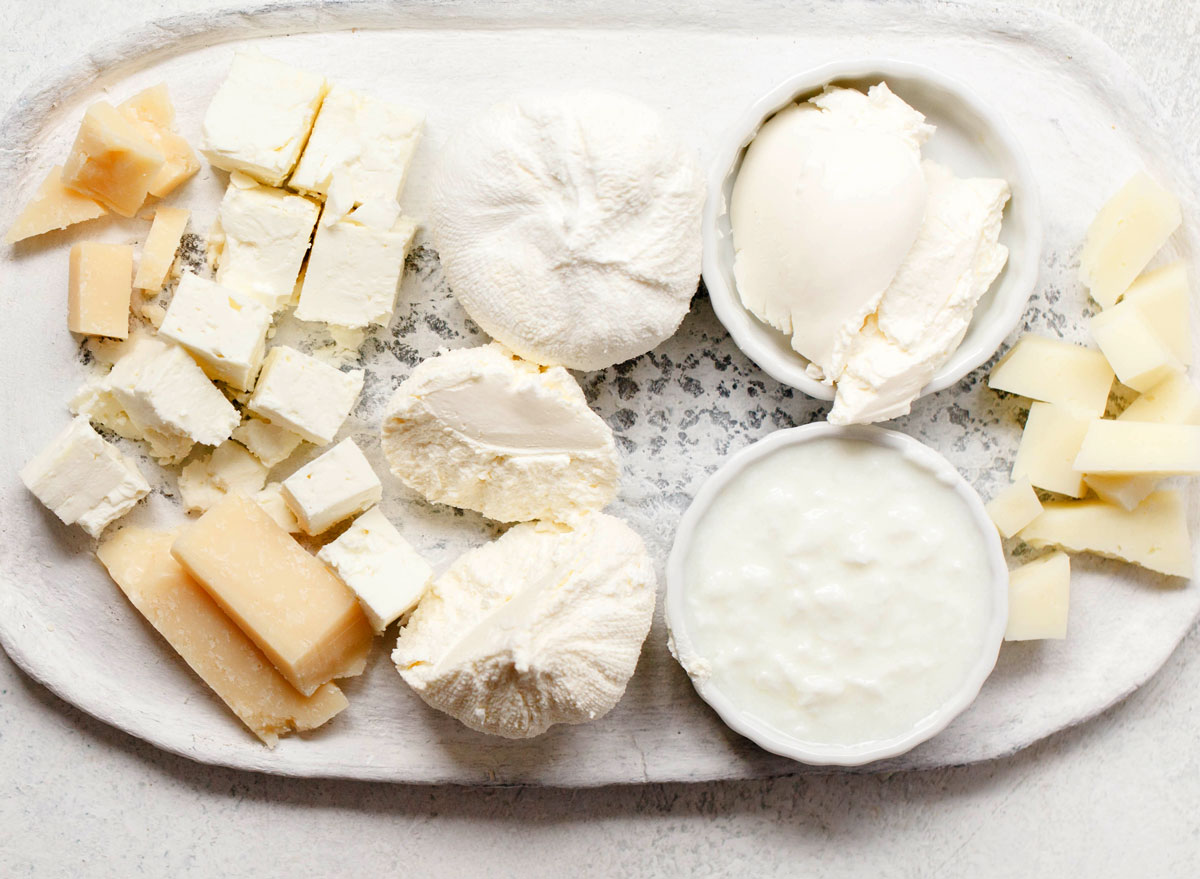 When we talk about foods with a lot of protein, we usually focus on meats, nuts, and legumes. But dairy—specifically, cheese—actually packs a punch when it comes to protein. So while it's easy to write off cheese as a healthy eating no-no, we shouldn't be so quick to judge. In moderation, the fat and protein in the yummy dairy food can serve as the perfect healthy snack or meal topper. Here, we cover 23 of the most popular cheeses and their protein amount per serving.
Ricotta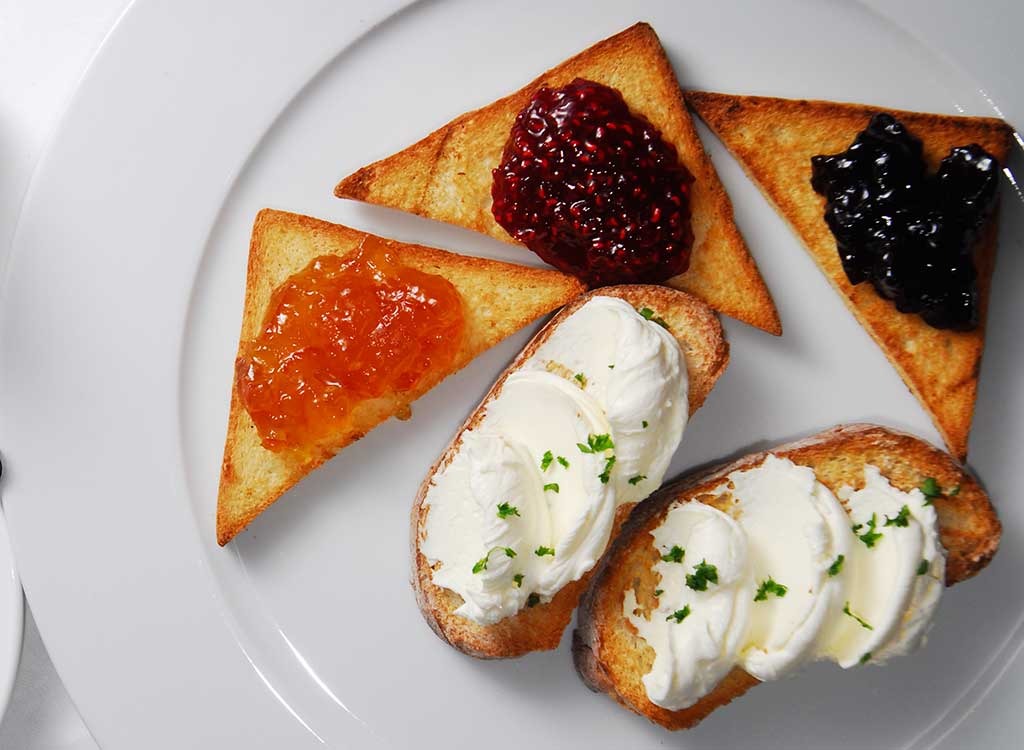 Coming in at around three grams of protein per ounce, this soft, mild cheese makes any dish supremely creamy without overpowering the main ingredients. You can find it in lasagna, baked ziti, or even just spread it on toast.
Brie
Brie has around five grams of protein per serving and is often eaten as a standalone cheese rather than in dishes. Spread it on seedy bread with fig jam or on a sesame cracker to really embrace its buttery flavor. Consider trying this alternative to mozzarella sticks: melted brie with mixed veggies.
Feta
This crumbly Greek cheese is sharp and pungent, pairing perfectly with sweeter salads to add protein and depth of flavor. It's also yummy sprinkled over top shawarma or mixed into eggs. In fact, add this savory Artichoke and Feta Quiche to your breakfast recipe arsenal to really enjoy it.
Goat Cheese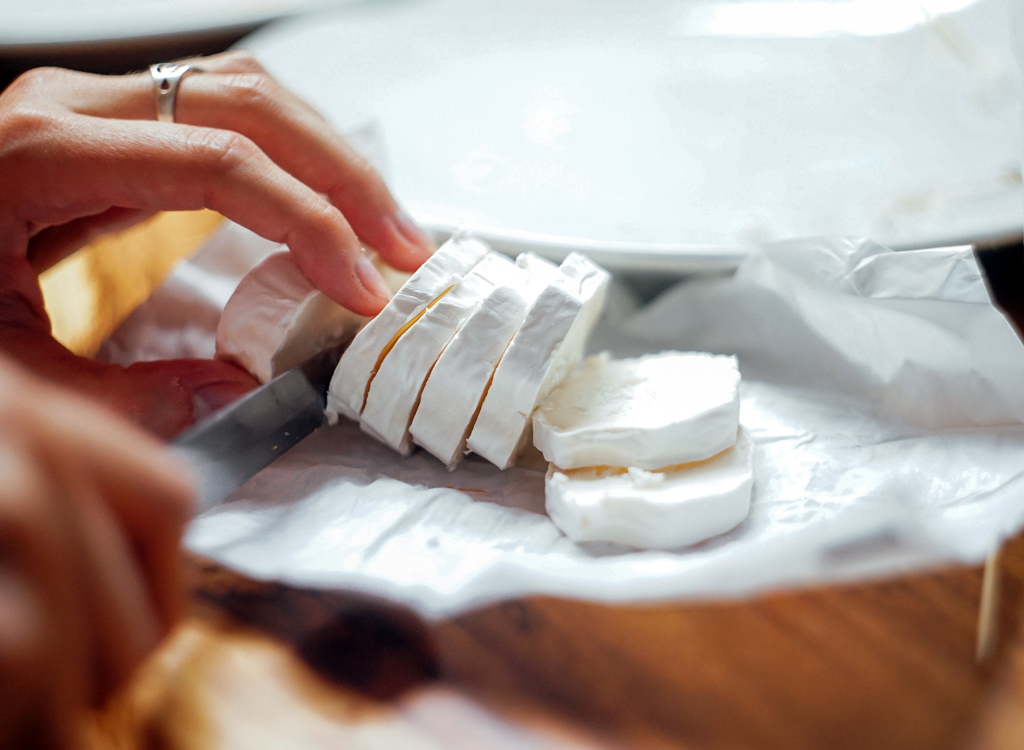 You'll likely find a log of goat cheese on any cheese board or atop a mixed green salad. Crumbly and tart, you can find garlic and herb, cranberry, and even bacon-infused varieties to spread on crackers. For a crowd-pleasing dish, try this Bacon Pizza With Caramelized Onions and Goat Cheese recipe.
Cotija
This crumbly Mexican cheese is delicious on guacamole, carnitas tacos, and Mexican street corn. And with almost six grams of protein per serving, that's an excuse to sprinkle on a little more.
Blue Cheese
Buffalo wings and blue cheese? A match made in heaven. The tangy, crumbly cheese is the perfect way to tame a spicy dish. Crumble it over a wedge salad or mix it into a blue cheese dressing for a buffalo chicken sandwich—either way, you're getting around six grams of added protein.
Muenster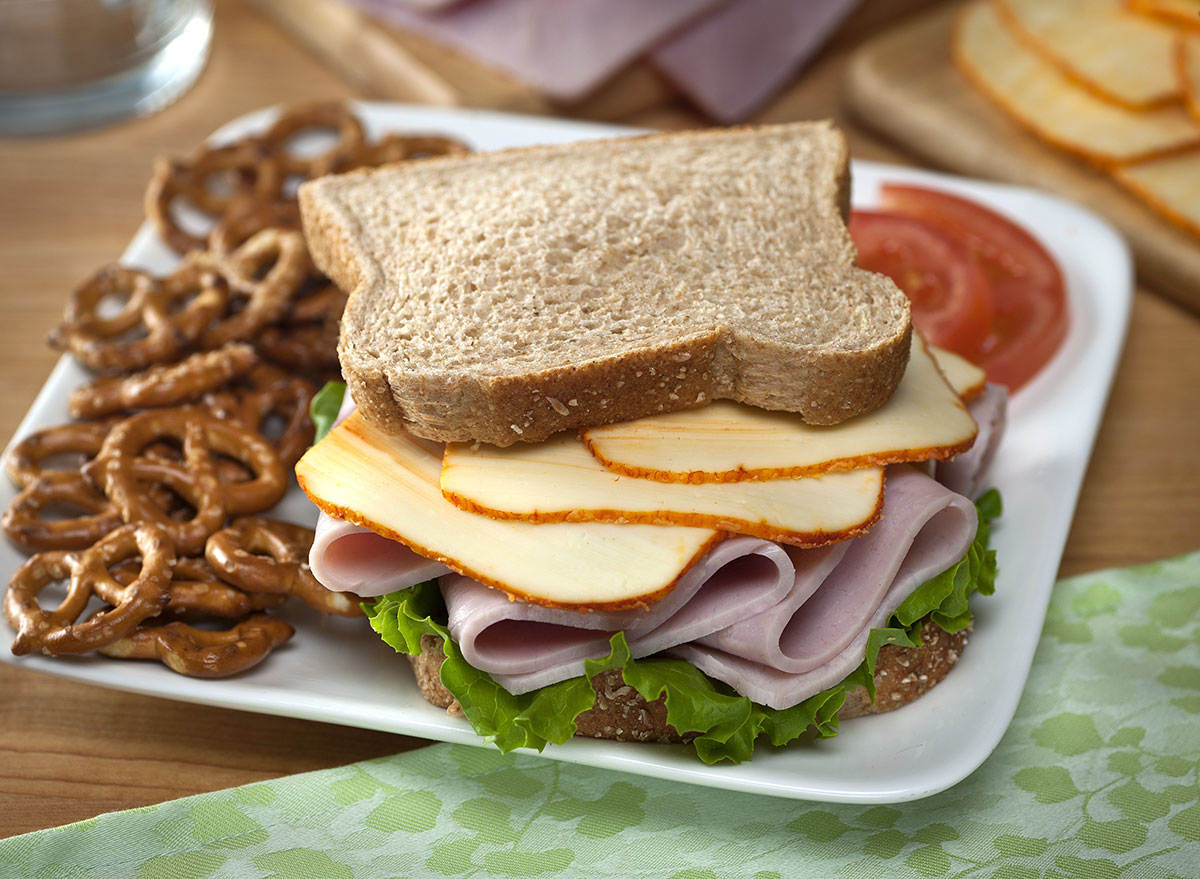 This soft, smooth, and mild cheese is the American version of the French Munster cheese. Its orange rind gives it a nutty and sweet flavor. Try adding it to your favorite grilled cheese, or just pair it with nuts and crackers.
American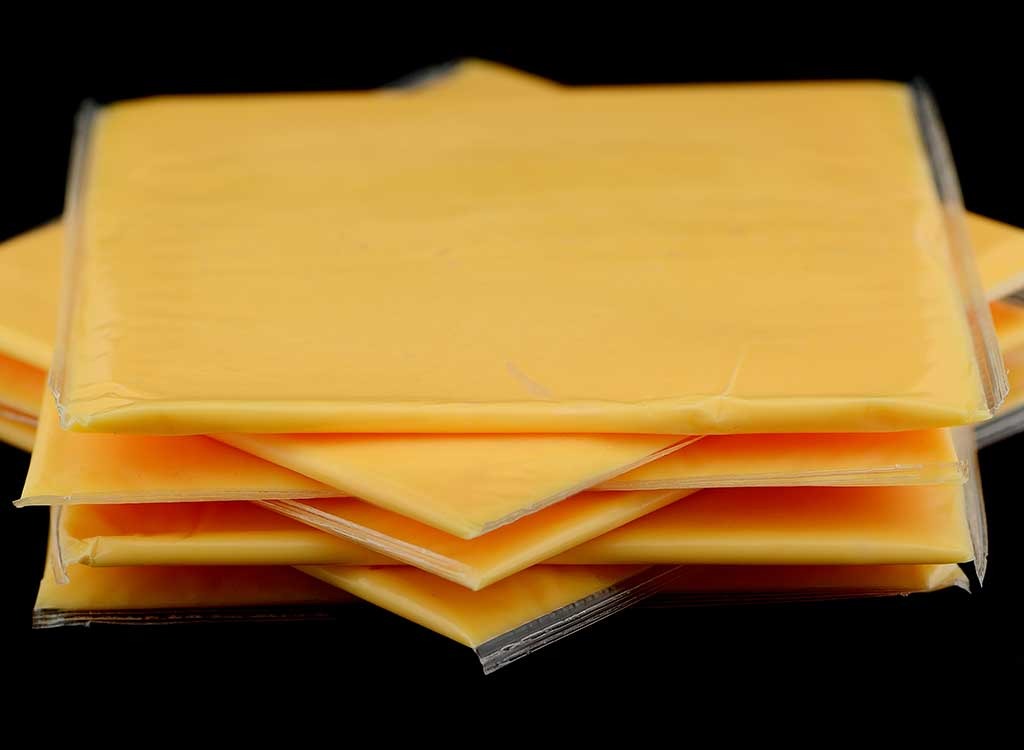 This processed cheese comes in at 6.1 grams of protein. Serve it up in a classic grilled cheese, mixed into macaroni and cheese, or on your favorite sandwich. However, because it's more processed than most cheeses on this list, eat it sparingly.
Gorgonzola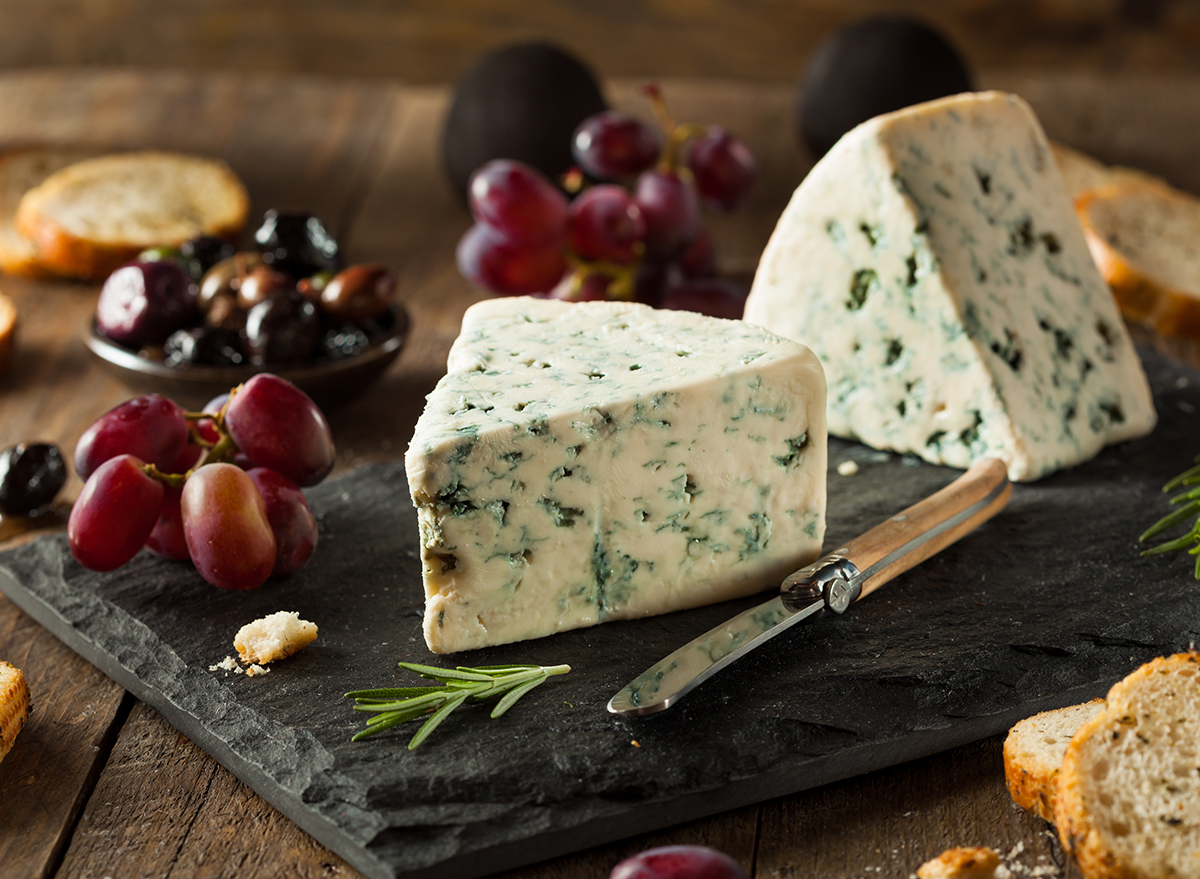 Another tangy, dry cheese, you only need a sprinkle of gorgonzola to taste the full-bodied flavor. It pairs well with fresh fruits like figs, pears, and apples, and sweet jams.
Colby Jack
The marriage of Colby and Monterey cheeses came together for this semi-hard deli favorite, which packs in almost seven grams of protein per ounce. This cheese pairs well with pepperoni and salamis, and you can find it in fondues and plenty of Mexican dishes.
Gouda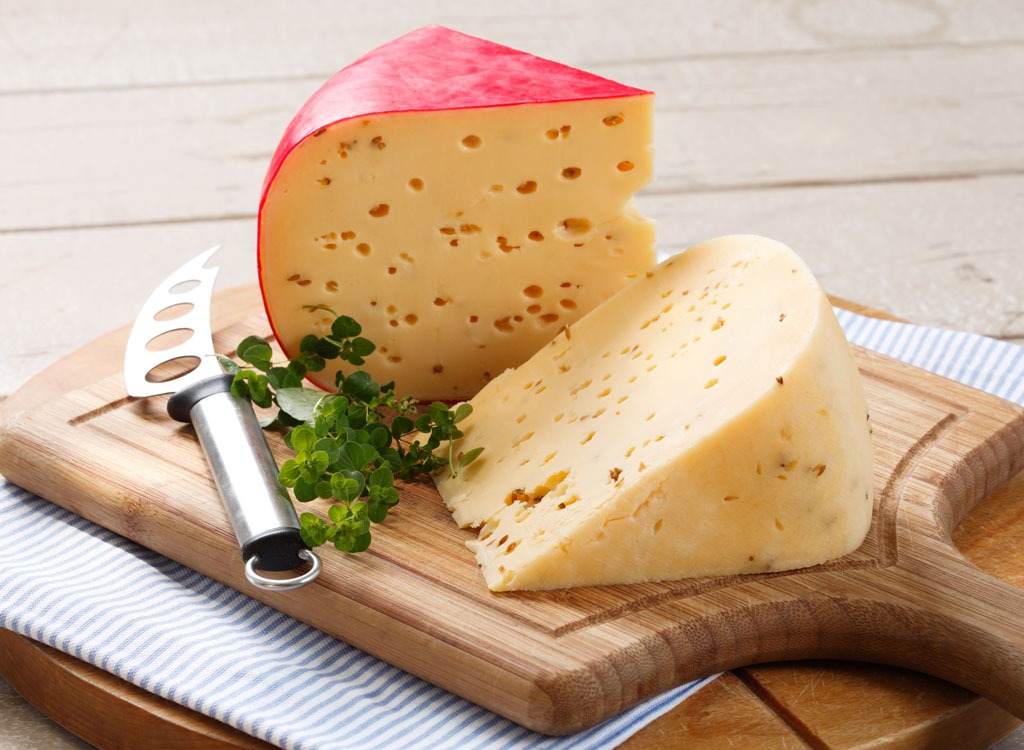 Gouda is nutty and sweet, and the smoked varieties pair deliciously with nuts. The Dutch cheese has a waxy rind that keeps it fresh and soft. Instead of eating it on a cheese plate, try these Muffin Tin Smoked Gouda and Ham Quiches, perfect for mornings on the go.
Manchego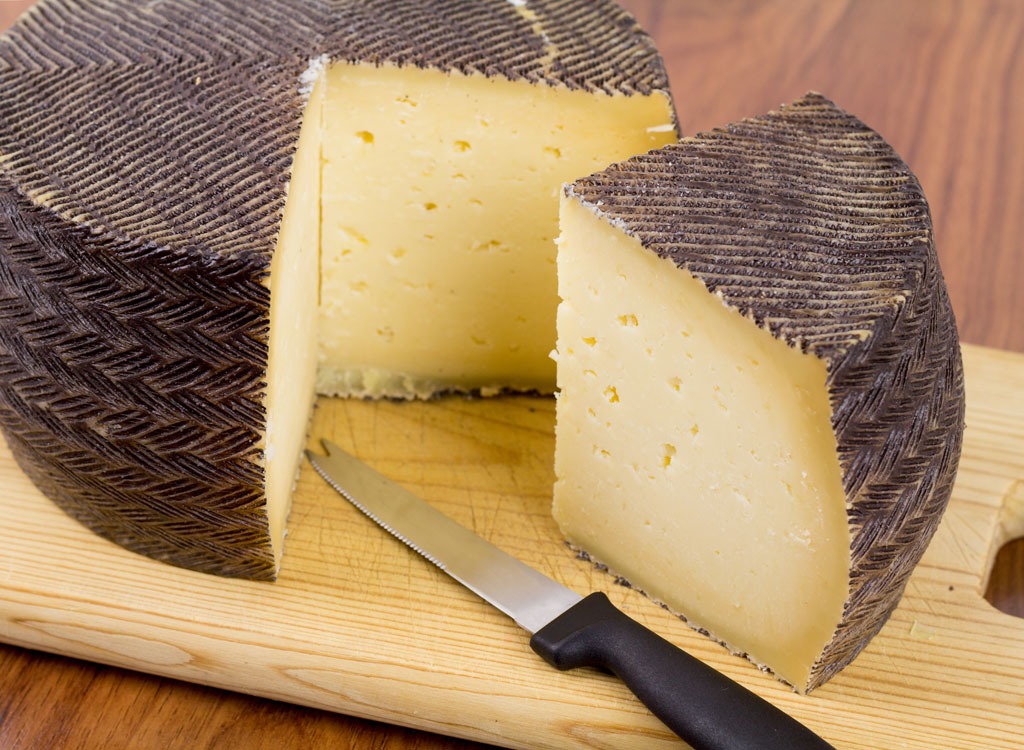 This mild, aged, Spanish sheep-milk cheese has a hard texture and is perfect for people with a lactose intolerance. It has a buttery flavor and is delicious when grated on salads or soups, or even in egg dishes.
Asiago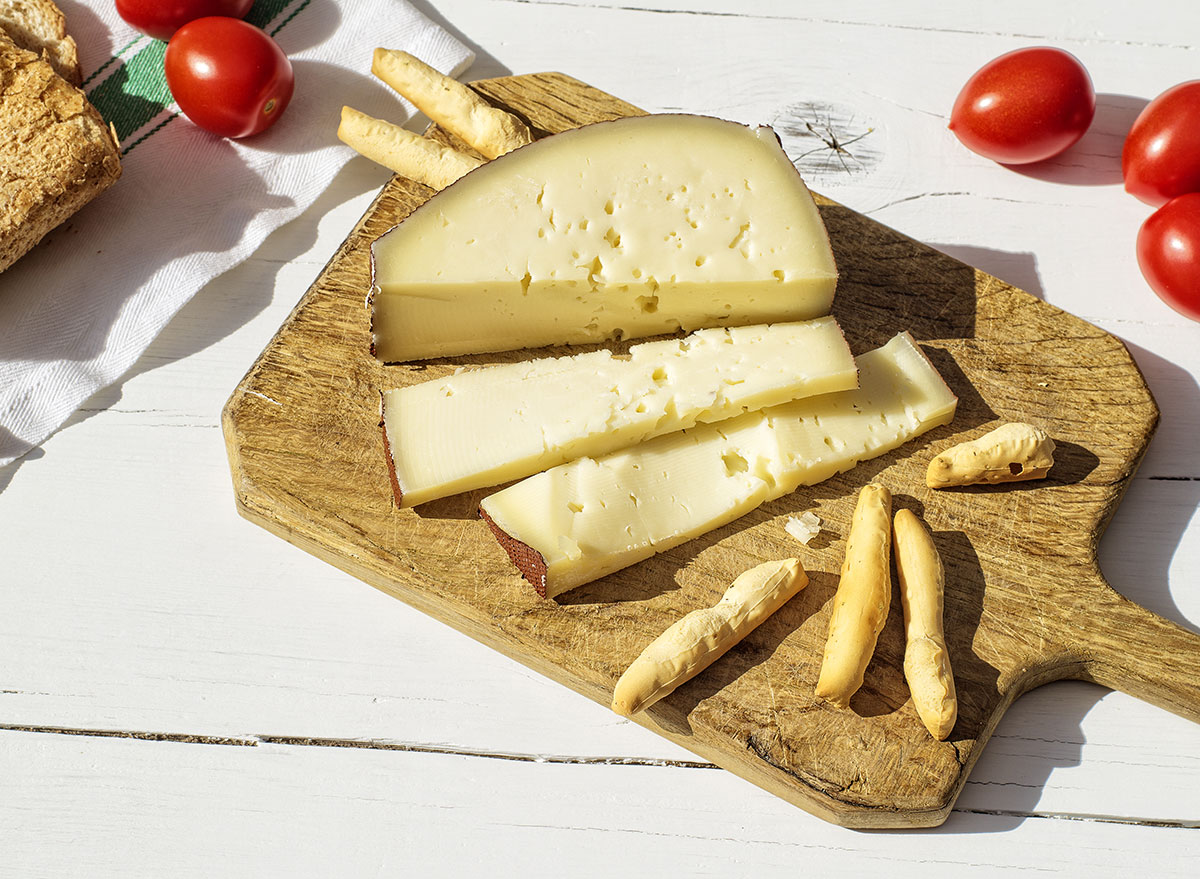 This hard, sharp cheese might smell like stinky feet, but it adds richness and flavor to any dish it's added to. It's often eaten aged, which is when it takes on the sharp flavor we know and love. Try it added to pasta dishes, Caesar salads, and even pizza.
Provolone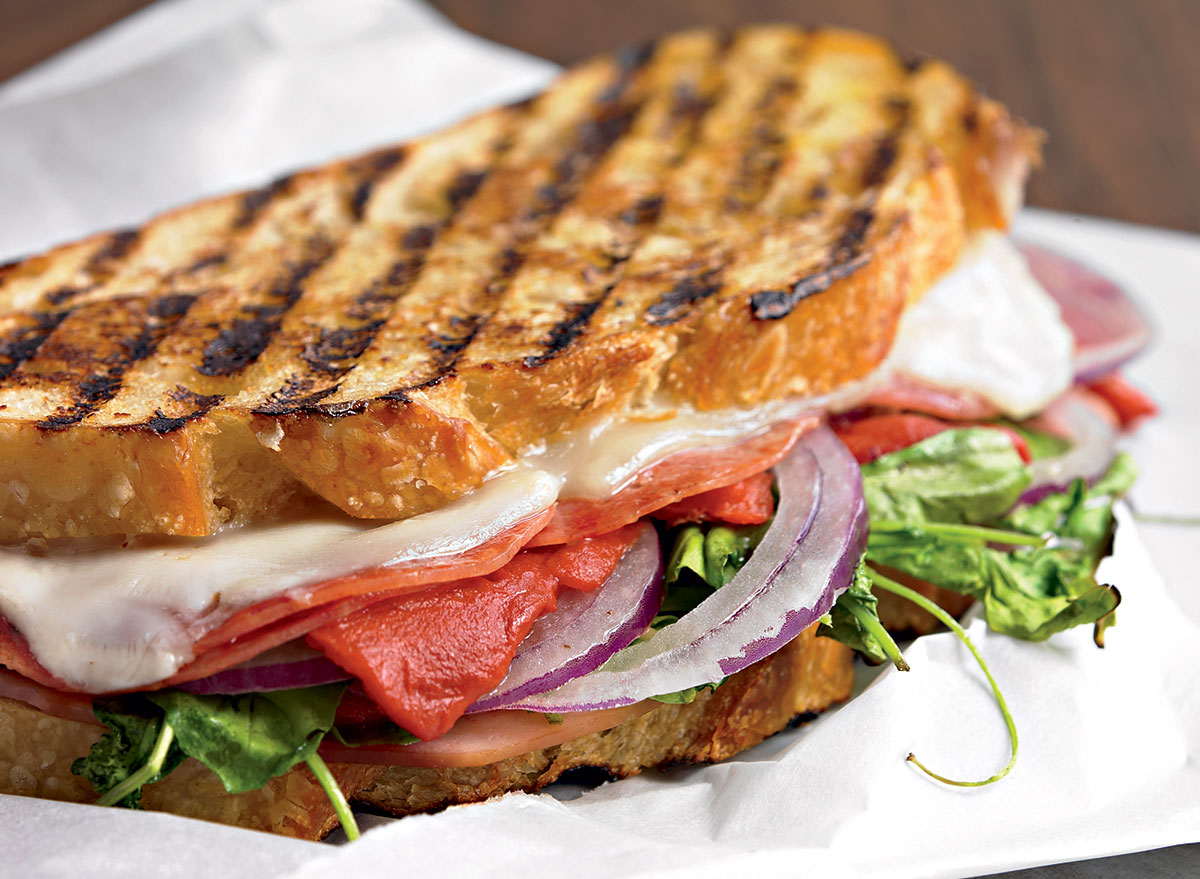 Another deli favorite, mild provolone, takes on a more intense flavor when melted. Try this healthy panini with provolone, peppers, and arugula for an upgraded office lunch. Try it with this Provolone, Peppers, and Arugula Panini recipe.
Fontina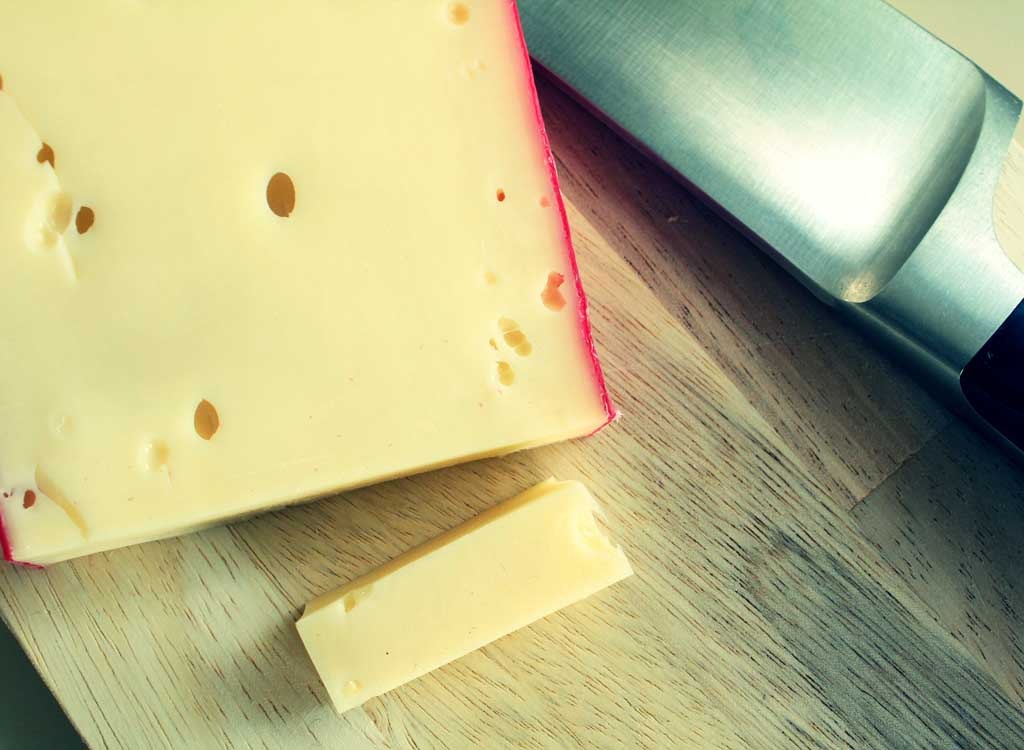 A supreme melting cheese, Fontina is a decadent add-in to macaroni and cheese and grilled cheese. And with a little more than seven grams of protein per serving, it'll keep you full, too.6254a4d1642c605c54bf1cab17d50f1e
Pepper Jack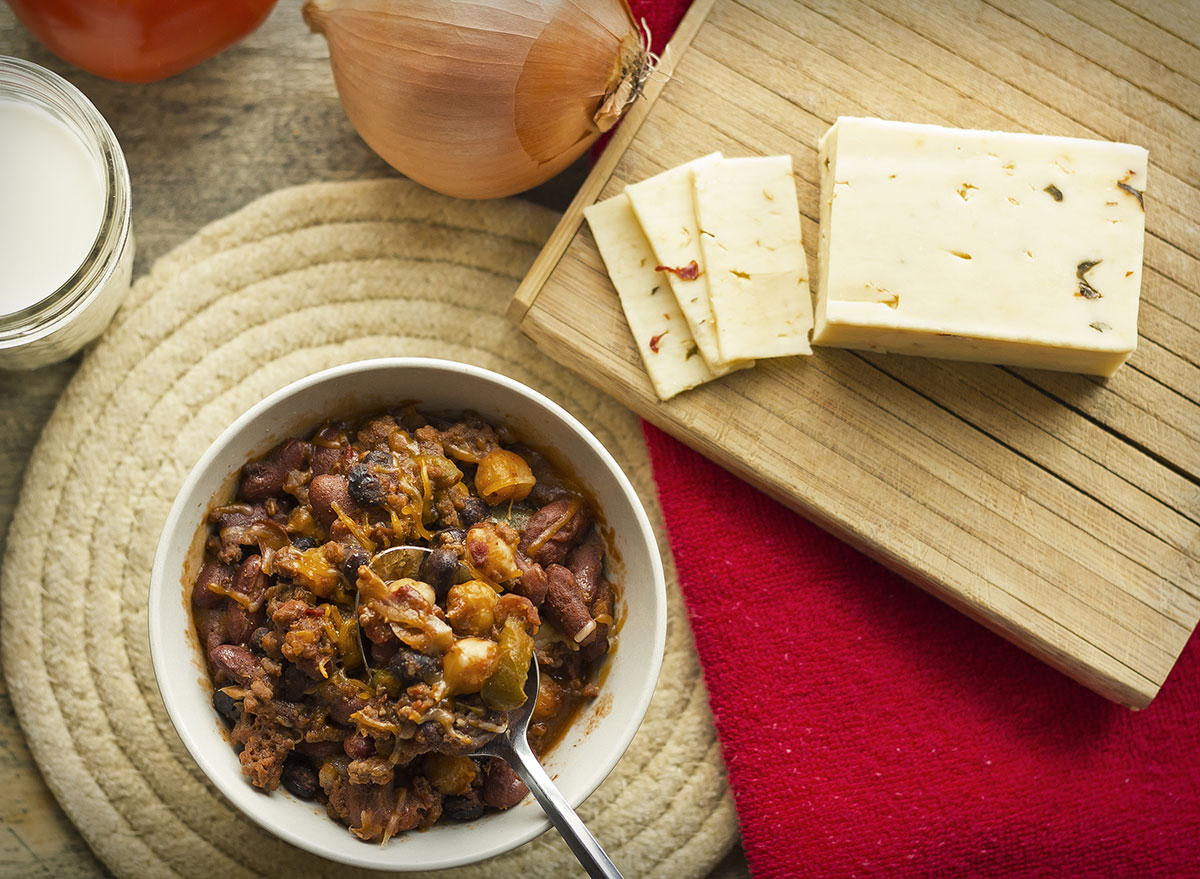 This spicy and semi-hard cheese has flecks of sweet and hot peppers for a depth of flavor and a kick. It also holds its own on a cheese platter and tastes delicious in stuffed peppers or other South American dishes.
Cheddar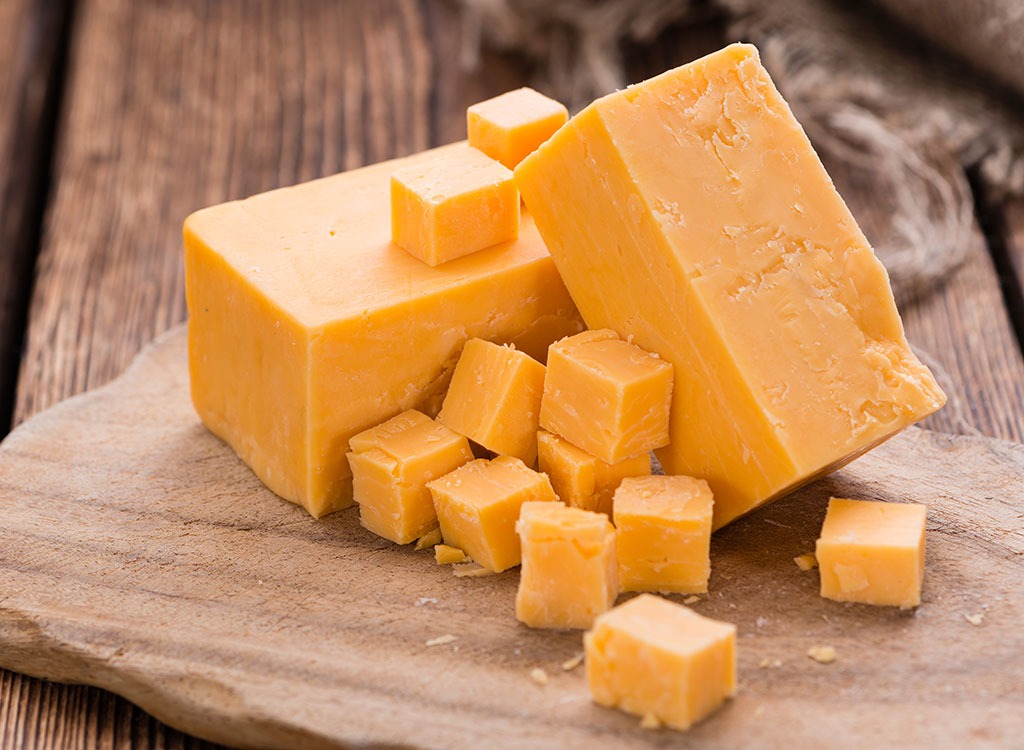 Fan-favorite cheddar comes in at almost eight grams of protein per serving. This versatile cheese is delicious in all varieties, from mild to aged. Add it to eggs, salads, casseroles, soups, and more; it's a refrigerator staple. Try this Broccoli Cheddar Soup next time you need some comfort food.
Pecorino Romano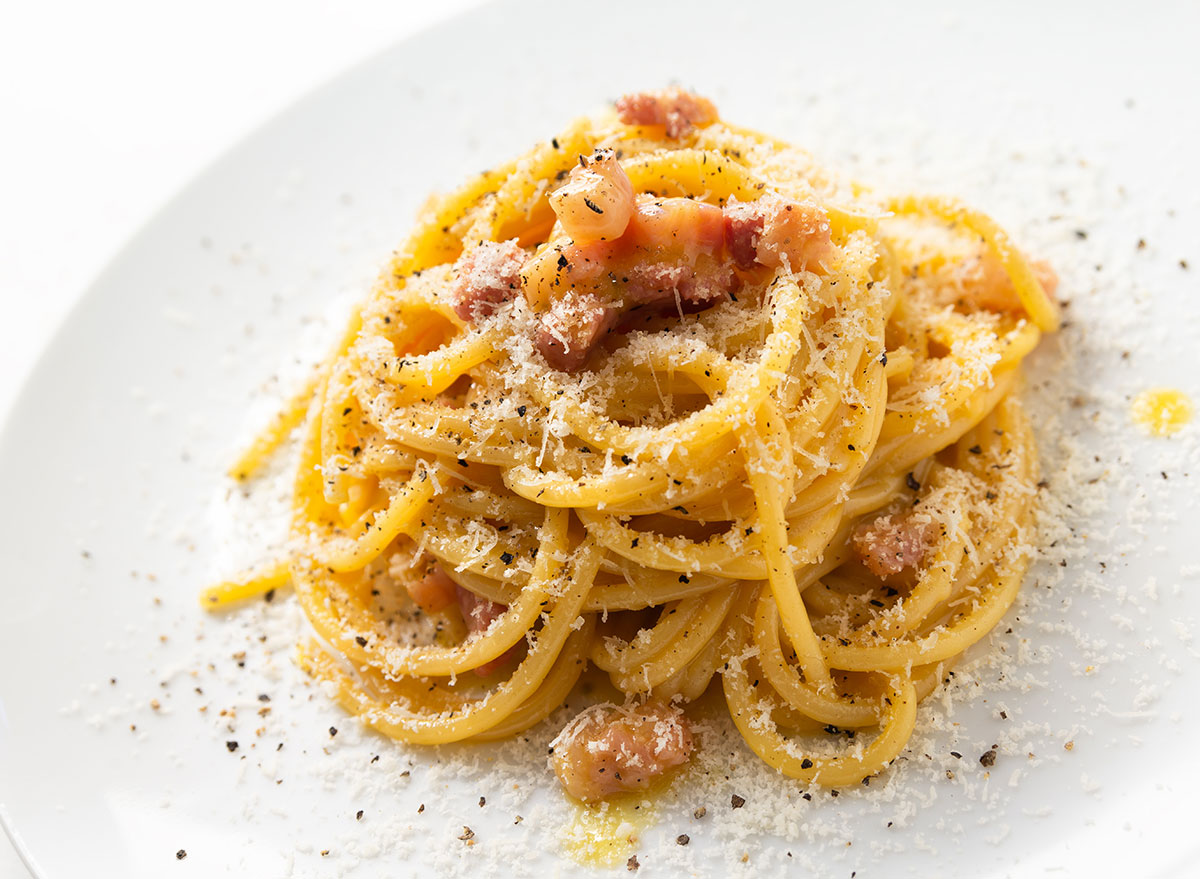 This hard, salty cheese is packed with more protein than you might think. Because it's more of a grating cheese, you may not eat the full serving size, but it enhances the flavor of Italian dishes like no other. Add it to your favorite pasta dish or salad for even more flavor (and protein).
Mozzarella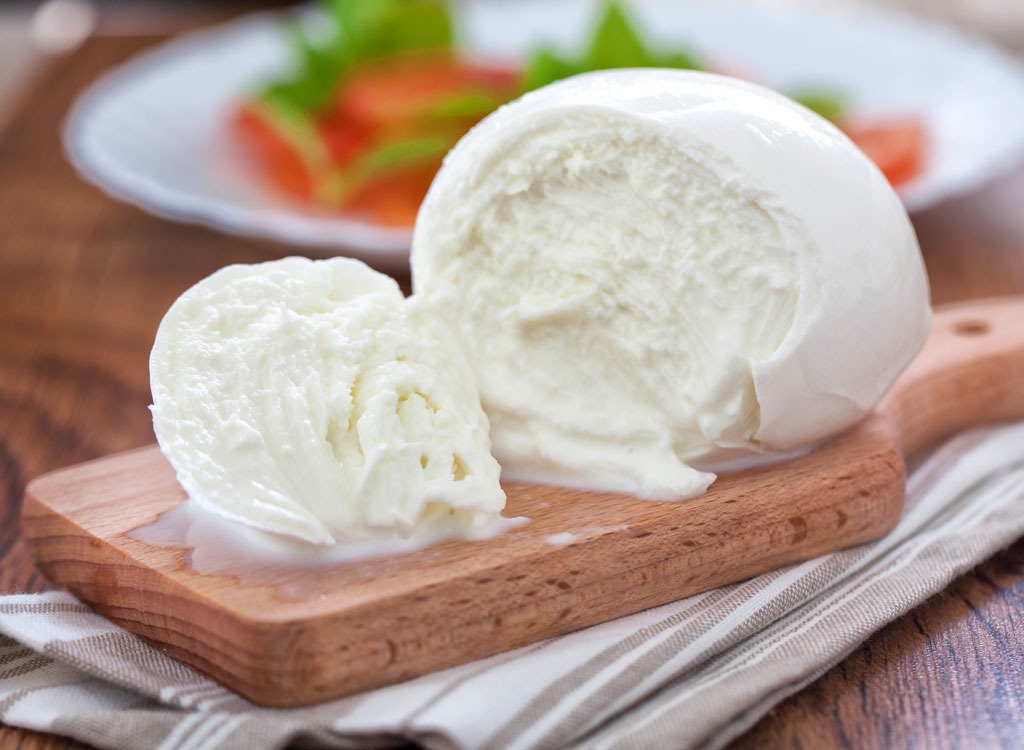 Beloved mozzarella is as versatile as it is healthy. Find it in the classic caprese salad, atop pizzas, mixed into eggs, or just eaten by itself for a healthy, protein-packed snack. Next time you're hosting a get-together, make this incredible Vegetarian Mozzarella Spiedini (basically, just skewered grilled cheese and bites of hearty bread—you can't go wrong).
Gruyere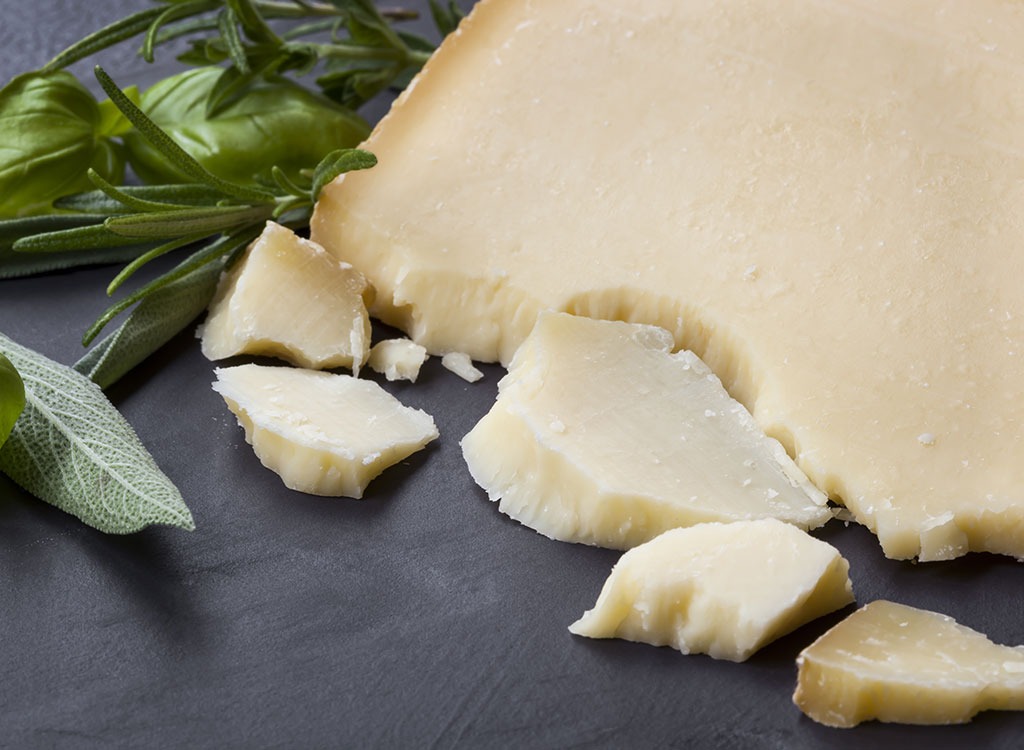 Gruyere is often melted in fondues, macaroni and cheese, and grilled cheese, and for good reason. It melts down into a velvety, smooth texture and adds tons of protein. It has a mild, sweet and salty flavor.
Swiss
Known as the "holey cheese," Swiss is super mild and goes well on sandwiches. And with eight grams of protein, feel free to add on another slice to your lunchtime favorite.
Parmesan
Another yummy Italian cheese, parmesan is more than just the "shaker cheese" you add to mom's spaghetti. The hard, sharp cheese is often grated rather than eaten in chunks. Add it to your favorite roasted vegetables (we love this Parmesan-Roasted Broccoli side dish), pizza, pasta, salad, and more. You really can't go wrong.
Cottage cheese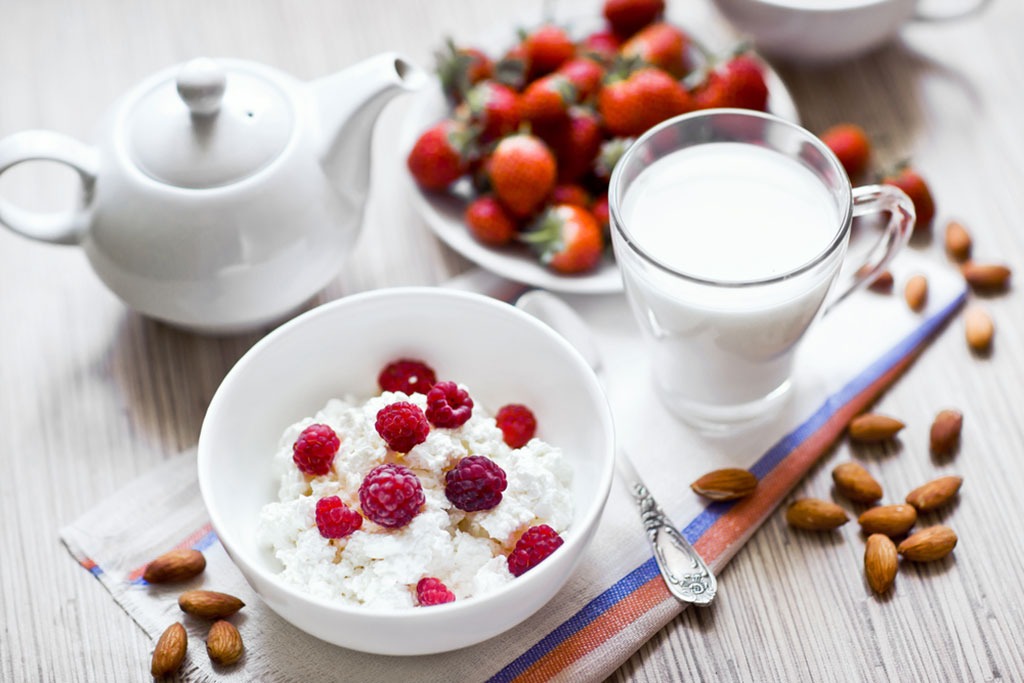 Per 1/2 cup
: 13 g protein
Slightly similar to ricotta in texture, cottage cheese has the most protein (and the biggest serving size). While its tastiness is hotly debated—you tend to either love it or hate it—the health benefits are clear.