The 50 Most-Iconic Fast-Food Menu Items—Ranked!
These fast-food items are some of America's greatest culinary creations.
America is a melting pot of foods, flavors, and cultures, so it's no wonder that American fast food today is heavily influenced by a variety of cuisines. From McDonald's to Taco Bell to KFC, there's nothing that screams "classic fast-food" than cheeseburgers, fries, tacos, and fried chicken.
The concept of modern fast food first hit the United States in the '20s with the opening of White Castle and A&W. People flocked to the quick-serve joints for their cheap and tasty cuisine. Ever since then, the fast-food industry has been constantly churning out new and innovative dishes that have influenced how and what Americans eat.
But what are the most iconic fast-food items of all time? To come up with our answer, we turned to YouGov's rankings. YouGov has an ever-evolving list of the "most famous" restaurants in the United States. Using YouGov's research, we combed out the fast-food options and chose an iconic dish from each of the top restaurants.
Here are the 50 greatest and most iconic fast-food dishes that have woven themselves into the fabric of American cuisine, ranked in reverse order of restaurant fame. See what ranked #1—it might surprise you.
Not sure which restaurant to try first? We Tasted 7 Fast-Food Cheeseburgers & This Is the Best.
Blimpie Best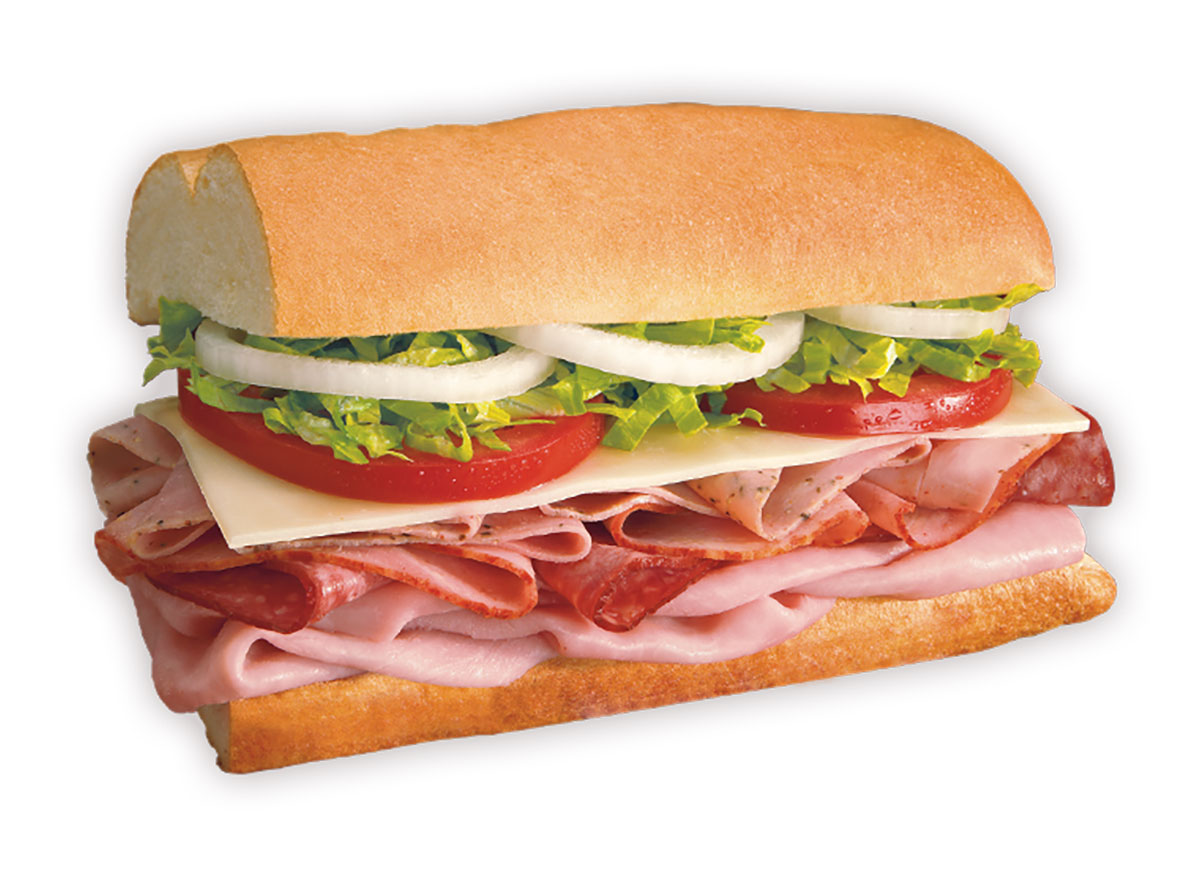 The Blimpie Best sandwich is piled high with salami, ham, capicola, prosciuttini, and provolone cheese, along with lettuce, tomato, and onion. Think of it as an upgraded Italian sub.
TCBY Soft Serve
TCBY has been slinging frozen yogurt for years, and it's still one of the biggest froyo chains in the country. You can't go wrong with any of the many flavors, but we're partial to the cake batter.
Del Taco The Del Taco
You can't go wrong with the titular item from this fast-food chain. Del Taco also offers tacos made with Beyond Meat, so it's a great option for vegetarians in search of a quick bite.
Godfather's Pizza Classic Combo
Pizza is an easy way to feed large groups of people, and Godfather's Pizza is no different. The classic combo pizza comes with three meats, as well as three vegetables.
Nathan's Famous Hot Dogs
The hot dog eating contest only comes once a year, but you can indulge in Nathan's hot dogs and fried seafood year-round.
Sbarro Pizza
Sbarro's pizza isn't the best around, but it's cheap and convenient. That could explain why it's one of the most famous chains in the country, according to YouGov's poll.
Auntie Anne's Pretzels
This pretzel emporium launched in the late '80s at a humble farmer's market in Pennsylvania. Now it boasts locations around the globe from Greece to South Africa. In shopping malls, airports, and train stations, the irresistible smell of Auntie Anne's cinnamon sugar pretzels are beckoning you to dig into the chain's soft, fried dough.
Jamba Juice Protein Berry Workout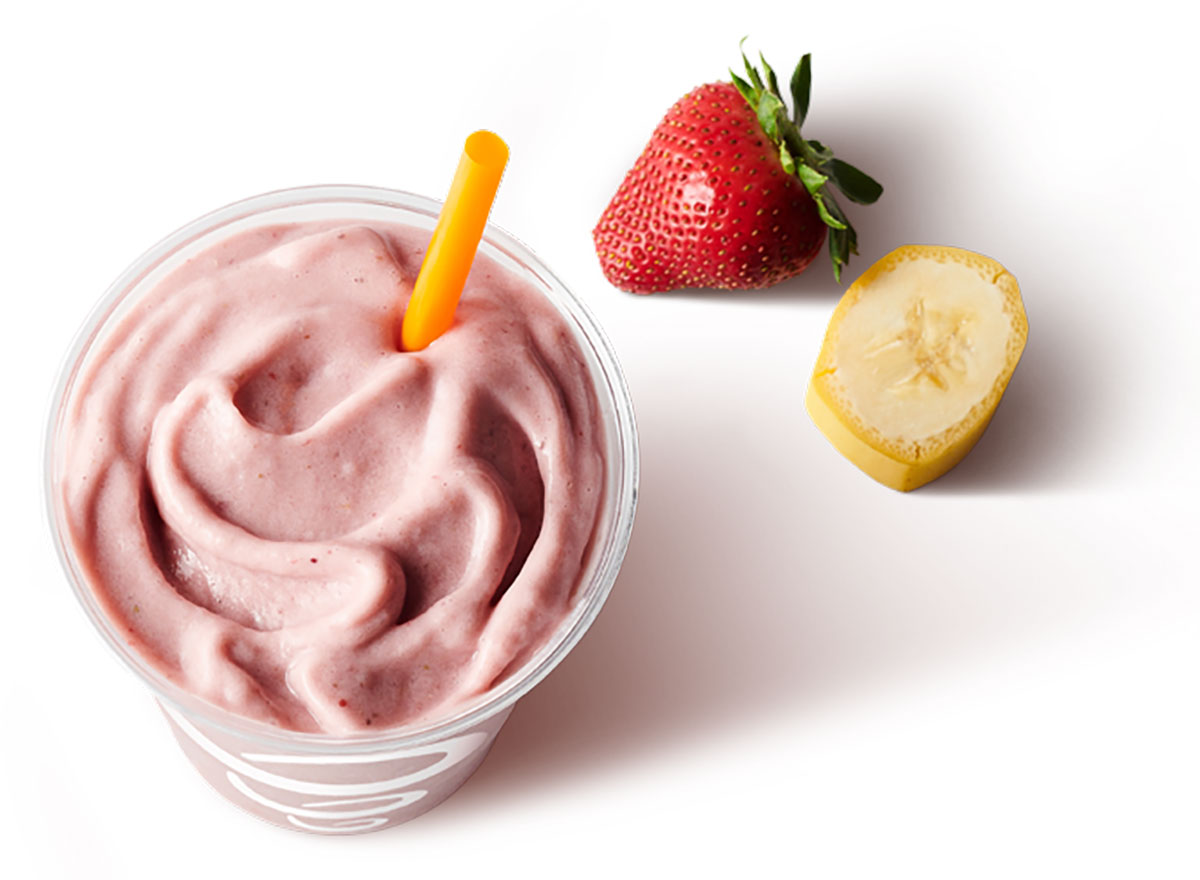 Jamba Juice's menu has changed plenty over the years, but this smoothie has remained a constant. Packed with 14 grams of pea protein, this smoothie is the perfect way to refuel after exercising.
Firehouse Subs Hook & Ladder Sandwich
This is the most popular sandwich at Firehouse Subs, and it's not hard to see why. With both ham and turkey, along with plenty of tasty toppings, this is one filling and flavorful sub.
Orange Julius Strawberry-Banana Smoothie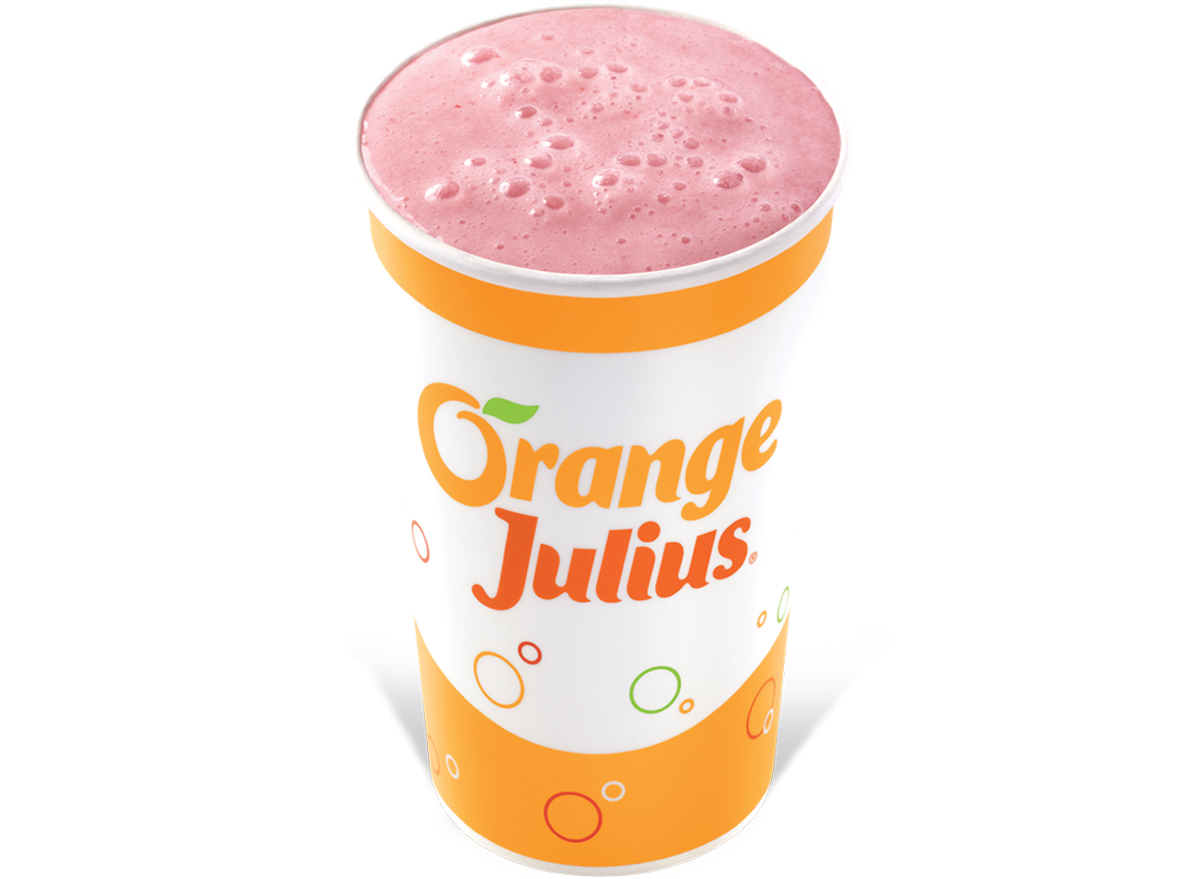 Before to-go smoothies were everywhere, Orange Julius was slinging up blended fruit treats for customers across the country. You can still get a reliable smoothie at Orange Julius today, in plenty of fruit flavors.
Cici's Pizza Mac and Cheese Pizza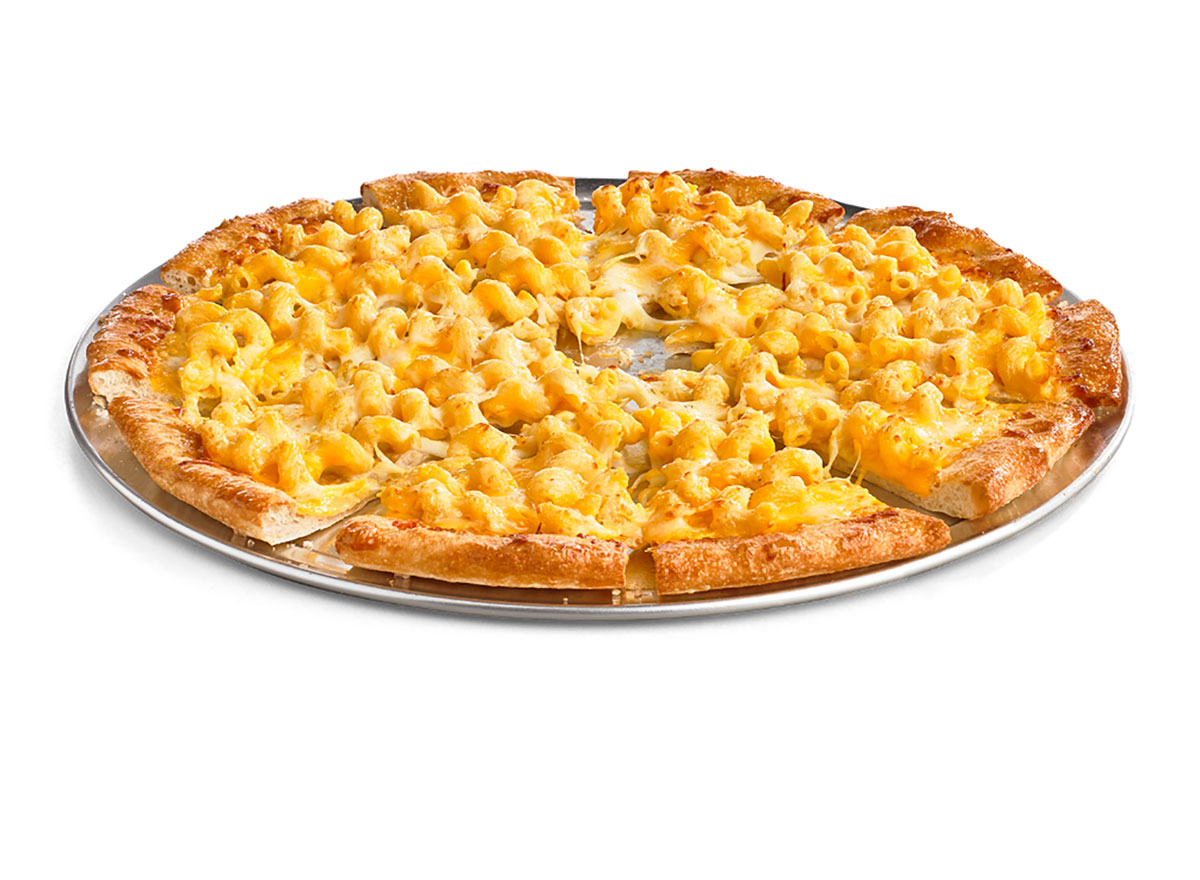 Why decide between these two American classics when you can have both in the same meal? Mac-and-cheese-topped pizza is absolutely genius.
Whataburger No. 1 Burger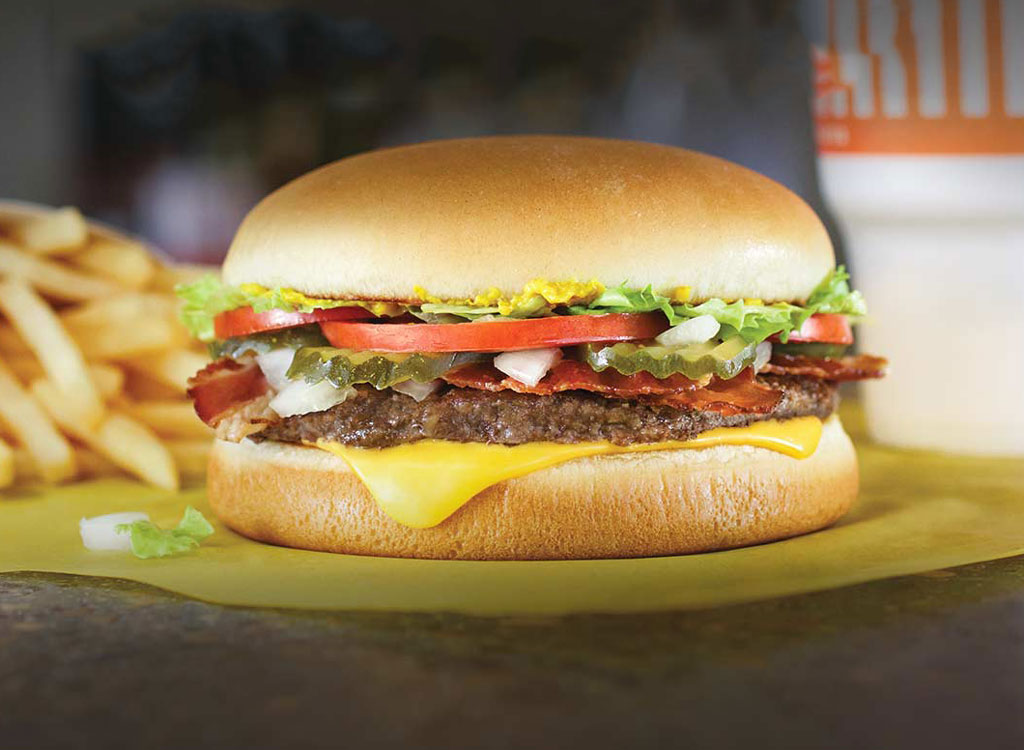 With its giant buns and equally giant beef patties, Whataburger has been wowing fans for decades. The chain has more burger topping options than other fast-food chains, too, including green chiles and fire-roasted mushrooms.
In-N-Out Animal-Style Burger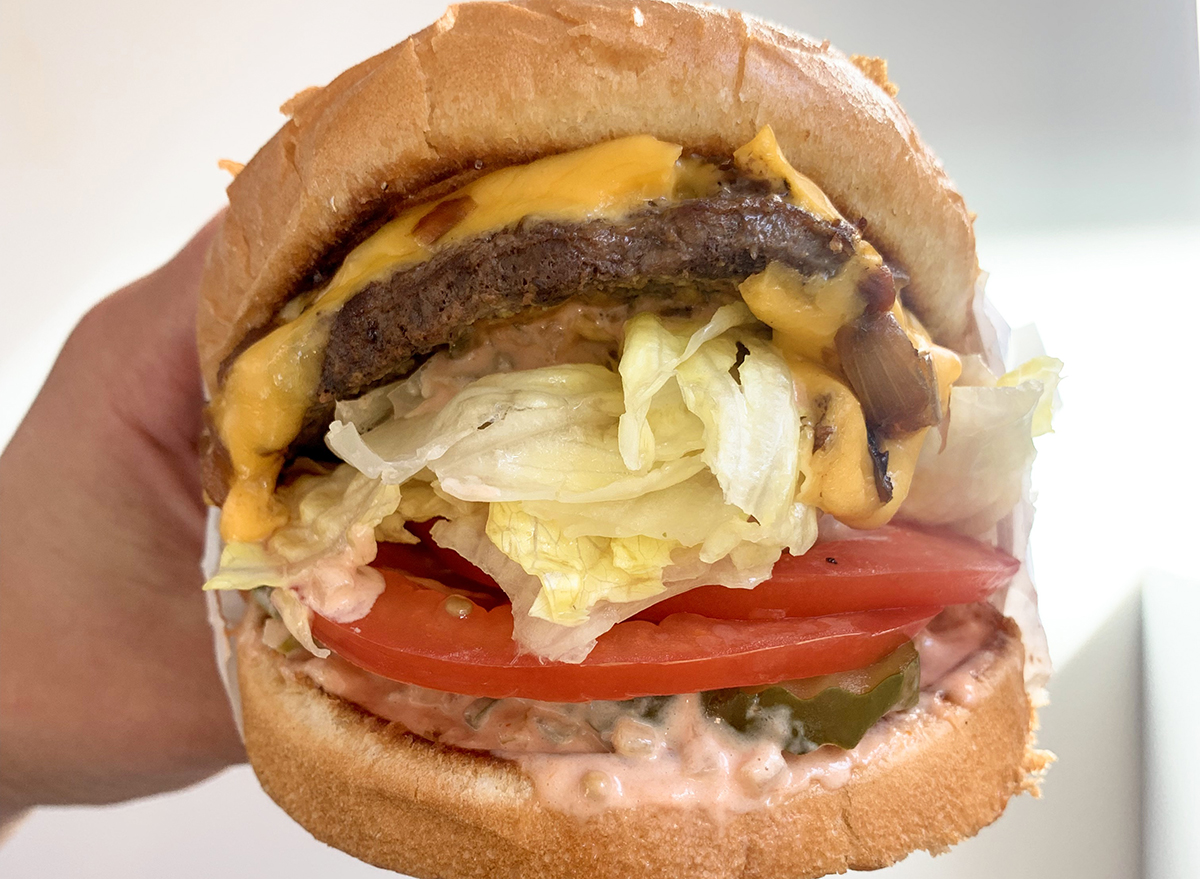 One of the most legendary fast-food burgers out there, the animal-style burger is a monster mash of a grilled beef patty, extra spread (Thousand Island dressing), grilled onions, pickles, lettuce, and tomato. Once part of the chain's secret menu, the mouthwatering offering is now public knowledge.
Church's Chicken Two-Piece Mixed Combo
Church's Chicken's two-piece chicken meal comes with two pieces of chicken, a biscuit, and a side dish. The side dish menu includes Southern classics like fried okra, in addition to fast-food classics like fries.
Mrs. Fields Chocolate Chip Cookies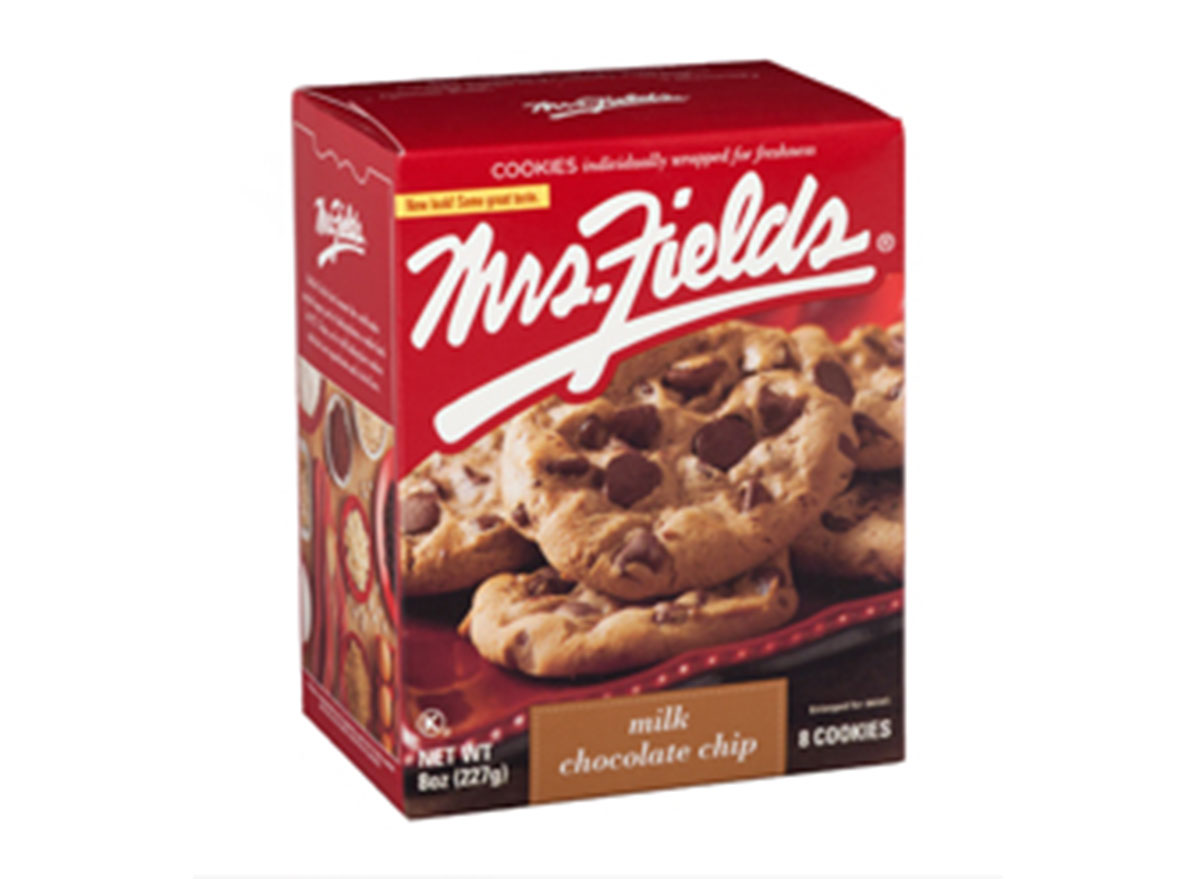 Nowadays, Mrs. Fields is more known for its baking mixes, cookie dough, and online ordering options than for its fresh cookie stands. But there are still a number of locations across the country serving up fresh-baked chocolate chip cookies and mini-sized "nibblers."
Jersey Mike's Famous Philly Cheese Steak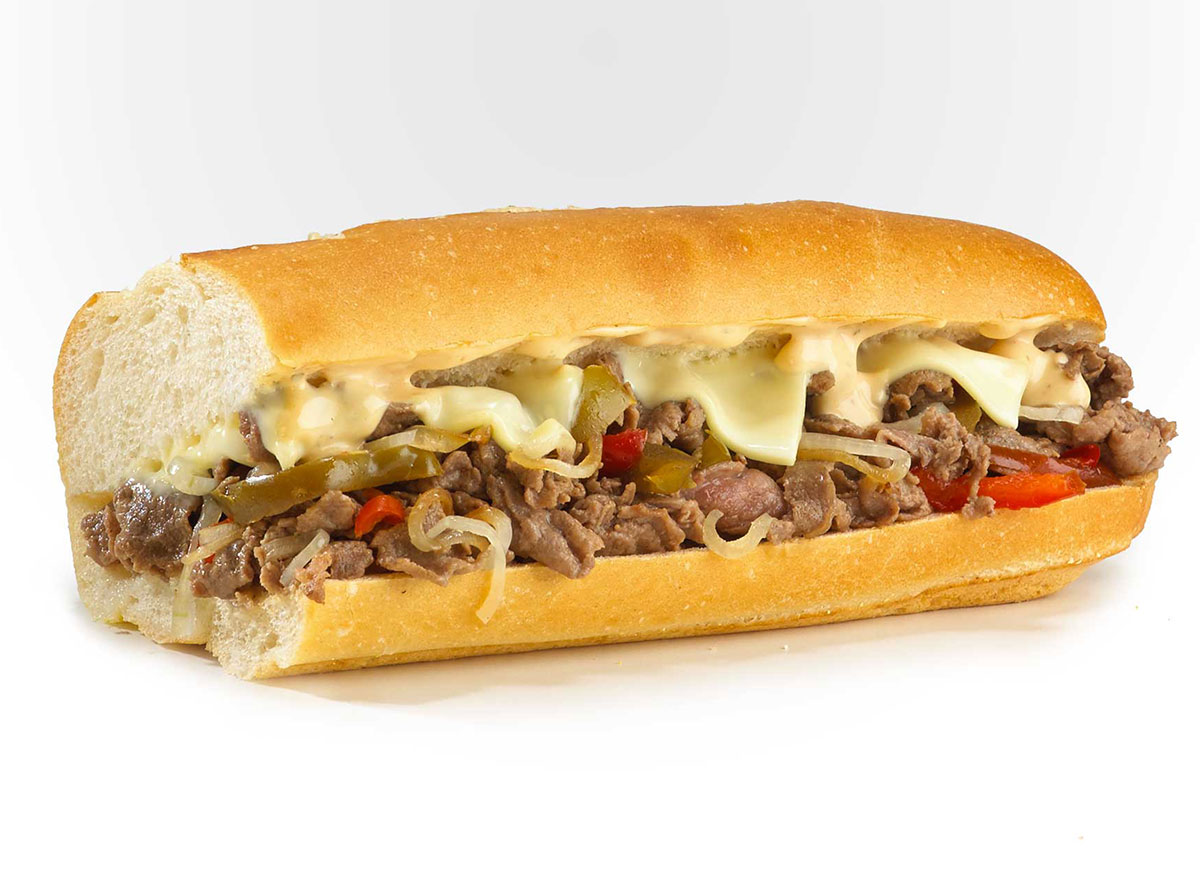 This sub shop first stepped into the salty New Jersey shores in 1987. One of the subs that helped cement their sandwich success is their take on the Philly cheesesteak. Loaded with thinly sliced steak, grilled onions, peppers, and white American cheese, it's a taste of Jersey pride.
Carl's Jr. Famous Star With Cheese
Playing off the chain's logo, its signature burger is called the Famous Star. It comes loaded with special sauce, mayo, onions, tomato, lettuce, and pickles.
Cold Stone Creamery Founder's Favorite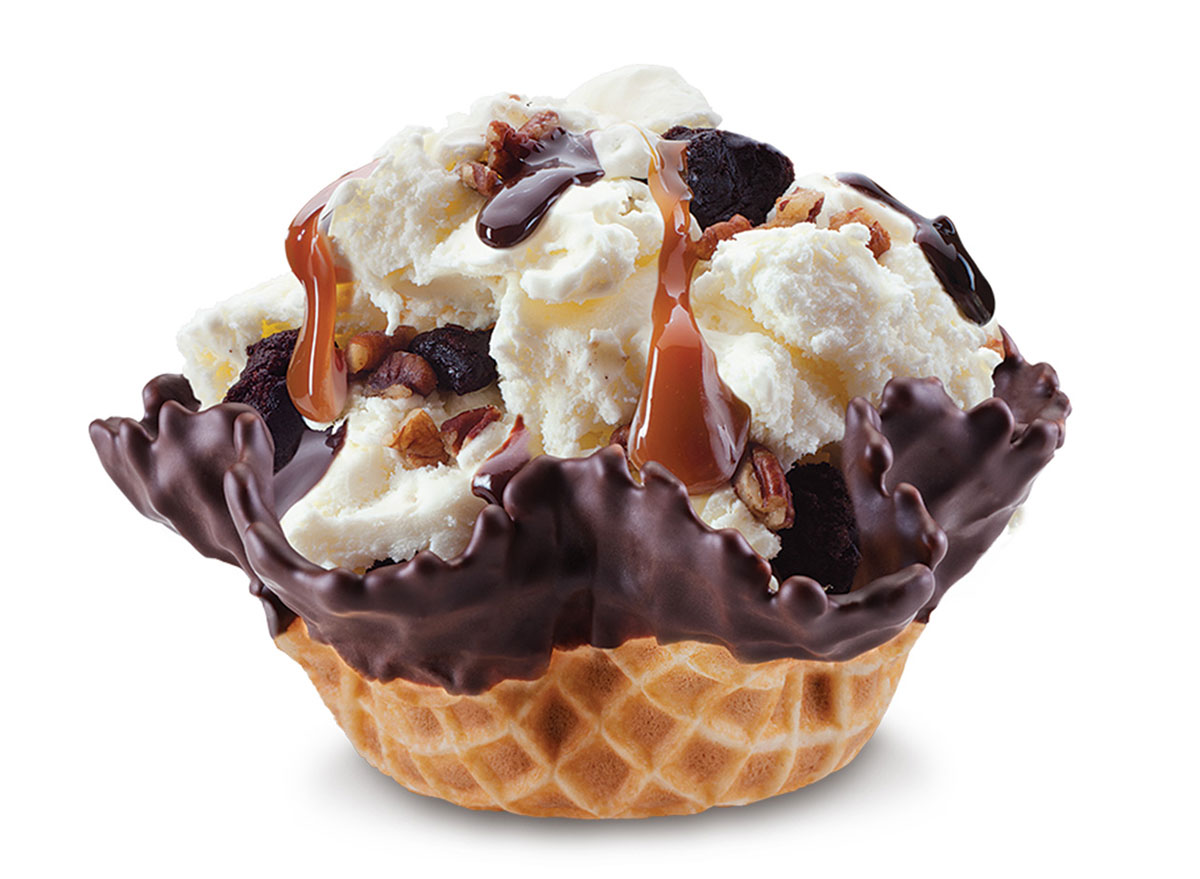 This is Cold Stone's closest option to a classic hot fudge sundae. Made with sweet cream ice cream, brownies, pecans, caramel sauce, and fudge, this treat will satisfy any sweet tooth.
A&W Root Beer Float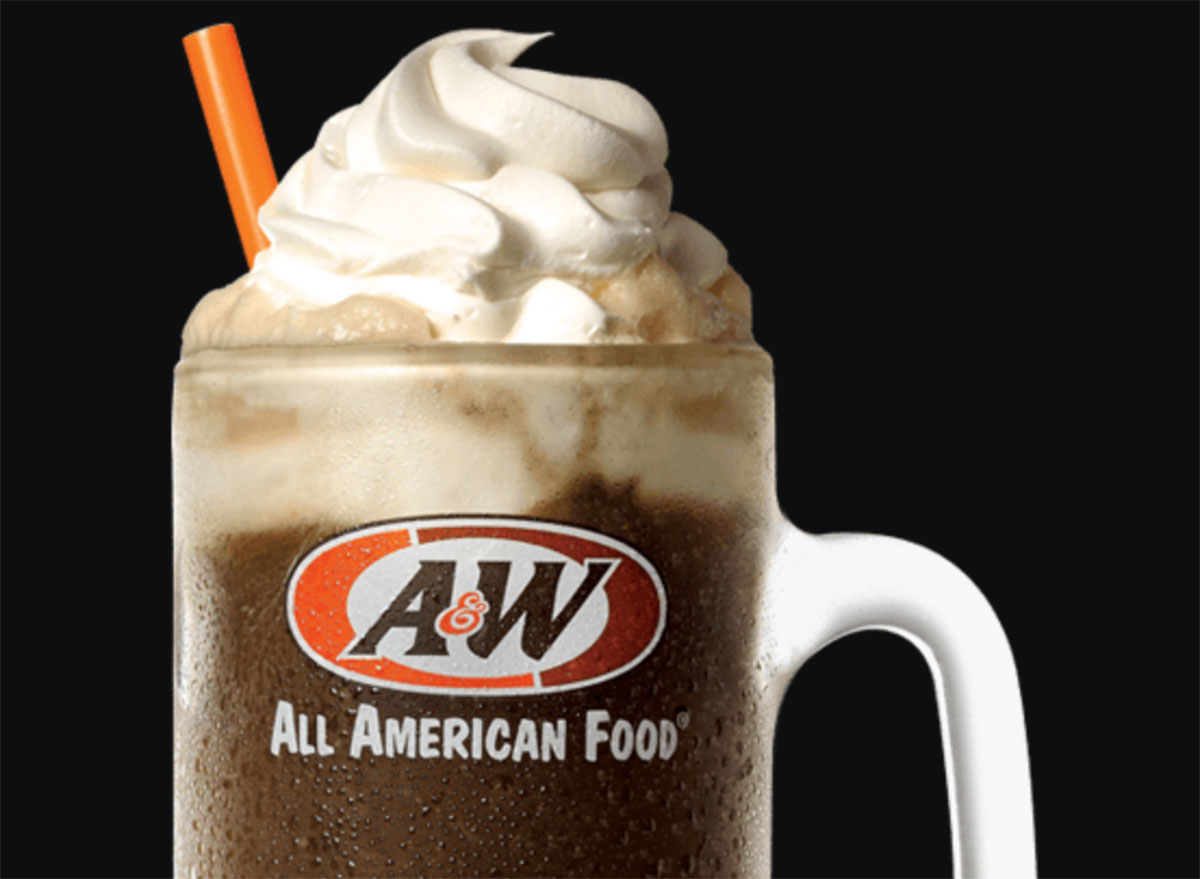 Root beer is A&W's calling card, and you can't go wrong with a root beer float from the fast-food chain. Pair it with a burger and some cheese curds, and you've got a distinctly American meal.
Jimmy John's J.J. Gargantuan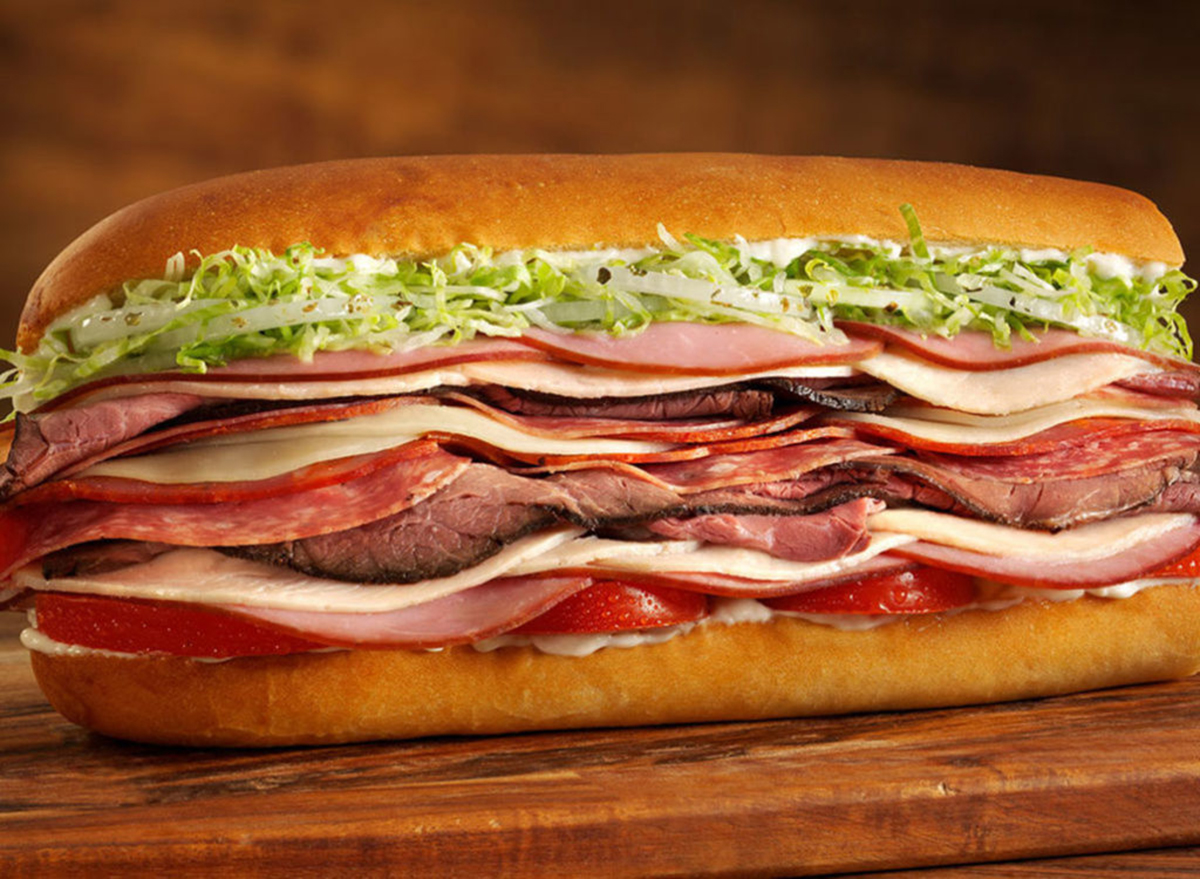 When you want a massive sandwich, you need this tall order from Jimmy John's. Loaded with five types of meat, this meal will satisfy any carnivore.
Five Guys Cheeseburger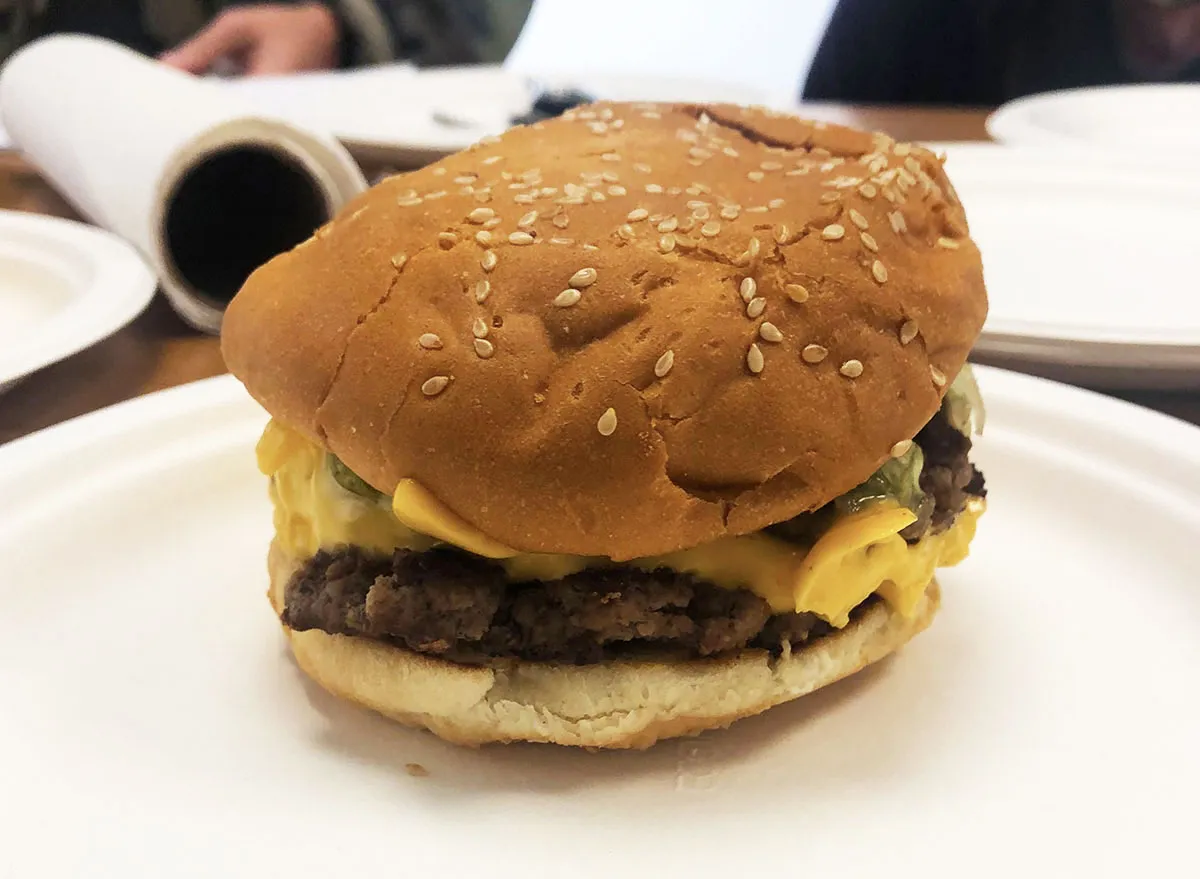 Five Guys first bursts out of the Washington, D.C. area in 2003, and since then, its cheeseburgers have become extremely popular. The cheeseburger is unassuming—two slices of American cheese with two grilled freshly-ground beef patties on a toasted bun.
The best part of Five Guys, though, is the many toppings—and the fact that they're all free. Some options include grilled onions, grilled mushrooms, relish, jalapeños, green peppers, barbecue sauce, hot sauce, and A1 sauce.
Hardee's Frisco Burger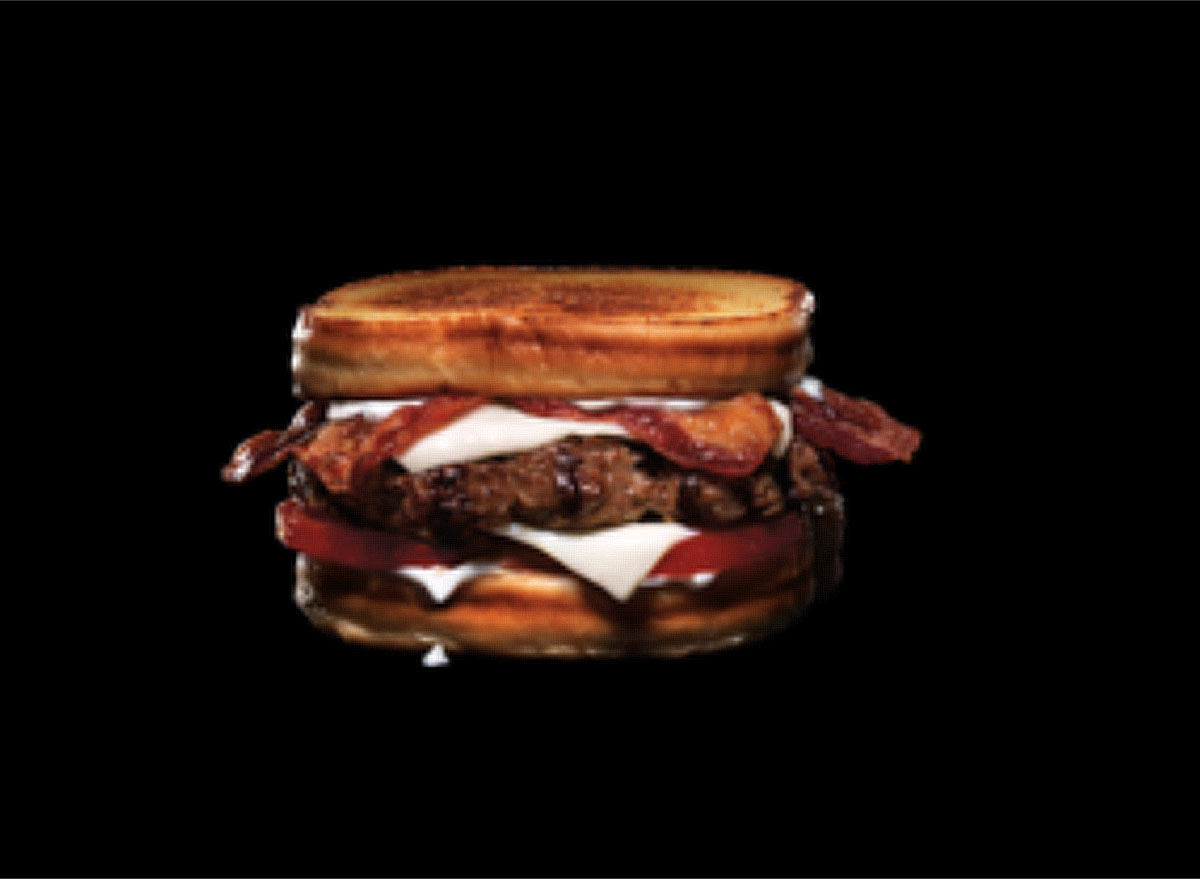 This monstrous burger is served on slices of buttered and grilled sourdough bread with bacon, Swiss cheese, tomato, and an onion-flavored mayonnaise. It became an instant classic after hitting the menu in the 90s. It retired for a short period in 2003, but it was brought back due to high public anxiety in 2005 as the Frisco Thickburger.
Jack in the Box Tacos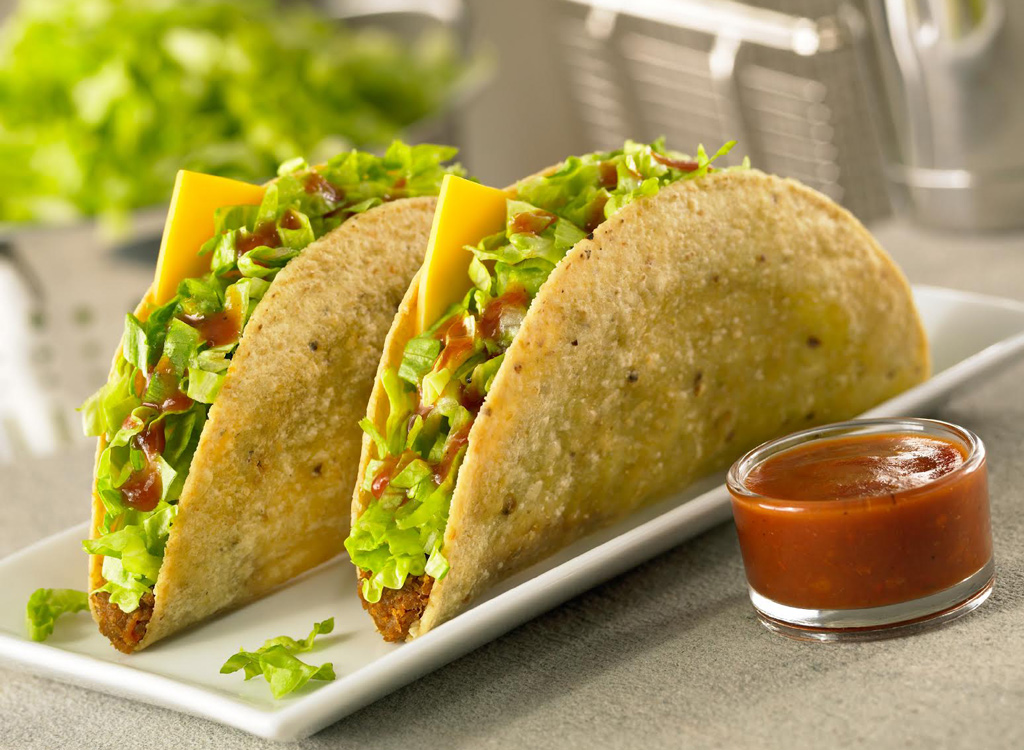 No joke: 554 million tacos from Jack in the Box are reportedly eaten every year. Their mass appeal largely comes from the tacos being deep-fried before lettuce and American cheese are added.
Boston Market Rotisserie Chicken
Sure, you can go to the supermarket and pick up a rotisserie chicken. But you can also head to Boston Market and get that chicken with some freshly made, homestyle sides.
"The best-selling dish on the Boston Market menu is—without question – its farm-fresh, never frozen, all-natural rotisserie chicken," a Boston Market rep told EatThis.com. "They're so popular, in fact, that Boston Market sells more than 21 million whole rotisserie chickens featuring a total of 530,000 pounds of seasoning each year!"
Long John Silver's Catch of the Day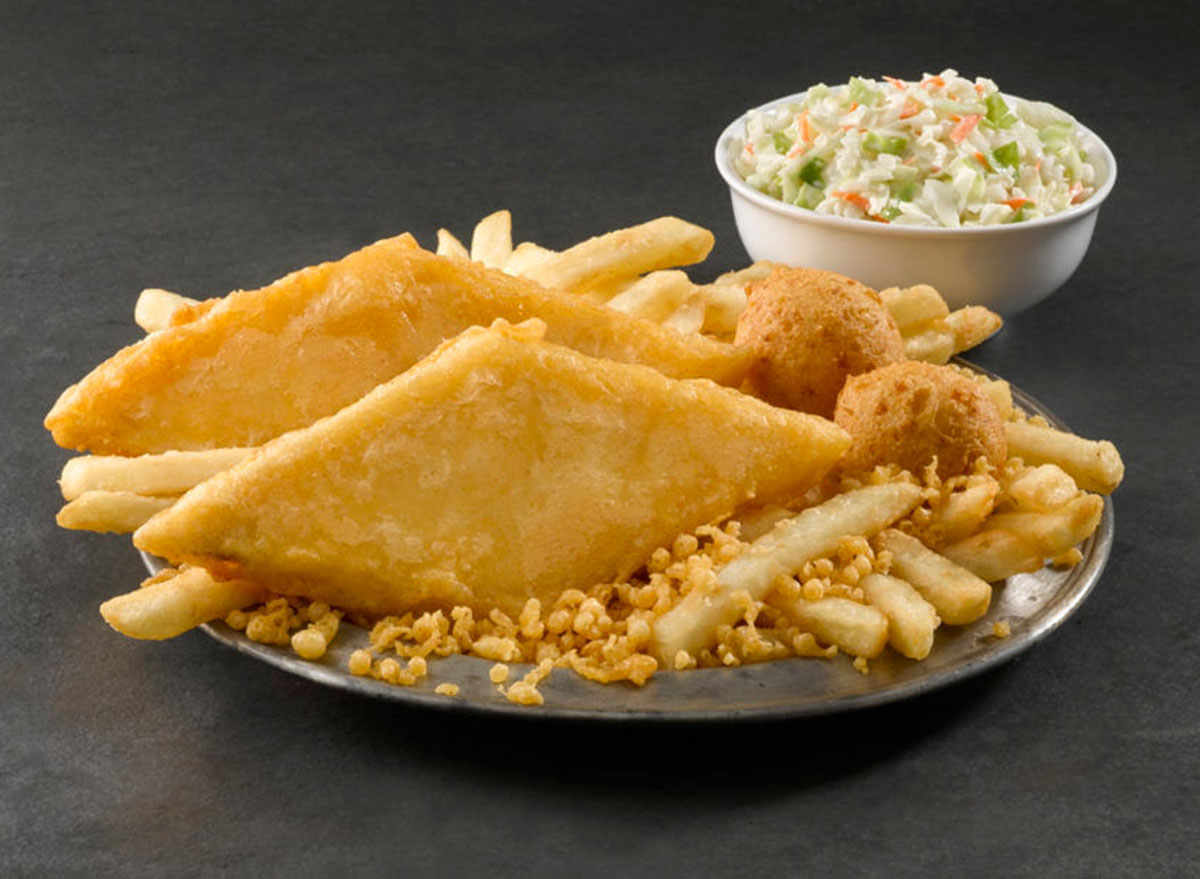 Thanks to Long John Silver's, fast-food seafood is officially a thing. The catch of the day features two pieces of fried fish, two side dishes, and two hushpuppies.
Quiznos Spicy Monterey Sandwich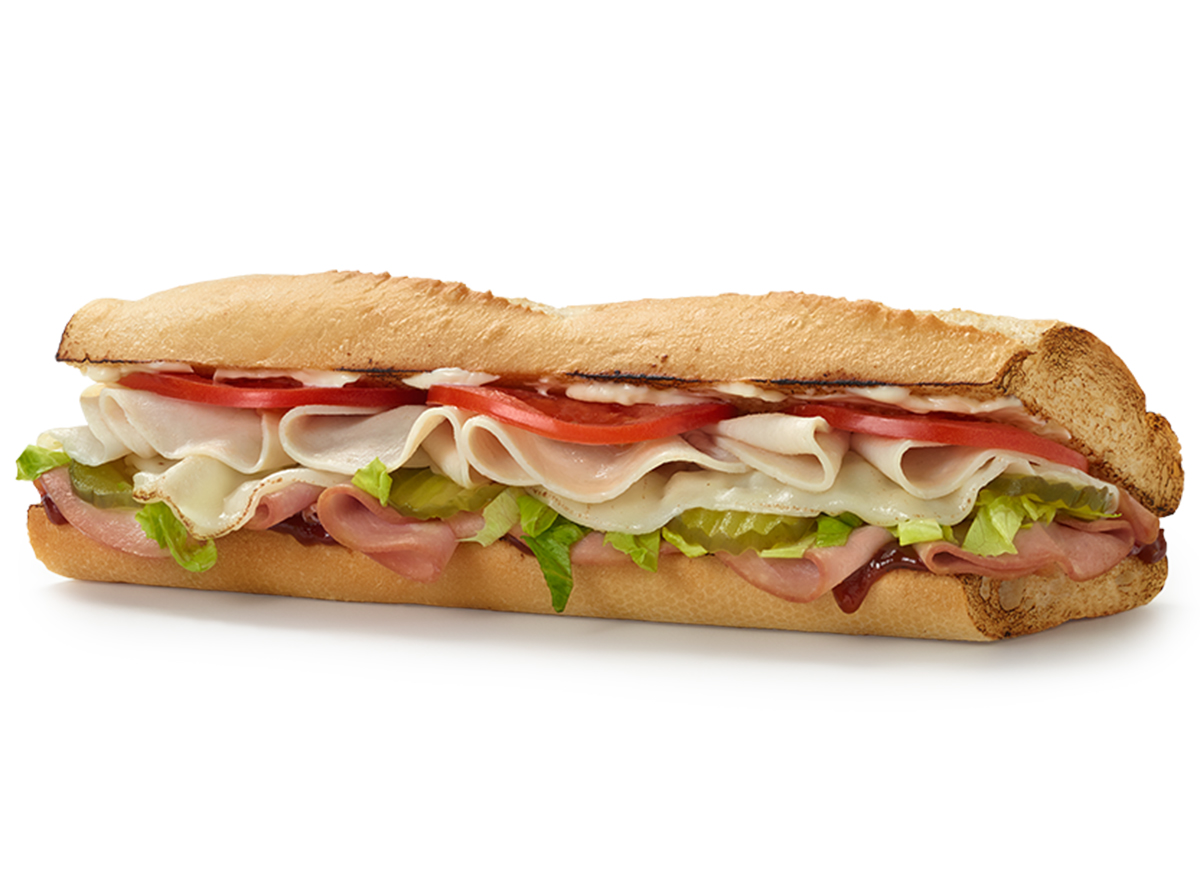 The Spicy Monterey comes with turkey and ham, along with a four-pepper sauce. But if we're being honest, the best part of a Quiznos visit is the trip to the pepper bar, where you can load up your sandwich with fresh peppers to your heart's content.
Chipotle Burrito Bowls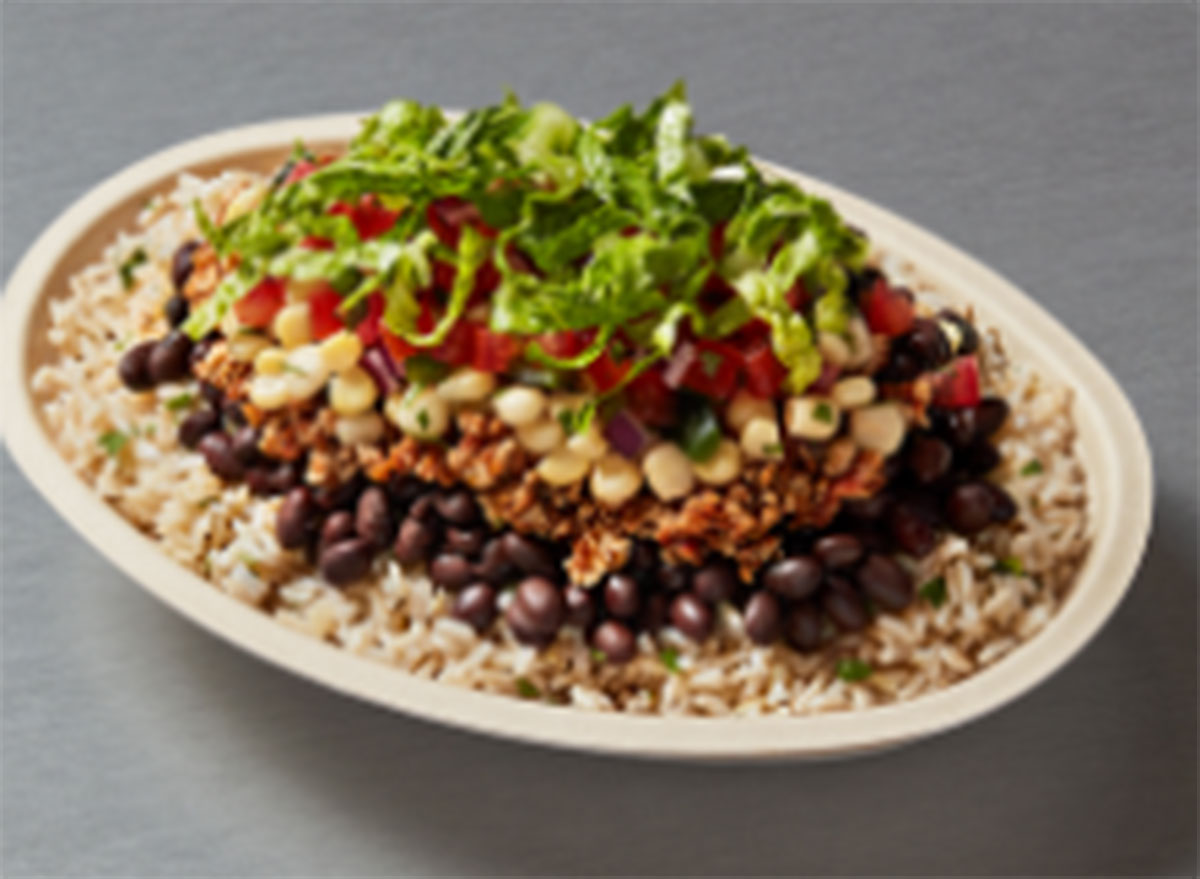 In 1993, Chipotle debuted a tortilla-less version of its popular burritos. Fortunately for the Mexican fast food joint, removing the tortilla didn't affect the heartiness and savory flavors of the dish. Now, many Mexican fast-food joints offer tacos and burrito bowls on their menus, too.
Panda Express Orange Chicken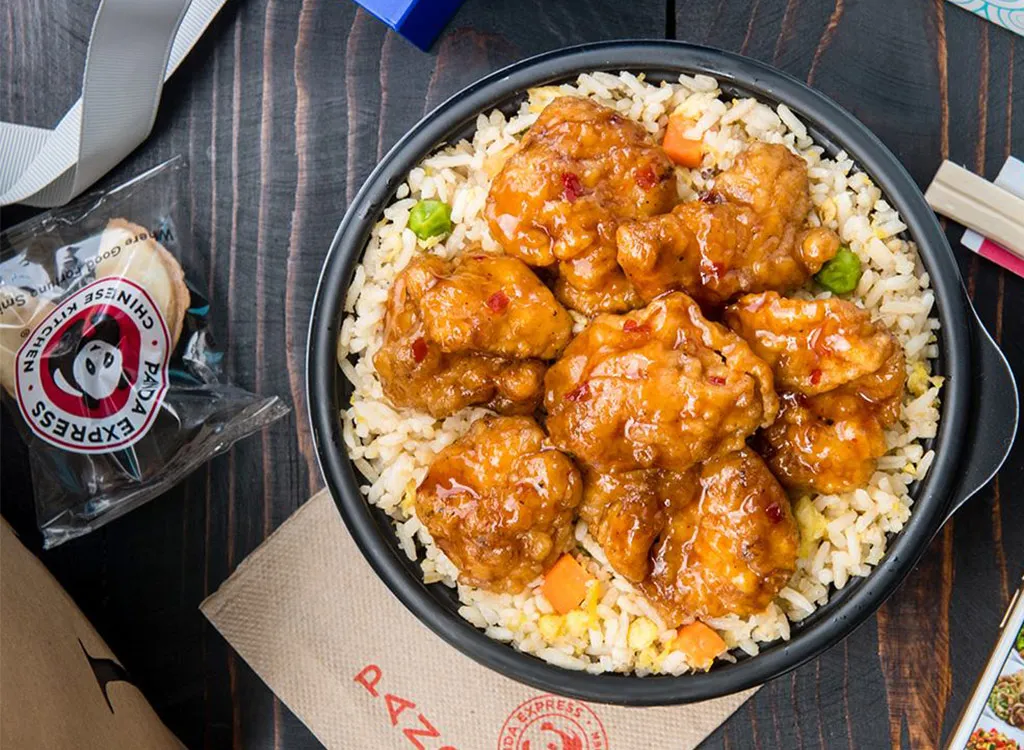 Like General Tso's chicken and chicken chow mein, Panda Express's orange chicken is a totally American dish that has conquered the palates of fast-food diners. Created in 1987 by a Panda Express chef in Hawaii, the chicken is fried and has a lip-smacking sweet and sour sauce that keeps 70 million pounds of the dish going out the door every year.
Cinnabon Classic Roll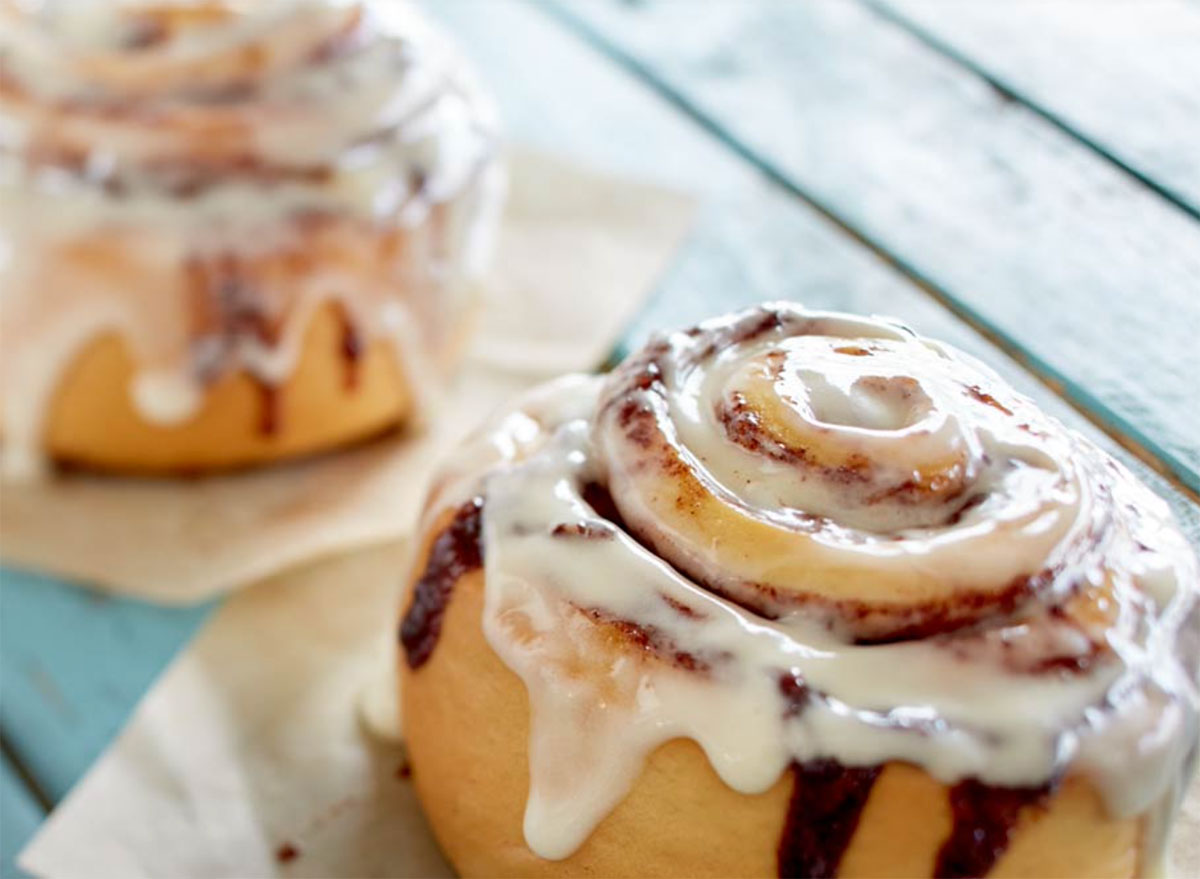 The prized treat of airports, suburban shopping malls, and Times Square, Cinnabon will hit you with its sweet aroma will hit you before you even see the store. You can't go wrong with the original cinnamon roll, but the chain also offers smaller treats like the MiniBon and BonBites.
Panera Bread Bowl
It's hard to improve on a perfect bowl of soup, but Panera found a way to do it. Instead of eating your soup from a bowl, you can eat it from a hunk of carved-out bread—and eat the bread when you're done, too. Genius.
Dunkin' Munchkins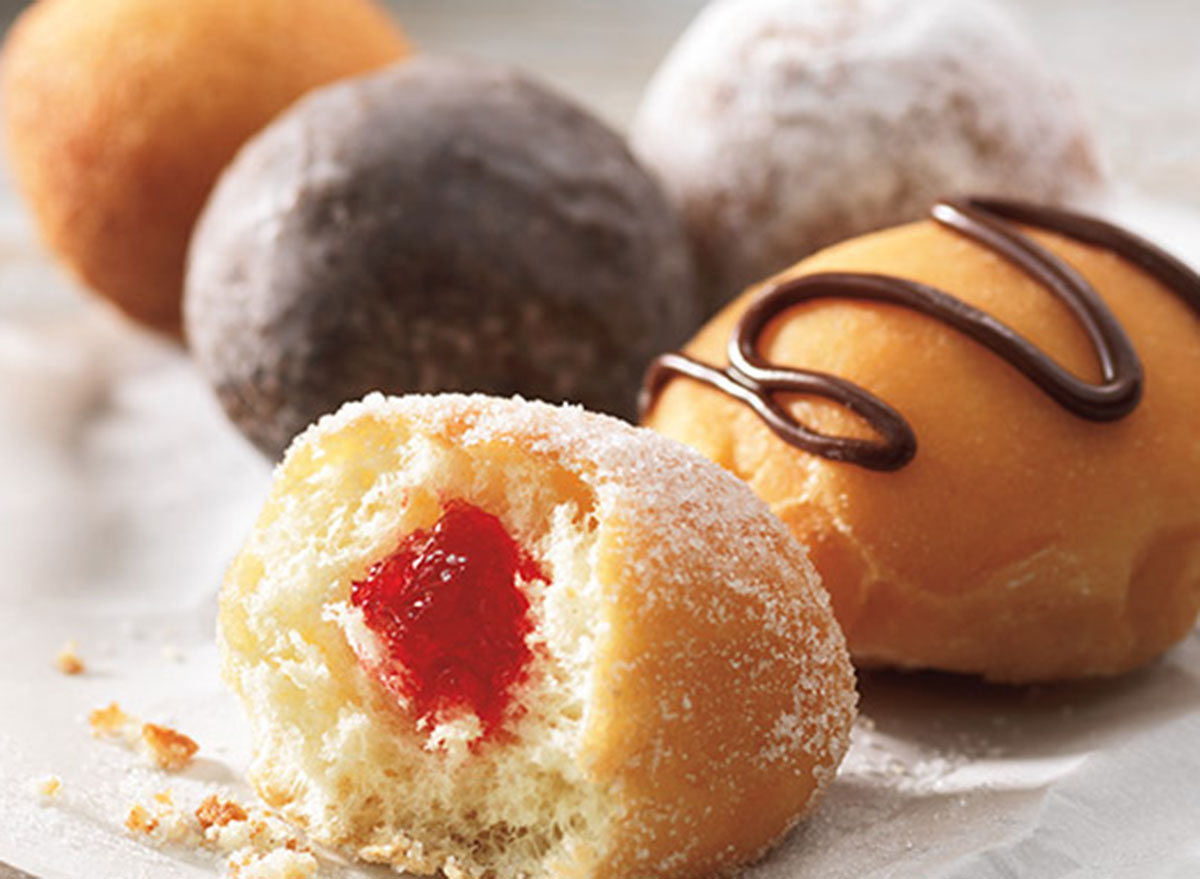 For those who always wondered what happened to the inner portion of doughnuts, Dunkin' brought Munchkin donut holes to market in the '70s. They are still on Dunkin's menu today and come in five varieties: glazed, powdered, glazed chocolate, jelly, and glazed blueberry cake. There are also seasonal Munchkin options, including pumpkin and apple cider options.
Baskin-Robbins Polar Pizza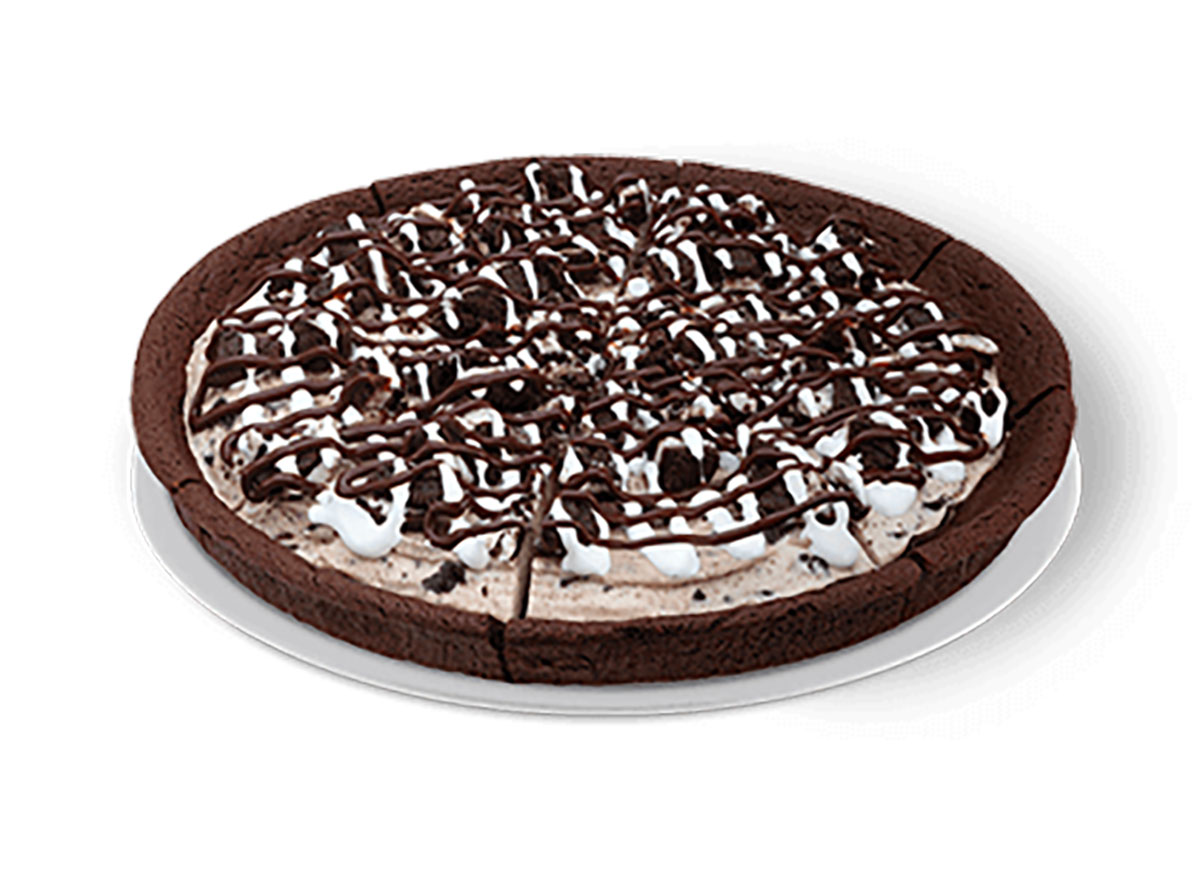 Why eat a scoop of ice cream when you can have a slice of it? Thanks to Baskin-Robbins' polar pizza, you can have the fun of a baked treat and a cold ice cream scoop in one sitting.
White Castle Original Slider
Arguably the granddaddy of all American fast food, White Castle was founded in 1921 and is widely recognized as making the hamburger popular across the world. The original slider—a two-by-two-inch steamed beef patty with chopped onions and a pickle—is addictive. We bet you can't have just one.
Sonic Cherry Limeade Slush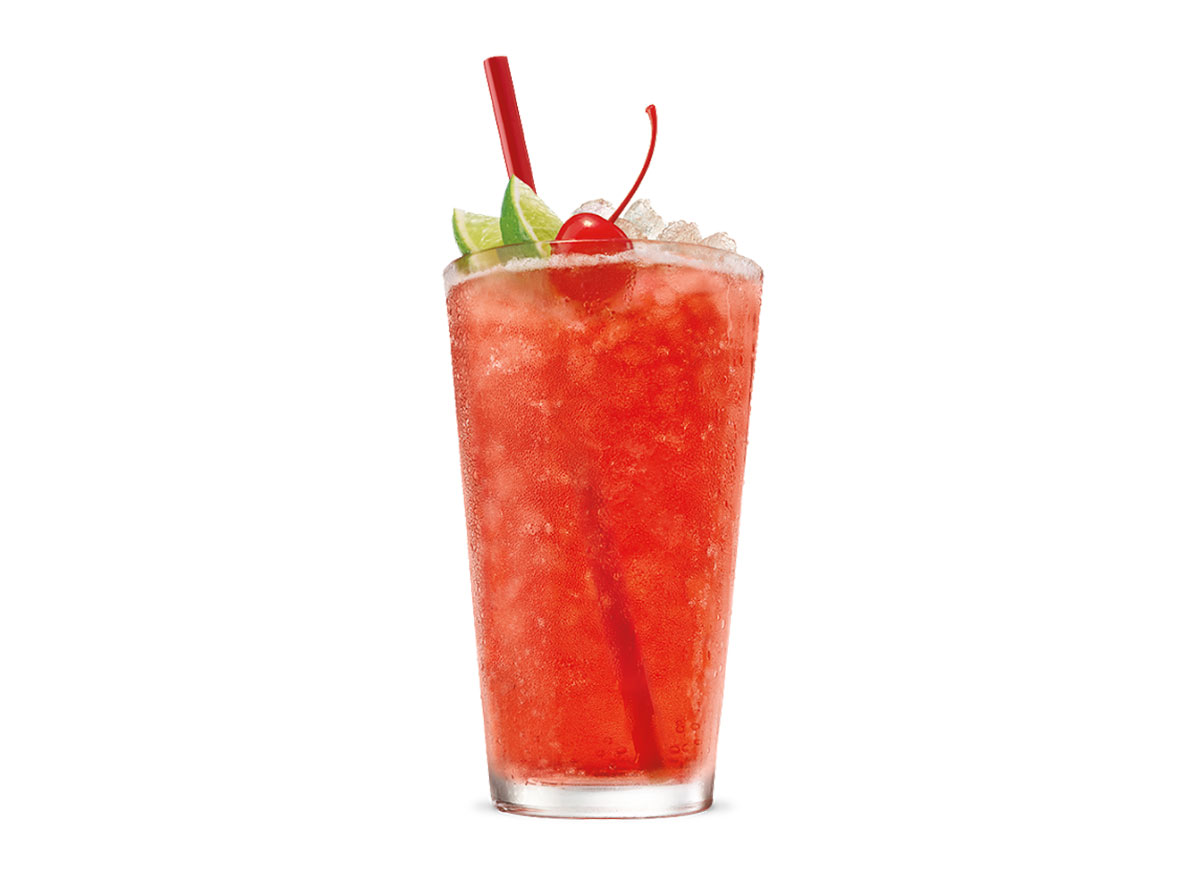 Sure, every fast-food restaurant has a fountain soda machine. But not all of them have the crushed ice and slushy drinks that Sonic is so well-known for. Pair one with a corn dog and you've got a perfect meal.
Krispy Kreme's Original Glazed Donut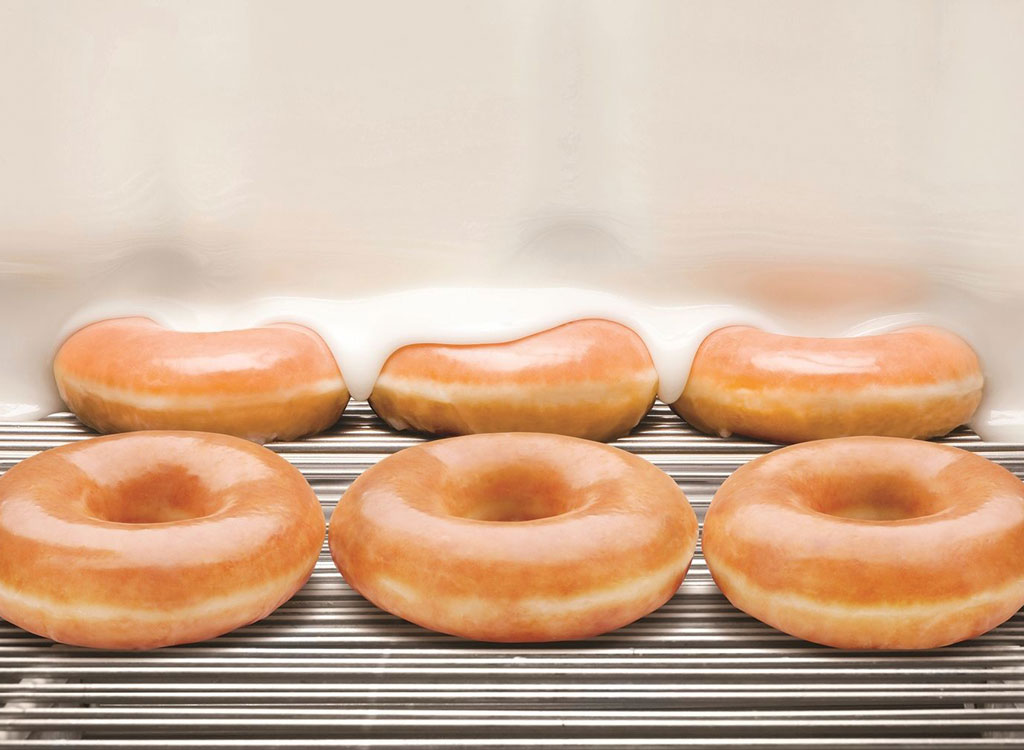 This North Carolina-based donut shop is now an international chain. The melt-in-your-mouth glazed donut is simple but incredibly delicious. Just be sure to pick them up when the neon sign lets you know that they are hot and fresh off the line.
Papa John's The Works Pizza
Along with pepperoni, The Works is one of the most popular pizza orders at Papa John's. Loaded with three types of meat and four kinds of vegetables, this is the perfect pizza for topping lovers who want it all.6254a4d1642c605c54bf1cab17d50f1e
Chick-Fil-A's Waffle Fries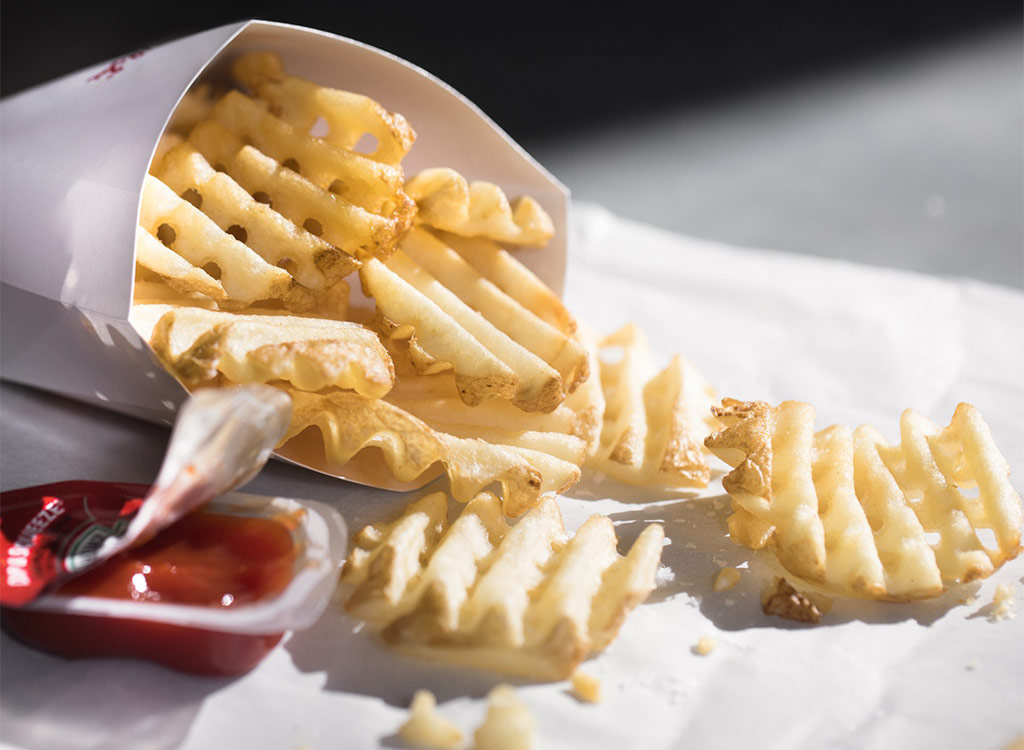 Although McDonald's boasts some of the most iconic fries in the industry, when Chick-Fil-A started offering their thick and crispy waffle fries in 1985, customers went crazy for them. The unique waffle shape allowed for more ketchup to get into the fries—and into your mouth.
Subway's Footlong Sandwich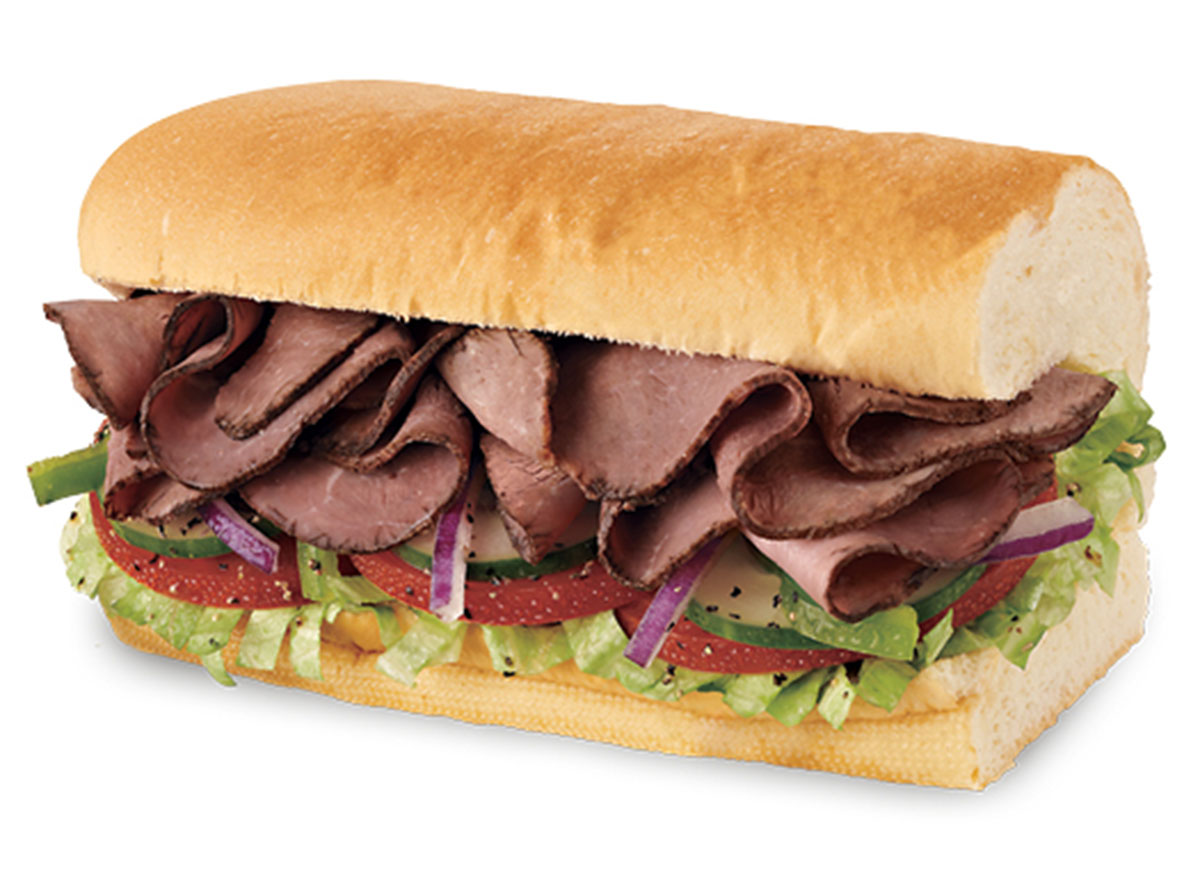 Subway's footlong sandwiches aren't $5 anymore, but anyone who grew up in the 2000s will probably remember the "$5 footlong" jingle. Whatever the price, this giant sandwich is still a pretty good deal, especially if you're sharing with a friend.
Arby's Classic Roast Beef
This not-so-modest sandwich—a pile of hot, thinly sliced roast beef on a toasted sesame seed bun—was one of the few items on Arby's first menu in 1964. This classic sandwich was the inspiration behind the joint's other roast beef options, including a gyro and French dip version.
Little Caesars Hot-N-Ready Pizza
Mimicking the ease of buying pizza in big cities, Little Caesars introduced the Hot-N-Ready concept in 2004. You can simply go into any Little Caesars location and get a large pepperoni pizza for $5. The idea became so successful that the company has now begun to focus more on carryout versus delivery.
McDonald's Big Mac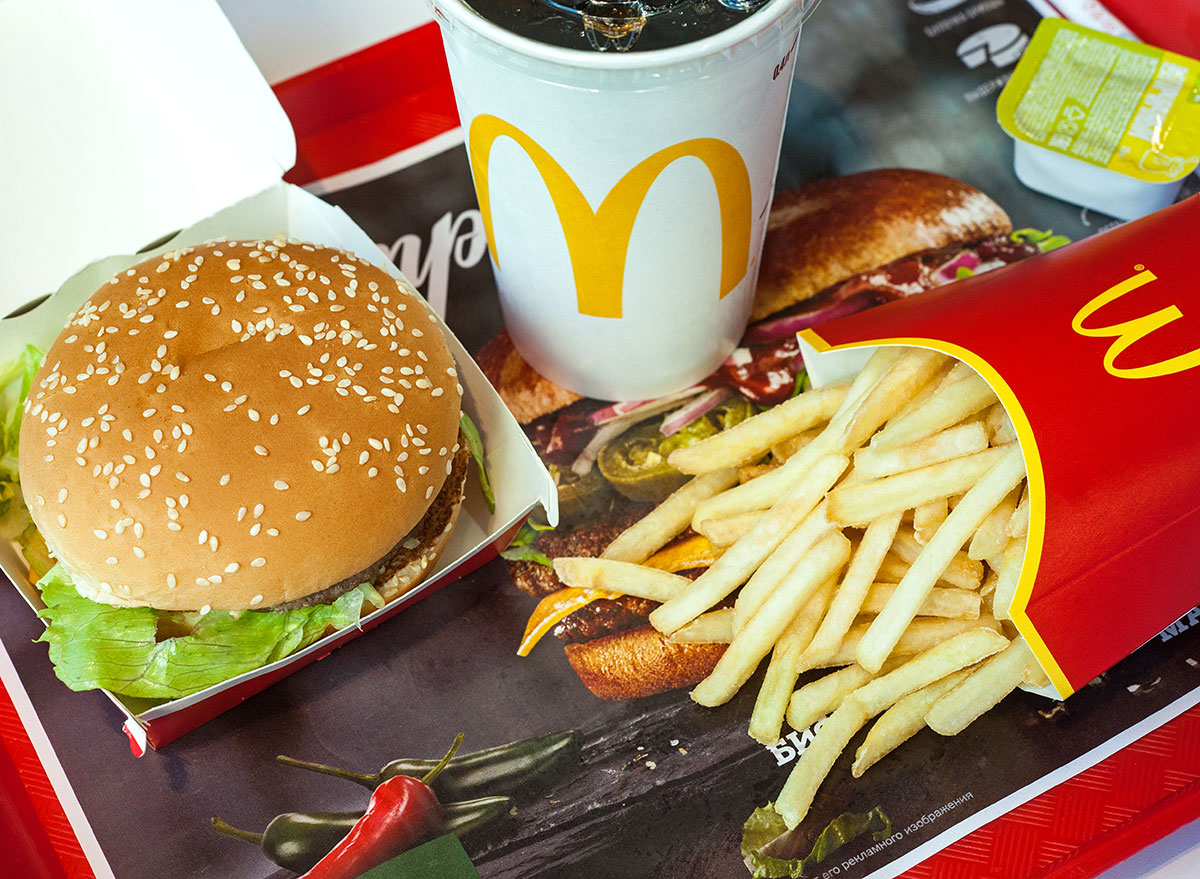 Probably one of the most recognizable burgers on the planet, this double burger has been around since the '60s. Most kids born in the 1970s can still recite the lyrics from the commercial jingle: "Two all-beef patties, special sauce, lettuce, cheese, pickles, onions on a sesame seed bun!" But the sheer size of this decadent fast-food dish isn't the only thing that made it a permanent menu item at the Golden Arches; the special sauce is what keeps people coming back for more.
Popeyes Chicken Sandwich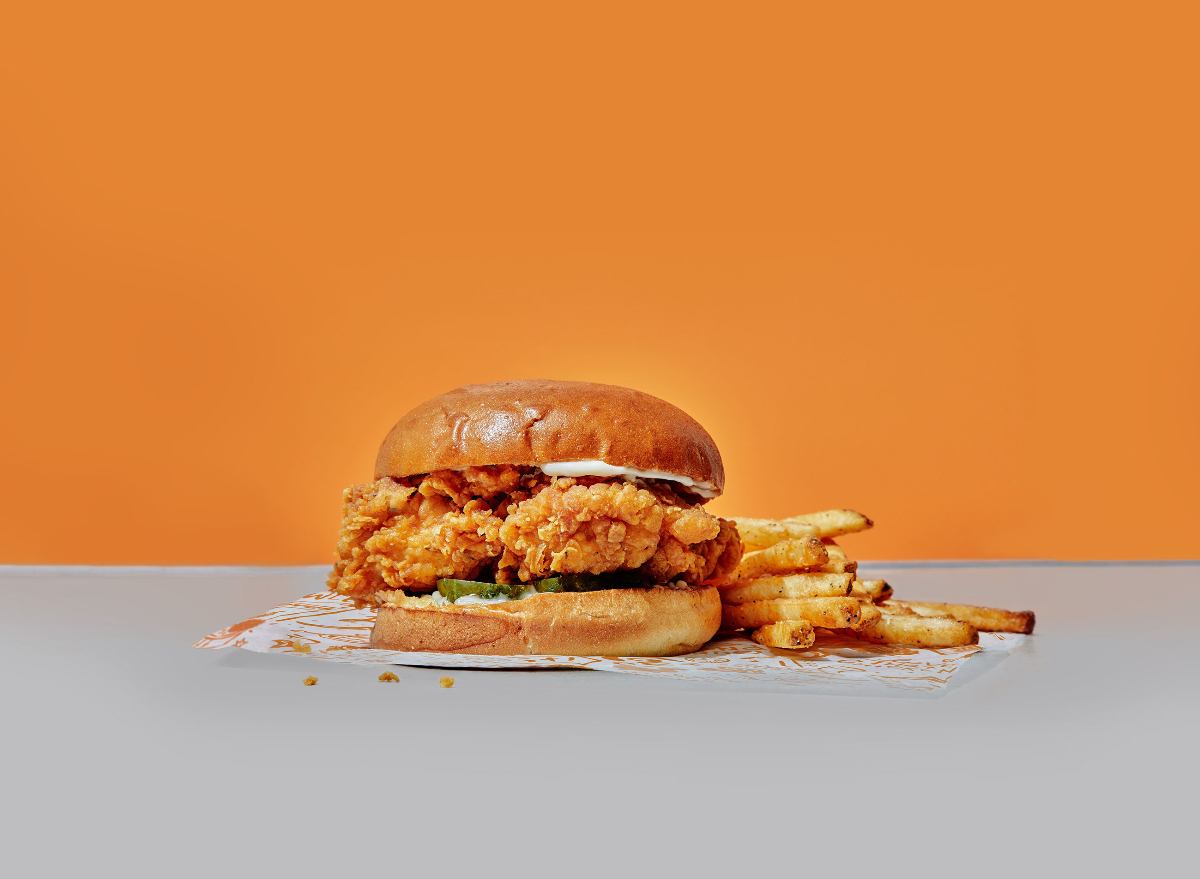 The Popeyes chicken sandwich sold out not long after it hit stores. But it generated countless memes and tweets, bringing the country into a national discussion about what the best fast-food chicken sandwich is. You can still get fried chicken at Popeyes, of course—just not in sandwich form.
Dairy Queen Blizzards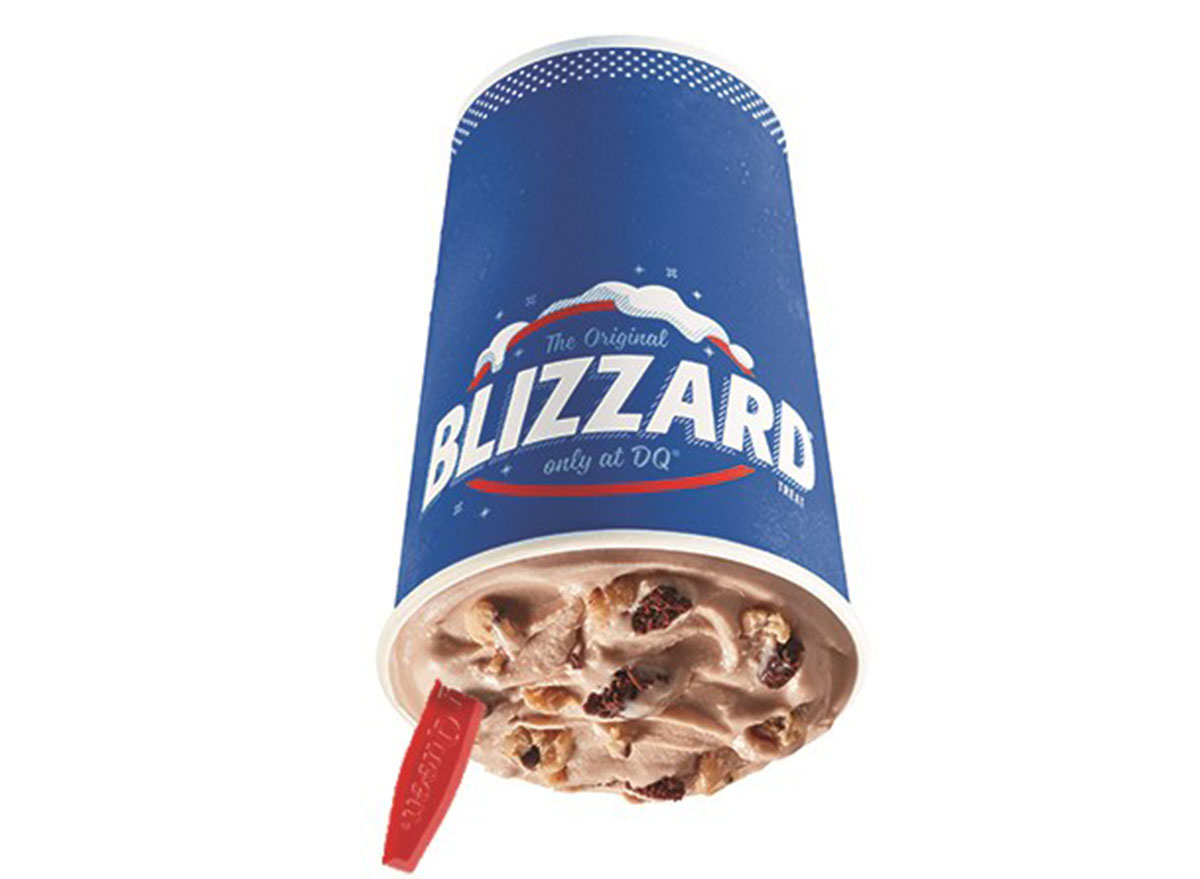 The Blizzard is an ice cream treat that's so classic it even has a special test. Twisting the frozen treat upside-down with the spoon in it tests how dense the ice cream actually is. If the ice cream flops over, Dairy Queen will make you a new one on the spot. There are always seasonal blizzards for fans to take advantage of, too. Here are some Dairy Queen Blizzards That Won't Derail Your Weight Loss Plan
Starbucks Pumpkin Spice Latte
Starbucks has countless options on its drink menu, but none have reached the cult status of the PSL. As soon as the end of August rolls around, fans will start drinking the pumpkin-themed treat, no matter what temperature it is outside.
Taco Bell Soft Tacos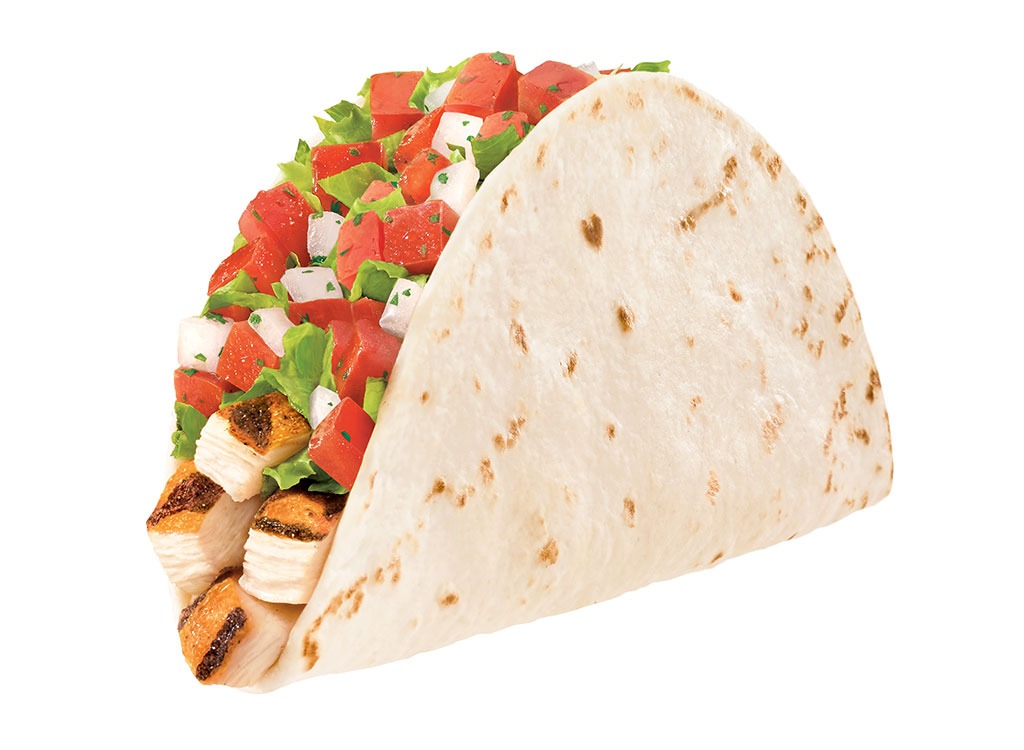 So many of Taco Bell's menu items have become iconic, but the soft tacos deserve a mention. These warm lunchtime tacos come in a variety of options, including bean-based tacos for vegetarians. The chain also has a full customization menu that lets you pick from dozens of upgrades to the standard soft taco, including additions like onions or sour cream.
Pizza Hut Meat Lovers Pizza
Aside from the chain's stuffed crusts, the Meat Lovers pie, which is loaded with pepperoni, Italian sausage, ham, bacon, pork, and beef, is probably Pizza Hut's most legendary creation. It's become so iconic that other chains have tried to replicate it. But the name is seared in grease for Pizza Hut lovers.
Burger King Whopper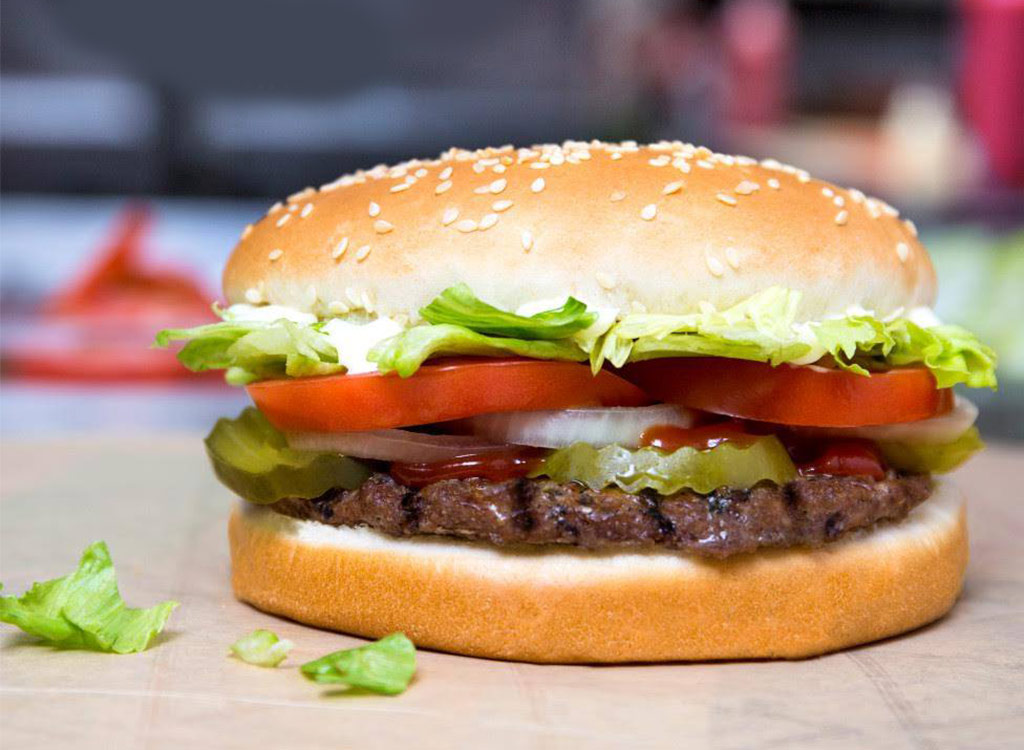 Considered one of the most groundbreaking burgers, the Whopper is a flame-grilled masterpiece that's more than 60 years old. Today, it's offered in special variations depending on the season, and there's even the plant-based Impossible Whopper. But the original Whopper is simple: The wide, four-ounce patty is topped with mayonnaise, lettuce, tomato, pickles, ketchup, and sliced onion on a sesame seed bun.
Wendy's Frosty
The second-most-famous restaurant in the United States, Wendy's is known as much for its Frosty as it is for its burgers. This iconic dessert was on the menu at the first-ever Wendy's restaurant in 1969. The first and only flavor of the frozen treat at the time was actually a combo of chocolate and vanilla ice cream. Founder Dave Thomas thought that a pure chocolate flavor would be too overwhelming and would blunt the taste of Wendy's burgers.
Domino's Pepperoni Pizza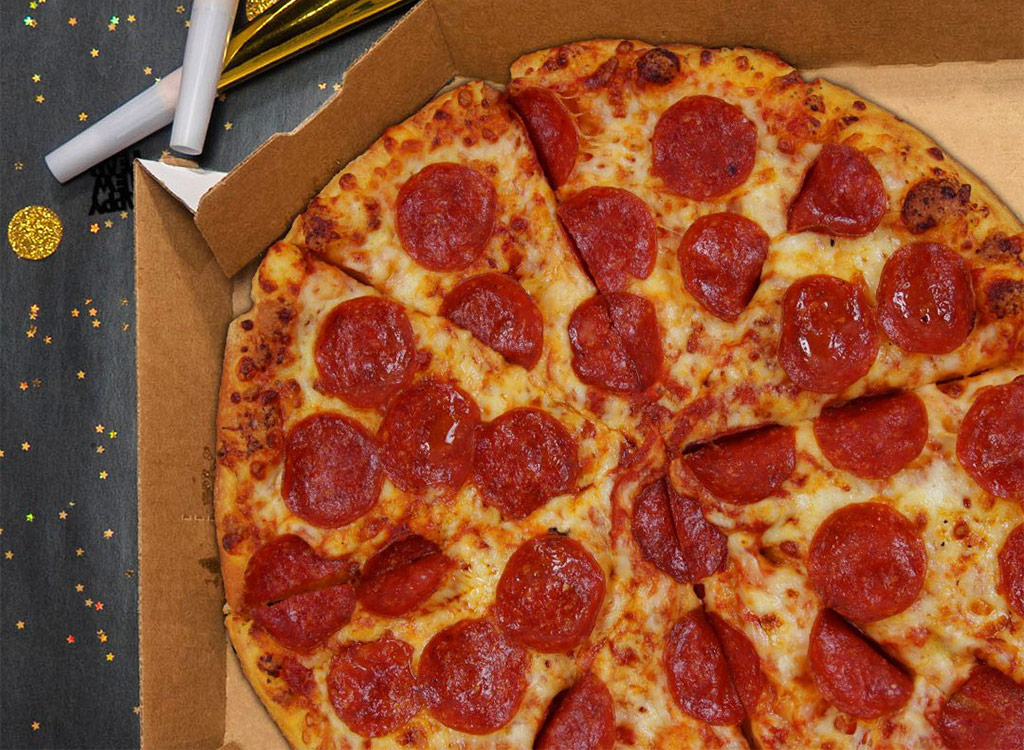 Domino's is the gold standard for hot and delicious delivery pizza. Its pepperoni pizza, the most popular item on the menu, has been a staple at kids' birthday parties and movie nights at home for decades.
KFC Original Recipe Fried Chicken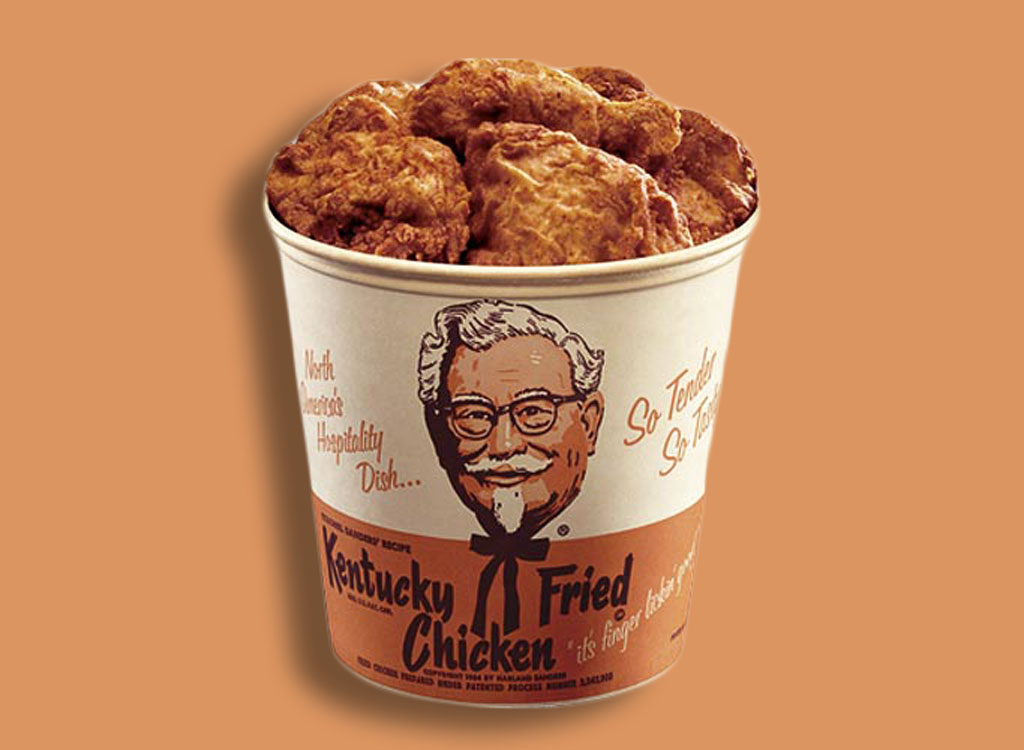 Although there is arguably better-tasting fried chicken out there, KFC's original fried chicken is still a tough bird to beat. Its supremely crispy crust spiked with savory spices and juicy meat is mighty tasty. The chain made fried chicken a worldwide staple after it spread across the globe in the '60s.
Now that you know the most classic fast-food restaurants in the country, you can start checking off all the ones you've visited!