The Best Protein Powders You Can Buy at Target
There's one for every health goal.
Protein powder is one of the most popular nutritional supplements, so it's no surprise that there's a seemingly endless—and overwhelming—number of options out there, especially at chain stores like Target. When you're shopping the Target protein powder options, how can you tell which ones are the best?
Different types of protein powders are aimed at addressing a variety of health issues, including digestion, energy, muscle growth, bone health, strength, and immune system health. So choosing the right one can depend on what you're looking for, besides just meeting your daily protein needs.
Target has a robust protein powders section and, at first glance, the sheer number of options is overwhelming. To help us narrow it down, we spoke with Maryann Walsh, registered dietitian and owner of Walsh Nutrition Consulting. Here are her top recommendations for the 6 best Target protein powders and why each option is worth your money.
Optimum Nutrition Whey Isolate Protein Powder
Per scoop of Chocolate
: 130 calories, 1 g fat, 130 mg sodium, 4 g carbs (1 g fiber, 1 g sugar), 25 g protein
This protein powder is ideal if you don't consume gluten and are looking for an option that aids muscle growth. One serving of Optimum Nutrition Whey Protein Isolate provides 25 grams of protein and contains only 130 calories and one gram of sugar.6254a4d1642c605c54bf1cab17d50f1e
"Whey Protein Isolate is a more premium version of whey protein, as it has more of the fat and carbohydrates filtered out," Walsh explains. "This is a well-known, go-to protein powder in the fitness community for those seeking a protein powder that tastes great and will help nurture muscle growth."
Amazing Grass Organic Vegan Protein & Kale Powder
Per scoop of Smooth Chocolate
: 150 calories, 2.5 g fat (0.5 g saturated fat, 0 g trans fat), 390 mg sodium, 11 g carbs (3 g fiber, 5 g sugar), 20 g protein
Walsh recommends this powder for those who are seeking the added benefit of green leafy veggies like kale and wheatgrass. This powder packs in 20 grams of protein. Another benefit? It's tastier than other powders on the market.
"[It] may provide a better taste profile for many who don't favor the taste of lower sugar powders, given it has just five grams of organic cane sugar—just enough to sweeten up the flavor, also eliminating the need for artificial sweeteners," Walsh says.
ThinkThin Protein & Probiotics Vegan Plant Powder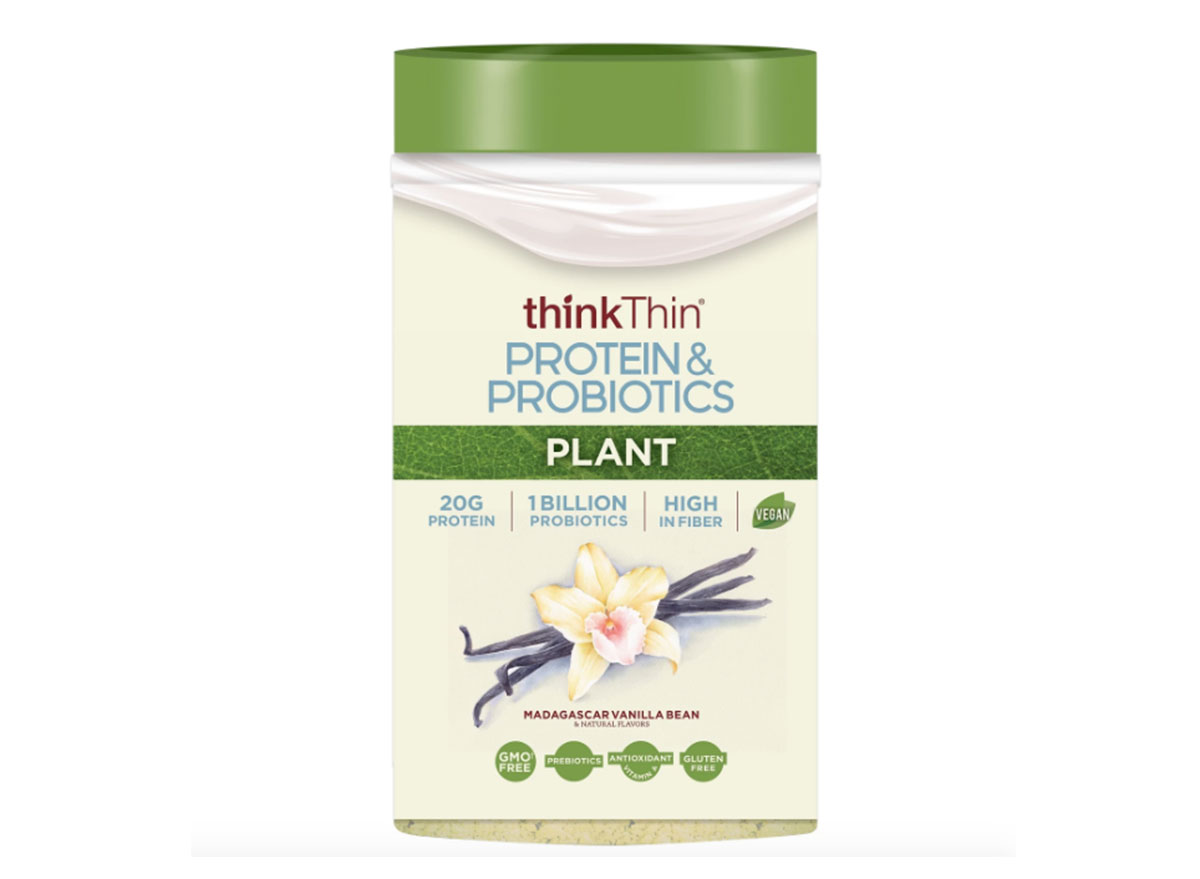 Per 2 scoops of Madagascar Vanilla Bean
: 140 calories, 2.5 g fat (1 g saturated fat, 0 g trans fat), 410 mg sodium, 12 g carbs (5 g fiber, 1 g sugar), 20 g protein
"For those seeking a protein powder with the added benefit of probiotics and prebiotics for gut health, ThinkThin provides one billion live probiotics along with prebiotics," Walsh says of this product, which is plant-based, non-GMO, vegan, and gluten-free.
In addition to the aforementioned probiotics and prebiotics, this powder packs in five grams of fiber, 20 grams of protein, and just one gram of sugar in each serving.
Isopure Unflavored Zero Carb Protein Powder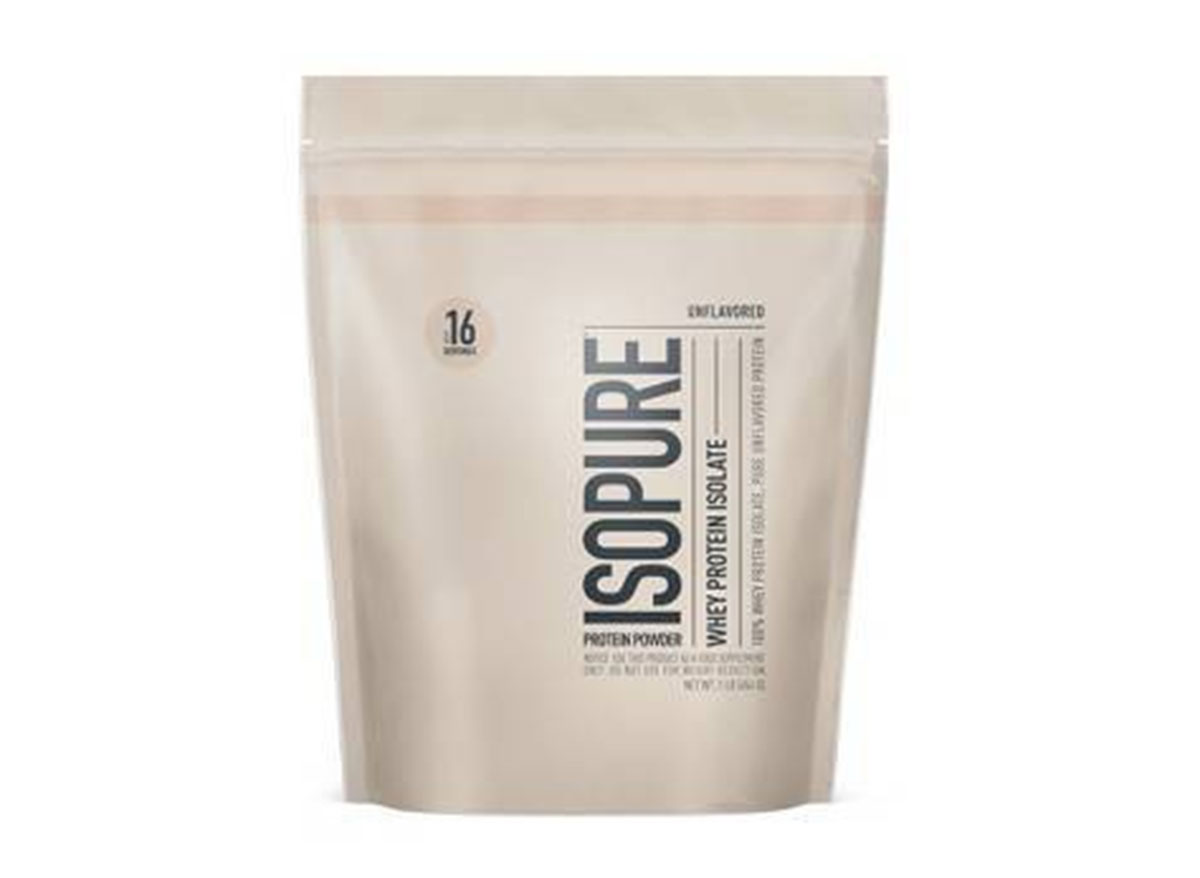 Per scoop of Unflavored
: 100 calories, 0 g fat, 230 mg sodium, 0 g carbs (0 g fiber, 0 g sugar), 25 g protein
"For those who are serious about packing in lots of protein into their diet without anything 'extra' added, this is the product for them," Walsh says. "And as the name indicates, this product is flavorless, meaning [it] can easily be added into soups, sauces, and baked goods."
This protein powder contains 25 grams of protein in each 100-calorie scoop, with zero grams of fat, zero grams of carbohydrates, and zero grams of sugar.
SlimFast Advanced Nutrition High Protein Smoothie Mix
Per scoop of Creamy Chocolate
: 110 calories, 3.5 g fat (0.5 g saturated fat, 0 g trans fat), 190 mg sodium, 8 g carbs (5 g fiber, <1 g sugar), 12 g protein
One scoop of SlimFast Advanced packs in 12 grams of protein at 110 calories. This supplement also includes 24 vitamins and minerals, such as calcium for bone health, and five grams of fiber to help with satiety.
"This is a meal replacement shake that can be used when following a weight loss plan," Walsh says. But she emphasizes the importance of being cautious and informed when choosing a weight loss product.
"Not all protein powders have a robust vitamin and mineral profile, so if you are looking to replace meals with your shakes, look for powders that say 'meal replacement' on them' like SlimFast Advanced," Walsh advises.
Vital Proteins Collagen Peptides Supplement Powder
Per 2 scoops of Unflavored
: 70 calories, 110 mg sodium, 18 g protein
Diana Gariglio-Clelland, registered dietitian at Balance One Supplements, says not many protein powders get her stamp of approval because they often contain artificial sweeteners, but Vital Proteins Collagen Peptides is an exception.
"The only ingredient is protein in the form of collagen peptides. Scientific studies have confirmed that taking oral collagen can help improve skin's elasticity, hydration, and the density of our skin," Gariglio-Clelland says.
She notes that this particular protein powder has no artificial ingredients and blends very easily into liquids. Gariglio-Clelland has even stirred it into hot coffee without any clumping. It can even be used in baking and blends well with any flavor because it's unflavored.
Whatever you're looking for in a Target protein powder, the chain probably has one to fit your needs, and these are the best ones.
Caitlin Flynn
Caitlin Flynn is an award-winning writer and reporter who experienced early age corporate burnout in 2015 and traded New York City for the misty air and superior coffee of Seattle.
Read more about Caitlin