15 Game-Changing Tempeh Recipes
Carnivores and omnivores are not the only kinds of eaters out there who can get their protein fix. Vegetarians and vegans, this article is especially for you—and for all those curious about this protein-packed soy patty.
For years, tofu has dominated the spotlight for protein alternatives. We here at Eat This wanted to put another key protein option in the limelight: tempeh! Offering a whopping 21 grams of protein per 4 ounces, this hot shot beats out tofu's protein content by 12 grams. Check out these 15 scrumptious meals featuring this vegan-friendly protein and bookmark our Ultimate Protein Guide for all-things-protein.
Tempeh BLT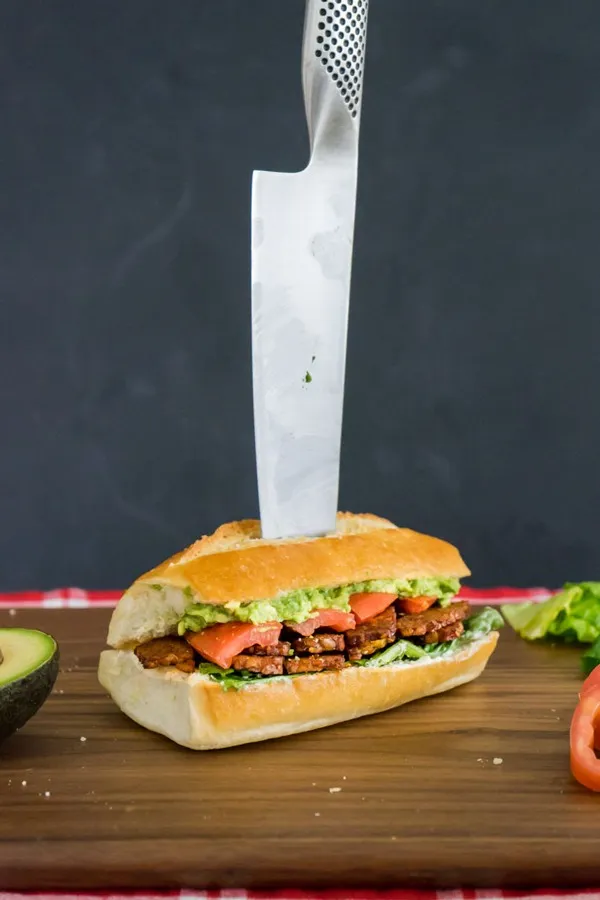 Serves: 4
Nutrition: 379 calories, 23.1 g fat (4.7 g saturated fat), 416 mg sodium, 33 g carbs, 5 g fiber, 10.1 g sugar, 16.6 g protein (calculated 4 servings with 1 tablespoon tamari and 1/2 avocado)
For those die-hard bacon fans who are in serious need of lowering their cholesterol, you are in luck! Thankfully, being made from fermented soybeans, tempeh costs you zero cholesterol, so you can reap the flavor of bacon without a blockage of HDL encompassing your fragile arteries. This recipe even allows you to replicate the same texture of bacon—you know, crispy juicy and delicious.
Eat This Tip: Swap out the French bread for some 100 percent whole wheat bread and you'll score some extra fiber! For more ideas on how to reach your daily fiber intake, read up on high fiber foods.
Get the recipe from One Ingredient Chef
Tempeh Stir Fry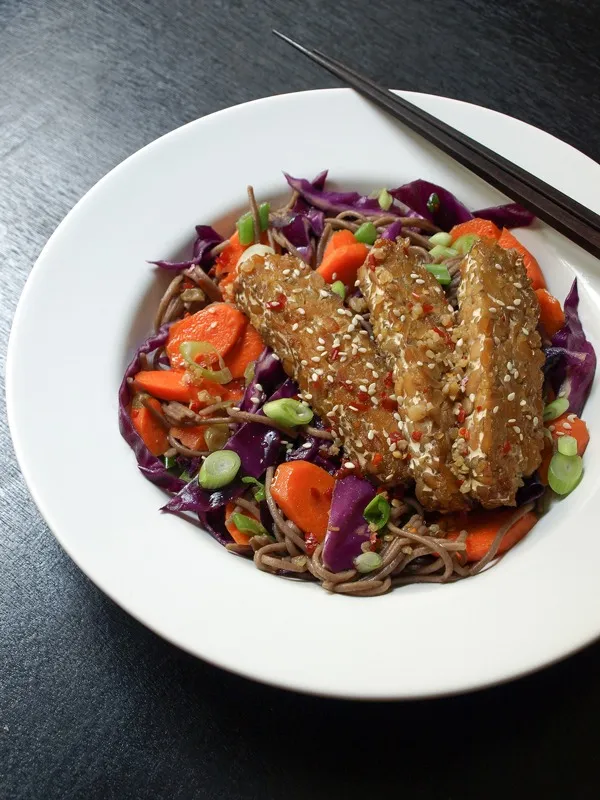 Serves: 3
Nutrition: 450 calories, 14.6 g fat (2.6 g saturated fat), 773 mg sodium, 68.5 carbs, 5.8 g fiber, 25.6 sugar, 18.0 g protein (calculated 3 servings with 1 tablespoon sesame seeds, 1 tablespoon tamari, 8 ounces rice noodles, 2 tablespoons maple syrup and 3 scallions)
Whip out those chopsticks because this meal is one you will not be able to resist twirling your utensils in (or stabbing, for those who are not too graceful with the whole chopstick + food ordeal). Either way, you are in for a treat because this version of takeout does not have an ounce of that harmful MSG. In fact, we even replaced the soba noodles for rice noodles to reduce the amount of sodium. Your heart will thank us for that one because it won't have to pump as vigorously for you to indulge in this dish!
Get the recipe from The Simple Veganista.
BBQ Tempeh W/ Black Rice
Serves: 4
Nutrition: 424 calories, 8.1 g fat (1.6 g saturated fat), 762 mg sodium, 73.0 g carbs, 2.6 g fiber, 9.0 g sugar, 16.9 g protein
Wait…black rice? You betcha, and this barbecue tempeh pairs tremendously with it. This dark rice actually dates back to ancient China where it was exclusive to the emperor and his family because of its high nutritional content! Unlike white or brown rice (although, opt for brown if you don't have access to black), black rice is laden in an antioxidant called anthocyanin, which is known to treat high blood pressure, colds, and even urinary tract infections. Thank gosh you no longer have to be of royalty to get your hands on this gem. Pair this meal with a minty green tea to feel refreshed as you chomp on some barbecue coated tempeh.
Get the recipe from Food Fitness Fresh Air.
Vegetable Tempeh Stew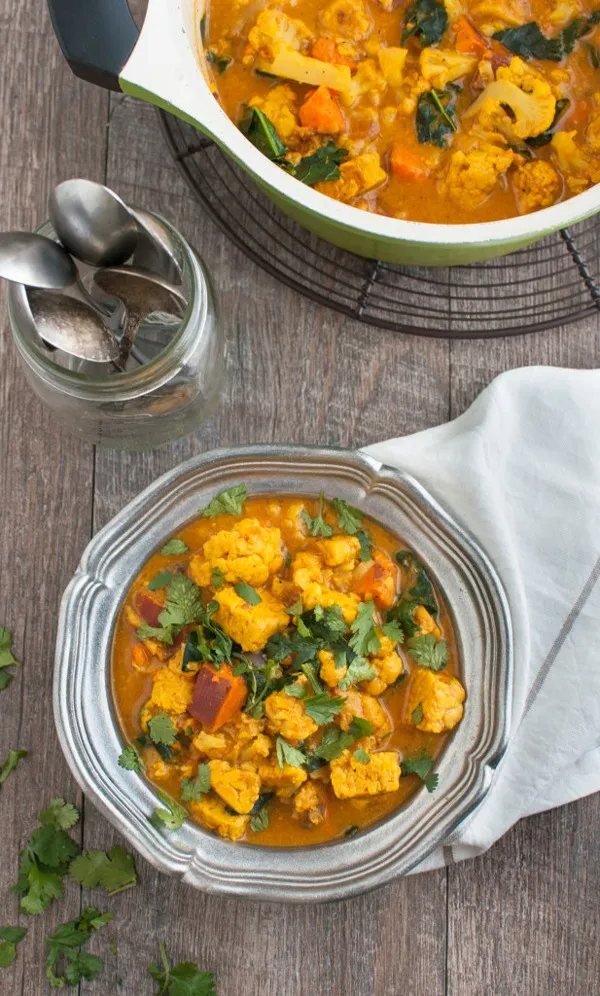 Serves: 6
Nutrition: 272 calories, 16.3 g fat (7.1 g saturated fat), 812 mg sodium, 24.5 g carbs, 4.4 g fiber, 3.0 g sugar, 9.9 g protein (calculated with 3 cups kale, ½ cup coconut milk and without arrowroot powder or vegetable broth)
When you think of stew, some of the things that pop into your head may be heavy or winter. This concoction, however, will make you think differently. At about 272 calories per serving and made with coconut milk and cauliflower, you won't feel like you're carrying a food baby after you eat it. Turmeric gives this stew a radiant orange pigment, which will help you fight inflammation as it travels through your digestive system. But watch out because soups and stews are notorious for being high in sodium. So, make sure you limit yourself to one or two bowls a week!
Get the recipe from The Organic Dietician.
Tempeh Tacos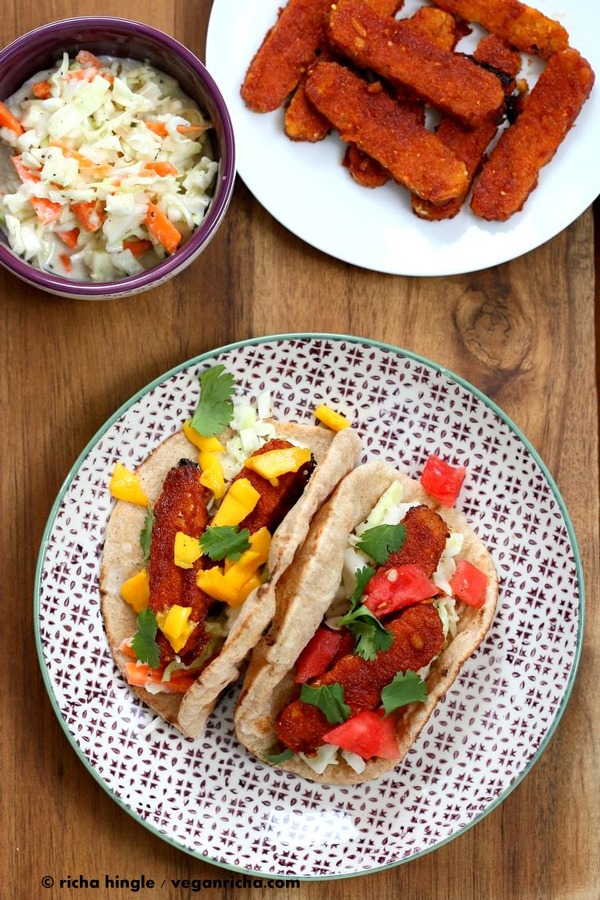 Serves: 2
Nutrition: 591 calories, 30.6 g fat (5.6 g saturated fat), 460 mg sodium, 64.9 g carbs, 28.8 g sugar, 10 g fiber, 22.2 g protein (calculated 2 servings with 1 cup mango, 6 ounces tempeh, and 2 small flour tortillas)
"Woohoo, it's tempeh taco night!" Has a nice ring to it, no? Everyone loves a scrumptious fish or steak taco, but we bet you have not tried one filled with tempeh. Next taco night, ditch the standard taco and opt for a tempeh one. After all, it has about half the amount of saturated fat a steak taco would offer. Keep that in mind as you work your booty off this summer to lose belly fat.
Get the recipe from Vegan Richa.
Tempeh Breakfast Bowl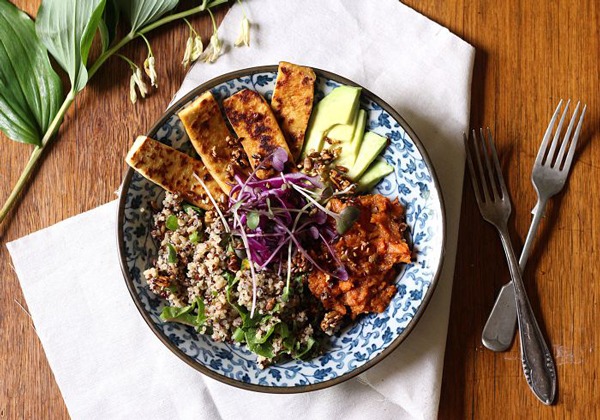 Serves: 2
Nutrition: 632 calories, 28.4 g Fat, (5.8 g saturated fat), 729 mg sodium, 71.3 g carbs, 11.2 g fiber, 7.1 g sugars, 28.9 g protein (calculated 2 servings with 1 cup tempeh, 1 teaspoon sugar, 1/4 cup lettuce, 1/2 avocado, 1/2 tablespoon coconut cream and without granola)
Put down that severely processed McDonald's breakfast because this breakfast is going to rock your world. We know what you're thinking; Isn't soy processed? It can be, yes; but fortunately, tempeh is made from partially-cooked soybeans, i.e. its natural, whole form. What gives soy a bad rep is when it is converted to another form, perhaps you have heard of partially hydrogenated soybean oils? Yeah, keep your mouth a far distance from that substance and kickstart your day with this wholesome, real breakfast.
Get the recipe from To Her Core.
Tempeh Potato Skins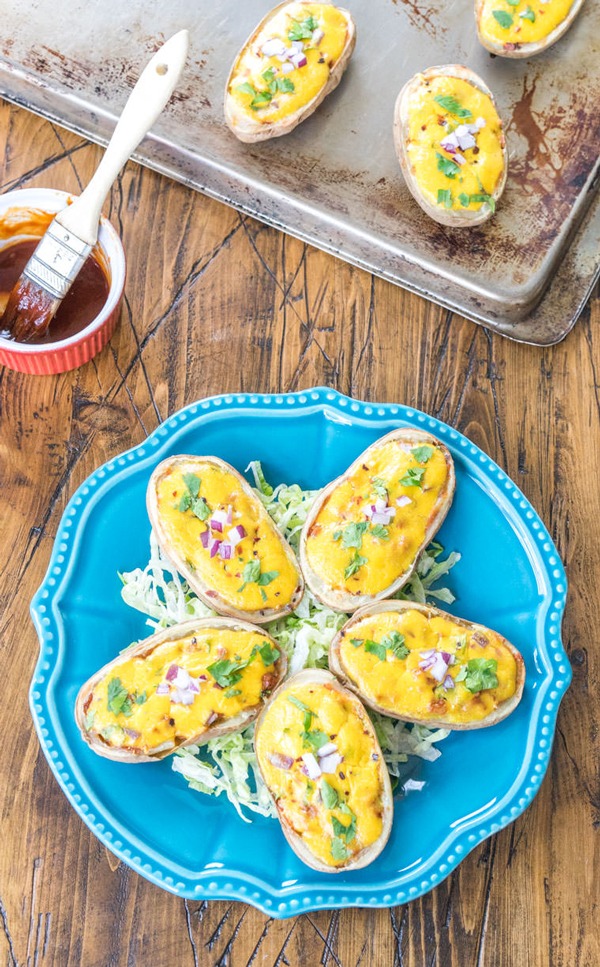 Serves: 4
Nutrition: 431 calories, 15.8 Fat (3.2 g saturated fat), 800 mg sodium, 60.1 g carbs, 7.7 g fiber, 12.7 g sugar, 17.6 g protein (calculated 4 servings with 2 tablespoons nutritional yeast, 1 tablespoon lemon juice)
Ah, the potato skin, an American classic! But did you know that tempeh originates from Indonesia? Tempeh has not made its mark in the U.S. quite like tofu has, whose etymology derives from China, so that's why you may not have even heard about it until this article. And that's A-OK! Instead of going to Applebees and eating two of the six potato skins—which, by the way, has 15 grams of saturated fat—stay home and bake your own! Two of these tempeh ones only costs you 3.2 grams of saturated fat, nearly five times less than the heart disease-causing fat the Applebees version contains. It seems like the tempeh is the obvious option for rapid weight loss.6254a4d1642c605c54bf1cab17d50f1e
Get the recipe from One Ingredient Chef.
Pumpkin Tempeh Salad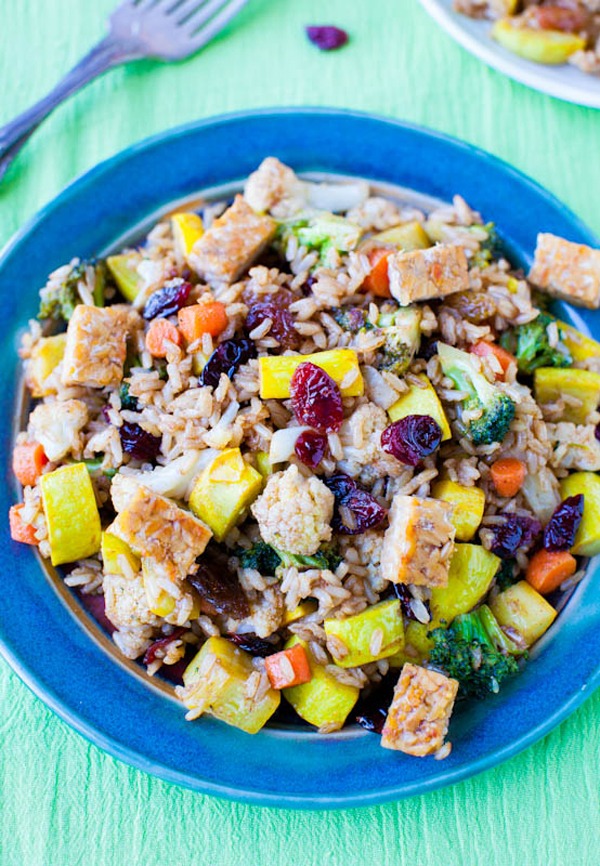 Serves: 8
Nutrition: 430 calories, 13.6 g fat (3.6 g saturated fat), 37 mg sodium, 68.4 g carbs, 4.1 g fiber, 8.6 g sugar, 10.7 g protein (calculated with 3 cups brown rice, 7 cups squash and zucchini, balsamic vinegar and without optional spices)
Get that taste of Fall early this year with this gorgeous pumpkin, cranberry, and tempeh bowl! Chock-full of yummy vegetables and with enough to feed an army of friends, you will be the hit at any cookout if you bring this as your covered dish. Its lightweight, colorful texture will attract all the eyes. Not to mention, it is significantly lower in sodium than most rice dishes, recording a mere 37 milligrams. Impressive stuff!
Get the recipe from Averie Cooks.
Apple Tempeh Bacon Sandwich
Serves: 2
Nutrition: 492 calories, 20.4 g fat (3.7 g saturated fat), 683 mg sodium, 57.3 g carbs, 5.5 g fiber, 20.2 g sugars, 27.1 g protein (calculated 2 servings with 1 tablespoon soy sauce, 1 tablespoon olive oil, 1 tablespoon maple syrup and without butter or liquid smoke)
Talk about savory! Make this classy, French café-wannabe sandwich your go-to lunch menu item this summer. What stands out the most in this dish (besides the tempeh, of course) is the sprinkle of coriander that is interspersed throughout the layers of the sandwich. Coriander, or better known as cilantro, is an herb that is used as a garnish and often goes unnoticed. It shouldn't, though, because it has 11 components of essential oils, which are currently being examined by the scientific community. Why? They may be utilized to treat diseases like cancer, HIV, asthma, bronchitis, and stroke. Go crazy and add a few extra teaspoons (or tablespoons!) atop this sammy for some extra health benefits!
Get the recipe from Food Fitness Fresh Air.
Broccoli Soba Noodles and Tempeh
Serves: 3
Nutrition: 541 calories, 26.1 g fat (7.5 g saturated fat), 843 mg sodium, 60.5 carbs, 7.0 g fiber, 10.2 g sugars, 27.7 g protein (calculated 3 servings with 1 cup soba noodles, honey, 1 bunch of broccoli and no soy sauce)
Whoever thought of spiralizing noodles out of vegetables was a genius—because wow, does this tactic cut out the carbs so you can add fun toppings to your pasta! Keep off that belly fat with this high-protein pasta dish. These noodles sit beneath the protein-packed star of the show: tempeh. Notice the inclusion of broccoli in this dish, too. Broccoli actually houses a dynamic trio of phytonutrients that support not just one but all steps of your body's detox process. Say bye-bye to bloat and hello to bikini bod because you are going to feel cleansed after eating this dish.
Get the recipe from Tales of A Kitchen.
Tempeh Meatballs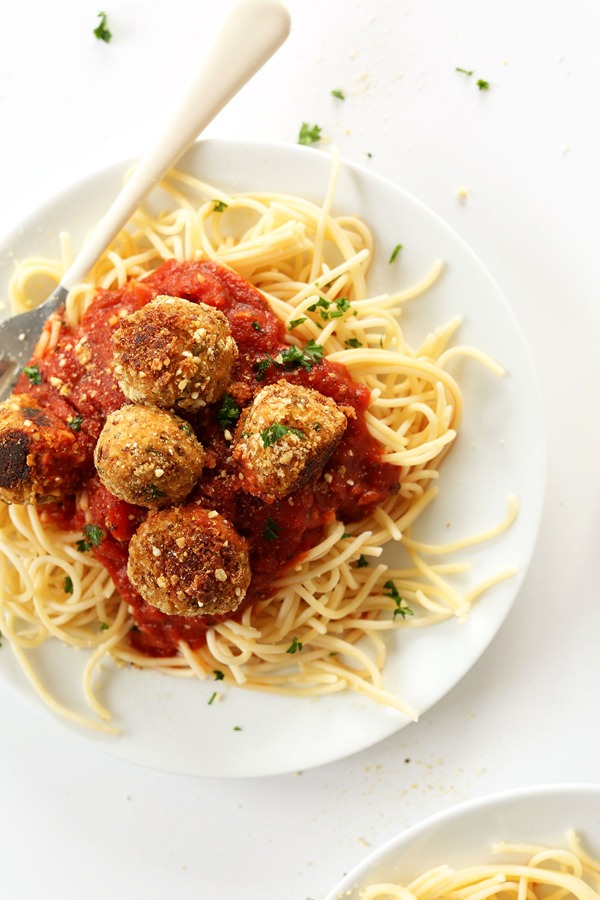 Serves: 1 (4 meatballs)
Nutrition: 264 calories, 14 g fat (2.8 g saturated fat), 180 mg sodium, 24.4 g carbs, 2.4 g sugar, 1 g fiber, 13.6 protein (calculated using 4 meatballs without noodles or marinara)
"That's a spicy meatball!" For those who recently went vegetarian or vegan may be missing the staple spaghetti and meatballs dish. If that's you, don't fret because this blogger has got the perfect solution for you. Made out of tempeh and an assortment of spices like dried basil and oregano, these meatballs have the potential of a true Italian meatball, minus the cholesterol and saturated fat!
Get the recipe from Minimalist Baker.
Tempeh Burger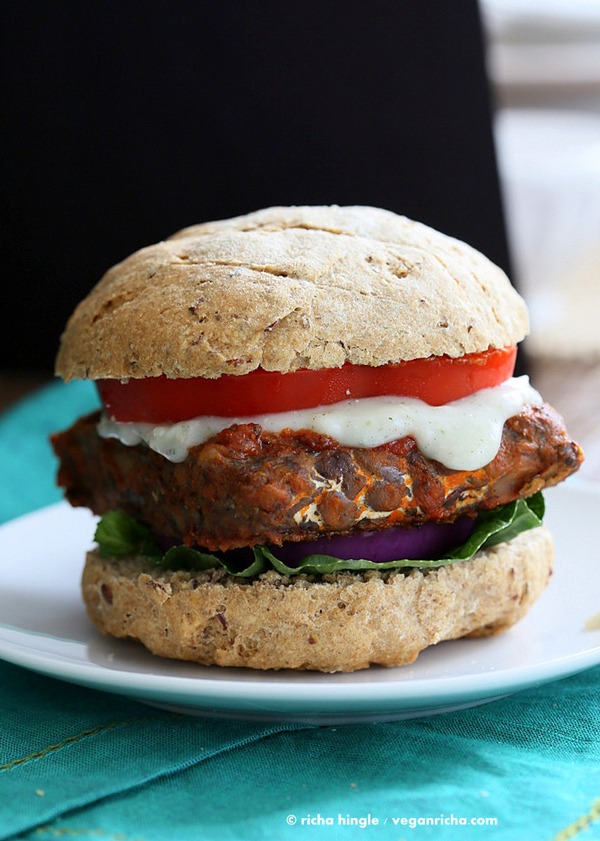 Serves: 2
Nutrition: 400 calories, 28.5 g Fat, (4.8 g saturated fat), 776 mg sodium, 22.6 g carbs, 1.2 g fiber, 1.0 sugar, 19.7 g protein (Calculated 2 servings using thyme, cumin, 1/4 cup cashews, 6 ounces of tempeh and no bun)
Summer is the time for sunshine and flippin' burgers on the patio. Again, for those who have recently become connoisseurs of veggies and all things plant-based, a beef burger is not in your vocabulary. With a tempeh burger, though, you can still be apart of the party and gain twice as much iron as your beef-eaters will receive! One 3-ounce 85-percent-lean-ground beef patty only fills 12 percent of your daily iron needs, whereas the tempeh variation offers an astounding 33 percent.
Get the recipe from Vegan Richa.
Orange Roasted Tempeh with Asparagus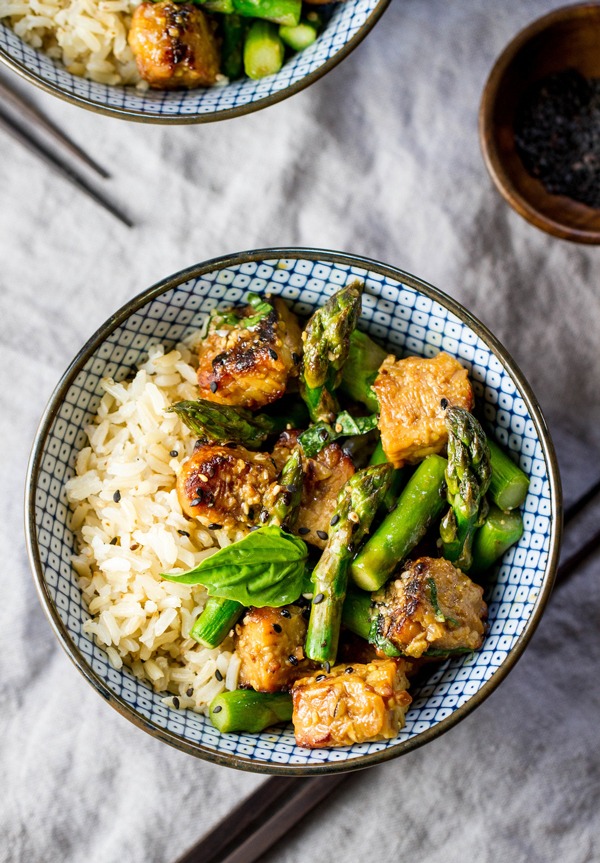 Serves: 3
Nutrition: 520 calories, 20.4 g fat (3.3 g saturated fat), 15 mg sodium, 61.4 g carbs, 8.6 g fiber, 4.6 g sugar, 28.1 g protein (calculates 3 servings with balsamic vinegar, 1.25 cups of quinoa and without red miso paste)
Orange chicken is definitely a favored Chinese takeout selection. Shockingly, this tempeh version only has 15 mg of sodium in it. Balsamic vinegar substitutes tamari or soy sauce in this dish, which is a low-cal way to save some sodium while adding some sweetness. Additionally, this recipe is super simple to follow and has minimal ingredients. We swapped out brown rice for quinoa to ensure that you get all 9 of those essential amino acids in this meal.
Get the recipe from The Simple Veganista.
Quinoa & Tempeh Jambalaya
Serves: 4
Nutrition: 465 calories, 11 g total fat (1.8 g saturated fat), 504 mg sodium, 68.8 g carbs, 9.3 g fiber, 5.7 g sugar, 24.8 g protein (calculated with 2.5 cups vegetable broth and 2 garlic cloves)
Speaking of quinoa, here is an awesome dish to add to your list of go-to quinoa bowls. Just one serving packs 94 percent of your daily needs of vitamin C and 36 percent of your daily iron needs. What a deal!
Get the recipe from One Ingredient Chef.
Broccoli Eggplant and & Tempeh Bowl
Serves: 3
Nutrition: 439 calories, 14.3 g fat (2.1 g saturated fat), 415 mg sodium, 70.2 g carbs, 10.8 g fiber, 9.9 g sugar, 10.8 g protein (calculated 3 servings with 2 tablespoons soy sauce)
Last, but certainly not least, we have this high fiber tempeh and eggplant-filled bowl. If these tempeh-inspired dishes did not capture your interest from the get-go, maybe this final information will. According to a recent analysis of the U.S. population, Americans would increase their intake of key vitamins and minerals (including folate, vitamin K, calcium, magnesium, and iron) if they replaced meat and dairy with soy-based products. In addition, our cholesterol intake would drop by about 125 milligrams per day, too. It's amazing what swapping out meat for tempeh in a dish like this one can do for you and your overall well-being.
Get the recipe from Food Fitness Fresh Air.