This Is The Perfect Day Of Eating For Fat Loss
We've all gone through points in our lives where nothing seems to settle—every day, something changes or throws us for a loop. And when it comes to nutrition and food science, it's no different.
Something could be the named the next weight loss superfood only to be dethroned within months. Researchers tell us to eat more of something, only to say years later that it's killing us. It's hard to keep up—we get it.
Lucky for you, we're on top of all the most recent findings. To help you burn fat and get the lean, trim physique you've always wanted, we've pinpointed some of the most potent flab-incinerating food and organized them into a simple, science-backed meal plan.
This is what a perfect day of eating for fat loss looks like:
BREAKFAST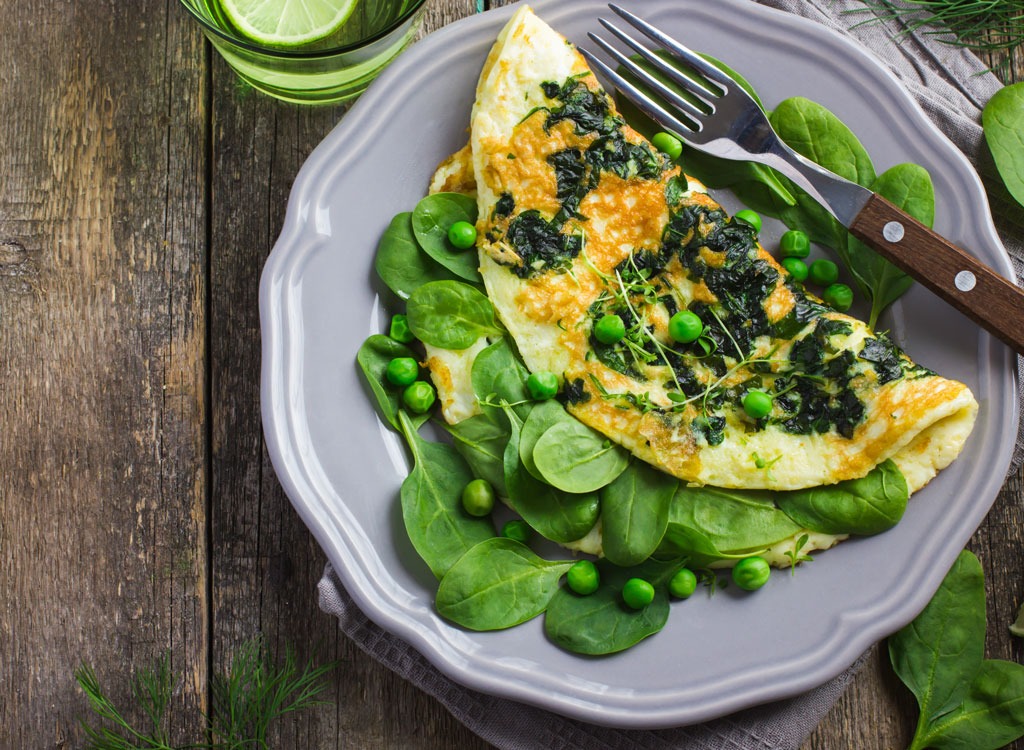 One slice of whole grain toast with coconut oil and an egg, and a veggie omelet
People who eat three or more daily servings of whole grains have less belly fat than people who consume the same amount of calories from processed carbs, according to a Tufts University study. To get on the right track ASAP, have your first serving at breakfast and top it with some coconut oil. Not only is the tropical fat one of the Best Fats for Weight Loss, but a study published in Lipids found that eating it regularly can actually reduce abdominal obesity. How? It's likely due to its lauric acid content, which converts to energy more easily than other types of fat. Whole eggs, rich in the waist-whittling nutrient choline, combined with veggies help to finish off the ideal morning meal.
MID-MORNING SNACK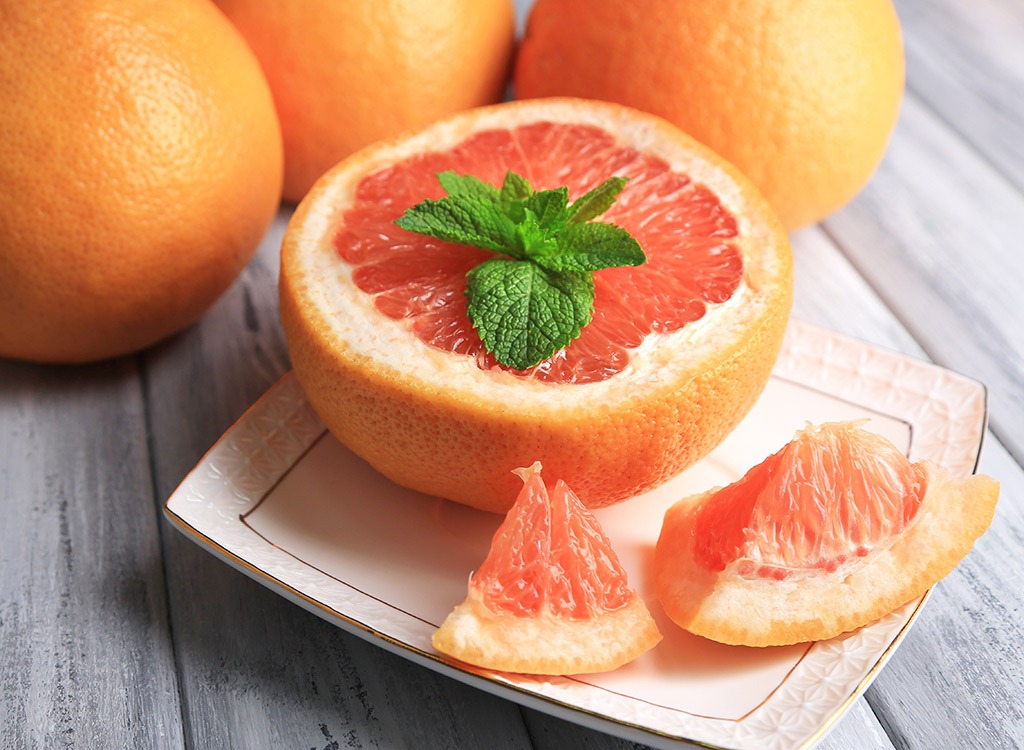 Half a grapefruit
If you can't quite make it to lunch without your tummy rumbling, reach for a grapefruit, a sour fruit that makes fat cells tremble with fear. Not only is it 90 percent water (which is basically code for extremely filling), the humble grapefruit is packed with phytochemicals, a bioactive compound that burns flab. Still not convinced you should dig in? In one study, research participants who ate grapefruit for six weeks lost a full inch from their waistlines!
LUNCH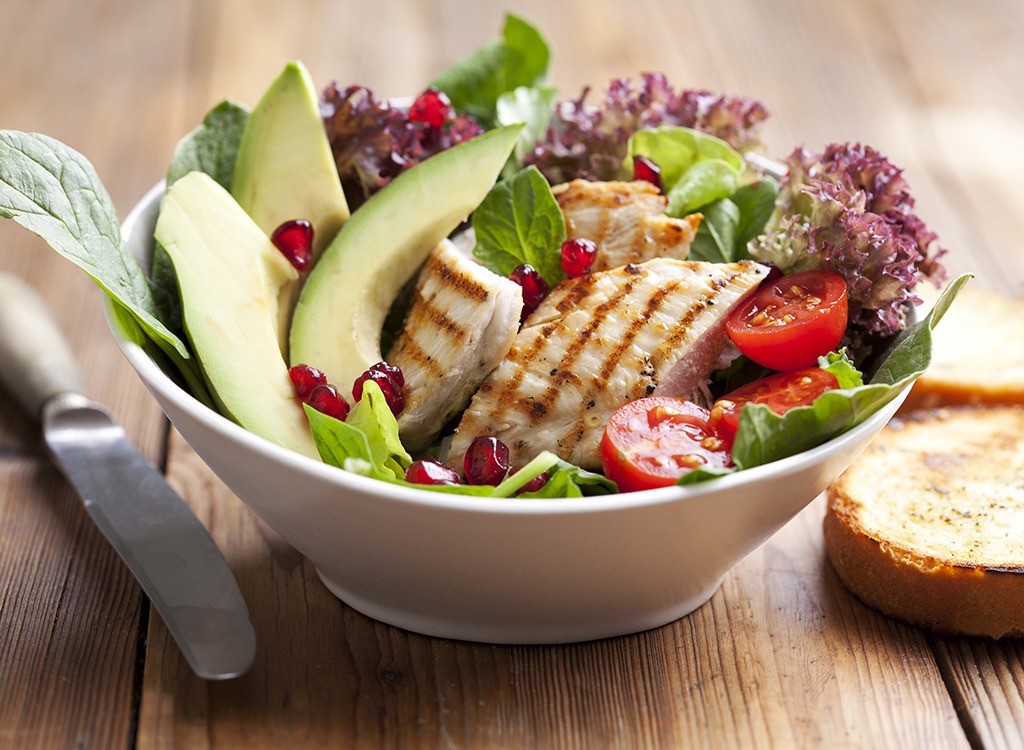 6254a4d1642c605c54bf1cab17d50f1e
Grilled chicken, spinach, berry and quinoa salad, topped with an avocado oil-based dressing
This simple-yet-delicious meal takes just minutes to prepare and brims with potent belly-fat fighters. The quinoa counts as your second whole grain for the day and the berries provide polyphenols, which burn fat and even stop new fat cells it from forming. The spinach is rich in thylakoids, a compound that's been shown to significantly reduce cravings and promote weight loss. As for the chicken, because it's a lean source of protein, it helps boost satiety and increases post-meal metabolism.
But the real star of the show here is the dressing. Avocado oil is rich in heart-healthy monounsaturated fats that may help improve cholesterol and ward off hunger. It also contains vitamins B and E and bloat-banishing potassium, so it will help you look slimmer almost instantly.
Never made an avocado oil vinaigrette before? To make a quick single-serve dressing, whisk 1.5 tablespoons of avocado oil with a teaspoon of grated romano cheese, a pressed garlic clove, juice from half a lemon, and salt and pepper to taste.
No time to whip up a dressing? Be sure to stick with one of these Best Store Bought Salad Dressings for Weight Loss.
AFTERNOON SNACK
Quarter-cup of almonds and a cup of green tea
It's three o'clock and your hunger is out of control. Resist the urge to grab something from the vending machine and nosh on a quarter-cup of almonds instead. A study of overweight and obese adults found that, combined with a low-calorie diet, consuming a little more than a quarter-cup of the nuts can decrease weight more effectively than a snack comprised of complex carbs and safflower oil—after just two weeks! And after 24 weeks, those who ate the nuts experienced a 62% greater reduction in weight and BMI! As for the tea, multiple studies confirm its ability to keep blood-sugar levels even and zap belly fat. In fact, it's so slimming that we decided to make it part of our 7-Day Flat Belly Tea Cleanse.
DINNER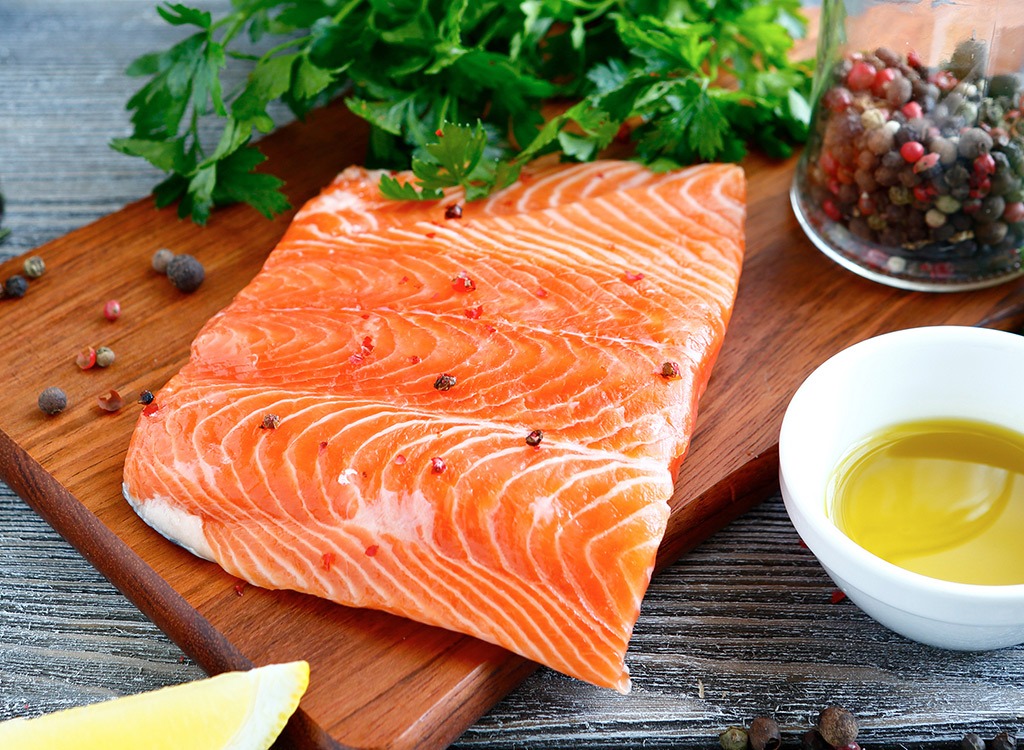 Wild salmon with sautéed broccoli and a half-cup of buckwheat
While buckwheat delivers your third serving of whole grains for the day, the salmon goes to work reducing inflammation throughout your body. In one study, participants who are three 5-ounce servings of salmon per week for a month as part of a calorie-restricted diet lost 2.2 pounds more than their salmon-less counterparts who consumed the same number of calories. Broccoli contains a phytonutrient called sulforaphane that increases testosterone and fights off body-fat storage. We suggest steaming it and then sautéing it with your favorite spices and some olive oil — one of these 8 Best Fast for Weight Loss.
DESSERT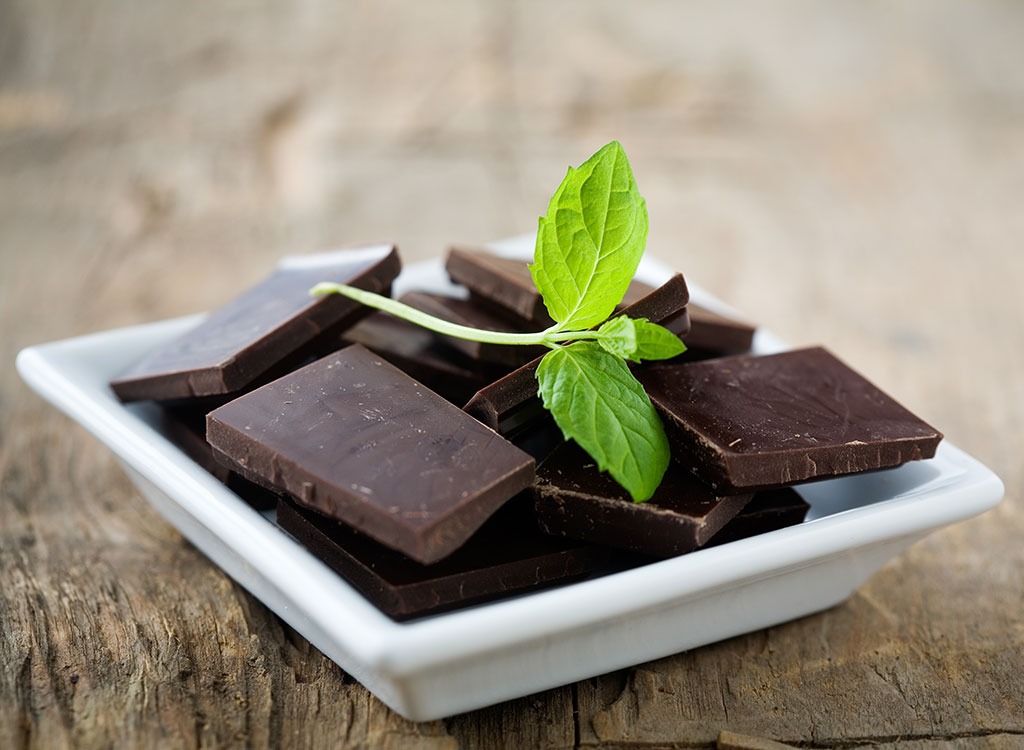 One ounce of dark chocolate (we like Alter Eco Dark Blackout, 85% cocoa)
Thanks to flavonoids naturally present in dark chocolate, the sweet treat has been found to help lower blood sugar, improve heart health and blast away body fat. But too much of anything can lead to weight gain, so be sure to cut yourself off after one serving. "I tell my patients about an ounce a day can help with their overall health, as part of a well-balanced diet rich in fruits, vegetables and whole grains, especially if it replaces more indulgent cravings," says Nieca Goldberg, MD, cardiologist, Director of the Joan H. Tisch Center for Women's Health at NYU Langone Medical Center. Now those are doctor's orders we're happy to follow.