8 New Things You'll See as Restaurants Reopen
Here's what to expect at your favorite eateries as the coronavirus lockdown ends.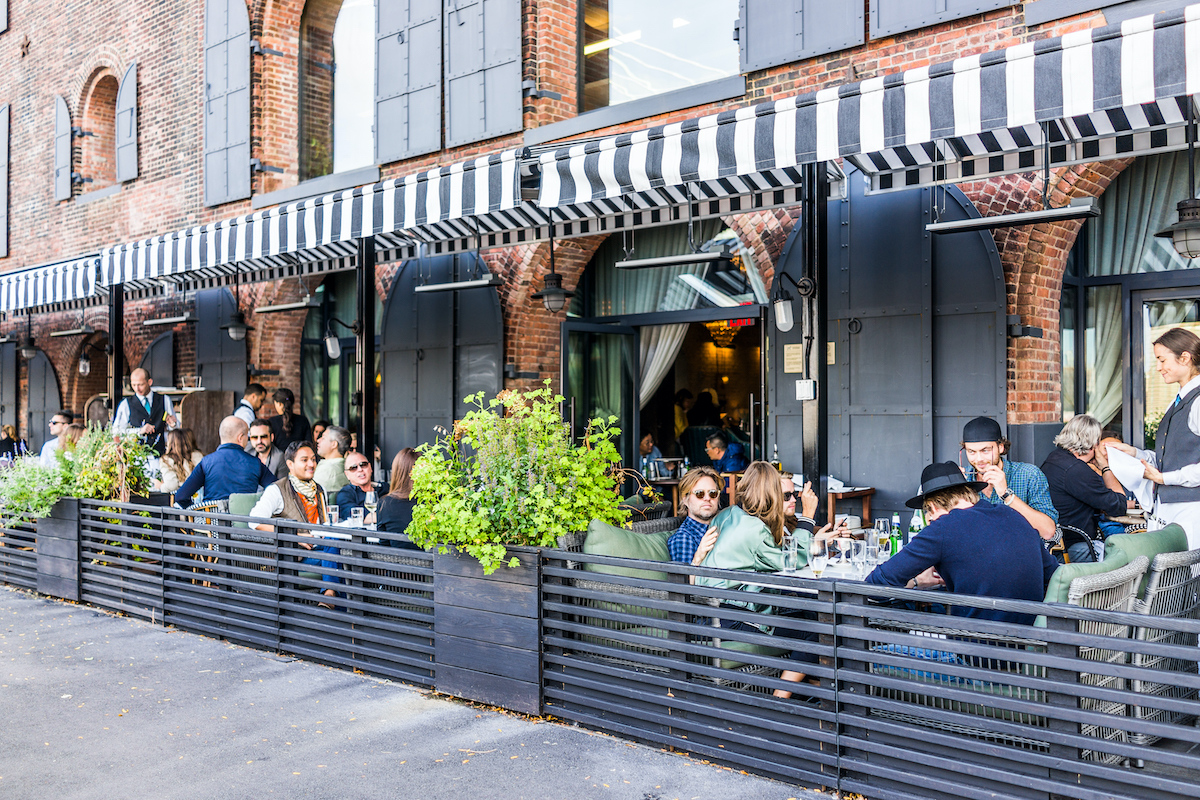 The nearly nationwide lockdown is finally ending in much of the country, and as a result, restaurant owners are quickly trying out new and creative ways to keep patrons safe, happy, and well-fed. The restaurant industry already has strict health guidelines to follow as they reopen, which may change the way diners experience their favorite eateries for some time. But, many restaurants are taking even further measures to promote a certain level of comfort and safety for their staff and customers.
Here are just a few new things that you can expect to see the next time you step into your favorite dining establishment. And to keep yourself informed, make sure to sign up for our daily newsletter to get the latest coronavirus food news delivered straight to your inbox.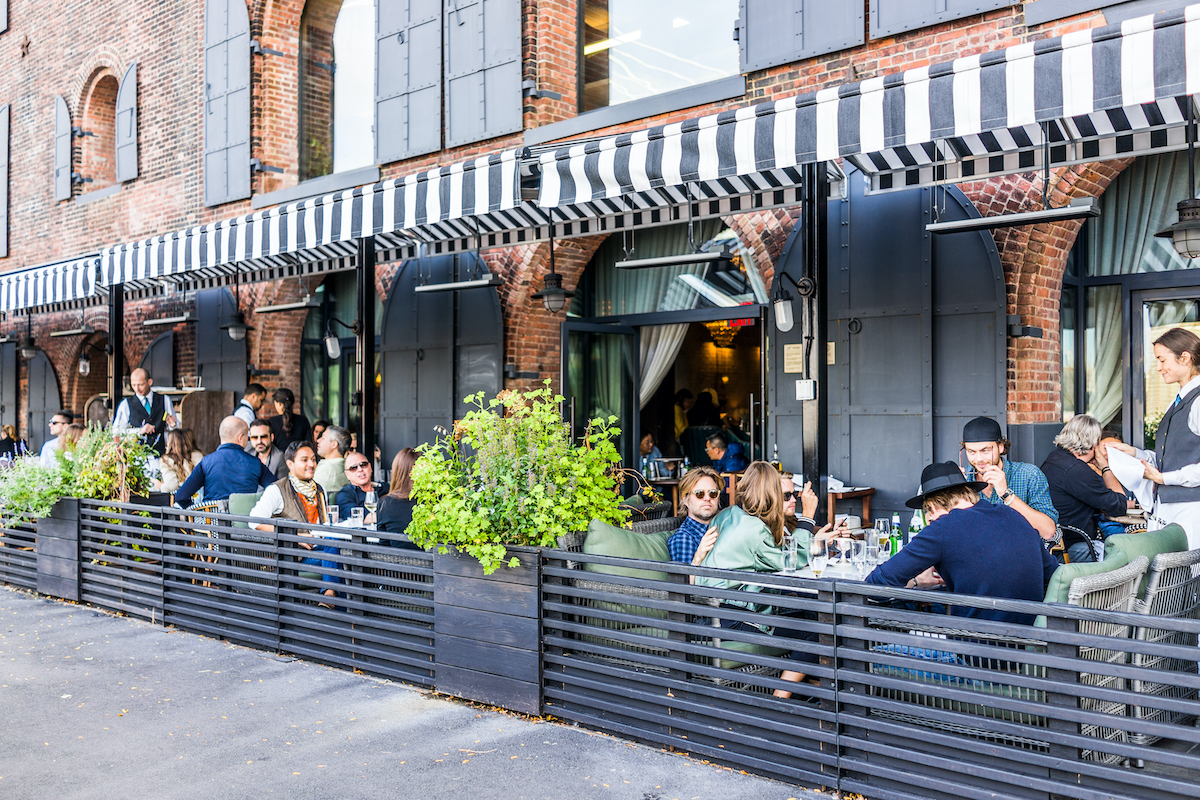 Social distancing and a crowded restaurant do not go hand-in-hand. There's also lots of research that suggests poorly ventilated indoor locations are susceptible to the spread of COVID-19. So, the rather obvious solution? Eating outdoors. "It is critically important that restaurants have outdoor space to offset reductions inside," Andrew Rigie, executive director of the New York City Hospitality Alliance, told the New York Post. "Restaurants bringing their tables and chairs into the streets would also bring back some energy and vitality to New York City, and that will be important as we return to a new normal."
Waiters wearing designer masks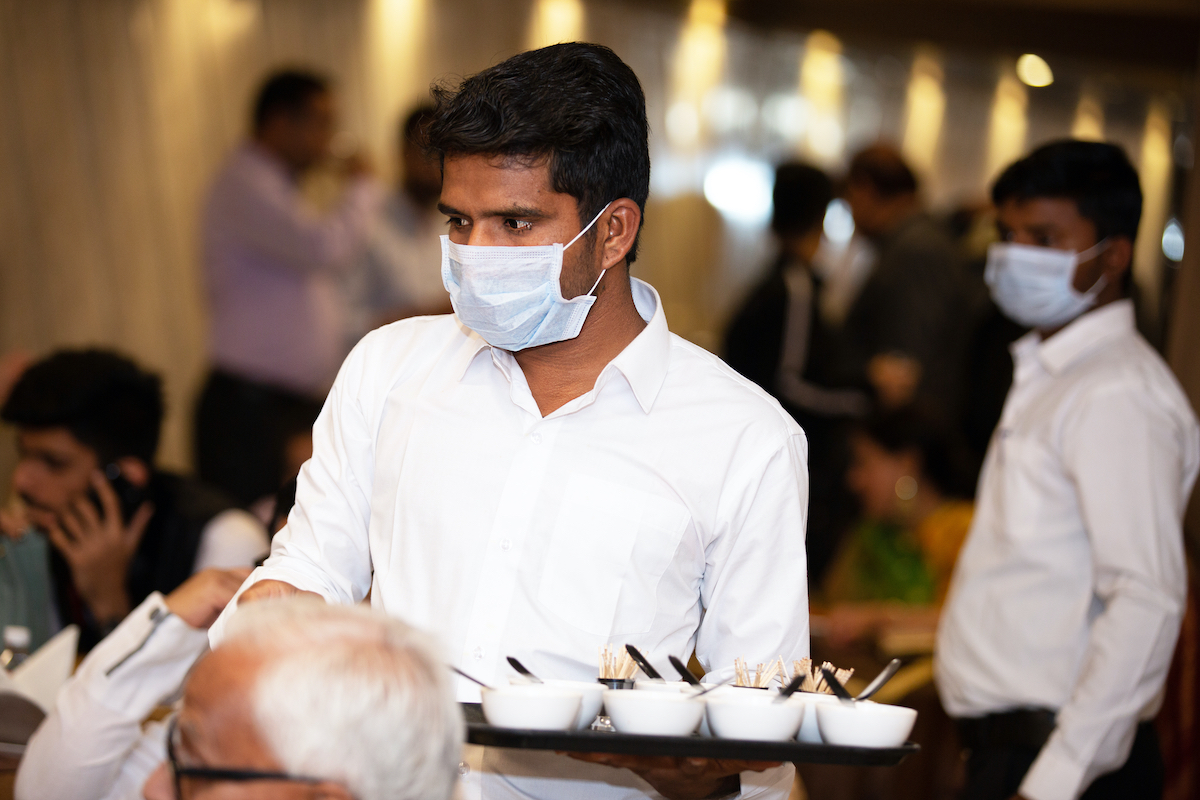 Guidelines state that all restaurant workers will have to wear masks now, which may be a shock to some, but will likely last a long time. Since fine dining can so often feel like intimate theater, and creative chefs/restaurant owners will likely look for differentiation, expect either coordinated or designer masks to be worn by wait staff and staffers alike. If you need convincing on just how easily germs can be spread in a dining area, then watch this horrifying video from Japan that illustrates just how easily viruses can be exchanged.
Temperature taking at the hostess stand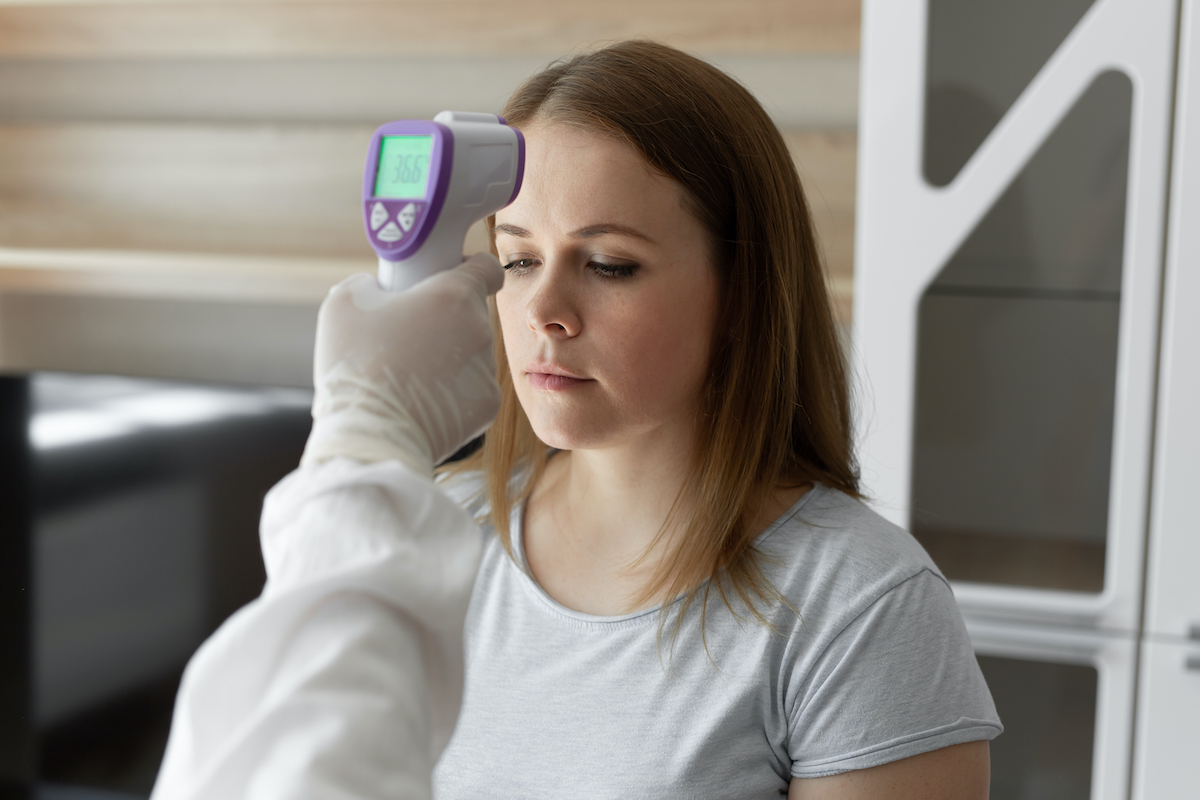 Yes, restaurant diners and patrons can likely expect ubiquitous bottles of hand sanitizer and surface cleanser readily available and displayed throughout their favorite eateries. But, you can also expect restaurant hosts to check if you have a fever with a temperature gun. Safe and clean hands and surfaces mean a safer and cleaner dining experience, but knowing that no other patrons have a fever? Even better.
Online ordering for dine-in service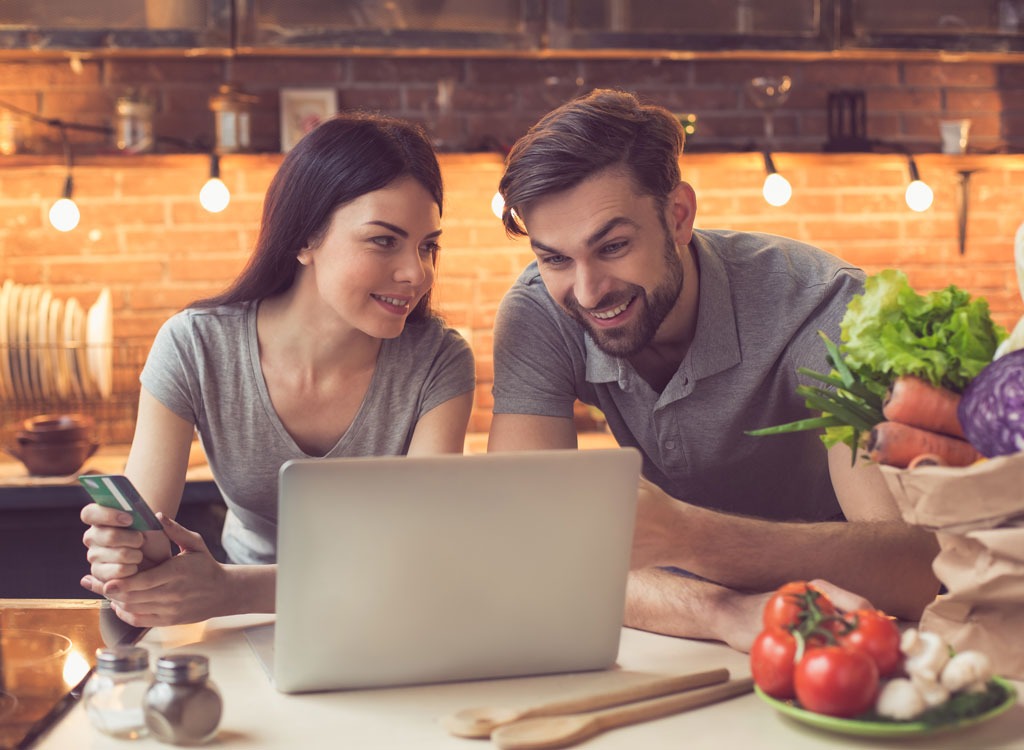 Many restaurants have online ordering systems already in place for takeout or delivery orders… but instituting these systems for eat-in orders? That's a new concept. The idea of placing your order online before heading into a restaurant (or while you're seated at your table) means that there will be much fewer materials for both you and servers to touch and exchange, such as menus, notepads, and even your bill and payment method at the end of the meal.
Related: Why a Global Food Shortage is Becoming a Real Concern
This might surprise you but restaurants thrive on ambiance. What's better than a loud and joyful restaurant that's hopping on a Friday night? Nothing. But right now during the pandemic? That could be an issue. As restaurants open, the seating will have to be more spread out due to social distancing. By keeping the music upbeat, and likely, loud, it can compensate for a relatively subdued environment and also encourage you to finish your meal faster (so that the tables can have a higher turnover rate).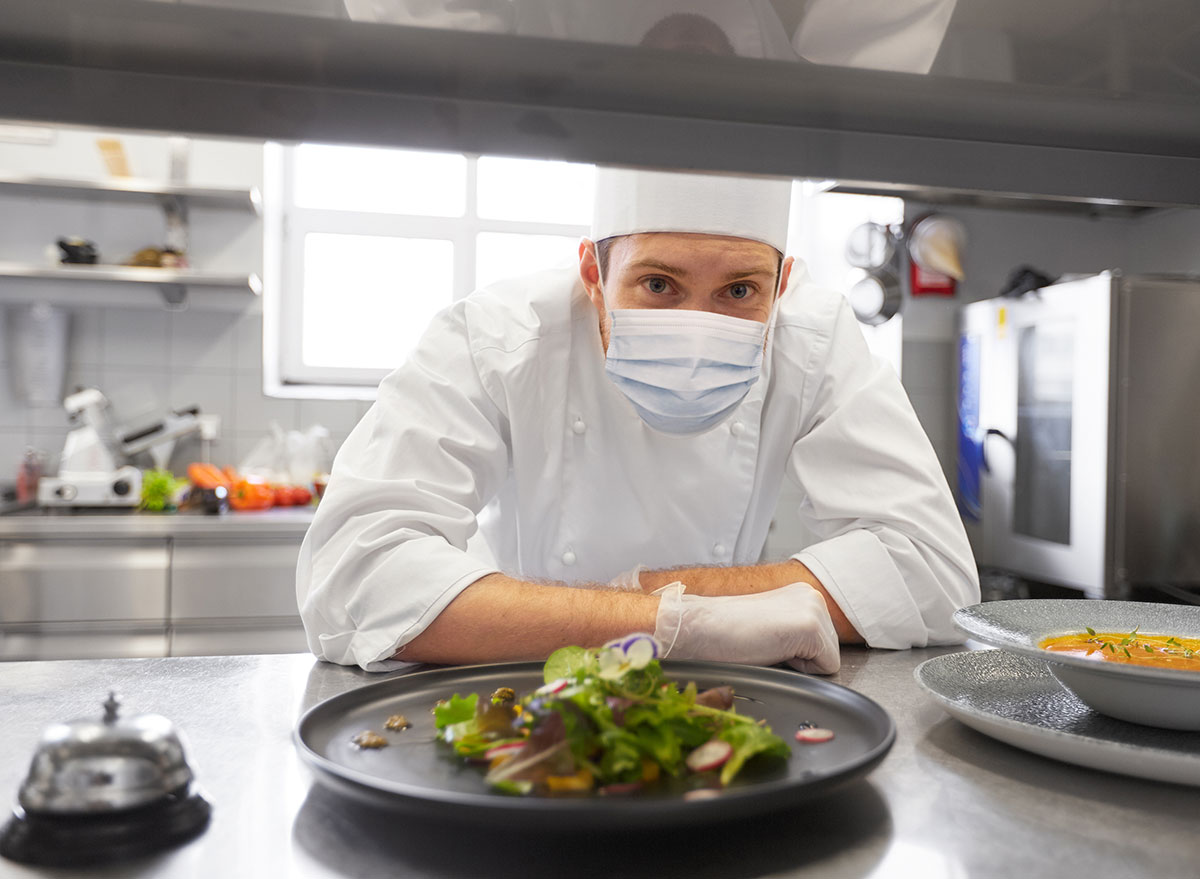 6254a4d1642c605c54bf1cab17d50f1e
Instead of servers bringing your food directly to your table, restaurants may start implementing food wait stations where you can go grab your dish when it's ready. This limits the number of individuals touching plates and serving utensils, and can greatly abates the spread of germs.
Virtual menus sent via text or email
The ideas of having paper menus (which can be thrown out after each use) or wipeable menus (in order to disinfect them after each use) have been tossed around a lot recently. But, virtual menus may be the option a lot of restaurants end up choosing. Think: Once you sit down at a table at a restaurant, you'll receive the menu via text or email. Menus are probably now a thing of the past at bars and lounges as well.
There have been numerous case studies of contact tracing that shows how air conditioning vents helped spread the COVID-19 contagion in a restaurant. As a result, some eatery owners are planning on going without A/C in customer areas, choosing instead to keep windows and doors open for ventilation. "If we have to run A/C," one restaurant owner recently wrote on Reddit, "We purchased some reusable air filters that can be washed and sanitized frequently." Here are 10 other shocking changes restaurant owners are thinking of making now.