An Easy, Low-Calorie Tiramisu Recipe
A lighter version of the classic Italian dessert? Go ahead and have seconds.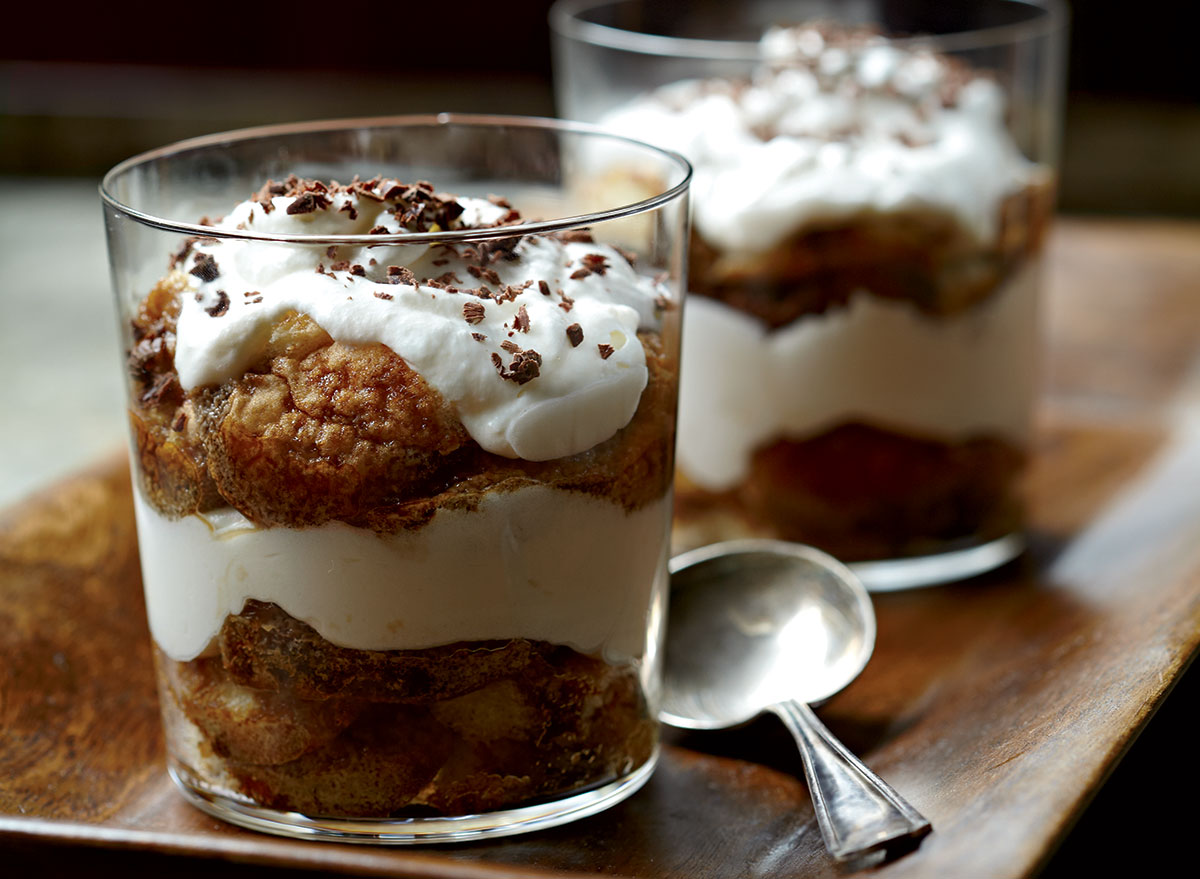 Tiramisu is like guacamole and pizza: It's hard to have a truly bad version of it. Yet, our personal favorites are always truly memorable, leaving a lasting impression on both our mind and our stomach. Still, the basic ingredients of a tiramisu (like confectioners' sugar, whipped cream, and dark chocolate, just to name a few) are so fundamentally delicious, even an ill-prepared rendition is still pretty satisfying. Unfortunately, that rule doesn't hold true for nutritional virtue, which tends to suffer in inverse proportion to the deliciousness of a given tiramisu.
This healthier version bucks that trend, ditching the high-calorie constituents—egg yolks and mascarpone—in favor of a lighter treatment of beaten egg whites and whipped cream cheese for an approach that yields an ethereal, but still rich and satisfying treat. Go ahead and indulge in our homemade version, and it just might become your new personal favorite of the classic tiramisu.
Nutrition: 260 calories, 6 g fat (4 g saturated), 23 g sugar
Serves 4
You'll Need
3 egg whites
1⁄4 cup confectioners' sugar
1⁄2  cup whipped cream cheese, softened at room temperature
1⁄2  cup strong espresso (or 1 cup strong coffee)
1⁄2  cup coffee liqueur such as Kahlúa or Tia Maria
1⁄2  (7oz) package ladyfingers or 4 cups cubed angel food cake (Ladyfingers—short, stubby sponge cakes—are traditional here, but angel food cake provides a similarly soft, absorbent base that also keeps the calorie count a touch lower.)
1 oz dark chocolate, finely shaved
Espresso grounds or cocoa powder (optional)
How to Make It
Beat the egg whites until they form soft peaks.
Add the sugar and lightly beat it into the whites.
Place the cream cheese in a large bowl and fold in half of the whipped whites.
Once fully incorporated, lightly fold in the remaining whites.
Combine the espresso and coffee liqueur. Place a layer of ladyfingers (or angel food cake, if using that instead) in the bottom of 4 wine or martini glasses.
Spoon enough of the coffee mixture over them to soak the ladyfingers thoroughly.
Divide the cream cheese mixture among the glasses, then top each with a good pile of dark chocolate shavings.
Garnish with a dusting of espresso grounds if you like.