15 Trader Joe's Frozen Foods Recipes You Need to Try
Wait, you can make WHAT with cauliflower gnocchi?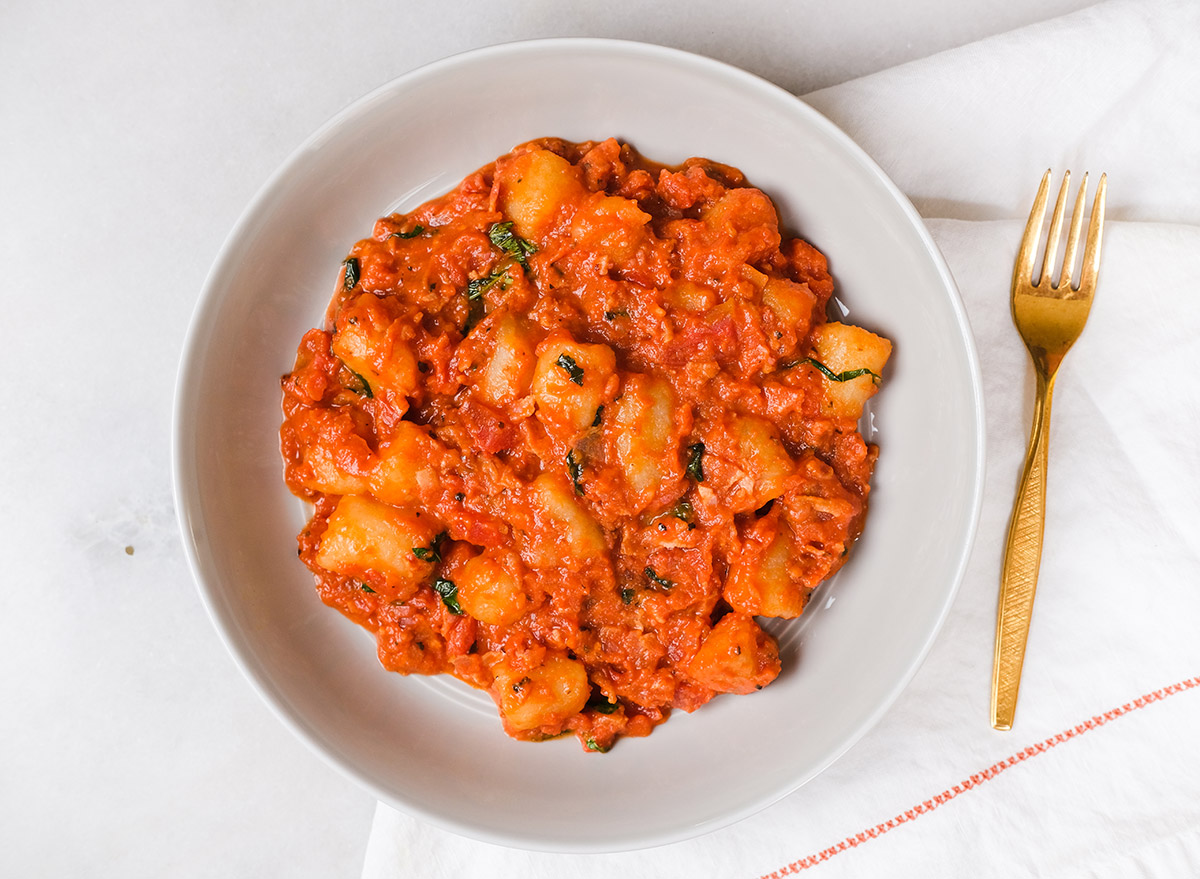 It's a truth universally acknowledged that Trader Joe's is the mothership when it comes to frozen foods. Many of the items found in the frozen food aisles are affordable, tasty full meals that you can quickly heat up in the microwave or the oven (favorites like chicken tikka masala and the pepperoni pizza mac and cheese bowl come to mind). These are ideal for nights when you just don't feel like cooking, but the wonders of Trader Joe's frozen foods don't stop there.
If you want to do some cooking and mix things up a bit, there's no shortage of recipes that start with TJ's frozen foods. From frozen meats to pasta to vegetables, here are 15 recipes that you can make using affordable, high-quality frozen foods from Trader Joe's.
And for more, don't miss these 15 Classic American Desserts That Deserve a Comeback.
Breakfast
Gnocchi Breakfast Hash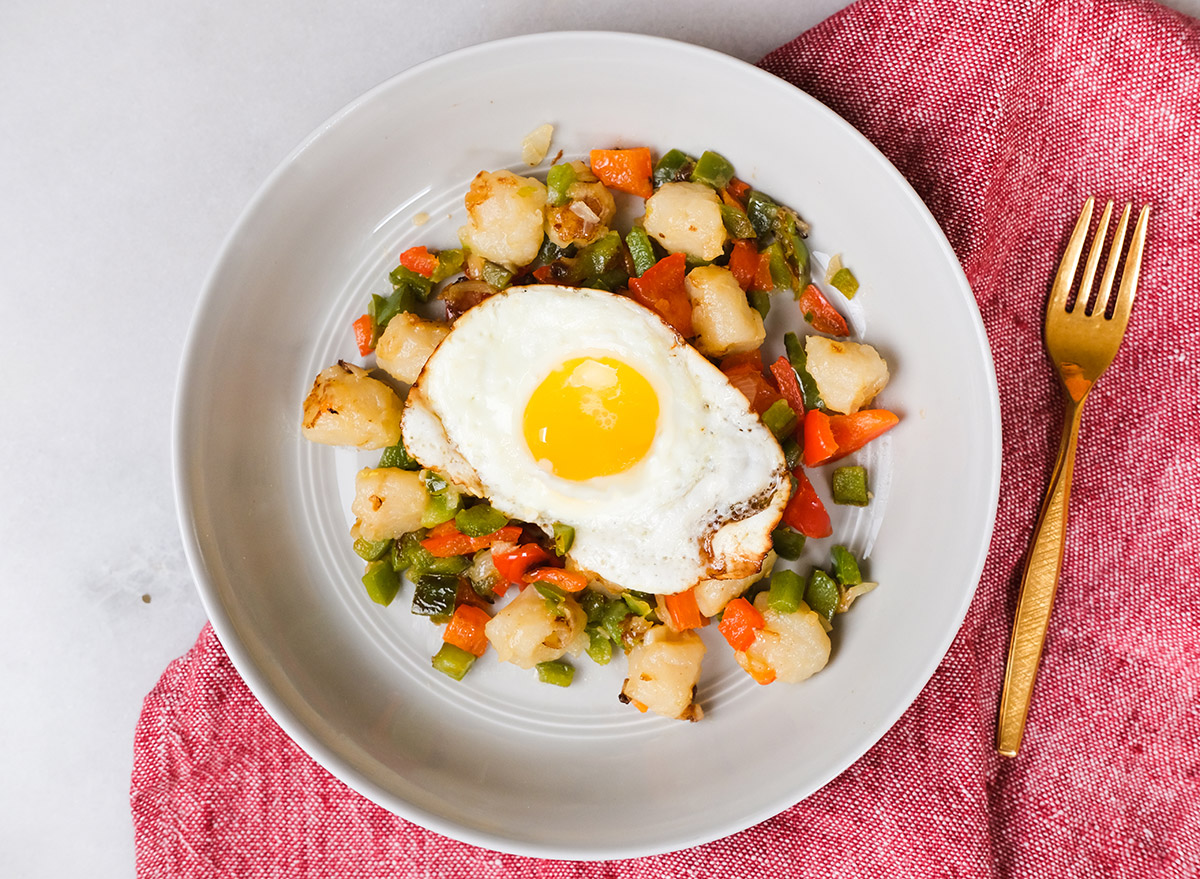 Using TJ's beloved cauliflower gnocchi, this breakfast hash is quick and easy to make. And it's definitely not boring, thanks to the addition of flavorful peppers and other veggies of your choosing. It's also a great option if you're cooking brunch for a few friends and don't want to sacrifice quality time because you're stuck in the kitchen cooking an elaborate dish.
Get our recipe for Gnocchi Breakfast Hash. 
Berry Smoothie Bowl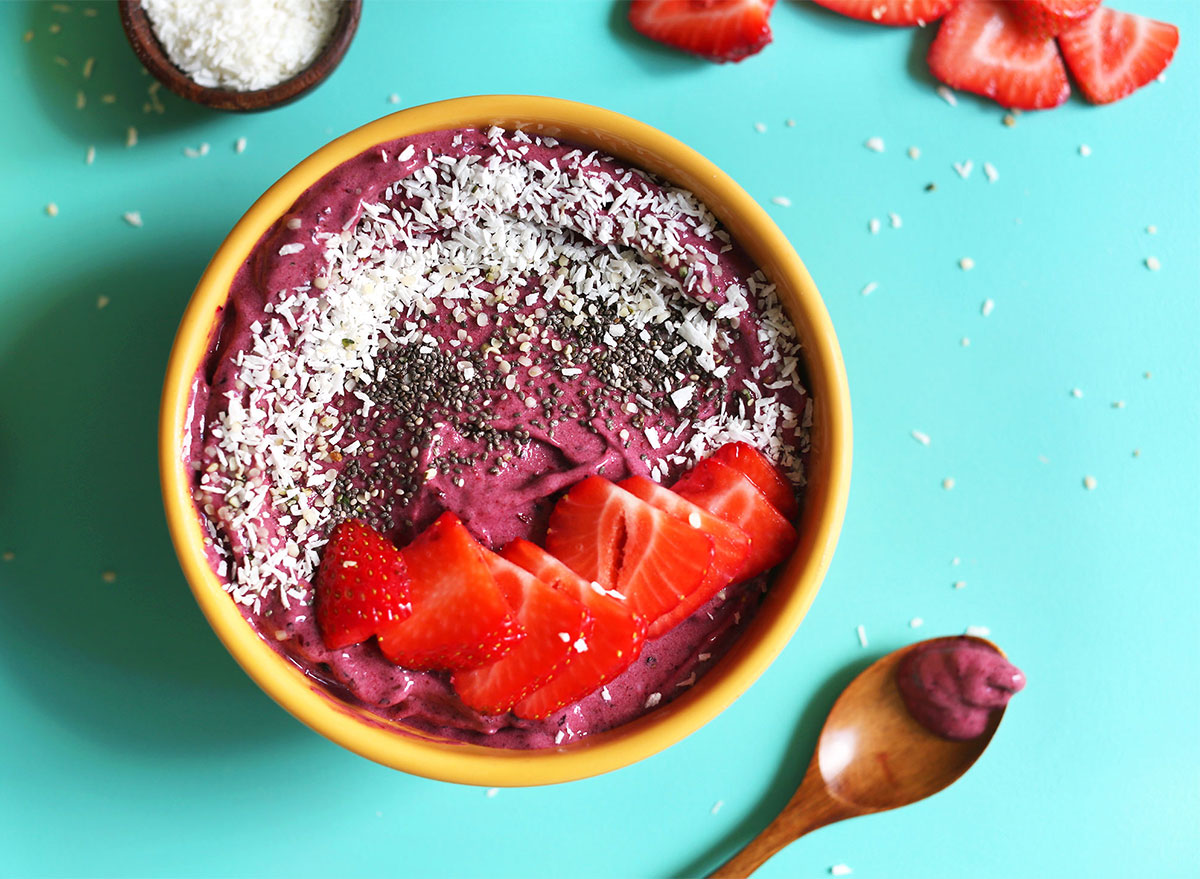 This berry smoothie bowl is perfect for when you want to whip up a quick breakfast. Three ingredients and a blender are all you need. Using frozen bananas and mixed berries from TJ's, blend until it looks (and tastes!) like soft-serve.
Get the recipe from Minimalist Baker. 
Simple Berry Compote
This two-ingredient compote is super easy to make. Pick two of your favorite berries, whip it up, and then add ginger, cinnamon, or another favorite spice to give it some extra flavor.6254a4d1642c605c54bf1cab17d50f1e
Get the recipe from Minimalist Baker.
Quick and Easy Blueberry Muffins
Blueberry muffins are one of the most tried-and-true comfort foods. Grab frozen blueberries from TJ's, then follow this simple recipe, and you'll have eight warm, delicious muffins in just 30 minutes.
Get the recipe from Inspired Taste. 
Lunch & Dinner
Peanut Orange Chicken Pasta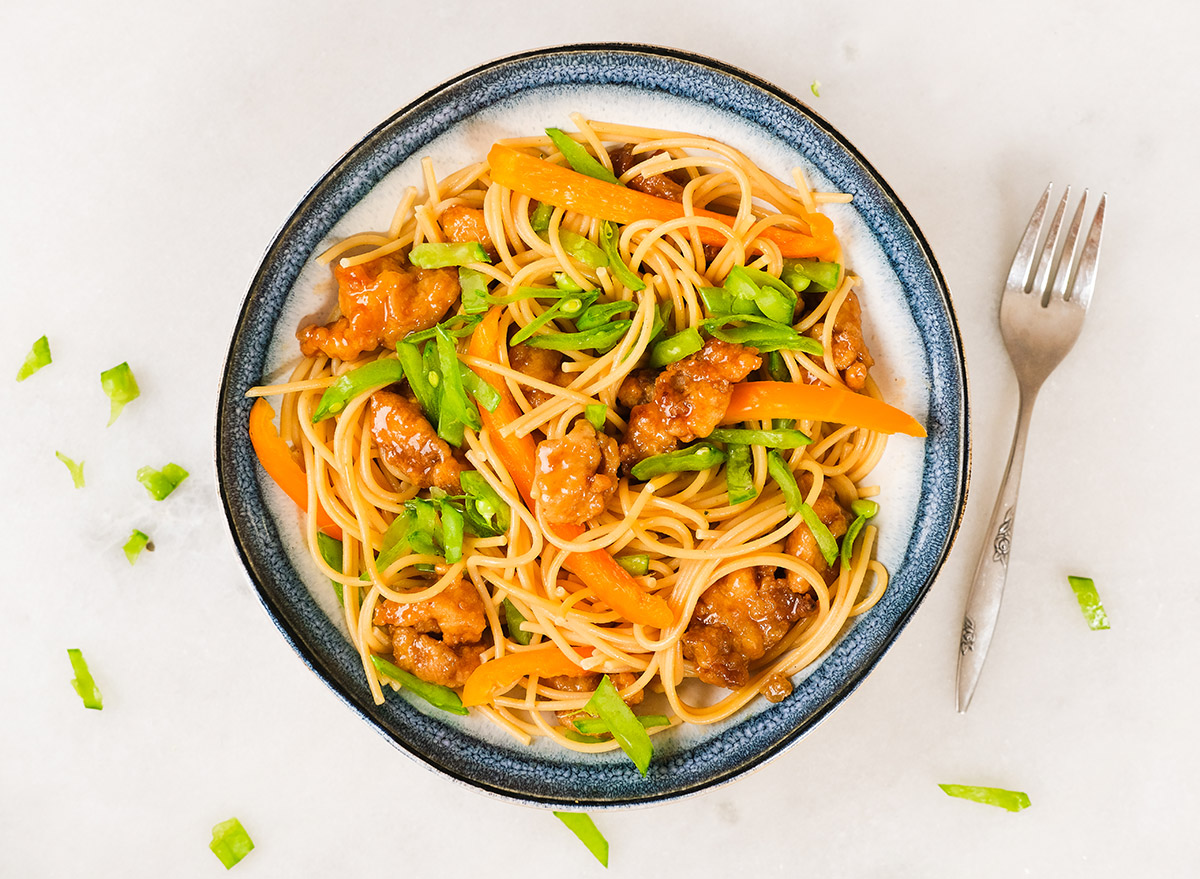 Use Mandarin Orange Chicken to take your pasta game to the next level. We love classic spaghetti and meatballs as much as the next person, but the added flavors like peanut sauce give it an extra kick. We can't get enough of this unique, delicious dish.
Get our recipe for Peanut Orange Chicken Pasta. 
Cauliflower Gnocchi alla Vodka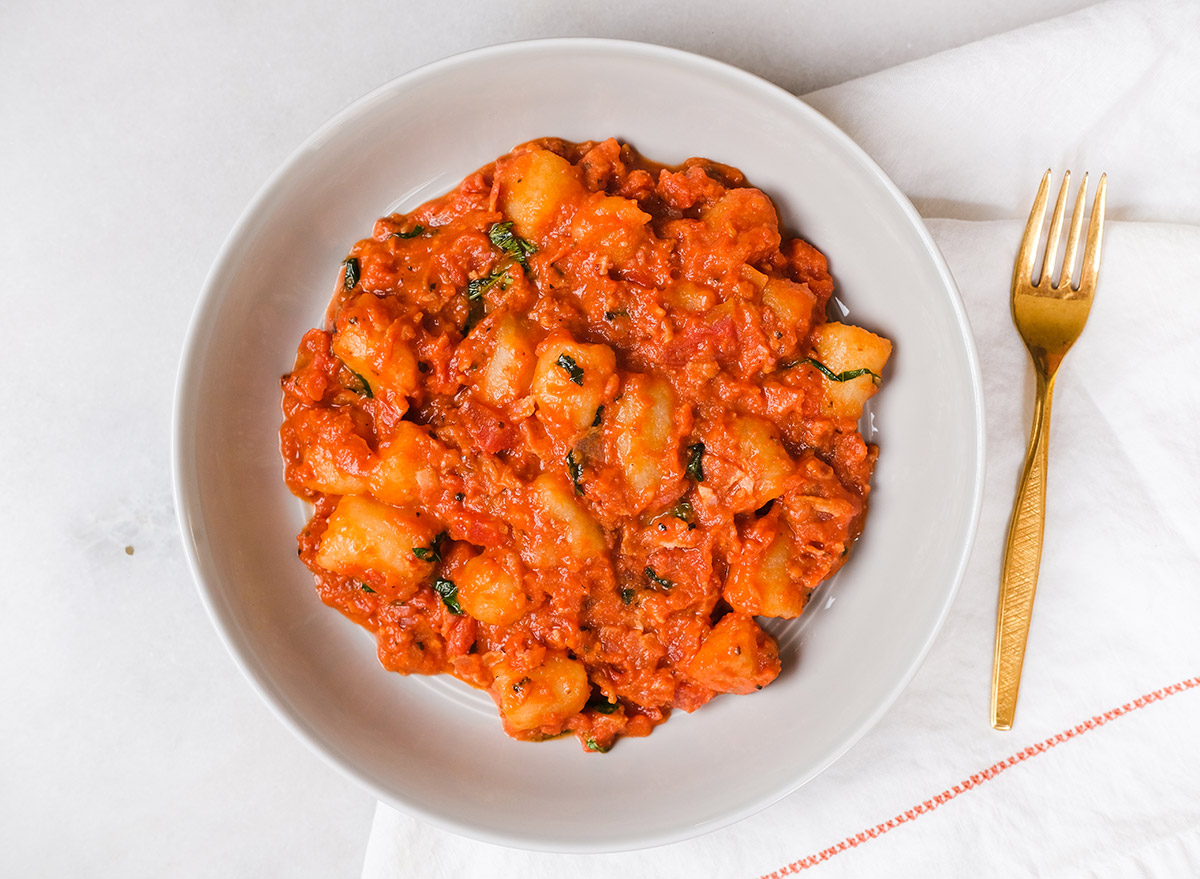 If penne alla vodka is one of your favorite dishes, you need to try this cauliflower-based version! It's super easy to pull together and just as delicious as the gluten-filled version.
Get our recipe for Cauliflower Gnocchi alla Vodka. 
Cauliflower Gnocchi With Onions, Peas, and Turkey Bacon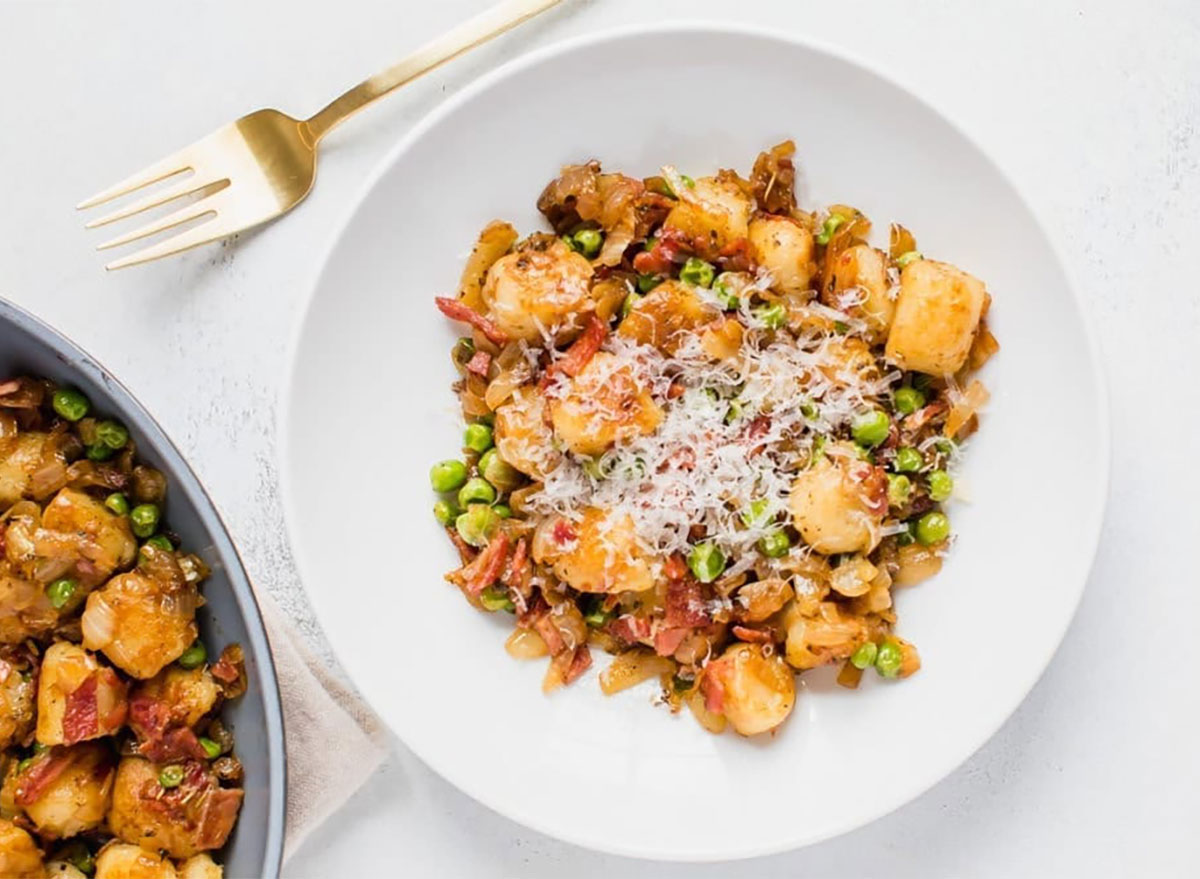 This quick, filling weeknight meal hits all the key food groups: carbs, veggies, and protein. Just be sure to follow the recipe instructions closely when you're cooking up the gnocchi, because this is one time you don't want to follow the package instructions. Instead of boiling or microwaving the gnocchi, pan roast it with a little olive oil or butter.
Get the recipe from Eating Bird Food. 
Slow-Cooker Hoisin Turkey Meatballs
Another easy weeknight dinner is slow-cooker hoisin turkey meatballs. Simmer TJ's frozen turkey meatballs in a sweet and savory sauce, and you'll have a filling dish that comes in at under 300 calories. Add a side of rice and vegetables (steamed broccoli or green beans are highly recommended) and you've got a full meal.
Get the recipe from Inquiring Chef. 
Pan-fried Cacio e Pepe Cauliflower Gnocchi
Cook up TJ's famous cauliflower gnocchi, then add black pepper and parmesan. Commenters noted that you can get creative with this one, so don't be afraid to experiment by adding in your favorite veggies, basil, garlic, or all of the above.
Get the recipe from I Am a Food Blog. 
Shrimp Tacos with Cabbage Slaw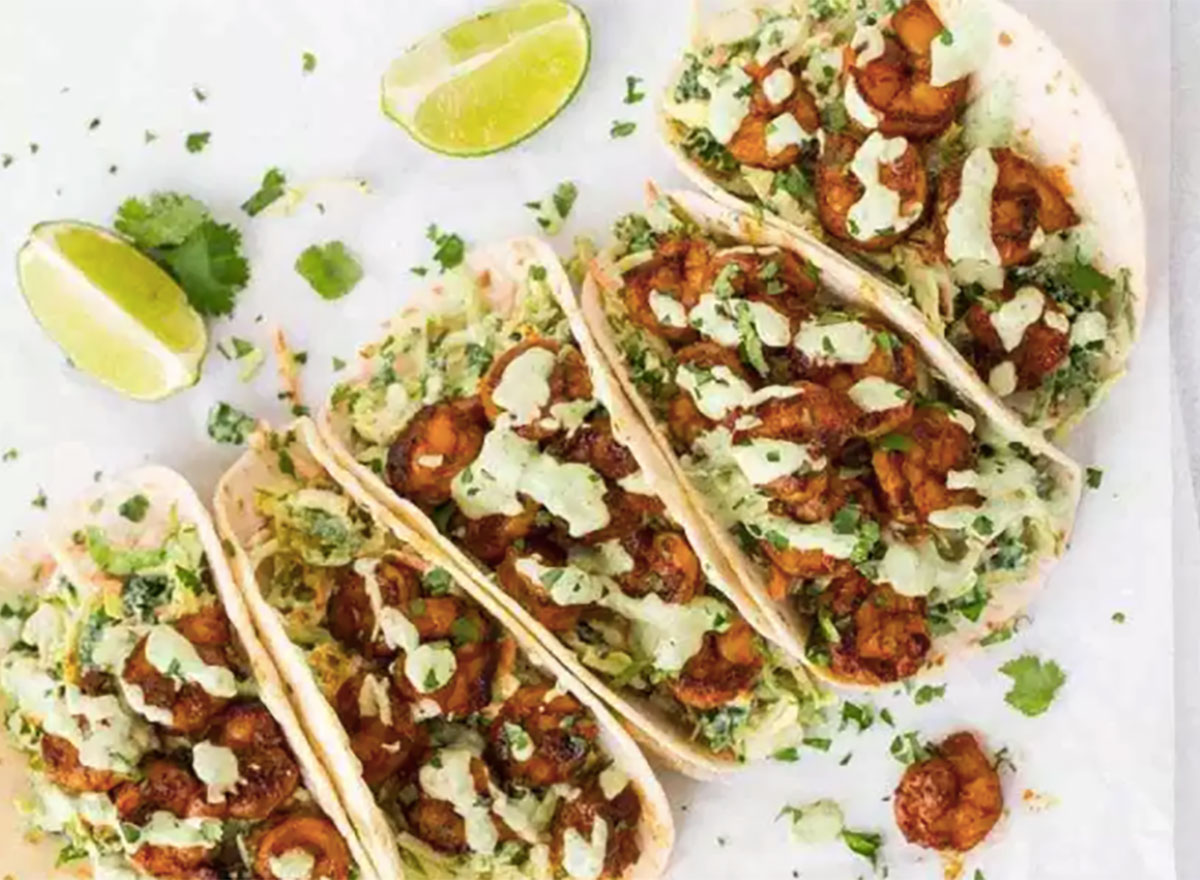 We love shrimp tacos, but this recipe steps it up with a seriously delicious creamy cabbage slaw made from shredded cabbage, broccoli, kale, Brussels sprouts cilantro, lime, Greek yogurt, and jalapeño. We don't know about you, but our mouths are watering just looking at this recipe.
Get the recipe from Well Plated. 
Lemon Pepper Grilled Swordfish Kabobs
TJ's has excellent frozen swordfish, and it tastes even better in kabobs made with a marinade of olive oil, lemon zest, black pepper, anchovy paste, and thyme. We may have just discovered our new summer go-to.
Get the recipe from Inspired Taste. 
Vegetarian Quinoa Fried Rice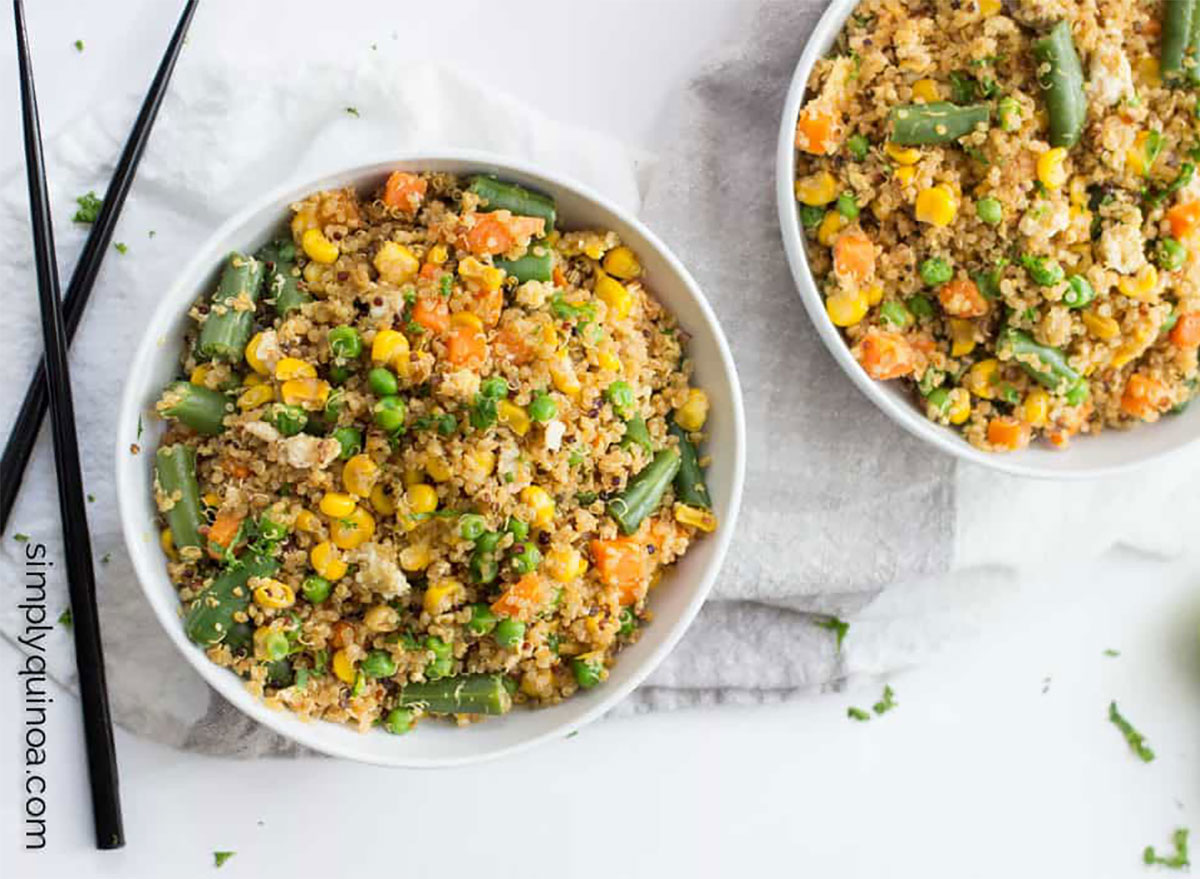 This vegetarian and gluten-free dish is perfect for people who love fried rice but are limiting their carb intake. Use TJ's quinoa, and if you love the result, consider swapping quinoa for rice in other dishes like tacos and burrito bowls.
Get the recipe from Simply Quinoa. 
Vegetable Soup
There isn't a strict ingredient list for this soup recipe—pick your favorite vegetables and go forth to make the soup of your dreams! Luckily for us, TJ's offers a wide variety of frozen veggies.
Get the recipe from Cooking Classy. 
Snacks & Appetizers
Easy Elote Dip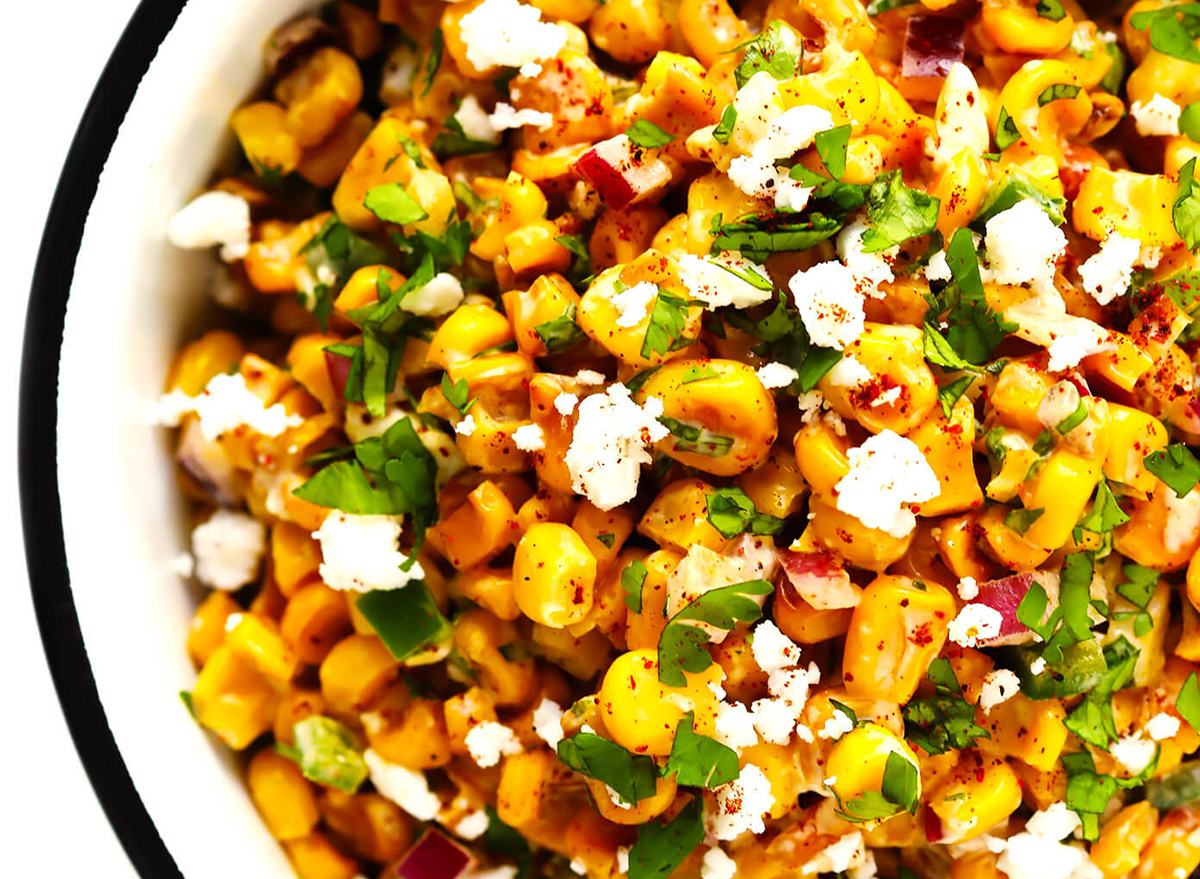 Naturally gluten-free and vegetarian, elote (which translates to "corn on the cob" in Spanish) is flavorful and easy to make. It can be served hot, cold, in a cup, as a topping… the sky's the limit!
Get the recipe from Gimme Some Oven. 
Easy Shrimp Cocktail
Who doesn't love shrimp cocktail? This five-ingredient cocktail sauce is quick and easy to make, especially if you pair it with TJ's frozen shrimp. It's a great snack, or pair it with a salad and you'll have a complete lunch or dinner.
Get the recipe from Foodie Crush. 
For more, check out these 108 most popular sodas ranked by how toxic they are.
Caitlin Flynn
Caitlin Flynn is an award-winning writer and reporter who experienced early age corporate burnout in 2015 and traded New York City for the misty air and superior coffee of Seattle.
Read more about Caitlin