17 Tips to Stay Slim While Traveling
Treat yourself to some much-deserved time off—minus the souvenir of an extra five pounds on your frame!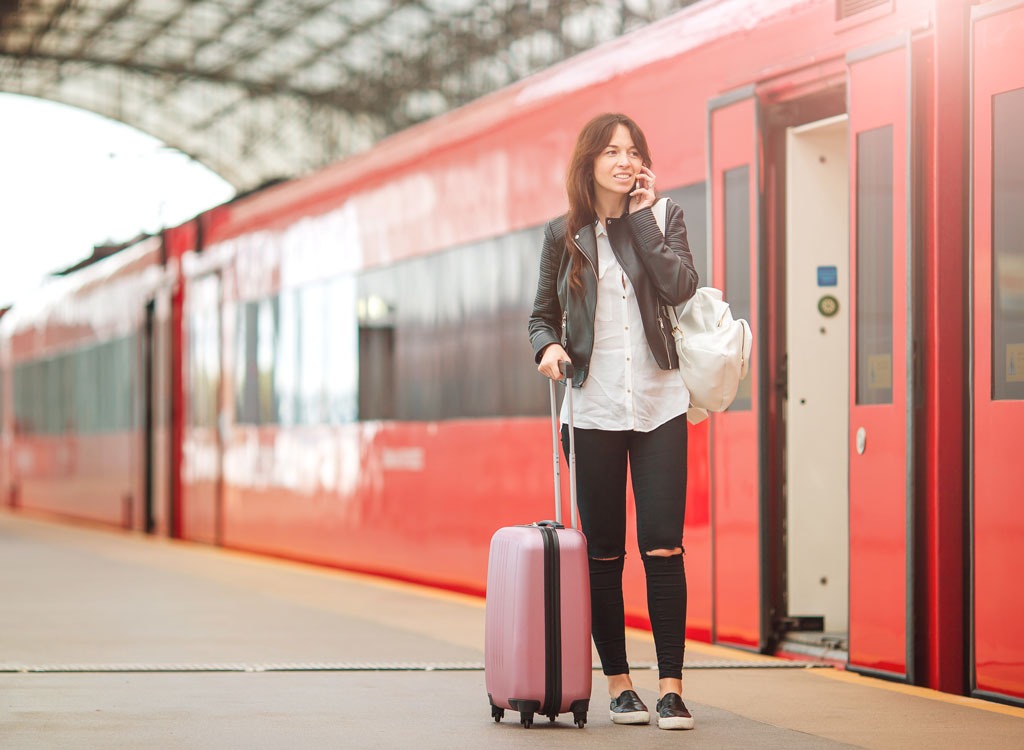 Just because you're on vacation, it doesn't mean all your healthy eating and lifestyle habits have to take a vacay, too. There are always healthy and delicious options wherever you go, and there are a number of ways to make those choices more enticing. Here's a breakdown of how to keep looking and feeling your best—because no one should feel like they need to detox after taking some much-deserved time off. And if you need some last-minute tips before your trip, check out these 35 Foods to Get You Bikini Ready!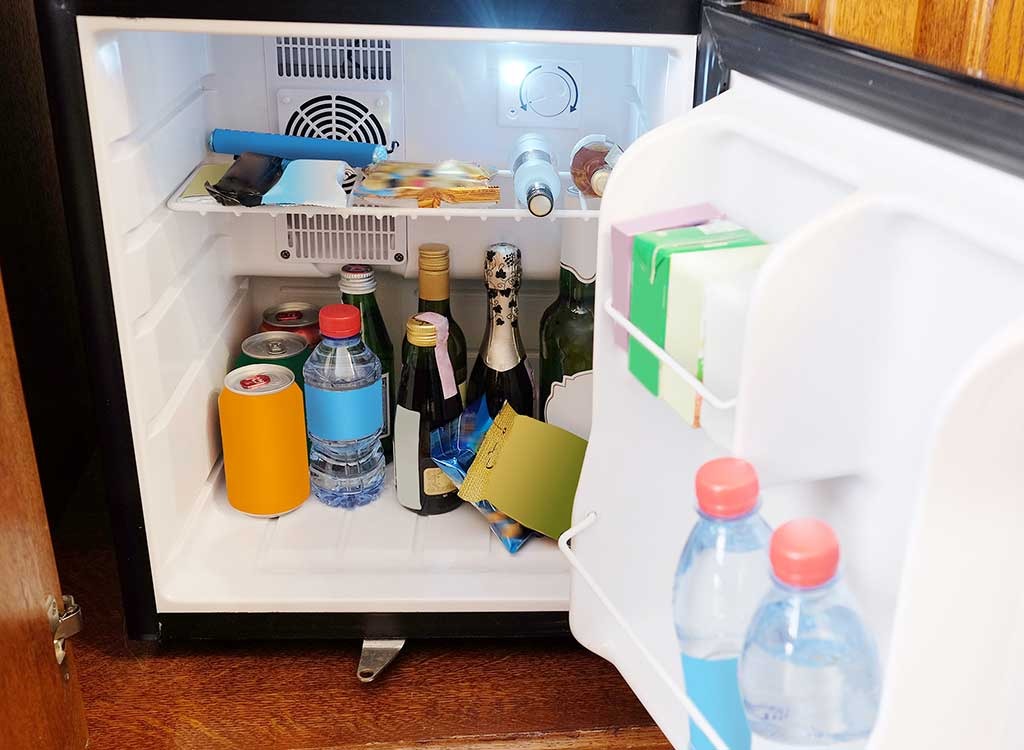 "Call your hotel ahead of time and have them clean out the mini bar," recommends Tanya Zuckerbrot MS, RD and the founder of the F-Factor Diet. "This way, you minimize the temptation of grabbing a snack and you can fill it yourself with the healthy, responsible snacks that you want to keep on hand for your trip." Some good options are plain Greek yogurt, fresh fruit, high fiber cereal, and Eat This!-approved nutrition bars, all of which will work to keep you full for longer periods of time. Bonus: You'll be more likely to hit that restaurant the locals rave about instead of desperately sitting down at a tourist trap.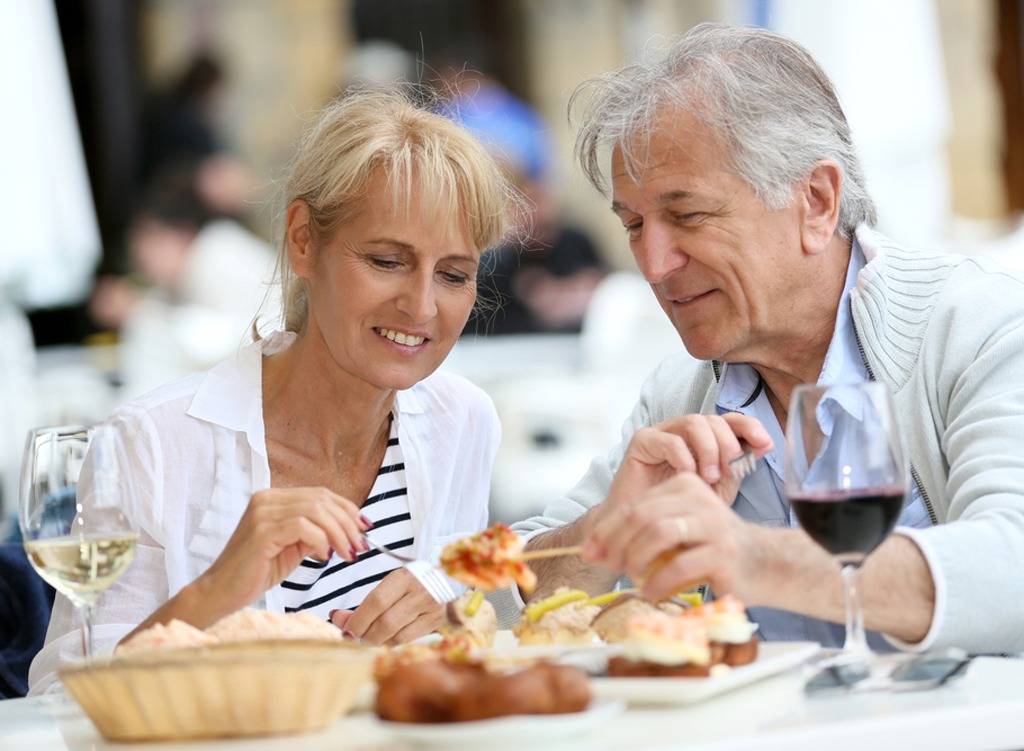 Vacations are meant to be enjoyed—which means you not only can but should indulge. The key is to do so in moderation. "There's no harm in indulging each day–just keep portions in check. Deprivation is no fun on vacation," says Zuckerbrot, who recommends sticking to the 3-bite rule. The rule is that just three bites of anything—no matter how decadent—won't derail your diet. And you'll feel satisfied if you take the time to savor each bite. Not sure you can say no to a fourth bite? Supercharge your inner strength with these 22 Truths About Willpower!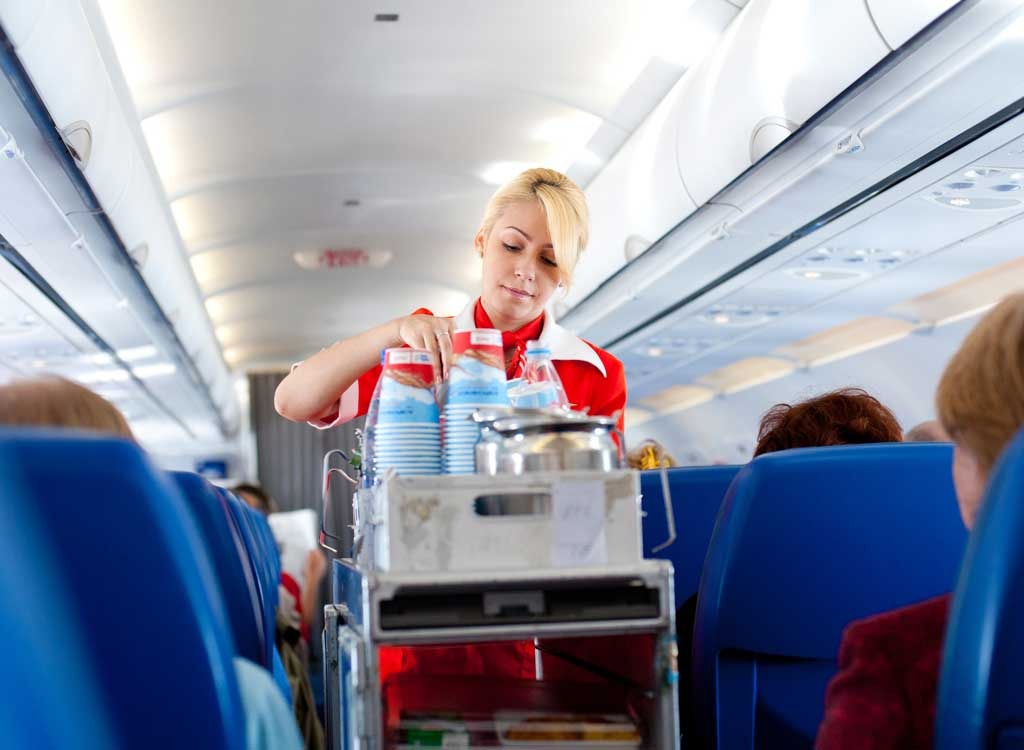 Most airline meals and snack boxes are sky-high in calories and full of processed junk with a long list of artificial ingredients. Bring your own snacks from home or shop the airport for healthier choices. Zuckerbrot suggests jerky and an apple. "I love the combination of protein and fiber; it's filling and low in fat and calories. Beef jerky is pure protein–no carbs–and doesn't need to be refrigerated, so you can bring it anywhere. Fruit and a handful of nuts are also a good choice." Get more expert advice from our report on the 11 Airport Foods to Avoid at All Costs (and What to Get Instead!)6254a4d1642c605c54bf1cab17d50f1e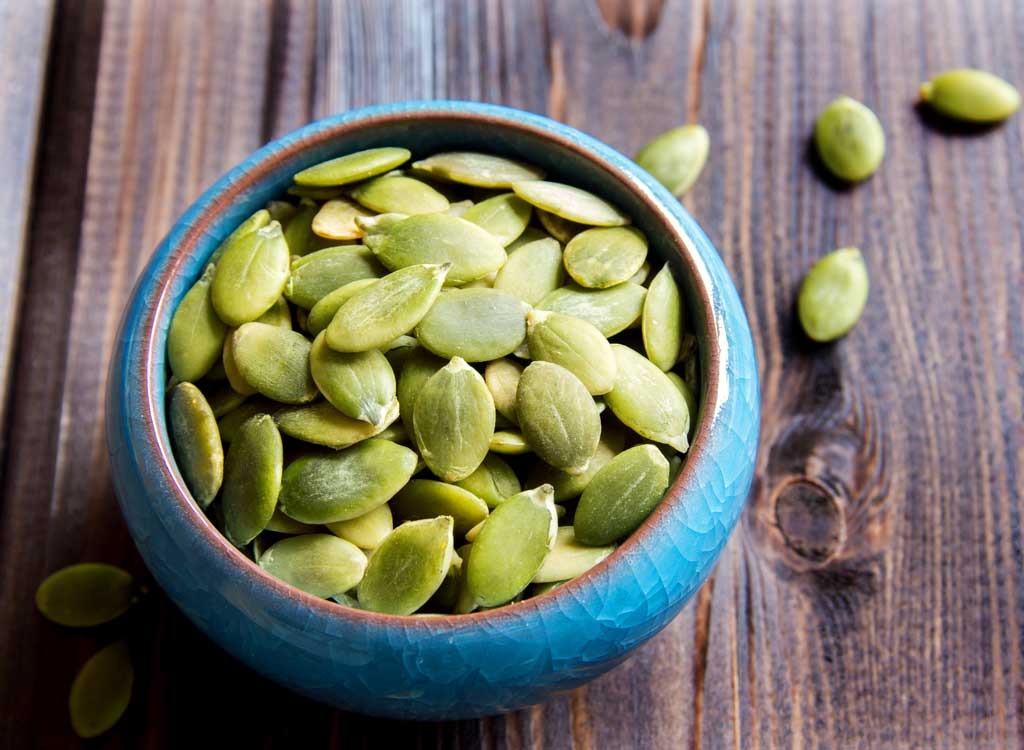 Not only are you sedentary when you're on an airplane, but it's more difficult for your body to digest food when you're up in the air. Eat as little as possible, and when you do, keep your snacks light and high in fiber (fiber is key to boosting digestive health). Aside from the ones mentioned by Zuckerbrot, raw veggies and seeds are also good options.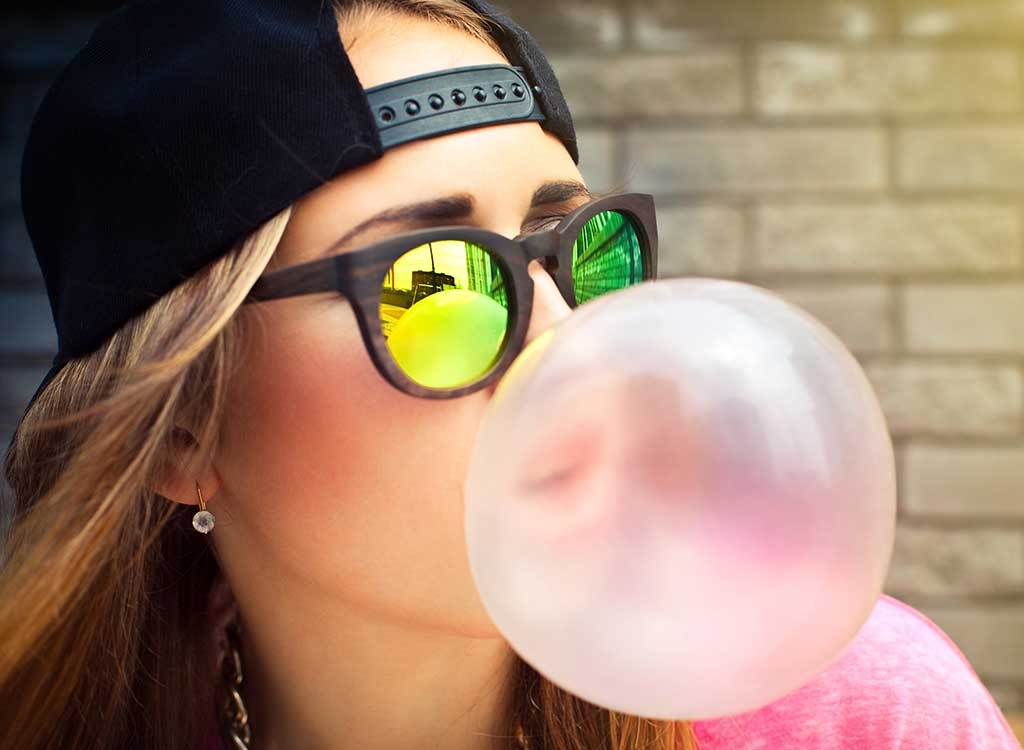 We usually aren't a huge fan of chewing gum because it can cause bloat, thanks to sucking in extra air. But on a plane, chewing gum can keep your ears from stuffing up when flying because it helps open up the Eustachian tubes. Perhaps more importantly, it can help keep your sweet tooth satisfied.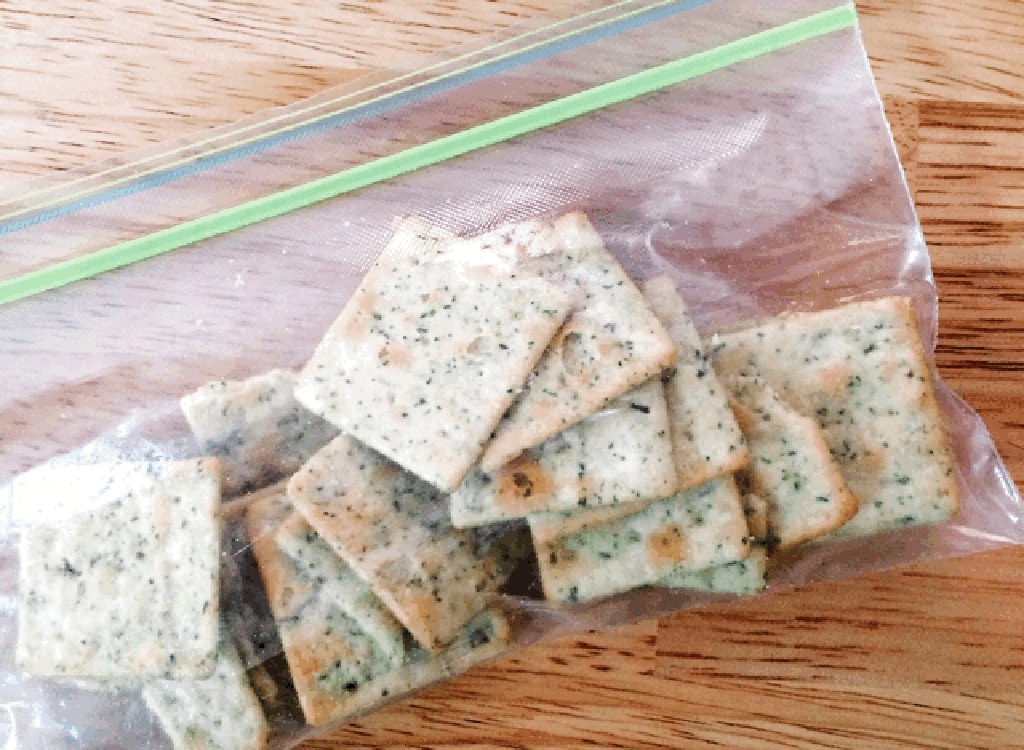 If gum isn't doing it for you, don't reach for those Dunkin' Donuts or greasy bag of chips as alternatives. There are plenty of healthier ways to indulge, including dried fruits (make sure to go for ones with no added sugar, sulfites, preservatives or other additives) or raw-vegan snacks like Raw Kale Chips, Garden Chips, or Veggie Trail Mix from Ginger's Healthy Habits. On a budget? Then bookmark this list of 27 Healthiest Snacks Under $1!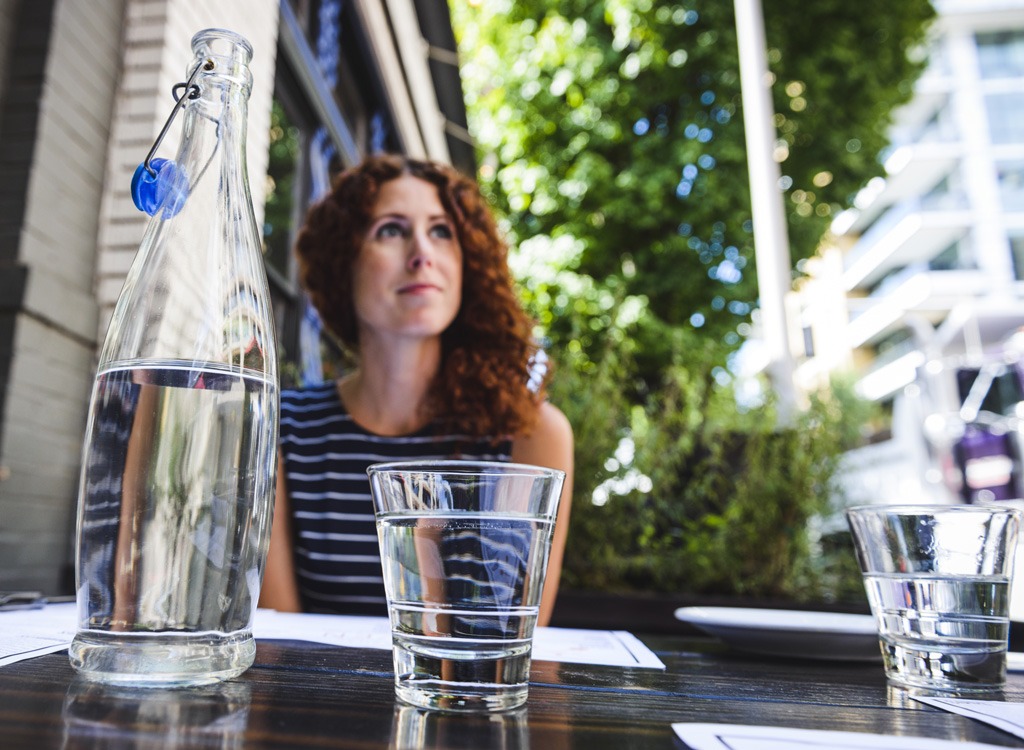 "Dehydration symptoms include headaches, low-energy, and hunger, all of which can put a damper on your trip and tempt you to reach for unhealthy snacks," explains Zuckerbrot. Avoid dehydration by always keeping a water bottle drink with you, especially when flying, sightseeing, or laying out. Plain water is a safe bet, but Zuckerbrot cautions to always read the nutrition label on juices, flavored waters, and teas. Case in point: These 26 Worst Bottled Tea Products will do more harm than good!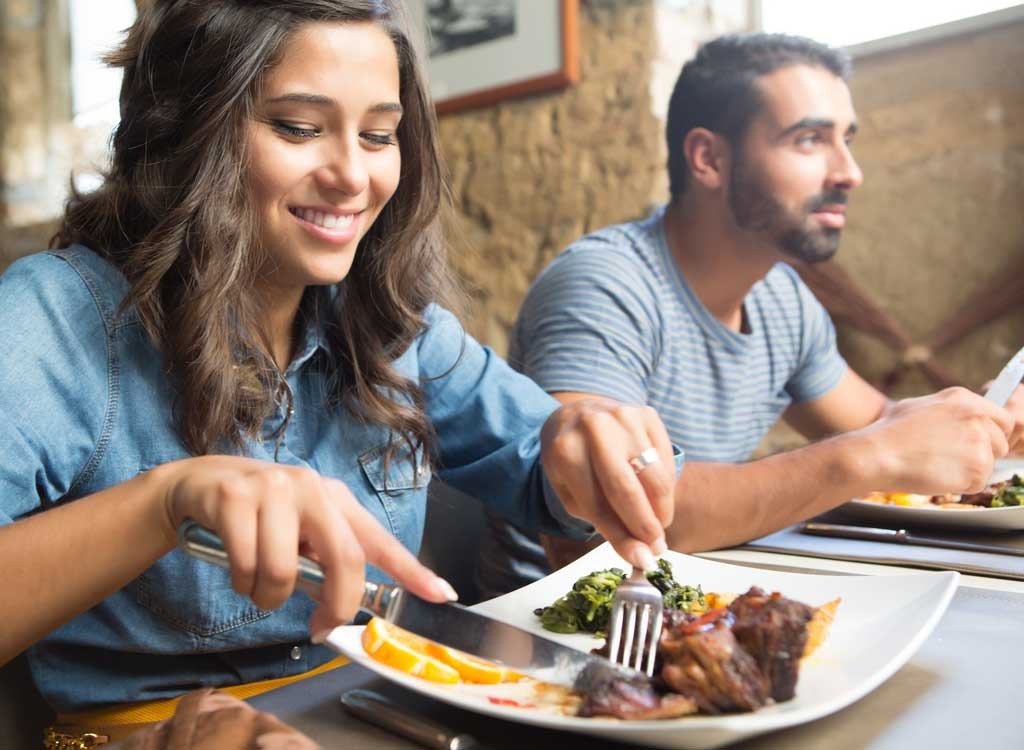 "On vacation, it's likely you'll eat most meals at a restaurant where the portions can be two to three times bigger than what you eat at home," says Zuckerbrot. "Share entrees, order half a sandwich, or split one."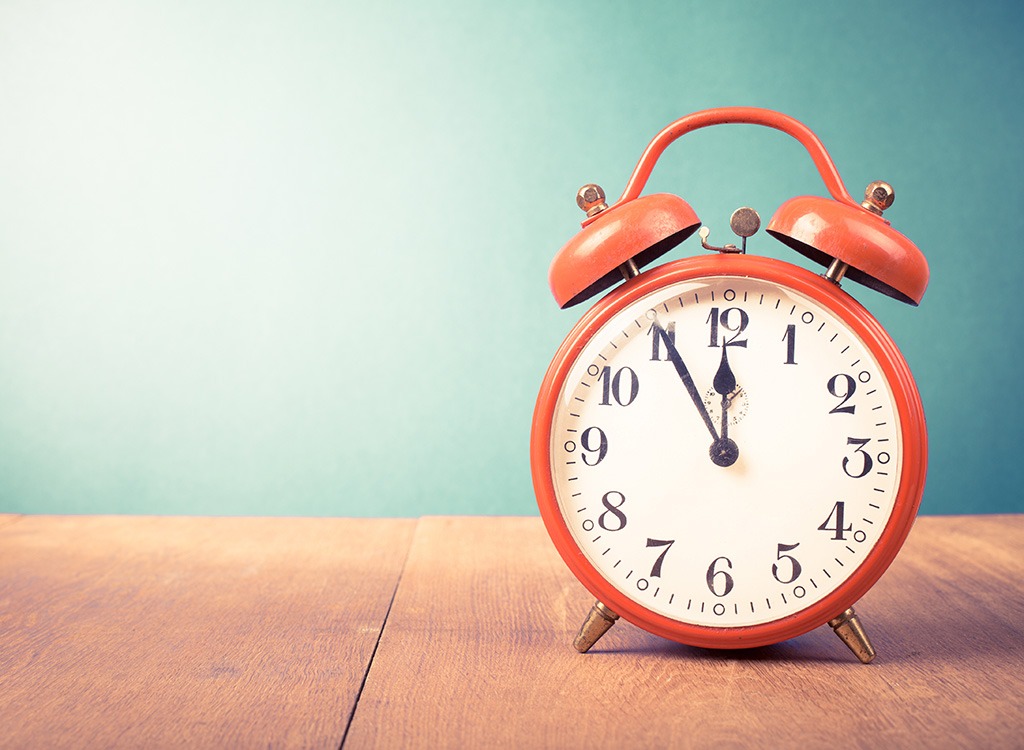 Not skipping meals is key to maintaining a healthy weight whether you're on vacation or not. It requires particularly close attention, however, when you're away from your regular routine. "Sticking to regular mealtimes ensures you'll have the energy you need to enjoy each day to the fullest. Try not to go more than four or five hours without eating," says Zuckerbrot.
Vacationers tend to resort to packaged carbs for D.I.Y. fuel when what they really need is fiber. "For travelers, eating foods high in fiber offers a number of benefits from aiding digestion and preventing constipation to boosting energy and satisfying hunger," says Zuckerbrot. "Fruits and vegetables are a great source of fiber and they're always easy to find and enjoy." Meanwhile, steer clear of these The 17 Worst Fiber-Rich Foods!
Remember, It Tastes The Same
We'll admit that the taste of a margarita on the beach while listening to crashing waves seems better and more refreshing than the one at your local Mexican restaurant back home. But there are plenty of other foods that are not magically better tasting and you should try to remember this. "From your hotel mini bar to checkout counters, candy is often omnipresent and hard to ignore. But remember, those M&Ms—at a couple hundred calories per bag—are the same as the ones at home and will look just the same on your hips no matter where you eat them." Skip the junk, especially if the moment isn't truly that special.
Joel Granik, co-founder and director of Floating Lotus recommends stretching when you find yourself sedentary for extended periods of time–whether on the plane or on the beach. "While you might not have enough space to do downward dog on an airplane, practice sun salutations before and after boarding," he advises. "While on the plane, lift your arms above your head and stretch. Calf raises are also easy to do in your seat." Another good thing to remember: stairs are your friend! Skip the elevator and use stairs for cardio when you're heading to your hotel room, for example. Check out these 31 Sneaky Ways to Work Out—Without Hitting the Gym for more smart moves.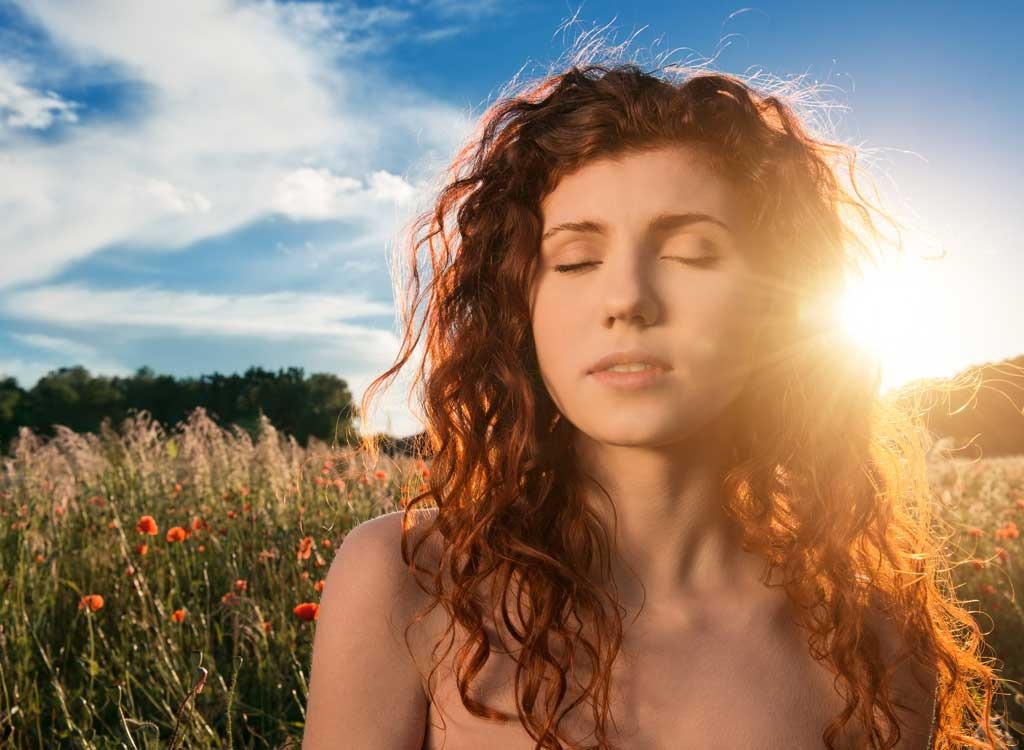 Stress often leads to mindless eating. While a vacation may seem like a stress-free endeavor, delays, bad weather, or a crabby spouse can all cause anxiety. "Avoid these mental traps by bringing a travel-size version of your favorite scented lotion or soap—anything you find familiar and soothing to help keep you calm during the chaos," says Granik. He also recommends practicing breathing exercises to center your mind and body. "The key is to take slow, deep breaths in, hold the breath for about five seconds, then release as slowly as you can manage."
Keep Health Boosters On Hand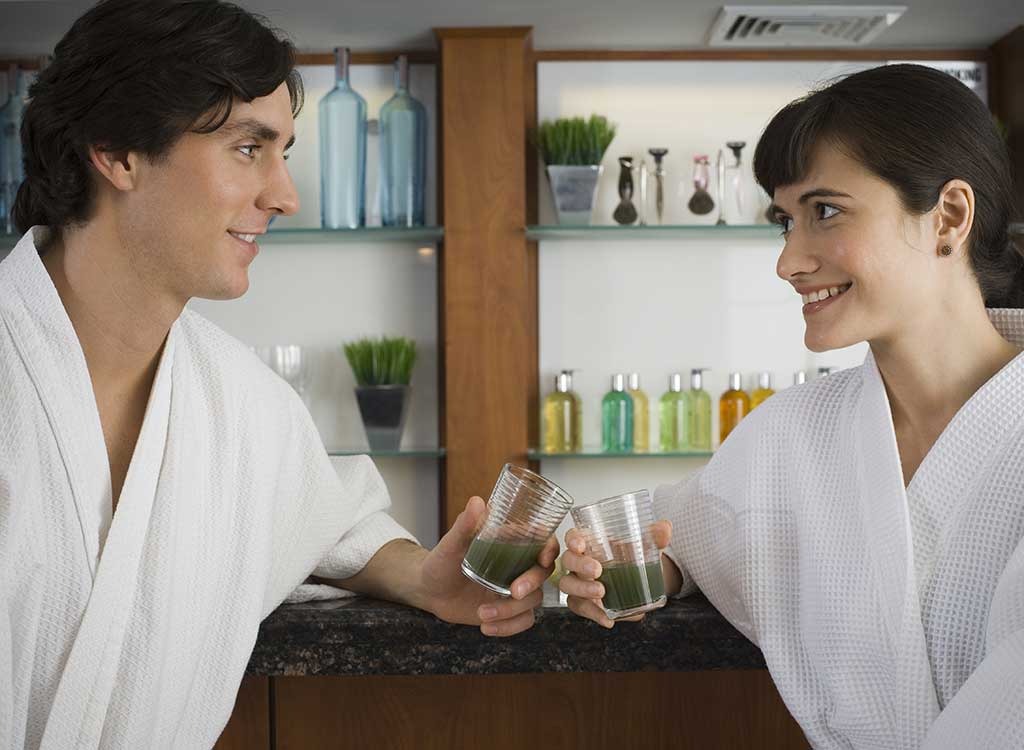 Stash a few health boosters in your luggage to keep on hand throughout your travels. Juice Generation makes a number of TSA- and handbag-friendly one-ounce shots, including an Aloe Shot for a digestive boost, a "Le Detox" shot for a cleansing boost, and a Tart Cherry + Turmeric shot that works to help accelerate muscle repair and improve sleep. Speaking of hitting the hay, don't miss these 17 Rumors About Sleep—Myth or Fact?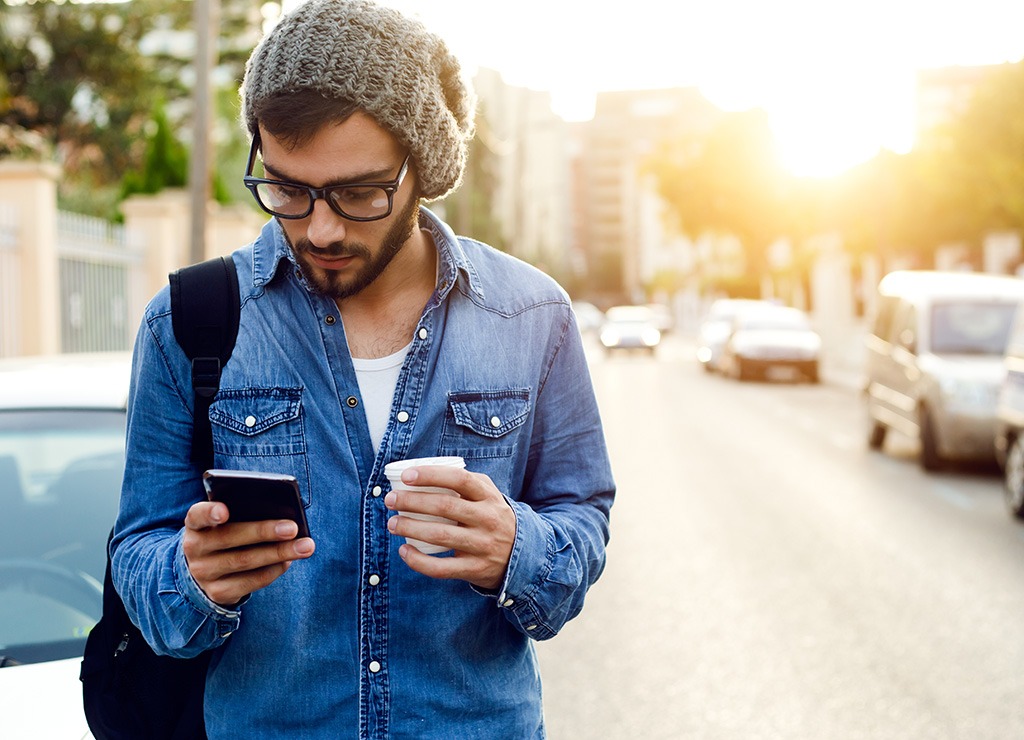 With this limited-time chance to eat out in a new location, it would be a shame to eat fast food or the first place you see when you're hungry. Researching and scouting your dining spots won't only improve your vacation experience, but will help keep you looking and feeling good, too. "With a little bit of online research, you can find the healthiest options near the sites you plan on visiting—and even plan your menu choices if you'd like," says Elizabeth Stein, certified holistic nutrition counselor and founder of Purely Elizabeth. "Once you have a general plan for where and when you'll be stopping at those eateries, you'll also have a much better idea of how many healthy snacks you should pack to keep yourself fed during your adventures."
Eat A Nutrient-Rich Breakfast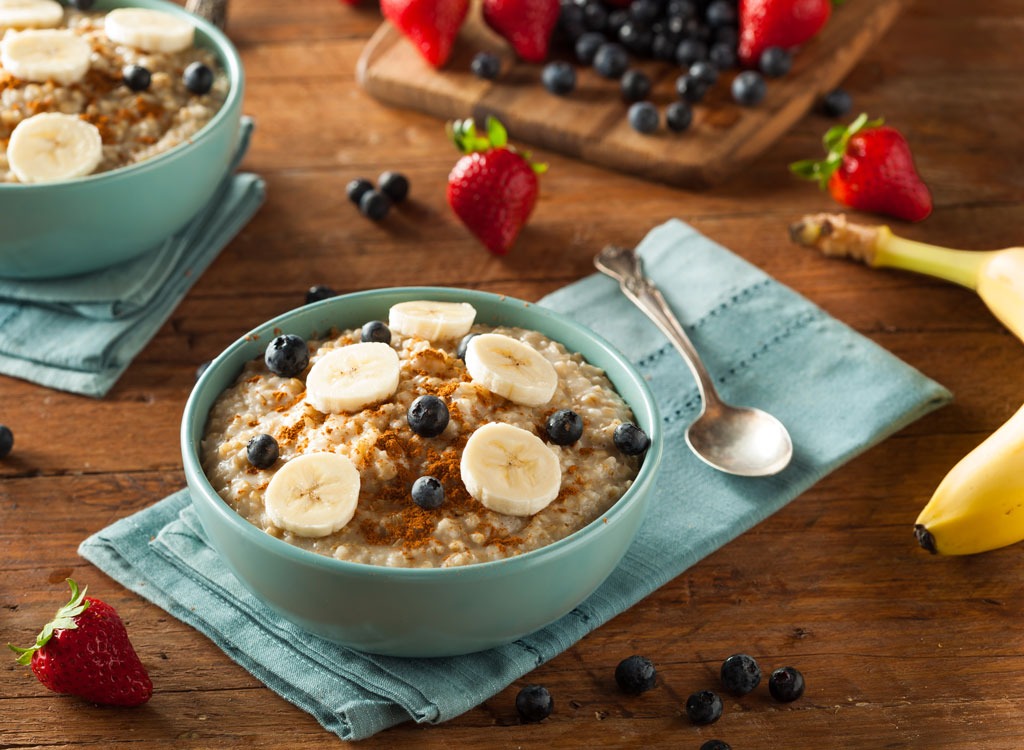 Whether you're on vacation or at home, breakfast can set the tone for the whole day—so it's important to eat a nutrient-rich and satiating meal that will keep you fueled all morning. Stein recommends looking for foods that are high in protein and fiber, such as whole-grain toast with almond butter, oatmeal with milk and chopped nuts, or a cup of plain Greek yogurt topped with berries. "Pack a bag of healthy breakfast starters such as a single-serve oatmeal and you'll be well on your way to an easy and stress-free breakfast on-the-go," she says.
Boost Your Immunity With Probiotics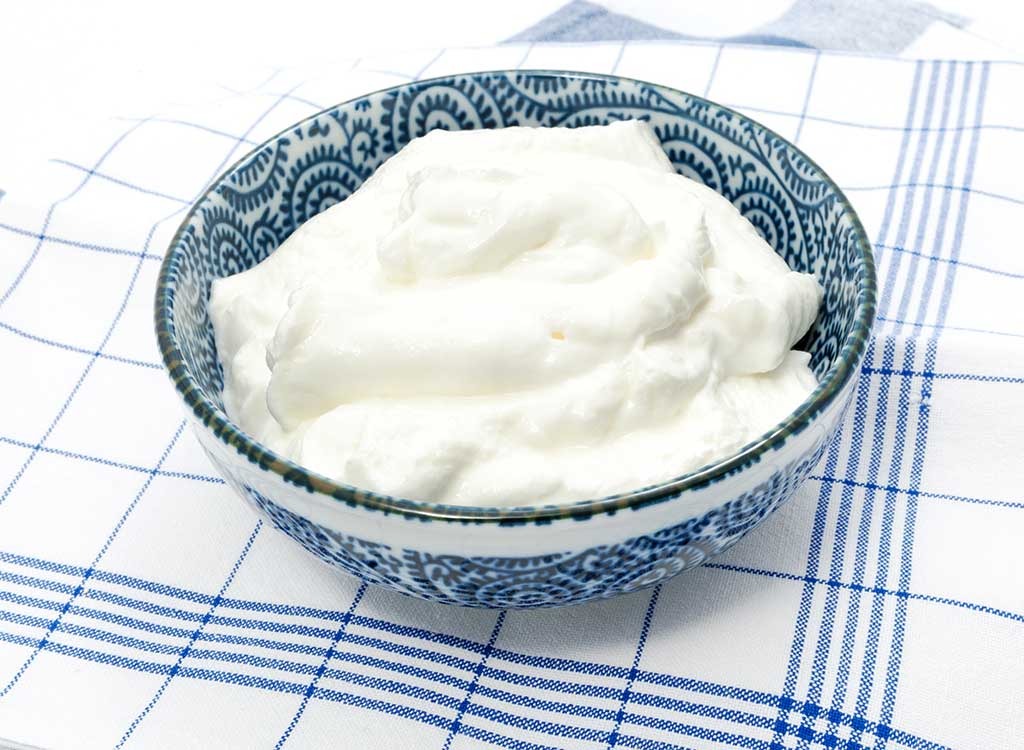 Before, after, and during your trip, give your body an immunity boost by choosing foods that are rich in probiotics—think yogurt or fermented foods. "The good bacteria in probiotics can help keep your gut health in check, which is especially important when you're eating unusually rich meals or trying new foods. I always bring a bag of probiotic granola with me, because it doesn't need any refrigeration and is great for breakfasts and snacks on-the-go," says Stein. Don't forget that probiotics don't work without prebiotics, though. And to better understand all the buzz about gut health, get-in-the-know with our report on How Good Gut Health Can Change Your Life!