10 Airport Foods to Avoid at All Costs (and What to Eat Instead!)
Top nutrition experts share their picks for the airport foods they wouldn't order—and what they actually recommend when you need a healthy snack.
Relax. Take off your coat. Kick off your shoes. Now place your coat, shoes and any metal items in the bin in front of you, wait for the security guard to wave you forward, and hope to heaven your carryon actually fits into the "must be this small" basket.
Air travel used to be glamorous, but today even first class is an exercise in humiliation. And the only thing worse than airport security: airport food. In fact, your diet is at such high risk of being terminated at the terminal that an organization called the Physicians Committee for Responsible Medicine felt it necessary to step up and warn people about the dangers of airport food: their Airport Food Review report named Minneapolis-St. Paul International as the unhealthiest airport in America. (Los Angeles, Newark, San Francisco, Philadelphia, and Denver were among the top stops for healthier fare.)
But what should you actually eat during your next layover, so your downtime at an airline hub doesn't turn you into a victim of airline chub? The editors of Eat This, Not That! asked top nutritionists what they recommend when you're about to hit the tarmac. And don't miss more insightful advice about slimming down with Can't Lose Weight? Diet and Fitness Experts Explain Why.
What Foods to Avoid at The Airport
Auntie Anne's Pretzels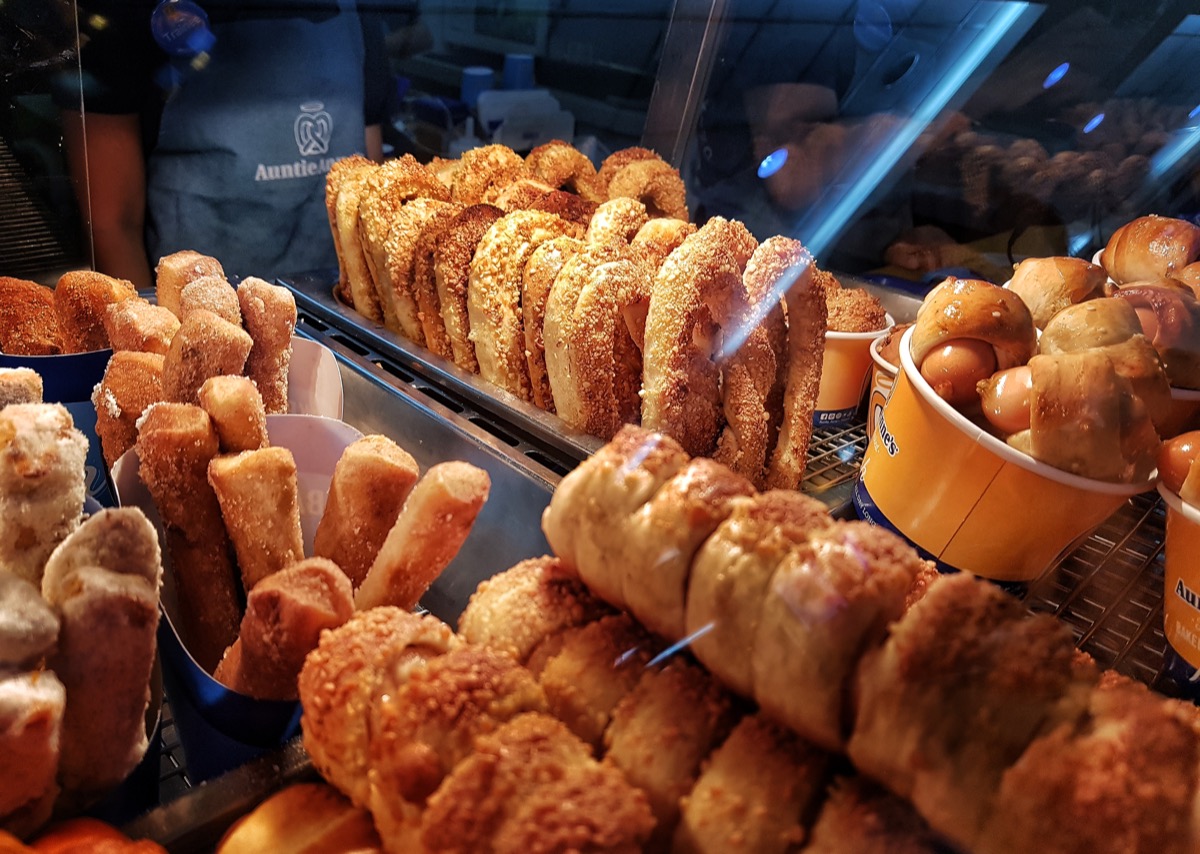 Other than the mall, the airport is really one of the only places you're likely to get a whiff of the intoxicating smell of Auntie Anne's. Enjoy the smell, but keep walking! "There really isn't a redeeming ingredient in a sugar-coated, butter-drenched pretzel," says Cheryl Forberg, RD. "It's just white flour, white sugar, and too much butter. At nearly 500 calories, it is much more than just a snack."
Pizza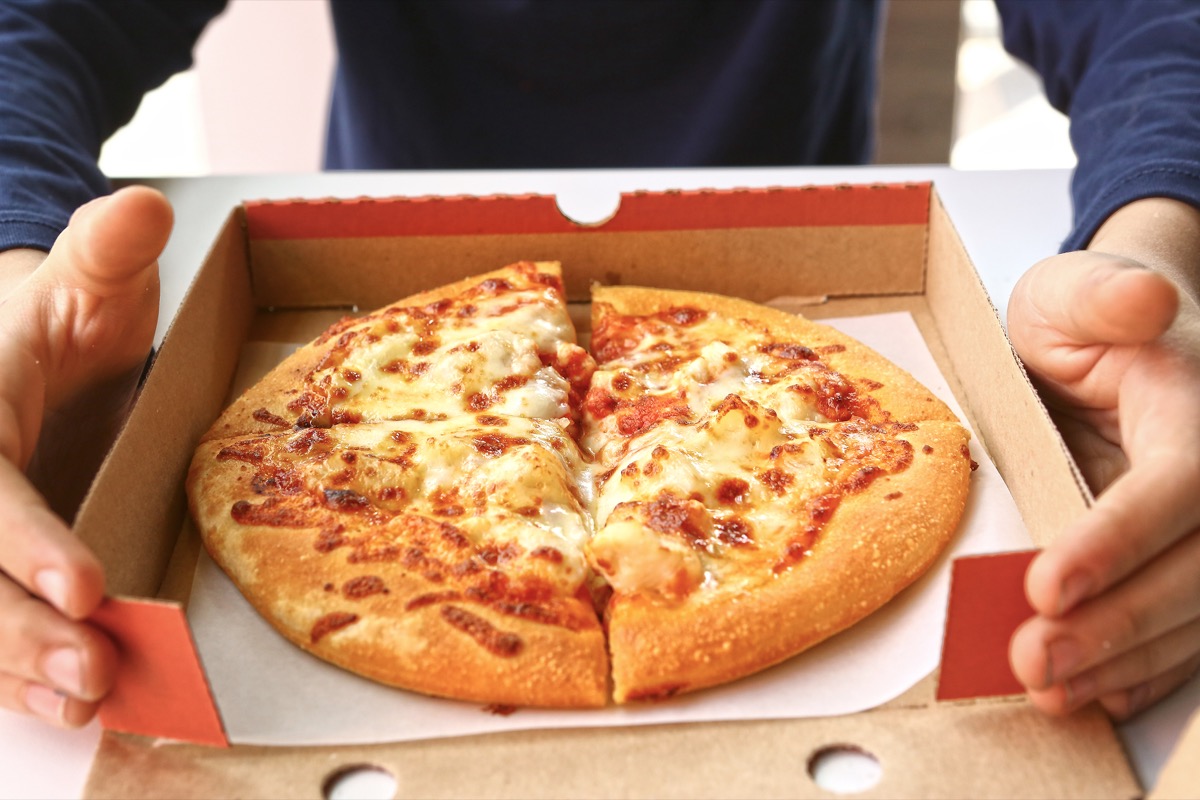 Cue Kevin McCallister saying, "A lovely cheese pizza, just for me." Except that's not just an innocent, plain ol' slice of pie. "The pizza place in the food court usually serves 'single-serving' pizzas that should really be feeding two or three people. It's a terrible choice," says Toby Amidor, MS, RD, CDN, author of The Greek Yogurt Kitchen: More Than 130 Delicious, Healthy Recipes for Every Meal of the Day. Love Domino's? Don't miss our Every Menu Item at Domino's—Ranked!
Avoid That! Salad Entrees
"I think a big mistake people make is they assume salads are great options," says Jennifer Neily, MS, RDN, LD, FAND. "But these dishes can be calorie bombs; many have over 1,000 calories. I'm thinking of the designer-type salads like Oriental Chicken Salad, Pecan Crusted Chicken Salad, etc. Yes, a large portion of calories come from the dressings, but all the components add up when you start dissecting ingredients." Not being careful of your "big salad" is one bad habit; find out more in 40 Bad Habits That Lead to a Fat Belly.
Bags of Trail Mixes
Most nutritionists agree that nuts are an awesome snack for when you're traveling. As is trail mix, if it's not all M&Ms and sketchy candies. But it's when you eat the whole bag that you get in trouble. "Nuts or trail mix can be a good-for-you snack—until you look at the portion size," says Neily. "It's usually 1/4 cup, but then some packages have up to 10! It's not uncommon for someone to polish off a whole bag. At 160 calories per serving or so…Yowza!"
Cinnabon Roll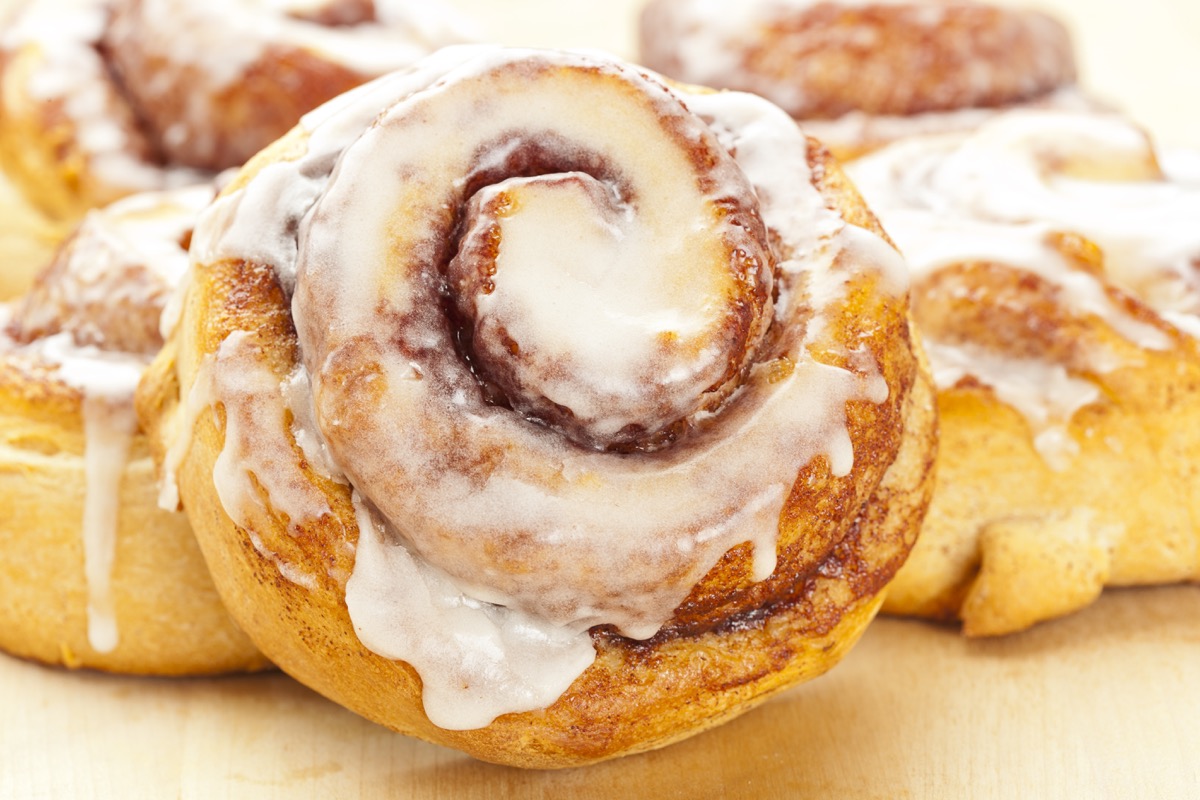 Similar to its cloyingly sweet distant relative Auntie Anne, Cinnabon lures you in with its delicious scent and promise of sugar heaven. Stay away! "Don't let the wonderful smell of one of these lure you in," says Keri Gans, MS, RDN, CDN, and Author of The Small Change Diet. A classic roll has 880 calories, 17 grams of saturated fat, 58 grams sugar and 820 mg of sodium; this roll should be left far behind."
Candy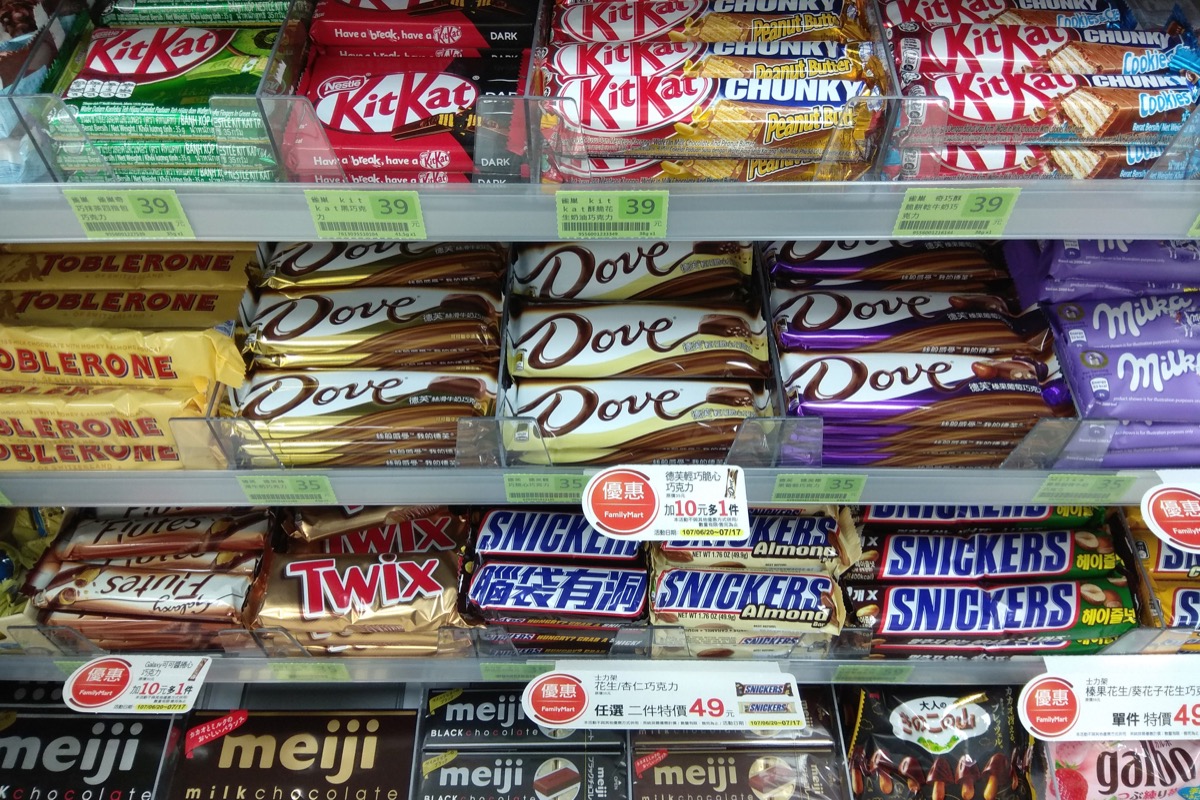 You're on vacation, you say. Or your bridezilla bestie just drove you crazy and you need a little chocolate, you reason to yourself. We all come up with ways to justify some airport candy. But it's such a trap! "Candy is everywhere at the airport, and the bags are very tempting before you're about to board a flight," says Rebecca Scritchfield, RDN, health and happiness expert. "But ask yourself first if you're going to share them with your entire row of passengers…because when you're locked in the plane, it's otherwise very easy to overeat out of boredom."
Food Court Comfort Foods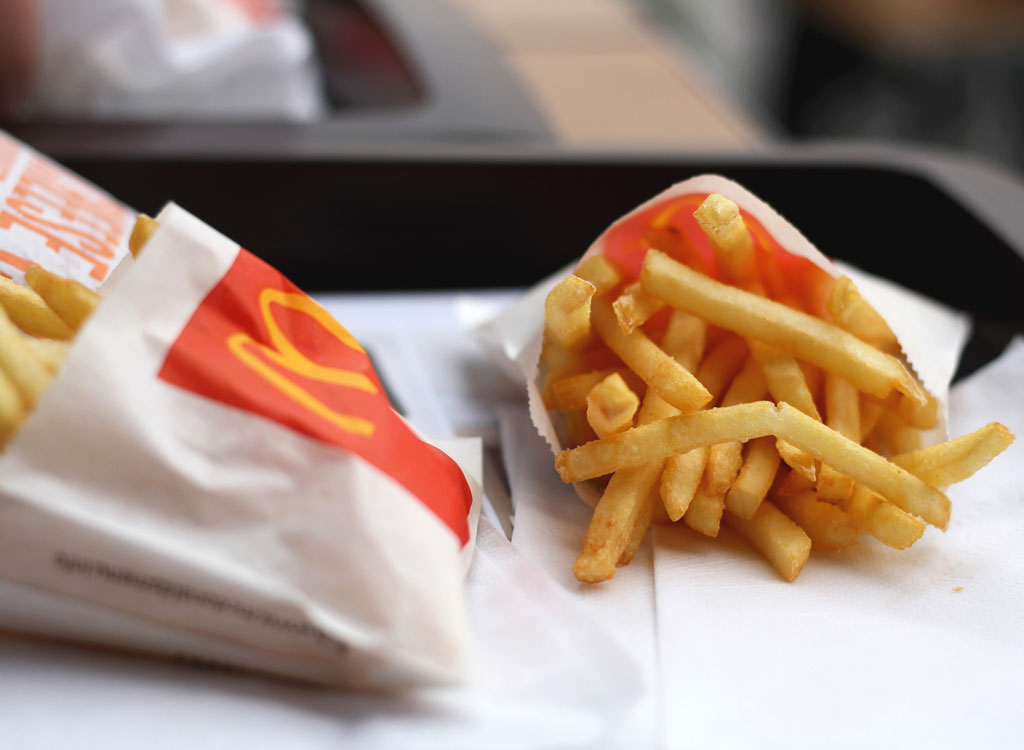 You're tired, you want a meal—we get it. But try to resist the stuff that will give you temporary satisfaction, since what you really need are actual nutrients. "When going through the food court, avoid the chicken tenders, pizza, and burger and fries," says Marisa Moore, RDN, and Owner of Marisa Moore Nutrition. "They all weigh you down and zap your energy for the trip." This goes for restaurant desserts, too—especially these 20 Restaurant Desserts With More Salt Than a Bag of Pretzels!
Avoid That! Large Cafe Sandwiches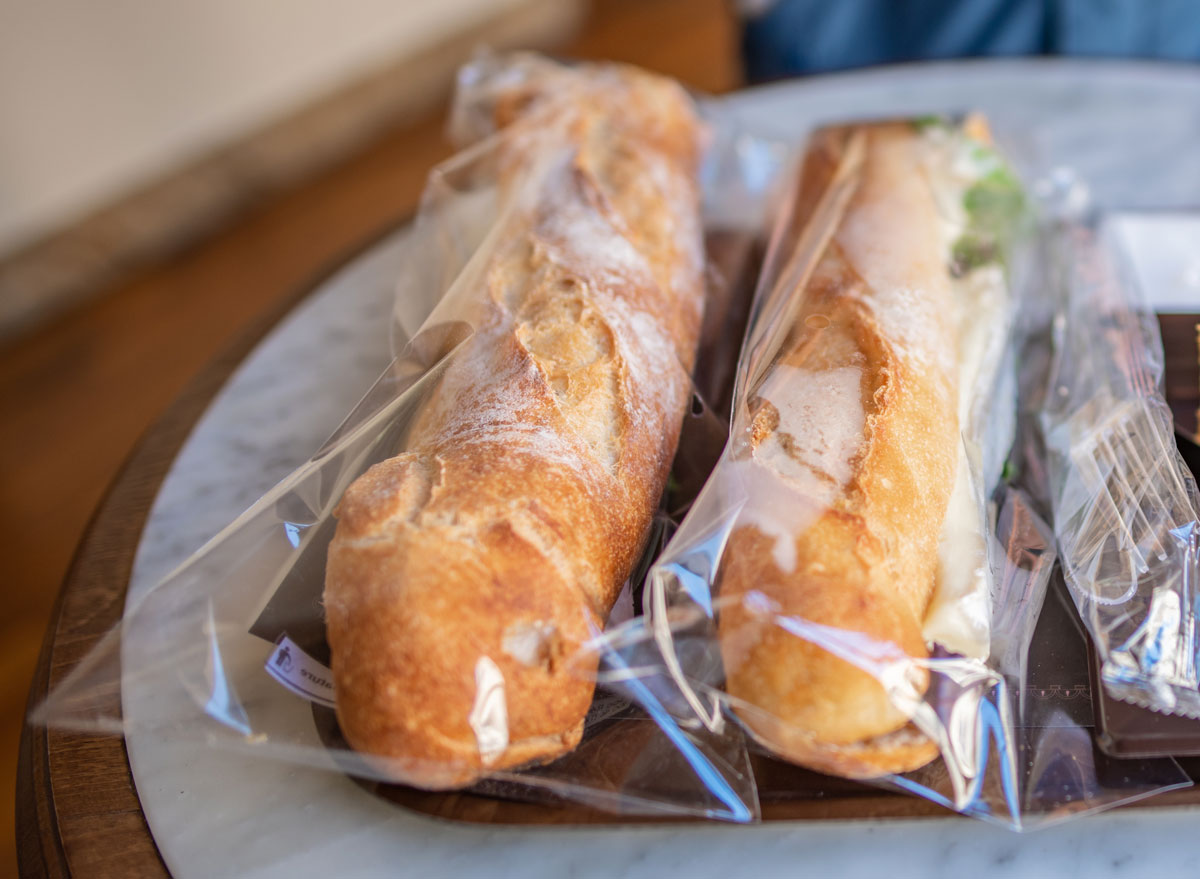 "These sandwiches are plentiful in airport cafes, but are generally full of processed meats and cheeses, sauces, and refined grain wraps or breads," notes dietician Lauren Minchen MPH, RDN, CDN. "They usually have very little veggies or any other redeeming qualities."
Bags of Snacks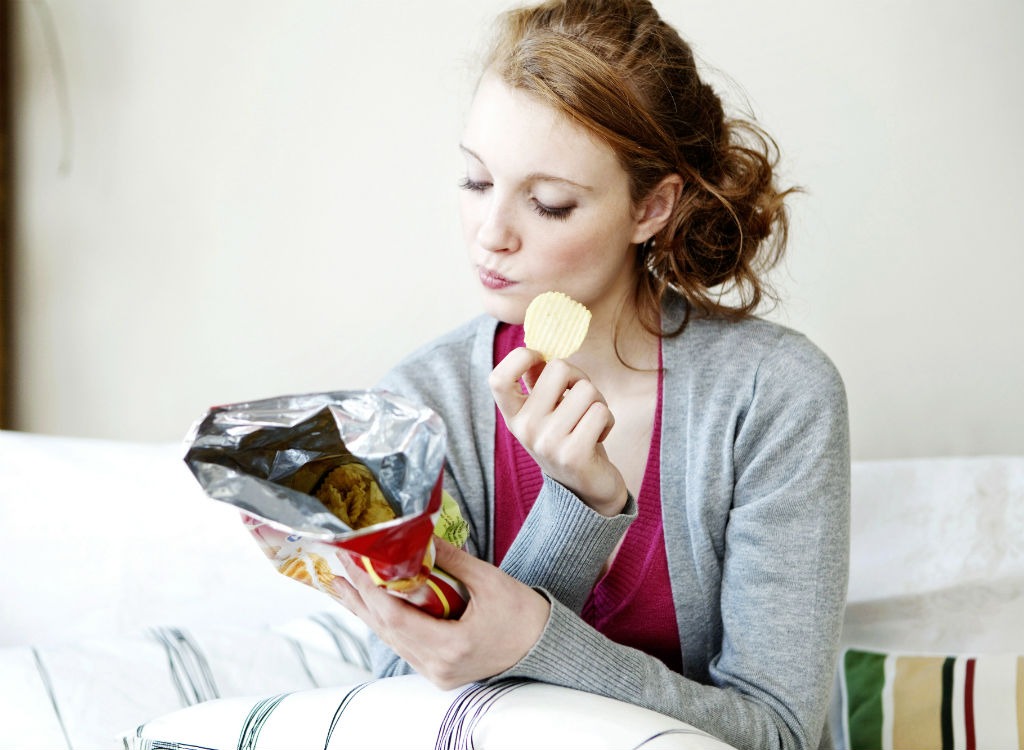 If it's hanging on a hook and you can't put it in your pocket, it's probably not what you want to eat if you want to lose the love handles. "Steer clear of the large bags of seemingly 'healthy' snacks: pretzels, dark chocolate covered dried fruits, and so on," says Minchen. "These are quick snacks to grab as you're headed to your gate and easy to bring on the plane, but they are calorie bombs. Most bags can pack as much as 500-600 calories."
Smoothies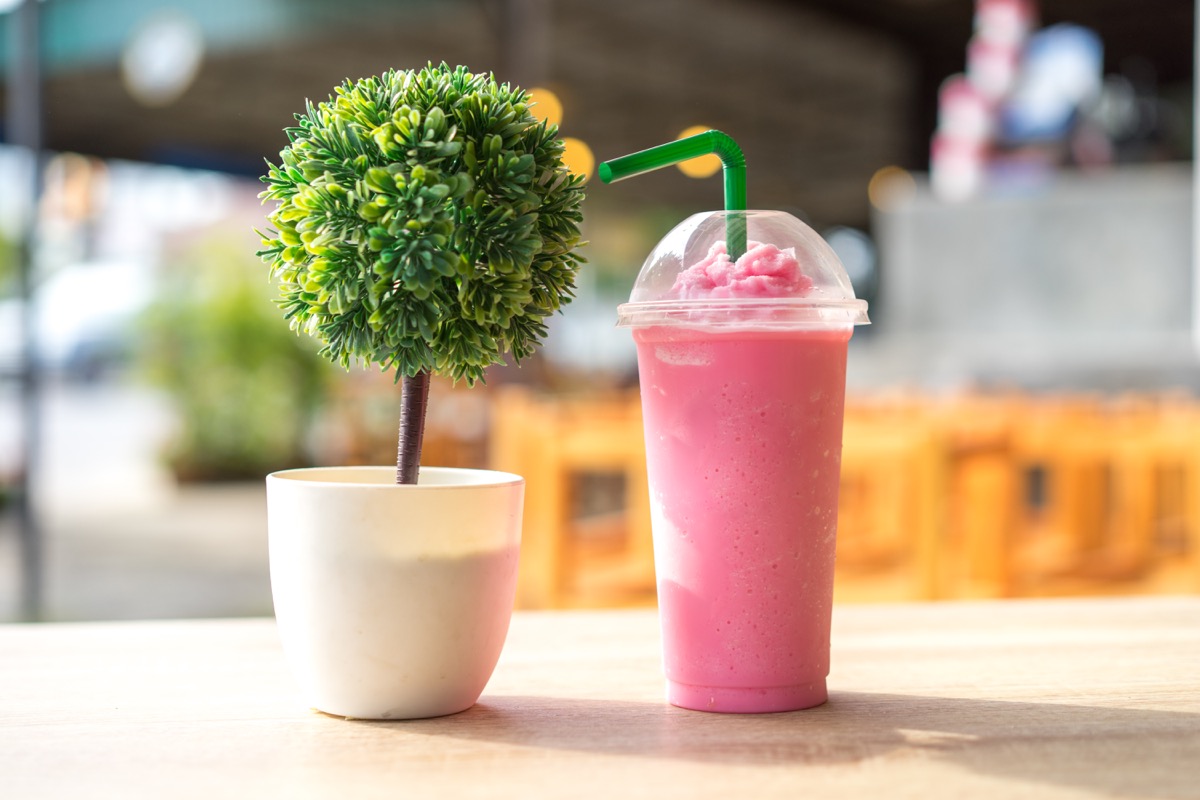 The editors at Eat This, Not That! swear by smoothies for weight loss—but it can't just be any ol' smoothie. And it certainly can't be the imposters you often find at airports. "Many smoothies seem healthy, because of their names," says Tamara Melton, MS, RDN, LD. "They seem to be full of fruits and veggies, but they are often full of sugar and pre-prepared mixes that contain very little of the nutrients found in the actual fruits and vegetables that bear the smoothie's name." According to Melton, some smoothies have over 100 grams of sugar in a 20-ounce serving!
"It's a great idea to take out your smartphone and look up the nutrition facts before ordering these kinds of drinks at the airport. And while it's true that some smoothies contain herbs and vitamins added to the smoothie, the health benefits are pretty much negated because of the high amounts of sugar and calories." To make a delicious smoothie at home that will help you slim down, scope out these 56 Best Smoothie Recipes for Weight Loss!
Eat This! The Best Healthy Airport Food
Grilled Soft Tacos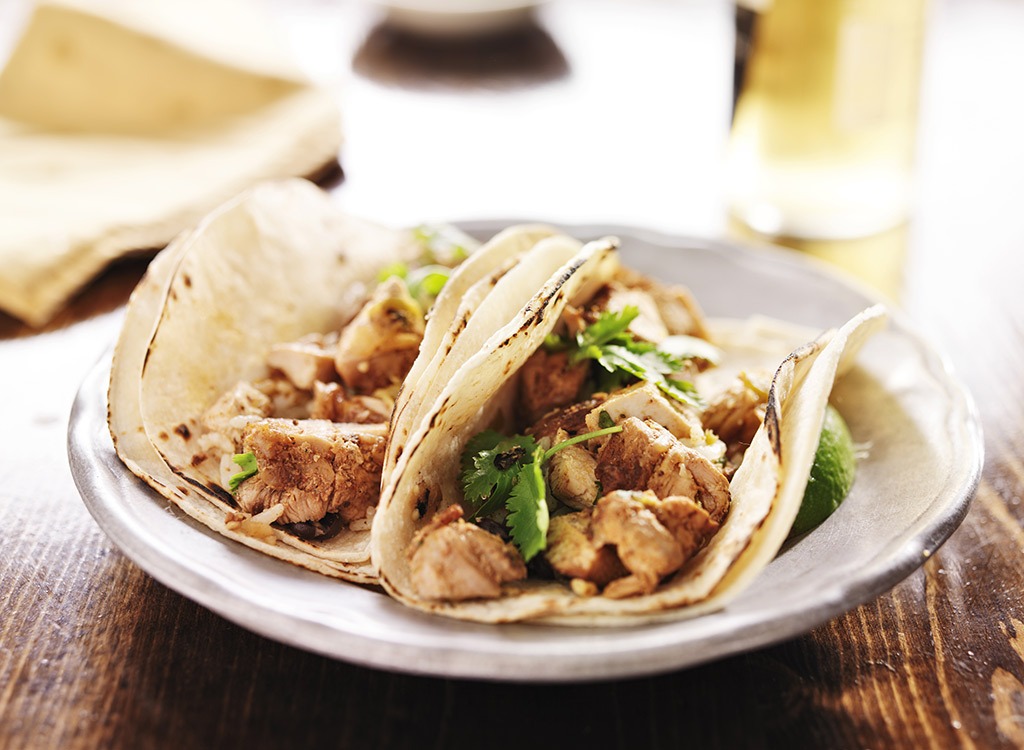 Whether it's at Chipotle or a no-name mexi joint, this option could be a lifesaver. "Look for grilled tacos because they're very light, healthy, and flavorful," says Sarah Koszyk MA, RDN, dietitian and weight management expert, founder of Family. Food. Fiesta. "Many tacos have vegetables in them, too, such as lettuce and salsa. You can even add a heart-healthy fat from the guacamole or avocado to get a perfectly well-balanced, delicious meal."
Fruits and Veggies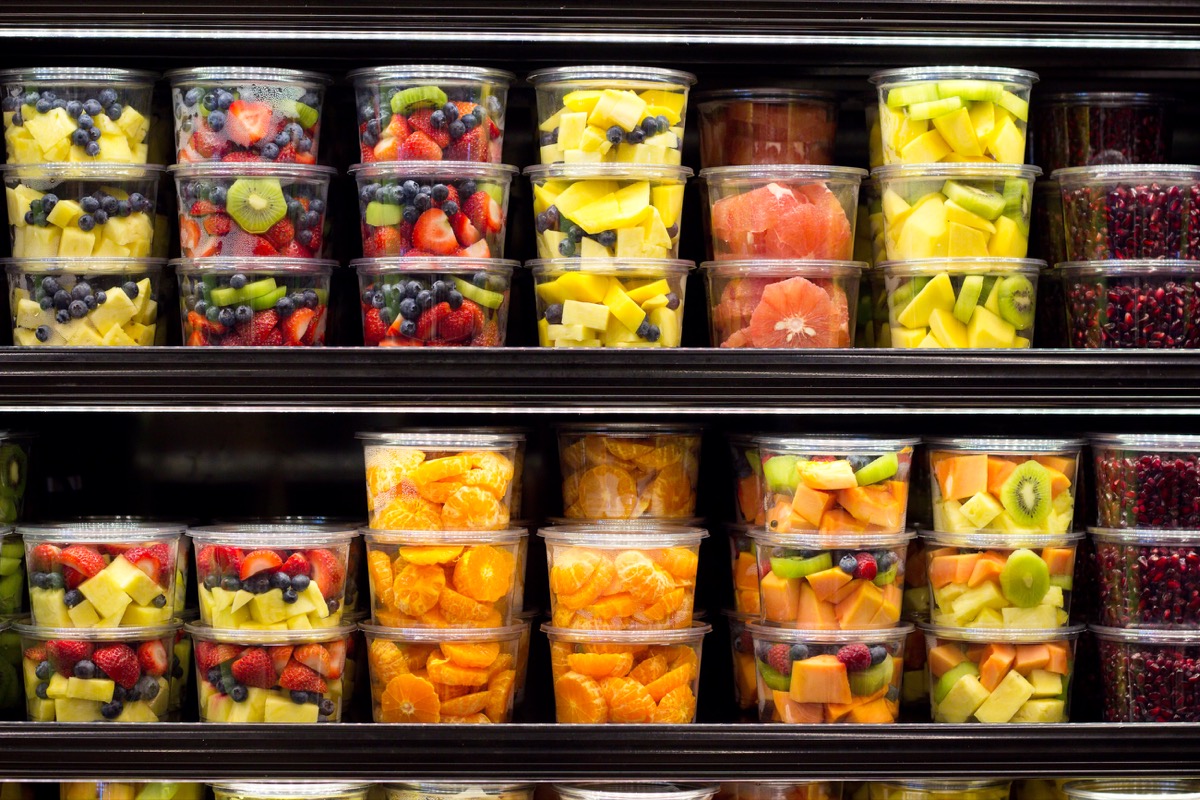 Most places have baskets of bananas or apples somewhere if you didn't have time to pack your favorite at home. "I like mandarin oranges," says Scritchfield. "They are easy to peel and they are seedless, great if you are traveling with kids too—and the vitamin C is a nice boost to your immune system." Tangerines, a type of mandarin, actually have a ton of benefits. Preventing hair loss is one of the 20 Ways Tangerines Make You Look and Feel Younger!
Subway 6-Inch Grilled Chicken Sandwich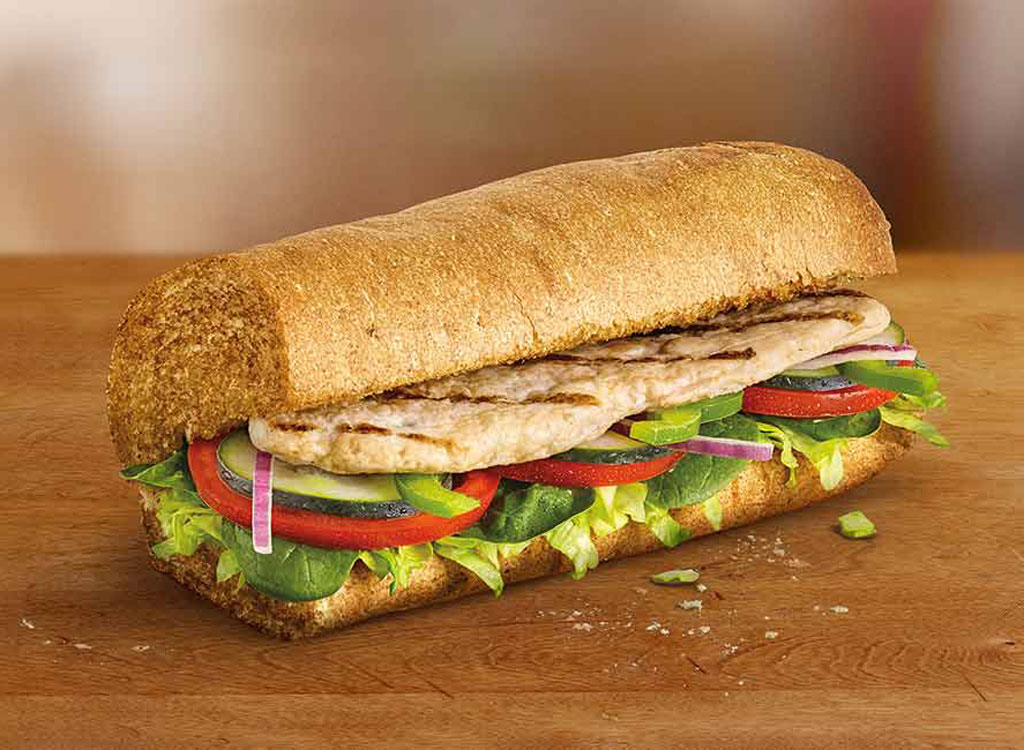 "A six-inch grilled chicken sandwich is tasty and you can load them with veggies like as lettuce, tomato, cucumbers, peppers, sprouts and more—so you get to eat a lot with minimal calories," says Koszyk. "Vegetables have fiber, so you'll feel full and get more satisfaction."
Miso Soup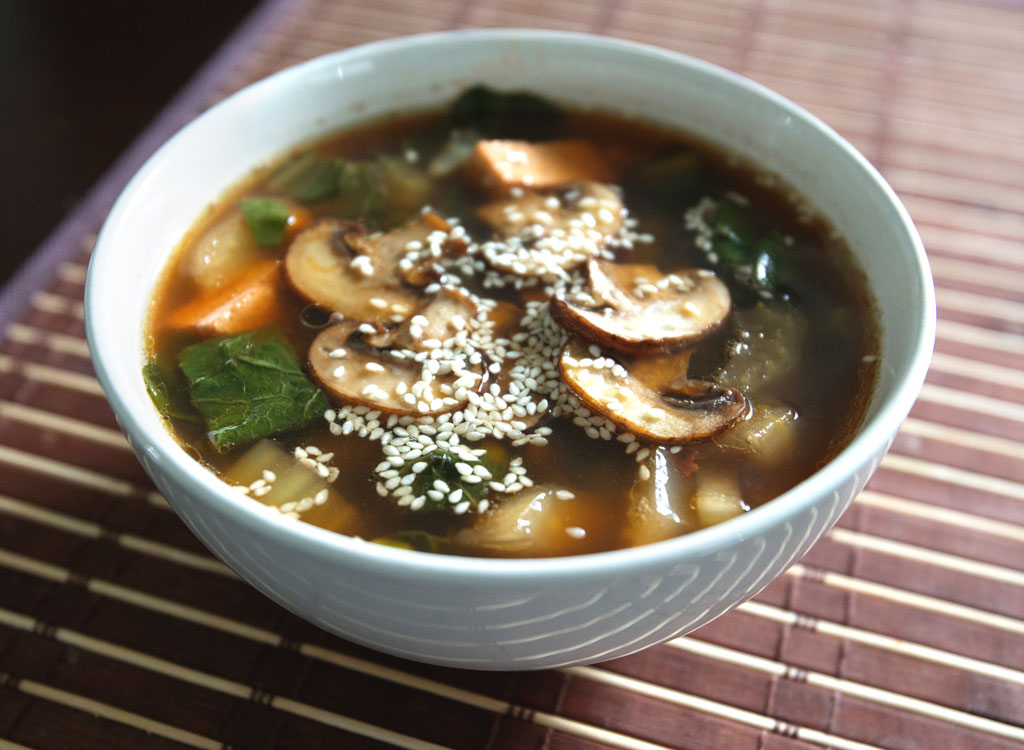 While some restaurant soups can be loaded with mysterious additives and ingredients, miso soup is a good option for when you're on the hunt for something relatively healthy. "At SFO, the Japanese restaurant has miso soup—which is just as welcoming for breakfast as it is for dinner," says Forberg. "I order a large bowl and a side of steamed edamame, no matter what time of day."
Water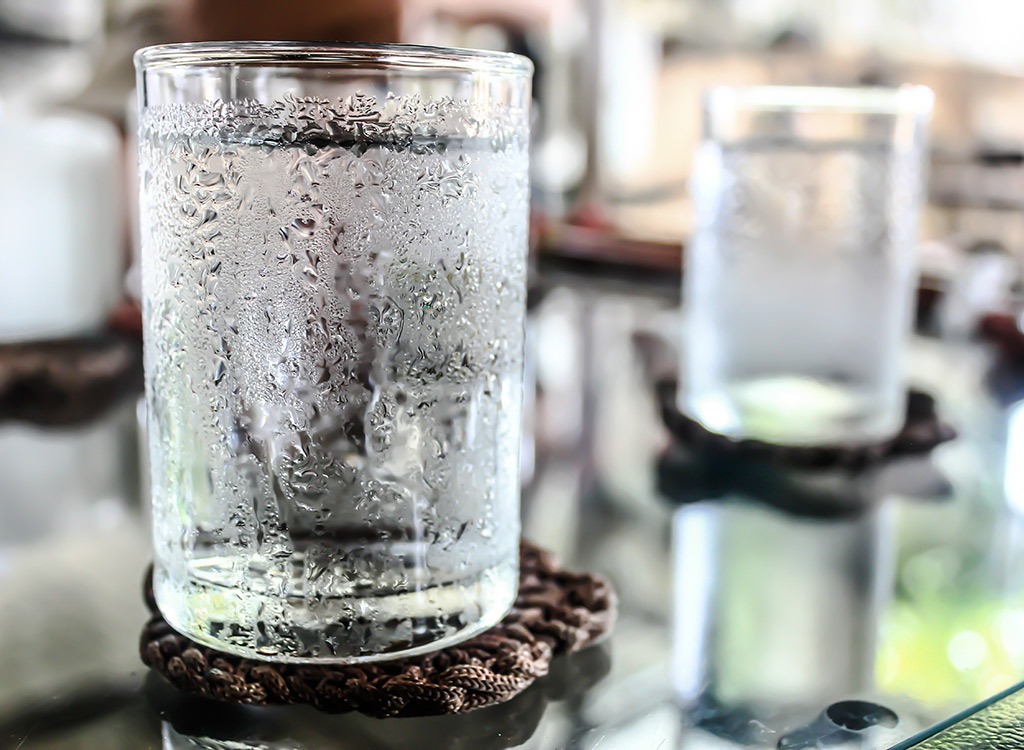 6254a4d1642c605c54bf1cab17d50f1e
It sounds like a no-brainer, but between the TSA confiscating your bottle of water and the offer of free soda on the plane, many people wind up not drinking enough water while going through the flying process. "Unless you're in first class, you might not get water as fast as your body needs it," says Scritchfield. "Traveling is dehydrating and rough on your skin. Drinking water—and eating fresh veggies and fruits when you can—will help combat the dry air."
Snacks in the Cooler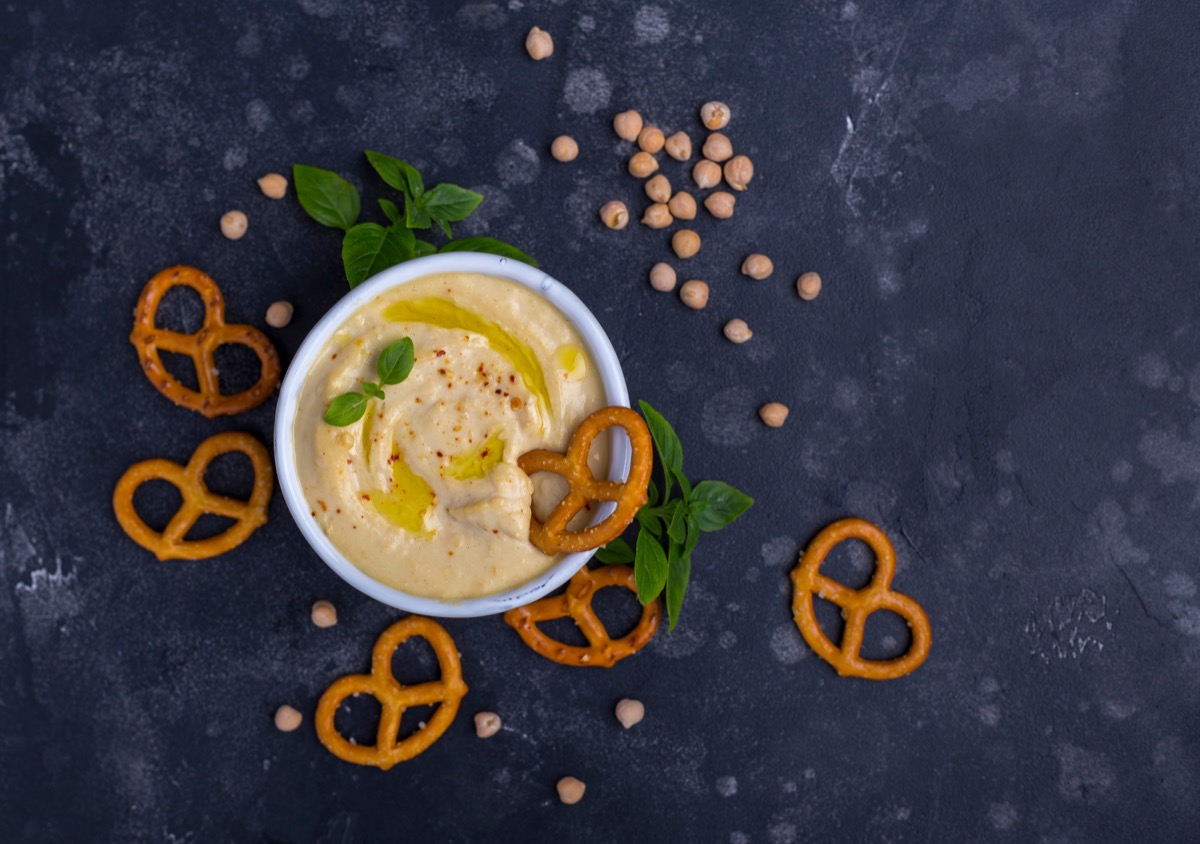 Nutritionists often recommend the mini hummus cups with pretzel crisps (bonus points if you get veggies!) and there are several other hunger-busting choices that are cuddling together in the cooler. "Greek yogurt, string cheese sticks, fruit cups—they're all quick, easy, and portion-controlled," says Minchen. "These options can be a great source of vital nutrients while you're on the fly!" P.S. — If you're hoping to bring your yogurt from home, you'll need to rethink that. "I like to remind travelers that the TSA considers yogurt to be a liquid and will confiscate it," says Forberg. It's a good intention, though! Get more little tricks for weight loss with these 50 Ways to Lose 10 Pounds—Fast!
Dishes and Snacks You Can Share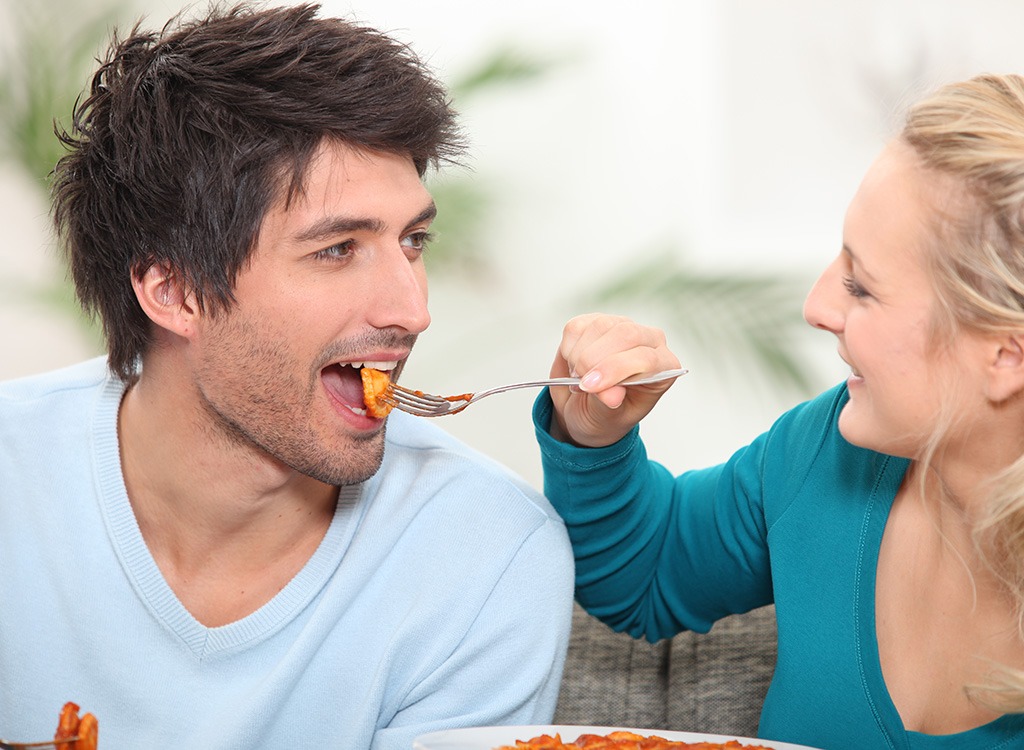 What you choose to fuel your body with while traveling is one thing; how much of it you eat is another. As you've seen from the above tips, oversized portions are one of the biggest weight loss mistakes travelers make, even with healthy choices like trail mix. If you're traveling with a buddy or significant other, ask them about sharing each other's dishes when you're stuck in a restaurant during a layover; one person can order something to help satisfy carb cravings while the other orders a veggie-loaded dish. It's all about not giving in to the stress of traveling. As Moore puts it, "Travel can take a toll on the body, but eating well can lighten the load." So true, sister.
Eat This, Not That!
Inspired by The New York Times best-selling book series, Eat This, Not That! is a brand that's comprised of an award-winning team of journalists and board-certified experts, doctors, nutritionists, chefs, personal trainers, and dietitians who work together to bring you accurate, timely, informative, and actionable content on food, nutrition, dieting, weight loss, health, wellness, and more.
Read more about Eat This