Successfully Burn Fat On A Treadmill With These Pointers
You don't have to walk or run a ton of miles in order to obtain results.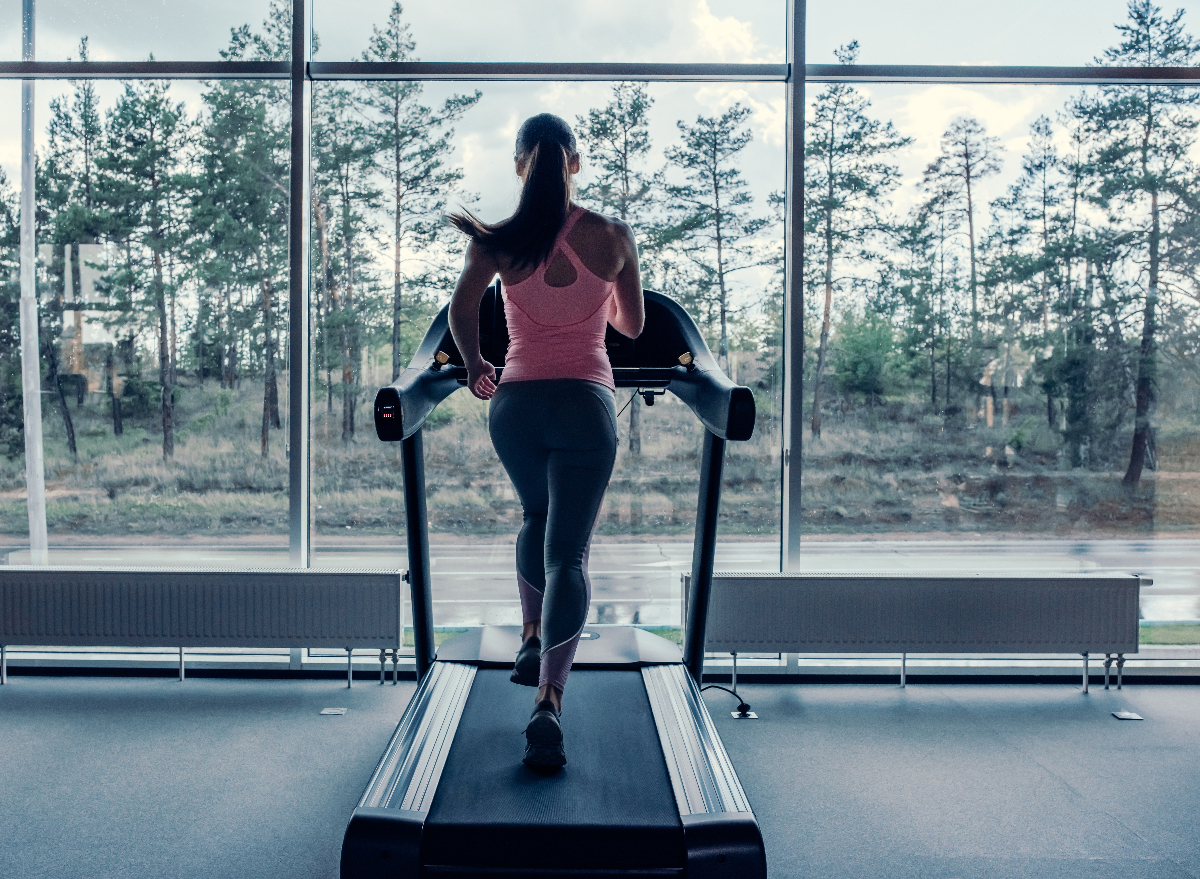 Working out on a treadmill is a great way to burn calories. The best part about it? Spending just 30 minutes each day on one can be the beginning of your fat-burning journey. In fact, when it comes to treadmill workouts, less is usually more. What that means is you don't have to walk or run a ton of miles in order to obtain results. It can be more effective to make certain that every effort and time spent on your machine counts. We're going to tell you the best ways to burn fat on a treadmill, so let's get started. And next, be sure to check out The 6 Best Exercises for Strong and Toned Arms in 2022, Trainer Says.
In order to successfully burn fat on a treadmill, consider focusing on quality, not quantity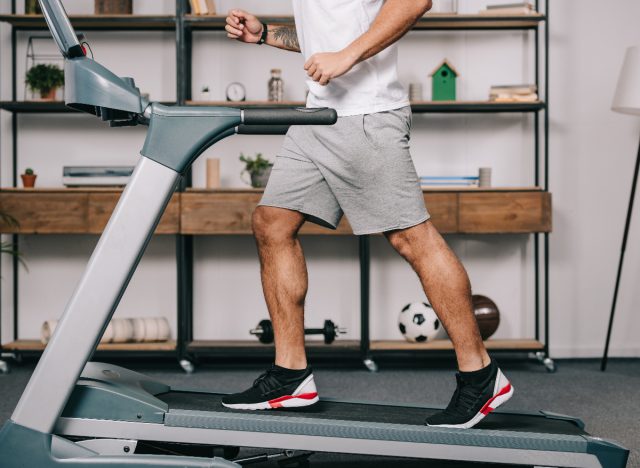 According to Livestrong, a treadmill is a great way to lose weight, combined with your dietary changes. You need to build up intensity in order to burn calories. By starting with a little bit of walking on a daily basis, you will build strength and start to feel the burn.
We reached out to Kelly Colwin, Horizon Fitness Retail Marketing Manager to get the skinny on the most effective treadmill workout pointers to follow. Colwin explains that when it comes to your treadmill fitness, you should place more emphasis on the quality of your workout rather than the quantity of time spent.6254a4d1642c605c54bf1cab17d50f1e
Colwin advises, "Shorter, more intense bursts of cardio activity [are] scientifically proven to target fat and build muscle in as little as eight weeks' time." This is great news, because eight weeks is not a long period to see noticeable changes! Colwin adds, "These workouts are often referred to as HIIT (high-intensity interval training) and involve short segments of all-out effort, followed by a longer recovery interval, repeated for 20 to 30 minutes." If you like the sound of this, consider trying Horizon Fitness's Sprint 8 or Peleton's app for a solid HIIT running workout.
We also spoke with Tim Liu, C.S.C.S., fitness and nutrition coach, who adds that doing HIIT workouts on a treadmill is super-effective because it burns fat at a faster rate than steady-state, all while working your body at a higher intensity. Liu offers a sample HIIT treadmill workout, instructing, "Set the incline to 1.5 to 2.5%, and begin running at a pace that you can maintain for a minute. After the minute is over, slow down to a moderate walk or jog for 1 to 2 minutes. Repeat again for 20 minutes."
Related: Speed Up Belly Fat Loss In Your 50s With These Exercises, Trainer Says
Why home treadmills are extra effective for weight loss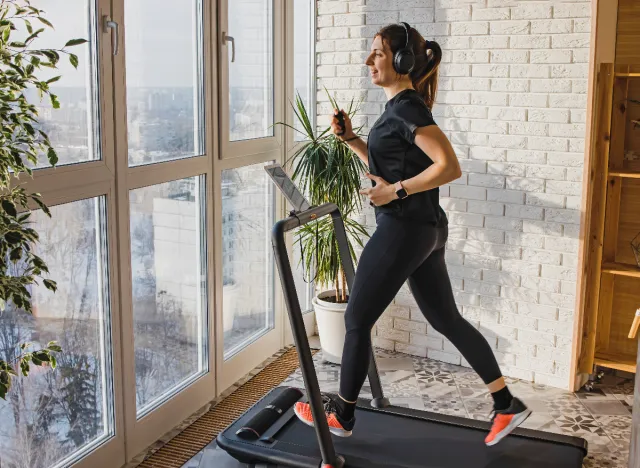 Colwin feels treadmills are extremely effective when it comes to conveniently getting in your regular physical activity and meeting your weight loss goals. Having one in your home makes it even better. Why? Well, for many individuals, reaching weight goals is really all about developing new healthy habits and being consistent with them. Having equipment in your own home makes it so much easier to sneak in a workout whenever you have a block of available time.
Having your own treadmill at the ready means you don't have to balk over going out in inclement weather or in the wee hours of the morning to get in a sweat session. It avoids having to deal with a crowded gym, too. Walking and running outside can also present safety issues if you're heading out at night when it may be difficult for drivers to see you. All of these reasons and more can turn into excuses, which can interrupt a consistent schedule. Suffice to say, the convenience of working out on your own treadmill at home takes most excuses and inconveniences out of the equation, making it much simpler to maintain an effective routine. After all, consistency is key when it comes to burning fat and losing weight.
According to Liu, having your own treadmill is "easy and accessible—especially if you live in an area where you can't run." He continues to explain, "Treadmills also help you maintain your pace, and you can adjust the incline as needed to challenge yourself to burn calories."
Colwin and Liu aren't the only ones who are Team Treadmill for weight loss. Harvard Health dubs treadmills the most productive kind of exercise equipment (that is, if you know how to properly work out on one). Dr. Adam Tenforde, with the Department of Physical Medicine and Rehabilitation at Harvard-affiliated Spaulding Rehabilitation Hospital reveals, "There is so much more to treadmills than just 'push the button and start walking,'" adding, "You can easily vary the speed and incline to focus on specific goals."
Related: Jumpstart Weight Loss With This 10-Minute Workout, Trainer Says
Choosing the right treadmill for you
Choosing the right treadmill can be a bit overwhelming. There are a ton of great brands on the market. iFit and Peloton are both popular and offer combined streamed workout classes with your home equipment. Colwin also loves Horizon Fitness treadmills.
They're designed specifically for interval training and streaming workouts. Colwin explains, "[You can] keep your phone or tablet secure and charged [on the treadmill console] while you stream audio through the integrated Bluetooth speakers." The Rapid Sync drive system allows the machine to speed up and slow down fast, enabling you to keep pace with instructors. This is really beneficial when performing fast-paced HIIT workouts. Colwin adds, "Best of all, these features create a better workout experience with or without your apps and devices, because sometimes you just want to run." Horizon treadmills also fold easily for storage.
What to do before starting your treadmill workout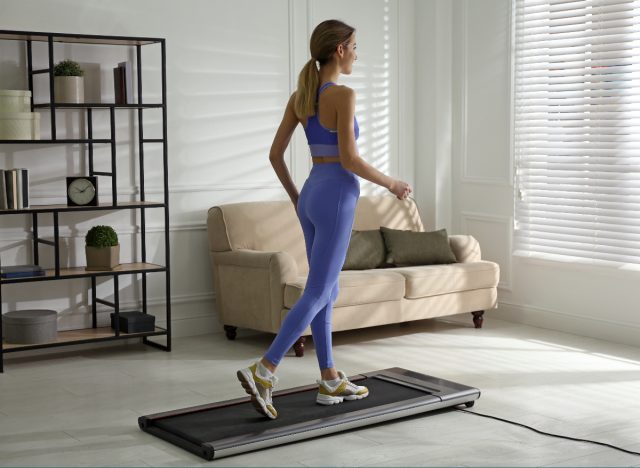 Harvard Health recommends that you check in with your medical professional before you start any workout routine. Also, it's smart to look over and get comfortable with the safety features and functions of any treadmill you decide to buy. It's super important to start every workout session with a 5 to 10-minute warm-up, and take the same amount of time to cool down. One last point from Harvard Health? Switch up your routine! After all, variety is the spice of life and can make your session much more fun.
Ready, set, go burn some fat!
Once you decide on a treadmill, here's what you need to know. Your weight plays a role in how much effort your body will need to put into the workout. The higher your weight, the harder your body has to work to thrust forward when running. We have examples from Harvard Health (via Livestrong) of just how much fat you can burn on your treadmill. If you weigh 125 pounds and run for eight minutes, you can burn around 375 calories. If your weight is 155 pounds, your calorie burn increases to 465 calories. You would burn around 555 calories if you weigh 185 pounds.
Other factors make a difference, too, including the incline at which you set your machine and the speed you are running. Another interesting fact to keep in mind from research published in the Journal of Sports Sciences that can make a difference? A harder/stiffer treadmill can potentially up your calorie burn as well.
Alexa Mellardo
Alexa is the Mind + Body Deputy Editor of Eat This, Not That!, overseeing the M+B channel and delivering compelling fitness, wellness, and self-care topics to readers.
Read more about Alexa