9 Unhealthiest Coffee Creamers on Grocery Shelves
These creamers may enhance the flavor of your morning brew, but they come with a hidden cost to your health.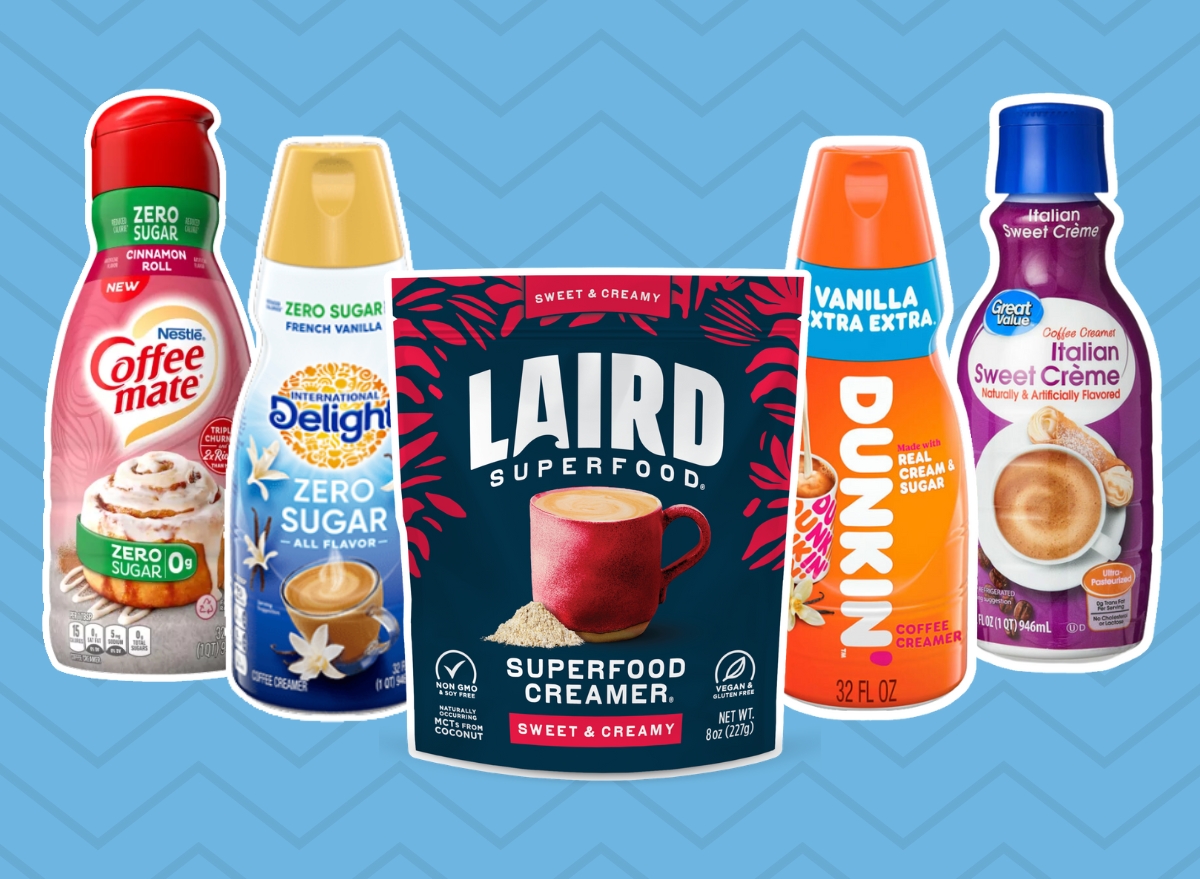 Gone are the days when our sole choices for adding creaminess to coffee were limited to half-n-half or milk. Take a stroll down the coffee aisle or the refrigerated dairy section of your local grocery store, and you'll now find an array of coffee creamers that line the shelves. From cow's milk to almond milk, coconut milk to oat milk, the variety of creamers available seems endless. And not only do these creamers come in different types, but they also come in an assortment of delicious flavors.
Using a store-bought coffee creamer is an easy way to mellow out the flavor of objectively bitter black coffee, but it's also useful when it comes to saving you money and supporting your health. For example, if you order an average 12-ounce flavored latte from Starbucks, you'll have to shell out upwards of four dollars, and you'll end up consuming more than twenty grams of sugar. Making coffee at home and adding a flavored creamer can help you cut down on the amount of added sugar consumed in a day and keep your budget in check.
Though adding a creamer to your morning cup of joe may save you money in the long run, not all creamers are created equal. Many coffee creamers contain added sugars or artificial sweeteners as well as preservatives and other unnecessary ingredients that may cause inflammation.
To help you feel confident about your choice of creamer for your cuppa, we put together this list of the unhealthiest coffee creamers you can buy. It's worth mentioning that we do recognize that some of the creamers on this list are more affordable than many of the healthier products out there and thus might be the only option, but our hope is that this list can help you be more aware of the nutritional value of the creamers you're buying. At the end of the day, the most affordable and healthiest coffee creamer is standard half-n-half (if you tolerate dairy), or making your own nut or seed milk at home.
With that being said, let's get into what makes a coffee creamer healthy or unhealthy.
Three signs you have picked up one of the unhealthiest coffee creamers
Sugar: It can be difficult to conceptualize what x grams of sugar means. As a reference point, four grams of sugar equates to about one packet of sugar. If you would not typically add a packet of sugar to your coffee, put a creamer that has more than four grams of sugar back on the shelf.
Artificial sweeteners: Many artificial sweeteners are much sweeter than actual sugar and this can increase someone's sugar cravings and sugar intake throughout the day. In addition, a recent article by the World Health Organization advised that "[there] may be potential undesirable effects from long-term use of NSS (non-sugar sweeteners), such as an increased risk of type 2 diabetes, cardiovascular diseases, and mortality in adults."
Artificial additives: Many creamers have artificial additives in their ingredient list to help with texture, help the creamer dissolve in coffee, or extend shelf life. Though research is mixed, some studies suggest that these ingredients can increase inflammation and disrupt gut health.
How to choose a quality coffee creamer
Check the ingredient list: The shorter the ingredient list the better. Standard ingredients in a coffee creamer should be nuts or oats (if dairy-free) or dairy milk/cream, salt, a flavor, and maybe some cane sugar.
Flavors: If you would not eat a candy bar with your cup of coffee then why have your cup of coffee taste like candy? Avoid any creamer that is flavored like cookies or candy to prevent the consumption of artificial flavors and cut down on sugar cravings throughout the day.
Skip zero-calorie creamers: Cream is meant to have calories—it's cream! Any coffee creamer that is zero calories is likely just water filled with tons of artificial sweeteners, flavors, gums, and oils.
Here are the 9 unhealthiest coffee creamers on grocery store shelves.
Without further ado, here are the coffee creamers we recommend steering clear of—if your budget allows. Read on, and for more, don't miss 7 Unhealthiest Fast-Food Coffees To Stay Away From Right Now.
Coffee Mate Peppermint Mocha Creamer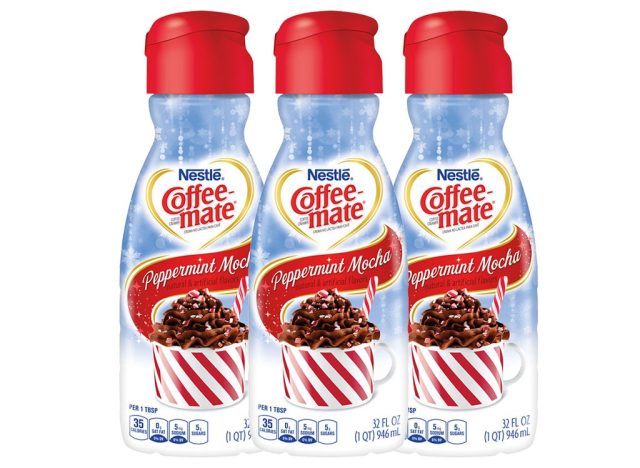 PER SERVING
: 35 calories, 1.5 g fat (0 g saturated fat), 5 mg sodium, 5 g carbs ( 0 g fiber, 5 g sugar), 0 g protein
An affordable and standard product in most grocery stores, Coffee Mate's liquid creamers are unfortunately filled with water, sugar, vegetable oil, artificial flavors, and emulsifiers. There is no cream in sight on this ingredient list. One serving (one tablespoon) contains five grams of added sugar and 35 calories.
One tablespoon alone of this creamer is reasonable but more than one serving and additional sugar added to a cup of coffee and your morning joe is now a cup of sugar. Additionally, this product contains carrageenan, an additive used as an emulsifier and thickener which may have a negative effect on the immune system.6254a4d1642c605c54bf1cab17d50f1e
Dunkin Vanilla Extra Extra Creamer
PER SERVING
: 35 calories, 1 g fat (0.5 g saturated fat), 0 mg sodium, 6 g carbs ( 0 g fiber, 5 g sugar), 0 g protein
Dunkin's Vanilla Extra Extra Creamer surprisingly contains cream in the ingredient list however it also contains artificial colors and flavors. This creamer also contains carrageenan which as noted above, could have negative effects on the immune system and gut health.
Coffee Mate Zero Sugar Cinnamon Roll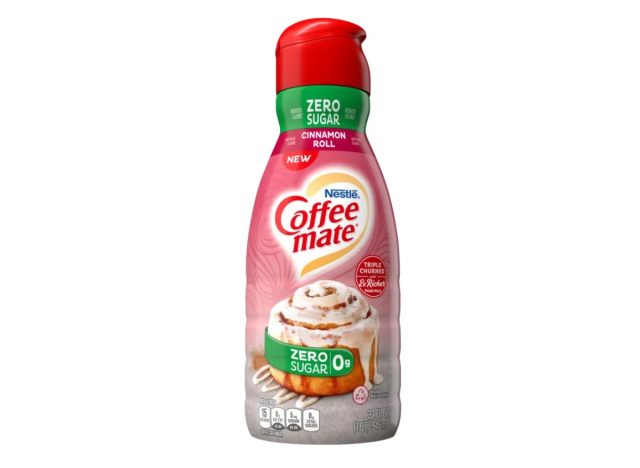 PER SERVING
: 15 calories, 1 g fat (0 g saturated fat), 5 mg sodium, 1 g carbs ( 0 g fiber, 0 g sugar), 0 g protein
Coffee Mate's zero sugar creamer says it is "triple churned" and "2x richer than milk" however cream is nowhere on the ingredient list. The primary ingredients are water, corn syrup, and vegetable oil. There are zero grams of sugar in the product and it is sweetened with sucralose and acesulfame potassium which is thought to be 200 times sweeter than table sugar. If you are someone who struggles with a sweet tooth, it might be wise to skip this zero-sugar product.
International Delight Caramel Macchiato Creamer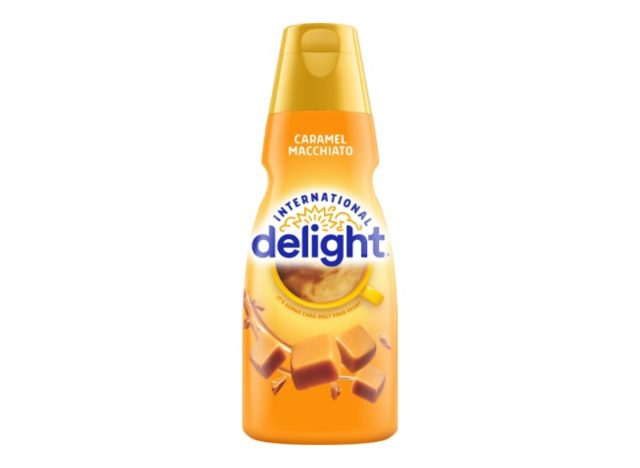 PER SERVING
: 35 calories, 1.5 g fat (0.5 g saturated fat), 10 mg sodium, 5 g carbs ( 0 g fiber, 5 g sugar), 0 g protein
International Delight's caramel macchiato creamer contains the same nutritional value as the first two products on this list and similar ingredients. The main ingredients are water, sugar, and palm oil—again no "cream" anywhere on the label.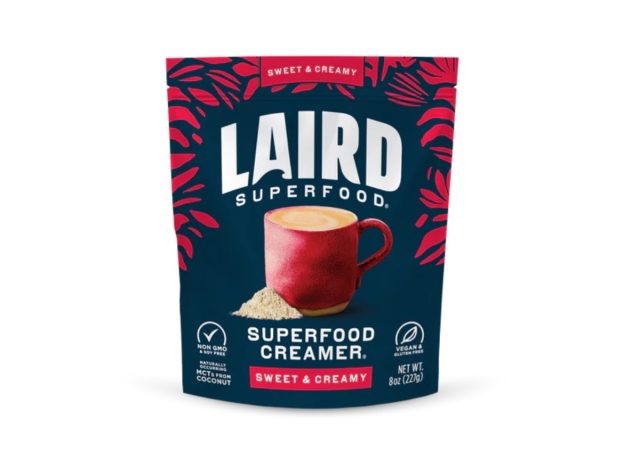 PER SERVING (2 tbsp.)
: 90 calories, 6 g fat (6 g saturated fat), 30 mg sodium, 7 g carbs ( 0 g fiber, 5 g sugar), 1 g protein
Laird Superfood Creamer is marketed as a healthier alternative to many of the coffee creamers on the market. Though this creamer contains minimal ingredients: coconut milk powder, coconut sugar, vanilla, and salt, it is very high in saturated fats. The recommended recipe on the back of the package suggests adding two tablespoons of the creamer to 8-12 ounces of coffee or tea. This serving size contains six grams of saturated fat which is about 30 percent of the recommended daily intake for saturated fat. If you have a history of high cholesterol or triglycerides, skip this creamer.
Splenda Sweet Cream Creamer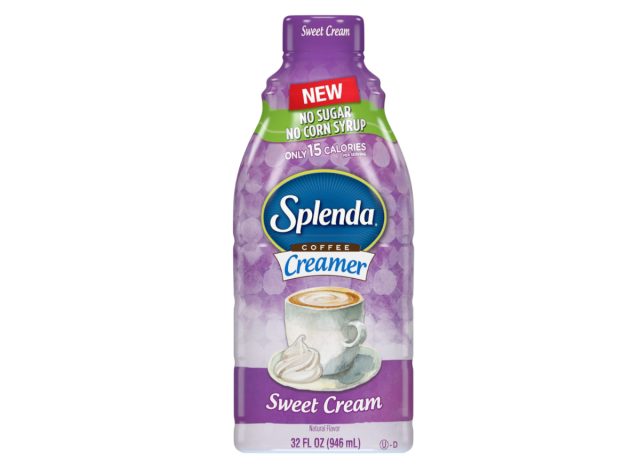 PER SERVING
: 15 calories, 1.5 g fat (0 g saturated fat), 5 mg sodium, 1 g carbs ( 0 g fiber, 0 g sugar), 0 g protein
Splenda's Sweet Cream Creamer is the same as many of the others on this list: its base is water and oil and contains flavorings and artificial sweeteners. In addition to sucralose and acesulfame potassium, this product contains erythritol, a sugar alcohol. Erythritol can have negative effects on gut health and can cause diarrhea in some individuals.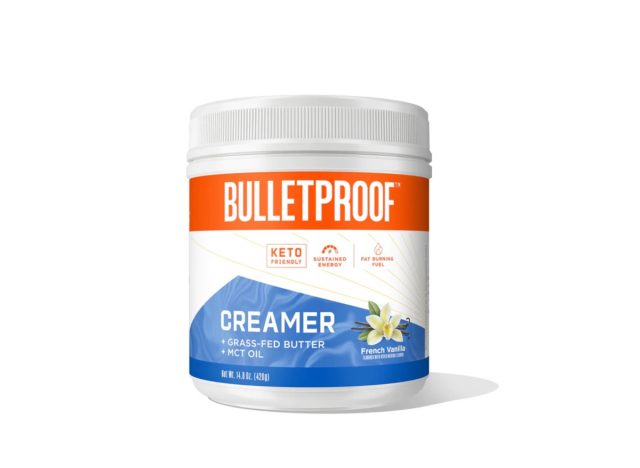 PER SERVING
: 100 calories, 10 g fat (8 g saturated fat), 30 mg sodium, 4 g carbs ( 0 g fiber, <1 g sugar), 0 g protein
Bulletproof Creamer is marketed as a "better-for-you" option for your morning coffee, and while many of the ingredients are familiar (butter and coconut oil), this product is loaded with fat—earning it a spot on our list of unhealthiest coffee creamers. One scoop contains 100 calories, 10 grams of total fat, and 8 grams of saturated fat, which is almost half of the recommended daily limit for saturated fat.
International Delight Zero Sugar French Vanilla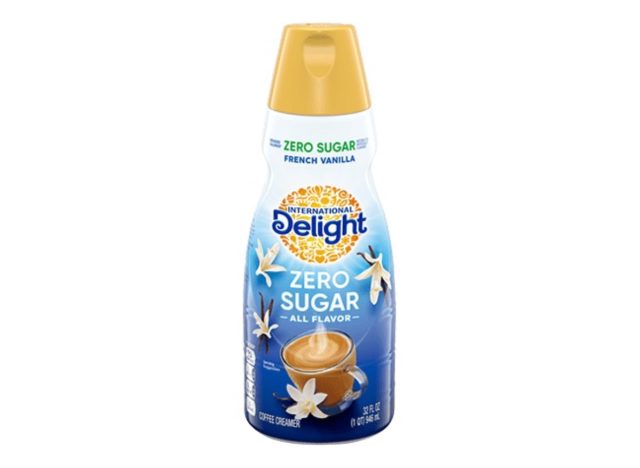 PER SERVING
: 15 calories, 1 g fat (0.5 g saturated fat), 0 mg sodium, <1 g carbs ( 0 g fiber, <1 g sugar), 0 g protein
Similar to the other zero-sugar creamers on this list, International Delight's Zero-Sugar French Vanilla Creamer is full of artificial sweeteners, flavors, and additives like carrageenan and polysorbate 60.
Great Value Italian Sweet Creme Coffee Creamer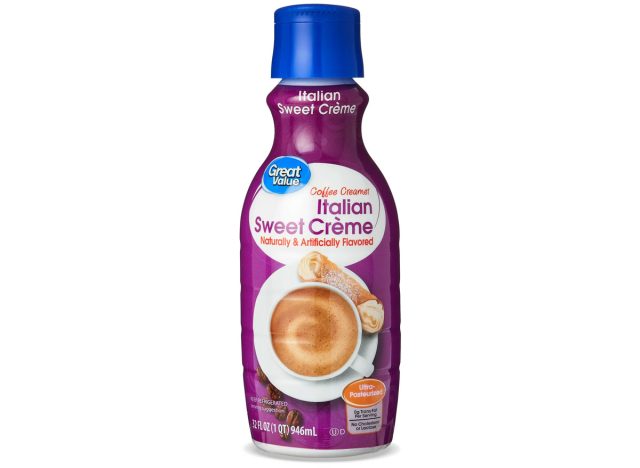 PER SERVING
: 35 calories, 1.5 g fat (0 g saturated fat), 15 mg sodium, 5 g carbs ( 0 g fiber, 5 g sugar), 0 g protein
By now, you might have realized that most of the unhealthiest coffee creamers contain very few real foods and a whole lot of highly processed ingredients. Great Value is no exception. This may be an affordable creamer but its main ingredients are water, sugar, and vegetable oil. In addition to real sugar, this product also contains sucralose and corn syrup solids: two ingredients that may play a role in inflammation.
Sydney Greene, MS, RD
Sydney Greene is a registered dietitian specializing in nutrition for addiction recovery, disordered eating, and body image, as well as chronic digestive issues.
Read more about Sydney
Sources referenced in this article