The #1 Unhealthiest Tea on the Planet
It's official—this tea does more harm than good.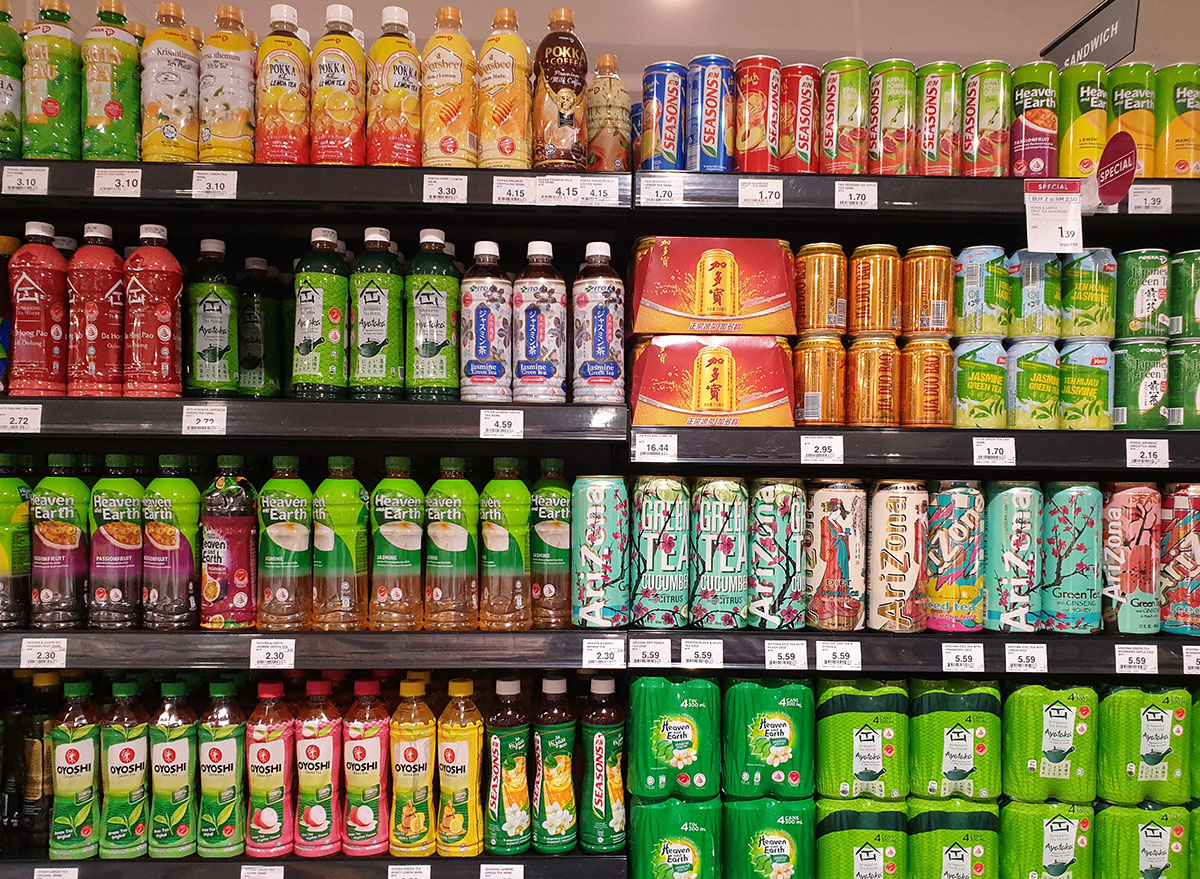 American's relationship with tea has always been complex, to say the least. From dumping it into the Boston Harbor to downing it at a BBQ on a hot summer day, our take on the beverage is truly ever-evolving. And with the staggering number of tea options on the market today, it can be difficult to know which to gravitate towards, and which to avoid at all costs. Especially avoiding the unhealthiest tea on the planet.
We spoke to nutritionist Ella Davar, RD, CDN, and asked her one simple question: What is the single unhealthiest tea you can drink, and why?
Here's what she had to say, and for more healthy tips, be sure to check out our list of The 7 Healthiest Foods to Eat Right Now.
The one unhealthiest tea to avoid
Her answer was resounding. Arizona Tea, an all-American favorite, is officially the brand to steer clear of when wandering down the tea aisle.
Davar called out their classic options, as well as a few specialty selections. She pointed first to their 16.9-ounce bottle of Lemon Tea, which contains 45 grams of sugar per can. The Arizona Southern Style Tea got an honorable mention as well, as it contains 43 grams of sugar. Davar did the math for us—that many grams of sugar add ups to more than 11 teaspoons! Imagine swallowing 11 spoonfuls of sugar; that's what you're ingesting when sipping on Arizona Tea.6254a4d1642c605c54bf1cab17d50f1e
But, while we all know sugar isn't exactly a healthy food, why is it such a cause for concern?
"Sugar is the number one contributor to chronic metabolic diseases such as heart disease and hypertension," Davar explained. "Consuming too much added sugar increases heart disease risk factors such as obesity, high blood pressure and inflammation."
We cross-checked Davar's pick against our own list of unhealthiest teas, and found that, based on overall sugar content, Arizona definitely seems to be the tea to eliminate from your diet as soon as possible. Perhaps the most frightening offering from the brand? Their Iced Tea with Peach Flavor, which rings in at 69 grams of sugar (120% of your daily recommended intake).
Although tea may seem like a healthy, age-old beverage, the modern American spin doesn't always measure up to nutritional standards. Instead, why not start sipping on one of these 12 Healthiest Teas on Grocery Store Shelves?