The 12 Healthiest Teas on Grocery Store Shelves
We scanned the shelves to find the best teas to sip on.
According to the Tea Association of the U.S.A., almost 80% of American households have some form of tea in their pantry, making it the second most commonly consumed beverage in the world after water. And given that there's an ever-growing body of research about the health benefits, that's not really all that surprising. That's why we rounded up some of the healthiest teas on the shelves—so you can focus on sipping rather than stressing about nutrition labels.
Tea is generally considered a healthy beverage—particularly if you're using it to replace higher calorie alternatives like soda, juice, or cocktails. On its own, tea contains zero calories, sugar, carbohydrates, fat, or sodium. Not only that, but many teas are packed with powerful antioxidants that can protect you from certain diseases. Research has found that drinking 2 to 3 cups of tea daily is associated with a reduced risk of heart disease, stroke, type 2 diabetes, and premature death. However, some bottled teas are so high in sugar that it cancels out any potential health perks.
Whether you drink black tea in the morning for a jolt of caffeine or enjoy sipping on iced herbal teas to stay hydrated throughout the day, there's almost an endless array of options to choose from at your local supermarket or go-to online retailer—so choosing the right one can feel overwhelming. Here are the healthiest teas you might want to add to your shopping cart, plus some info on why they're good for you. And for more healthy tips, be sure to check out our list of 7 Healthiest Foods to Eat Right Now.
Tejava Unsweetened Black Iced Tea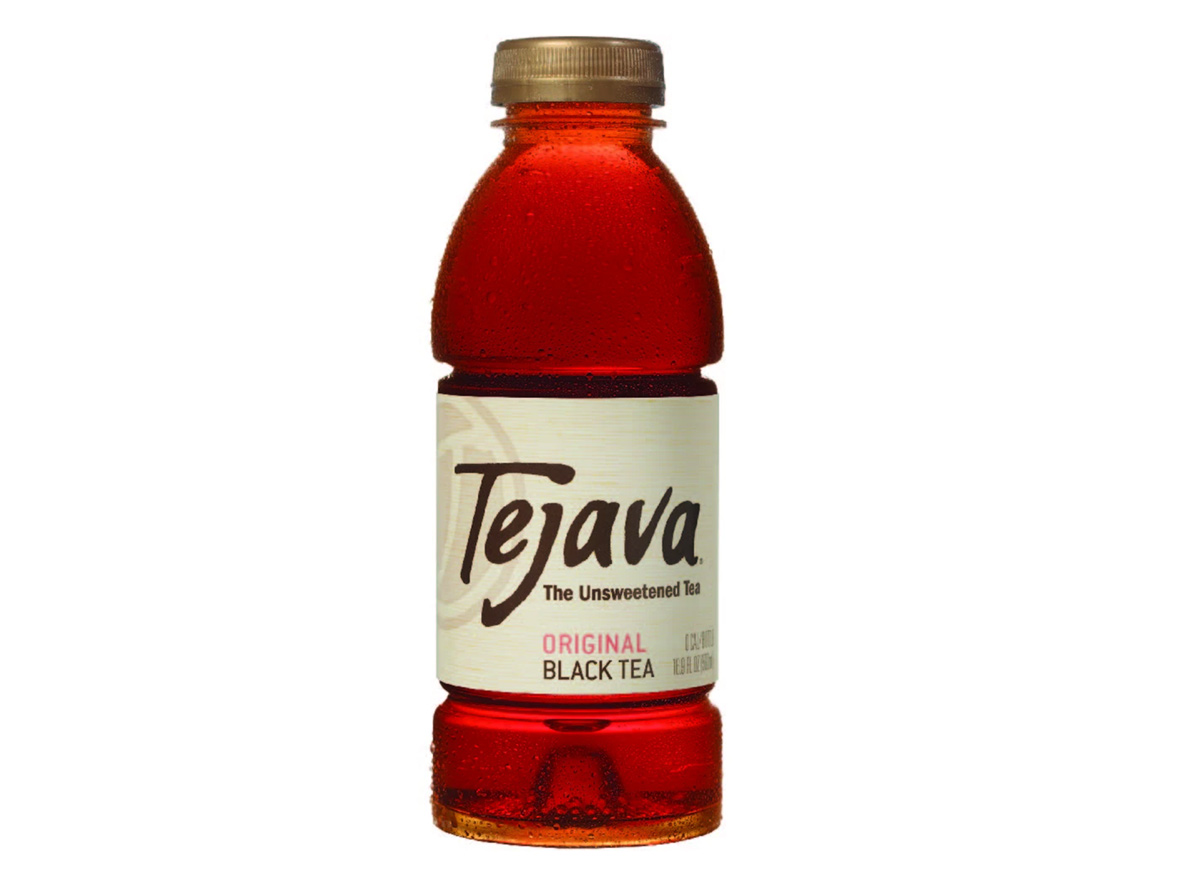 0 calories, 0 g fat (o g saturated), 8 mg sodium, 0 g carbs (0 g fiber, 0 g sugar), 0 g protein
Black tea has the highest caffeine content of all teas, making it your best bet when you need a pick-me-up in the morning or during a late afternoon slump. Unfortunately, many of the iced black teas on the market are loaded with sugar to balance out some of the natural bitterness. Remarkably, even though this one contains zero grams of sugar and it's not too bitter. By the way—a 2007 review revealed that drinking more than three cups of black tea per day is associated with a reduced risk of coronary heart disease.
Here are the 12 Side Effects of Drinking Tea Every Day.
Harney & Sons Black Tea Bags, Hot Cinnamon Spice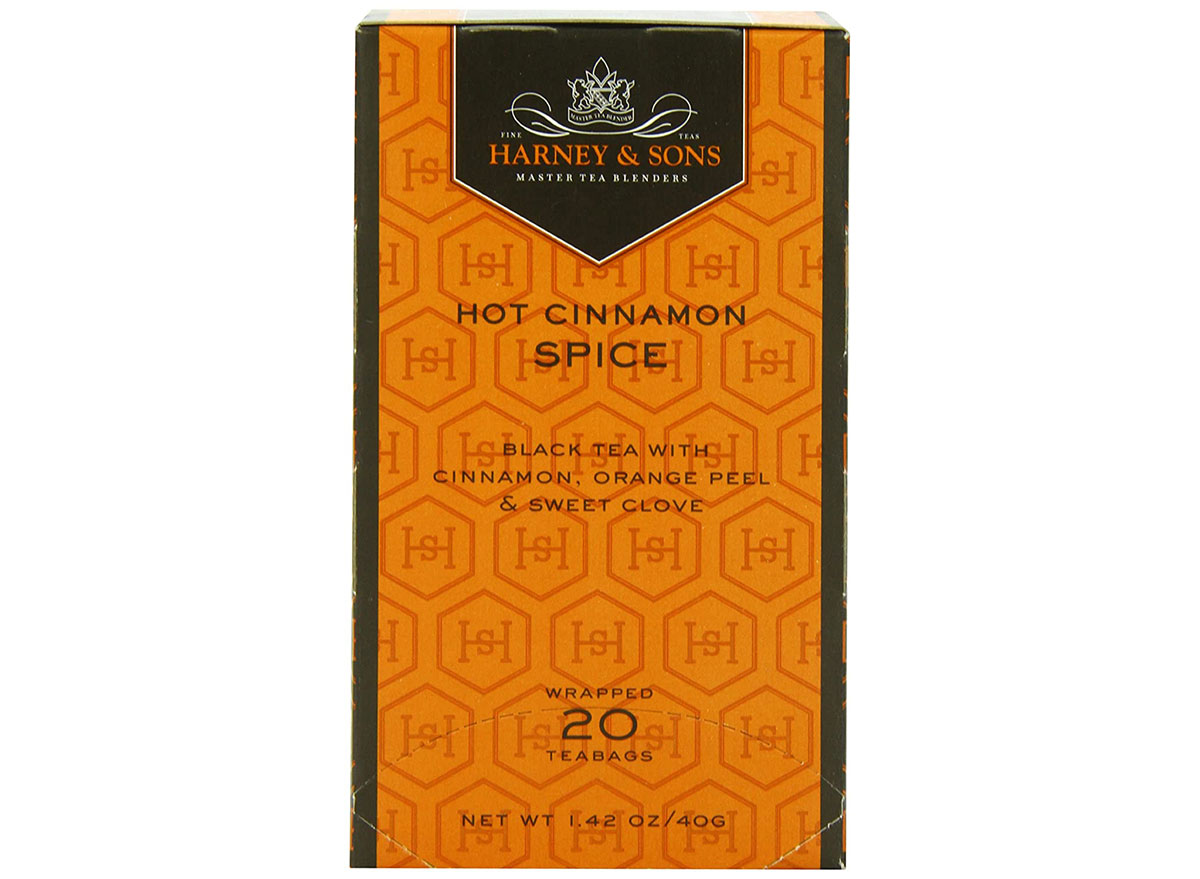 0 calories, 0 g fat (o g saturated), 0 mg sodium, 0 g carbs (0 g fiber, 0 g sugar), 0 g protein
Speaking of black tea—you might find it hard to believe that these tea bags don't contain any of the sweet stuff. With three types of cinnamon, orange peel, and sweet cloves, the tea tastes downright dessert-like, making it the perfect zero-calorie substitute for a hot toddy or another less healthy nightcap. Best of all, cinnamon is known to have a slew of health benefits—not only is it chock full of polyphenols and other antioxidants, but it's been shown to have potent anti-inflammatory properties. Studies have determined that consuming a very small amount of cinnamon per day can reduce levels of total cholesterol as well as "bad" LDL cholesterol, thus reducing the drinker's risk of diabetes and heart disease.
Here are 7 Ways Tea Can Help You Lose Weight.
Pure Leaf Unsweetened Brewed Green Tea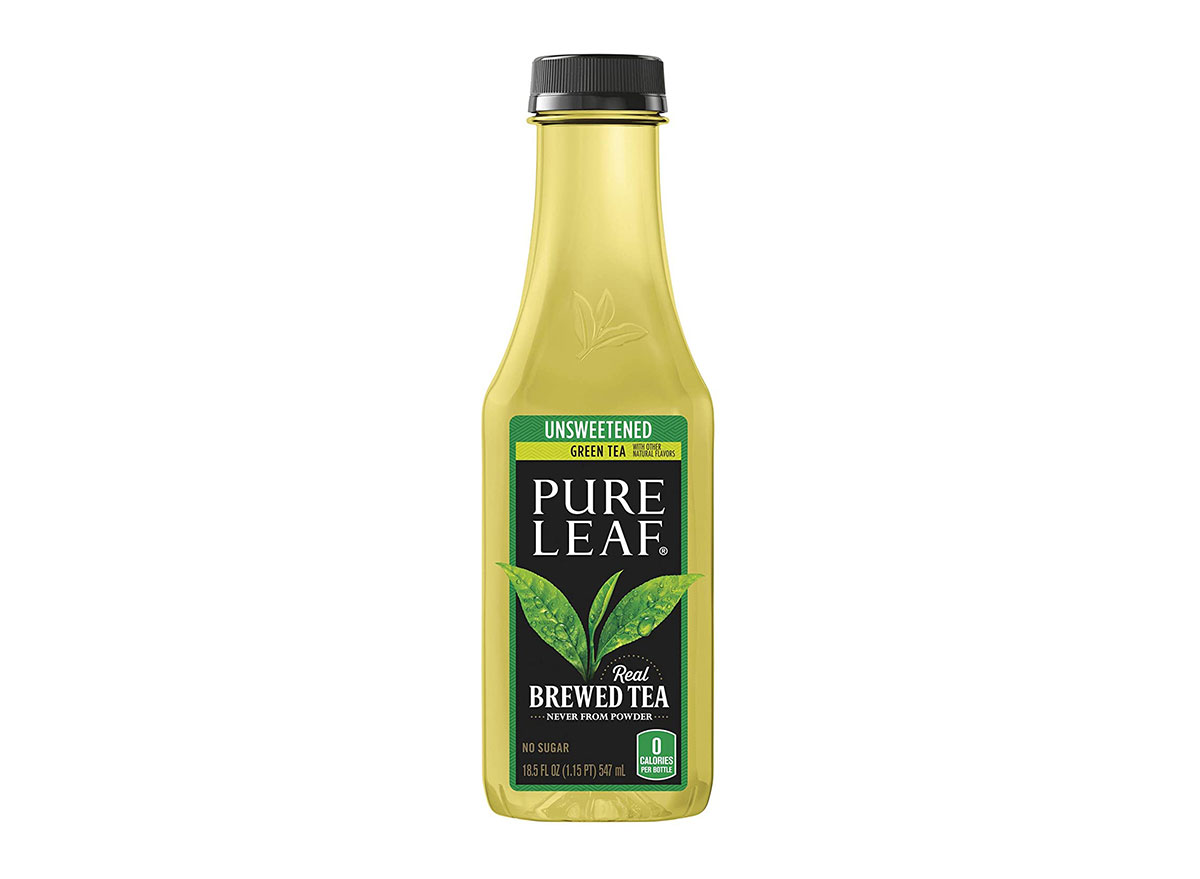 0 calories, 0 g fat (o g saturated), 15 mg sodium, 0 g carbs (0 g fiber, 0 g sugar), 0 g protein
Across the board, green tea is considered an excellent choice for health reasons—mainly due to its high concentration of epigallocatechin gallate (EGCG), an antioxidant-like compound, and catechins, which research suggests may support weight loss. This particular bottled tea, which is brewed from real green tea leaves, has an easy-to-drink, mildly earthy flavor with no added sugar.
Here are 7 Amazing Benefits of Drinking Green Tea.
Bigelow Tea Matcha Green Tea with Turmeric
0 calories, 0 g fat (o g saturated), 0 mg sodium, 0 g carbs (0 g fiber, 0 g sugar), 0 g protein
When it comes to the healthiest green teas, matcha is considered king—that's because the whole tea leaf is ground into a powder, meaning that it tends to have an even higher concentration of antioxidants than standard green teas. In fact, matcha has been found to contain a whopping 137 times the amount of EGCG that's in regular green tea. That's pretty impressive, given that EGCG is known for its anti-cancer properties, as well as offering potential benefits when it comes to cardiovascular and metabolic health.
This particular green tea not only packs the benefits of matcha, but it also contains added turmeric—a spice that can boost the immune system, lower cholesterol levels, and protect against numerous chronic diseases.
Is Matcha Actually Healthier Than Green Tea? We Have the Answer.
GT's Organic Raw Kombucha Multi-Green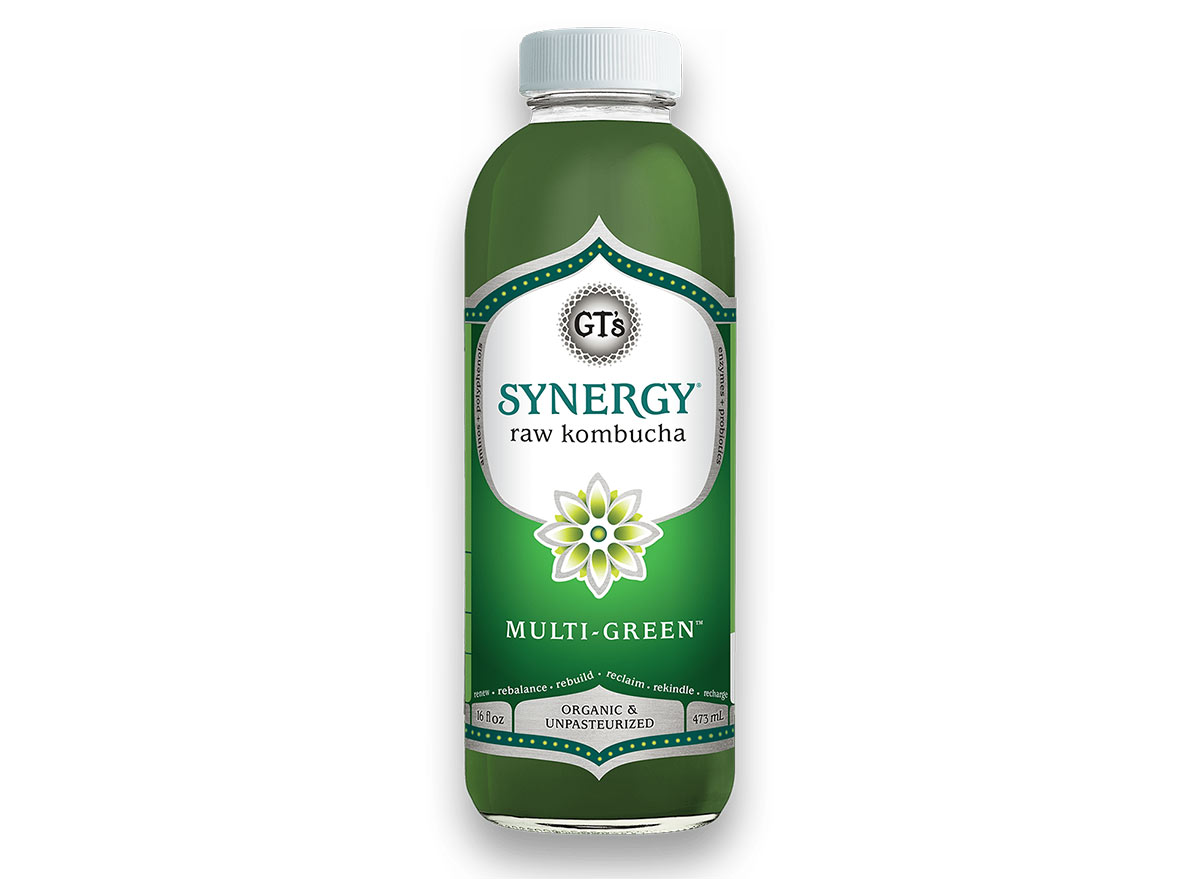 60 calories, 0 g fat (o g saturated), 10 mg sodium, 16 g carbs (0 g fiber, 16 g sugar), 0 g protein
Kombucha has long been touted for its probiotics, which result from the natural fermentation process. These friendly bacteria are known to improve digestion and balance out your microbiome—which is important, since a healthy gut means a stronger immune system, along with many other health benefits. Not only that, but kombucha is chock-full of cancer- and inflammation-fighting antioxidants.
While kombucha naturally contains some sugar from the fermentation process, some brands add even more to enhance the taste—which is why it's important to scan the nutrition label before picking up a bottle of this tart, fizzy drink. This particular product only has a few ingredients: raw kombucha, blue-green algae (which can help prevent metabolic and inflammatory diseases), nutrient-dense spirulina, and chlorella. It also packs quite a punch with billions of live probiotics.
Yogi DeTox Tea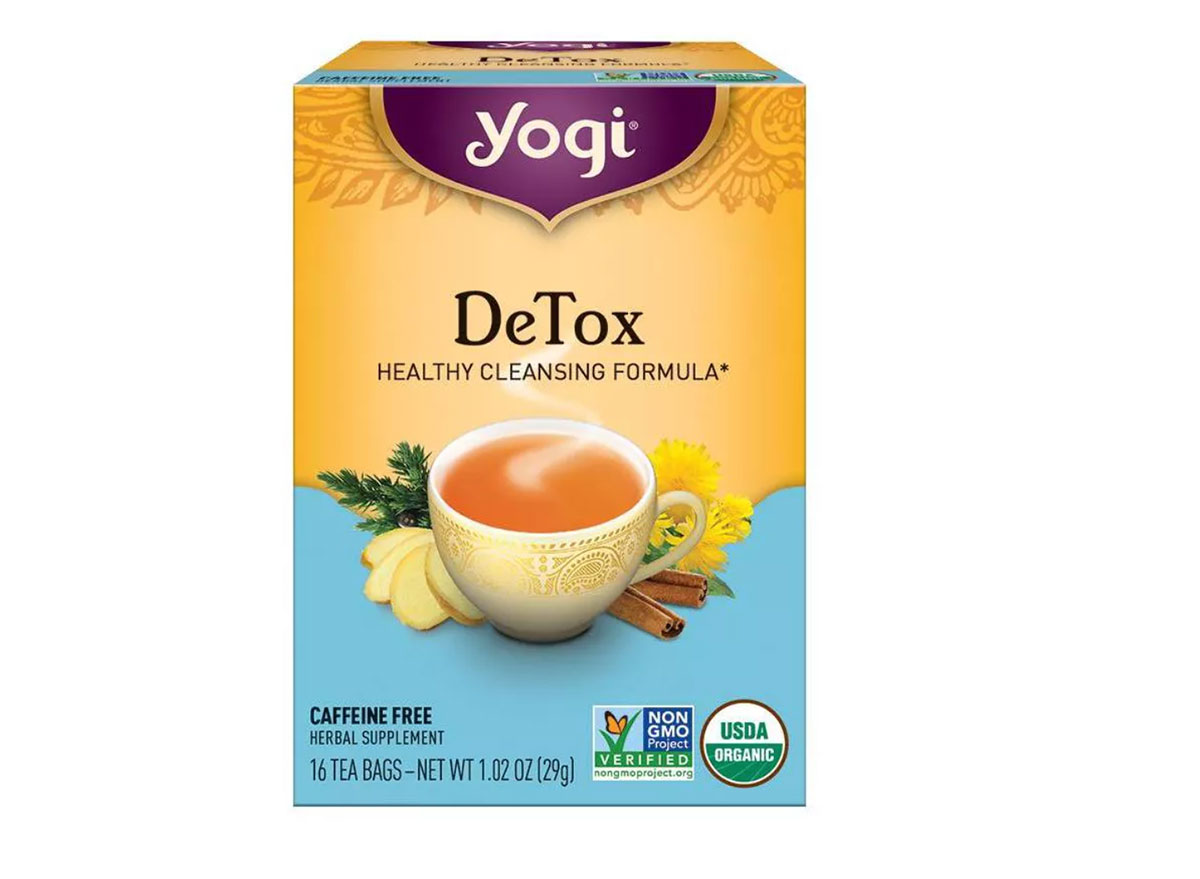 0 calories, 0 g fat (o g saturated), 0 mg sodium, 0 g carbs (0 g fiber, 0 g sugar), 0 g protein
As long as your liver and kidneys are healthy, your body does a pretty good job of naturally eliminating toxins. That said, if you're looking for some additional mild cleansing effects, this tea contains a powerhouse blend of well-studied health-boosting ingredients. For example, it contains black pepper, which has antimicrobial, anti-inflammatory, and digestion improving properties. It also features juniper berries, which are known to contain anti-cancer and antibacterial properties. Meanwhile, the Phellodendron bark may help reduce stress and anxiety, and the burdock root can act as a diuretic that stimulates digestion while also helping to "detoxify" the blood and promote blood circulation to the skin surface.
SOUND Sparkling Organic Yerba Mate with Citrus and Hibiscus
0 calories, 0 g fat (o g saturated), 0 mg sodium, 0 g carbs (0 g fiber, 0 g sugar), 0 g protein
Yerba Mate is a popular choice for a quick energy boost, but many of the products you'll find at your local grocery store contain eye-opening amounts of sugar. This lightly carbonated tea has 70 milligrams of caffeine per serving but none of the sweet stuff—yet it still manages to please the taste buds, thanks to the addition of calorie-free hibiscus, lime, and lemon extract.
To learn more about the wonders of tea, get started on a 7-day plan that will melt up to 10 pounds and buy the 7-Day Flat-Belly Tea Cleanse now.
Twinings of London Pure Oolong Tea Bags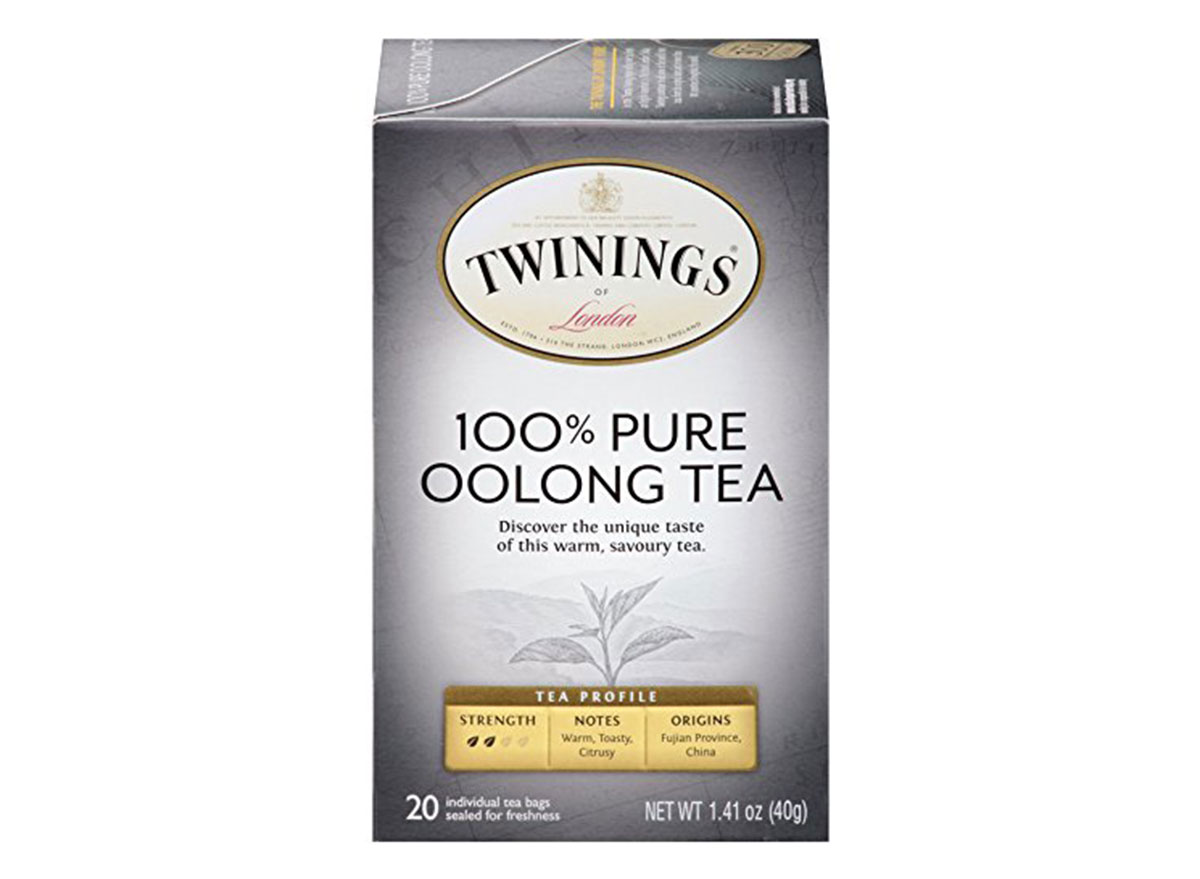 0 calories, 0 g fat (o g saturated), 0 mg sodium, 0 g carbs (0 g fiber, 0 g sugar), 0 g protein
Oolong tea may not be quite as popular in the U.S. as green tea and black tea, but it actually contains many of the same health benefits thanks to the high concentration of polyphenols. Studies have suggested that this tea may actually rev up your metabolism, while also preventing certain types of cancer as well as type 2 diabetes. Not only that, but if you're trying to shed pounds, note that this kind of tea has been shown to help prevent weight gain. As far as authenticity goes, Twinings of London comes out top as they hand-select their tea leaves from the Fujian Province of China—which is known as the origin of oolong tea.
Honest Tea Ginger Oasis Herbal Tea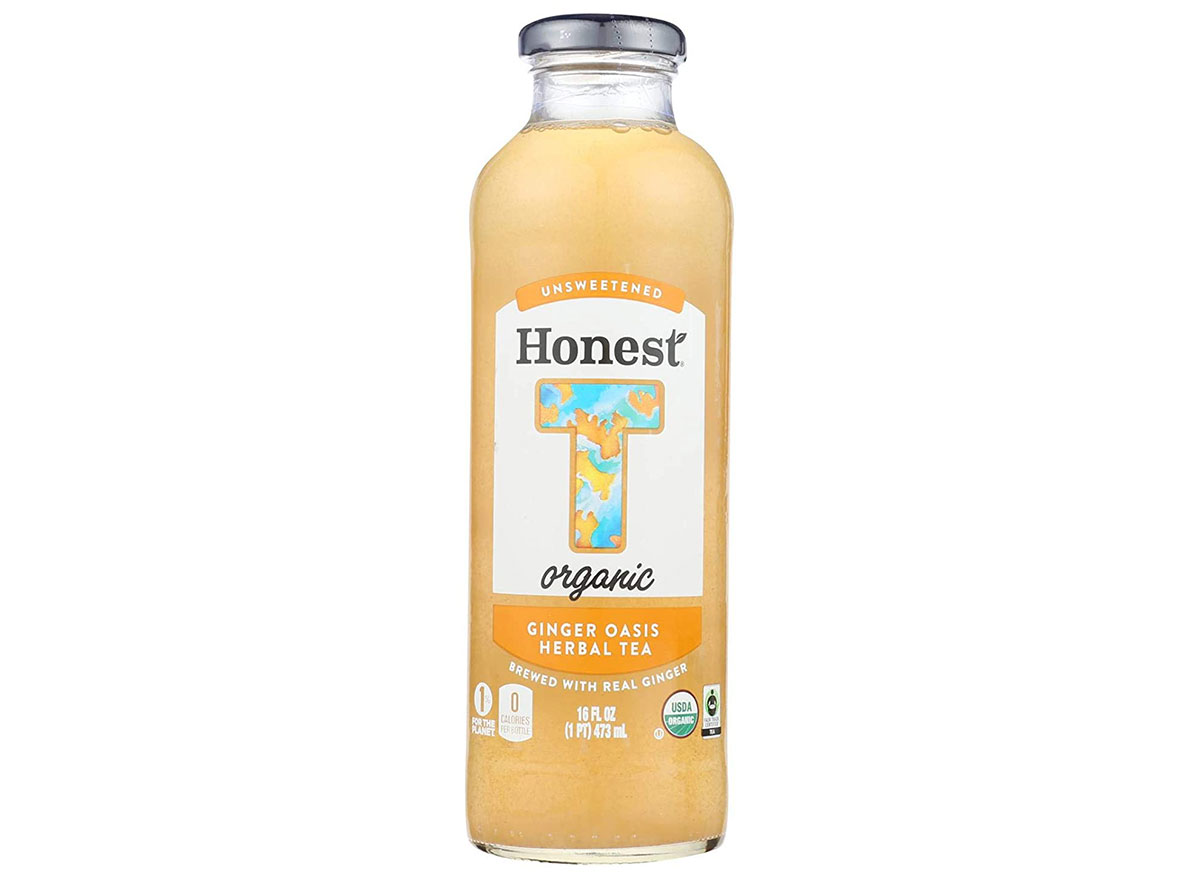 0 calories, 0 g fat (o g saturated), 0 mg sodium, 0 g carbs (0 g fiber, 0 g sugar), 0 g protein
The organic ginger root in this unsweetened tea offers up some zing, but that's not all—ginger has also been shown to lower blood sugar levels, and speed up the emptying of the stomach (thereby preventing indigestion). Honest Tea's product is also made with organic rooibos tea, which has been linked to bone health protection and metabolic health. And even though there's no sugar added to this blend, a dash of lemon juice from concentrate adds a nice touch of tartness to round out the herbal flavors.
Traditional Medicinals Organic Chamomile with Lavender Herbal Tea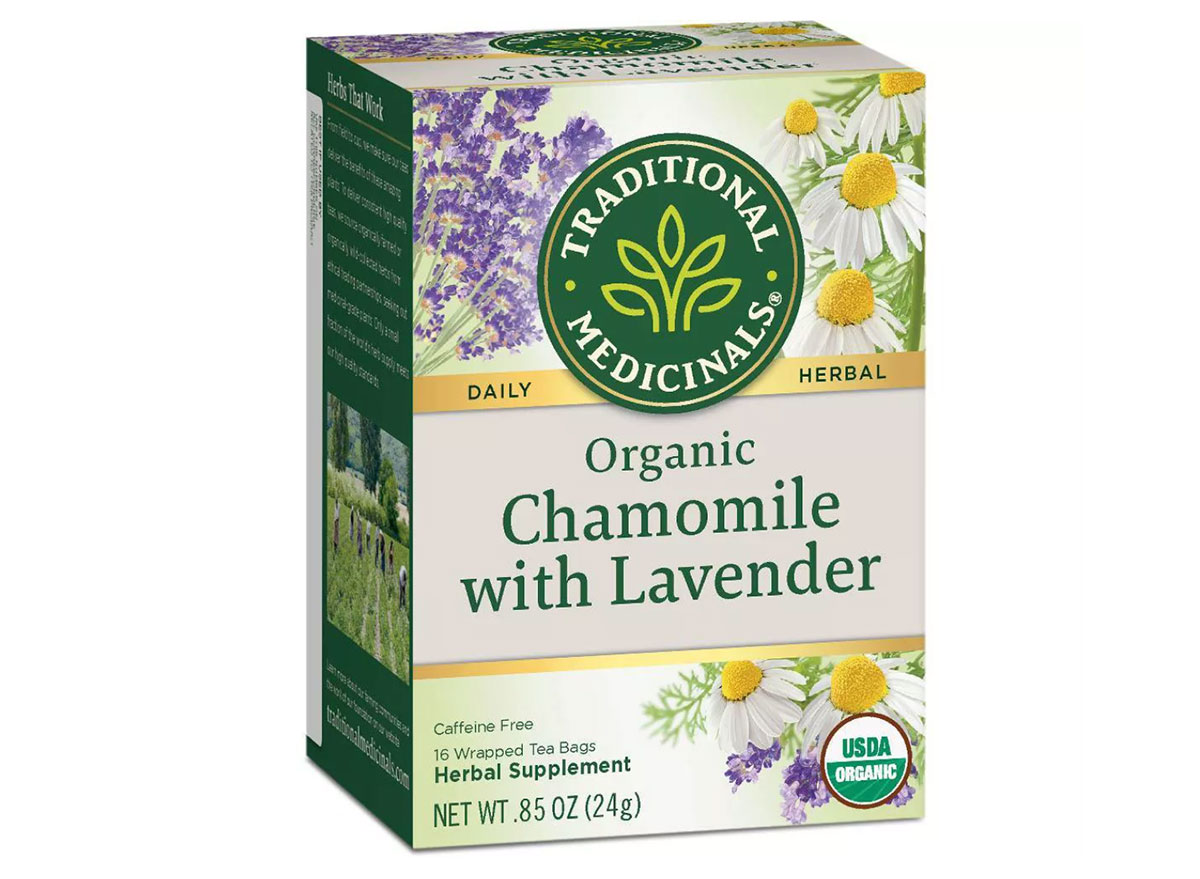 6254a4d1642c605c54bf1cab17d50f1e
0 calories, 0 g fat (o g saturated), 0 mg sodium, 0 g carbs (0 g fiber, 0 g sugar), 0 g protein
Chamomile isn't just known for helping to improve your quality of sleep—it also may help to regulate your blood sugar, improve cardiovascular conditions, stimulate the immune system and possibly offer protection against cancer. The addition of lavender in this blend not only amplifies the tea's calming effects, but it also offers other health benefits as well. Researchers have found that even just the aroma of lavender can reduce stress and anxiety levels. It's also worth noting that lavender can help to fight inflammation.
The Republic of Tea Natural Hibiscus Superflower Tea
0 calories, 0 g fat (o g saturated), 0 mg sodium, 0 g carbs (0 g fiber, 0 g sugar), 0 g protein
Hibiscus tea isn't only known for its distinct pink hue and bright, tropical flavor—it's also rich in phytochemicals that have an antioxidant-like effect, and may help to reduce blood pressure.
It's no wonder that this juicy herbal blend has garnered nearly a thousand five-star ratings on Amazon—in addition to ruby red hibiscus flowers from Nigeria, it also contains blackberry and stevia leaf for some calorie-free sweetness. Plus, you can enjoy it hot or cold—although reviewers say it's particularly thirst-quenching over ice.
Pantenger Dragon Pearl Jasmine Tea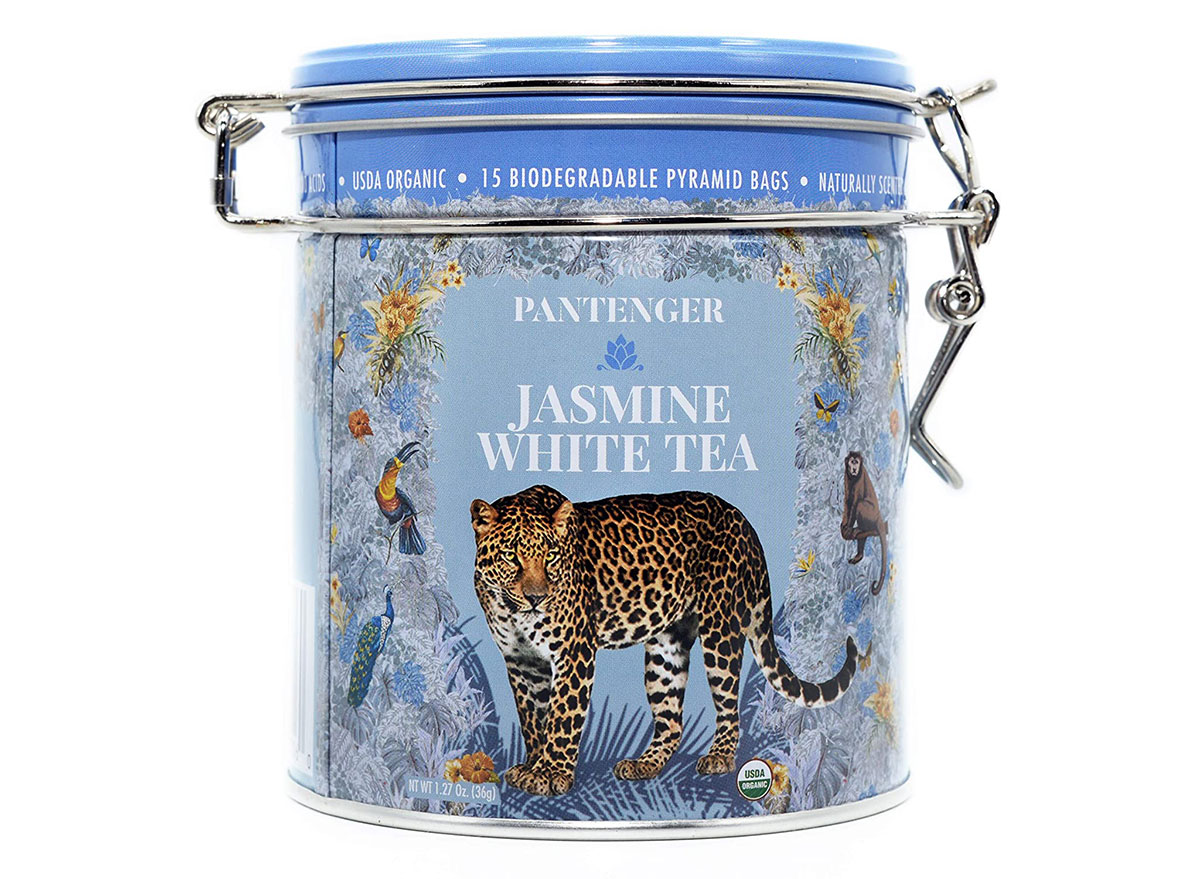 0 calories, 0 g fat (o g saturated), 0 mg sodium, 0 g carbs (0 g fiber, 0 g sugar), 0 g protein
Whereas most jasmine teas are made by combining green tea with jasmine buds, this fresh, floral version is made with white tea at the base instead. White tea has a slightly more delicate taste, but it provides many of the same health benefits—including a high concentration of antioxidant-like compounds. White tea has also been found to help with insulin resistance, bone health. It also may help you to lose weight by boosting your metabolism and stimulating the breakdown of fat while also preventing new fat cells from forming. As an added bonus, studies have found that the scent of jasmine may have a soothing effect by helping to calm your nerves and regulate your mood.
Now that you know the teas to grab, make sure to steer clear of these The Unhealthiest Iced Teas on the Planet.
Rebecca Strong
Rebecca Strong is a Boston-based freelance health/wellness, lifestyle, and travel writer.
Read more about Rebecca