6 Unhealthiest Chick-fil-A Breakfast Items, According to Dietitians
You may want to avoid these breakfasts on your next visit to Chick-fil-A.
Despite its bad reputation, there's nothing wrong with a little fast food now and then. Especially if it means the difference between skipping breakfast or getting a nourishing meal to energize your day. Chick-fil-A, America's favorite fast-food joint, is an obvious choice for breakfast, but what you order can leave you feeling full of energy and ready to tackle the day, or sluggish and out of line with your health goals. While there are plenty of healthy items to order at this popular fast-food chain, we asked dietitians which Chick-fil-A breakfasts they stay away from to avoid derailing their health goals.
How dietitians chose the unhealthiest Chick-fil-A breakfasts
High in calories. Breakfast is the first of three meals of the day (with potential snacks included), so loading a significant amount of calories into it doesn't always work out in your favor. This is especially true of sides like hash browns or lower-protein options that won't be filling enough to keep you from reaching for more food a few hours later.
High in saturated fat. The Dietary Guidelines for Americans recommend limiting saturated fat to 10% of your total calories, or just 22 grams per day, while the American Heart Association recommends limiting saturated fat to just 13 grams per day for a 2,000-calorie diet. Most of these breakfast options add 50-100% of the recommended daily limit in just one serving.
High in sodium. One thing almost all fast food has in common is that it's high in sodium, and breakfast foods loaded with processed meat, potatoes, and bread products are at the top of the list. The worst menu items at Chick-fil-A are loaded with sodium, a nutrient that can increase your risk of heart disease and stroke.
The following Chick-fil-A breakfast items are the ones dietitians say should be limited or avoided when you're focusing on your health. Read on, and for more tips on eating healthy when you're dining out, check out The 9 Best High-Protein Restaurant Chain Breakfast Orders.
6 unhealthiest foods on Chick-fil-A's breakfast menu
Hash Brown Scramble Burrito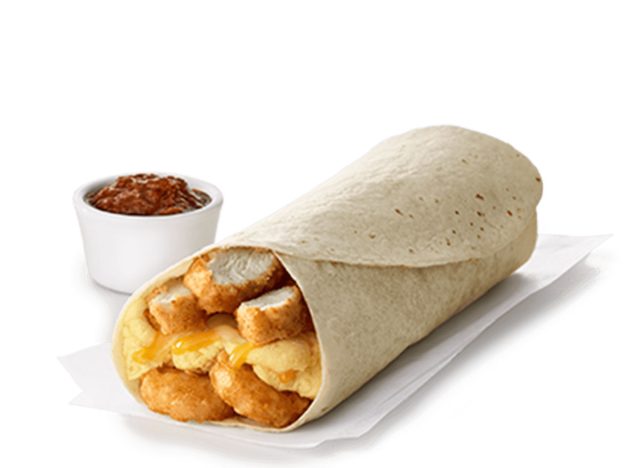 Per serving
: 700 calories, 40g fat (12 g saturated fat), 1,770 mg sodium, 51 g carbs (3 g fiber, 2 g sugar), 34 g protein
The Hash Brown Scramble Burrito comes with nuggets, scrambled eggs, hashbrowns, and cheese, all adding a significant amount of fat and sodium.
"The American Heart Association recommends limiting sodium intake to no more than 2,300 milligrams per day," explains Ryann Jung, MS, RD. "With 1,770 milligrams of sodium in one burrito, you are almost at recommended levels for the entire day in just one meal," adds Jung.
Buttered Biscuit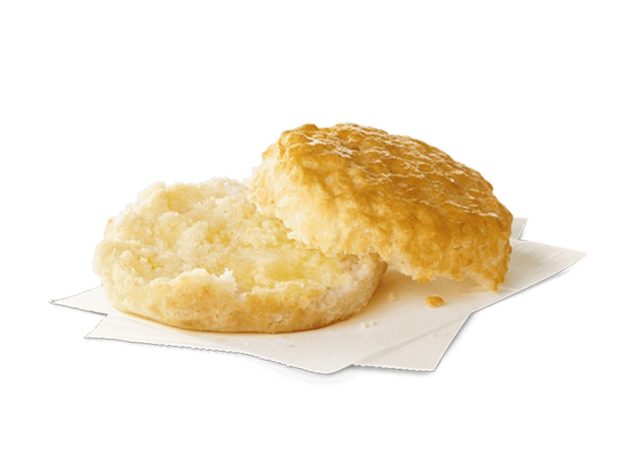 Per biscuit
: 290 calories, 15 g fat (6 g saturated fat), 760 mg sodium, 37g carbs (2g fiber, 4g sugar), 4g protein
As a side, the Buttered Biscuit is a poor nutritional choice to start the day with. One biscuit has 6 grams of saturated fat (27% of the daily value) and 760 milligrams of sodium. If you're looking for a lighter carbohydrate to enjoy at breakfast, an English muffin is a healthier option with less than half the calories, a third of the sodium, and more protein.
Sausage, Egg & Cheese Biscuit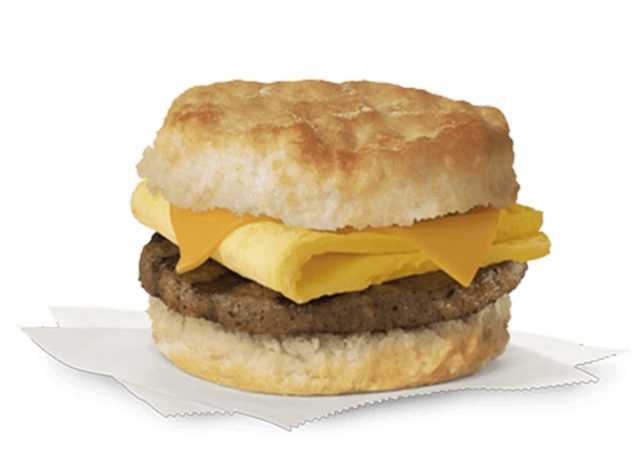 Per serving
: 620 calories, 42 g fat (18 g saturated fat), 1,510 mg sodium, 38 g carbs (2 g fiber, 4 g sugar), 22 g protein
"This breakfast item packs a hefty punch with 620 calories, a whopping 42 grams of fat, including 18 grams of saturated fat, and a high sodium content at 1,510 milligrams," says Tiffany Lankford, MS, RD, LD.  "Aligning with the Dietary Guidelines for Americans, the emphasis has been on reducing saturated fat and sodium intake to mitigate the risk of chronic diseases," Lankford adds.
This breakfast is too high in both categories to be recommended to anyone.
Chicken, Egg & Cheese Biscuit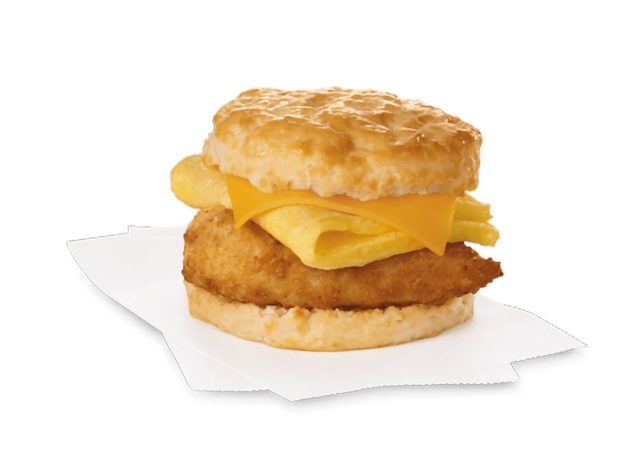 Per serving
: 550 calories, 28 g fat (12 g saturated fat), 1,870 mg sodium, 48 g carbs (3 g fiber, 7 g sugar), 27 g protein
"While it may be tempting, the Chicken, Egg & Cheese Biscuit at Chik-fil-A, with its famous chicken, egg, and cheese nestled inside a fresh buttermilk biscuit, should be approached with caution," says Steph Magill, MS, RD, CD, FAND, owner of Soccer Mom Nutrition.
Its 12 grams of saturated fat is over half the recommended amount in one day and you'll get almost a whole day's worth of sodium from this sandwich alone.
Hash Browns
Per large order
: 420 calories, 29 g fat (4 g saturated fat), 700 mg sodium, 35 g carbs (4 g fiber, 0 g sugar), 4 g protein
"I would skip the Chick-fil-A Hash Browns at breakfast, as a large order contains 4 grams of saturated fat and 700 milligrams of sodium," says Mandy Tyler, M.Ed., RD, CSSD, LD.
For a side, hash browns aren't enough to fill you up, but provide more than enough sodium and calories.
RELATED: The 8 Healthiest Fast-Food Smoothies To Order Right Now6254a4d1642c605c54bf1cab17d50f1e
Sausage, Egg & Cheese Muffin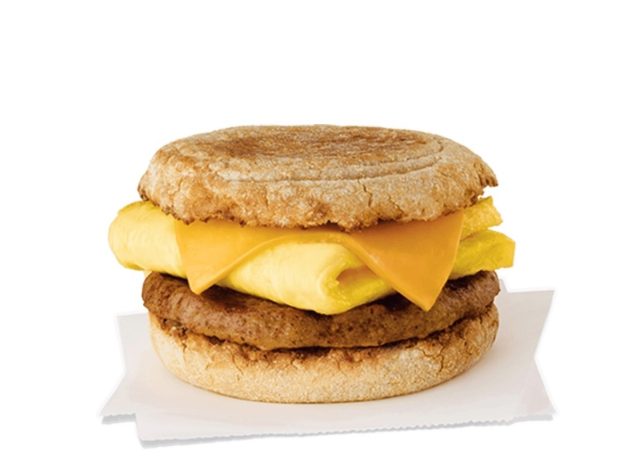 Per serving
: 500 calories, 33 g fat (12 g saturated fat), 1,030 mg sodium, 30 g carbs (1 g fiber, 2 g sugar), 23 g protein
While the English muffin may be a healthier choice than a biscuit, the Sausage, Egg & Cheese Muffin is still not a healthy way to start the day. Each serving has over half the amount of saturated fat and sodium you should have in a day.
Kelsey Kunik, RDN
Kelsey Kunik is a registered dietitian, freelance writer, nutrition consultant, and sustainable food blogger.
Read more about Kelsey