16 Awful Restaurant Dishes That Got the Axe in 2016
To these dishes we say: "See ya—wouldn't want to be ya!"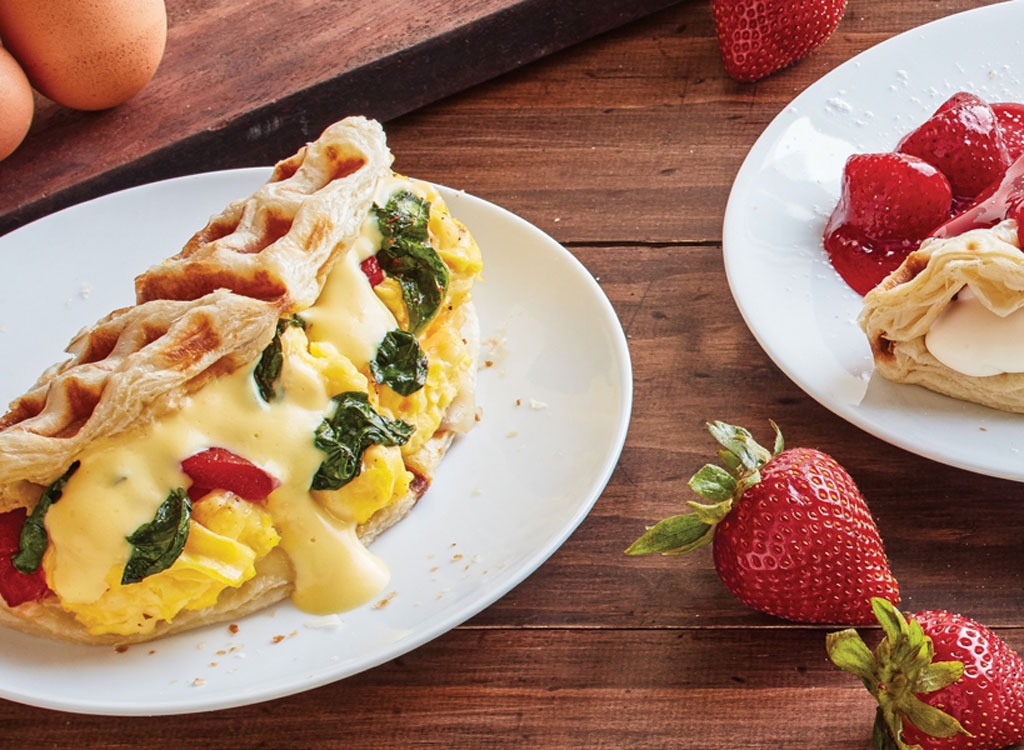 From Pokémon Go mayhem to the spread of the Zika virus, there have been at least 42 Best and Worst Health Stories of 2016 that were buzzworthy—or that we'd like to just forget about. But we can't deny that there's a ton to celebrate, too: The 'Final Five' took home the gymnastics gold medal in Rio, a law passed that will require food manufacturers to include added sugar counts on nutrition labels, and a number of horrible restaurant dishes were finally laid to rest.
From 1,800-calorie Italian dinners to chicken strips with more than a day's worth of sodium, we're saying goodbye and good riddance to some of the worst restaurant dishes of 2016. Without them calling your siren song, it will be far easier to stay on track with your New Year's weight loss resolution. Even so, everyone could use some additional motivation. So, after you're done bidding adieu to these calorie monsters, be sure to skim these 40 Tips for Motivation That Actually Work to ensure this is the year you finally sculpt a leaner, healthier you!
CARRABBA'S: CAVATAPPI FRANCO WITH WHOLE GRAIN SPAGHETTI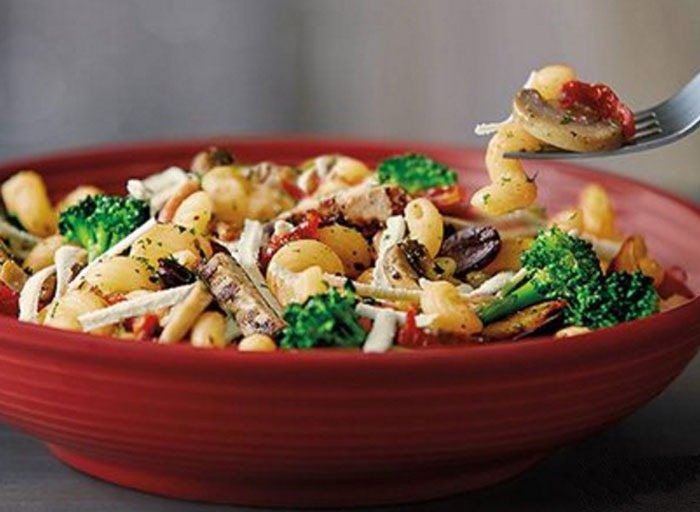 1,214 calories, 74 g fat, 18 g saturated fat, 0 g trans fat, 2,192 mg sodium, 87 g carbs, 17 g fiber, 2 g sugar, 49 g protein
It may have grilled chicken, tons of veggies, and whole grain spaghetti, but that doesn't change the fact that this dish is still a nutritional nightmare. If you order the dish as pictured above with the tube shaped pasta, you'll actually save 191 calories and 26 grams of fat. But if you opt for the healthier sounding whole wheat variety, you're actually far worse-off. Totally strange, we know! Needless to say, we didn't mind seeing this dish get slashed from Carrabba's menu. Carb-aholic? To make pasta night at home a healthy one, don't miss these 40 Ultimate Pasta Tips to Stay Skinny.
MAGGIANO'S: RUSTIC CHICKEN & SHRIMP AL FORNO
1,810 calories, 93 g fat, 41 g saturated fat, 2.5 g trans fat, 4,800 mg sodium, 131 g carbs, 5 g fiber, 23 g sugar, 115 g protein
Ziti, prosciutto, asiago cheese, and red pepper cream sauce join together to create this artery-stiffening dinner that packs more than a day's trans fat. Considering a 150-pound woman would need to run for nearly three hours to burn off this meal, we're definitely stoked to see that it got the boot.
RUBY TUESDAY: CAJUN JAMBALAYA PASTA
1,523 calories, 102 g fat, N/A saturated fat, N/A trans fat, 4,451 mg sodium, 85 g carbs, 12 g fiber, 54 g protein
This cream sauce-topped shrimp, chicken, and andouille sausage concoction makes a mockery of the classic better-for-you Cajun dish. Three cheers for Ruby Tuesdays for finally kicking it to the curb!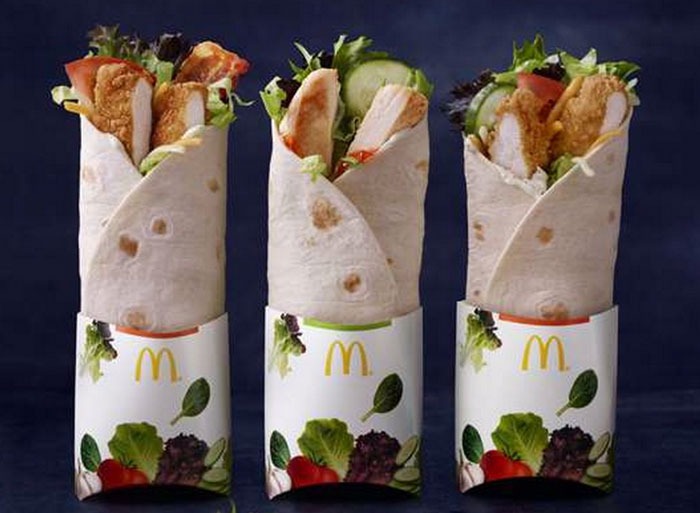 360-600 calories, 9-30 g fat, 2.5-8 g saturated fat, 1030 -1420 mg sodium, 40-58 g carbs, 2-3 g fiber, 5-12 g sugar, 23-33 g sugar
Fast food marketers use terms like "fresh salads" and "wraps" to trick you into thinking something's healthy when it isn't—and this certainly holds true at McDonald's. All of these wraps contained more than half a day's sodium, a ton of carbs, and not nearly enough fiber to be considered healthy. We had a bit of a dance party at the Eat This, Not That! headquarters when the McWraps got axed from the McDonald's Menu.
FRIENDLY'S FORBIDDEN CHOCOLATE ICE CREAM SANDWICH MADE WITH FROSTED FUDGE POP TARTS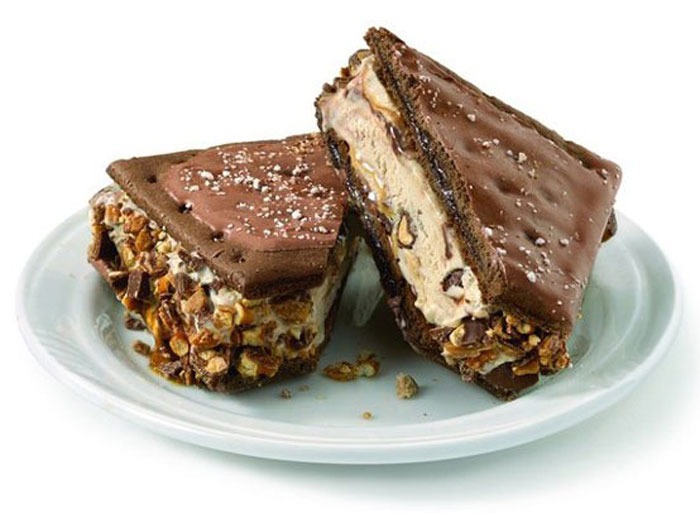 582 calories, 20 g fat, 9 g saturated fat, 522 mg sodium, 93 g carbs, 52 g sugar, 2 g fiber, 10 g protein
In terms of calories, fat, and sugar, we can't deny that there are definitely far worse desserts in restaurant land, but we also can't ignore the facts: this is a sandwich made out of two full-sized Frosted Fudge Pop-Tarts, ice cream, and sprinkles. While anyone could probably hack the recipe at home in their own kitchen, thankfully this overly decadent dish is no longer for sale at Friendly's restaurants. Have a major sweet tooth? Don't miss these 25 Nutritionist-Approved Ways to Satisfy Your Sweet Tooth.
BOB EVANS CHERRY BRIOCHE FRENCH TOAST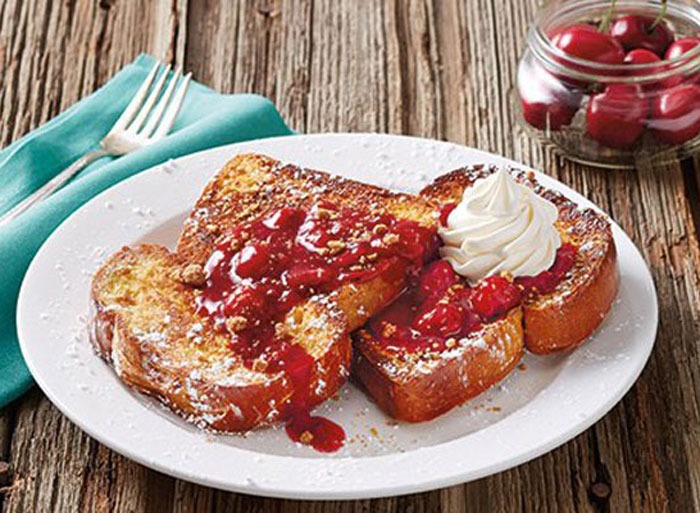 720 calories, 25 g fat, 10 g saturated fat, 660 mg sodium, 113 g carbs, 3 g fiber, N/A sugar, 12 g protein
Made with more egg and butter than your typical loaf, this Brioche bread French toast was doomed before it was even dipped into the batter. Pair that with a dusting of powdered sugar, syrupy cherries, and a baked streusel crumble (which we suspect is just fat mixed with more fat and some sugar) and you've got the makings of one of the worst restaurant breakfasts in the nation. Not only is this meal packed with more carbs than seven-and-a-half slices of white bread (one of these 25 Foods That Make You Hungrier, it has more calories than nine frozen Kashi blueberry waffles! While it's great news that the cherry version got nixed from the menu, we wish Bob eliminated the other—more caloric—flavors, too. The Chocolate Coconut Brioche French Toast (990 calories), Almond Toffee Brioche French Toast (970 calories), and Blueberry Supreme Brioche French Toast (1090 calories) are still lurking on the menu.
LONGHORN STEAKHOUSE MIXED BERRY LAVA CAKE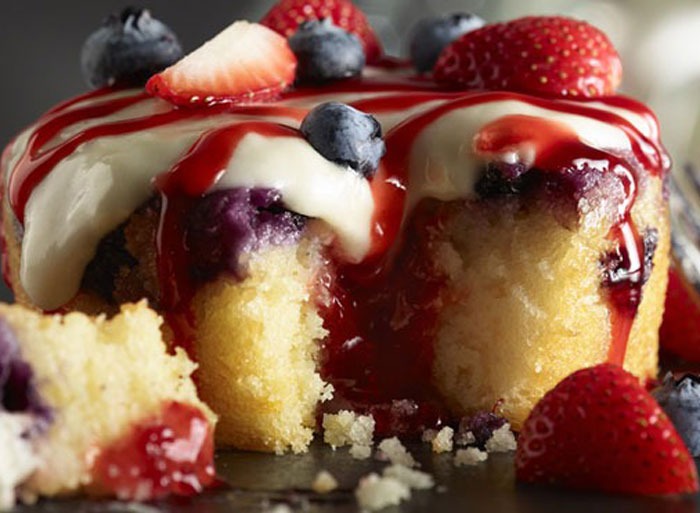 860 calories, 40 g fat, 13 g saturated fat, 0.5 g trans fat, 810 mg sodium, 126 g carbs, 3 g fiber, 88 g sugar, 9 protein
Okay, so you probably assumed this cake was caloric, but thanks to all the fruit piled on top of this bad boy, you probably greatly underestimated its calorie count. And you're not alone; according to a Journal of Consumer Psychology study, people underestimate calorie counts of fresh fruit-topped sweets by a whopping 16 percent. Yikes! That said, we were happy to learn this unassuming sweet offering is no longer around to crush your flat belly dreams.
FRIENDLY'S HONEY BBQ CHICKEN STRIPS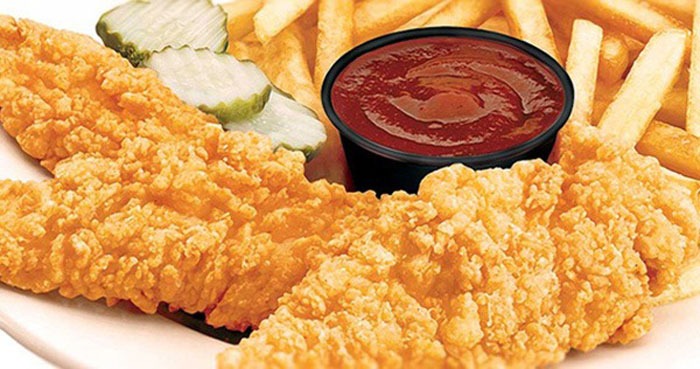 chicken strips'>
1,580 calories, 82 g fat, 15 g saturated fat, 3,170 mg sodium, 168 g carbs, 5 g fiber, 73 g sugar, 43 g protein
Thanks to a Honey BBQ sauce that could put your dentist's kids through private school and a salt count that would make your cardiologist sweat through his shirt, these chicken strips are far from friendly. Good riddance!
APPLEBEE'S RIBLETS PLATTER WITH HONEY BBQ SAUCE
with honey bbq sauce'>
1,100 calories, 51 g fat (17 g saturated), 104 g carbs, 4 g fiber, 92 g sugar, 68 g protein
It's not the ribs that make this platter a monstrosity; it's the sauce. In fact, 82 of the 92 grams of the sugar in this platter comes from the goopy stuff on top of the meat. That's as much sugar as you'd find in nearly four bags of peanut M&Ms! Needless to say, we all rejoiced the day we learned this dish had been sent to the graveyard. For even more foods with insanely high sugar counts, don't miss our report, 35 Restaurant Foods With Crazy-High Amounts of Sugar—Ranked!
IHOP SPINACH & ROASTED RED PEPPER CRISS-CROISSANT BREAKFAST
6254a4d1642c605c54bf1cab17d50f1e
1 platter, regular combo with sausage & scrambled eggs: 1,120 calories, 99 g fat, 37.5 g saturated fat, 1 g trans fat, 2,240 mg sodium, 68 g carbs, 4 g fiber, 9 g sugar, 46 g protein
Despite the fact that this hybrid croissant-waffle is the size of a folded-over Eggo, it manages to serve up 660 calories, 47 grams of fat, and even a gram of trans fat—and that's before the meat and eggs are accounted for. And the most interesting part is that the egg and veggie-filled version of this new dish has more calories than its sweet-flavored sisters. The reason? The IHOP chefs add pancake batter to the eggs to make them extra fluffy—and caloric. So, yes, when this dish was still around, IHOP was basically servings its patrons a pancake stuffed croissant—without telling them. Sneaky, right?
810 calories, 52 g fat, 23 g saturated fat, 2 g trans fat, 2,000 mg sodium, 40 g carbs, 1 g fiber, 9 g sugar, 46 g protein
More meat, more problems. Made with two large beef patties and topped with shaved steak, melted Swiss cheese, fried onions, and mayo, when it was still for sale, this monster of a burger left all who dared to eat it feeling bloated and overly full. The good news is that it's officially been kicked off the menu. The bad news? All of the Checkers burgers carry trans fat so none of them are safe to eat. For that reason, we suggest sticking with their crispy chicken sandwich or an order of buffalo wings.
OLIVE GARDEN POT PIE ITALIANO NONNA'S KITCHEN SINK
1,670 calories, 99 g fat, 45 g saturated fat, 2,910 mg sodium, 126 g carbs, 10 g fiber, 10 g sugars, 70 g protein
If you're at all concerned with health or nutrition, you should consider the phrase "kitchen sink" code for "do not eat this"—and this dish is a prime example as to why. Nonna filled a starch- and carb-laden pie crust with, you guessed it, even more fat and carbs! She starts by loading it up with cheese and baked ziti and then goes wild with the meats, adding meatballs, sausage, and a hearty meat sauce, too, because, you know, one source of artery-clogging fat wasn't enough. Sick to your stomach yet? Us, too! Thankfully, this is one dish that's never coming back from the dead.
MCDONALD'S THIRD POUNDER ANGUS BURGER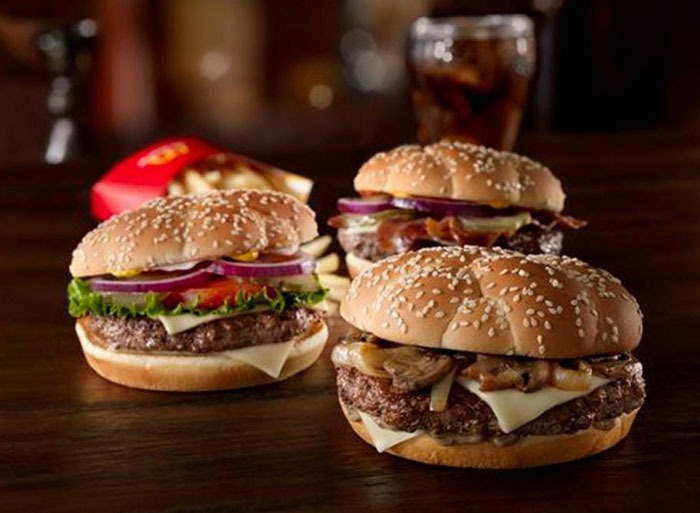 750 calories, 39 g fat, 16 g saturated fat, 2 g trans fat, 1,700 mg sodium, 61 g carbs, 4 g fiber, 10 g sugar, 40 g protein
About a year and a half ago, McDonald's added a "premium" sirloin burger to its U.S. menu.: The Third Pounder Angus burger. Interestingly, it was essentially a reincarnated version of the Angus Third Pounder, a former version with a near-identical name. We're not sure how often Ronald is going to eliminate and bring back this massive, fatty patty from its menu boards, but we're glad to see it get the boot yet again; any burger that has 750 calories and a half a day's worth of salt should come with a warning label.
CHICK-FIL-A SPICY CHICKEN BISCUIT SANDWICH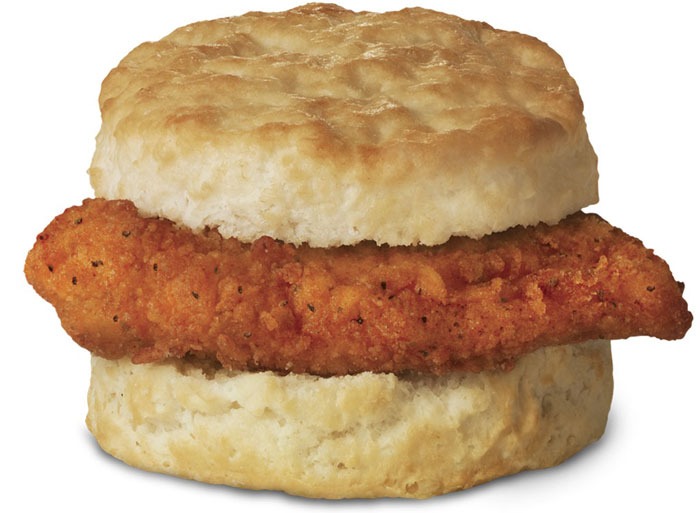 450 calories, 21 g fat, 8 g saturated, 1,260 mg sodium, 50 g carbs, 6 g sugar, 2 g fiber, 16 g protein
Despite the fact that this sandwich has half a day's salt, two tablespoons worth of fat, and as many calories as a 10-piece order of McNuggets, Chick-Fil-A fans had a collective meltdown when their beloved chicken biscuit sandwich got the ax. They apparently didn't realize that this was actually good news, especially since the fatty breakfast sandwich was replaced with the lower-cal Egg White Grill. For more fast food a.m. meals that won't break the caloric bank, don't miss our report Every Fast Food Breakfast Item—Ranked.
OLIVE GARDEN CHICKEN CACCIATORE & CHEESE MANICOTTI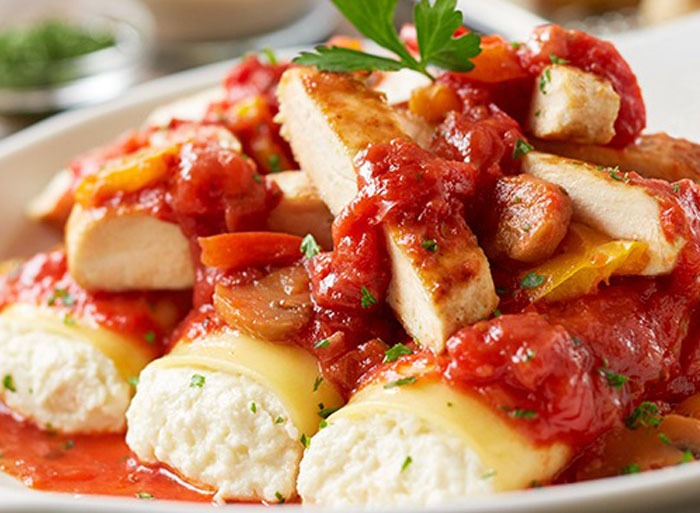 750 calories, 37 g fat, 19 g saturated fat, 0 g trans fat, 1,660 mg sodium, 57 g carbs, 6 g fiber, 11 g sugar, 57 g protein
Chew on this: Even though this button-busting pasta dish has a staggering 37 grams of fat and half a day's salt, it's not even close to being the worst meal on Olive Garden's menu. We can only hope the chain keeps nixing high-cal dishes like this one and replacing them with meals comprised of 30 to 40 percent fewer calories. Big fan of the Italian chain? Don't miss our special report, Every Pasta Dinner at Olive Garden—Ranked!
PAPA JOHN'S CINNAPIE DESSERT PIZZA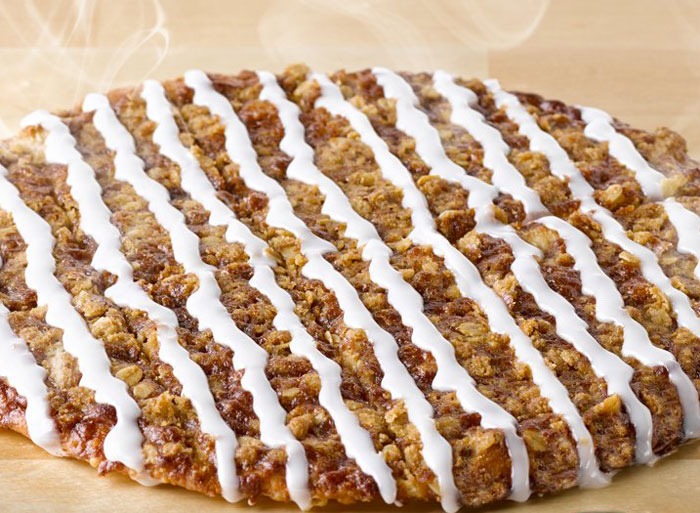 4 sticks: 560 calories, 19 g fat, 6 g saturated fat, 540 mg sodium, 90 g carbs, 2 g fiber, 39 g sugar, 8 g protein
Considering that desserts and pizza are both "sometimes" treats, we can't say it's too surprising that a pizza made of pizza crust, cinnamon, brown sugar streusel, and sugary icing has so many calories and sugar. Thankfully, Papa John didn't keep this item around for too long. It was finally laid to rest in mid-January.