The #1 Upper Leg Workout You Need To Eliminate the Jiggle
Tighten up your glutes and thighs with these killer upper leg exercises.
Your legs are among the most difficult body parts to tone and tighten. In particular, your upper legs (glutes and thighs) store more fat than other body parts—especially in women. That's because estrogen promotes fat accumulation in the lower body, according to the University of Rochester Medical Center. It also motivates many women to build strong, toned legs that won't jiggle. Fortunately, you can get rid of jiggly thighs with this trainer-recommended upper leg workout. We asked Rachel MacPherson, CPT, an ACE-certified personal trainer with Garage Gym Reviews, to share her top leg exercises to help sculpt your legs and say goodbye to that jiggle.
The gluteal muscles in your butt are the biggest muscle group in your body, while the quadriceps are another big muscle group located at the front of your thighs, according to Britannica. That's good news since it means your glutes and thighs are prime areas to target for building muscle and developing tight upper legs. Regularly engaging in strength training exercises focusing on the glutes and quads will create strong, toned upper legs while shedding the excess fat that causes them to jiggle. However, you should still incorporate lower leg exercises to build and maintain lower body strength and prevent muscular imbalances.
"Since your legs contain the largest muscle groups in your body, performing strength training exercises using your legs will burn a large number of calories and will help you build metabolism-boosting muscle mass," MacPherson explains. "Also, building muscle is the best way to create firm, shapely legs that will have less jiggle once body fat is lost. Warm up with an outdoor or treadmill walk and some bodyweight squats, leg swings, hip circles, or light active movements."
Add these five leg-strengthening exercises to your workout routine if you aspire to achieve toned upper legs that won't jiggle. Keep reading to learn more about this upper leg workout, then check out how to 6 Exercises for Toned Thighs That Don't Require Equipment.
Banded Glute Bridge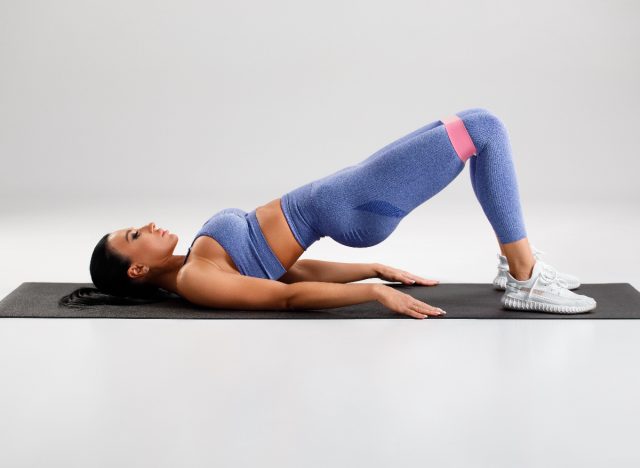 First up is the banded glute bridge, an excellent upper leg exercise that tightens the glutes, activates the core muscles, and primes the large glute muscles for the remaining exercises.6254a4d1642c605c54bf1cab17d50f1e
To get started, place a loop band around your thighs or just about your knees. Lie on your back with your knees bent and your feet flat on the floor. Raise your glutes off the floor by pressing through your feet and pushing your thighs out against the band's tension. Keep raising until your body forms a straight line from your knees to your chest. Contract your glutes at the top, and hold for one to two seconds. Lower your glutes slowly back to the start position. Repeat 20 to 30 reps for two to four sets, depending on your fitness level.
Walking Lunges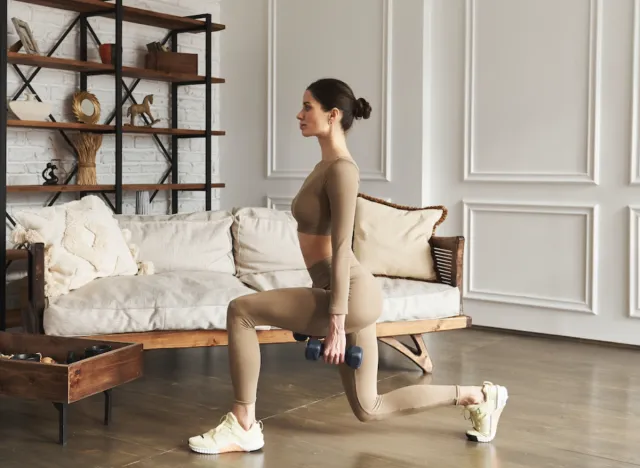 The next exercise is the classic walking lunges. This killer movement is a staple exercise in any leg workout since it works several lower body parts, including the quads, hamstrings, glutes, calves, and abdominal muscles.
Begin by holding dumbbells in each hand (or use your body weight only). Next, take a large step forward with your right foot, and bend your right knee to lower your left knee to a few inches above the floor without dropping to the bottom. Next, push through your right foot to raise back up. As you rise, lift your left foot and step it in front to lunge on the left side.
"If you have trouble with balance, you can tap your foot down on the floor in the middle," says MacPherson. "Continue switching legs to lunge, moving forward, then turn around and lunge back." Complete two to four sets of 10 to 15 lunges per side.
Dumbbell Stiff Leg Deadlifts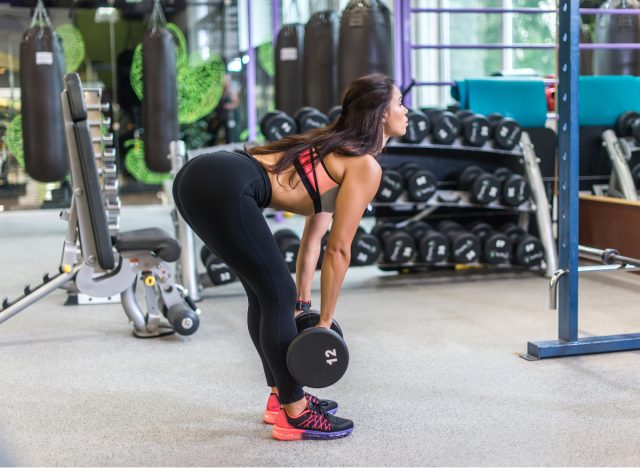 Deadlifts aren't exclusive to powerlifters and bodybuilders who use barbells to lift several hundred pounds at a time. This classic compound movement has many variations that can be performed with dumbbells at a higher rep range and still deliver an effective leg exercise to strengthen your posterior chain, including your hamstrings, glutes, quads, and back.
To perform this dumbbell deadlift variation, hold a pair of heavy dumbbells in both hands, letting them hang to rest on your thighs. Hinge your hips back while sticking your glutes out. (Imagine pointing them toward the upper wall behind you.) Create a slight arch in your lower back (extension) to protect it from the natural tendency to round and cause injury. Maintain straight legs without locking out at the knees. Lower the weights down your thighs slowly, keeping them close to your body. When you feel a solid stretch in your thighs, pause for one to two seconds, then rise back up by contracting your hamstrings and glutes while keeping a straight back and legs. Complete two to four sets of 10 to 15 reps.
Narrow Front Squat with Heels Raised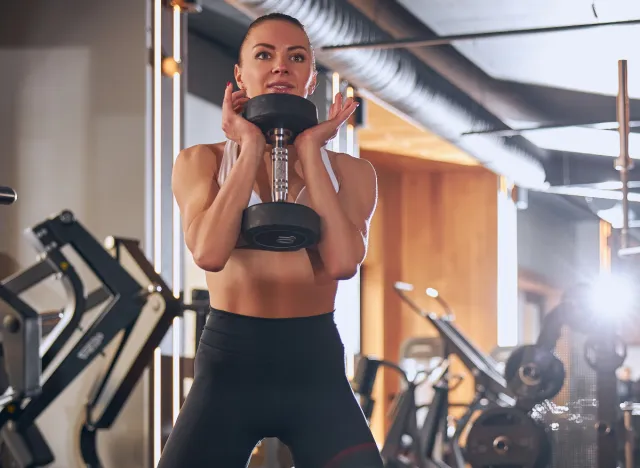 This squat variation focuses on the quad muscles at the front of your thighs.
"Hold a heavy dumbbell by the bell in your cupped palms, with fingers up, elbows bent, and pointing down," MacPherson instructs. "Place your heels on a wedge or small weight plates, with your feet in a narrow stance, closer than shoulder width. Hinge your hips back and bend your knees, keeping your back straight. Next, lower into a deep squat and use your quads, pressing through your feet to raise back up." Complete two to four sets of 10 to 15 reps to help shrink leg fat.
Adam Meyer
Adam is a health writer, certified holistic nutritionist, and 100% plant-based athlete.
Read more about Adam