This Is What 100 Calories of Your Favorite Valentine's Day Candy Looks Like
We found out exactly how many candy hearts, truffles, and chocolate treats you can have for 100 calories.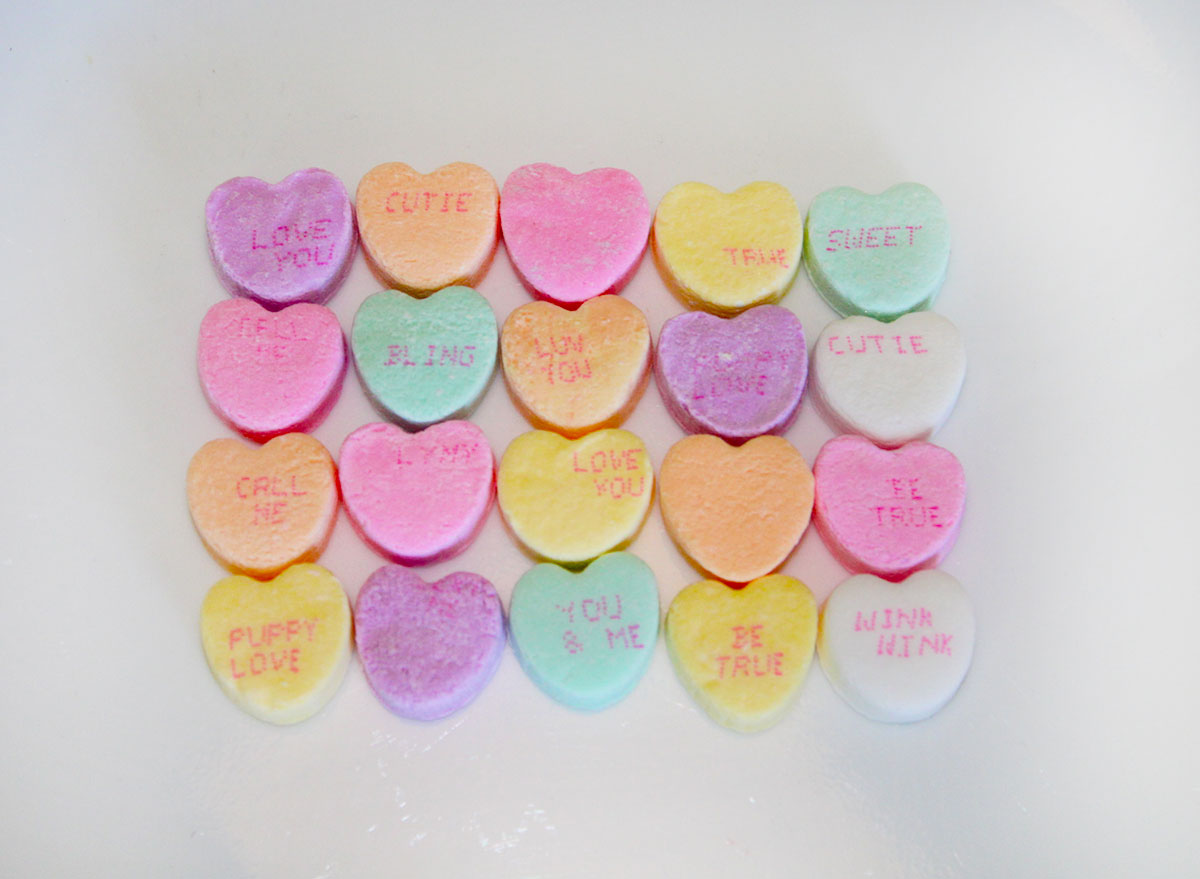 We all know the best part about Valentine's Day is the candy—lots and lots of candy. Whether you're flying solo or in a relationship, one thing both parties have in common is a love of chocolate and sweets. It's no secret that indulgent chocolates and other treats can be packed with calories, but if you've ever taken the time to look at the serving size of Valentine's Day candy, you'll quickly realize just how many calories come in a serving—let alone the entire package (who can eat just ONE truffle, anyway?). To bring some perspective to your Valentine's Day, we rounded up 18 Valentine's Day candies and photographed exactly how much you can indulge in for 100 calories.
We've got the works listed here—from boxed samplers and conversation hearts to chocolate classics and fruity favorites—to show you exactly how each treat stacks up. We were shocked at the amounts—and you will be, too.
Dove Valentine's Day Milk and Dark Chocolate Hearts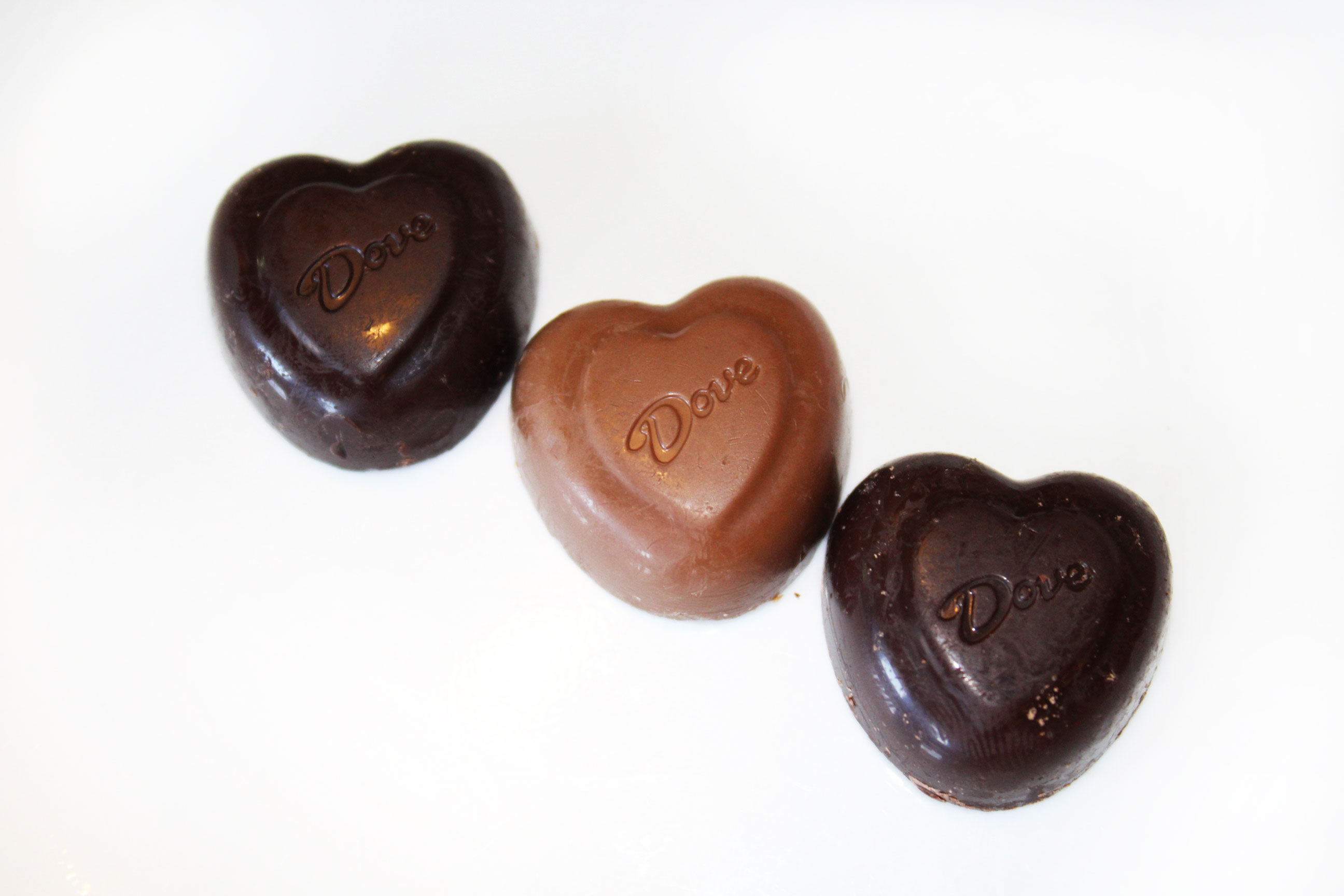 100 calories = about 3 heart chocolates
What better way to let your partner know you appreciate them than by gifting a bag of chocolate hearts? Dove includes both milk and dark chocolate, so you and your sweetheart can indulge in a little variation. Technically, three of the chocolate hearts add up to 114 calories, so maybe you can split that last one to get to 95 calories.
Whitman's Samplers: Assorted Chocolates Giant Sampler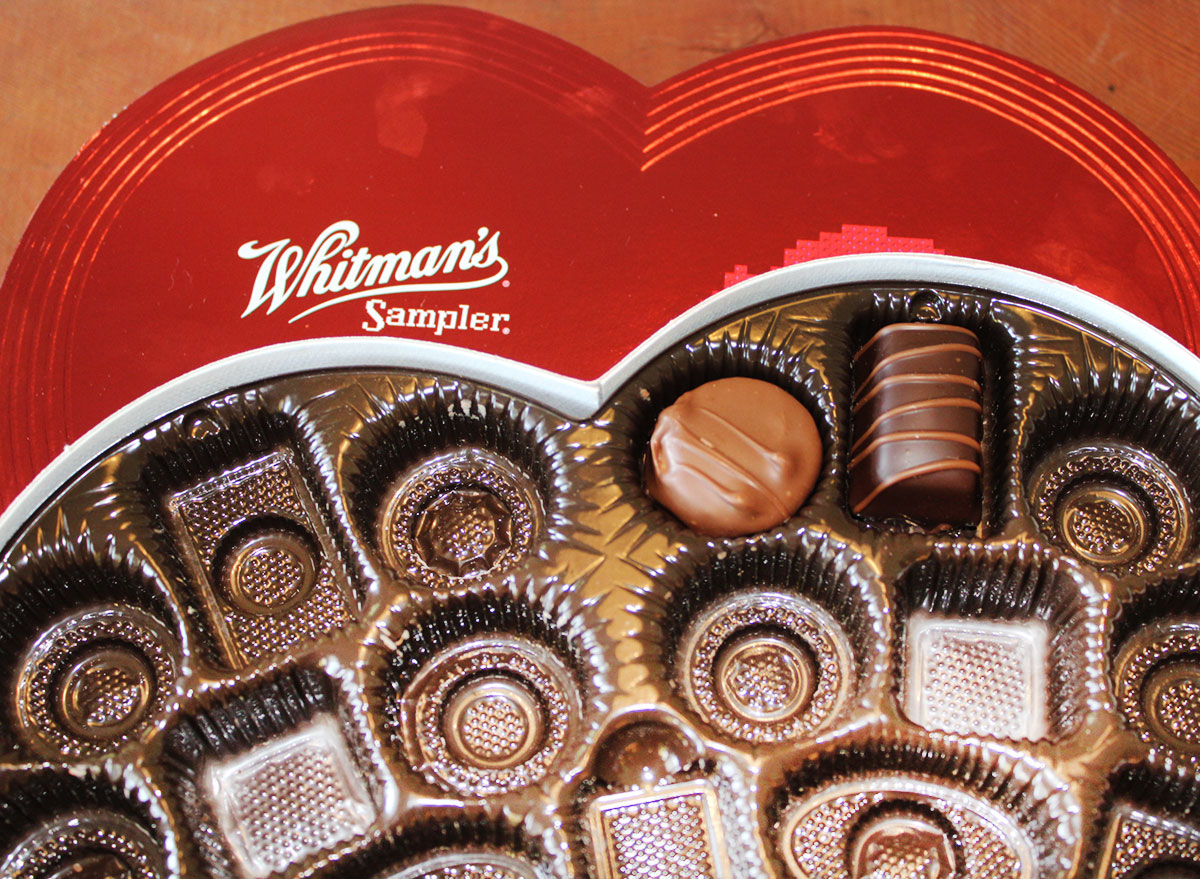 100 calories = about 2 pieces
Whitman's Samplers is likely one of the treat-filled gifts that comes to mind when you think about Valentine's Day chocolates. It's also one of the first of its kind to debut in America. While Whitman's chocolate shop has origins dating back to 1842, the signature Sampler didn't hit the market until 1912. The chocolate box was an instant sensation, of course, and three years after its launch, it became the best-selling box of chocolates in America. It still remains a top pick today, too. However, you'll only get to enjoy a little less than 2 pieces from the sampler before you're at 100 calories.
Ferrero Collection Valentine's Day Fine Assorted Confections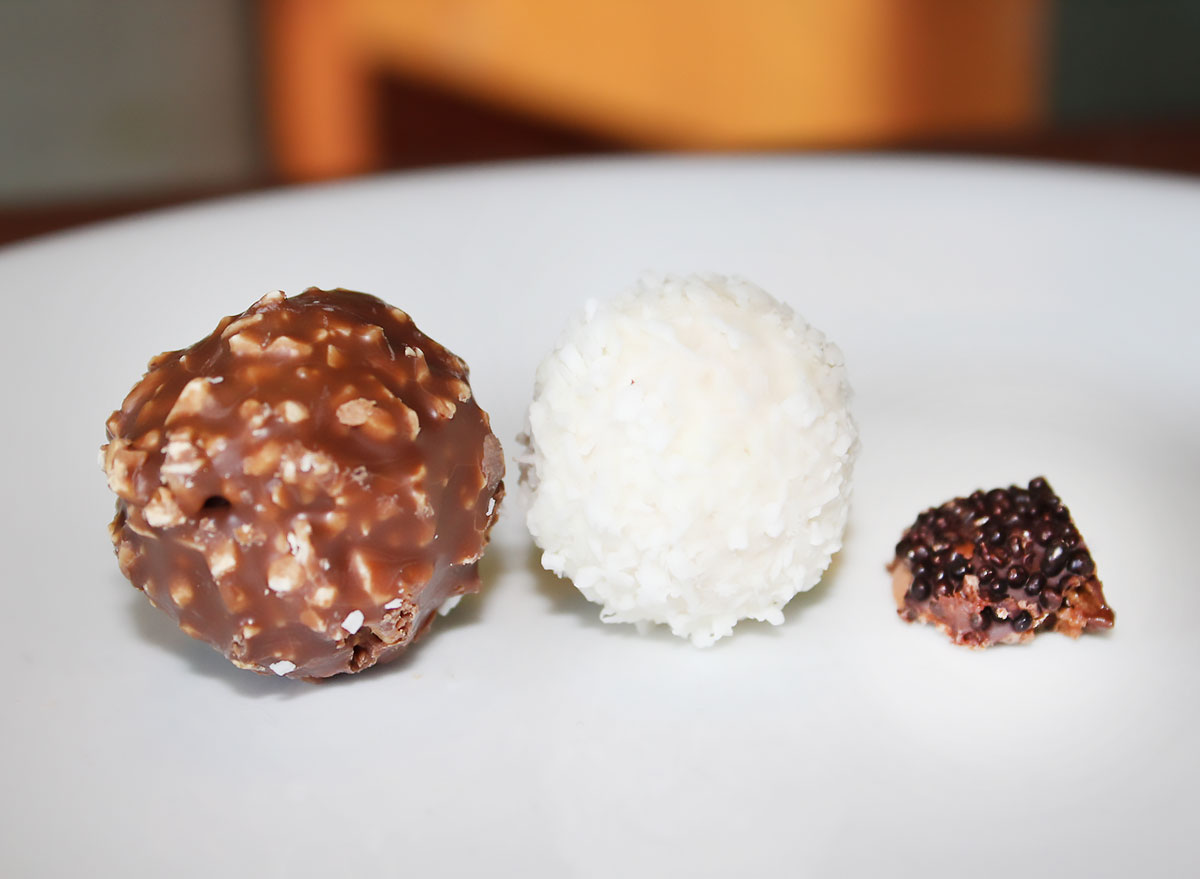 100 calories = 2 1/3 chocolates
The chocolate-covered orb that cocoons a roasted hazelnut and is wrapped in a distinctive golden-metallic packaging is none other than the work of Michele Ferrero. The mastermind behind Ferrero Rocher chocolates, Nutella, Kinder Eggs, and Tic Tac mints, actually passed away on Valentine's Day in 2015. We challenge you to name a chocolate that is more perfect for Valentine's Day than this one.
Brach's Tiny Conversation Hearts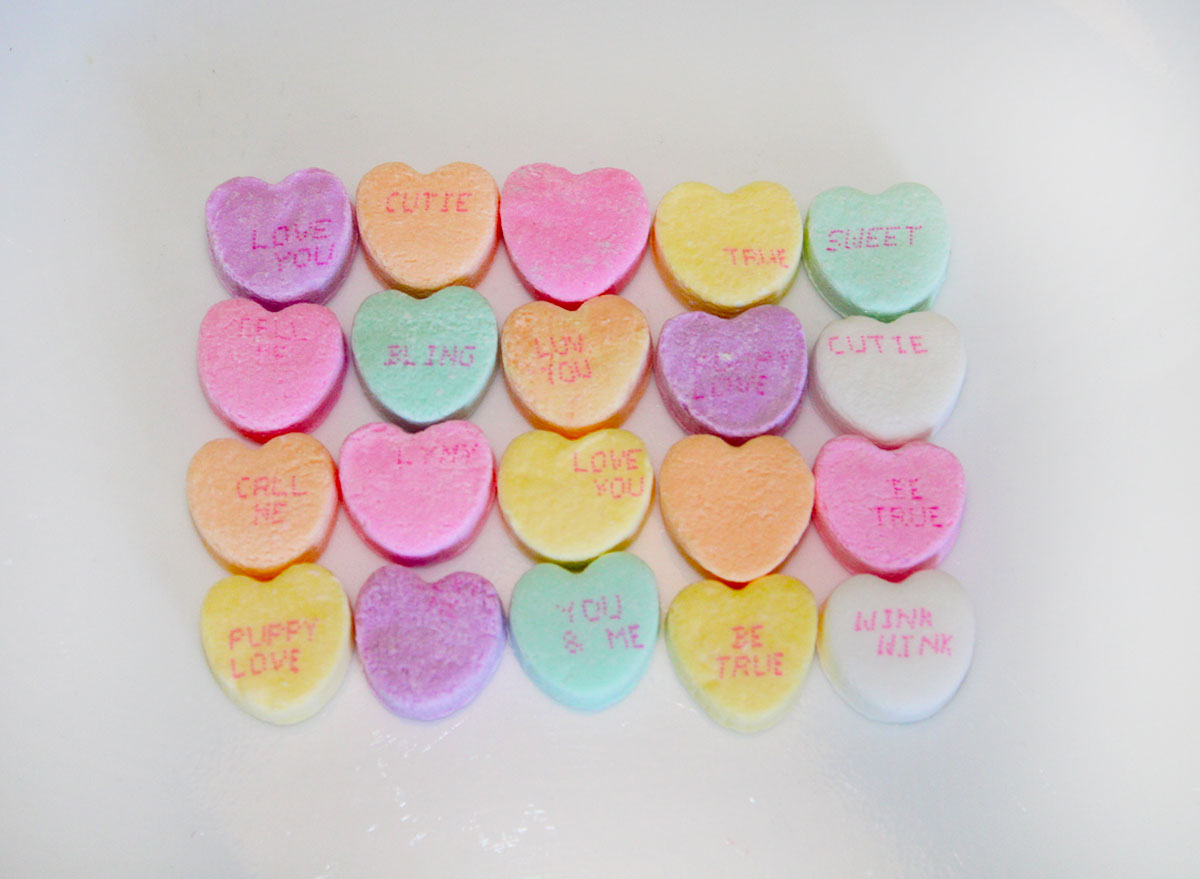 100 calories = 20 candy hearts
The first conversation candy heart was debuted by Necco, one of America's former oldest candy companies. They began writing the classic lovey-dovey messages onto their candy hearts toward the end of the 19th century, although Necco has origins stemming back to 1847. Unfortunately for many eager Valentine's Day enthusiasts though, the company went bankrupt in 2018. Today, you can still read the sweet little nothing convos like "Be Mine" and "Love Me" in Brach's version of the sweetheart candy.6254a4d1642c605c54bf1cab17d50f1e
Chocolate Roses
100 calories = about 1 chocolate rose
Roses are red, violets are blue, this Chocolate Rose is sweet, and at roughly 100 calories, you'll be able to indulge in the whole thing. Isn't that a delight?
Hershey's Milk Chocolate Kisses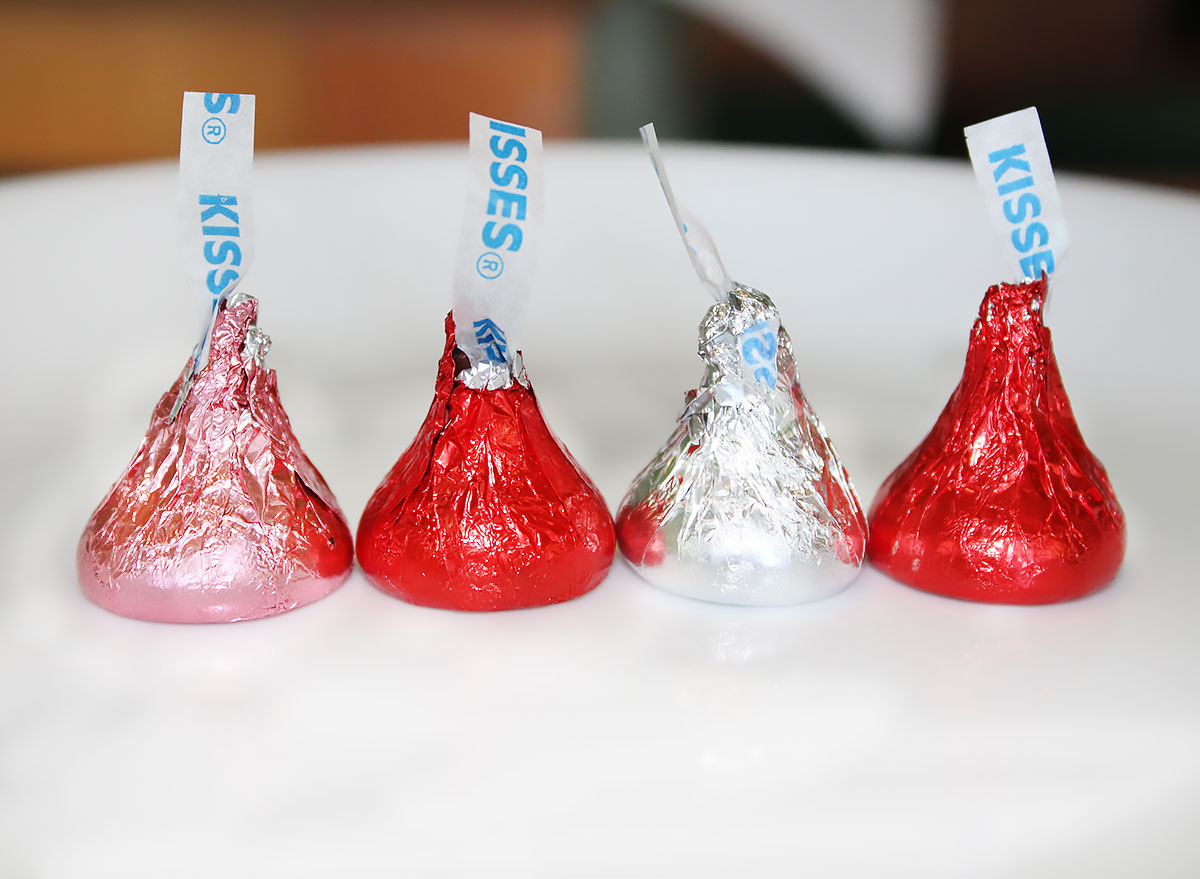 100 calories = about 4 kisses
The first Hershey Kisses were for sale in 1907, and according to the company's website, each little kiss was hand-wrapped in foil. For those who cannot get enough of the little drops of chocolate, you're in luck, because only about four of the bite-size Kisses cost you about 100 calories.
Sweet-Tart Hearts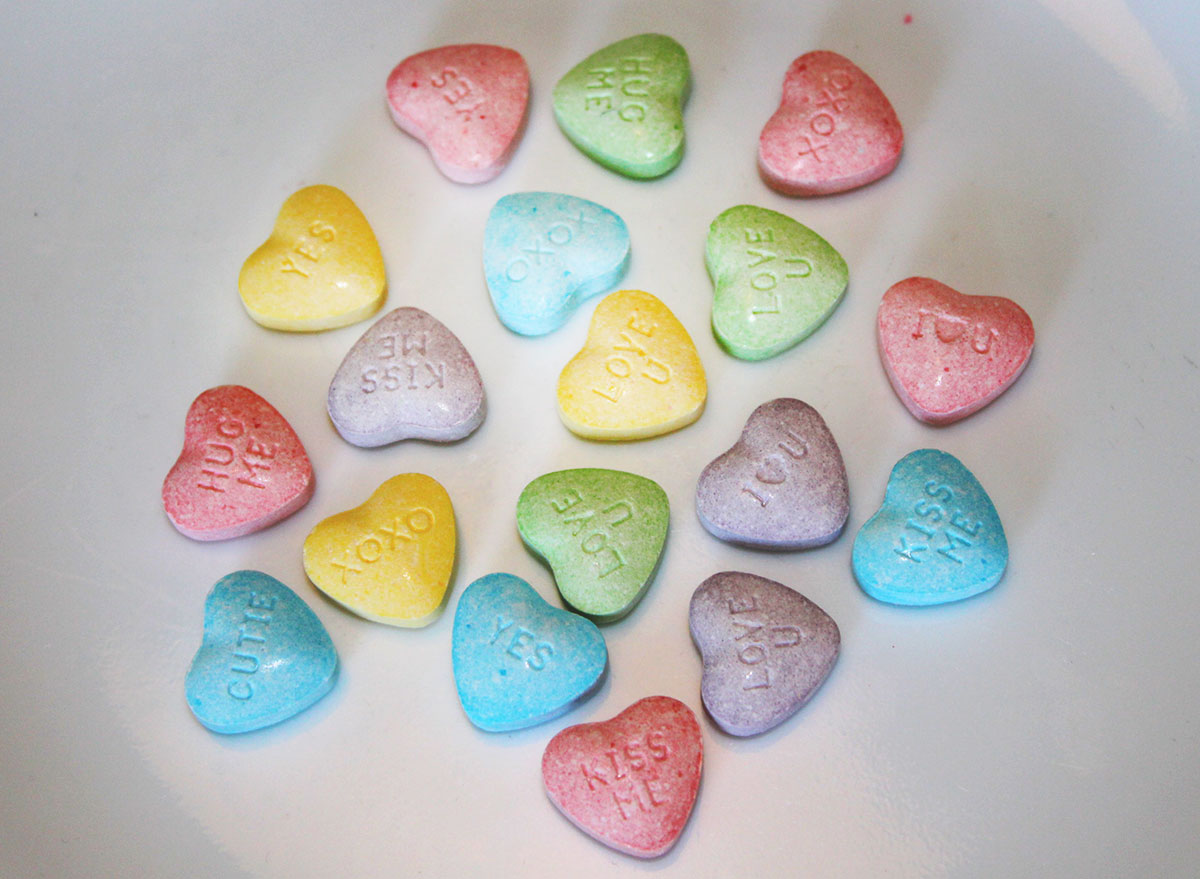 100 calories = 18 heart candies
Sweet-Tarts offer their own sugary, blissful flavor. You can indulge in about 18 of said heart candies, which feels like a significant handful to munch on while you watch your favorite romantic comedy on Valentine's Day (in comparison to just getting the two pieces of a sampler).
Tic Tac Valentine's Day Be Mine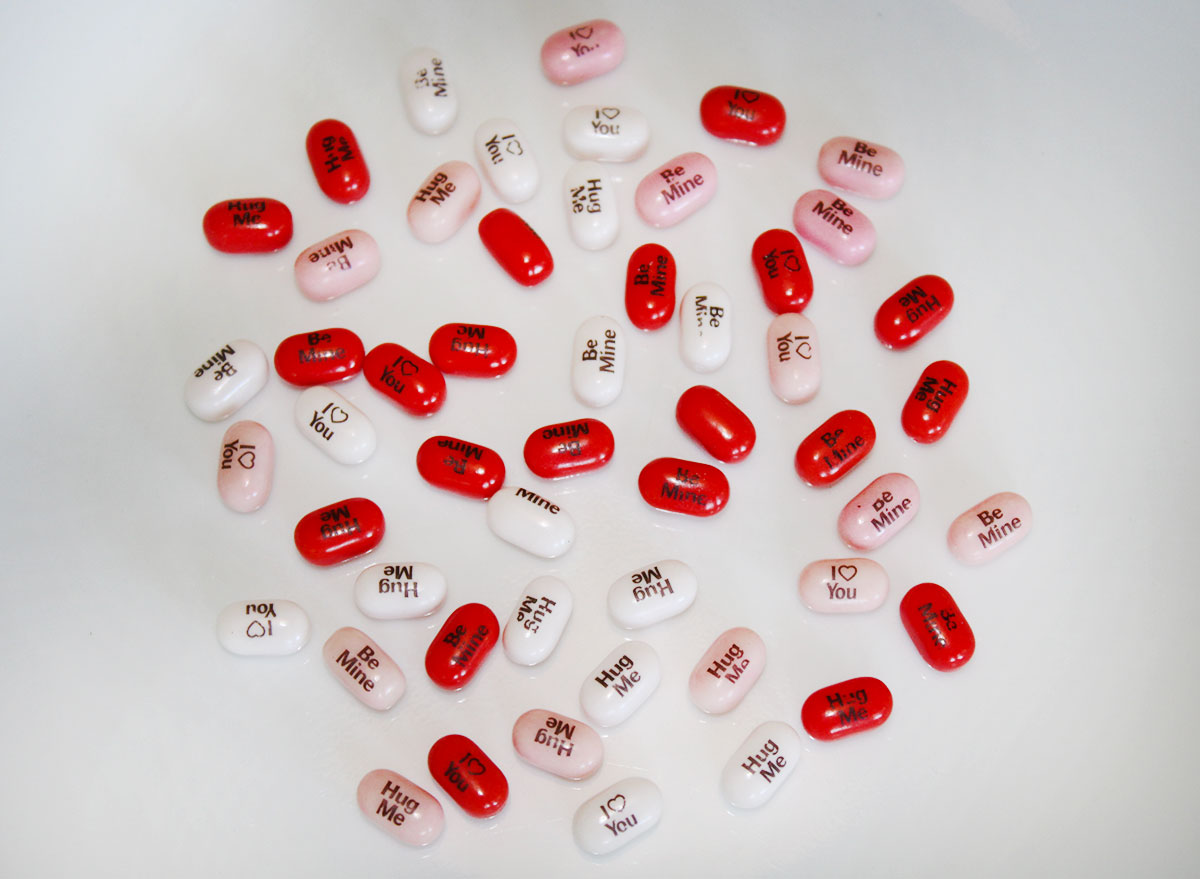 100 calories = about 52 Tic Tacs
What better gift to give your sweetheart after a Valentine's Day dinner than a breath mint? Tic Tacs are not by any means caloric. In fact, each one is said to have less than two calories. We estimated that if each Tic Tac costs about 1.9 calories, you could consume about 52 for 100 calories. Fresh breath all night long? Yes, please.
Sugarfina Love You a Bunch Rosé Roses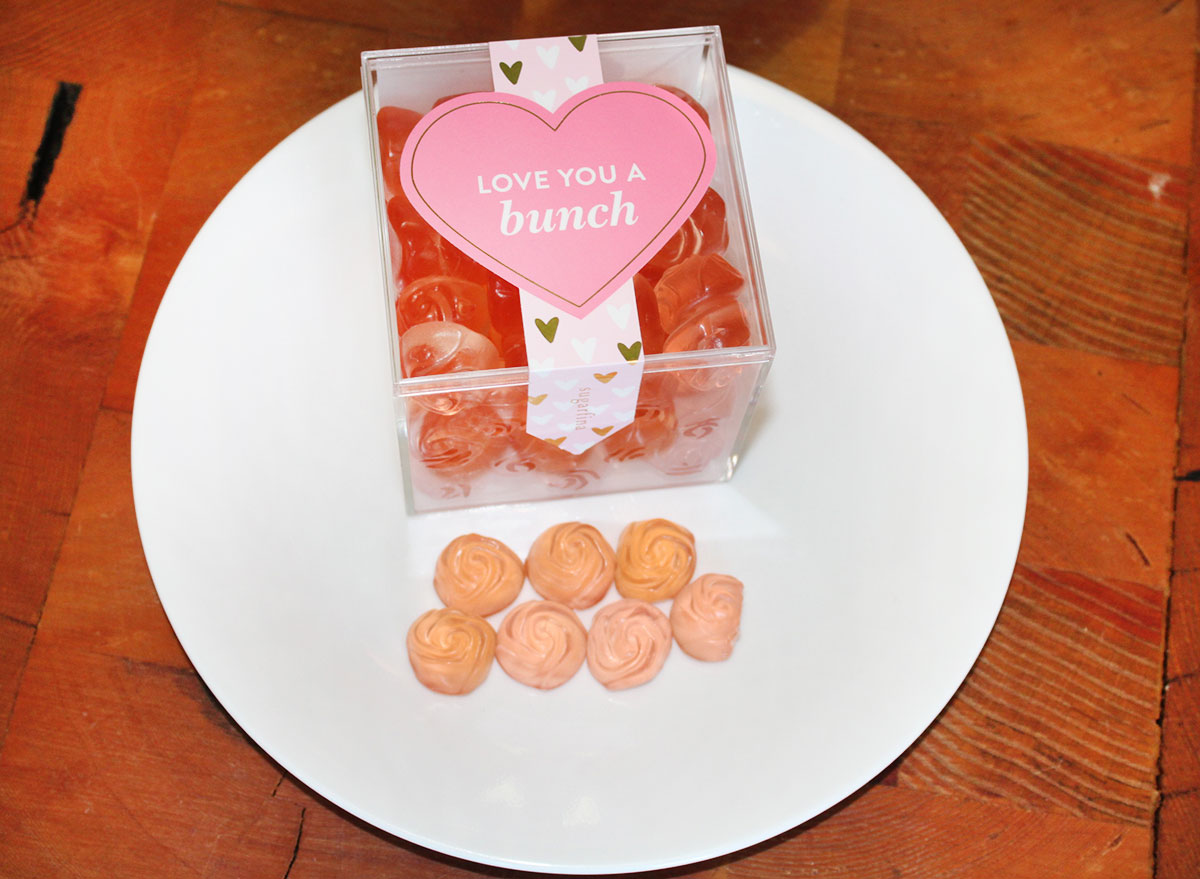 100 calories = 6 2/3 gummies
Sugarfina's Rosé Roses aren't your typical fruit-flavored gummies. Instead, these chewy little rose gummies are infused with rosé from Provence, France. Cheers to that! For 100 calories, you can munch on 6 2/3 of the roses, or drink about one glass of rosé. We say: It's Valentine's Day—do both!
Lindor Strawberries & Cream Chocolate Truffles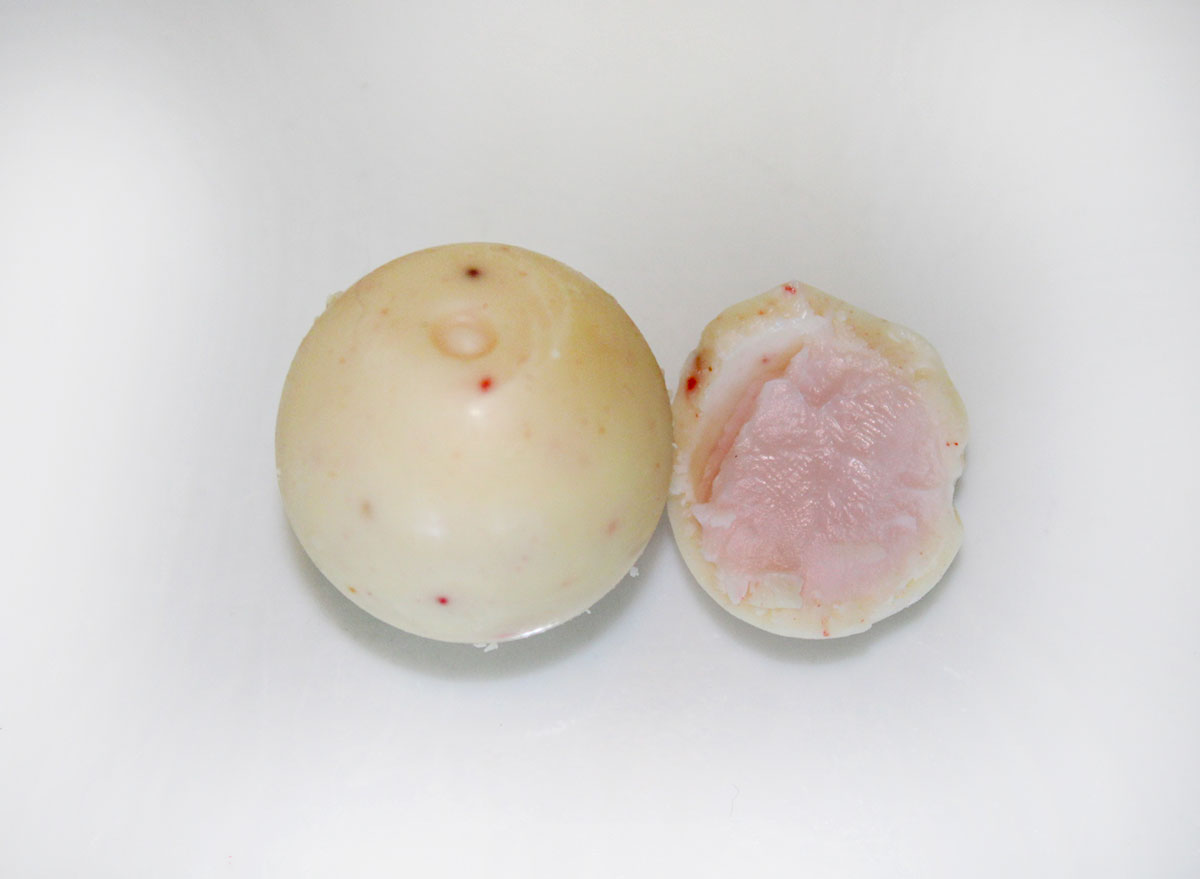 100 calories = about 1 1/3 truffles
Anything pink and red can constitute for a Valentine's Day gift, right? Maybe? Regardless, giving truffles to someone you care about is rarely ever a bad idea. About 1 1/3 of these white-chocolate and strawberry-infused truffle balls costs you 100 calories.
Reeses's Peanut Butter Hearts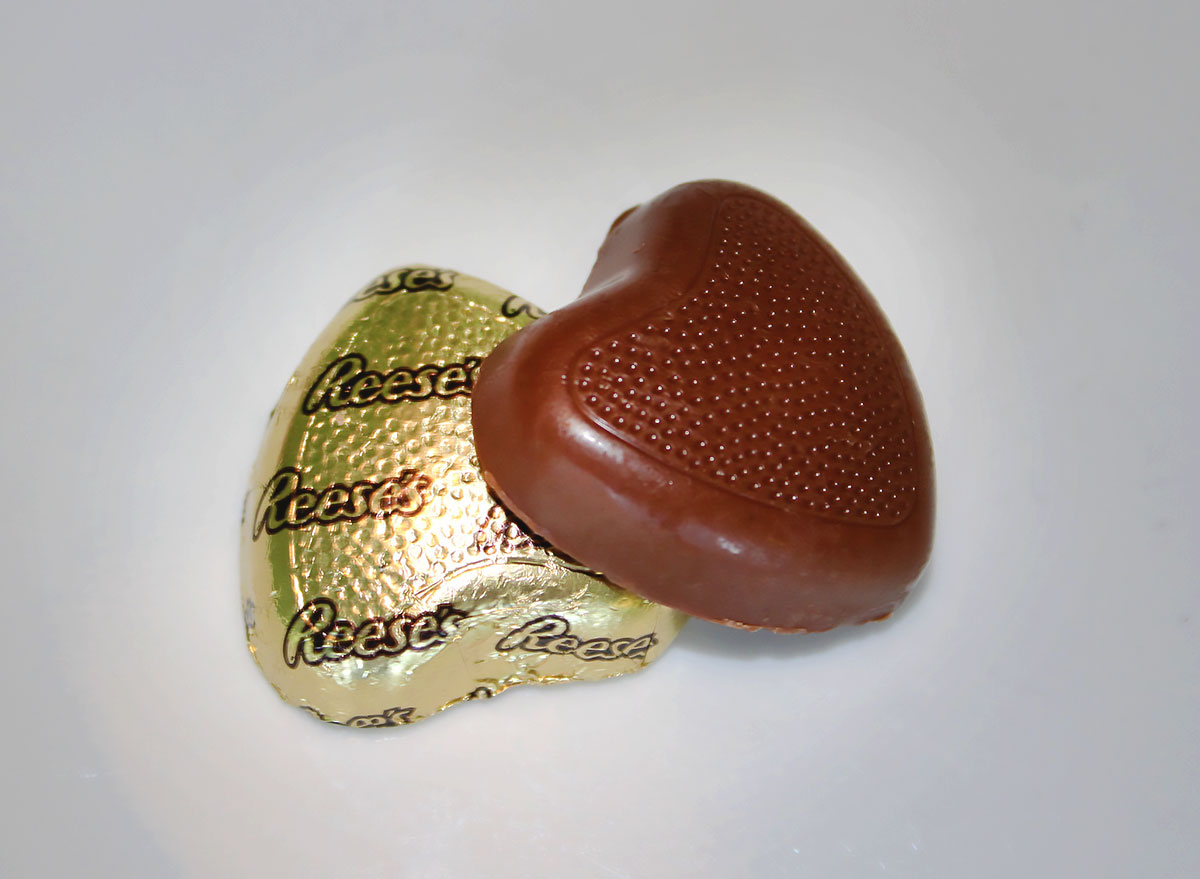 100 calories = 2 hearts
Peanut butter and chocolate might just be the key to someone's heart, so why not give that special someone a heart that is made entirely of the combination? The math calculations are pretty simple for this one. Only two of the bite-size hearts costs you 100 calories.
Peeps Valentine's Day Hearts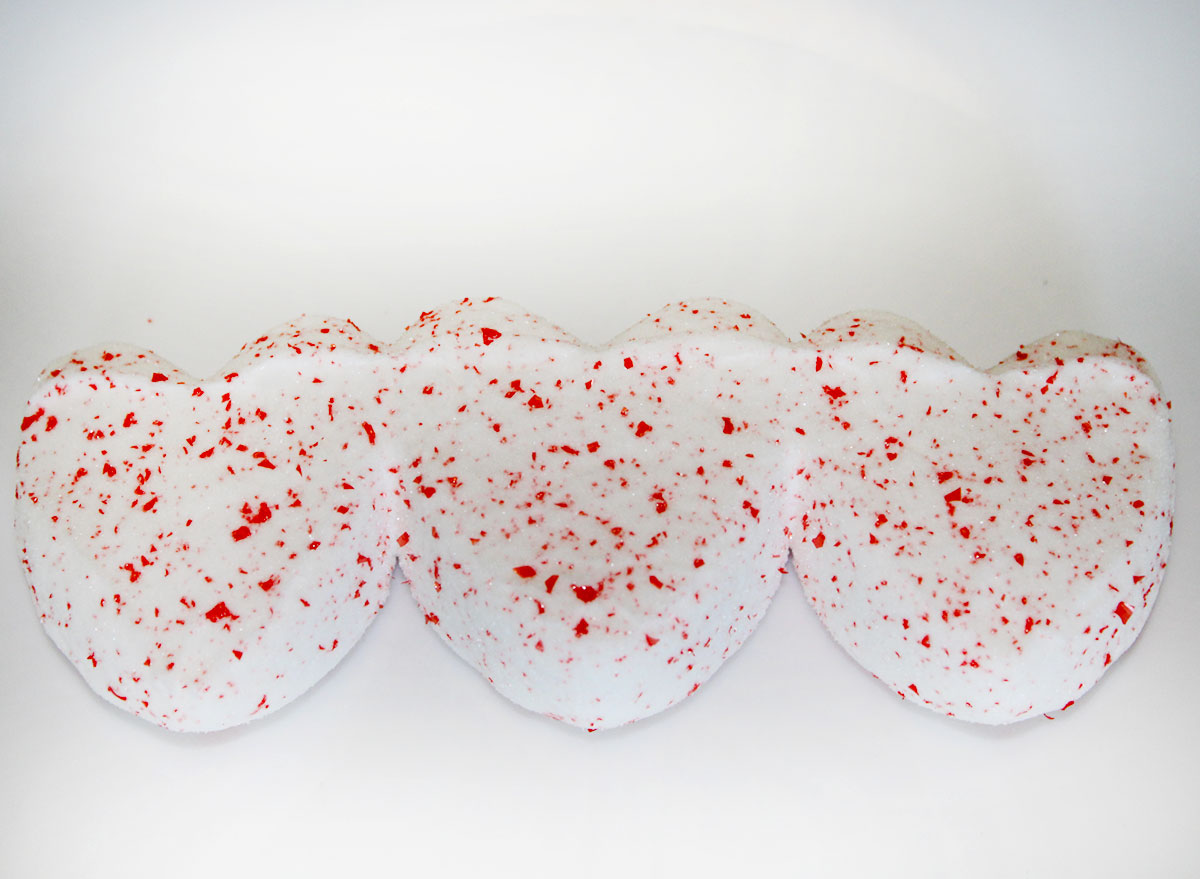 100 calories = 3 Peeps
Peeps aren't just an Easter snack. Sink your teeth into a fluffy vanilla flavor with red sugar sprinkles heart on Valentine's Day this year. You may think marshmallows would be less caloric with how light they physically are, but just three of these little heart Peeps amount to 100 calories.
Ghiradelli Sweet Hearts Heart-Shaped Box
100 calories = about 2 chocolates
Technically, two chocolate hearts amount to 115 calories, but we'll let the additional 15 slide because we bet you'll want to share some with your special someone.
Queen Anne Cordial Cherries
100 calories = 1 1/3 cherries
These cordial cherries are worthy enough for royalty. Queen Anne has been crafting decadent cordial cherries ever since 1948, and each box contains 10 of these whole (real) chocolate-covered Maraschino cherries.
Heart Lollies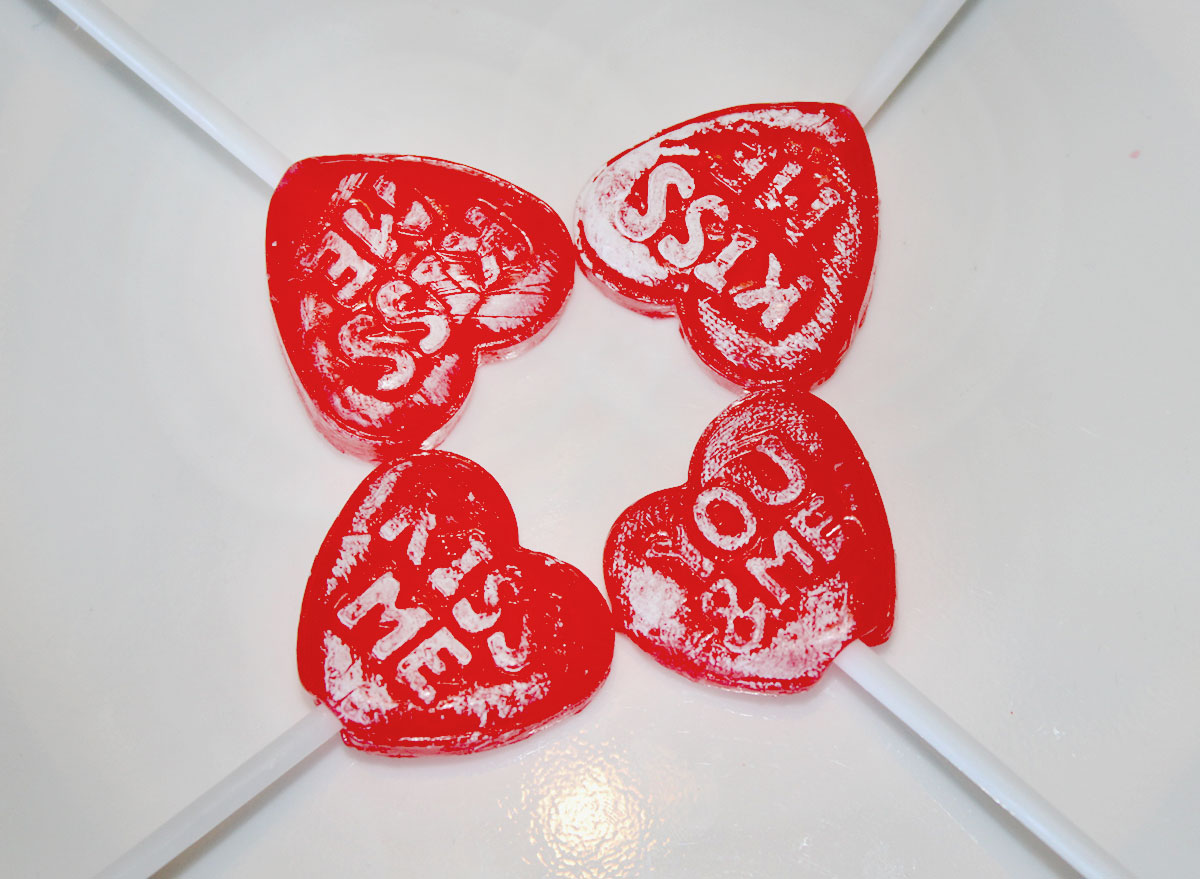 100 calories = 4 suckers
Believe it or not, you could have four of these heart lollies and it will only cost you 90 calories. This is a treat that'll last you a while.
Ghiradelli Milk Chocolate Caramel Duet Hearts
100 calories = 2 hearts
Creamy caramel fills each little chocolate bite-size heart. This is perhaps the only time you'll want to break a heart, if you catch our drift.
DeMet's Turtles: Original Pecan
100 calories = 1 1/5 turtles
Pecans, caramel, and chocolate come together and make for one dynamite, soft yet crunchy treat. For 100 calories, you can have a whole candy turtle to yourself, and then about a bite of your sweetheart's piece, too.
Russell Stover's Valentine's Day Chocolates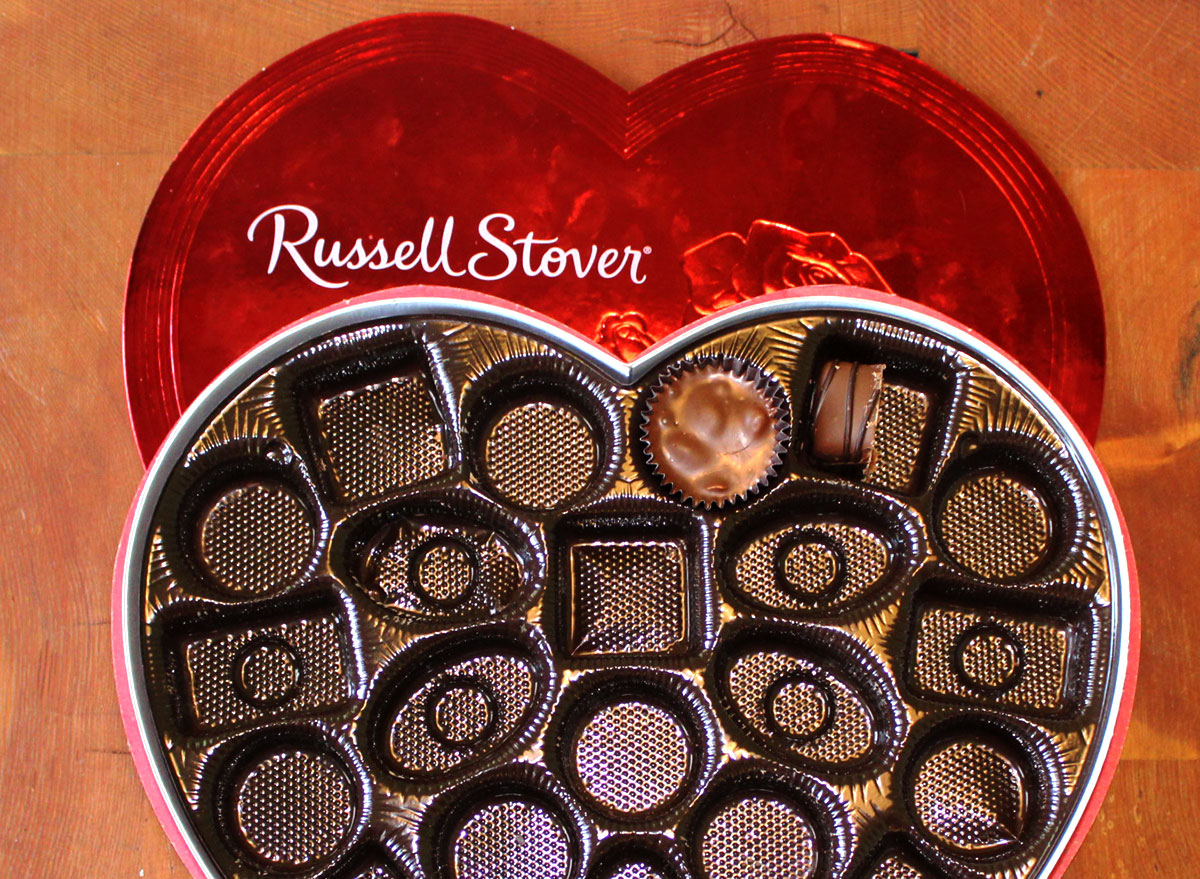 100 calories = about 1 1/2 pieces
Gifting that chic red box is enough to impress your person (or hey, even yourself!) on this love-centric day. What the heart houses is equally as impressive, though. Truffles packed with a variety of nuts, cream, and caramel comprise the gorgeous box.