5 Warning Signs You Should Leave an Indoor Restaurant
Dining indoors comes with serious risks in the age of COVID, so if you spot any of these, know it's not safe to head inside.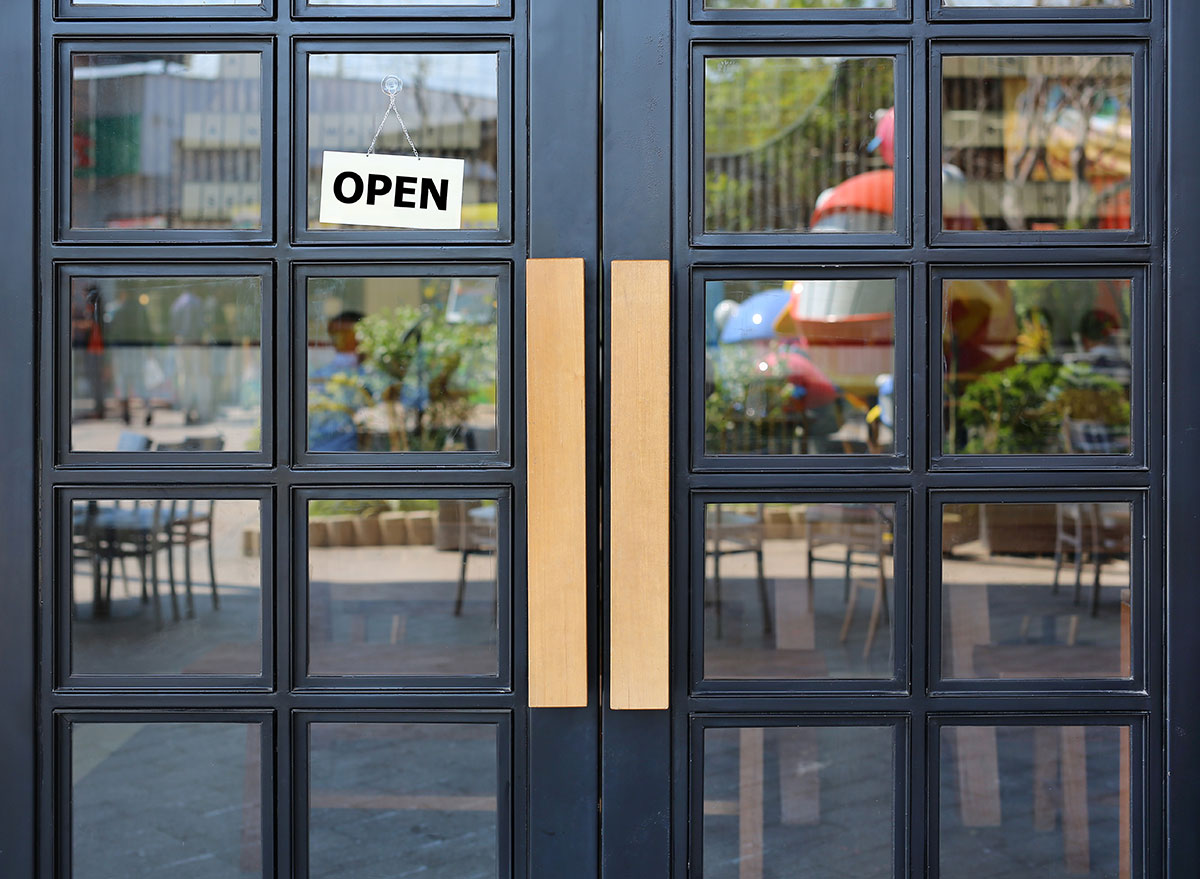 Even with the number of newly reported coronavirus cases back on the rise across the U.S., some cities and states are beginning to welcome back diners to restaurants for indoor dining. Especially as we enter the colder winter months, many of our favorite dining establishments will begin to bring guests inside from the outdoor patios they've maintained all summer long. But is it really safe to start eating indoors again? According to experts, there are plenty of easy-to-spot warning signs that you should leave a restaurant.
"The risks related to indoor dining relate to how many people are crowded into a space and setting," Scott Gottlieb, MD, former FDA Commissioner, said in an interview with CNBC's Squawk Box on Sept. 30. "Some are safer than others." (Related: This Is the Only Way to Contract COVID at the Grocery Store.)
If you're looking to step out for a quick bite, you should make sure you're not walking into a potentially dangerous situation amid the ongoing COVID pandemic. These are the 5 warning signs that you should leave a risky restaurant, according to The New York Times.
The air feels dead, stuffy, or stale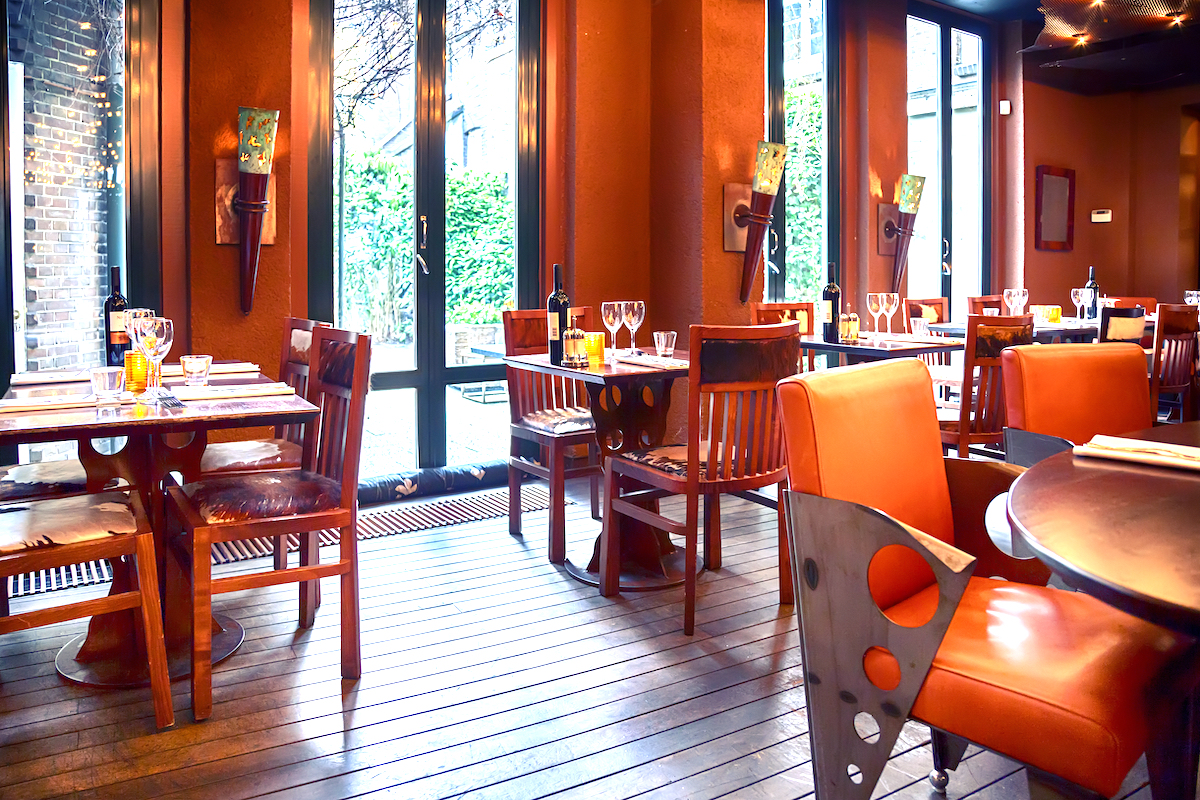 By now, scientists have come to agree that the novel coronavirus is spread through droplets that linger and float through the air from one person to another. This fact has kept health officials pushing against the idea of reopening bars and restaurants for indoor dining, especially in areas where cases have begun to rise again. This means you should be on the lookout for any spaces that make it hard to bring fresh air in, especially if they're running air conditioning or heating units. (Related: Dr. Fauci Says This is the Key to Safe Indoor Dining.)
"Reports of exposures in restaurants have been linked to air circulation," the Center for Disease Control and Prevention (CDC) recently wrote in a report. "Direction, ventilation, and intensity of airflow might affect virus transmission, even if social distancing measures and mask use are implemented according to current guidance," the researchers wrote.
While some cities such as New York have mandated that HEPA filters are to be used to remove the virus from the air, not all states have mandates in place that dictate that restaurant owners must use such devices. Look out for warning signs such as stepping into a room and noticing a stale, moldy, or stale smell in the air, especially if the space has few windows or is located underground or in an unventilated space on a higher floor.
Crowds of customers are standing around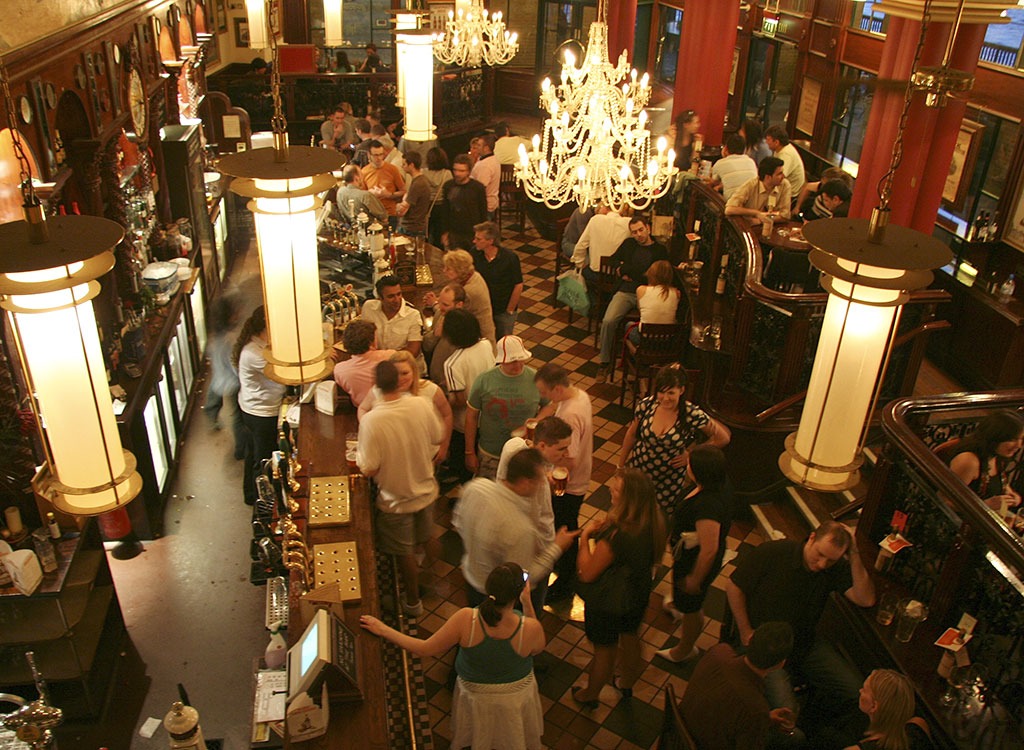 Socially distancing to keep six feet apart from others while in public is one of the CDC's golden rules along with mask wearing. This rule especially applies to indoor spaces, where even well-ventilated rooms could have higher concentrations of exhaled virus lingering in the air. High-traffic areas such as food pickup stations, counter service areas, cash registers, and host stands make it hard for customers to physically distance: Be on the lookout for restaurants who haven't installed physical barriers, implemented other crowd control measures, or if they haven't moved things such as host stands outdoors to help lessen the chance crowds will mingle.
In most cases, if a business hasn't taken the time to control this issue, there's a good chance they're breaking other rules as well. (Related: Sign up for our newsletter to get the latest restaurant updates.)6254a4d1642c605c54bf1cab17d50f1e
Tables look too close together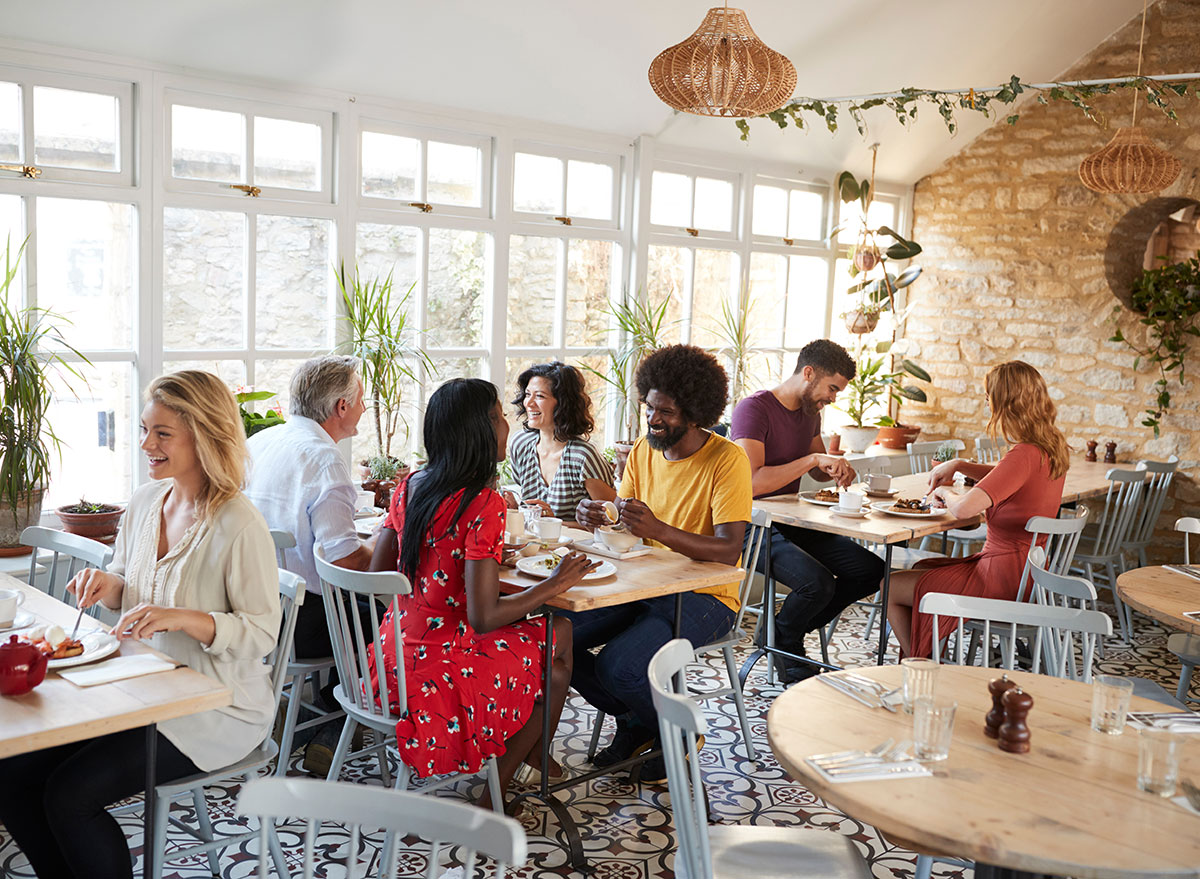 Just because you've been sat at a table and are about to get into that delicious plate of nachos doesn't mean the realities of the pandemic don't apply. Unfortunately, it's also physically impossible to enjoy your meal while following the CDC's guidelines to cover up your face, which is what makes bars and restaurants particularly dangerous. "Masks cannot be effectively worn while eating and drinking, whereas shopping and numerous other indoor activities do not preclude mask use," the agency said in their recently released report.
Since the CDC recommends wearing a mask any time you can't socially distance, this is a particularly important rule. Some experts such as Linsey Marr, a professor of civil and environmental engineering at Virginia Tech, recommend that tables at restaurants should be spaced at least 10 feet apart, not the typical six that is advocated by health officials, The Times reports. Regardless, entering any restaurant where guests are sat close to one another is an easy-to-see warning sign that you should either ask to be sat outdoors or request for your meal to go. (Related: 9 Restaurant Chains That Closed Hundreds of Locations This Summer.)
The ambiance is noisy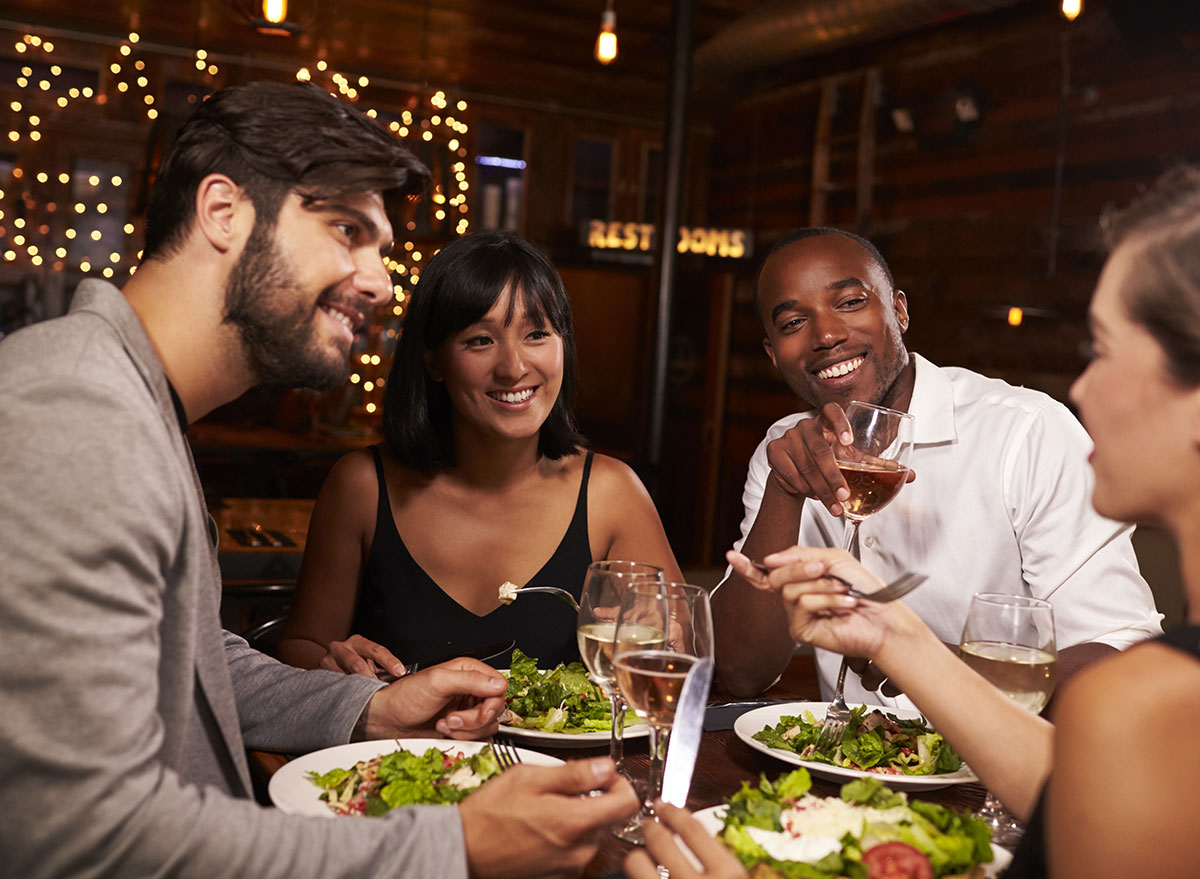 There's a reason why your favorite karaoke bar has remained shuttered since the beginning of the pandemic: The louder your voice gets, the more likely you are to spread virus particles into the air around you. Unfortunately, as indoor spaces full of people enjoying meals with friends and family, conversations have a tendency to reach higher volumes than they would outdoors or in a quiet setting. "A poorly ventilated indoor space with people talking is the virus's dream," Lindsey J. Leininger, Ph.D., a clinical professor at the Tuck School of Business at Dartmouth College, told The Times.
If you walk into a restaurant and hear a din of shouting, laughing, and conversations, it's a good sign that the space might be too full for its own good and that conditions might be too risky to hang around in. Consider moving on to someplace else for your meal.
Servers are spending too much time at tables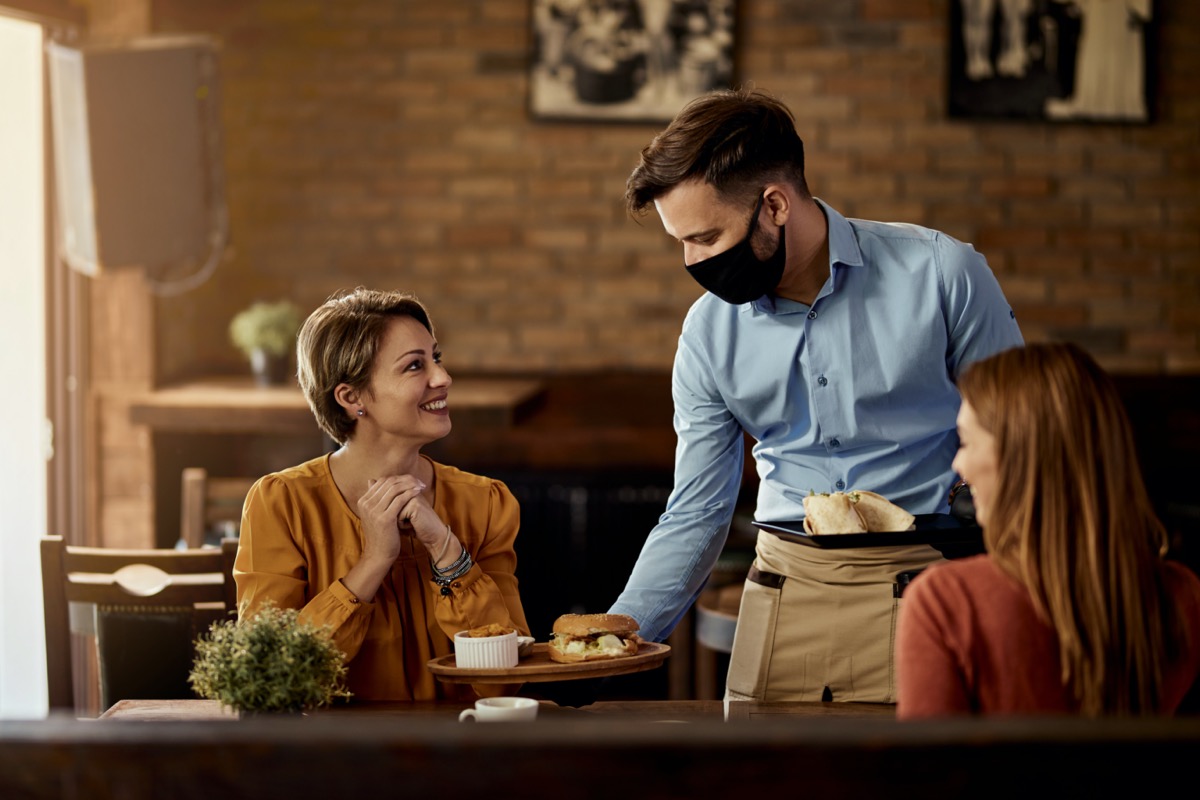 By now, even most places that don't have state or citywide mask mandates have made it a requirement for restaurant and bar employees to wear a face mask whenever working. But as the duration of exposure to someone is also something the CDC warns the public should consider, even waiters who look like they're being helpful could be unintentionally creating a dangerous situation. This is especially true of any restaurant where guests continue to speak to their servers with their masks down—a major faux pas in the eyes of experts.
Don't take short interactions with your waiter as a sign that they're being rude: Take it as a sign that they know the risks involved with indoor dining. If you notice that servers are constantly standing over tables instead of giving customers their space, it might be a strong warning sign to leave.
For more, check out the safest grocery store chains to shop right now.
Zachary Mack
Zach is a freelance writer specializing in beer, wine, food, spirits, and travel. He is based in Manhattan.
Read more about Zachary