Legendary Soda Being Discontinued Due to Low-Quality Ingredients
Fans have mere days to say goodbye to the beverage.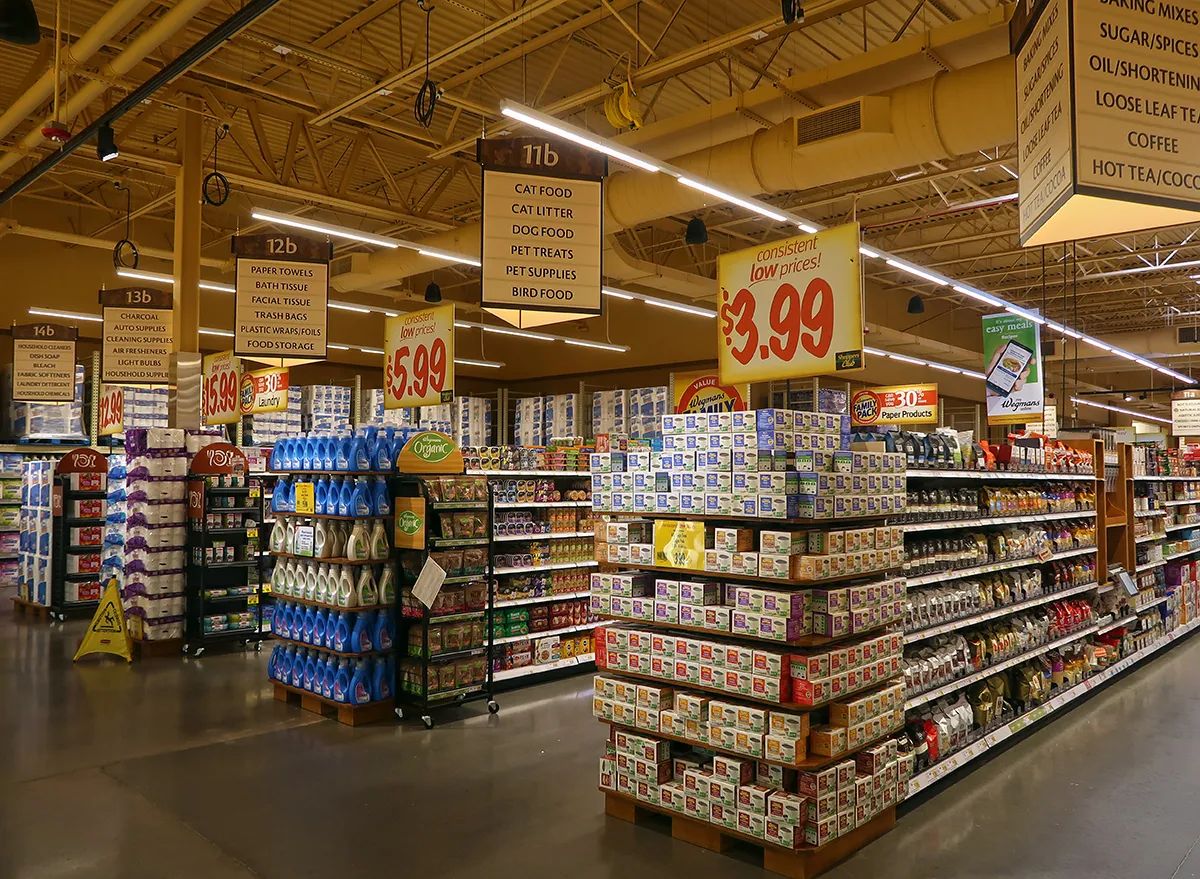 While there are plenty of reasons to love Wegmans, the chain is breaking the hearts of many this week with news about discontinuing a fan-favorite product. The grocery chain is getting rid of its WPOP brand soda due to some of the iffy ingredients it contains.
"Our 'Food You Feel Good About' banner stands for no artificial colors, flavors, or preservatives. We are discontinuing Wegmans Brand Soda because it contains artificial ingredients like aspartame and high fructose corn syrup. We are committed to our mission of helping customers live healthier, better lives through exceptional food, and we want you to feel confident in our Wegmans Brand products," the company said in a statement, according to WHAM 13.
This may come as a shock to those who have been enjoying the beloved soda for years. "The news today is making me think about WPOP—I think almost every single holiday family snapshot from my childhood features at least one person holding a root beer or a lemon-lime," a long-time fan of the soda tweeted.6254a4d1642c605c54bf1cab17d50f1e
If that sounds familiar, that's likely because Americans have been sipping and loving WPOP for decades. "If @Wegmans is truly getting rid of their branded soda, it's worth pointing out how big of a deal WPOP was when first introduced in the late '80s," one social media user wrote alongside a video of the first rather wild commercial promoting the beverage.
As for when the last bottles of WPOP will leave store shelves, the chain announced that they "will not be producing any additional Wegmans Brand soda, and anticipate selling through our current inventory within the next week," according to RochesterFirst.com.
Naturally, shoppers are stocking up while they still can. One person took to Twitter to tell the world, "Just bought nine bottles of 59¢ clearance WPop. #AMA"
Although the discontinuation might be disappointing news for fans of WPOP, others are on board with the decision. "It's a great thing what they're doing. One of the main reasons I don't drink soda is because of the unhealthy effects of it. So, the fact that they're pulling it speaks volumes as to why people shouldn't be drinking it," said Wegmans shopper Jack Tumulty (via WHAM 13).
Indeed, a review published by Nutrition Reviews in September 2017 found that aspartame, "even at recommended safe dosages, might not be safe." Frankly, it's been connected to a range of health problems such as neurological issues and cancer. At the same time, high fructose corn syrup can lead to metabolic disorder and weight gain, according to a study from that same year found in PLoS One.
While discontinuing WPOP because of its undesirable ingredients makes sense, we wonder if Wegmans has plans to replace it with something that's better for your body. If not, then you might want to try a low-sugar soda alternative that is both tasty and relatively healthy.
Desirée O
Desirée O is a freelance writer who covers lifestyle, food, and nutrition news among other topics.
Read more about Desirée