5 Reasons To Love Wegmans Supermarket
The East Coast chain is steadily gaining fans with its premium products and competitive prices.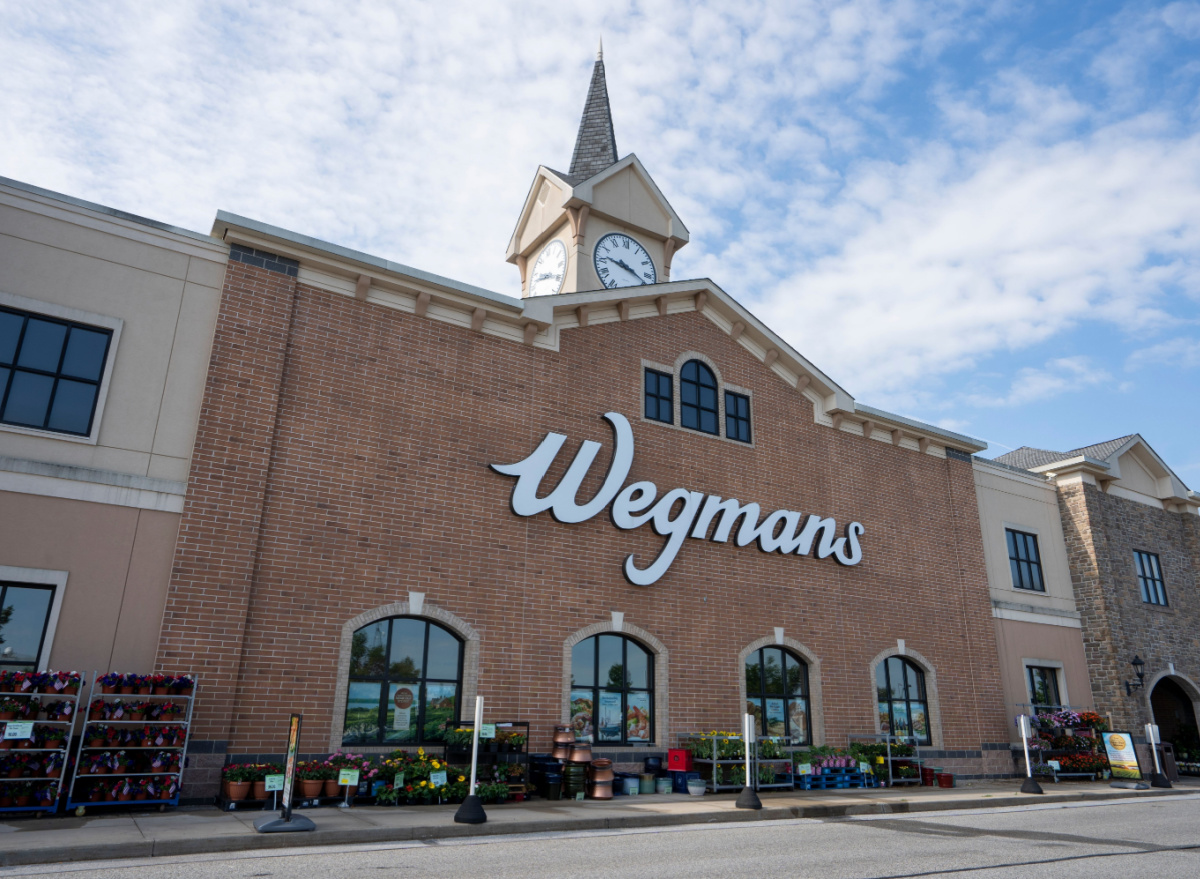 Wegmans has one of the most loyal followings of any grocery chain. Its passionate fan base is often likened to a "cult." The Rochester, N.Y.-based company ranked No. 1 among all U.S. supermarkets in a 2022 shopper survey of "America's Best Retailers" by Newsweek and Statista.
Once confined to just a handful of stores in western and upstate New York, Wegmans has greatly expanded across the eastern seaboard, now operating 110 locations in seven states.
The upscale grocer is lauded for its bakery, its exceptionally fresh produce, and its vast array of delicious prepared foods, among many other things. Here's how the relatively small regional chain earned its stellar reputation.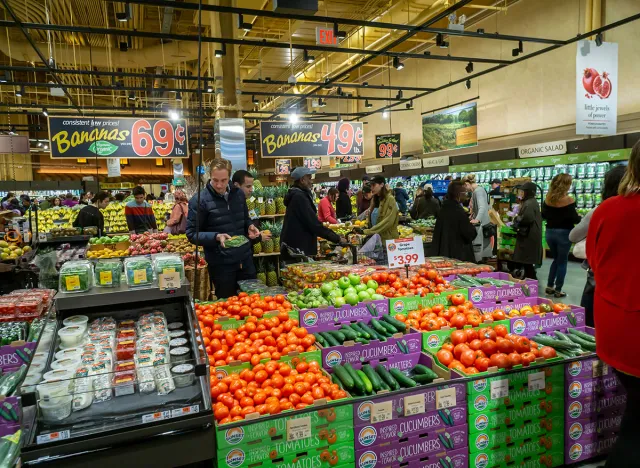 Ambience isn't a quality most shoppers think about when it comes to grocery shopping. But Wegmans proves that the right lighting, color scheme and store design go a long way. Where other giant grocery stores feel cold, industrial and practical, Wegmans offers a shopping experience that's cozy and welcoming.
Designed to mimic the look and feel of an open air market, many Wegmans stores feature skylights and windows as a primary lighting source. Natural light is supplemented by ambient pendant lights, dark wood fixtures and natural color tones.  
In the produce section, the vibrant colors of fresh fruits and vegetables stand out against the muted tones of Wegmans interior design. In the bakery and deli sections, brown paper packaging, barrels and wicker baskets make you feel like you're buying your groceries in an artisan European marketplace, rather than a vast American supermarket. 
Look up while you shop and you may catch a glimpse of a model train whizzing by overhead. The toy trains are a Wegmans signature that add a little touch of fun and whimsy to your grocery run. 
An Amazing Cheese Section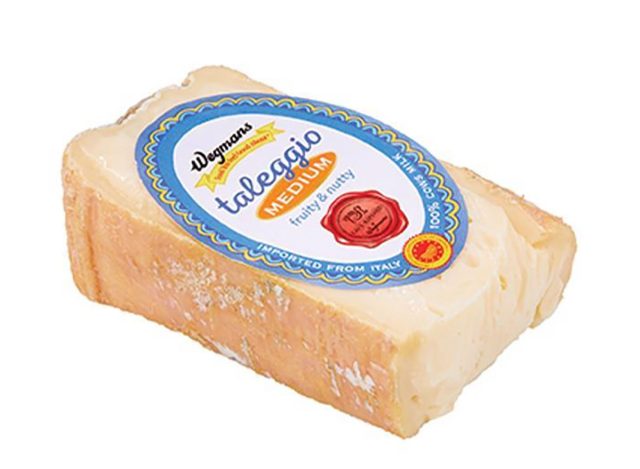 Wegmans takes cheese seriously. In 2014, it became the first supermarket to begin aging its own cheese. A 12,300-square-foot facility in Rochester houses seven "caves" where cheeses sourced from premium creameries around the world are aged to delicious perfection. Wheels and wedges are displayed unwrapped in temperatur- controlled misting cases to maintain optimal flavor and moisture.
The award-winning lineup of Wegmans cheeses includes the Cave Ripened Aged 1916 Goat Cheese, a silky cheese with a nutty, yeasty rind, and the Sake 2 Me, a wash-rind cheese made with Japanese rice beer. 
Overwhelmed by the options in this wonderland of cheese? Wegmans can help you there, too. Each cheese shop counter is staffed by an expert trained to give you the perfect cheese recommendation for your palette, and let you sample before you buy. 
Freshly Made Sub Sandwiches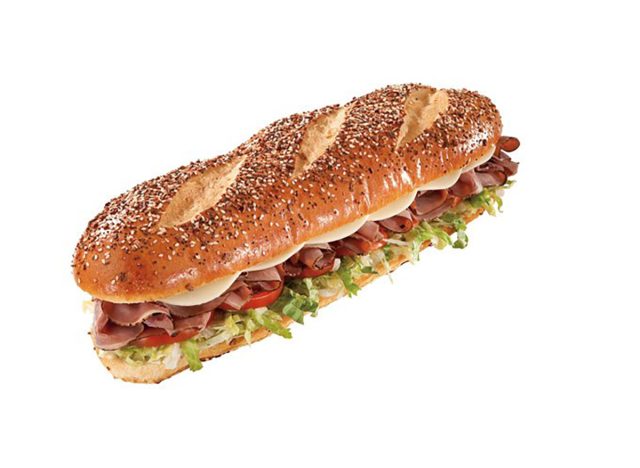 6254a4d1642c605c54bf1cab17d50f1e
Many Wegmans customers visit their local store daily—not to shop, but to eat. The family-owned company is famous for its submarine-style sandwiches, made to order in most locations. Made with sub rolls baked fresh daily, the sandwiches get rave reviews for the quality and variety of ingredients. 
Fans love sub shop menu items like the popular "Danny's Favorite," a spicy salami, capicola, and provolone sandwich named for the company's chairman, Danny Wegman. Some fans even drive long distances to satisfy a craving. "My wife and I make a trip up to Wegmans every couple of months for  Danny's favorite," wrote one Rhode Island-based Redditor who lives about 50 miles from the nearest store. 
For some fans, the subs are a quintessential part of the Wegmans experience. The company even received backlash from shoppers in 2019 for failing to include a sub shop in its much anticipated first Brooklyn location. 
"Wegmans, I love you but you've broken my heart by failing to include a sub shop in your Brooklyn store," wrote one self-described "sandwich maniac" on Twitter, who went as far as to launch a petition demanding that Wegmans "right this injustice." The petition's 400 co-signers got their wish: Wegmans added a sub counter to its Brooklyn location in 2020. 
In case you're not in the mood for a sub, Wegmans sells a wide variety of other fresh made meals in the Market Cafe. While prepared foods like sushi, soup and pizza aren't unique to Wegmans, the company's interest in providing high-quality dining options goes a step further.
In 2008, Wegmans opened Amore Italian Restaurant & Lounge, a full service restaurant, inside one of its Rochester supermarkets. Amore's menu is driven by classic Italian flavors served with modern flare, along with craft cocktails, beer and an extensive wine list.
Over a dozen other Wegmans locations feature the chain's popular Burger Bar, serving gourmet burgers, salads and a rotating selection of beer and wine.
Wegmans is also planning a new "seafood-forward restaurant," serving "sushi and sashimi, seafood platters, and raw oysters," at its upcoming New York City location at Astor Place, which is expected to open later this year, according to What Now NY. 
Premium Products For Every Budget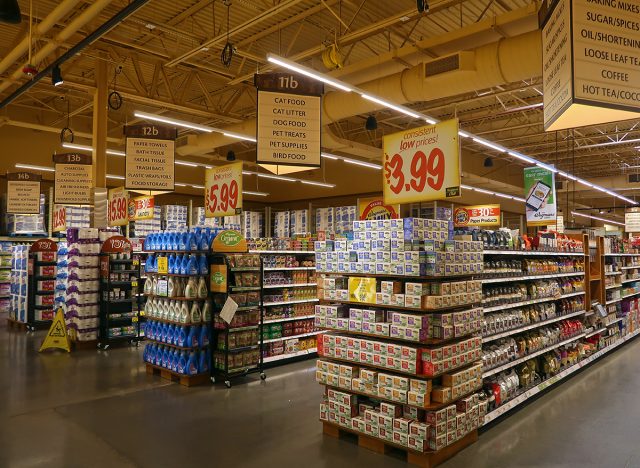 Like competitor Whole Foods, Wegmans attracts shoppers looking for premium products including organic produce, sustainably raised meat and artisan breads. 
Unlike Whole Foods or small artisan markets, however, Wegmans has a reputation for competitive pricing. While it's certainly not the cheapest supermarket option, shoppers rate the quality of Wegmans' products as equal to or better than the pricier Whole Foods, according to Consumer Checkbook.
Wegmans also caters to a wide range of budgets. There are few other retailers where you'll find both luxury items, like imported truffles sold for $999 per pound, and everyday grocery staples, like $1.99 boxes of cereal. That ability to balance novelty with accessibility gets at the heart of what makes Wegmans so appealing.
Sarah Keeler
Sarah Keeler is a freelance writer, dance educator and fitness trainer based in New York, by way of Texas.
Read more about Sarah