America's Second-Largest Burger Chain Has Gotten Much Worse at the Drive-Thru, New Study Shows
It is now slower, less accurate, and less friendly, lagging behind its biggest competitors.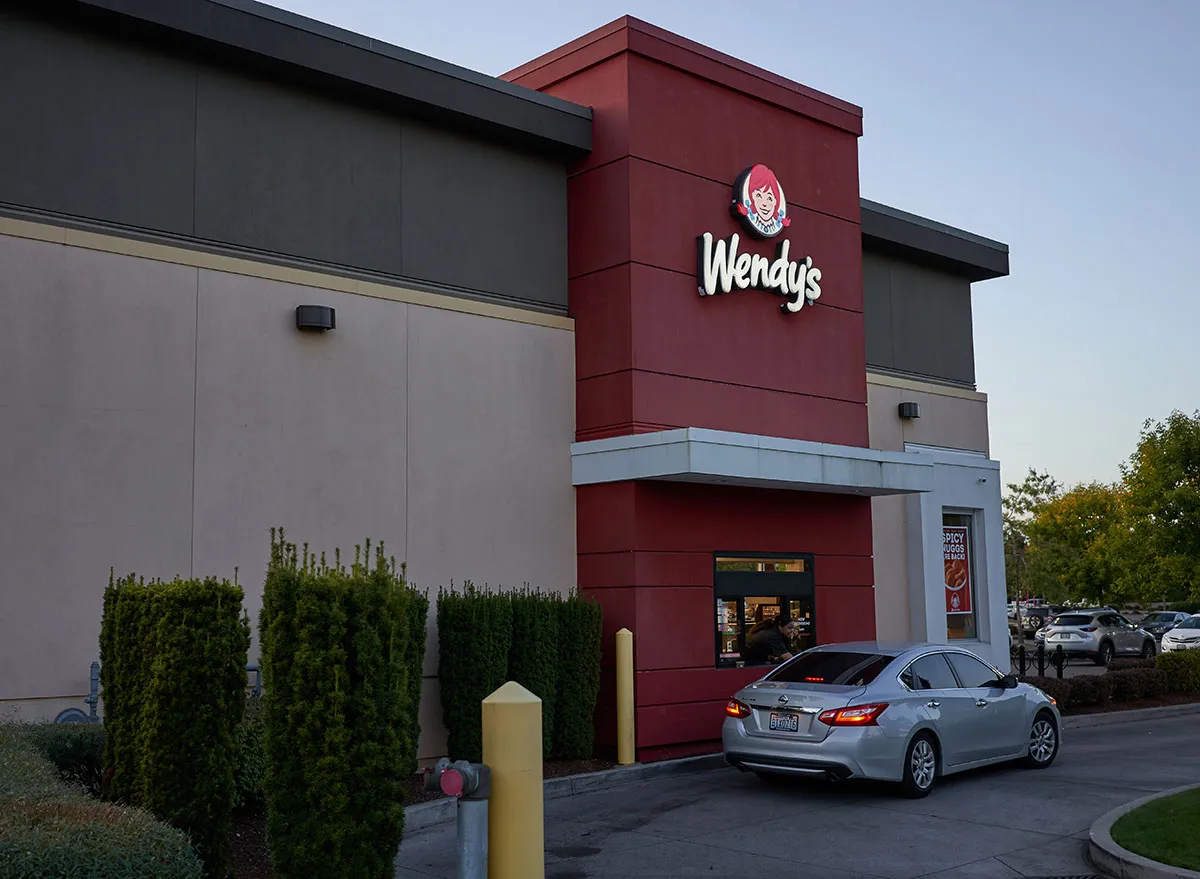 Few things in life are more convenient than picking up dinner without ever having to leave the car. The drive-thru windows have become an integral part of the booming fast-food industry and our preferred method of conducting fast-food restaurant transactions.
But expecting the utmost speed and convenience from drive-thrus can often cause frustration when they don't deliver in those departments. And one major burger chain, in particular, has been increasingly frustrating customers in the past year.
New research reveals that Wendy's, America's second-largest burger chain, is falling seriously behind its drive-thru competitors in several crucial ways.
According to Intouch Insight's annual drive-thru study, Wendy's drive-thru service has declined in qualitv in the past year. The chain had the lowest order accuracy and customer satisfaction scores among several brands that were examined by mystery shoppers, including McDonald's, Taco Bell, Chick-fil-A, KFC, Dunkin', Hardee's, Arby's, Carl's Jr., and Burger King. During June and July, these silent judges visited over 1,500 fast-food drive-thrus to measure everything from speed of service to friendliness of staff.6254a4d1642c605c54bf1cab17d50f1e
Among all of those visits, Wendy's fared the worst when it came to order accuracy, fulfilling only 79% of the drive-thru orders correctly. McDonald's and Arby's, meanwhile, were the most accurate (89% of orders completed correctly). Regarding customer satisfaction, Wendy's earned a score of 82%. That's a far cry from top-ranked Chick-fil-A and Carl's Jr. with 95% customer satisfaction rates.
Moreover, Evercore ISI analyst David Palmer added in a research note that Wendy's drive-thru speed has had the most dramatic drop of any of the brands studied. Wendy's average drive-thru service time in 2022 is 4 minutes and 35 seconds—a significant 20% increase compared to the wait times in 2019.
In comparison, most other chains were able to sustain their usual wait times far more efficiently. Chick-fil-A's service times were only 1% slower in 2022, despite sales per restaurant increasing an astounding 27% since 2019.
Additionally, the beloved chicken chain took the top spot for service speed, friendliest employees, and tied with Taco Bell for best food quality.
John Anderer
John Anderer is a writer who specializes in science, health, and lifestyle topics.
Read more about John