Wendy's Wants to Open Hundreds of New Restaurants—But There's a Major Hurdle
The chain's domestic expansion might have to wait until 2024 or beyond.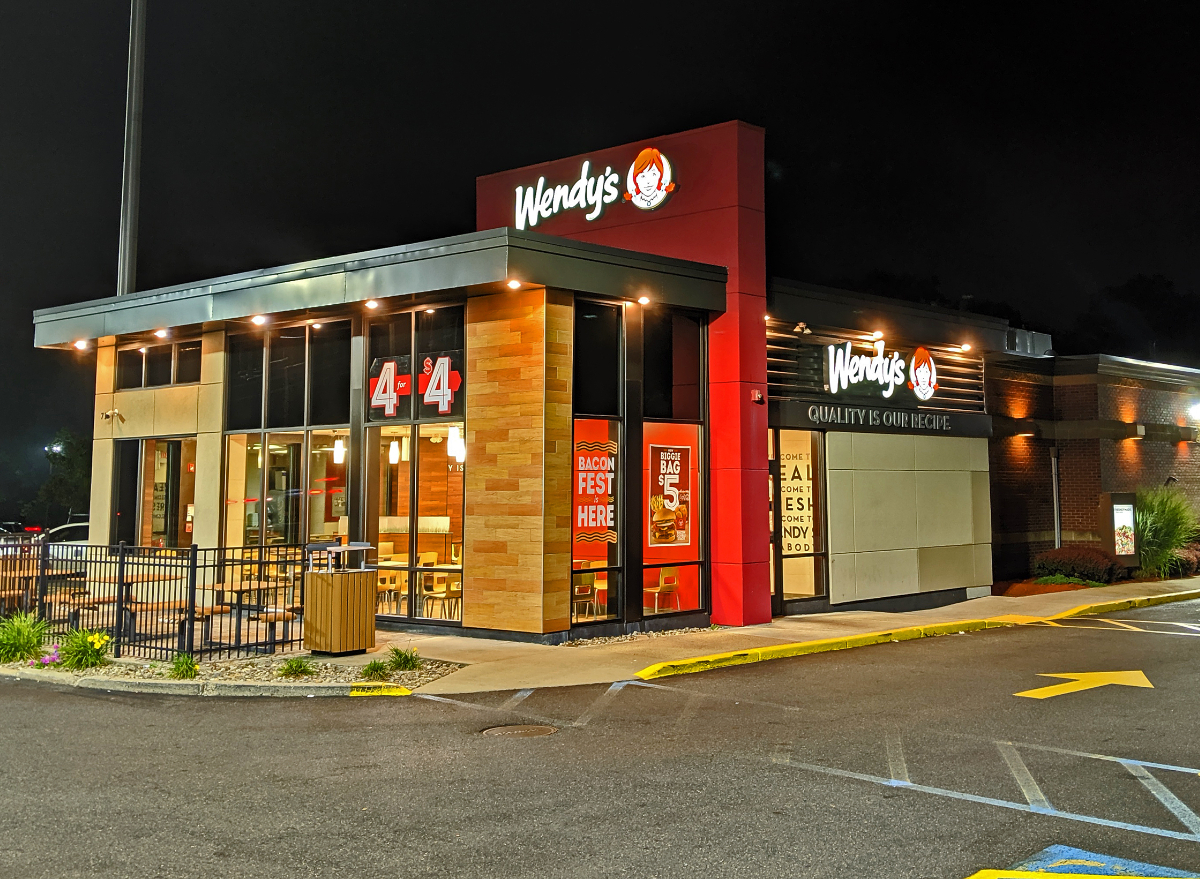 Wendy's has big changes planned for its loyal customers and that includes opening more locations across the United States. But the company has come up against a major unexpected hurdle: permits. Or rather, a lack of permits.
"We continue to navigate substantial permitting delays in the U.S., which have intensified and are pressuring our new restaurant opening timelines," Wendy's CEO Todd Penegor explained. Penegor noted that if the issues persist, Wendy's may have to push back its expansion plans to 2024 and beyond.
"In the short term, clearly [there's] a little bit of pressure on some of the permitting that may create a little bit of slippage into next year. But that really solidifies next year's pipeline," he noted. Still optimistic, he added, "Look where we stand today. We do have good visibility with strong pipelines, not only into 2024 but into 2025."
Indeed, while discussing the brand's expansion plans back in spring, Penegor pointed out that there are "thousands of potential trade areas that sit untapped and without a Wendy's."6254a4d1642c605c54bf1cab17d50f1e
However, the permit issue comes as the chain faces additional hiccups like unfriendly interest rates. As a result, the chain has not only pushed back its timeline but is also now planning on opening 900 fewer locations than originally intended. With around 6,000 restaurants in the United States and another 1,000 across the globe, the brand was hoping to land at 7,600 to 7,800 total locations by the end of 2025.
So, why can't Wendy's get permits for new locations? The problem apparently has to do with a lack of staff available to push the permits through which is seriously slowing down the process. On top of that, communities are seemingly wary of allowing in new restaurants with drive-thrus.
Despite the setbacks in America, Wendy's is still moving ahead with plans to open new locations in other countries. Along with extending its reach in Europe with the chain eyeing Ireland and Spain, Penegor noted, "Our results have never been stronger across many markets in our Latin American region, and we plan to leverage this momentum to accelerate unit development over the coming years. We are particularly focused on growing our footprint in Mexico, where we have a strong track record of sales growth and an outstanding brand reputation for quality."
Australian fast-food fans may also be able to grab a bite at Wendy's in the coming years. President Abigail Pringle previously explained, "We think that the Australian market could be hundreds of restaurants."
We'll just have to wait to see who gets a new Wendy's first. Will it be Ireland, Spain, Australia, or the United States?
Desirée O
Desirée O is a freelance writer who covers lifestyle, food, and nutrition news among other topics.
Read more about Desirée