This Is Exactly When You Should Buy Your Thanksgiving Turkey
We're here to help prevent you from having to go on a last-minute shopping spree just before the feast.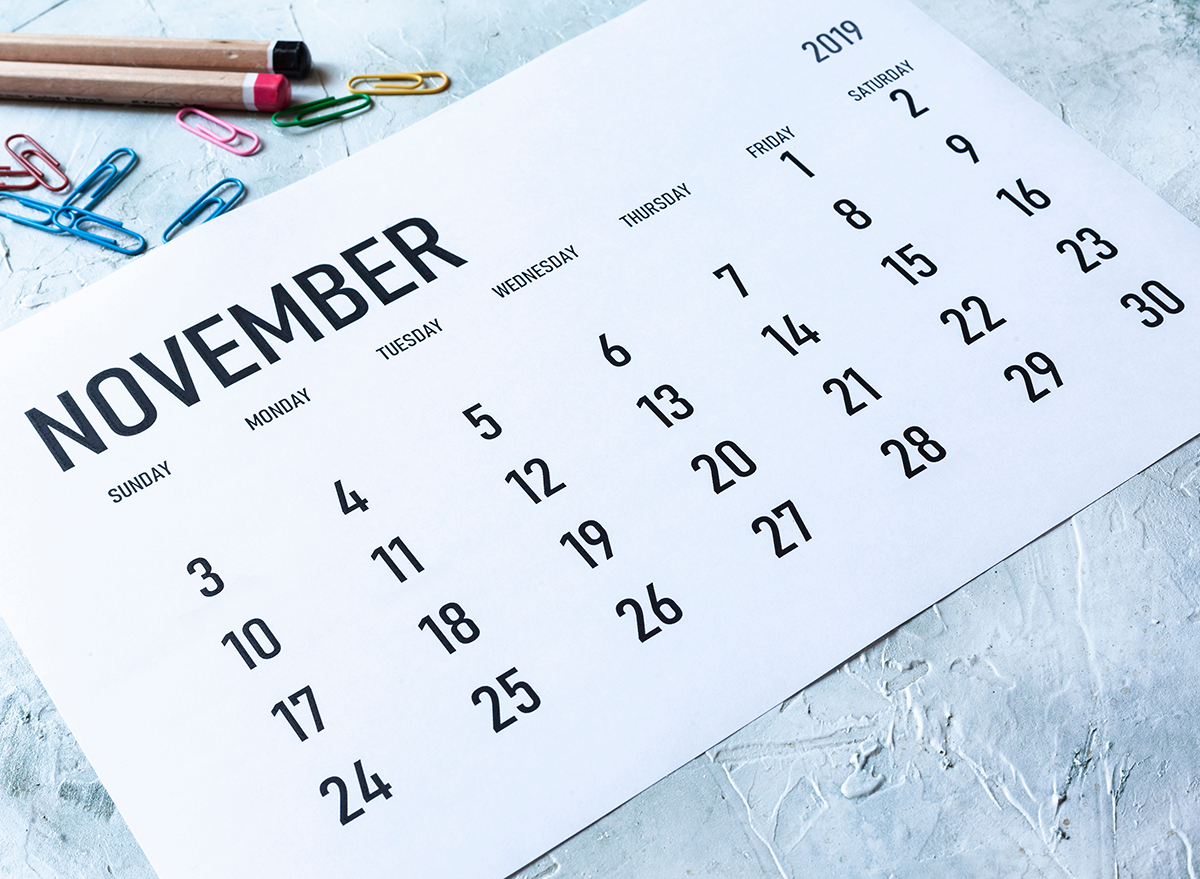 We're getting close to Thanksgiving, which means that meal planning and preparations are likely already underway. There's a lot to consider when planning a meal, especially for all the dinner guests you're probably expecting. In order to avoid the hassle of scrambling to make side dishes that perfectly pair with your main courses, it may make more sense to plan a schedule in advance so you can enjoy the day with your family instead of throwing food in the oven nonstop until 6 p.m.
Not only do you have to consider when to start meal-prepping all of the dishes, but you also have to be cognizant of when you should hit the grocery store so that you beat the crowds and get everything you need. Have you ever tried to buy a turkey last-minute, only to walk into a grocery store and see a barren refrigerated section where the turkeys once were?
To prevent you from being without the most traditional dish of the evening, Claudia Sidoti, principal chef at HelloFresh, lends insight on when you should buy the turkey for your Thanksgiving meal.
When is the best time to buy a Thanksgiving turkey?
Sidoti says that you have two ways to go about buying a turkey. The first is the most traditional option—buying it fresh. If you go this route, you'll want to buy the bird two days before you cook it.
However, there is another tactic you can use, and it may just save you a couple of bucks in the long-run if you are equipped with proper storage, too: You can buy the turkey in advance, but frozen.
"If you're buying a frozen turkey, you can shop up to one year in advance as long as the turkey remains properly stored [and] deeply frozen," says Sidoti.
Talk about taking advantage of those post-holiday sales! Salvage any turkeys that are on the brink of going into the dumpster by purchasing them a day after the feast and freeze accordingly. This is especially ideal if you have an extra freezer box in the house.6254a4d1642c605c54bf1cab17d50f1e
"Make sure it's fully thawed one day prior to seasoning and roasting," she adds.
However, if Thanksgiving is one to two days away, it's important that you just buy the bird fresh as a frozen one won't have adequate time to thaw. For reference, Sidoti says it takes anywhere from four to five days for a bird to fully thaw.
How much turkey should I buy for the Thanksgiving meal?
"In terms of how much to buy, you should anticipate needing one and a half pounds of meat per person," says Sidoti. "If you like having a lot of leftovers, anticipate about two pounds per person."
If you only have a handful of guests attending, such as three or four, you can opt for buying a turkey breast instead of the whole bird.
Now, who's ready to start mapping out their Thanksgiving Day feast?