10 Easy Side Dishes to Bring to Thanksgiving
Forget rummaging through cumbersome cookbooks and begging grandma to reveal the secret ingredient in her finger lickin' good potatoes. This Thanksgiving, we got your side dishes covered.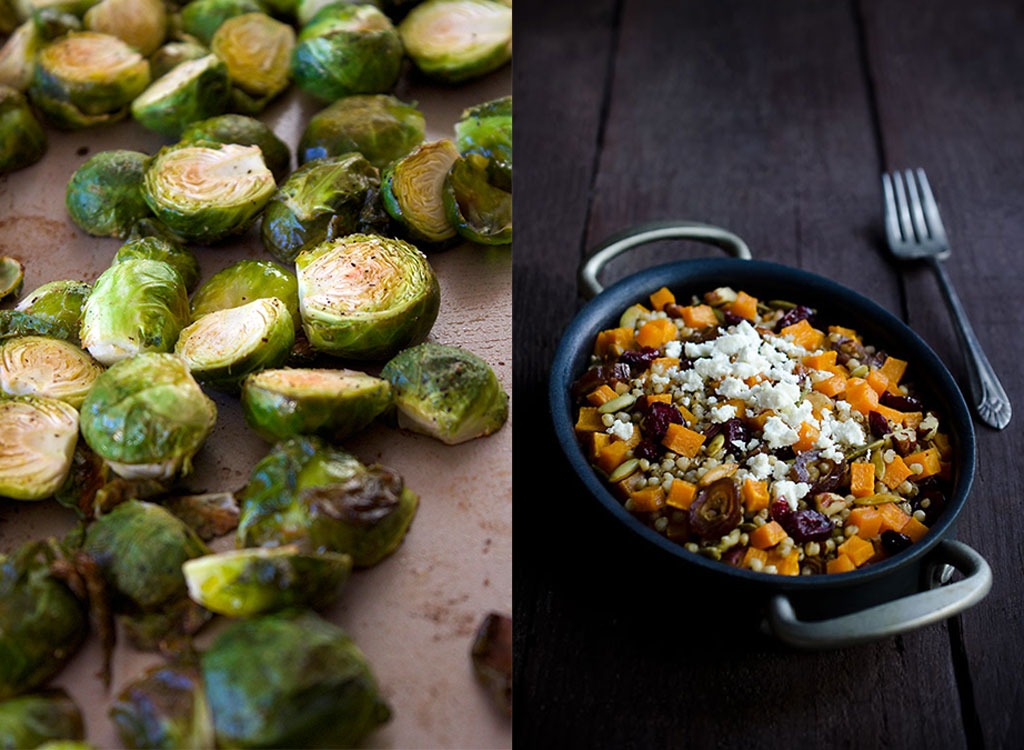 Complete with creamy green bean casseroles, butter-whipped mashed potatoes, and at least three different kinds of cranberry sauces, Thanksgiving dinner can be a total calorie bomb. Fortunately, there are options for salvaging your flat belly plans. Whether it's for your in-laws' annual potluck or a casual Friendsgiving get together, making your own healthy side dish is a good way to guarantee that at least one thing on the table fits into your diet plan. (Plus, saving calories on the turkey's accompaniments means you'll have room for a slice of pie. Yum!)
To make things on Thanksgiving a little easier, we stuffed this list below with super simple recipes that are Turkey Day- and everyday-approved. Check 'em out and be sure to take a gander at this jaw-dropping nutritional breakdown of Every Classic Thanksgiving Dish—Ranked! before you sit down, give thanks, and gorge.
Butternut Squash Cranberry Sorghum Salad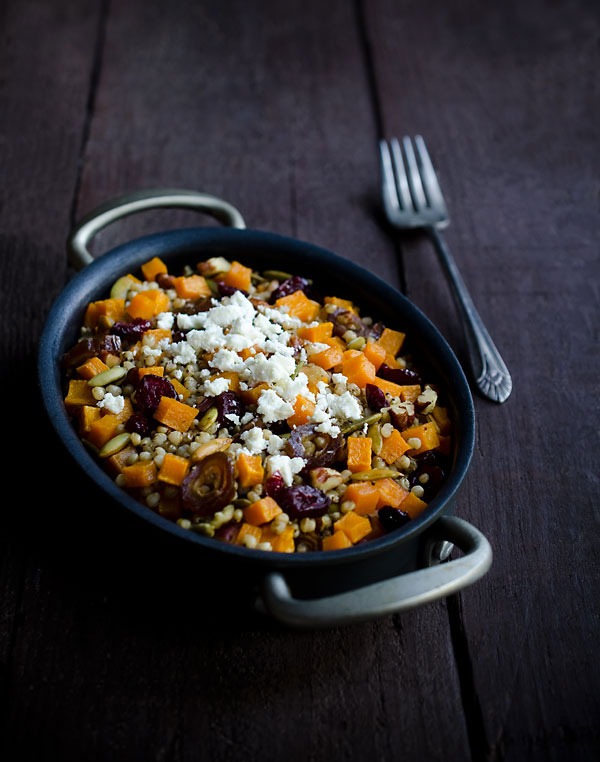 Serves: 6
Nutrition: 202 calories, 10.9 g fat (1.4 g saturated), 53 mg sodium, 24.2 g carbs, 5.3 g fiber, 4.9 g sugar, 4.6 g protein (calculated with 1/2 cup uncooked sorghum)
Sprinkled with sorghum, crunchy pecans, pumpkin seeds, tangy cranberries, and oven-roasted squash, this dish totally screams fall. Not only is it super delish, your guests will love that you've introduced them to a new whole-grain dish that doesn't involve quinoa. In fact, they might actually be impressed, too.
Get the recipe from Savory Simple.
Thanksgiving Salad With Wild Rice & Lemon Dressing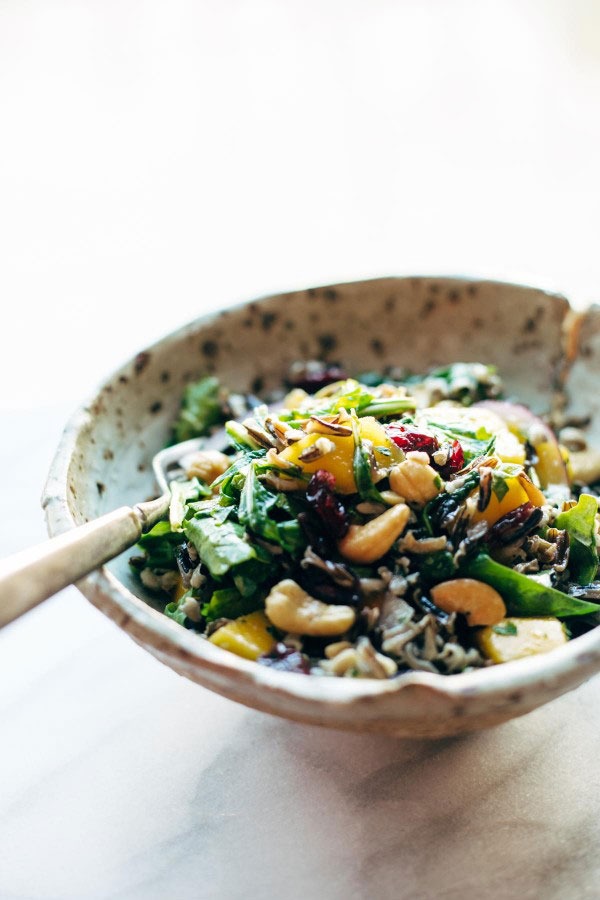 Serves: 6
Nutrition: 260 calories, 10.8 g fat (1.9 g saturated), 25 mg sodium, 39.2 g carbs, 5.1 g fiber, 20.3 g sugar, 6.1 g protein (calculated with 2 tablespoons olive oil)
Crunchy wild rice, succulent mango chunks, and creamy cashews join together on a bed of fiber-filled greens tossed with a tangy dressing. Pack this one up in Tupperware—one of these 20 Life-Changing Weight Loss Tools Under $20—and munch on the leftovers for lunch.
Get the recipe from Pinch Of Yum.
Mexican Green "Rice"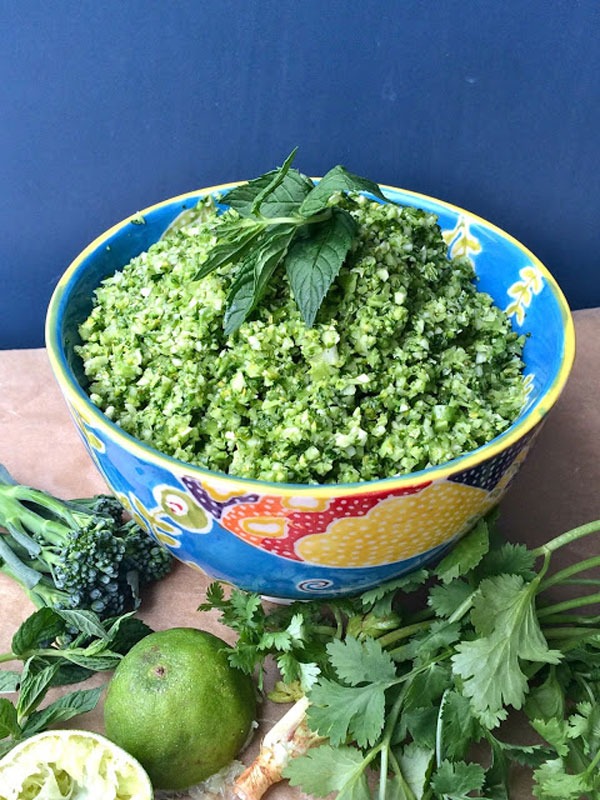 6254a4d1642c605c54bf1cab17d50f1e
Serves: 6
Nutrition: 111 calories, 8.8 g fat (1.2 g saturated), 237 mg sodium, 9.2 g carbs, 3.1 g fiber, 2.1 g sugar, 2.3 g protein
We think it's safe to say that Mexican food cravings are just one of those things that never quit nagging us—even on holidays like Thanksgiving. And that's totally fine when there's a Chipotle right down the block. But for those times you find yourself hungry with no Mexican fast-casual oasis in sight, opt for making this Southwest-inspired rice recipe instead.
Get the recipe from Passionately Raw.
Roasted Root Vegetables
Serves: 5
Nutrition: 145 calories, 5.8 g fat (0.8 g saturated), 43 mg sodium, 23.1 g carbs, 4.8 g fiber, 6.7 g fiber, 2.1 g protein
Simply toss red onions, Yukon gold potatoes, carrots, and parsnips in olive oil before letting a scorching 425 degrees caramelize them in the oven. These veggies are versatile enough to go well with any dinner protein you choose. Oh, and this recipe may just trigger your love affair with parsnips… so when that happens, you might want to check out these 4 Easy Parsnip Recipes To Try.
Get the recipe from Gimme Some Oven.
Baked Sweet Potato Rosemary Wedges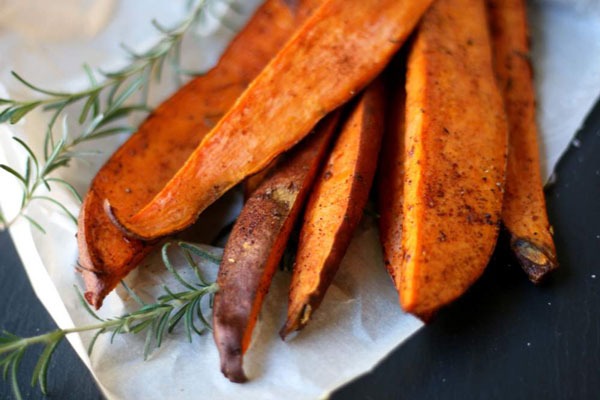 Serves: 1
Nutrition: 151 calories, 5.1 g fat (4.1 g saturated), 280 mg sodium, 25.4 g carbs, 4.9 g fiber, 7.4 g sugar, 2.5 g protein (calculated with 1 tsp coconut oil)
What happens when you bake these super tasty tubers with fresh rosemary and warm cinnamon, cumin, and chili pepper? You get fries that are lightyears better than the oily spuds on the McDonald's Menu. Not to mention, these skinny sticks are packed with fatigue-fighting iron and are a great way to sneak more veggies into your diet—or a good way to forgo the melted marshmallow mess on nana's sweet potato casserole.
Get the recipe from Vegu Kate.
Parmesan Roasted Asparagus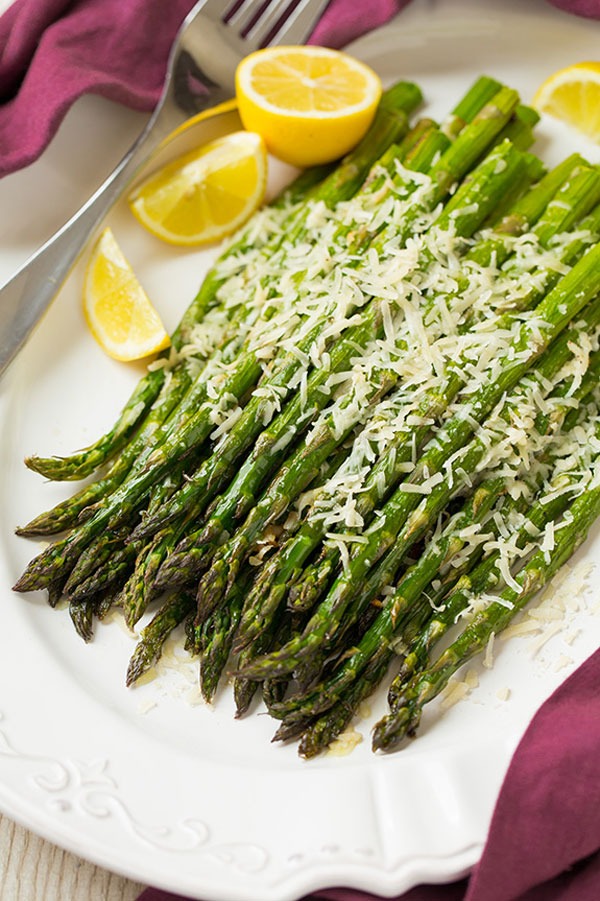 Serves: 5
Nutrition: 136 calories, 7.9 g fat (3.7 g saturated), 215 mg sodium, 8.4 g carbs, 3.9 g fiber, 3.4 g sugar, 11.4 g protein
Since you can never go wrong with a side of roasted veggies, we've added this must-try dish to the list, too. The asparagus spears are given an olive oil rubdown before they're roasted and then sprinkled with umami-packed Parmesan. Pair these green guys with lean turkey, chicken, or wild salmon for a guaranteed crowd-pleasing pick.
Get the recipe from Cooking Classy.
Simple Sauteed Brussels Sprouts
Serves: 4
Nutrition: 87 calories, 3.9 g fat (3.1 g saturated), 321 mg sodium, 13 g carbs, 4.9 g fiber, 2.8 g sugar, 4.2 g protein (calculated with 1/2 teaspoon salt)
This cruciferous veggie boasts tummy-filling fiber, countless nutrients, and has been linked to everything from preventing cancer to detoxing. So why not make these tiny cabbages the star side dish on your Thanksgiving table? Simply sauté them with coconut oil and zesty lime juice for a scrumptious side that's ready in about 20 minutes!
Get the recipe from Simple Green Moms.
Vegan Cauliflower Mashed Potatoes
Serves: 6
Nutrition: 146 calories, 9.6 g fat (1.4 g saturated), 29 mg sodium,15 g carbs, 2.9 g fiber, 2.2 g sugar, 2.8 g protein
Everyone has that one side dish they especially look forward to on Thanksgiving—the one they just can't stop piling on their plates and swirling our forks into—and mashed potatoes just happen to be mine. Since most recipes are loaded with heavy cream and cholesterol-filled butter, whipping up this healthy alternative is your best bet. For less than 150 calories and a decent amount of fiber, you no longer have to fret reaching for seconds.
Get the recipe from Love And Lemons.
Cider-Roasted Squash & Kale Salad With Apple Cider Vinaigrette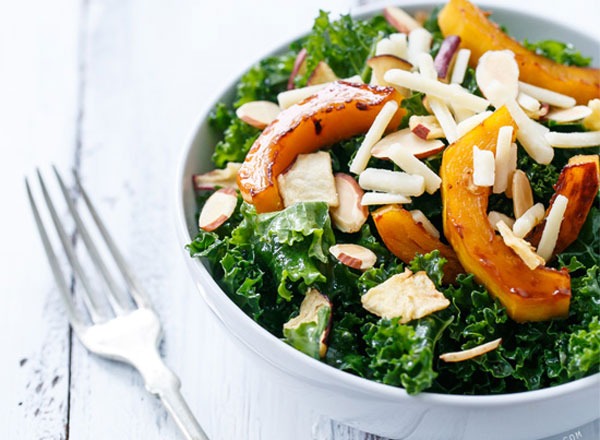 Serves: 6
Nutrition: 127 calories, 10.8 g fat (1.5 g saturated), 22 mg sodium, 8.1 g carbs, 0.7 g fiber, 5.3 g sugar, 1.1 g protein
According to a study published in the journal of Bioscience, Biotechnology, & Biochemistry, consuming apple cider vinegar daily can lead to weight loss, reduced belly fat, waist circumference, and lower blood triglycerides. In addition to all these awesome bikini body benefits, this dish—which is topped with the stuff— is done in less than 30 minutes. Whip it up and rest assured you won't be late for any Thanksgiving hors d'oeuvres.
Get the recipe from Love And Olive Oil.
Tabbouleh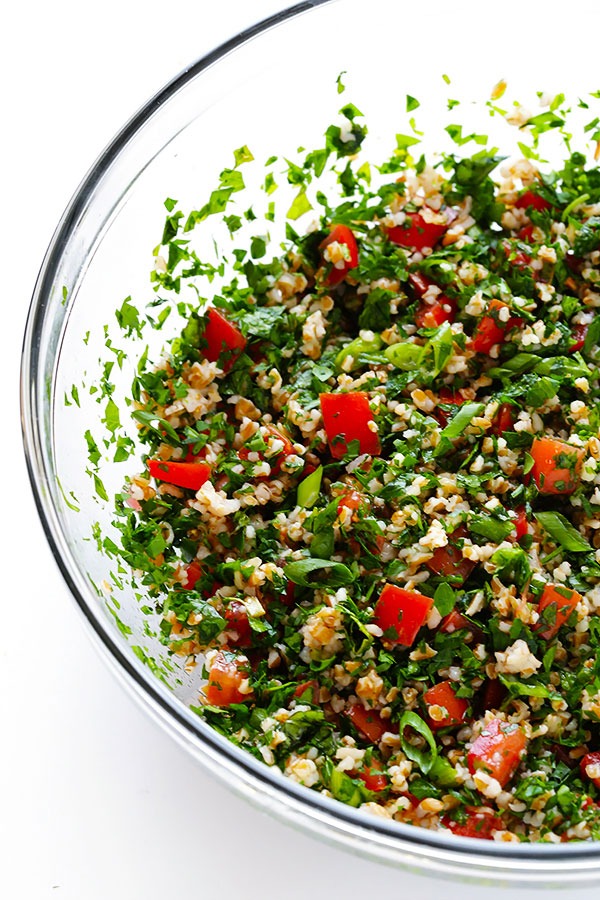 Serves: 4
Nutrition: 168 calories, 8 g fat (1.2 g saturated), 386 mg sodium, 22.3 g carbs, 7.3 g fiber, 4 g sugar, 5.3 g protein
Hailing from the Middle East, tabbouleh is a robust yet simple salad with flavors that are anything but. This recipe combines poppy bulgur, chopped tomatoes, green onions, and loads of fresh parsley and mint all tossed together with a lemony vinaigrette. It's also packed with bone-strengthening vitamin A and fat-oxidizing vitamin C—two essential Vitamins You're Not Getting Enough Of.
Get the recipe from Gimme Some Oven.
April Benshosan
April is a born-and-raised Brooklynite who has a passion for all things health, wellness, and tastebud-related.
Read more about April