White Claw Just Debuted 3 New Flavors You Asked For—Time to Get Sipping
The hard seltzer company has granted fan's wishes with more cans of the spiked stuff.
America's favorite hard seltzer brand—yes, the one and only White Claw—has released three new flavors because you asked for 'em.
After a long, 16-month wait, tangerine, watermelon, and lemon have been added to the family. These new White Claw flavors are part of "Flavor Collection No. 2," and can soon be found next to the six original options (black cherry, ruby grapefruit, natural lime, raspberry, mango, and pure hard seltzer) at your local liquor store.
The news dropped at 3 a.m. this morning on Twitter.
"In the last year, tens of thousands of eager and passionate consumers took to social media requesting new flavors—and we listened," Phil Rosse, president of White Claw Seltzer Works, said in a statement.
The reason they took so long? The company wanted to make sure they tasted jussst right.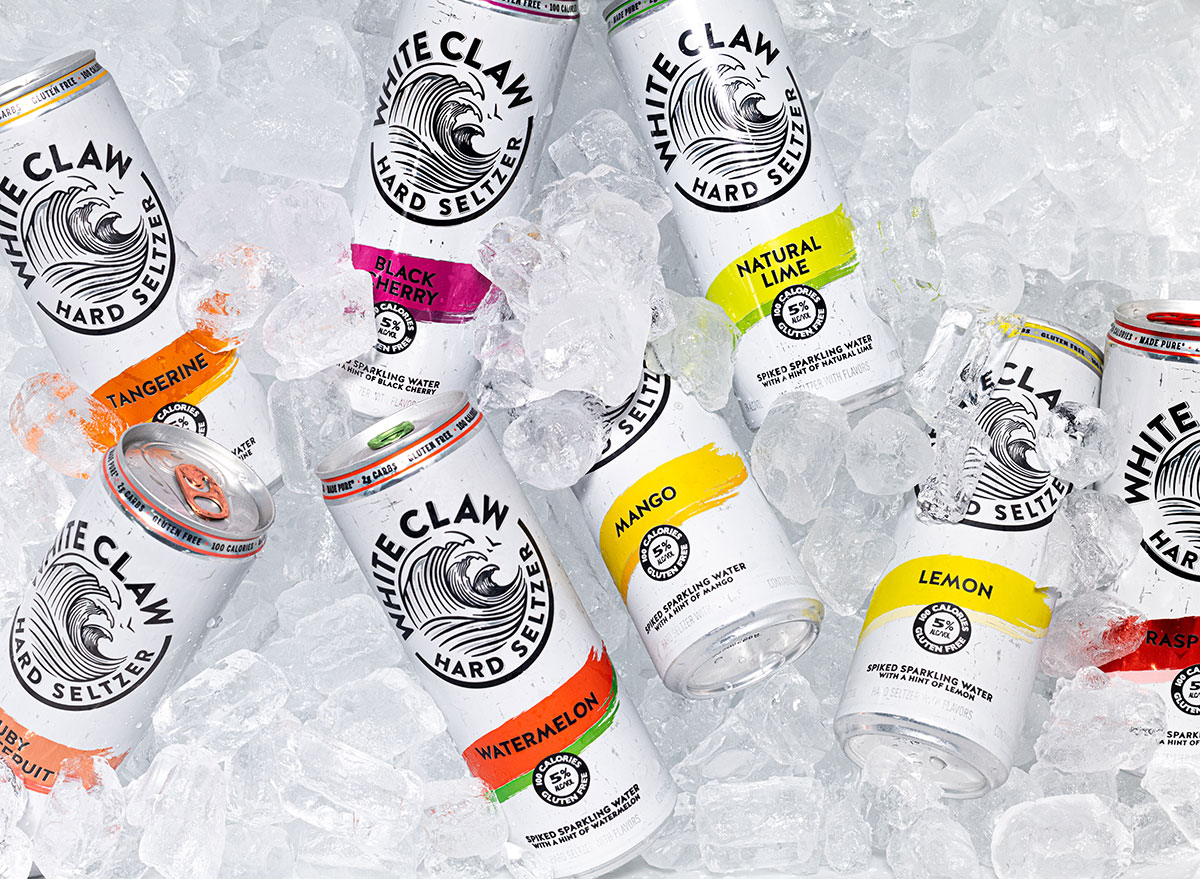 The new White Claw flavors are made just like their predecessors with 100 calories, 2 grams of sugar per 12-ounce serving, and 5 percent ABV. 
RELATED: Starbucks Has Two New Iced Drinks for Spring Featuring Matcha and Turmeric.
According to White Claw, tangerine is sweeter than it is tart, and watermelon has a hint of natural fruit flavor (as opposed to an artificial taste). Lemon (which has been in development for more than two years) has a very subtle taste, which arguably, might make it the most refreshing of them all.
You can find the three new flavors in "Flavor Collection No. 2" variety packs (alongside an old favorite: Mango), or in their own respective six-packs and single 16- and 19.2-ounce cans.
And, if you're feeling extra ambitious, you might even want to try combining a few of these flavors into your own delightful boozy concoction. Maybe raspberry with lemon and natural lime? Or mango with tangerine?
There are so many options, you can go wild… multiple times. And all summer long.
Hedy is a freelance writer with years of experience covering buzzy food trends, wellness, and weight loss.
Read more