13 Wine and Cheese Pairings You Have to Try
Perfect your charcuterie board with the perfect wine to pair!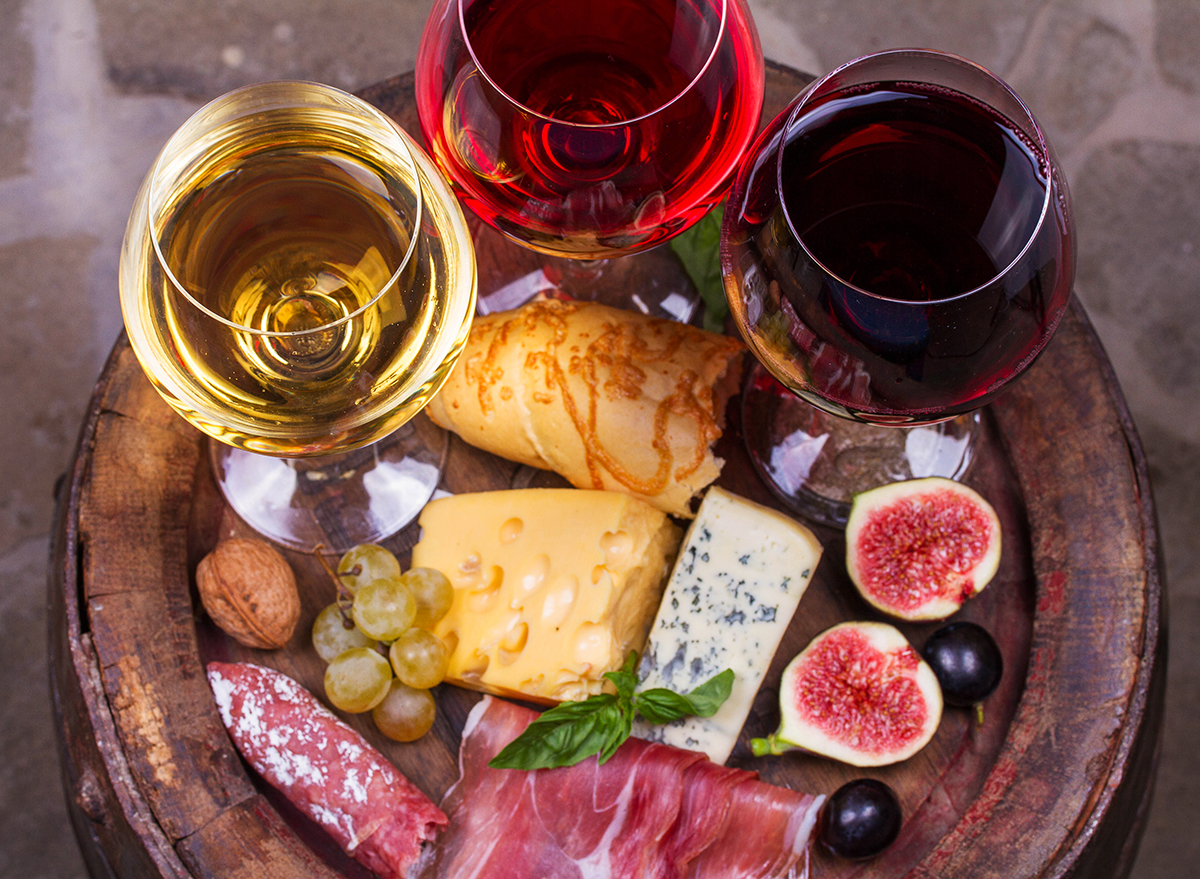 In our humble opinion, happy hour always means wine and cheese. We personally love throwing together a large charcuterie board, finding a delicious bottle (or two) to pair, and enjoying the rest of the afternoon after a long workday. But when it comes to picking the right kind of wine to go with your cheese, that can seem a bit tricky. So we decided to chat with some experts about the best wine and cheese pairings that we have to try.
In order to do so, we spoke with Laura Werlin, James Beard Award-Winning Cheese Book Author and Speaker, as well as the team at Wisconsin Cheese about the best cheese to pair with different bottles of wine, and even the specific cheeses to look for while you're hunting for your charcuterie board needs in the grocery store. Don't know how to build a charcuterie board? Here's how.
When it comes to a burrata, Werlin says "pair with light wines such as pinot grigio or Austrian wine, grüner veltliner. The latter is a mouthful but surprisingly easy to find these days." She adds that "the light high-acid white wines cut through the rich, creamy, delicious cheese to create a perfect balance." You could even enjoy a glass with this Mediterranean burrata plate!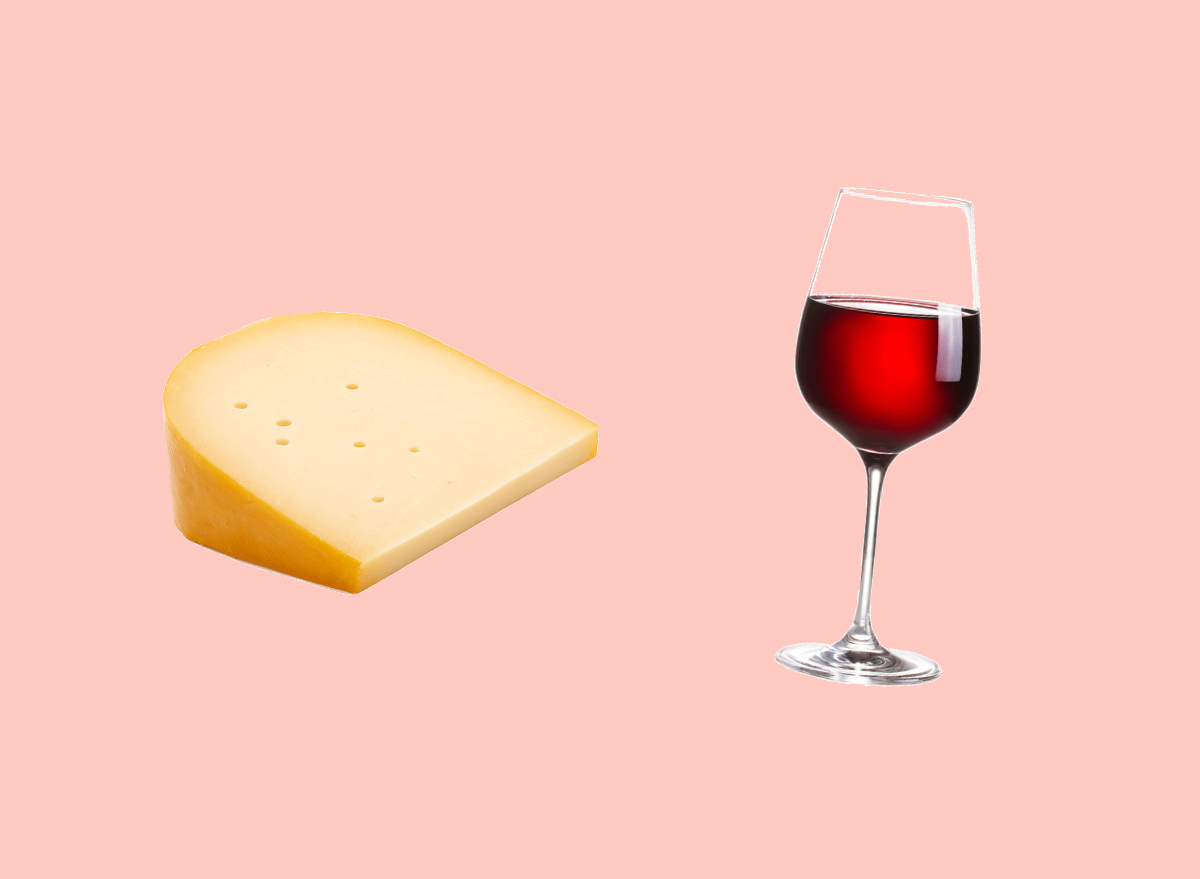 "The nutty, slightly butterscotch-y and smooth textured cheese goes great with a couple of different wine styles. Try a medium-bodied red like grenache or Spanish tempranillo," says Werlin. However, for a different experience, she also suggests a medium-sweet wine like Spanish sherry, either amontillado or oloroso style.6254a4d1642c605c54bf1cab17d50f1e
"An aged gouda has a captivating nutty quality [and] a hint of butterscotch," says Werlin. "Sherry has both those characteristics as well, making it a perfect match. Red wine takes a gouda pairing in an entirely different direction offering lots of berry fruit to go with the savory yet hauntingly sweet characteristics of the cheese."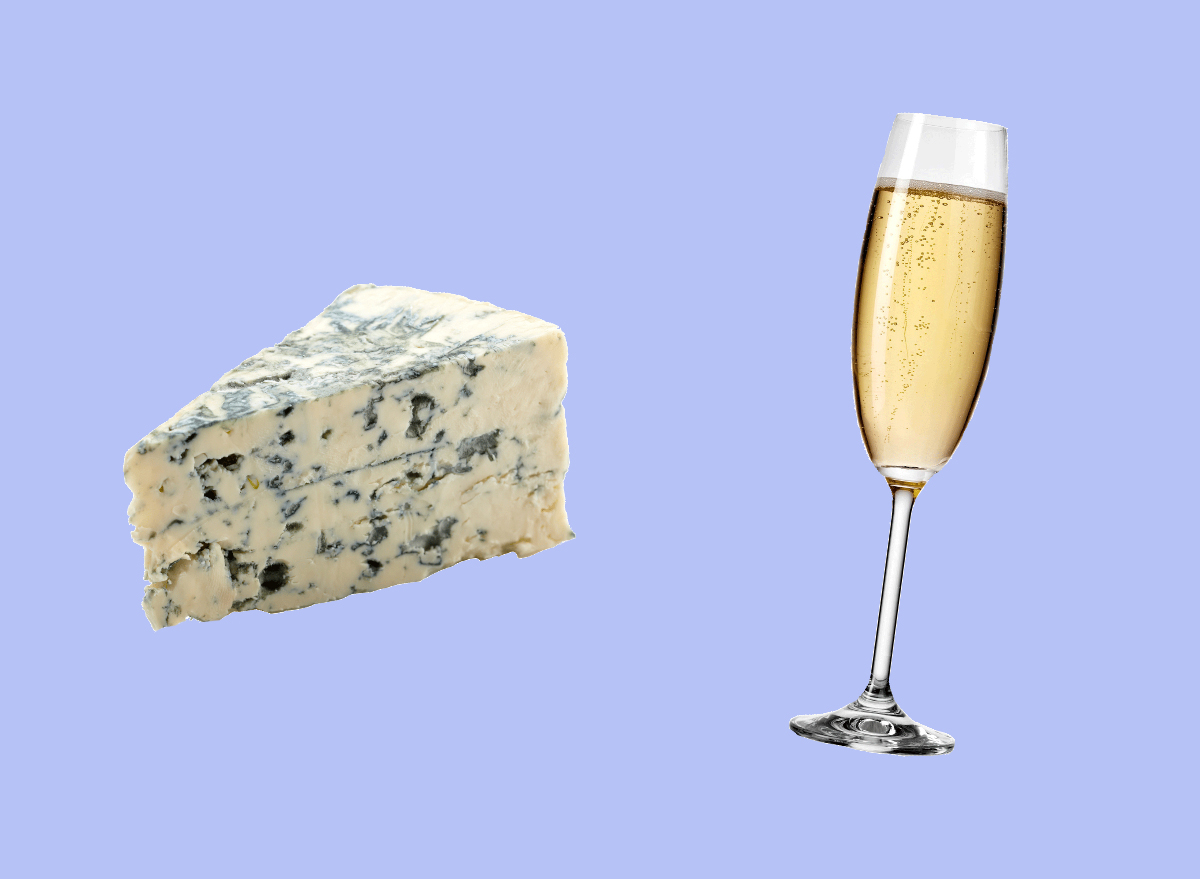 "The salty blue cheese with spicy crushed juniper berries calls for a contrasting sweet wine," says Werlin. "Pair it with a late-harvest white wine such as sauvignon blanc, riesling or gewürztraminer. Or, a semi-sweet sparkling wine known as a demi-sec in France – goes beautifully with the creamy, salty cheese."
If you're looking for the perfect blue cheese, Deer Creek Cheese The Blue Jay cheese is a great option. "The saltiness and creaminess of this dreamy blue cheese beg for a little bit of sweetness to cut the salt," says Werlin. "The sweetness of the wine also wants a bit of contrast, which the salty and even crunchy cheese thanks to the crushed juniper berries provide. With a sparkling wine, the bubbles cut through the richness of the cheese, cleansing the palate to make way for more cheese."
Extra Sharp Cheddar & Merlot
According to Wisconsin Cheese, red wines pair better with stronger, aged cheeses, like the extra sharp cheddar. The tannins in the red wine pair well with "full-bodied, flavorful cheeses" and can serve as a palate cleanser as you sip between each bite. "Keep in mind that red wine often doesn't pair well with fresh cheese, as the tannins and low acidity can cause fresh cheeses to taste chalky," they recommend. So as for an extra sharp cheddar, like their Black Creek®, it will pair well with a medium-bodied Merlot.
Because there are fewer tannins in white wine, Wisconsin Cheese says it's a wine you can easily pair with any cheese. When it comes to a drier, milder asiago cheese, sweet wines like a Riesling will pair well. Between the nutty flavor, pungent aroma, and creamier finish, this cheese will taste brilliantly with something sweet. If you're on the hunt for the right cheese, look for a Sartori Classic Asiago.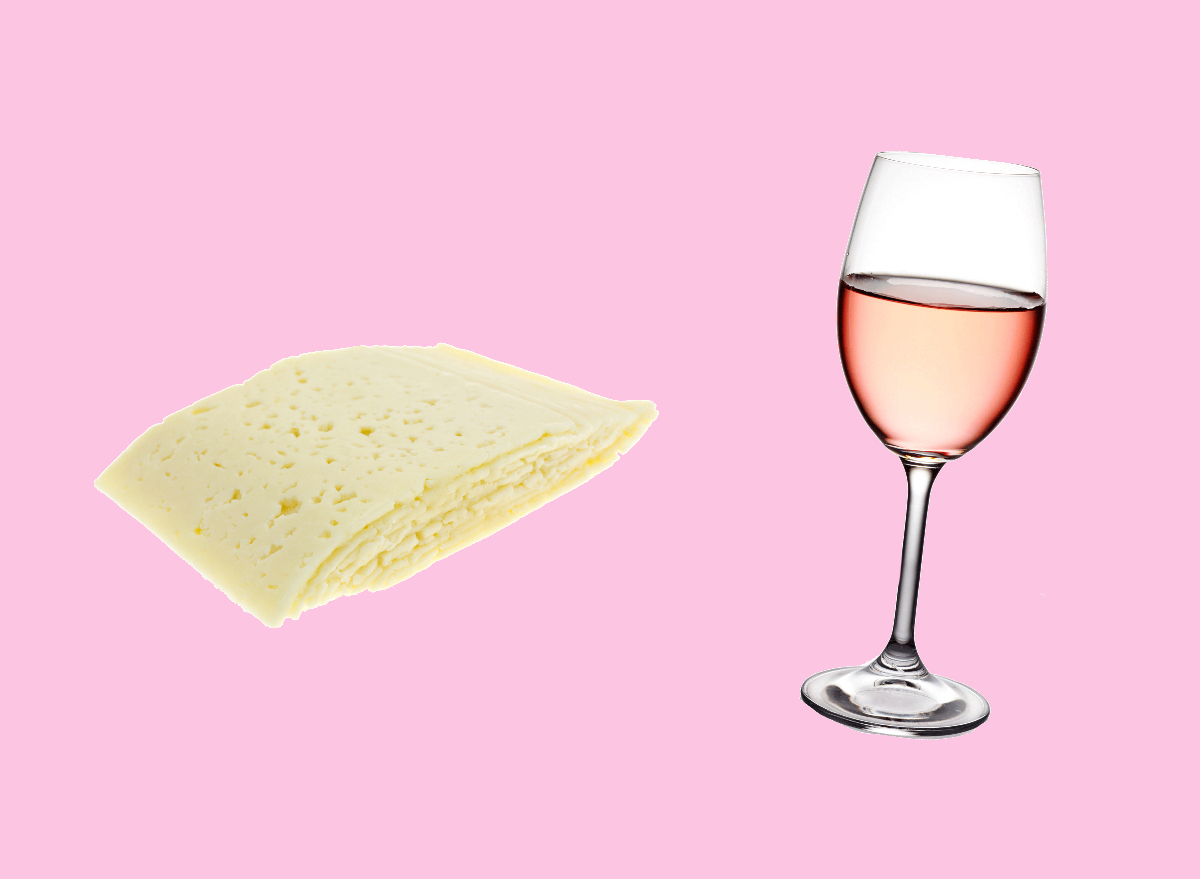 When it comes to fresher, creamier cheeses, reach for the rosé. Roth Original Havarti is extra-creamy and pairs well with a fruity rose. For more tips, be sure to sign up for our newsletter!
If you're looking for a spreadable cheese to go on your board, grab a goat cheese and a bottle of dry rosé. The freshness and creaminess of the goat cheese will pair well with every refreshing sip.
Colby & Cabernet Sauvignon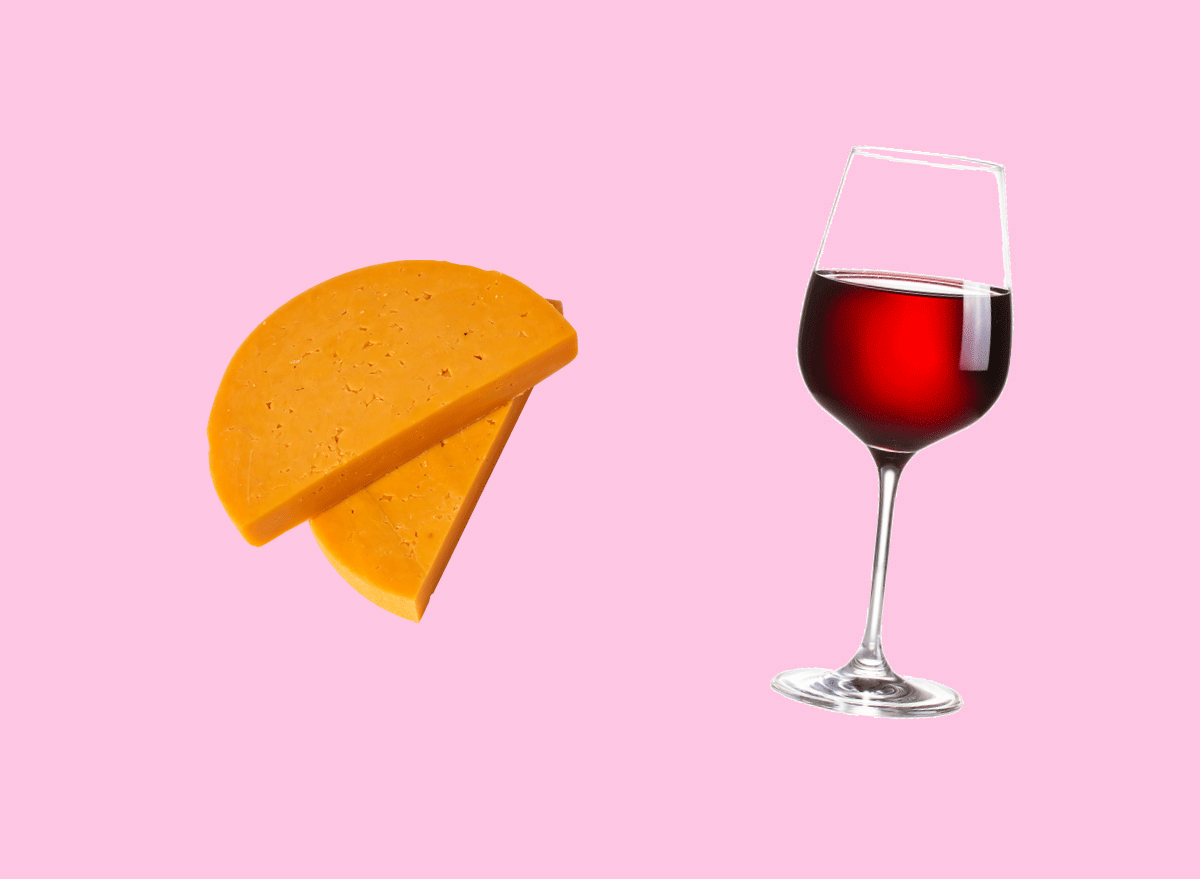 Colby can be a cheese that's hard to come by, so snag this Deer Creek The Robin Colby to pair with your bottle of cab. According to Wisconsin Cheese, this was named after the state bird "which returns each spring as a sign of the end of winter, this classic, handcrafted Wisconsin Original Colby has a firm, yet open and curdy body combined with a fresh buttery taste and a pleasantly salty finish."
Warning: You've Been Storing Cheese Wrong Your Whole Life!
Pleasant Ridge Reserve & Pinot Noir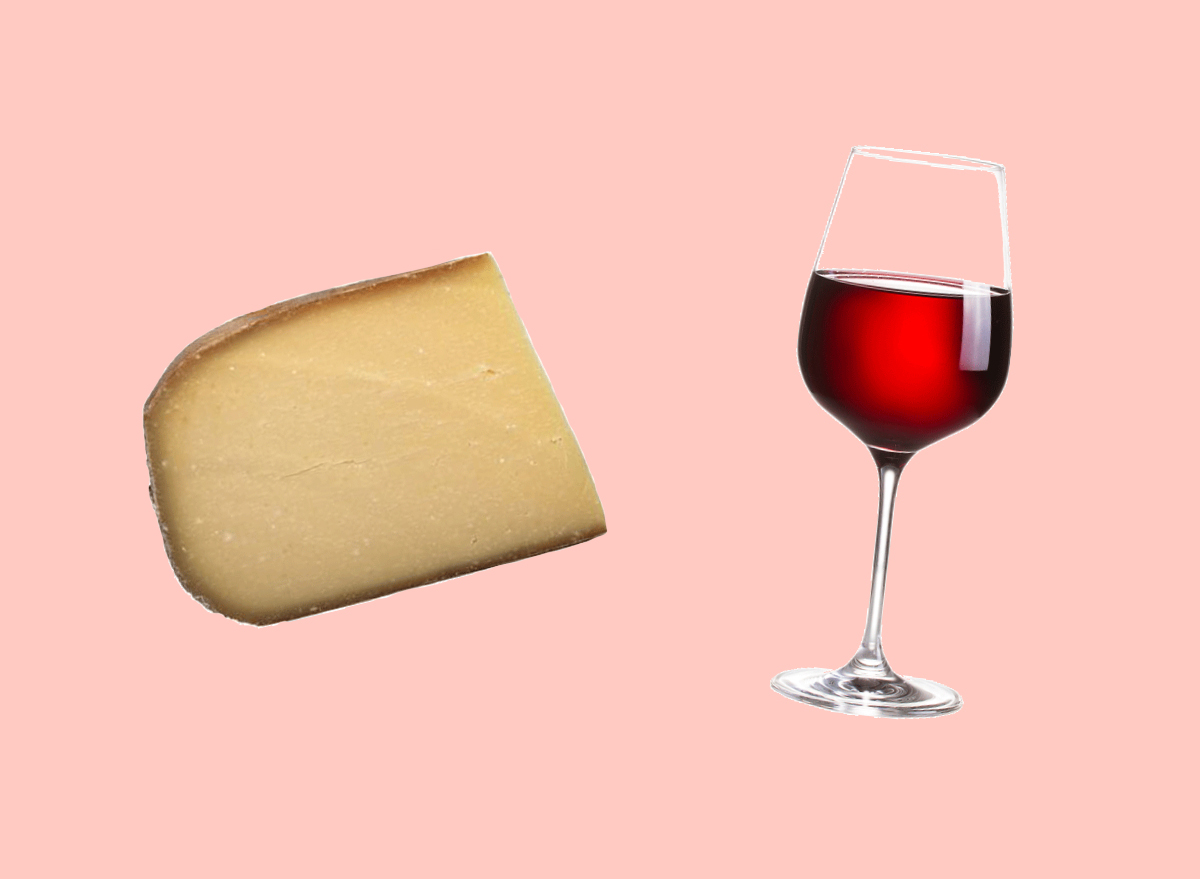 This specialty, award-winning Wisconsin farmstead cheese has aged 9-12 months and is absolutely divine with medium-bodied wines like pinot noir. However, Werlin says that this cheese can even pair well with the right white wines, like pinot blanc or Riesling. "The nutty, brown buttery and grassy flavors in the cheese marry well with aromatic fruity whites," says Werlin, "Together, it makes you think of green pastures filled with spring flowers. Red wine takes the experience into fall or winter when those same characteristics in the cheese are made a bit earthier and savory because of the dark berry and forest-like characteristics in the wine."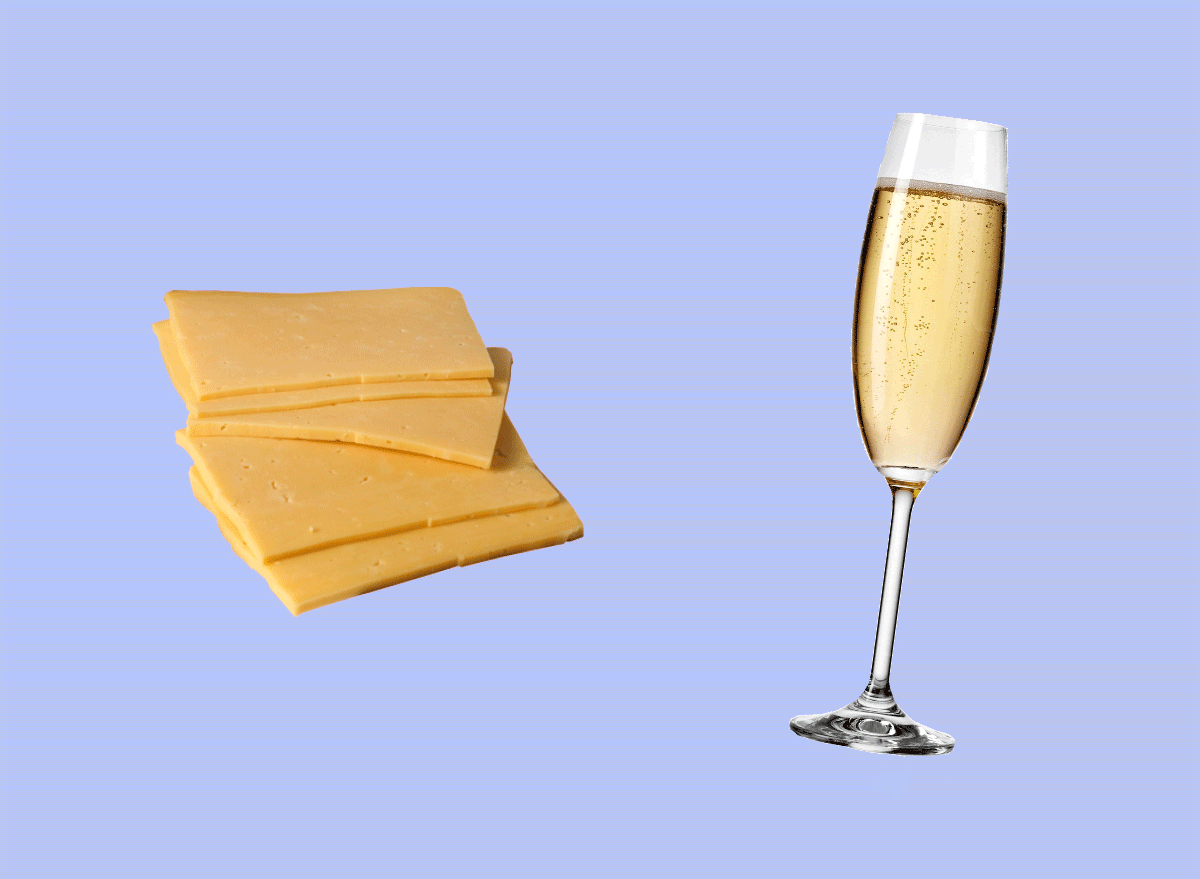 If you can't get your hands on a bottle of real champagne, settle for its cheaper sister—the Cava—and pair it with a block of Butterkäse cheese. According to Wisconsin Cheese, their Saxon Snowfields Butterkase Cheese has "rich butter, hay, and sweet almond flavors underscored by a bright lemony flavor. Snowfields is made using Autumn and Winter milk from pasture grazed cows in Wisconsin, which brings it that distinct, mouth-watering taste."
White Cheddar & Sauvignon Blanc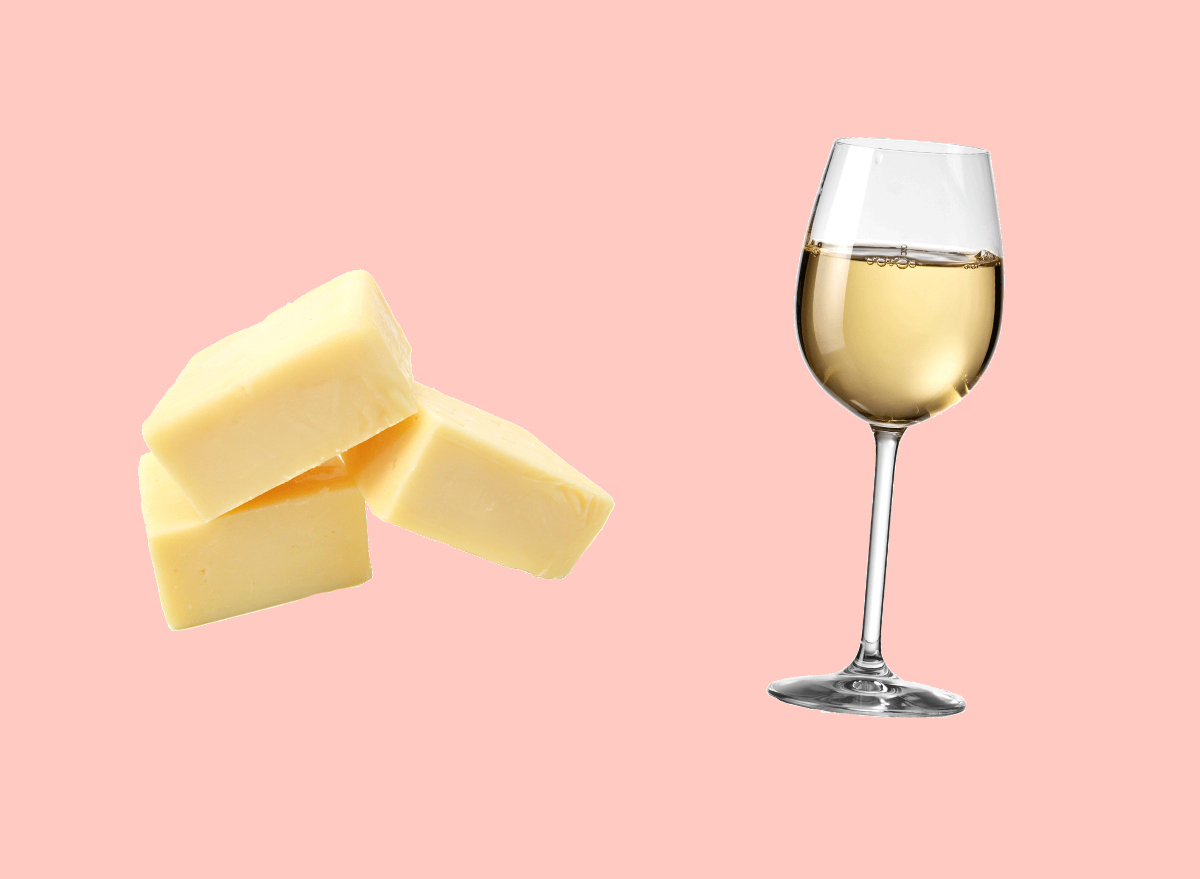 If you get your hands on a milder white cheddar, the Sauvignon Blanc will be your favorite to pair. Between the lightness of the wine and the creamy finish of the cheddar, it's the perfect pairing to nibble on as you prep dinner for the night.
For this special artisan cheese, grab a bottle of buttery chardonnay. This pairing is pure simplicity and is the kind of happy hour snack all types of taste buds will enjoy. Try the Red Barn Cupola with that bottle of chardonnay.
Pizza night? Yep, there's cheese on pizza too, and you want the perfect wine to pair with it! To find the perfect pairing, we reached out to Joseph Ciolli, CEO of Grimaldi's Pizzeria, for his advice. He recommended a Rosso Toscano, a Tuscan red blend, which they also sell at the restaurant! The Mille Gradi is a red wine blended by the Grimaldi's team at the Rocca del Macie estate in Chianti, and is available for 50% off any Grimaldi's Pizzeria carryout food purchase!
"The balanced, supple, and fresh taste with ripe berries and oak spice is the perfect complement to the smoky coal-fired crust of Grimaldi's Traditional pizza, even better when the pizza is topped with Italian sausage, meatballs, and pepperoni," says Ciolli. Can't get your hands on this bottle? Try a Tuscan red wine, like a Chianti.